Just like the White Sox, the Cubs' season is going exactly according to plan.
Unfortunately, it's Jim Hendry's plan.
True, Hendry didn't expect Aramis Ramirez and Derrek Lee to disappear, but that's just because Hendry's not really paying attention. They always disappear.
Here's how the Cubs can fix their season before it's too late:
* Lower beer prices. Even for away games. Ease our pain, guys.
* Use the money from the new Toyota sign to help eat Alfonso Soriano's contract when you trade him to an American League team where he can DH. That would almost make the sign worth it.
* Clone Marlon Byrd.
* Open up the Captain Morgan Club to the enlisted men, too.
* Stop listing whether a player is right-handed or left-handed; this information only feeds Lou Piniella's worst obsession.
* Now that Carlos Zambrano has been completely devalued, complete the master plan and trade him for a head of bison.
* Face the facts: This core - Soriano, Lee, Ramirez - will never win. The window has closed. Even if they turn the season around, they'll disappear in the playoffs. And if the Cubs are gonna suck, it would be much nicer if they sucked with likable players.
-
Week in Review: The Cubs were swept by the Pirates and lost two of three to the Reds. They scored 14 runs in their one victory this week, but otherwise their run totals by game were 2, 2, 1, 2, 3.
Week in Preview: The Cubs start an eight-game homestand with three against the Marlins and three against the Pirates. Look for them to score three runs in each series.
The Second Basement Report: We'd like to welcome SBR-alumnus Ryan Theriot back to the fold. Theriot got three starts this week as the team's new starting second baseman, a position Mike Fontenot lost despite a .311 average. Fontenot got one start; Jeff Baker got the other two. And in a curious twist, Fontenot will now be Starlin Castro's back-up at shortstop, not Theriot. Why? Because that's the way Uncle Lou sees it in his fever dreams. Aramis Ramirez, meanwhile, is still the third baseman.
In former second basemen news, Mike Fontenot is now the backup shortstop for the Cubs.
The Zam Bomb: This is the week the Zam Bomb runs out of wick. Fans in the first 10 rows at Wrigley this week are advised to wear radiation suits.

-
Lost in Translation: Toyota is Japanese for Tom Ricketts tells fans to suck it.
Endorsement No-Brainer: Starlin Castro for the New York Yankees, whose hat he'll wear into the Hall of Fame.
Sweet and Sour Lou: 30% sweet, 70% sour. Lou is down 10 points on the Sweet-O-Meter, erasing last week's gains and leaving the Goodship Cub adrift. And just like your real crazy drunk uncle, Lou knows the kids in the neighborhood start getting antsy when school's about to let out, but he'll be damned if they're gonna get away with ruining his lawn again this summer, so he's already building a new fence from his Falstaff empties and buying a guard dog bark simulator.
Ameritrade Stock Pick of the Week: Toyota's freefall was stemmed upon news that at least one affluent American still had faith.
Over/Under: Number of times Lou snaps at reporters after embarrassing losses this week: +/- 4.5.
Beachwood Sabermetrics: A complex algorithm performed by the The Cub Factor staff using all historical data made available by Major League Baseball has determined that Jim Hendry never really had a plan.
A & I Labs: What Tom Ricketts can do with his Toyota sign . . .
The Cub Factor: Unlike Soriano, you can catch 'em all!
The White Sox Report: Now with a weekly Cubs Snub.
Fantasy Fix: Rookie phenoms.
The Mount Lou Alert System: Please stay tuned to the Emergency Broadcast System for evacuation routes and locations of medical centers this week as residents of Wrigleyville and surrounding communities are urged to seek safer environs. Mount Lou is ready to blow.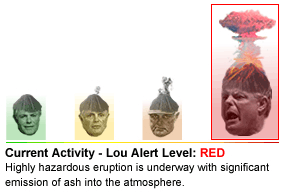 -