« March 2008 | Main | May 2008 »
April 30, 2008
The [Wednesday] Papers
"Obama's relationship with Wright first became an issue in the campaign in mid-March when a video of inflammatory sound bites from the minister's sermons circulated and was widely broadcast," the Tribune reports today.
Well, not really.
From Bob Somerby at The Daily Howler:
"What follows is part of the Rolling Stone profile which led Obama, at the last minute, to drop Wright from a public role in his February 2007 kick-off speech. The piece was written by Ben Wallace-Wells:
"WALLACE-WELLS (2/22/07): The Trinity United Church of Christ, the church that Barack Obama attends in Chicago, is at once vast and unprepossessing, a big structure a couple of blocks from the projects, in the long open sore of a ghetto on the city's far South Side. The church is a leftover vision from the Sixties of what a black nationalist future might look like. There's the testifying fervor of the black church, the Afrocentric Bible readings, even the odd dashiki. And there is the Rev. Jeremiah Wright, a sprawling, profane bear of a preacher, a kind of black ministerial institution, with his own radio shows and guest preaching gigs across the country. Wright takes the pulpit here one Sunday and solemnly, sonorously declares that he will recite ten essential facts about the United States. 'Fact number one: We've got more black men in prison than there are in college,' he intones. 'Fact number two: Racism is how this country was founded and how this country is still run!] There is thumping applause; Wright has a cadence and power that make Obama sound like John Kerry. Now the reverend begins to preach. 'We are deeply involved in the importing of drugs, the exporting of guns and the training of professional KILLERS. . . . We believe in white supremacy and black inferiority and believe it more than we believe in God. . . . We conducted radiation experiments on our own people. . . . We care nothing about human life if the ends justify the means!' The crowd whoops and amens as Wright builds to his climax: 'And. And. And! GAWD! Has GOT! To be SICK! OF THIS SHIT!'
"This is as openly radical a background as any significant American political figure has ever emerged from, as much Malcolm X as Martin Luther King Jr. Wright is not an incidental figure in Obama's life, or his politics. The senator 'affirmed' his Christian faith in this church; he uses Wright as a 'sounding board' to 'make sure I'm not losing myself in the hype and hoopla.' Both the title of Obama's second book, The Audacity of Hope, and the theme for his keynote address at the Democratic National Convention in 2004 come from Wright's sermons. 'If you want to understand where Barack gets his feeling and rhetoric from,' says the Rev. Jim Wallis, a leader of the religious left, 'just look at Jeremiah Wright.'
"According to Obama, Wright was dumped from the kick-off event because of this Rolling Stone profile."
Obama reiterated this at the Pennsylvania debate, referencing the Rolling Stone article in response to a question from his ABC moderators.
What Obama did yesterday - right or wrong - was a personal and political decision, but not one based on fresh outrage at Wright's controversial beliefs.
"What particularly angered me was his suggestion that my previous denunciation was somehow political posturing," Obama said.
I'm sure Obama felt personally betrayed - politically betrayed. But when Obama says Wright is not the same man he has known for 20 years, well, that strains credulity.
As the Rolling Stone article shows, this is indeed the same Wright - and that's what concerned Obama so much when he announced his campaign for president that he stuck Wright in a basement.
Tom Bevan of Real Clear Politics has an excellent run-down in "The Anatomy of Wright's Disinvitation."
From the New York Times a year ago: "[Obama] had sampled various faiths but adopted none until he met Mr. Wright, a dynamic pastor who preached Afrocentric theology, dabbled in radical politics and delivered music-and-profanity-spiked sermons.
"Few of those at Mr. Wright's tribute in March knew of the pressures that Mr. Obama's presidential run was placing on the relationship between the pastor and his star congregant. Mr. Wright's assertions of widespread white racism and his scorching remarks about American government have drawn criticism, and prompted the senator to cancel his delivery of the invocation when he formally announced his candidacy in February.
"Mr. Obama, a Democratic presidential candidate who says he was only shielding his pastor from the spotlight, said he respected Mr. Wright's work for the poor and his fight against injustice. But 'we don't agree on everything,' Mr. Obama said. 'I've never had a thorough conversation with him about all aspects of politics.'
"It is hard to imagine, though, how Mr. Obama can truly distance himself from Mr. Wright."
From Carol Marin today: "This isn't the first time the campaign has waited out a problem, declining to take a controversy by the horns.
"It took a relentless chorus of Chicago media almost a year to finally get Obama and his people to deliver long-asked-for documents and answer what were, at best, incompletely answered questions about his former friend and now-indicted fund-raiser, Tony Rezko. He finally did so in March.
"There are judgment questions, fair ones, to be asked about Obama's past dealings with controversial people.
"On Tuesday, his answers about Wright were filled with a purpose and passion that seemed to have been lacking lately.
"But what those answers have yet to resolve is the matter of decisiveness, of acting quickly, speaking forcefully, and perhaps not waiting for overnight polling numbers or a full-blown disaster, to decide the next day's course."
The Beachwood Tip Line: Cut and paste.

Posted by Lou at 09:51 AM | Permalink
Children's Museum Limericks!
There once was a Mayor named Rich
A kids museum was his pitch
A tall building in Grant
Is something you shan't
So he put all the kids in a ditch
*
They wanted to put kids in a museum
Below the ground where no one could see 'em
Allstate was hyper
To pay the town piper
But the critics fought back ad nauseum
*
Allstate said they needed more fame
In Grant Park they wanted their name
Fifteen million is small
For breaking the law
And putting their good hands all to shame
*
There once was Montgomery Ward
In his store he got awfully bored
Protecting Grant Park
Was to be his great mark
He was driven by a civic accord
*
A new museum for kids is a thrill
But in Grant Park the plan is a pill
The people say "No"
The Mayor says, "So?"
The council is voting my will
*
Richie and Gigi traveled in Paree
said "A Monument to Pritzker is what we'd like to see"
We'll call it a museum
But build a mausoleum
And let Allstate have a prominent marquee
*
There once was an Alderman named Reilly
Who dared tell the mayor ever so shyly
"Your museum in Grant
Is causing a rant"
To poor wily Reilly the Mayor so slyly is no longer
smiley
*
Gigi of the Pritzkers is the one
Her plan for a museum is not fun
She'll build it in Grant Park
Even after dark
Because that's how Chicago is run
*
There once was a museum at the Pier
For kids, it was without any beers
The mayor said "No"
To Grant Park you will go
With enough liquor for all of our "cheers"
*
At the Pier, the museum was a dream
It was great for Chicago's esteem
But the public got sicker
As the plot got thicker
And they discovered Grant Park was the scheme
*
There once was a mayor name Richie
Who's love for the "kids" was real kitschy
But when the public said "No"!
To a museum sunk low
It made Kitschy Richie quite Bitchy
*
There once was a Burnham named Dan
Who for Chicago had a great plan
He said Grant Park should be
ever open, clear and free
And to fight for that cause, if we can
*
The museum at Navy Pier was no lark
But the mayor said move to Grant Park
When the people said "can't"
To a bunker in Grant
The Mayor got so angry he lost his train of thought
and grumbled and mumbled
about a lot of things that didn't make any sense

Posted by Lou at 08:30 AM | Permalink
Sleeping Beauty at Rockwell Station
cc: ctahelp@chicago.com
Hello,
I e-mailed you on March 24 and March 26 regarding a sleeping employee at the Brown Line Rockwell Station. Well, at around 7:20 this morning, I walked into the station and a different employee was asleep. Sleeping Beauty looked rather happy in her slumber, leaning back in her chair, eyes closed, a small grin on her face. Slamming my hand on the kiosk door didn't seem to stir her from her slumber. Maybe she was dreaming of a magical fairytale place where the trains run without delay and people get to work on time (I have that dream too, sometimes). I wish I had brought my camera; I had finally put it away thinking that the issue was resolved. I was mistaken.
Now, I know that the CTA has much more important things on its plate besides getting the union to make sure their members stay awake to do their job. You have to master the fine skill of communicating to customers when a train is stuck in a subway tunnel for hours - something that the CTA has a hard time doing. You have to fix the tracks after decades of decay and and the use of cheap materials from incompetent contractors hired many years ago (are you ever going to sue the contractors for this?) You must fix all the many typos on the scrolling marquee (I didn't know that the word "all" was spelled with 3 L's - thanks for finally fixing that). You have to deal with the difficulties in following a 7-10 minute train schedule (this morning the Brown Line Run 419 was so late - again - that it ran express from Western to Southport - again. While I was sitting at Belmont, I heard an announcement that the Red Line train was going to run express from Belmont to Howard).
You must work your employees super hard that they can't stay on schedule or stay awake! They seem so tired all of the time. Well, guess what? I am tired, too. I am tired of seeing CTA employees sleeping on the job. I am tired of sending e-mail after e-mail and not seeing anything get done. I am tired of employees having no clue as to what line or station a customer needs to reach their destination. I am tired of sending rather polite complaints and receiving a generic "we appreciate your feedback" responses. I am tired of asking questions and never getting answers. I am tired of sending e-mails and letters and making phone calls to my representatives, state senators and the governor pleading them for more of my money to go toward mass transit. I am tired of writing Letters to the Editor at the major newspapers in support of mass transit. I am tired of attending CTA meetings and getting my friends and family to sign petitions to save mass transit. I am tired of having to explain why mass transit is so important to this city. I am tired of the broken doors (they've been broken for months now) at the brand new Rockwell Station because some incompetent employee installed the doors incorrectly. I am tired of sitting on an train wondering why we have been delayed for 10 minutes. I am tired of the drone of the automated voice over and over again telling me that we are delayed, without giving reason. I am tired of waiting 20 minutes to catch a train during rush hour. I am tired of having to constantly defend the CTA to everyone I know, despite the massive management and infrastructure issues. And I am tired of the excuses.
Here's a little secret: people would likely be more tolerant of the CTA if the little things that get people irritated - the seemingly easy-to-fix things (broken doors, sleeping employees, poor
communication) rarely happened.
Next time I see a sleeping employee, I will get a picture and send it to every major newspaper and television station in the city.
Please do not hesitate to contact me with any questions.
Warmest regards,
Erika Enk
-
Erika received this response:
Thank you for your complaint. As with last time, we will take corrective action.
- CTA Customer Service
-
Erika then received this update:
From: cta help
Date: Apr 30, 2008 7:22 AM
Subject: FW: Sleeping Beauty at Rockwell Station
Dear Ms. Enk:
Just as an update, the employee you observed sleeping yesterday at the Rockwell station was suspended and given a special warning that any subsequent violation of our rules would merit even stronger punishment.
The other employee you reported last month was similarly disciplined.
Please be assured that any complaint of this nature is taken very seriously, investigated by the appropriate supervisors and that we can and do take corrective action. We share your expectation that CTA employees should be alert and diligent in the performance of their duties and any reports to the contrary are always welcome and acted upon.
- CTA Customer Service
Posted by Lou at 06:01 AM | Permalink
Midland Authors Awards
PRESS RELEASE

SOCIETY OF MIDLAND AUTHORS ANNOUNCES AWARDS

The Society of Midland Authors announces the winners of its annual awards. The society will hold its annual banquet and awards presentation May 13 at the Hotel InterContinental in Chicago, emceed by Victoria Lautman.

CHICAGO-AREA AUTHORS HONORED: The winners include one Chicago-area resident, Judith Testa of St. Charles, who wrote the top biography, Sal Maglie: Baseball's Demon Barber. Finalists include Tony Romano of Glen Ellyn, who teaches at Fremd High School in Palatine; Marlene Targ Brill of Wilmette; and Ann Hagedorn, who began writing Savage Peace while she was living in Chicago. In addition, Myrna Petlicki of Skokie will receive the James Friend Memorial Award for Criticism at the banquet.

The following are the winners and finalists for books by Midwest authors published in 2007.

ADULT FICTION
WINNER
Matthew Eck, "The Farther Shore, Milkweed Editions
(Author's hometown: Kansas City, Mo.)

FINALISTS
Tony Romano, When the World Was Young, HarperCollins
(Author's hometown: Glen Ellyn, Ill.)

Benjamin Percy, Refresh, Refresh: Stories, Graywolf Press
(Author's hometown: Stevens Point, Wis.; formerly of Milwaukee)

Brock Clarke, An Arsonist's Guide to Writers' Homes in New England, Algonquin Books (Author's hometown: Cincinnati, Ohio)

ADULT NONFICTION
WINNER
Patricia Hampl, The Florist's Daughter, Harcourt
(Author's hometown: Minneapolis, Minn.)

FINALISTS
Barbara Oakley, Evil Genes: Why Rome Fell, Hitler Rose, Enron Failed and My Sister Stole My Mother's Boyfriend
(Author's hometown: Rochester, Mich.; formerly Port Townsend and Seattle, Wash.)

Ann Hagedorn, Savage Peace: Hope and Fear in America, 1919, Simon & Schuster
(Author's hometown: Ripley, Ohio; formerly of Chicago and Dayton, Ohio)

BIOGRAPHY
WINNER
Judith Testa, Sal Maglie: Baseball's Demon Barber, Northern Illinois University Press (Author's hometown: St. Charles, Ill.)

FINALISTS
Robert E. Bonner, William F. Cody's Wyoming Empire: The Buffalo Bill Nobody Knows, University of Oklahoma Press (Author's hometown: Northfield, Minn.)

Robert Collins, Jim Lane: Scoundrel, Statesman, Kansan, Pelican Publishing Co.
(Author's hometown: Andover, Kan.)

CHILDREN'S FICTION
WINNER
Gary D. Schmidt, The Wednesday Wars, Clarion Books
(Author's hometown: Alto, Mich.)

FINALISTS
Roderick Townley, The Red Thread: A Novel in Three Incarnations, Simon & Schuster
(Author's hometown: Shawnee Mission, Kan.)

Nancy Crocker, Billie Standish Was Here, Simon & Schuster
(Author's hometown: Minneapolis, Minn.)

Joan M. Wolf, Someone Named Eva, Clarion Books
(Author's home state: Minnesota)

CHILDREN'S NONFICTION
WINNER
Cris Peterson, Clarabelle: Making Milk and So Much More, Boyds Mills Press
(Author's hometown: Grantsburg, Wis.)

FINALISTS
Dawn Fitzgerald, Vinnie and Abraham, Charlesbridge Publishing Co.
(Author's hometown: Pepper Pike, Ohio)

Marlene Targ Brill, Marshall 'Major' Taylor: World Champion Bicyclist, 1899-1901, Twenty-First Century Books
(Author's hometown: Wilmette, Ill.)

POETRY
WINNER
Jeff Gundy, Spoken among the Trees, University of Akron Press
(Author's hometown: Bluffton, Ohio)

FINALIST
Donald Platt, My Father Says Grace, University of Arkansas Press
(Author's hometown: West Lafayette, Ind.)

JAMES FRIEND MEMORIAL AWARD FOR CRITICISM
Myrna Petlicki (freelance theater critic, Skokie, Ill.)

DISTINGUISHED SERVICE AWARD
Phyllis Ford Choyke (Elmhurst, Ill.)

The Society, founded in 1915 by a group of authors including Hamlin Garland, Harriet Monroe and Vachel Lindsay, has given out awards on an annual basis since 1957. The juried competition is open to authors who live in, were born in, or have strong ties to Illinois, Indiana, Iowa, Kansas, Michigan, Minnesota, Missouri, Nebraska, North Dakota, Ohio, South Dakota or Wisconsin. Notable winners over the years have included Saul Bellow, Studs Terkel, Gwendolyn Brooks, Mike Royko, Jane Smiley and Scott Turow. Prizes include a cash award and recognition plaque. Since 2002, the Society has also presented the James Friend Memorial Award for Literary Criticism at its awards banquet.

Emcee Victoria Lautman is the founder, host and executive producer of Writers on the Record With Victoria Lautman, which airs on WFMT 98.7 FM, featuring her interviews with authors in front of an audience at Lookingglass Theatre. Lautman also writes a monthly books column in Chicago magazine.

The Society of Midland Authors awards banquet will be Tuesday, May 13, at the Hotel InterContinental, 505 N. Michigan Ave., Chicago. Cocktails begin at 6 p.m. in the Camelot Room, followed by dinner at 7 p.m. Tickets are $60. To order tickets, fill out the form at the Society's Web page.
Posted by Lou at 04:56 AM | Permalink
April 29, 2008
The [Tuesday] Papers
UPDATE 1:52 P.M.: Geez, I fell asleep for awhile and woke up to what I think was Barack Obama making a total break with Jeremiah Wright. "The person I saw yesterday is not the person I met 20 years ago," he said. That claim will be tested, but . . . wow. CNN will replay Obama's remarks in their entirety at 2 p.m.
*
Plus, our very own Tim Willette reports from the campaign trail:
"McCain Seeks Tax Credit To Help Buy Health Insurance"
- AP - 37 minutes ago

He doesn't already have health insurance? Maybe Medicaid expires after a certain age.

*
Sigh. You know, I haven't really written about Jeremiah Wright, and I was really trying not to, but here are a few thoughts.
* I don't much care about even the crazier things Wright says. This shouldn't be about Wright, it should be about Obama. But it's not about whether Obama shares Wright's views; that's looking in the wrong direction. (I'll get to what I think is the right direction shortly.)
* I also don't think this has anything to do with showing that Obama is not a unifier because some of Wright's statements are divisive. In fact, I think that's baloney. I think Obama is not a unifier because he has no genuine political track record proving he is, just a record that's been spun like cotton candy. But his church has nothing to do with it.
* I think Wright is obviously wrong when he says this whole imbroglio is an attack on the black church, but again, this isn't about Wright.
* I think Obama apologists are also missing the point. First, liberals have criticized conservatives for years for their religious associates. If John McCain's personal pastor for 20 years was Pat Robertson, I'm sure Obama supporters would heretofore have raised holy hell. As it is, McCain reportedly seeking John Hagee's endorsement is bad enough. But now that Obama's got a problem pastor, a lot of Obamaphiles are screaming that their man is being held to a new, unreasonable standard. Hogwash. Even Obama himself says it's a legitimate issue.
* So here's the right direction part: What bothers me about Jeremiah Wright isn't Jeremiah Wright, but how Barack Obama has, to use a cliche, thrown him under the bus. Now, bear in mind, I'm not defending Wright's more outlandish statements. But I've long thought that Obama's disinviting Wright from his presidential campaign announcement speech in Springfield was exactly the kind of calculating political move that Obama is campaigning against. This was the man who brought him to Christ! The man whose sermon inspired the speech that launched his presidential campaign! The sermon that gave a title and theme to a book that made Obama millions! He married you and your wife, baptized your kids. And you disinvite him from your presidential announcement speech for admitted political reasons? Where is the hope?
Now Obama edges ever further away from Wright; just like Tony Rezko and Bill Ayers, he suddenly barely knows him! Note how Obama now calls him "my former pastor." And does anyone believe that Obama was unaware for all of these years what Wright was about? That contradicts the very reason why Obama disinvited Wright from his Springfield speech. Now, though, Obama says he would have left the church had he known what his personal spiritual advisor of 20 years was really like (even as his campaign released a photo of Wright at the Clinton White House to prove . . . something, just like they sent out that meet-and-greet snapshot of the Clintons with Rezko.)
We now also have a lot of "journalists" advising Obama on how to "get past" Wright and solve his political problems. I'm still trying to figure out just when journalists decided their job was to act as campaign strategists.
I'd really rather all this attention be focused on the Rezko trial and Obama's actual record and political relationships in Illinois, which is of far more import. (And for the record, what bothers me about Ayers in terms of Obama is that it seems to be another instance of Obama's opportunism in seeking the right political connections at the right times to advance himself that undercuts Obama's claim to the moral authority of a different kind of politician practicing a new kind of politics.)
* Obama's wish that Wright would go away also undercuts his Philadelphia speechifyin' about a dialogue on race, because that's mostly what Wright is talking about. Curiously, Obama is not saying, "Bring it on!" Maybe that would actually be a better way to engage blue-collar white voters - who are adults, after all - instead of going bowling. Maybe what voters still reluctant to support Obama want to know, in part, is where he stands on affirmative action, hate crime legislation, reparations, rap videos, and the disproportionate number of blacks who are impovershed or imprisoned. (I happen to believe their concerns are economic, not racial, but he's going to have to address this stuff at some point, especially given Wright.) What is his agenda? You may be able to "transcend" race, but you can't transcend the issues.
* I would prefer the kind of straight talk - a teaching moment, if you will - that Obama engaged in earlier in the campaign when he explained why he thought wearing flag pins had become a cynical exercise that had nothing to do with real patriotism. That was one of his best moments of the campaign, but that kind of talk has eluded him in the crunch.
It might have been nice - and more productive - if, instead of engaging in ever thinner permutations of what sermons he had heard and when, and what degree of denunciation and disowning he is willing to do, Obama simply told us what I suspect to be the truth: Wright is a brilliant preacher and church-builder who has been one of the most influential people in Obama's life, and when Wright would launch into his crazy talk, well, that's sometimes what people do, and we love them anyway, and it's better to have that conversation than shut it down and divide ourselves. Reveal what conversations they did have. I'm sure Obama never believed any of the wacky stuff - and listen, I don't believe the federal government created the AIDS virus, but at one point in time it was a valid question to ask, though not specifically to kill black people - but he also might have thought it wasn't his place to argue with his pastor.
In other words, just tell us the truth, because there is a sense - like with Rezko - that we really haven't heard Obama's genuine thoughts.
Then again, maybe I'm giving Obama too much credit to start with. "And when a reporter asked if Obama was a regular churchgoer," the Tribune editorial page says today, "Wright retorted, 'He goes to church about as much as you do.'"
The truth is, we still don't know exactly who Obama is. And that's why it's not a good idea to elect obscure state senators to the presidency on the strength of a convention speech and a platform of "hope," no matter how bad the last seven years have been.
-
Don't forget to visit me at Division Street throughout the day.
-
The Beachwood Tip Line: Preach to me, people.
Posted by Lou at 08:46 AM | Permalink
Westward Ho!
I have always had a unique relationship with birds. As far back as I can remember, I have been entranced by, entertained by, fascinated by, and attacked by birds. For every time I arrive at my shit-splattered car, or am accosted by seagulls at the beach, and under my breath mutter how much I hate birds, there is another occasion in which I am mesmerized by the sight of a bird out my window or during a woodsy hike.
Naturally, there is a hierarchy for the tolerability of birds. I don't think there are many of us fighting causes in defense of those damn Canadian Geese, for example, who seemingly have more rights in America than you or I. When working at an old job, I ate lunch outside the office towers on most nice days. Surrounding a section of the building was a dirty man-made pond that was home to its own active community of the forsaken species.
Every hike out to our favorite lunch bench was a sure-footed exercise in avoiding mounds of goose crap. Worse yet was dodging the irate territorial creatures themselves, who hissed and charged at you with all the hate in the world swirling around in their beady black eyes. The trick, we quickly learned, was to walk briskly and without eye contact. Insolent beasts, they are. And if you hit one with a car, you get a ticket! Where are the squirrel activists on this one? Why do we protect this obnoxious clan of feathered rodents, and not milder, often cuter common roadkill candidates?
I'll never forget the satisfied look upon my detective friend's face during his retelling of how thousands of feathers exploded in every direction when one of those geese fatefully met his truck's grill on the way to the station one day. I don't think he wrote himself a ticket.
Then there are the ever-belligerent seagulls. I truly feel bad for seagulls because although they are dirty and annoying, it is humans who have ruined the seagull's rap. I cannot even convey the level of contempt I hold for all those fat-ass American families who sit on their beach blankets and for amusement (because reading or being civil are not an option for many Americans) throw food at the gathering hordes (not flocks) of seagulls, who jump on a tossed Cheetos Puff as though they are tempting starvation and need it to live another day.
I can see how this mild form of animal abuse can garner a laugh from some simple-minded folks, but this practice is just plain evil to the seagulls. Not only are humans feeding them processed crap that no living organism should eat, but they are shattering the species' reputation by distinguishing them as pesky beggars. This is why seagulls get fed Alka-Seltzer tablets on a regular basis.
But the reason I brought up birds in the first place is because I have been quite intimate with birds of all varieties since moving to Washington. Chicago's landscape provided less than desirable opportunities to appreciate birds. But somewhere between the natural environment and the slower pace of life here, I often find myself wishing I had a thorough encyclopedia of birds. I've known adults to have such things. And I suppose it is just a certain coming of age that many of us will go through. I have reached that age now, where a bird encyclopedia is topping my birthday wish list. Boring adulthood, here I come!
My house here sits upon a ravine in the backyard, and on the side of a large brush ideal for sheltering small animals. One of the very first occurrences that charmed me in Washington was the daily meet-and-greet with a California quail.
Last spring, the quail sang loudly from our brush. Like any brutally normal person, I enjoyed answering its calls with a simple response: "Hi, Quail!" And without fail, it called back. Sometimes I would start the conversation if the brush was silent upon my appearance. But the result always remained the same - a 10-minute exchange with the quail, who proved to be quite the chatterbox indeed.
About a month or so passed when suddenly one day, my quail stopped talking. I pointed a finger at my cat, who knew as well as I did, that my quail would make for a tasty afternoon treat. But alas, his paws were clean. Some more time passed without a peep, and no sooner than I had given up on it a dozen quails emerged marching from the brush - two adults leading the pack of teeny baby quails who hobbled behind on new sticks-for-legs.
My quail had not left after all, but was merely shacking up with its mate to have sexy-time and a litter of babies. To think! I was probably irritating the hell out of the quails, calling unremittingly in my piercing Chicago voice, especially since the whole purpose of my quail's initial dialogue was to catch itself some tang. It was most likely not even interacting with me after all.
You can imagine that this realization did nothing for my self-esteem in regards to friend-making. First my cat dies, and then my quail ditches me for some ass. However, I could not avoid being warmed to the cockles at the sight of the small quail soldiers, clumsy and new to the world. One afternoon after work, my eyes were caught by the entire lot of them, tight-roping atop a fence, making funny quail chatters as they went along.
Another new and exciting encounter I now have regularly is the observance of bald eagles and their kids. Out on the peninsula, eagles oversee all the action from their tree-top perches. They line along the coast of the Strait of Juan de Fuca and stalk fish in shallow waters. I love surveying the trees as we drive along, and watching the eagles dive-bomb and dominate their prey as it flaps helplessly underneath their giant talons. Makes me proud to be an American even more than being able to buy a gun at a local sporting store.
All in all, my once-timid approach to birds - having been attacked by one at an early age and growing up with Lake Michigan's finest seagulls - has now given way to an appreciation and wonderment over the feathered species. I watch hawks soar over my house and Snohomish Valley completely in awe of their coordination and precision. Out on a hike, redheaded woodpeckers top the trees, busily banging away at the bark. Flashes of intense blue cross my bedroom window and my eyes trace the flash to the Steller's Jay perched in the nearest tree.
I walk outside to my car at five every morning to a choir of chirps and tweets and coos from all around me. And like any perfectly sane individual, I yell back from my car door: "Good morning, birds!"
-
-
Previously:
* Part One: Departure
* Part Two: Rebuff
* Part Three: MySpace
* Part Four: Peninsula
* Part Five: Homeward
Posted by Lou at 06:34 AM | Permalink
The Cub Factor
If you read last week's Cub Factor, you know my wife and I had a baby boy last week. Well, little Mitchell is home now and mom and dad aren't getting a whole lot of sleep. Okay, the Cub Factor is getting pretty personal now, but I promise I won't talk about my son every week. But I will again this week. I mean, give me a break. Anyone who's had a child knows that the first few weeks are just plain nuts. And honestly, lack of sleep over a sustained period is a form of torture. Which was kind of like watching the Cubs lose their weekend series to the Washington Nationals. Just torture. Losing to the Nationals is like waking up every 45 minutes for 10 hours straight and then getting punched in the lower back. It's super annoying and you are so sleep-deprived delirious that when you hear the wailing from the other room you wake up so fast you say things like, "Take a strike Felix!" and the game's been over for hours.
*
Week in Review: The Cubs went 4-3 this week, taking three of four from the two 2-game series' with the Mets and Rockies and losing two of three to the Nationals. Wins against the Nats should count for less and losses should count for more. Kind of like certain states in the Democratic primary.
Week in Preview: The Cubs come home for three against the Brewers and travel to St Louis for a weekend set with the Cardinals. As long as the Nationals aren't on the schedule, expect goods things.
The Second Basemen Report: Suddenly, we have a new contestant. Ronnie Cedeno started four of the seven games this week as good old Uncle Lou mixed it up just the way we like it. Mark DeRosa, who has also seen time in left field with Alfonso Soriano out, started one game at second and Mike Fontenot started two. These are the weeks that make The Second Basemen Report special. It's a mixed bag without much rhyme or reason. You know, just like Hendry drew it up.
In former second basemen news, Steve Dillard last played for the Cubs in 1981. He was a minor league coach and manager with a few teams after he retired from playing. He is missed.
Zam Bomb: The fuse stays extinguished as Big Z wins two games this week. But a bunch of walks in his last outing is a good reminder to keep the bomb squad number programmed into your phone.


Lost in Translation: Smokino mirro is Japanese for 2008 Chicago Cubs.
Sweet and Sour Lou: 72% sweet, 28% sour. Lou is down 6 points on the Sweet-O-Meter due to losing to shitty teams. And like your real crazy drunk uncle, Lou is happy you got off to a great start in your grade-school district spelling bee, but he knows you can't spell "contender" with what you did last week.
Beachwood Sabermetrics: A complex algorithm performed by the The Cub Factor staff using all historical data made available by Major League Baseball has determined that losing to the Nationals means something more than just losses.
The Cub Factor: Catch up with them all.
Center Stage: Reed Johnson made five starts this week in center and pulled off one of the greatest catches ever. Felix Pie started two games this week and actually got a few hits. This might actually be a contest for the starting centerfield job. Oh wait. No it isn't.
Over/Under: The number of Cubs fans who are idiots for wearing Japanese headbands: +/- all of them.
With Apologies To Nena: 99 Years of Cub Losses (99 Jahre von Bengeln Verlusten).
Mount Lou: Lou moves up to alert level yellow as pressure from a fault line in Washington, D.C., stirs inner anger lava. Smoke may billow this week to show villagers that Mount Lou still has magma in it's veins. Probably Thursday.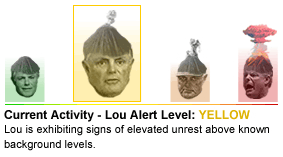 -
Send comments, questions and advice on molding an infant into a left-hander to Marty.
Posted by Lou at 06:03 AM | Permalink
April 28, 2008
The [Monday] Papers
"Wm. Wrigley Jr. Cos., in a move it said will provide 'enhanced prospects for growth,' confirmed this morning that it has agreed to be acquired by privately held candy-industry giant Mars Inc. for $80 a share, or $23 billion," the Tribune reports.
Which joke will get more play, Mars Field or Snickers Stadium?
*
Here's an idea: Mars should buy the Cubs too.
Kosuke Fukudome's at-bat taking too long? Have a Snicker's!

Sign of the Times
"The yellow-and-orange bus would stand out anywhere even without the giant letters proclaiming its purpose: RepoHomeTourChicago.com. A handful of buyers have showed up to board the 12-seat shuttle parked at Woodfield mall amid the drizzle on a recent Saturday morning," the Tribune writes.
"As they take their seats, the home shoppers are handed a slick binder listing the repossessed properties they will see in the next two-and-a-half hours. 'Welcome to Chicagoland's Premier Foreclosure Tour,' it says. 'Today we visit Hoffman Estates and Schaumburg.' A few minutes after 11 a.m., the bus pulls onto Golf Road, and they're off.
"Not long ago, many people viewed shopping for a foreclosed home as a distasteful act, a form of benefiting from someone else's misfortune and misery. As thousands of distressed properties have glutted the market nationwide, driving down home prices for the first time in generations, that stigma appears to have greatly lessened, or maybe disappeared."
Gun Play
"Daley Backs Plan To Give Assault Rifles To All Cops."
"Gang Leaders Back Plan To Give Assault Rifles To All Foot Soldiers."
Say they won't be outgunned by police.
Root Causes
"A reinvigorated gang war over territory south and west of downtown is at least partly to blame for the rising mayhem that is ensnarling ever-younger schoolchildren on neighborhood battlefields," the New York Times reports. "An overwhelming majority of Chicago's public school students - some 85 percent, according to federal statistics - live in poverty."
Just stop and think about that for a second. Eighty-five percent of Chicago's public school students live in poverty. Eighty-five percent. That, my friends, is the issue.
*
"Police officials refused to release up-to-date murder and shooting statistics," the Trib reports, "saying those numbers won't be official until the middle of next month."
See, for now those kids are only unofficially dead.
Pay To Play
The Tribune does the math:
* Donations of exactly $25,000 given to Gov. Rod Blagojevich since 2000: 235. (Compared to 14 to his predecessor.)
* Percent of those donations that came from someone who later got a state contract, job or board appointment: 75.
Dale's Bow
"His Most Vile Tax Is A Toll On Belief."
Free Speech Costly
"Of the 20 finalists to sit on a new nine-member board to oversee Cook County hospital operations, 16 have contributed money to Illinois politicians," the Sun-Times reports.
"A Stroger spokeswoman said politics won't determine who is selected, adding it's 'incorrect and illegal' to 'infer that there is a direct connection between contributions to elected officials and the names submitted.'
"'A donation to an elected official is an act of free speech,' Stroger spokeswoman Ibis Antongiorgi said."
A) And she can't help it if some acts of free speech are louder than others.
B) And if that's how much free speech costs, so be it.
Hooker Hell
"Every reliable study of women working in prostitution finds that more than 90 percent have been victims of childhood sexual assault," a DePaul researcher tells the Trib. "Most entered the sex trade in their teens, after fleeing abuse and having no other way to support themselves. Many are alcohol and drug dependent."
Speaking Latin
"A Cook County judge ruled Friday that work can continue on a controversial soccer field in Lincoln Park but refused to guarantee that the private Latin School will have priority use of the park space," the Tribune reports.
Circuit Court Judge Dorothy Kinnaird made the call.
"Kinnaird also criticized the [park] district for not holding enough public hearings. 'There is something very troubling about the case,' she said, citing 'secrecy' and 'lack of information' provided to residents.'"
*
Nugget: "Under a 2006 agreement, the Park District would have to reimburse Latin School for the design and construction fees the school has spent if the project is terminated."
And Park District officials will automatically be enrolled in Negotiating Skills for Dummies at the Discovery Center.
Ain't That America
"The United States has less than 5 percent of the world's population. But it has almost a quarter of the world's prisoners," the New York Times reports.
"Indeed, the United States leads the world in producing prisoners, a reflection of a relatively recent and now entirely distinctive American approach to crime and punishment. Americans are locked up for crimes - from writing bad checks to using drugs - that would rarely produce prison sentences in other countries. And in particular they are kept incarcerated far longer than prisoners in other nations.
"Criminologists and legal scholars in other industrialized nations say they are mystified and appalled by the number and length of American prison sentences.
"The United States has, for instance, 2.3 million criminals behind bars, more than any other nation, according to data maintained by the International Center for Prison Studies at King's College London.
"China, which is four times more populous than the United States, is a distant second, with 1.6 million people in prison."
*
"San Marino, with a population of about 30,000, is at the end of the long list of 218 countries compiled by the center. It has a single prisoner."
Ask Beachwood
Oh for godsakes, Conflicted Catholic, just do it already!
God wants you to, trust me.
Poll Position
"15% Say They've Driven Drunk"
84.9% say they lie to pollsters.
The Beachwood Tip Line: Unofficially.
Posted by Lou at 09:26 AM | Permalink
Reviewing the Reviews
"How you feel about Sheila Weller's Girls Like Us: Carole King, Joni Mitchell, Carly Simon - and the Journey of a Generation may depend on how you respond to Weller's dedication, which reads: 'To the women of the 1960s generation. (Were we not the best?)' If that's the sort of thing that gets you all hepped up to pour a glass of chardonnay and order some gauzy embroidered tunics and Clarks sandals from the Soft Surroundings catalog, then you go, girl! If, on the other hand, the nakedly self-congratulatory quality of that dedication makes you want to play a record by the Slits or Hole or Sleater-Kinney, really loud, you may be in a different category, or just a different age group - not the 'best' one," Stephanie Zacharek writes in the New York Times
I'll take loud. Really loud. And I'm a fan of the 60s.
Still, Zacharek finds much of value in this book, though to my eyes it looks like the value has everything to do with emerging songwriting talent and nothing to do with anything generational. In fact, Zacharek argues that of the three, only Carole King really changed the world.
"By 1961," she writes, "King was not yet 20, although she was already a wife and mother and had written, with her husband, the Shirelles' No. 1 hit 'Will You Love Me Tomorrow.' At the time of its writing, Goffin was still working full time at a chemical company; King was at home, taking care of the couple's infant daughter. The two were building a dual career as songwriters in the little spare time they had. King wrote the music; Goffin supplied the lyrics. King wrote much of the melody for 'Will You Love Me Tomorrow' during the course of an afternoon. She recorded what she had and then dashed off to a mah-jongg date with a friend, leaving a note near the tape recorder for her husband to find upon his return from work. The song had to be ready to present to the Shirelles the next day. 'Please write,' the note said.
"Goffin loved what he heard on the tape. 'I listened to it a few times,' he tells Weller, 'then I put myself in the place of a woman - yes, it was sort of autobiographical. I thought: What would a girl sing to a guy if they made love that night?' And so this glorious song, as astonishing a summation of women's insecurities as has ever been written, and one that shocked listeners with its frankness, came to be. The melody, at once pleading and confident, had come first: it was so powerful that it inspired a man to slip into the skin, and the heart, of a woman.
"Later, King would leave Goffin and reinvent her life, several times over. She went on to make a bold, beautiful and enormously popular LP, Tapestry (1971), one of those rare albums that both connect with an era and survive that era's baloney. Later still, she'd move to Idaho and become an environmental activist. But in 1961 she was a muse who had turned a man - just for the space of a song - into a woman. And that may be even harder than changing the world."
Sexual Science
I've read several views of Mary Roach's Bonk: The Curious Coupling of Science and Sex, but this is the only one that makes the book sound like any fun (which could very well mean it isn't.)
"She straddles the border between insider and outsider reporting, offering description explicit enough to interest a physiologist but perpetually amazed and amused enough to reach those of us who don't spend all our time mulling matters like the orgasms of paraplegics, the AMS Malleable 650 Penile Prosthesis, the intercourse rates of rats wearing little polyester pants, or whether uterine upsuck (if it exists) affects fertility," Alexander Kafka writes.
"I recall one instance (in a footnote) of the 'F'-word, used in the context of a chimp's digital stimulation, and lots of common slang like 'wang' and 'boner.' But while I wouldn't necessarily give the book as a confirmation or bat mitzvah present, it generally tilts toward the tasteful when it could tilt otherwise. Fundamentally, it is, as Roach puts it, 'a tribute to the men and women who dared. Who, to this day, endure ignorance, closed minds, righteousness, and prudery. Their lives are not easy. But their cocktail parties are the best.'"
Book Bites
* The title of former Major League Baseball Commissioner Fay Vincent's new book is We Would Have Played For Nothing: Baseball Stars of the 1950s and 1960s Talk About The Game They Loved.
Not if they found out how much money the owners were making off of them. Come to think of it, I think that's what happened.
And new in paperback:
* Consumed: How Markets Corrupt Children, Infantilize Adults, and Swallow Citizens Whole.
* Teenage: The Prehistory of Youth Culture, 1875 - 1945

Posted by Lou at 07:49 AM | Permalink
The White Sox Report
Through his first 24 games as a member of the White Sox, Orlando Cabrera has fit in perfectly in Chicago. Acquired for his gold-glove defense at shortstop and to bring speed and intelligence to the top of a powerful order, Cabrera has been as good as advertised so far. He's struggled a tad at the plate, but boasts an OBP .100 points higher than his batting average, and his defense has been as stellar as ever.
Cabrera has also fit seamlessly into Ozzie Guillen's heavily Latino clubhouse. But just this week, we found out that Cabrera also has a lot in common with some of Chicago's other top athletes. Ladies and gentlemen, Orlando Cabrera likes to party.
After the (Red) Sox won the World Series, Cartagena celebrated its native son. Civic leaders sent a fire truck to pick Cabrera up at the airport and take him directly to a ceremony at City Hall. But not long after that, Red Sox management decided that the free agent was no longer in their plans. There were rumors that Cabrera partied too much, according to a source close to the organization.
Consider this the golden-age for partying athletes in Chicago.
None is more famous than Bears reserve quarterback Kyle Orton, whose stained t-shirts and obscene hand gestures got him inducted into the Deadspin Hall of Fame in 2006.
Orton is hardly the Bears only partier. There's Brian Urlacher (plowed Paris Hilton in Las Vegas), Tank Johnson (went to Ice Bar one time too many), and Ricky Manning Jr. (celebrated a newly signed contract with the Bears by beating the piss out of a computer nerd at Denny's). Seriously, who goes to Denny's sober?
Recently, however, there have been reports that Orton has put his beer bong away, and, in an effort to revitalize a reputation fit for a clown, has become a crusader for environmental awareness. While the reports are likely horribly inaccurate (not to mention downright hilarious), it's good to see Chicago adding some new blood to the party scene in the form of Cabrera.
*
Week in Review: A near-perfect game from John Danks and a game-winning RBI by Brian Anderson in the same week? This could be a good year. The Sox lost two of three to the Yankees, and took two of three from the Orioles. For any Cubs fans reading this, that means the Sox finished the week 3-3 (burn!).
Week in Preview: On Tuesday, Sox will pack their bags for a five-game road trip to Minnesota and Toronto.
Over/Under: The number of text messages Mark Buerhle's cell phone plan allows him to send each month: Unlimited.
Shouldn't they call him Mr. Thome on second reference? Screw the New York Times, Jim Thome is totally a Hall of Famer.
Plan Your Evacuation Route Now, Ehren: Last time we saw Ehren Wasserman, he was taking the CTA to work and shutting down right-handed batters everywhere. Wasserman will finally grab his rightful bullpen slot this week because of the demotion of Mike MacDougal.
That's Ozzie: "I keep saying the best [Yankees] player who ever happened - bigger than someone else, but I'm not going to say the name here - is Derek Jeter. Derek Jeter has everything in his life. He's got money. He's got rings . . . he's not married.
Beachwood Sabermetrics: A complex algorithm performed by the White Sox Report staff using all historical data made available by Major League Baseball has determined Carlos Quentin will never stop getting hit by pitches.
The White Sox Report: Read 'em all.

Posted by Lou at 07:02 AM | Permalink
What's Wrong With You?
Doctor Gives 4 Tips To Gauge Your Health Before It's Too Late

Sudbury, ON - The kind, gentle old family practitioner keeping an eye out for the patient's overall health is a thing of the past. These days, doctors are as swamped with HMO paperwork as they are with patients.

The New England Journal Of Medicine reports the average doctor's appointment lasts less than 22 minutes. An American Medical Association report cites patients changing health insurance providers as a reason few have the same "family doctor" watching over them year after year. It's becoming the patient's responsibility to keep an eye on their own changing health, guide their doctors, and do their own bodies "preventive maintenance."

In his new book, Medical Crisis: Secrets Your Doctor Won't Share With You, Dr Anthony Martin asserts that breast cancer and prostate cancer are nearly 100 percent preventable. It takes more than five years for most cancers to grow to the size of the tip of a ballpoint pen. By the time cancer is found by routine blood tests or feeling a lump, the patient may have missed precious time.
"Your car has dashboard warning lights to alert you that the oil is low, or you're out of gas," says Dr. Martin. "The body has those same warning signals. You just have to know how to read them."

Here are Dr. Martin's four warning signs to find out if you are on the path to cancer, stroke or other illnesses:
1. Energy. "If you've been tired for three weeks straight, your body is trying to tell you something is wrong." Long-term fatigue is tied to red blood cells. Red blood cell problems can lead to liver, kidney or brain trouble. Check yourself: Ask your doctor for a simple blood test.

2. PH Balance. Seventy percent of the human body is water. Water, like in your swimming pool, is either acidic or alkaline. An unbalanced PH (Potential Hydrogen) is a breeding ground for cancer, cardiovascular disease, diabetes and premature aging. Check yourself: Ask your doctor for a saliva test.

3. Free Radicals. The body produces free radicals as a process of detoxifying itself. When balanced, they are used by the immune system to destroy bacteria and viruses. Unbalanced free radicals can lead to cancer, coronary heart disease, stroke, arthritis or Alzheimer's. Check yourself: Ask your doctor for a urine test.

4. Inflammation. You need cells to "puff up" to stop bleeding - but too much can strangle the arteries and cause coronary heart disease. Fat cells are a side affect of obesity. Too many fat cells or cells that are too "puffy" can lead to asthma, diabetes and cardiovascular disease. Check yourself: Ask your doctor for a blood test.

Most doctors know these warning signs, but few sit back to contemplate how these symptoms work together to affect your health.

"More than half of people who make appointments with their doctor complain of fatigue," says Dr. Martin. "But doctors rarely bother to ask why you're tired, or how that affects long-term health. They wind up prescribing sleeping pills, or dealing with the short-term affects of exhaustion. They don't stop to think that lack of energy is a big, red, flashing warning sign that something is seriously about to go wrong with the body."
Dr. Martin suggests once you've got a realistic idea of where you stand you can start giving yourself the antidote. "Change your attitude, change your diet, change your exercise habits and change your supplements . . . So much of what Americans are dying from these days is 100-percent preventable. These four tips really can save your life."

About Dr. Anthony Martin
Dr. Martin is certified as a Natural Medicine Practitioner as well as a qualified Chiropractor. He is a respected and renowned nutraceutical consultant, nutritional practitioner, author and medical spokesperson. He is a world famous research leader in the fields of Chronic Fatigue Syndrome, Fibromyalgia and environmental toxins and has spoken at seminars across the United States, Canada, France, China and South Korea. Dr. Martin is also a frequent guest on television and radio across the U.S. and Canada, where he also hosts his own radio show, Ask The Doctor. He heads up his own practice, The Martin Clinic, in Sudbury, Ontario, and is passionate on educating people about the importance of proper nutrition. His says his personal purpose in life is to help people regain their health. Dr. Anthony Martin's website can be found at www.drmartin.ca.

Posted by Lou at 12:53 AM | Permalink
April 26, 2008
The Weekend Desk Report
We have a feeling we'll go undrafted again this weekend, so that should leave plenty of time to watch the key stories.
Market Update
Apparently, it's our fault the dollar's in the shitter. We're just not thinking enough happy thoughts. Come on, people! Let's all take our government allowance and go buy some freakin' optimism!
The Nouveau Pauvre
With soaring fuel prices and food rations becoming a part of the daily experience, Americans are now hoping to grab a seat at the global poverty table. However, some of the Old Poor powerhouses have not been quick to welcome the new upstart. "Four dollars for gas? Please," sniffed the citizenry of Paris. "We were paying that way back in, like, 1954."
"Look, we're not saying they haven't earned their poverty," sub-Saharan Africa insisted, "It's just that you have to have something to lose it all, you know?"
Meanwhile, southern Asia bristled at the notion of an American food crisis. "Oh, that's rich," Bangladesh cried, "what do they spend on food anyway? Like, 9 % of disposable income? Seriously, that's pretty rich."
Fueling the Race
Incidentally, we think we have a pretty good idea where all that food is going.
No Such Thing as a Free Ride
In other news, duh.
Quality, Not Quantity
Finally this week, the Chicago Police Department has found a novel way to combat the appalling increase in gun violence over the past month: get more guns. But, you know, totally fucking bitchin' ones.
Posted by Natasha at 09:04 AM | Permalink
April 25, 2008
The [Friday] Papers
I'll be on Eight Forty Eight's Month in Review panel this morning on WBEZ. See my post at Division Street for my picks in the various categories we are likely to discuss.
I may put up a fresh Papers column up on my return, or I may just post at Division Street the rest of the day, I just don't know. It's early and I haven't had any coffee yet. Bear with me.
We do have great new material today on the rest of the site. Check it out ->>>
The [Thursday] Papers
1. "It's pretty stunning stuff."
- Former federal prosecutor Patrick Collins on the latest bombshell to come out of the Rezko trial, on Chicago Tonight last night
2. "Take care of the U.S. attorney? That's so Illinois Combine, isn't it?"
- John Kass, who's been right all along
4. The city now says it can finish its troubled O'Hare expansion project by 2014, which experts find unlikely.
"In any case, the revised timetable for O'Hare represents an abrupt about-face," the Tribune reports. "Mayor Richard Daley targeted 2013 to finish the reconfiguration of O'Hare when he announced the project in 2001 . . . But four years ago, the city abandoned the 2013 completion date and left the deadline open-ended because of delays, litigation with the expansion opponents and unexpected complications."
5. Despite previous passionate statements vowing reform, Daley is now just plain giving up on vetting firms that get city contracts set aside for minority- and women-owned firms to make sure that they are in fact owned by minorities and women.
7. Impeach Blago.
8. "Stroger Swears His Top Aides To Secrecy Forever."
9. "The Mosquito, sold for $1,500 in the U.S. as Kids Be Gone, emits a high-pitched noise that teens - but not adults- can hear."
Oh, and Todd Stroger can hear it too. Let's get one!
11. "'Fast-food properties remain the single-tenant investment of choice, with healthy sales forecast for 2008 as rising prices push consumers to more affordable dining options,' said Marcus & Millichap, the commercial real estate brokerage firm."
- Tribune, (last item)
12. I guess this means we won't be seeing Lauren Conrad and Whitney Port dispatched here to line up runway models.
13. "What gives you the credentials to start an event of such magnitude?"
- Among the FAQs on The Official Website of Chicago Fashion Week
14. "Mark DeRosa said the recent WGN special celebrating 60 years of televising Cubs baseball should be must-see TV for all his teammates," the Tribune reports (last item).
"I stayed at home the other night and watched that Cubs Forever show," he said. "Every once in a while teams should be forced to watch stuff like that and realize how much it means to the city and to the ex-players that have been here, and how lucky we are to get a chance to put on the uniform and play in front of these people."
Hey Mark, any chance you can take Brian Urlacher out for a few beers and rap?
15. "Al-Qaida Accuses Iran Of Spreading Rumors."
Next, on The Hills.
16. 50 Cent is for Hillary, but Usher is for Barack.
17. "The gigantic home that supplanted the old Artful Dodger bar in the Bucktown neighborhood can now be yours -if you're willing to pay more than $3 million," the Tribune reports.
"The new home at 1734 W. Wabansia Street was built thanks to a controversial zoning change granted by then-Ald. Ted Matlak (32nd) . . . Complaints about those houses and other new teardown homes that dwarf their neighbors likely contributed to Matlak's re-election defeat last year.
"Even in defeat, Matlak defended his decision at 1734 W. Wabansia, saying he granted the zoning change because the homebuilder 'wanted to live next to a childhood friend.'"
So that's what "Zoned for CF" means.
"If that was his motivation, then builder Wally Kos since has experienced a change of heart. The home went on the market April 18 at an asking price of $3.249 million, according to the Multiple Listing Service."
You, Wally Kos, are today's Worst Person in Chicago.
18. "Obama's Indiana operation, meanwhile, spent most of Wednesday warming its engine," Kristen McQueary writes. "Maybe they drowned their losses in beer the night before. By 11 a.m., an aide at Obama's Chicago headquarters knew nothing about his schedule or the campaign's events for Indiana.
"Me: Where is the senator today?
"Aide: He was in Indiana this morning, and I think he is on his way to D.C.
"Me: Is there a particular vote he's going there for?
"Aide: I don't know.
"Me: Where will he be tomorrow?
"Aide: Nothing is finalized.
"Me: I thought I read that he was launching a bus tour of Indiana.
"Aide: There was talk of planning one. That information was not confirmed with the campaign.
"Me: When will he be heading to Indiana?
"Aide: That's not confirmed. Nothing is finalized.
"Me: Do you have a headquarters in Indiana?
19. Discovering The Abandoned CTA (via CTA Tattler).
20. Does Michael McDonald buy his shirts at the same store as Jeremiah Wright?
The Beachwood Tip Line: Mess with the bull.

Posted by Lou at 07:41 AM | Permalink
The Debate We Won't Have
Barack Obama's campaign has put the kibosh on more debates, including one that CBS was hoping for in North Carolina. It's too bad; the debates have mostly been terrific during this campaign, and we've learned a lot about both the candidates themselves and their policy positions. Here are just a few questions for both candidates we'd like to have seen posed if another such contest was held.
FOR OBAMA:
1. Your campaign and many of your supporters were highly critical of the questions at the last debate. Which questions do you think were inappropriate, and why.
2. You have reportedly described Tony Rezko, who is now on trial in Illinois in a massive political corruption trial, as your 'political godfather.' What did you mean by this, and have you been honest about the nature of your relationship with Rezko?
3. Please tell us what you mean when you say that your religious beliefs inform your view that gay marriage should not be legal.
4. Is it true or just one of those Internet rumors that you refused to appear in a photo with San Francisco Mayor Gavin Newsome?
5. When it comes to health care, aren't you giving away a bargaining chip when you start from a position of being against mandated insurance?
6. Is your position on getting us out of Iraq appreciably different than Hillary Clinton's? If not, do you really think her vote on the war authorization bill really has any impact on what she would do now as president?
7. You once said of John McCain that the Straight Talk Express had run into a ditch. Democrats are already painting McCain not as a courageous maverick but as a flip-flopping pol who has sold his soul in the Bush years. Do you agree?
8. How would you characterize your relationship with the Democratic Machine in Chicago and Illinois as you moved forward in your political career there?
9. Why have you never spoken out - like, say, U.S. Rep. Jesse Jackson, Jr. - against the corruption of Richard M. Daley's City Hall?
10. Isn't Illinois State Senate President Emil Jones, your self-described political mentor, just the kind of practitioner of the old-time politics that you decry?
11. You are selling yourself as a change agent, but every profile I read of you describes you as a cautious, pragmatic legislator. How do you square the two?
12. You won an earmark for University of Chicago Hospitals, where your wife works; you spoke out on the Senate floor in favor of legislation that would have benefitted a company you had stock in; you've admitted an ethical error in involving yourself in a real estate deal with Tony Rezko, yet you boast of your involvement in ethics legislation both in Illinois and the U.S. Senate. Is something missing in your own ethical compass?
FOR HILLARY:
1. Recently, Bill Clinton said it was the Obama campaign that played the race card on him, not the other way around. Do you agree?
2. Is your position on getting us out of Iraq appreciably different than that of Barack Obama?
3. If you really, truly had your druthers, would you support a government-run national health care program? If not, why not?
4. Would it bother you if John McCain ran an ad portraying himself - a bona fide military hero - as the best person to answer the phone in the White House at 3 a.m.? And why wouldn't his experience lead us to believe he would be the best person?
5. Is there any appreciable difference between your approach to handling the economy and the approach of Barack Obama?
6. If it were really, truly up to you, would you support gay marriage? If not, why not, and if so, why don't you stand up and fight for it?
7. If you were to win the nomination, wouldn't naming Barack Obama your running mate be the absolute best way to unite the party?
8. Democrats never really talk about helping the poor first anymore, it's always about helping the middle class. Shouldn't we put the poor first? Who is their fighter?
9. When you discussed Bill Ayers at the last debate, Barack Obama pointed out that your husband pardoned two members of the Weather Underground. Was that the right thing for your husband to do?
10. Don't your husband's post-presidential business deals pose a conflict of interest for you?
11. Do you believe superdelegates should be eliminated in the future?
12. Was Bill Clinton ready on day one to be president? Jimmy Carter? Richard Nixon? Would John McCain be ready on day one?

Posted by Lou at 07:22 AM | Permalink
How To Be A Gentleman In A Changing World
Should you take your Blackberry on vacation? Is an e-mail an acceptable means of writing a thank-you note? When and where is it OK to use your cell phone or camera phone? While the tenets of gracious behavior never change, the situations a gentleman faces in today's post-9/11 world certainly have.
Conducting Talk Show interviews on the topic of proper etiquette in a changing world is John Bridges, author of the bestselling book on manners in America, How to Be a Gentleman.
During your interview with John Bridges, he addresses 21st century issues such as airport security, smoking policy changes, Bluetooth and Blackberry usage, cell phones, e-mail and text messaging - as well as untucked shirts, low-hanging pants and baseball caps. Timeless topics such as how to properly receive a compliment, make introductions and set a dinner table, of course, remain.
"Sometimes it seems like technology has taken over our lives," says Bridges. "Times change, and fads come and go, but a gentleman will still sail confidently through it all - holding the door open for others, saying 'please' and 'thank you,' and making the world a calmer, more civilized place. And when he does that, he doesn't just make it a better place for other people - he makes it a better place for himself, as well."
The first edition, printed in twelve languages, is thought to be the best-selling book on manners ever published.
ABOUT YOUR INTERVIEW GUEST . . .
John Bridges is the author of not only How to Be a Gentleman, but the entire Complete GentleManners Series and a frequent guest on television and radio news programs.
As an expert on the role of gentlemanly behavior in modern society, John Bridges has appeared on the Today Show, CBS Sunday Morning and Good Morning America, among other national shows. He is the director of cultural affairs for his hometown city of Nashville, TN.

Posted by Lou at 06:12 AM | Permalink
April 24, 2008
What I Watched Last Night
For a brief moment Wednesday night, I thought about tuning into American Idol on Fox, but I would have just spent the hour planning an Internet petition drive supporting the euthanasia of Paula Abdul. A worthwhile project indeed, but something like that involves far more effort than I'm interested in. So I went with Magic's Biggest Secrets Finally Revealed, a show which manages to magically return from the dead from time to time on lower-budget stations like WPWR/Channel 50.
As the program demonstrated, the ingenuity involved in pulling off some of magic's more amazing illusions can be incredibly simple, so it's no wonder why the magician community abides by the same code of silence still held sacred by tradition-minded cops and members of organized crime. That's why Magic's Biggest Secrets is hosted by someone known only as The Masked Magician, an individual clad in black and a full-head latex mask to hide his (or her) true identity. What might drive a magician to the depths of personal discontent responsible for Magic's Biggest Secrets is less a mystery than what might drive a magician to show up in a Creature from the Black Lagoon mask that even Ed Wood would consider cheap and tawdry. When Mexican lucha libre wrestlers stuffed sausage-like into spandex go investing more thought into wardrobe, there are some things even Ed Wood would be justified bitching about.
Yet, it probably hasn't occurred to the magician community that even if Jesus Himself showed up on a rerun-heavy commercial channel like WPWR directly opposite American Idol to give away the secret of turning piss into gold, the secret would still be safe from the world. (Then again, Jesus never went around sawing women in half or skewering them with big Knights of Columbus swords without a single drop of blood turning up on the blade, so there.)
Surprisingly, here's the biggest secret I learned from last night's Magic's Biggest Secrets: The person doing all the truly amazing work isn't the magician. He's the show, not the dough. No, the one really making the magic happen is the magician's female assistant who gets shoved into a box or basket and manages to not get sawed in half by a deathly sharp lumberjack saw or end up impaled by swords the whole cast of Braveheart would admire.
That's because it's genuinely dangerous work - and as the show's narrator explained, that's exactly why you'll never see a chubby magician's assistant. Magicians may personally prefer women built for speed instead of comfort, but that's not why they hire them to be assistants. It's simple science: Chubby women shoehorned into highly confined spaces are more apt to get most of their chubby asses sliced off.
As advertised, Magic's Biggest Secrets did indeed give away plenty of magic's biggest secrets. I'll give away as much as I dare without possibly pissing off some magician into making my apartment and everything in it disappear or something.
Pull a rabbit out of a hat!
There's a reason rabbits are the only wildlife being pulled out of magician's hats: They'll sit very, very still for anything, even if you put them in a blender.
Pulling a rabbit out of a hat is easy. Pulling off the same thing with a cat or a rattlesnake would truly be special.
Transform a woman into a tiger!
Another fairly simple thing to do if you have a cage with a trap door big enough to hide a skinny assistant, a fake wall, and enough handlers to feed a 500-pound tiger enough raw meat on a long stick to distract it from being crammed behind a fake wall.
I don't know whether The Masked Magician or his assistant inside the cage were more skilled or just luckier than Siegfried and Roy, but not ending up as a bloody mess being dragged by the neck across the stage probably says something about you.
Levitate a woman!
There's a reason why the only people magicians are able to levitate several feet off the ground are women lying flat on their back while wearing a long, flowing gown. It has more to do with the guy behind the curtain running a big piece of industrial machinery than women of questionable fashion taste looking for a quick nap.
The day Magic's Biggest Secrets shows how Criss Angel levitates himself while standing upright on a street corner without a curtain behind him is the day everyone stops thinking he just might be the spawn of Satan.
Escape from a straitjacket!
Should you be involuntarily committed to the asylum, hold your arms stiffly away from your body while the staitjacket is being put on. Give things an hour or two to die down and you'll have enough wiggle room to soon go running around the place freer than Angela Jolie in Girl, Interrupted.
Make an elephant disappear!
No, this illusion cannot be used to make the spouse you've come to despise vanish. That's okay, because that sort of magic is easier to accomplish with little more than a hacksaw, a few bags of quicklime, a shovel, and a Cook County forest preserve. But if you've got smoke, some mild explosives, and an elaborate system of mirrors built into the cage that can be triggered by a hidden stagehand, you can wow friends and neighbors alike by making the entire Lincoln Park Zoo elephant house vanish.
Of course one elephant would be plenty, but where would guys like David Copperfield be if they didn't think big, dammit?
To be fair, at one point the elephant does actually disappear - right out the back of the cage.
-
Check out the wide, wonderful world of What I Watched Last Night.
Posted by Lou at 08:25 PM | Permalink
Stanley Cup 2008: Round 2 Preview
Round 2 of the Stanley Cup playoff kicks off tonight and there's a little bit of everything mixed into the matchups. This time of year is usually all about grit and perseverance. Teams in short supply of both usually have difficulty surviving in the playoffs, but this is also the time of year when the best talent can shine on the biggest stage, and unknowns can go from anonymity to playoff stardom.
Let's briefly recap the first round:
* Detroit changed goalies midway through the series and survived against the Nashville Predators in six games.
* San Jose fought off a serious challenge from the Calgary Flames, aided by the Game 7 heroics of ex-Blackhawk star Jeremy Roenick and his 4-point performance.
* Colorado won three games in overtime to advance past Minnesota in a series that went six games.
* Dallas is riding a high after knocking off the defending champion Ducks in six games.
* Montreal sent Boston packing after a 5-0 Game 7 trouncing of the Bruins.
* Pittsburgh made quick work and looked very impressive in a sweep of the Ottawa Senators.
* Philadelphia and Washington played a wonderfully entertaining series that saw Philadelphia win in overtime in Game 7 on the road.
* The New York Rangers defeated the rival New Jersey Devils in five games, including three on the road.
With only 8 teams remaining, each team probably feels it has a good shot at the Cup and the margin for error becomes a little bit narrower this time around. Let's take a look.

-
Western Conference
(1) Detroit Red Wings
(6) Colorado Avalanche
Detroit dominated Colorado in the regular season, shutting them out in three of four meetings. However, Colorado wasn't playing the cohesive style of hockey they are now, getting timely offense and stellar goaltending. Colorado will look to pepper Red Wings' goaltender Chris Osgood, something Osgood was shielded from for the most part in the opening round when he came on to relieve Dominik Hasek to save the series for Detroit. It'll be interesting to see how much wiggle room Detroit coach Mike Babcock will give Osgood if Colorado strikes early and often. Detroit is 13-17 (2-3 series record) in its playoff history against Colorado, but beat Colorado both times it went on to win the Cup in 1997 and 2002. Both teams have an even shot at winning this series, though Colorado must stay out of the penalty box to have a chance. This is where having home ice advantage can and should make the difference.
Pick: Detroit in 7
*
(2) San Jose Sharks
(5) Dallas Stars
These teams split the season series 4-4 with both teams winning three games on the road. Dallas has a lot of momentum right now after dethroning the defending champion Ducks, and they are getting contributions from unlikely heroes like ex-Blackhawk Stephane Robidas. The status of Dallas' top blueliner, Sergei Zubov, is still in question. Zubov last stepped on the ice versus San Jose back in January. He's battling a foot injury that required surgery, so even if he is declared well enough to play it'll be interesting to see just how mobile he is. San Jose's Brian Campbell is looking to rebound from a first round that saw his puck turnovers result in opposing goals, and he never seemed to get clicking like he did down the stretch. If the seven-game first round tilt was a wake-up call for the Sharks, look for them to pounce on the Stars. San Jose has all the pieces and just needs go for the kill. Dallas must find a way to frustrate Joe Thornton and stop San Jose's young forwards like Ryan Clowe, Joe Pavelski, and Devin Setoguchi. The goaltending matchup of Evgeni Nabokov (SJ) vs. Marty Turco (Dal) could be a classic, as both goalies have looked solid early on in the playoffs.
Pick: San Jose in 7
*
Eastern Conference
(1) Montreal Canadiens
(6) Philadelphia Flyers
Montreal is a talented team that found a way to survive relinquishing third-period leads to Boston in the first round. The emergence of the Kostitsyn brothers - Sergei and Andrei - has given the Canadiens secondary scoring threats to go along with the dynamic Alexei Kovalev. Carey Price had a few shaky third periods in net for Montreal in the first round, but he also had two shutouts. The Habs will go as far as Price can carry them. The Flyers pose an interesting challenge. It might be useful to throw out the regular season series sweep that Montreal had over the Flyers. The Flyers have looked a lot more dangerous in the playoffs and they are playing like a team capable of pulling an upset or two. Martin Biron has been steady in net and the Flyers are getting production from top playoff point producer Daniel Briere, as well as contributions from Vaclav Prospal and Mike Richards. Both teams fought through tough first-round matchups, so it'll be interesting to see which team looks more energetic early. If talent wins, than Montreal should survive, but don't be too surprised if Philly hangs tough.
Pick: Montreal in 6
*
(2) Pittsburgh Penguins
(5) New York Rangers
This series marks the return of Jaromir Jagr to Pittsburgh, the place where he started his career. Jagr's already provided Pittsburgh's dynamic duo with bulletin board material by saying neither Sidney Crosby nor Evgeni Malkin compare with his former legendary Penguin superstar teammate, Mario Lemieux. There's also a little playoff history at work in that the Penguins have never lost to the New York Rangers in four playoff series meetings. However, the Rangers gave the Penguins a lot of difficulty in the regular season, winning six of eight games, and that has to give New York a lot of confidence heading into this series. In a series where the stars usually get the headlines, it's the grunt workers that might matter most. For the Rangers, they'd love to get contributions from Sean Avery and Ryan Callahan. For Pittsburgh, it might mean timely offense from Jarkko Ruutu or George Laraque. The Penguins are deep offensively, so the Rangers must play well defensively to stymie the Penguin attack. In net, the Rangers boast Henrik Lundqvist, who has the right kind of moxie to shut the door on Crosby and Malkin. Pittsburgh got exceptional play in the first round from Marc Andre Fleury, but he'll face a pressure cooker versus the Rangers when the series moves to Madison Square Garden, where he's yielded six goals in two games this season.
Pick: A New York Rangers upset in 6
-
See how Pytel did in the first round.
-
1. From Eric Emery: Tell my friend Eric P. that the Penguins will win in 6. Additionally, you will see Hossa score at least 4 goals in the series. I know Hossa has a rep of disappearing in the playoffs, but he did play well vs. the Sens, and was robbed at least 3 times. He is playing well. If the Rangers worry too much about Crosby and Malkin, Gonchar, Hossa, and Malone can score too. Besides, you win series' in the following order: hot goalie, fundamental defense, and balanced scoring. The Pens have been doing all of these in the final 15 games of the season. Pick: Pens in 6.
2. From Eric Emery (May 5): Let's face it, my prediction skills tend to be completely brutal. Let the record show that the Pens won in five, and Hossa scored four in the series, including the series winner yesterday.

Posted by Lou at 07:51 PM | Permalink
The [Thursday] Papers
1. "It's pretty stunning stuff."
- Former federal prosecutor Patrick Collins on the latest bombshell to come out of the Rezko trial, on Chicago Tonight last night
2. "Take care of the U.S. attorney? That's so Illinois Combine, isn't it?"
- John Kass, who's been right all along
4. The city now says it can finish its troubled O'Hare expansion project by 2014, which experts find unlikely.
"In any case, the revised timetable for O'Hare represents an abrupt about-face," the Tribune reports. "Mayor Richard Daley targeted 2013 to finish the reconfiguration of O'Hare when he announced the project in 2001 . . . But four years ago, the city abandoned the 2013 completion date and left the deadline open-ended because of delays, litigation with the expansion opponents and unexpected complications."
5. Despite previous passionate statements vowing reform, Daley is now just plain giving up on vetting firms that get city contracts set aside for minority- and women-owned firms to make sure that they are in fact owned by minorities and women.
7. Impeach Blago.
8. "Stroger Swears His Top Aides To Secrecy Forever."
9. "The Mosquito, sold for $1,500 in the U.S. as Kids Be Gone, emits a high-pitched noise that teens - but not adults- can hear."
Oh, and Todd Stroger can hear it too. Let's get one!
11. "'Fast-food properties remain the single-tenant investment of choice, with healthy sales forecast for 2008 as rising prices push consumers to more affordable dining options,' said Marcus & Millichap, the commercial real estate brokerage firm."
- Tribune, (last item)
12. I guess this means we won't be seeing Lauren Conrad and Whitney Port dispatched here to line up runway models.
13. "What gives you the credentials to start an event of such magnitude?"
- Among the FAQs on The Official Website of Chicago Fashion Week
14. "Mark DeRosa said the recent WGN special celebrating 60 years of televising Cubs baseball should be must-see TV for all his teammates," the Tribune reports (last item).
"I stayed at home the other night and watched that Cubs Forever show," he said. "Every once in a while teams should be forced to watch stuff like that and realize how much it means to the city and to the ex-players that have been here, and how lucky we are to get a chance to put on the uniform and play in front of these people."
Hey Mark, any chance you can take Brian Urlacher out for a few beers and rap?
15. "Al-Qaida Accuses Iran Of Spreading Rumors."
Next, on The Hills.
16. 50 Cent is for Hillary, but Usher is for Barack.
17. "The gigantic home that supplanted the old Artful Dodger bar in the Bucktown neighborhood can now be yours -if you're willing to pay more than $3 million," the Tribune reports.
"The new home at 1734 W. Wabansia Street was built thanks to a controversial zoning change granted by then-Ald. Ted Matlak (32nd) . . . Complaints about those houses and other new teardown homes that dwarf their neighbors likely contributed to Matlak's re-election defeat last year.
"Even in defeat, Matlak defended his decision at 1734 W. Wabansia, saying he granted the zoning change because the homebuilder 'wanted to live next to a childhood friend.'"
So that's what "Zoned for CF" means.
"If that was his motivation, then builder Wally Kos since has experienced a change of heart. The home went on the market April 18 at an asking price of $3.249 million, according to the Multiple Listing Service."
You, Wally Kos, are today's Worst Person in Chicago.
18. "Obama's Indiana operation, meanwhile, spent most of Wednesday warming its engine," Kristen McQueary writes. "Maybe they drowned their losses in beer the night before. By 11 a.m., an aide at Obama's Chicago headquarters knew nothing about his schedule or the campaign's events for Indiana.
"Me: Where is the senator today?
"Aide: He was in Indiana this morning, and I think he is on his way to D.C.
"Me: Is there a particular vote he's going there for?
"Aide: I don't know.
"Me: Where will he be tomorrow?
"Aide: Nothing is finalized.
"Me: I thought I read that he was launching a bus tour of Indiana.
"Aide: There was talk of planning one. That information was not confirmed with the campaign.
"Me: When will he be heading to Indiana?
"Aide: That's not confirmed. Nothing is finalized.
"Me: Do you have a headquarters in Indiana?
19. Discovering The Abandoned CTA (via CTA Tattler).
20. Does Michael McDonald buy his shirts at the same store as Jeremiah Wright?
The Beachwood Tip Line: Mess with the bull.

Posted by Lou at 08:36 AM | Permalink
And Then There's Maude: Episode 22
Our tribute to the 35th anniversary of the amazing debut season of Maude comes to an end.
*
Season 1, Episode 22
Episode Title: Maude's Night Out
Original airdate: 20 March 1973
Plot: Maude enters the bedroom to wake her napping husband Walter. She's wearing a pink and orange floral dressing gown and carries a martini in each hand. They have just 30 minutes to dress before they need to be at Joanna and Cliff Naylor's party.
Walter is a crab-ass from the minute he gets up. The light's too bright. He hates rushing to a party. Maude's pantyhose have left a puddle in the middle of the bathroom floor. The tube of toothpaste is empty! Where's his shaving cream! And why isn't it in the same place it always is!! AND WHY IS THERE ALWAYS A PUDDLE OF WATER IN THE BOTTOM OF THE SOAP DISH?!! (I'm thinking, Walter, please, drink your martini already. And while you're at it, have Maude's too.)
Maude tries to snap Walter out of his mood. "Honey, we're going to a party tonight, now let's be in a party mood." She heads off to the closet to choose her dress while singing that classic pre-party, start-me-up tune "Tip-Toe Through The Tulips."
Maude asks, "Honey, did I wear my green dress to the Bartons' two weeks ago?"
"What's the difference?" snipes Walter. "They were all stoned when we got there anyway."
Obviously something is bothering Walter, but he brushes off Maude's repeated attempts to find out what it is. She tries unsuccessfully to get Walter's fashion advice. ("Do you think it's too early in the season to wear yellow?") Walter continues bitching about anything and everything, all the while hacking away at his face with a razor. "You know," says Maude, "you're the only man I know who looks great in toilet paper."
As she sits down to apply her makeup, Maude sings, "The night is young and I'm so beautiful . . . " Walter snaps and the reason for his foul mood is revealed - he can't stand Cliff Naylor. Specifically, he can't stand the way Cliff Naylor looks at Maude. Maude feigns shock, giving every indication that she's fully aware of the way she attracts Cliff's attention, but she makes excuses. Cliff is just an outgoing, funny guy who happens to tell a mean "fat lady with the pet hamster" joke - a joke that still has Maude splitting her sides with laughter two weeks later.
Walter's incessant griping continues until Maude breaks. ("You've made your point. That's it, we're not going!") Walter hops up and down with glee and Maude threatens to tell Joanna exactly why they're not coming. ("I'm going to tell her the whole rotten, sordid mess, Walter. All about your carnal fantasies. How you can't stand her husband's alleged furtive glances at my fabulous fanny.") Walter calls her bluff, racing to get Maude the phone and encouraging her to tell Joanna anything she likes. Maude pulls a fast one while on the phone, saying, "Listen (Joanna), Walter has something he wants to tell you." Gotcha! Fade to commercial.
After the break, Maude reignites the argument, sarcastically complimenting Walter on his quick thinking excuse of a splitting headache to get out of the party. How original. In the course of their arguing back and forth, Maude turns the tables and suddenly Walter and Maude are back to dressing for the party.
Maude insists Walter is being insecure and jealous, which, she informs him, he has every reason to be since it's true, Cliff does have a thing for her. This handsome man wants her, ("intellectually, spiritually and physically," she gloats), despite Maude never having given him the slightest bit of encouragement, of course. She defends Cliff, proclaiming him the model of a faithful husband, an idealistic man who "believes in the sanctity of marriage."
Walter bursts Maude's bubble with the news that her noble "Mr. American Pie" is in fact involved in a "very hot and very heavy affair with a very married woman," an affair that happens to be the talk of their club. Maude has to laugh. She finds it hard to believe that Cliff would cheat on his wife and especially not with Harriet Powers. ("Nobody would make love to Harriet Powers unless they were required to by law.")
Maude really can't believe it until Walter tells her this juicy bit of gossip came straight from Cliff. "He gives progress reports every Sunday in the steam room," says a smug Walter. Maude explodes, her middle-age fantasy of attracting the attention of another man shattered. ("It'll never happen again, Walter. Oh honey, this face is on its way out.") Walter sympathizes with her. ("It's the middle-aged need to be flattered . . . we've all gone through it.") They kiss and make up and agree there's no reason not to go to the party now. Maude breathes a sigh of relief - she'll never have to laugh at Cliff's terrible dirty jokes again.
Just as they're about to leave, the phone rings. It's Cliff urging them to change their minds and come to the party. Maude's initially icy tone of voice melts until she's throwing her head back in laughter at something hilarious that Cliff has said.
"Come on over, we'll play Strip Checkers."
And with that ends Season One of Maude.
Hot button social issue: The last hurrah of middle age flattery.
Neckerchief count: Zero
Lace and beaded choker count: One
Decorating tip: The entire episode takes place in the Findlays' master bathroom, which we've never seen before. The 1970s color scheme of harvest gold and avocado continues in this room with a mixture of painted walls, clashing wallpaper patterns, white tile, wood laminate, strings of yellow beads hanging over the window, large blocks of green linoleum on the floor, and sliding mirrors concealing the largest medicine cabinet I have ever seen. By far, the most unusual and prominent feature in the bathroom is the toilet, which stands out for the mere fact that it's even visible.
Cocktail hour: Nothing wakes you up from your pre-cocktail-party nap better than a very dry pre-cocktail-party/post-nap martini.
Welcome back to 1973 pop culture reference #1: "You hate parties, Walter? Then tell me, who was that funny little man with the moustache named Walter at the Wilsons' two weeks ago trying to organize a conga line to go one-two-three-kick all the way into town to see Sexual Freedom in Denmark?"
Welcome back to 1973 pop culture reference #2: Slapping aftershave on his face, Walter says, "What we men have to go through just to smell like Hugh O'Brian."
Number of times Maude yells: 9
Number of times Walter yells: 14
'70s slang: "Maude, he turns you on."
Memorable quote: "He has a thing for you Maude. He never takes his eyes off your rear end."
Wow, did they just say that? "Since when do we have cocktails in the can?"
-
Previously:
Season 1, Episode 1: Maude's Problem.
Season 1, Episode 2: Doctor, Doctor.
Season 1, Episode 3: Maude Meets Florida.
Season 1, Episode 4: Like Mother, Like Daughter.
Season 1, Episode 5: Maude and the Radical.
Season 1, Episode 6: The Ticket.
Season 1, Episode 7: Love and Marriage.
Season 1, Episode 8: Flashback.
Season 1, Episode 9: Maude's Dilemma (Part One).
Season 1, Episode 10: Maude's Dilemma (Part Two).
Season 1, Episode 11: Maude's Reunion.
Season 1, Episode 12: The Grass Story.
Season 1, Episode 13: The Slum Lord.
Season 1, Episode 14: The Convention.
Season 1, Episode 15: Walter's 50th Birthday.
Season 1, Episode 16: The Medical Profession.
Season 1, Episode 17: Arthur Moves In.
Season 1, Episode 18: Florida's Problem.
Season 1, Episode 19: Walter's Secret.
Season 1, Episode 20: Maude's Good Deed.
Season 1, Episode 21: The Perfect Marriage.
Posted by Lou at 06:37 AM | Permalink
The Blue & Orange Kool-Aid Report: Draft '08 Edition
Today marks the one year anniversary of Bears fans collectively saying "We've one good offensive player away from the championship." The Bears drafted such a player in the first round, and quickly received a beating from the NFL.
Perhaps the Bears need to change draft strategy. Perhaps the key is to draft from a different talent pool. Here are my recommendations:
Round One: Draft one of Todd Stroger's many public relations representatives to help the Bears Front Office sell Bear fans on the idea that they are one player away from a championship.
Round Two: Given that Lovie has no problem saying "Rex is our quarterback," draft a speech therapist to help Lovie say "Kyle is our quarterback."
Round Two, extra pick: Given that Lovie has no problem saying "Rex is our quarterback," scour the country for a quarterback named Rex to draft.
Round Three: Draft a wide receiver from Ripon College to help make the Bears' lackluster WR corps look like superstars.
Round Four: Draft a guardian angel to get Devin Hester from blowing out his knee. You need help from His helpers to make sure Hester remains ridiculous.
Round Five: Draft a driver to follow Lance Briggs so he may be wisked away from accident scenes more safely.
Round Six: Draft a babysitter to watch Brian Urlacher's kids.
Round Seven: Draft another babysitter to change Urlacher's diapers.
-
For more Emery, see the Kool-Aid archive, and the Over/Under archive. Emery accepts comments from Bears fans reluctantly and everyone else tolerably.
-
1. From Tim Howe:
Something for your sports pages, a list of the Top 21 NFL Draft Busts of All Time. Oddly, the Bears have only two on the list: Curtis Enis at 19, and Cade McNown at 21. I would have thought they could just list the last 21 quarterbacks picked by the Bears and be done with their list.
Posted by Lou at 06:26 AM | Permalink
April 23, 2008
The [Wednesday] Papers
I'll be on NBC5 this morning at (ugh!) 6:50 a. m., and then I'll be taking live Internet chat questions until 8. Just go to NBC5.com and you should see what to do.
Upon my return to Beachwood HQ, I'm more likely to do some blogging at Division Street than turn out a Papers column. So visit me there today - but before you do, take a look at Today's Beachwood ->>>
The [Tuesday] Papers
* Use CTA Google Maps to plan your evacuation route!
* I don't think Mayor Daley is in a great position to preach about knowing where your kids are.
* Tribune: "Clinton Hits Hard At Finish"
Sun-Times:"On Eve Of Pa. Primary, A Kinder, Gentler Clinton"
* "Primitive life is very common and intelligent life is fairy rare," Stephen Hawking says. "Some would say it has yet to occur on Earth."
And many have! One of the world's smartest men shows how difficult original comedy is.
* "Hamas Rejects Carter Plan."
Refuses to keep temperature at 68 degrees.
* "Obama outspends Hillary 5-1."
Says he's taking money out of politics - and giving it to ad agencies and TV stations.
* "National City Slashes Dividend."
That's because they've been paying everybody's ATM fees.
* "The Chicago Board Options Exchange reported a 74 percent surge in its first-quarter net income."
* "Mixed-Income Homes Dedicated Near Cabrini."
To the poor people who used to live there.
* "Dentist Sues, Says He Was Hurt By Benny The Bull's High-Five"
Claims Benny said he would just feel a twinge.
* "Military Allows More Felons To Enlist."
Plan also creates much-needed prison space.
* "Idiots Find Fame In 24/7 YouTube World."
I know! Before the Internet, we never had to suffer through video of people doing stupid things.
That's Stella!
"The question raised by media and some interviewers on the campaign trail that bothers me the most in the battle between Democratic presidential candidates Sen. Barack Obama and Sen. Hillary Clinton: Depending on who wins, will you consider the other for your running mate?
"Who in their right mind would make the person who wanted the No. 1 spot, as the person who has your back (so to speak)? I would think that person really wouldn't mean me any good and would secretly wish me a downfall or a fall from grace! And I certainly wouldn't accept a drink from that individual."
"Another question: Is it just me who thinks that those sex hungry, horny-toad male polygamists are just self-serving and having so many wives is an ego trip?"
It's just you. Nobody else on the planet has ever voiced such a thought.
"Also, the alleged abuse of the children is just sick. Why can't the women (who remind me of the robotic Stepford Wives) have many husbands? The whole polygamy scandal (under the guise of religion) is disturbing. And who's doing those wives' hair?? Yeah, I said it!"
Better than I could.
Push Poll
"Time and time again, commissioned polls or impact studies purport to show one thing when reality is quite another," University of Chicago economist Allen Sanderson writes. "I have yet to see an economic impact study for building a sports facility or convention center, or hosting a major sporting event, that did not promise cornucopias of cash to the city bold enough to "invest" in the scheme. And yet, virtually all convention centers in this country lose money, and revenues spent inside new sports palaces enrich only the owners and leagues.
"If the pattern holds, and it likely will, cities that host Olympic events tend to lose money. These short-term, overly hyped events, as opposed to longer term, well-thought-out urban investments, have low or negative rates of return."
*
Beachwood Labs takes you inside Chicago 2016's polling.
Secret Sources
On Week in Review last Friday, Sun-Times reporter Andrew Herrmann said Chicago "will be" one of the three or finalists this spring, "sources say."
Emergency Management
"Even from the point that the 600 volts of power was first turned off, 22 minutes elapsed before the CTA notified the city's Office of Emergency Management and Communications, according to the investigation," the Tribune reports. "That was 59 minutes after the emergency began. The Chicago Fire Department's rapid-response team arrived several minutes later to assist passengers out of the tunnel, officials said.
"The electricity was turned off again at 9:10 a.m. to facilitate the evacuation, officials said."
Leggo My Eggo
"Obama initially did little to help counter Clinton's claims that the Illinois senator could not deal with hard questions and difficult issues," the Tribune reports. "As he greeted voters at a diner in Scranton, Obama shrugged off a reporter's question about foreign policy by saying, 'Why can't I just eat my waffle?'"
Progamming Notes
* I'll be on Mark Johnson's BlogTalkRadio show tonight from 8:30 to 9.
* I'm scheduled to appear on the NBC5 morning news show at about 6:50 a.m. on Wednesday to talk about the Pennsylvania primary results. Following that, you can send me questions via the NBC5 website and we'll do a little Internet chatting.
Sex Appeal
The Chicago Young Republicans try it.
The Beachwood Tip Line: Clingy.
Posted by Lou at 02:06 AM | Permalink
April 22, 2008
As Seen On TV
One of the advantages of working from home is the amount of television I get to watch. Granted, most of the shows I watch are news-oriented, but even those can grow tiresome and I need an hour or so of mindless crap to keep me from going bat-shit crazy. What I've noticed with some of these programs is the more lowbrow the show, the more lowbrow the ads. Here are just a few samples of what I've seen that have caused my jaw to hit the floor.
The PedEgg. This is just plain gross. It's an ergonomically shaped mini egg-shaped cheese grater for your calloused, nasty feet. The magic of the PedEgg are the micro-files that are strong enough to scrape away those heinous calluses on your feet, but not actually slice your feet in half. The scrapings are conveniently collected in the egg-shaped capsule for easy disposal into the garbage can or on top of penne arrabiata. Whatever floats your boat. Either way, your feet will look better for sandal season and, if you're like me, you'll never eat grated Parmesan cheese again after seeing this commercial.
Nad's. Really, it's a hair-removal system developed by an Australian mom and her daughters in 1992. My question is, couldn't they think of a better name?
Kinoki Detox Foot Pads. Are you too lazy to actually start eating better and take on an exercise program? Are you looking for that magical item that will make you instantly healthy and not cost you and arm, a leg and a pint of blood or two? Really? Then, Kinoki Detox Foot Pads may be just the cure for you! Just slap these bad boys onto the bottom of your feet before bed each night and awake the next morning to footpads filled with all of the nasty toxins that have been sucked out of you overnight. You won't have an appetite after examining the polluted pads, so maybe that's the hidden secret to the whole Kinoki system. As a bonus, you'll get a set of Detox Eye Patches just in case your noggin-region is polluted too.
Part Pizzazz Kit. This is the perfect product for these folks. Anything to get their kids back, right?
Totally Nude Yoga & Tai Chi. There is something quite unsettling about practicing Tai Chi in patent-leather teddies, knickers, bras and hooker boots, instead of the old-fashioned way with a bunch of fully clothed old folks in a park or in a church basement. Same goes for totally nude yoga. There's nothing like sexualizing two ancient forms of meditative exercise. I hope the practitioners have good window coverings because who wants to see this position nekkid? Even the most hardened of Peeping Toms would voluntarily give up their peeping ways upon witnessing this new yoga practice.
Paradise by the GoPhone Light. Whodathunk that a 70s song about getting laid in a car could be used to as a marketing tool for pre-paid cell phones for the kiddies? Well, the marketing genius that thought of it did one helluva job because Meatloaf personalized the song just for AT&T. I hope he got paid well for it. Also, look closely: doesn't the "mom" bear a spooky resemblance to the mall singer of yesteryear, Tiffany? But wait, it IS Tiffany! I feel sorry for the "son" in this ad. I mean, really, who would want to be known as the actor who looks like a young Meatloaf?
U.S. Marine Corps Watch. Sure it's "handsomely styled and water resistant," but is it crime resistant?
The Bust-Tastic Enhancer. This has taken the "We must increase our bust" mantra a little too far. As does this fine product. I could go on and on, but what's so wrong with the old-fashioned way of making the girls more noticeable?
Nyce Legs. Whoever invented this product should be given a medal because nude hosiery is the bitch of the devil. Seriously. The one thing that worries me about spray-on nylons is the possible cancer-causing agents that soak your skin with each application. Not to mention the environmental concerns that go hand-in-hand with pressurized spray cans. According to the can, these nylons are water, sweat and bed-sheet proof. But are they fireproof?
Odor Assassin. Gosh, I was really hoping this was actually this.
Posted by Lou at 02:29 PM | Permalink
Chicagoetry: A Modest Proposal
A MODEST PROPOSAL
It is a melancholy object to those
who walk through this great city-state
to see the streets, roads and tavern doors
littered with inconvenient and foul-smelling
human debris. As to my own part,
having turned my thoughts upon this
important subject, weary with offering
vain, idle, visionary thoughts,
I fortunately fell upon this proposal:
having to-date perfected the efficient
and discreet distribution of firearms
to our unwanted teens and tweens--
the envy of revolutionary ideologues the world over--
to further provide professional training
in the use of such weapons. Firstly,
to enable these unloved, unsupervised
undesirables to effect with greater speed
their own self-eradication (is this not our wish?!)
and secondly to reduce the collateral damage
to innocent bystanders with no score the settle.
I am not so violently bent upon
my own opinion as to reject any offer,
proposed by fellow tasteful and wise men,
which should be found equally innocent.
Anyone?
-
J. J. Tindall is the Beachwood's poet-in-residence. He can reached at jjtindall@yahoo.com. Chicagoetry is an exclusive Beachwood collection-in-progress.
Posted by Lou at 02:26 PM | Permalink
The [Tuesday] Papers
* Use CTA Google Maps to plan your evacuation route!
* I don't think Mayor Daley is in a great position to preach about knowing where your kids are.
* Tribune: "Clinton Hits Hard At Finish"
Sun-Times:"On Eve Of Pa. Primary, A Kinder, Gentler Clinton"
* "Primitive life is very common and intelligent life is fairy rare," Stephen Hawking says. "Some would say it has yet to occur on Earth."
And many have! One of the world's smartest men shows how difficult original comedy is.
* "Hamas Rejects Carter Plan."
Refuses to keep temperature at 68 degrees.
* "Obama outspends Hillary 5-1."
Says he's taking money out of politics - and giving it to ad agencies and TV stations.
* "National City Slashes Dividend."
That's because they've been paying everybody's ATM fees.
* "The Chicago Board Options Exchange reported a 74 percent surge in its first-quarter net income."
* "Mixed-Income Homes Dedicated Near Cabrini."
To the poor people who used to live there.
* "Dentist Sues, Says He Was Hurt By Benny The Bull's High-Five"
Claims Benny said he would just feel a twinge.
* "Military Allows More Felons To Enlist."
Plan also creates much-needed prison space.
* "Idiots Find Fame In 24/7 YouTube World."
I know! Before the Internet, we never had to suffer through video of people doing stupid things.
That's Stella!
"The question raised by media and some interviewers on the campaign trail that bothers me the most in the battle between Democratic presidential candidates Sen. Barack Obama and Sen. Hillary Clinton: Depending on who wins, will you consider the other for your running mate?
"Who in their right mind would make the person who wanted the No. 1 spot, as the person who has your back (so to speak)? I would think that person really wouldn't mean me any good and would secretly wish me a downfall or a fall from grace! And I certainly wouldn't accept a drink from that individual."
"Another question: Is it just me who thinks that those sex hungry, horny-toad male polygamists are just self-serving and having so many wives is an ego trip?"
It's just you. Nobody else on the planet has ever voiced such a thought.
"Also, the alleged abuse of the children is just sick. Why can't the women (who remind me of the robotic Stepford Wives) have many husbands? The whole polygamy scandal (under the guise of religion) is disturbing. And who's doing those wives' hair?? Yeah, I said it!"
Better than I could.
Push Poll
"Time and time again, commissioned polls or impact studies purport to show one thing when reality is quite another," University of Chicago economist Allen Sanderson writes. "I have yet to see an economic impact study for building a sports facility or convention center, or hosting a major sporting event, that did not promise cornucopias of cash to the city bold enough to "invest" in the scheme. And yet, virtually all convention centers in this country lose money, and revenues spent inside new sports palaces enrich only the owners and leagues.
"If the pattern holds, and it likely will, cities that host Olympic events tend to lose money. These short-term, overly hyped events, as opposed to longer term, well-thought-out urban investments, have low or negative rates of return."
*
Beachwood Labs takes you inside Chicago 2016's polling.
Secret Sources
On Week in Review last Friday, Sun-Times reporter Andrew Herrmann said Chicago "will be" one of the three or finalists this spring, "sources say."
Emergency Management
"Even from the point that the 600 volts of power was first turned off, 22 minutes elapsed before the CTA notified the city's Office of Emergency Management and Communications, according to the investigation," the Tribune reports. "That was 59 minutes after the emergency began. The Chicago Fire Department's rapid-response team arrived several minutes later to assist passengers out of the tunnel, officials said.
"The electricity was turned off again at 9:10 a.m. to facilitate the evacuation, officials said."
Leggo My Eggo
"Obama initially did little to help counter Clinton's claims that the Illinois senator could not deal with hard questions and difficult issues," the Tribune reports. "As he greeted voters at a diner in Scranton, Obama shrugged off a reporter's question about foreign policy by saying, 'Why can't I just eat my waffle?'"
Progamming Notes
* I'll be on Mark Johnson's BlogTalkRadio show tonight from 8:30 to 9.
* I'm scheduled to appear on the NBC5 morning news show at about 6:50 a.m. on Wednesday to talk about the Pennsylvania primary results. Following that, you can send me questions via the NBC5 website and we'll do a little Internet chatting.
Sex Appeal
The Chicago Young Republicans try it.
The Beachwood Tip Line: Clingy.

Posted by Lou at 09:21 AM | Permalink
Lobbying Ourselves
FOR IMMEDIATE RELEASE
GOVERNMENTS SPENT $5 MILLION TO LOBBY STATE GOVERNMENT
CHICAGO AREA MASS TRANSIT AGENCIES HIRED 14 LOBBYING FIRMS AT COST OF NEARLY $700,000
Local governments and public agencies in Illinois spent more than $5 million to contract with lobbyists last fiscal year, according to Governments Lobbying State Government, a study by the Illinois Campaign for Political Reform (ICPR).
In a first-of-its-kind research, ICPR identified 110 units of government with contract lobbyists and 65 lobbying firms working for government bodies in Fiscal Year 2007. Several of the governments hired multiple firms to provide advice and to attempt to influence decisions by the governor, state legislators and other state government officials.
"This $5 million of public funds is significant, but it is a small portion of the tens of millions of dollars spent on lobbying by hundreds of corporations, labor unions and other special interest groups represented by lobbyists in Springfield," said Cynthia Canary, Director ICPR. "What the public doesn't know is what special interests in the private sector are spending to try to pass or kill legislation and to impact actions in the executive branch.
"Through the Freedom of Information Act and the cooperation of dozens of public officials, we were able to research public spending on lobbying," Canary said. "But a change in state law is needed to mandate similar disclosure by the private sector."
The complete text of Governments Lobbying State Government is available at www.ilcampaign.org.
"The federal government and several other states require more public disclosure of private sector lobbying expenditures, but Illinois lobbying laws require far less disclosure," said David Morrison, Deputy Director of ICPR and the lead researcher and writer of this study. "Some local governments, including Cook County and the City of Chicago, require more public disclosure about financial arrangements of lobbyists of local governments than the state requires of state-regulated lobbyists."
Some of the findings included:
* In the midst of legislative debates on mass transit reform and funding, the Chicago region's four mass transit agencies had combined spending of nearly $700,000 with 14 different lobbying firms.
* The $223,600 devoted to four lobbying contracts by the Regional Transportation Authority was the highest of all government bodies surveyed. The Chicago Transit Authority was a close second, spending $220,173 with four lobbying firms.
* Municipal governments make up the largest segment of the government bodies with lobbyists on contract. The 43 municipal governments with lobbyists range in size from the City of Chicago (population 2,869,121 with lobbying contract payments of $127,257) to the Village of Cordova (population 651 in Rock Island County with $7,500 paid to a lobbying firm).
* Fees paid by governments to lobbyists were wide ranging. Monthly fees ran from a low of $750 to a high of $12,500. Typical payments were from $1,500 to $3,000 per month.
* There were several inconsistencies between information provided by local government bodies and lobbyist disclosure reports filed with the Secretary of State. Some governments reported having lobbyists, but the lobbyists did not report the governments as clients. Several lobbyists filed state disclosure reports listing local governments as their lobbying clients, but some of the units of government denied having any relationship with the lobbyist.
* The practice of a lobbying firm hiring other lobbying firms as subcontractors clouds the transparency of lobbyist disclosure requirements. This practice, which also is prevalent with lobbying on behalf of private sector clients, makes it difficult to discern who is lobbying for whom.
"Cities of all sizes, transit agencies, school districts and many other local governments have turned to professional lobbyists for a variety of reasons," Canary said. "ICPR leaves it to local taxpayers to determine whether the lobbying services were necessary and whether the fees paid to lobbyists were fair."
Government Lobbying State Government includes the following recommendations to strengthen the Illinois Lobbyist Registration Act:
* All lobbyists, whether representing a government or private entity, should be required to disclose the terms of lobbying contracts, including financial arrangements.
* All organizations lobbying state governments should disclose expenses related to lobbying, including salaries of in-house lobbyists and other administrative expenses.
* Lobbyists hiring other lobbyists as subcontractors should disclose whether the subcontractors are lobbying for all or only some of the main lobbyist's clients. The entity hiring the main lobbying firm also should report representation by any subcontractor.
* Instead of acting primarily as the keeper of lobbyist records, the Office of the Secretary of State should be given the responsibility to enforce lobbyist disclosure laws. The Secretary of State should have the clear authority to audit lobbyist disclosure reports and punish violators.
* There should be a cooling off period between the time a government employee or official leaves public service and when that former employee or official is allowed to lobby his or her former colleagues.
ABOUT ICPR
ICPR is a non-partisan public interest group that conducts research and advocates reforms to promote public participation in government, to address the role of money in politics and to encourage integrity, accountability and transparency in government.
Posted by Lou at 12:56 AM | Permalink
Inside The Olympic Poll
"Chicago officials released results of a new poll by Zogby International indicating that 84% of those surveyed support the Chicago bid, up from 76% a year ago. Just 6% of residents surveyed in the metropolitan area oppose, and another 6% 'strongly' oppose."
Working around the clock, Beachwood Labs has divined the poll's methodology and questions:
* If you were given the choice between sex with the mayor and supporting the Chicago Olympics, would you support the Olympics?
* Are you under the age of 13? If so, stay on the line. If not, you are not eligible for this poll.
* Would you support the Chicago Olympics if it meant no more cougars would be killed?
* Would you support the Chicago Olympics if we sent you a check for $2,016?
* Do you [beer] support [sex] the [beer] 2016 [sex] Chicago [beer] Olympics?
* Do you realize that if you don't support the Chicago Olympics, you will no longer get your garbage picked up starting tomorrow?
* Do you somewhat support, strongly support. superduper support, megamaxe support, mega meta support or ultra maximum support holding the Olympics in Chicago?
* Do you support the Chicago Olympics? If yes, stay on the line for our poll. If no, hang up and pretend this call never happened.
* Did you know that not supporting the Chicago Olympics is racist?
* If you say you support the Chicago Olympics, we'll let you hold the torch.
METHODOLOGY:
Zogby interviewed 500 people whose names were taken from Robert Sorich's favors list and Todd Stroger's public relations staff. Margin of error is 50 percent.

Posted by Lou at 12:06 AM | Permalink
April 21, 2008
The [Monday] Papers
Just to review:
"A massive rock formation 7 miles below West Salem, Ill., moved just an inch or so at 4:36 a.m. Friday, but that was enough to cause the 5.2 magnitude earthquake that broke windows and cracked walls near the epicenter, shook Chicagoans in their beds and sent shock waves that people felt as far away as Kansas and West Virginia."
A massive rock formation 7 miles below West Salem, Ill., moved an inch, and the result was a 5.2 magnitude earthquake felt as far away as Kansas and West Virginia.
It's a weird world.
Children's Game
I'm not saying this wasn't independently arrived at, I'm just sayin':
"Here's an idea for the Chicago Children's Museum: Move it to Northerly Island and rename the island Children's Island."
- April 18, Beachwood Reporter
"Option 2: Children's Island."
- April 20, Chicago Tribune
Here's an idea: Children's Museum limericks!
Writing Roger
Three letters to the editor about the New York Times's recent ode to Roger Ebert. I agree with two of them.
Obamanator
"In commercials and appearances, Senator Barack Obama has cast his opponent in one of the most negative lights of the entire 16-month."
- "Trailing in Pennsylvania, Obama Sharpens Tone," New York Times
Geez, the guy will do anything to win.
Class Action
"No-Salary Internship Can Pay Off."
For those who can afford to work for free.
Hard Lesson
"Our best public schools are first-rate, producing more intense, involved, and creative A-plus students than our most prestigious colleges have room for," Jay Matthews writes for Wilson Quarterly, reprinted on the Sun-Times Op-Ed page today.
"The top 70 percent of U.S. public high schools are pretty good, certainly better than they have ever been.
"Our real problem is the bottom 30 percent of U.S. schools, those in urban and rural communities full of low-income children."
And it's not the fault of the students - or the parents. Like with the latest outrage at violence in our city, nobody wants to look at the plain economic truth of poverty and suggest an economic solution.
Baby Brian
"Before next year's NFL draft, the Bears should consider adding a question to the Wonderlic test given potential picks," the Trib's David Haugh suggests.
"How long is a five-year contract?
"A. 5 years
"B. 3 years, according to my agent's calendar
"C. Depends if you make NFL history
"D. Length is a relative term
"From 1000 Football Drive in Lake Forest to Phoenix, this contract stuff has to expire soon. Right?
"The Bears have so many players unhappy about their money situation that the team should move voluntary off-season workouts from Halas Hall to Merrill Lynch. Apparently this was the most underpaid 7-9 team in the NFL last season."
Cryin' Brian
"I realize I signed a contract five years ago. But you know what, what happens when a guy signs an eight-year contract and he gets hurt the second year?"
Um, he gets paid for the time he played?
"They cut him the next year. What happens if a guy signs an eight-year contract and he plays like crap the first three years?"
Um, he gives some of the money back?
"They cut him. So when a guy plays great five or six years into his contract, what's wrong with rewarding him with a new deal?"
Nothing. On the other hand, demanding a new deal . . .
"Is there a difference?"
Between playing like crap for three years and getting cut and demanding a new deal? Um, yeah. In the first instance, the player takes the money and runs. In the second instance, the player demands more money and runs.
"I do feel like I've outplayed my contract."
Me too! I mean, who doesn't?
"It's not all about the money. I want to feel appreciated."
We could bake you some cookies . . .
"Who wants to be the Bears' executive who tells the public Brian Urlacher won't be playing this season because of a contract dispute?" the Trib's Rick Morrissey asks.
Ooh, ooh! Me! Me!
I'm not sure public sentiment is with Baby Brian on this one.
Ugly Urlacher
Urlacher denied Mike Mulligan's report that word around the league was that he was demanding a trade and threatening retirement in his negotiations.
"That's just a gossip column."
It wasn't. It was a report based on multiple sources by an actual reporter.
"[Urlacher] laughs when asked about reported trade demands by his agents and reiterated his desire to remain a Bear for years to come," the Trib says.
"Every negotiation opens up with a little bit of posturing back and forth," he says. "My agents are talking with the Bears and I try to stay out of it."
So maybe you don't even know if you've threatened retirement.
Urlacher also told his personal media caddy Jay Glazer that "that's just negotiations."
In other words, Mulligan got it right. Maybe he should demand a new contract for having to put up with the likes of Urlacher.
Cub Scrubs Marty Brennaman's right, although it's neck-and-neck with White Sox fans. Each succeeding generation of Cubs fans (and owners!) get it less and ruin it more, and it's hard to care anymore.
SportsMonday
Jim Coffman is out of town so his column will not appear today or next Monday. Marty Gangler and Ricky O'Donnell are here, though, and they have new Cub Factor and White Sox Report columns today.
* Guess which Cub Marty just named his newborn son after?
* Guess which spring training injury might be the best thing to happen to the Sox this season.
Tower Trial
Another hung jury, in case anyone is paying attention anymore, in what once was hugely overplayed, scary front-page news in Chicago and is now relegated to the briefs column.
Crosswinds
True, much of his work is a crime against nature ("Arthur's Theme," blech!), but "Sailing" and "Ride Like the Wind" are good songs. Be a man and admit it.
The Beachwood Tip Line: To be free again.

Posted by Lou at 08:56 AM | Permalink
What I Watched Last Night
Cultural historians will look back on this decade as a time of extreme paranoia in American culture, a time when the very specter of our own shadow sparks rabid paranoia. Why wouldn't they, considering shows like Battlestar Galactica and Lost, which wreak suspicion and mystery? Both shows are hot-shit right now. What's more, both shows have a serious philosophical layer to them. Common hot topics include torture (the easy way to getting a "it's actually a really deep show" response from viewers and critics), the value of democracy, and whether the peaceful olive branch or the belligerent sword is more effective.
Just to recap for those who don't spend their Fridays watching Battlestar Galactica or their free time downloading episodes of Lost, Lost is about the passengers of Flight 815, whose plane from Australia to Los Angeles strangely falls off course and crashes on an anonymous island. At first our heroes wait patiently for rescue, but time passes and two truths become clear: one is that rescue isn't coming anytime soon. The other is that they aren't alone. After three completed seasons and half of a fourth, viewers can only speculate about the "others" on the island who kidnap survivors of Flight 815 in the night - some light has been shed onto this mystery but only a twinkle.
With every hint at an answer, ten more mysteries appear. We still don't know why the others are on the island or why the island is dotted with special "hatches,"' which are bunkers and part of an experiment called the Dharma Initiative. We do know that the island has a number of supernatural attributes which directly affect the lives of anyone on the island.
Besides that. though, the Lost writers have a lot of explaining to do. As it happens, Flight 815 had an exotic cast of passengers, including a lottery winner who serves as the show's comic relief, two vigilantes, and an ex-Iraqi Republican Guard member.
Some of the characters are cliched, like the strapping gun-toting surgical physician Jack Shepherd (Matthew Fox), whom the islanders nominated to make most of their decisions. He's good looking, he's charming, he's heroic, he's cautious, or, in one word, he's boring. To break the monotony of a character that's been on what must be every ABC show ever, we learn through flashbacks that Jack has a somewhat dark past, full of beautiful women loving him and then breaking his heart.
Thankfully, and unusually for a prime time television show, Jack is countered by a quality character named John Locke played by gifted actor Terry O'Quinn. Where Jack is the logical voice of reason, Locke is a man of faith and daring. He's the counter to Jack in oh so many ways. Where Jack is ruggedly handsome, Locke is ruggedly . . . not; where Locke is old, Jack is young, Jack is educated and Locke is not. The list goes on. We have learned from flashbacks that Locke has been around; one minute he's a mild-mannered box manager, the next minute a marijuana farmhand. Oh and I shouldn't forget to mention that his father is a master con artist who took one of Locke's kidneys before abandoning him.
O'Quinn's Locke is truly a pleasure to watch, even when the episodes turn to ideological questions like whether torture is right or wrong, with opposing views represented by either Locke or Jack. The two stars are supported by a cast of beautiful twenty- and thirty-somethings who are marginally interesting. Some have made it through the past three seasons and will probably survive into the fourth, some didn't and some won't. It's hard to care about the rest.
The real appeal of the show is the concept: trapped on an island, no easy escape, but there's something odd about this island. It's a frightening kind of mystery with a slight believableness. Well, believable in the sense that J.K. Rowling was on to something in writing about a parallel world of wizards in the Harry Potter series.
Sadly, it seems the Lost writers aren't putting their creative backs into the show anymore as more and more strange things happen on the island with the strong inference that it's magic. Well, the show is slated for only one more full season so might as well not leave 'em wanting more for now.
The last episode, which I watched online, was sort of a plot thickener as the outside world finally made it to the island, but these particular newcomers may have a few other things in mind, the particulars of which we probably won't find out soon if ever.
*
Many diehard Lost fans would rather quickly deny that a science fiction series called Battlestar Galactica has any similarities to their beloved hour-long obsession. But it's true; BSG and Lost are like family. Excuse the fact that Lost is set on a tropical island somewhere between Sydney and Los Angeles and that Galactica is about a battered battleship leading the remnants to humanity to Earth in an unknown time - it could be set today, could be 10,000 in the future or a long, long time ago.
Like Lost, Galactica is filled with the unknown. About 50,000 humans escape the nuclear holocaust on their home planet Caprica caused by the Cylons, robots humanity created to serve them. Now they're searching for Earth while the Cylons - whose full plans are somewhat of a mystery - are trying to kill them. We think. After three seasons, we know the robots believe in a Christian God while humans put their faith in a polytheistic pantheon of Greek gods. Besides that, the models of Cylons that look like humans want to mate with humans to create human-Cylon hybrids. Mmm, human-Cylon hybrids . . .
This is the final season of BSG, which has been advertised as the one that will reveal all the various mysteries. What do the Cylons want? Why do they believe in one God and the humans in many? What year is it? Why doesn't humanity know where Earth is?
And then, of course, there are the particular character mysteries. In the last season it was revealed that there are five Cylons hidden among the human fleet who don't know they're Cylons. At the end of the last season, four are revealed and one remains unknown.
The past three seasons have been filled with the theme of distrust because the human form Cylons could be anyone. This season uses the new Cylons as a way to explore identity. How do you continue the life you lived knowing that you're radically different than who you thought you were? And what makes a human a human?
There's also Katee Sackhoff, who plays a rebellious fighter pilot, call sign Starbuck, who has inexplicably risen from the dead. Between her death and unexplained resurrection, she seems to have visited Earth and knows the way there. What's more, she says the human survivors are going the wrong way. Sackhoff's acting seems to have waned after three seasons, but there's still heavy hitter Edward James Olmos, who playes the stoic Admiral William Adama. With his battered face and masterful silences he's just a pleasure to watch.
The last episode built on these mysteries with Starbuck and a ragtag crew on a sanitation ship "scouting" for Earth away from the fleet.
Meanwhile, in an ironic Frankensteinian twist, the more robotic versions of the Cylons have gained independent thought and are rebelling against the human form models, much the same as how the original Cylon rebelled from the original humans. I liked this partially because it broke up the monotony of the same old storylines that have carried the show for the last three seasons, and it's unclear what's going to happen next.
Surely, though, the next episodes of Galactica will do exactly what it's done so successfully in the past three seasons and what Lost has also done: nurture mysteries and approach modern day cultural concerns such as terrorism, whether democracy works, and if torture is effective. At first it's hard to admit that these shows have serious depth, but as I watched more and more episodes it was hard to deny.
-
See what else our Beachwood correspondents are watching.

Posted by Lou at 07:06 AM | Permalink
The Cub Factor
Over the course of any person's particular fandom there comes a point where you say to yourself, why am I fan of this team? Sometimes this correlates with your favorite team trading away a great player, falling on hard times for a stretch, or possibly not winning a world championship in 100 years. This week I asked myself why I am a Cub Fan.
Why, you ask? The Cubs are off to a nice start so far and there is room for optimism, so why would someone take a hard long look at why they are a Cub Fan this week?
Well, this week my wife and I had a son, our first. For the record she had the kid and I just tried to make things go as smoothly as possible. But a weird thing happened as we went to the hospital Wednesday morning to begin the delivery proceedings (she was being induced). I said to my wife, Jenny, "Zambrano is pitching today. Wouldn't it be cool if he threw a no-hitter?"

Yup, I'm that guy. But you know what she said in response? She said, "Yeah, that would be cool."
But Zambrano didn't pitch a no hitter and the labor ran into Thursday anyway. So Mitchell Casey Gangler was born on the day Ted Lilly had a 6-hitter, with three walks, in six innings. It was still a good week for the Cubs and a good day for Mitch (who is doing great.) But am I insane for thinking about Carlos Zambrano on the possible day of my son's birth?
The short answer is Yes, and the long answer is probably also Yes. But I am a Cub fan and so is my dad, and so was his dad. And for that matter, so is my wife and so is her dad. And I have a feeling Mitch is going to be one too. That is just the way things go. As Terrance Mann said in Field of Dreams, "The one constant through all the years, Ray, has been baseball. America has rolled by like an army of steamrollers. It has been erased like a blackboard, rebuilt and erased again. But baseball has marked the time. This field, this game: it's a part of our past, Ray. It reminds of us of all that once was good and it could be again."
So far Mitch has looked like a shortstop and a centerfielder to various family members. I'm waiting for someone to call him a short relief left-handed specialist, but hey he's only three days old.
Oh, and also for the record. We almost named him something else until a few weeks ago when former Cub closer Mitch Williams was in the news for causing a disturbance at his daughter's softball game. So then we thought about Mitch as a name and it stuck.
*
Week in Review: The Cubs went 5-1 for the week taking, two of three from the Reds and sweeping the Pirates. Alfonso Soriano's injury really played havoc on this team.
Week in Preview: The Cubs have two two-game series' this week with the Mets at home and the Rockies in Colorado. Then a three-game series in Washington against the Generals, er, the Nationals. This train should keep a rollin'.
The Second Basemen Report: This is the kind of week the Cub Factor Second Basemen Report lives for. Four different second basemen this week (DeRosa, Cedeno, Fontenot, Patterson) as mad scientist Uncle Lou makes lemons out of chicken salad, or something. Just like Jim Hendry drew it up.
In former Cubs second basemen news, Mike Tyson last played second base for the Cubs in 1981. Not the boxer. I don't remember him, but he is missed.
Zam Bomb: Big Z is having too much fun with his little friend Mike Fontenot to be angry.


Lost in Translation: Mitchell-san is Japanese for Wild Thing.
Sweet and Sour Lou: 78% sweet, 22% sour. Lou is up 3 points on the Sweet-O-Meter due to winning and Soriano going down. And just like your real crazy drunk uncle, Lou isn't going to be outwardly happy that your hot-shot cousin got suspended from the basketball team, he's just glad he can coach now without having to cater to the prima donna.
Beachwood Sabermetrics: A complex algorithm performed by the Cub Factor staff using all historical data made available by Major League Baseball has determined that the season is never "early" when you are winning.
The Cub Factor: Catch up with them all.
Center Stage: Reed Johnson got five starts, Felix Pie just one. Johnson is a gamer. Pie is, um, not quite ready to come out of the oven.
Over/Under: The amount the Cubs have missed Alfonso Soriano: +/- not much.
With Apologies To Nena: 99 Years of Cub Losses (99 Jahre von Bengeln Verlusten).
Mount Lou: Lou goes back to green as lineup freedom has alleviated pressure from his inner core. Expect anger to begin boiling again as soon as Soriano comes back.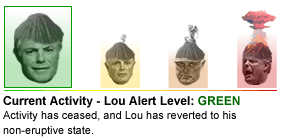 -
Marty - and Mitchell - eagerly await your comments!

Posted by Lou at 06:34 AM | Permalink
The White Sox Report
This portion of the festivities was dangerously close to being dedicated to the maturation and subsequent greatness of the young John Danks. But if there's one thing Chicago baseball fans should know, it's never go too crazy drawing conclusions from small sample sizes early in the season. Call it the Tuffy Rhodes rule.
Still, Danks has been lights-out so far, picking up two wins this week and pitching more like Mark Buehrle than Mark Buehrle has thus far in 2008. Success in baseball, however, often comes as easily as it goes, especially for 23-year old pitchers. To be a sure thing, it takes consistency. As of now, it's too early to say Danks has found it.
The White Sox hitters, on the other hand, seem to be here to stay. This year's version of the new South Side Hitmen should remind some of the 2006 crew that tore apart American League pitching all season and won 90 games. But it's the changes that were made in the lineup this offseason that have helped the offense rebound from a horrid 2007.
Just ask Buehrle, who credits the newfound firepower to additions of Nick Swisher, Orlando Cabrera, and Carlos Quentin. Combine the new faces with comeback years from Jim Thome, Paul Konerko, A.J. Pierzynski, and Jermaine Dye, and the best offense in the American League may belong to the White Sox.
The Sox lead the American League in home runs (24), and rank fourth in runs scored (92). What's perplexing is that they are dead last in the majors in hits, with only 135. By comparison, the league-leading Angels already have 194. That simply means the Sox are scoring more efficiently: taking walks and getting extra base hits. Playing for the three-run homer has never looked so good.
*
Week in Review: The Sox finished the week 4-3 after splitting a pair a two-game sets against the A's and Orioles, and taking two of three against the Rays.
Week in Preview: Playing the Rays and A's sure was fun while it lasted. Tuesday sees the mighty Yankees come to town, who may not be so mighty if Alex Rodriguez can't go because of a quad injury. Three home games follow against Baltimore.
It's Joe, Not Jonas: Hey Joe Maddon, Rivers Cuomo called, he wants his glasses back.
Only Frank: Frank Thomas is The Sox Report's favorite Good Guy of all-time, but man, is he a clown or what. Only the Big Hurt would be prissy enough to parlay a one-game benching into being released, as Thomas did on Sunday when the Blue Jays let him go. Frank could have owned Chicago if he didn't always act like such a little girl all the time before he left after 2005. People forget how awesome he was. And to think, Toronto cut him so . . . Matt Stairs can get more playing time. Not good.
How's the Weather Down There: If the White Sox end up, you know, actually doing something this year, one of the season's key moments could be when Jerry Owens went down in spring training. Manager Ozzie Guillen seemed enamored with the speedy, light-hitting center fielder, but when Owens tore his right adductor, it opened up a spot in the outfield for Quentin. Meanwhile, Swisher has proved to a great leadoff man, and an above average defender in center. Hope you like traveling on buses in Charlotte, Jerry. The seats on the plane are all filled up.
That's Ozzie: "When [Danks] was behind in the count, he was throwing breaking balls for strikes," Guillen said. "That's confidence. When you're a rookie and you struggle like he did, you grow up real quick in this game. Hopefully he continues to do it. We count on him. Everyone we put out there is expected to throw good games."
Beachwood Sabermetrics: A complex algorithm performed by the White Sox Report staff using all historical data made available by Major League Baseball has determined that Marty Brennaman is cooler than you are.
-
Ricky O'Donnell is the proprietor of Tremendous Upside Potential.
Posted by Lou at 06:14 AM | Permalink
April 19, 2008
The Weekend Desk Report
You go recycle some hazardous household chemicals. We'll keep watch on the news,
Westward, Hos!
Earthquakes? Cougars? Johnny Flippin' Depp? It's obvious what's happened here, Chicago. We've gone to bed in Illinois and woken up in California. So, uh, how do we feel about this? Let's break down our new situation, piece by piece.
Governor
The new one was the Terminator. The other can't be terminated. This one's a romp, people.
Advantage: California
Weather
Sure, winter's a bitch. But who wants to be the Windy City with winds like these? It's a tough call, but cold and icy beats, you know, incinerated.
Advantage: Illinois
Washington Delegation
Our new junior senator may not be quite as sexy, but at least she has time to do her job instead of trying to find another one.
This one might come down to speakers of the house. Don't get us wrong; we've got no love for dear old Dennis, but the man was a wrestling coach for goodness sake. Spry little Nancy doesn't stand a chance.
Advantage: Illinois
Local Scandals
Yeah, let's see them try to move the Children's Museum to Golden Gate Park.
Advantage: California
Invasive Species
It's dysfunctional starlets and Africanized bees versus sleazy political godfathers and Frankenfish. Hey, at least Illinois has beaten back one kind of vermin. Maybe there's hope for the rest.
Advantage: Illinois
Final Tally
It was a pretty close fight, but ultimately it seems there's no place like home.
In memory of Bob Nelson. Thank you for making Chicago home.

Posted by Lou at 08:07 AM | Permalink
April 18, 2008
The [Friday] Papers
1. I thought my building was going to collapse, and I was just thinking, "Save my laptop."
2. It was a gotcha debate - and they got him.
3. Although I wish they asked about Tony Rezko instead of Bill Ayers. So you could say Obama got off easy.
4. Obamaphiles are the biggest bunch of crybabies I've ever seen.
5. "Resident Fears Rogers Park May Lose Charm."
Is their any neighborhood left that isn't losing or hasn't already lost its charm?
6. Please quit, Brian. We're sick of you. Don't you have a bunch of children to drive to school anyway?
7. Dane Placko is this week's Fan of the Week on Just One Bad Century. He was in the bowels of Wrigley when Steve Bartman was escorted out of the ballpark.
8. "City to To Test For Drugs In Water Supply."
A) Why, is Bill Ayers acting up again?
B) Maybe they ought to test the Water Department instead.
9. Pundit Patrol:
A) Mary Schmich writes about the weather again. Will you just give her Skilling's job already?
B) Illinois Supreme Court judge Anne Burke is not only friends with Michael Sneed, but with Neil Steinberg. And yet neither has asked her about the way she was engineered onto to the highest state court in the land.
C) "Obama made it seem at the debate he hardly knew Ayers," Lynn Sweet points out. Or substitute Rezko. Or Wright. Or Emil Jones. Or Todd Stroger. Or Richard M. Daley. Or Joe Lieberman, whom Obama endorsed over anti-war candidate Ned Lamont and who is now asking whether Obama is a Marxist. The guy can pick his friends!
D) I'll destroy Mary Mitchell's latest later. I'm trying to enjoy living through my first Chicago earthquake right now.
10. Our very own Marilyn Ferdinand has a fantastic interview with documentary filmmaker Errol Morris, whose new film, Standard Operating Procedure, opens in Chicago on May 2.
11. Here's an idea for the Chicago Children's Museum: Move it to Northerly Island and rename the island Children's Island. No adults allowed unless accompanied by a child.
12. In a reversal of strategy, Sam Zell acknowledges he may have to sell off some Tribune Co. newspapers and other assets because of an unexpectedly horrible deterioration in revenues. Here's an idea: Sell off all properties outside of Chicago, pay down the company's debt, and invest in making the Tribune the best damn newspaper - and website - in the country. Or even just website.
13. "Unlike in 2005 and early 2006, we have heard almost nothing from the mayor about the public corruption problems Chicago faces and there has been no pledge to stop it," BGA chief Jay Stewart writes this morning. "We will probably have to wait for another indictment or election before the Daley spin machine fires up that myth again."
14. Barack Obama writes a letter to the TSA about his "serious concerns" about some stray uniforms laying around which he finds "wholly unacceptable," but has yet to find the time to write a letter to the mayor about his serious concerns regarding City Hall corruption.
15. Well, Jay, to be fair, the mayor intoduced a new code of conduct (third item) for all city employees on Thursday that is supposed to "change the City Hall environment from one of a 'rules-based culture to one based on values.'"
Wait, isn't the problem that that's what we have now?
16. Speaking of boondoggles, a new aviation chief will try to wrestle the O'Hare expansion to the ground without ending up fired or in jail.
17. Chicagoans on the CTA take Obama's speech to heart and have a conversation about race.
18. "Ever see the silent and inconspicuous player 'on the hook' (corner of the table)? When the dice are cold and the dreaded 7 is popping up with regularity, he may be the only one raking in the chips," writes Sun-Times gambling columnist John Brokopp. "That's because he's a 'don't' bettor, or a craps player who wagers 7 will be rolled before the point.
"The vast majority of craps players bet the dice will pass, or that the point will be made before a 7. Rooting for the point creates the camaraderie that makes the game of craps so special. The cheers that erupt can be heard in the farthest points of the casino floor.
"Don't bettors patiently wait for 7 to appear. If it does, they must celebrate in silence and collect their winnings without fanfare. Don't bettors are loners. Betting the dice will pass is a team sport."
19. "It took us 45 minutes before we even started talking about a single issue that matters to the American people," Obama said.
Well, you would have gotten there sooner if you hadn't brought up Hillary Clinton's ancient remark about staying home and baking cookies.
20. I don't get it. Did everyone want Obama and Clinton to rehearse their set pieces about health insurance mandates again?
21. Maybe Obama should write a letter about "serious concerns" to his political mentor, Emil Jones, who is singlehandedly holding up ethics reform - you know, "change" - in the state legislature.
22. Gotcha!
23. And when they came for Clinton, Obama stood in silence.
Well, not total silence.
(I know I keep linking to that story, but Mary Mitchell and Eric Zorn haven't read it yet.)
24. Obama says Clinton was "in her element" during the debate. No, you were.
25. Thank you, Danny Federici.
The Beachwood Tip Line: Getting you.

Posted by Lou at 08:47 AM | Permalink
April 17, 2008
What I Watched Last Night
I'm not sure what did it last night: Flavor Flav's really awful new sitcom Under One Roof on WPWR/Channel 50 or ABC-TV's presentation of the Democratic debate, which by this hour has been denoted as a tourist attraction on every new Philadelphia city map as "The Twenty-First Gigantamous Mountain of Droning Bullshit." Either way, I found myself afterward developing an odd affection for ABC's Men In Trees.
Make no mistake: Men in Trees has nothing at all to do with men. Or trees. Or men abandoned by their women to figure out how to live in trees without bar soap or household cleaning services. But still.
This is a show that could be easily described as Northern Exposure meets Thirtysomething, except with an ensemble cast that, for the most part, is easily more forgettable. I'm not sure why, but ABC seems hellbent on finding a way to resurrect the spirit - if not the ghost - of its groundbreaking whinefest Thirtysomething. Yet, with Men In Trees, the network has managed to do just that without making us also think of of that whiny clusterfuck called What About Brian (Motto: "A series so bad we didn't even bother to tack a question mark onto its name.") However, the basic difference between Thirtysomething and Men in Trees is that I didn't spend a whole hour last night just wanting slap the whiny hell out of everyone.
Plus, there are moments in Men In Trees that make you at least chuckle. Thirtysomething never made you chuckle. It just made you depressed over the brick walls decent marriages and hookups smack up against when people with everything they've ever wanted in life end up spending every waking moment being far too unsatisfied and introspective for their own fucking good.
I'm also tempted to suggest that Wednesday night's influence of Flavor Flav also led to me to hallucinate a three-hour block of my prime time life. That's because at some point between 7:05 and 7:20 p.m., there were back-to-back commercials for Edge Energy shaving gel involving a crowd of miniaturized hot babes shooting thick cream from futuristic backpacks all over sequoia-sized chin whiskers followed by another crowd of miniaturized hot mentholated babes flying up some guy's nostrils on jet packs to dance, dance, dance!
Yeaahhhh booyyyyy! Thank God someone in charge of the Edge ad account had a boyhood where some kinda-sorta Swedish babe invited every man in the nation to "Take it off. Take it all off."
Yet, jeez - if everyday midgets can have their own bar in south suburban Worth, what sort of commentary is it on big-city life when the only outlet available for miniaturized hot babes up for a little clubbing is the lining of some guy's schnozz? It took me a few seconds to figure out the point of the new Edge Energy commercials, but I was surprised that none of that time involved tiny hot babes being disemboweled by the blades of a giant razor or miniaturized babes getting entangled in nose hair, dodging flaky boogers, or getting snot all over their space boots once they landed and fired up the voompa-voompa music.
Anyway, I found something extremely warm and inviting about Men In Trees - a show I paid little notice to maybe twice last year - even though I was doing something else at the same time and had no idea what was going on beyond several separate groups of off-kilter people in the off-kilter burg of Elmo, Alaska, having the same off-kilter life experiences on two or three different levels. I kind of followed CBS's Northern Exposure before it got all stupid by becoming more interested in flooding the planet with T-shirts and plastic lunch boxes, so I could reasonably say that Trees is a clone of Northern Exposure all the way down to the same warm and folksy "what everybody learned" narration at the end of the show by the same sort of warm and folksy narrator, and the fact that the social center of town is a tavern furnished straight out of the Wisconsin Northwoods.
Yet I won't say that, because Men in Trees has no nutty Alaskan Indians wandering about looking for free-clinic medical care, the white-folk characters are not nearly as uncomfortably strange, there isn't a single moose to plow your car into, and Anne Heche is genuinely likable for reasons beyond an incredibly nice rack, which was displayed quite prominently at least once during Wednesday's program.
Yeahhhhh boyyyyy - if only my rack looked that great back when I was 40 years old.
While we're at it, I completely blame Flavor Flav for leading me to find something endearing about Cynthia Stevenson (Hope and Gloria, Dead Like Me) John Amos, and Lauren Tom, who voices Minh Souphanousinphone on King of the Hill.
* * *
Tuesday night, Chef Gordon Ramsay was "looking for a complete service" from the clueless collection of Hell's Kitchen
Since nobody knows how to cook, someone setting shit on fire makes the hour seem worth it. It's fun watching someone on the women's Red Team try to extinguish a grease fire by trying to blow it out instead of, say, tossing a box of baking soda onto it. It's even more fun when Chef Ramsay decides to chuck the whole flaming mess into the sink. But it's three times better when the sink is full of standing water and you just want some wiseacre in the bunch to go, "Fire, fire!! Are you threatening me? I am Cornholio - I need TP for my bunghole . . . "
Random highlights and observations from this week's episode:
How do you imagine Gordon Ramsay autographs his 8x10 glossies during Chef Ramsay Fan Appreciation Day?
1) "Fuck off!"
2) "You donkey!"
3) "Shut it down, you miserable pile of shit!"
*
As their reward for winning a chicken-cutting challenge, the women's Red Team gets all dolled up by shaving their legs in the bathroom sink for a Ramsay lunch outing at a restaurant called The Saddle Ranch. They are greeted by horribly-failed Hell's Kitchen Season 3 cheftestant Aaron, the big Asian guy Ramsay kept calling "the Chinese Cowboy." Aaron greets everyone with his chunky butt on the Saddle Ranch's centerpiece: a mechanical bull.
Ramsay seems somewhat genuinely surprised to be greeted by Aaron, his portly frame stuffed into a Western shirt Marty Robbins or Porter Waggoner probably wouldn't want to be buried in, waving his big cowboy hat and shouting "Yee-Haaa!!" Aaron is beaming like a madman and appears to be in high spirits. This leads me to think he's recovered from whatever mystery ailment that made him cry uncontrollably, faint a lot, and spend most of his time having to sit down.
The show's Voiceover Guy says Aaron is "a regular" at the The Saddle Ranch, but he fails to mention whether being a regular involves eating sides of beef, washing dishes, or spending endless days on the mechanical bull as a fun way to weather unemployment. You know, kind of like how we were never clear exactly how Norm managed to fritter away 22 hours of his day as a Cheers regular.
Still, when Chef Ramsay goes booking lunch at a joint with a mechanical bull, you have to wonder whether he's running out of taste, running out of restaurant choices in greater Los Angeles, or simply whether he just doesn't like women all that much. Last week, Blue Team got lobster and caviar on a yacht. This week, the Red Team got lunch lookin' for love in all the wrong places with the ghosts of Mickey Gilley and Debra Winger.
Up next: The captain's table at Hooter's.
*
Maybe it's just me, but there was something slightly kinky in Chef Ramsay putting Vanessa "on meat" and proclaiming Rosann to be "from the backstreets"? Discuss.
*
On the other hand, there was nothing at all kinky or provocative about the plan hatched by the Red Team to shoehorn without shame some of the fugliest heiffers of their whole bunch - Corey, Christina, and Shayna into loathsomely small two-piece swimsuits and stick them into a hot tub to tempt the sleepier members of Blue Team with barbecue chicken, beer, and cigarettes to narc on each other so the Red Team can find a way to psych out the Blue Team.
Forget that the two teams don't even interact in the same kitchen; there's just something fundamentally wrong about sucking the marrow out of chicken bones and dripping BBQ sauce and cigarette ashes into the same water you're soaking in.
Cheftestant Ben might not be able to scrape up a medium-cooked salmon to save his life, but he's totally onto the Red Team's evil plan from the beginning. Not so for misogynist dillweed Jason. In the blink of an eye, he goes tripping/flopping into the hot tub like a wounded sperm whale to spill the beans on his teammates long before any of the women even mention beer or chicken.
The scheme may have been the most brilliant tactical plan ever hatched outside the walls West Point Military Academy: "If you ain't gonna fuck 'em, might as well feed 'em."
*
As punishment for losing the chicken-cutting competition, the Blue Team is forced to pick peppers in the blazing sun in clothing modeled somewhere between the prisoners on Cool Hand Luke and George Clooney in O Brother, Where Art Thou?, except with big floppy hats sometimes seen on donkeys.
Meanwhile, Louross calls the blue, broken-down bus with a weary engine transporting the Blue Team to the 100-acre pepper farm "ganky-looking." It looks exactly like the bus used by the big Baptist church from Hammond, Indiana, to prowl the streets of my Southeast Side neighborhood looking for souls to save 30 years ago. Same shade of blue, too.
The hard-labor pepperfest causes Jason to comment: "There are two reasons why I'm chubby: Number One, I like food. Number Two, I don't work like that."
Or reason number three: You just don't give a damn. Especially when you can still find women of some sort that'll invite you into their hot tub.
*
At the end of the show, Ramsay tells Jason to fuck off for good, meaning we don't have his misogynistic ass to kick around anymore. Before skulking off, Jason asserts his un-pansiness by proclaiming, "I'm a man. I'm not gonna cry about it. I am gonna go get drunk, though."
Hoooooo-ah! You go, dude!
*
Notable cheftestant quotable: "I want you to work like a fucking Comanche."
Notable Ramsay quotable: "That's not a saute pan! That's a furnace!"
Bonus notable cheftestant quotable: "Don't tell me to shut the fuck up. I'll knock you out."
Bonus notable Ramsay quotable: "Jason! You're on desserts! Don't eat any!"
*
Up next: Crisco Inferno, Edward Cinderhands, and food-poisoning your own family instead of complete strangers.
-
Check out the rest of the wide wonderful world of What I Watched Last Night.
Posted by Lou at 11:31 AM | Permalink
The [Thursday] Papers
As usual, local media coverage fails to give you anywhere near the flavor of last night's debate in Philadelphia between Hillary Clinton and Barack Obama.
That's why we have Mystery Debate Theater!
Few people, including the media, seem to care much about actual facts, but the facts from last night are these: Obama had a terrible night, not only because he seemed despondent for some unknown reason, but because he was caught several times making statements that simply were not true.
Is that important?
Not to our intrepid pundit class.
Take Obama courtier Eric Zorn.
"Never mind whether [Clinton] has a good point about Obama's recent remarks in California (I think she does; they made me cringe) or whether a full-frontal trashing of Obama is her best hope to pull off a comeback win for the nomination (it probably is).
"If criticism for the Cling Thing becomes the bludgeon that kills Obama's candidacy, Clinton should not - must not - have her fingerprints all over it. Yet she does."
Never mind whether she makes a good point! She should cover her tracks better!
Of course, of all the voices yammering about Obama's comments about bitter Pennyslvanians, Clinton's has been about the softest.
"Should she happen to win the nomination, Obama backers will remember how she did it. They may not vote for McCain, but many of them will likely sit on their wallets during the campaign and sit on their couches on election day, too angry with Clinton to support her in any way."
Really? The hope and change people? But that's not what Obama said last night. Was he lying? Would he not plead with his supporters to put a Democrat into the White House? And vice versa isn't true? Many people paying closer attention than most won't forgive Obama for playing the race card and blaming the Clintons.
"Is Obama all sunshine and optimisim and positive messages? No. Neither is he running 'Liar, Liar Pantsuit on Fire!' ads about Clinton's 'sniper' fables and her husband's appalling fibs trying to excuse her mendacity."
Liar, Liar Pantsuit on Fire. That's the elevated discourse the Obama campaign has brought us.
Of course, there have been plenty of problematic Obama ads. And Obama has his own record of fibbing.
But as Bob Somerby often writes, only one side fibs when you've chosen sides.
"He's not running ads hammering the Clintons for their big-money connections to lobbyists and foreign interests, for her slippery positions on trade or for the airport luggage carousel full of unpacked baggage from the 1990s that the Republican attack machine is itching to open up."
Whoa!
Connections to big-money lobbyists and foreign interests? Slippery positions on trade? Unpackaged baggage from the 1990s Republican hit machine? Do you mean this baggage, or are you just dying to mention Bill's blowjobs?
Bridgeport Bullies
They're praying for Robert Sorich and Patrick Slattery in Bridgeport.
"They're my friends and I will try to help their families," says Ald. James Balcer (11th).
Will he also try to help the families of those whom Sorich and Slattery screwed?
*
"The Rev. Dan Brandt led prayers at Nativity for the two 'as we would for anyone who's been a victim of any type of miscarriage or error, and for anyone who's sick or going away to the hospital or going away to this kind of thing. It's just sad.'"
So, Rev. Brandt, you believe the prosecutors, jury, judge and appellate court were all wrong?
"He said parishioners are 'hoping something will be reversed in the future and come out right."
So, Rev. Brandt, you don't have a problem with giving city jobs to dead people?
"But for now, they'll go where they're sent. They're obeying as a sheep would his shepherd. But usually the shepherd has the best in mind for their sheep. That doesn't seem to be the case here."
Well, if the shepherd is Mayor Daley, I see what you mean.
*
"[Daley] wouldn't take questions about it Wednesday."
He was too busy tending to his flock.
"
"Asked if she expected [Sorich] to cooperate and tell secrets he may know, [Marge] Mossman scoffed.
"Robert will never talk," she said. "He'll take it to the grave."
But the mayor is always screaming at neighborhood folk to snitch to the cops, so I'm sure he's told Sorich to give up the goods.
Beachwood Flashback: "Anderson Cooper recently broadcast a special report called "Stop Snitchin'" on 60 Minutes about the code of silence among Chicago police officials with knowledge of torture and abuse in the department, as well as a segment on the likes of former Daley patronage chief Robert Sorich, convicted of running a massively fraudulent City Hall hiring scheme. The coup de grace was when Cooper confronted Daley about his refusal to reveal who hired Angelo Torres.
"Oh wait. That wasn't what the show was about at all. It was about poor black people in the 'hood who don't like to cooperate with the police."
Today's Worst Person in Chicago
"It made me feel good. It made us feel good because we don't want to be the favorite," Chicago 2016 chief Pat Ryan said upon learning that Chicago is not among the front-runners.
In fact, Ryan hopes Chicago isn't even a finalist; that would be a death blow.
The Beachwood Tip Line: A fan favorite.
Posted by Lou at 09:52 AM | Permalink
Mystery Debate Theater 2008
Once again the Mystery Debate Theater team of Andrew Kingsford, Tim Willette and Steve Rhodes gathered at Beachwood HQ . . . well, no, it was just me last night. Tim and Andrew are in Guam preparing for the upcoming primary there that we predict will decide the whole thing. So this episode of MDT 2008 is brought to you just by me.As always, this transcript has been edited for length, clarity and sanity.
*
GIBSON: So we're going to begin with opening statements, and we had a flip of the coin, and the brief opening statement first from Senator Obama.
OBAMA: You know, Senator Clinton and I have been running for 15 months now. We've been traveling across Pennsylvania for at least the last five weeks. And everywhere I go, what I've been struck by is the core decency and generosity of people of Pennsylvania and the American people.
But what I've also been struck by is the frustration. You know, I met a gentleman in Latrobe who had lost his job and was trying to figure out how he could find the gas money to travel to find a job. And that story, I think, is typical of what we're seeing all across the country.
STEVE: Well, did you give him gas money?
*
GIBSON: Governor Cuomo, an elder statesman in your party, has come forward with a suggestion. He has said, look, fight it to the end. Let every vote be counted. You contest every delegate. Go at each other right till the end. Don't give an inch to one another. But pledge now that whichever one of you wins this contest, you'll take the other as your running mate, and that the other will agree if they lose, to take second place on the ticket. So I put the question to both of you: Why not?
(Pause, laughter.)
Don't all speak at once. (Laughter.)
OBAMA: I think it's premature at this point for us to talk about who vice presidential candidates will be because we're still trying to determine who the nominee will be. But . . . I'm confident that both Senator Clinton's supporters and Senator Obama's supporters will be supporting the Democratic nominee when we start engaging in that general election.
STEVE: That's not what you've been saying. Or your wife.
GIBSON: Governor Cuomo made that suggestion because he's not so sure.
CLINTON: Well, Charlie, I'm going to do everything I possibly can to make sure that one of us takes the oath of office next January. I think that has to be the overriding goal, whatever we have to do.
GIBSON: Alright. I will let this go. I don't think Governor Cuomo has any takers yet.
STEVE: They should pledge to make McCain the vice president.
*
GIBSON: Talking to a closed-door fundraiser in San Francisco 10 days ago . . .
STEVE: Here we go. As if he doesn't have a scripted answer ready to go. Maybe about that guy in Latrobe who needed gas money . . .
GIBSON: . . . you got talking in California about small-town Pennsylvanians who have had tough economic times in recent years. And you said they get bitter, and they cling to guns or they cling to their religion or they cling to antipathy toward people who are not like them.
Now, you've said you misspoke; you said you mangled what it was you wanted to say. But we've talked to a lot of voters. Do you understand that some people in this state find that patronizing and think that you said actually what you meant?
OBAMA: Well, I think there's no doubt that I can see how people were offended.
STEVE: Because most people aren't as smart as I am!
OBAMA: The point I was making was that when people feel like Washington's not listening to them, when they're promised year after year, decade after decade, that their economic situation is going to change, and it doesn't, then politically they end up focusing on those things that are constant, like religion.
They end up feeling "This is a place where I can find some refugee. This is something that I can count on." They end up being much more concerned about votes around things like guns, where traditions have been passed on from generation to generation.
CLINTON: Well, I am the granddaughter of a factory worker from Scranton who went to work in the Scranton lace mills when he was 11 years old, worked his entire life there, mostly six-day weeks.
He was also very active in the Court Street Methodist Church. And he raised three sons and was very proud that he sent all of them to college.
I don't believe that my grandfather or my father, or the many people whom I have had the privilege of knowing and meeting across Pennsylvania over many years, cling to religion when Washington is not listening to them. I think that is a fundamental, sort of, misunderstanding of the role of religion and faith in times that are good and times that are bad.
And I similarly don't think that people cling to their traditions, like hunting and guns, either when they are frustrated with the government. I just don't believe that's how people live their lives.
Now, that doesn't mean that people are not frustrated with the government. We have every reason to be frustrated, particularly with this administration.
But I can see why people would be taken aback and offended by the remarks. And I think what's important is that we all listen to one another and we respect one another and we understand the different decisions that people make in life, because we're a stronger country because of that.
STEVE: There is no Cling America and Non-Cling America, there is only the United States of America!
*
STEPHANOPOULOS: Senator Clinton, when Bill Richardson called you to say he was endorsing Barack Obama, you told him that Senator Obama can't win. I'm not going to ask you about that conversation. I know you don't want to talk about it.
STEVE: In fact, I'll only ask you about things you want to talk about. Any suggestions?
STEPHANOPOULOS: But a simple yes-or-no question: Do you think Senator Obama can beat John McCain or not?
CLINTON: Well, I think we have to beat John McCain, and I have every reason to believe we're going to have a Democratic president and it's going to be either Barack or me. And we're going to make that happen.
STEPHANOPOULOS: But the question is, do you think Senator Obama can do that? Can he win?
CLINTON: Yes. Yes. Yes.
STEVE: But she's thinking No, No, No.
STEPHANOPOULOS: Senator Obama, do yo think Senator Clinton can win?
OBAMA: Absolutely.
Let me just pick up on a couple of things that Senator Clinton said, though, because during the course of the last few days, you know, she's said I'm elitist, out of touch, condescending. Let me be absolutely clear. It would be pretty hard for me to be condescending towards people of faith, since I'm a person of faith and have done more than most other campaigns in reaching out specifically to people of faith, and have written about how Democrats make an error when they don't show up and speak directly to people's faith, because I think we can get those votes, and I have in the past.
The same is true with respect to gun owners. I have large numbers of sportsmen and gun owners in my home state, and they have supported me precisely because I have listened to them, and I know them well.
STEVE: In fact, I shot a man in Reno once . . .
OBAMA: So the problem that we have in our politics, which is fairly typical, is that you take one person's statement, if it's not properly phrased, and you just beat it to death. And that's what Senator Clinton's been doing over the last four days. And I understand that.
OBAMA: And Senator Clinton's right. She has gone through this. You know, I recall when back in 1992, when she made a statement about how, what do you expect, should I be at home baking cookies?
STEVE: He didn't just say that.
OBAMA: And people attacked her for being elitist and this and that.
STEVE: He didn't just say that.
OBAMA: And I remember watching that on TV and saying, well, that's not who she is; that's not what she believes; that's not what she meant.
STEVE: Wink, wink.
OBAMA: And I'm sure that that's how she felt as well.
STEVE: He didn't just say that.
OBAMA: But the problem is that that's the kind of politics that we've been accustomed to. And I think Senator Clinton learned the wrong lesson from it, because she's adopting the same tactics.
STEVE: No he didn't.
OBAMA: What the American people want are not distractions.
STEVE: Like slyly insinuating ancient cookie-baking comments into the campaign.
CLINTON: Well, first of all, I want to be very clear. My comments were about your remarks. And I think that's important, because it wasn't just me responding to them, it was people who heard them, people who felt as though they were aimed at their values, their quality of life, the decisions that they have made.
*
GIBSON: Senator Obama, since you last debated, you made a significant speech in this building on the subject of race and your former pastor, the Reverend Jeremiah Wright.
STEVE: Hey, when I said we should have a conversation about race, I didn't mean, you know, like right now.
GIBSON: And you said subsequent to giving that speech that you never heard him say from the pulpit the kinds of things that so have offended people.
But more than a year ago, you rescinded the invitation to him to attend the event when you announced your candidacy. He was to give the invocation. And according to the reverend, I'm quoting him, you said to him, "You can get kind of rough in sermons. So what we've decided is that it's best for you not to be out there in public." I'm quoting the reverend. But what did you know about his statements that caused you to rescind that invitation?
OBAMA: Well -
GIBSON: And if you knew he got rough in sermons, why did it take you more than a year to publicly disassociate yourself from his remarks?
STEVE: Because I was so busy disassociating myself from Tony Rezko.
OBAMA: Well, understand that I hadn't seen the remarks that ended up playing on YouTube repeatedly.
STEVE: I was too busy looking at Hillary's sniper remarks playing on YouTube repeatedly.
OBAMA: This was a set of remarks that had been quoted in Rolling Stone magazine and we looked at them and I thought that they would be a distraction since he had just put them forward.
STEVE: You know, a distraction from my campaign message of hope and unity.
OBAMA: But, Charlie, I've discussed this extensively. Reverend Wright is somebody who made controversial statements but they were not of the sort that we saw that offended so many Americans. And that's why I specifically said that these comments were objectionable; they're not comments that I believe in. And I disassociated myself with them.

GIBSON: Senator Clinton, let me - I'm sorry, go ahead. Senator Clinton, let me follow up, and let me add to that. You have said that he would not have been my pastor, and you said that you have to speak out against those kinds of remarks, and implicitly by getting up and moving, and I presume you mean out of the church.
There are 8,000 members of Senator Obama's church. And we have heard the inflammatory remarks of Reverend Wright, but so too have we heard testament to many great things that he did. Do you honestly believe that 8,000 people should have gotten up and walked out of that church?
CLINTON: I was asked a personal question, Charlie, and I gave a personal answer. Obviously, one's choice of church and pastor is rooted in what one believes is what you're seeking in church and what kind of, you know, fellowship you find in church. But I have to say that, you know, for Pastor Wright to have given his first sermon after 9/11 and to have blamed the United States for the attack, which happened in my city of New York, would have been intolerable for me. And therefore I would have not been able to stay in the church, and maybe it's, you know, just, again, a personal reflection that regardless of whatever good is going on - and I have no reason to doubt that a lot of good things were happening in that church - you get to choose your pastor. You don't choose your family, but you get to choose your pastor. And when asked a direct question, I said I would not have stayed in the church.
OBAMA: Well, let me just respond to two things. Absolutely many of these remarks were objectionable. I've already said that I didn't hear them, because I wasn't in church that day. I didn't learn about those statements until much later.
But --
GIBSON: But you did rescind the invitation to him --
OBAMA: But that was on - that was on something entirely different, Charlie. That - that was on a different statement.
*
STEPHANOPOULOS: Senator, two questions. Number one, do you think Reverend Wright loves America as much as you do? And number two, if you get the nomination, what will you do when those sermons are played on television again and again and again?
OBAMA: You know, George, look, if it's not this, then it would be something else. I promise you, if Senator Clinton got the nomination, there will be a whole bunch of video clips about other things. In a general election, we know that there are going to be all kinds of attacks launched and leveled. There have been quite a few leveled in this primary campaign.
And I have confidence in the American people that when you talk to the American people honestly and directly about what I believe in, what my plans are on health care, on energy, when they see my track record of the work that I've done on behalf of people who really need help, I have absolute confidence that they can rally behind my campaign.
And, you know, the notion that somehow that the American people are going to be distracted once again by comments not made by me but by somebody who is associated with me, that I have disowned, I think doesn't give the American people enough credit.
STEVE: I thought you could no more disown him than your grandmother.
STEPHANOPOULOS: You've disowned him?
OBAMA: The comments, comments that I've disowned.
GIBSON [to CLINTON]: I'm getting a little out of balance here. Do you want to take a few seconds, or do you want to go to the next question?
STEVE: No, let's stay on this question!
CLINTON: Well, I think, in addition to the questions about Reverend Wright and what he said and when he said it, and for whatever reason he might have said these things, there were so many different variations on the explanations that we heard. And it is something that I think deserves further exploration, because clearly what we've got to figure out is how we're going to bring people together in a way that overcomes the anger, overcomes the divisiveness and whatever bitterness there may be out there.
It is clear that, as leaders, we have a choice who we associate with and who we apparently give some kind of seal of approval to. And I think that it wasn't only the specific remarks, but some of the relationships with Reverend Farrakhan, with giving the church bulletin over to the leader of Hamas to put a message in. You know, these are problems, and they raise questions in people's minds.
*
STEPHANOPOULOS: Senator Clinton, we also did a poll today, and there are also questions about you raised in this poll. About six in 10 voters that we talked to say they don't believe you're honest and trustworthy. And we also asked a lot of Pennsylvania voters for questions they had. A lot of them raised this honesty issue and your comments about being under sniper fire in Bosnia.
Here's Tom Rooney from Pittsburgh.
ROONEY: Senator, I was in your court until a couple of weeks ago. How do you reconcile the campaign of credibility that you have when you've made those comments about what happened getting off the plane in Bosnia, which totally misrepresented what really happened on that day? You really lost my vote. And what can you tell me to get that vote back?
CLINTON: Well, Tom, I can tell you that I may be a lot of things, but I'm not dumb. And I wrote about going to Bosnia in my book in 2004. I laid it all out there. And you're right. On a couple of occasions in the last weeks I just said some things that weren't in keeping with what I knew to be the case and what I had written about in my book. And, you know, I'm embarrassed by it. I have apologized for it. I've said it was a mistake. And it is, I hope, something that you can look over, because clearly I am proud that I went to Bosnia. It was a war zone.
General Wesley Clark is here in the audience with me as one of my major supporters. He and I were talking about it before I came out. You know, our soldiers were there to try to police and keep the peace in a very dangerous area. They were totally in battle gear. There were concerns about the potential dangers. The former president of Bosnia has said that he was worried about the safety of the situation.
So I know that it is something that some people have said, "Wait a minute. What happened here?" But I have talked about this and written about it. And then, unfortunately, on a few occasions I was not as accurate as I have been in the past.
But I know too that, you know, being able to rely on my experience of having gone to Bosnia, gone to more than 80 countries, having represented the United States in so many different settings gives me a tremendous advantage going into this campaign, particularly against Senator McCain.
So I will either try to get more sleep, Tom, or, you know, have somebody who, you know, is there as a reminder to me. You know, you can go back for the past 15 months. We both have said things that, you know, turned out not to be accurate. You know, that happens when you're talking as much as we have talked.
But you know, I'm very sorry that I said it. And I have said that, you know, it just didn't jibe with what I had written about and knew to be the truth.
STEVE: Live and learn from the master, Barack.
*
STEPHANOPOULOS: Senator Obama, your campaign has sent out a cascade of e-mails, just about every day, questioning Senator Clinton's credibility.
STEVE: Isn't that just a distraction?
STEPHANOPOULOS: And you yourself have said she hasn't been fully truthful about what she would do as president. Do you believe that Senator Clinton has been fully truthful about her past?
OBAMA: Well, look, I think that Senator Clinton has a strong record to run on. She wouldn't be here if she didn't. And you know, I haven't commented on the issue of Bosnia. You know, I -
STEPHANOPOULOS: Your campaign has.
OBAMA: Of course, but -
STEVE: But I'm not aware of those comments.
OBAMA: Because we're asked about it. Sometimes that message is going to be imperfectly delivered, because we are recorded every minute of every day. And I think Senator Clinton deserves, you know, the right to make some errors once in a while.
STEVE: And I deserve the right to exploit those errors for political gain. That's what this campaign is all about.
*
"At a rally the same night, Mr Obama seemed to take a leaf out of his wife's book after she had introduced him, drawing a sharp contrast with Mrs Clinton, suggesting she was not truthful and was 'willing to say anything to get elected'."
*
NASH MCCABE, Latrobe: Senator Obama . . .
STEVE: Why didn't you give me gas money?
MCCABE: . . . I want to know if you believe in the American flag.
OBAMA: I am absolutely confident that during the general election that when I'm in a debate with John McCain, people are not going to be questioning my patriotism.
STEVE: Really? Just arrive in America, Barack?
OBAMA: And let me just make one last point on this issue of the flag pin. I have never said that I don't wear flag pins or refuse to wear flag pins.
STEVE: I just said "I decided I won't wear that pin on my chest."
OBAMA: This is the kind of manufactured issue that our politics has become obsessed with and, once again, distracts us from what should be my job when I'm commander in chief.
STEVE: And people who keep bringing it up are just bitter.
*
STEPHANOPOULOS: A gentleman named William Ayers . . .
STEVE: Oh Lord . . .
STEPHANOPOULOS: . . . he was part of the Weather Underground in the 1970s. They bombed the Pentagon, the Capitol and other buildings. He's never apologized for that. And in fact, on 9/11 he was quoted in The New York Times saying, "I don't regret setting bombs; I feel we didn't do enough."
An early organizing meeting for your state senate campaign was held at his house, and your campaign has said you are friendly. Can you explain that relationship for the voters, and explain to Democrats why it won't be a problem?
OBAMA: George, but this is an example of what I'm talking about. This is a guy who lives in my neighborhood, who's a professor of English in Chicago, who I know and who I have not received some official endorsement from. He's not somebody who I exchange ideas from on a regular basis.
And the notion that somehow as a consequence of me knowing somebody who engaged in detestable acts 40 years ago when I was 8 years old, somehow reflects on me and my values, doesn't make much sense, George.
The fact is, is that I'm also friendly with Tom Coburn, one of the most conservative Republicans in the United States Senate, who during his campaign once said that it might be appropriate to apply the death penalty to those who carried out abortions.
Do I need to apologize for Mr. Coburn's statements?
STEVE: A) You should apologize for being friends with him. B) Maybe if he holds a fundraiser for you.
OBAMA: Because I certainly don't agree with those either.
STEVE: Jesus, Coburn's gonna be pissed! How dare you equate me with Bill Ayers!
OBAMA: So this kind of game, in which anybody who I know, regardless of how flimsy the relationship is, is somehow - somehow their ideas could be attributed to me - I think the American people are smarter than that.
STEVE: Really? What country does he think he's living in?
CLINTON: Well, I think that is a fair general statement, but I also believe that Senator Obama served on a board with Mr. Ayers for a period of time, the Woods Foundation, which was a paid directorship position.
And if I'm not mistaken, that relationship with Mr. Ayers on this board continued after 9/11 and after his reported comments, which were deeply hurtful to people in New York, and I would hope to every American, because they were published on 9/11 and he said that he was just sorry they hadn't done more. And what they did was set bombs and in some instances people died. So it is - you know, I think it is, again, an issue that people will be asking about. And I have no doubt - I know Senator Obama's a good man and I respect him greatly but I think that this is an issue that certainly the Republicans will be raising.
OBAMA: I'm going to have to respond to this just really quickly, but by Senator Clinton's own vetting standards, I don't think she would make it, since President Clinton pardoned or commuted the sentences of two members of the Weather Underground . . .
STEVE: Snap!
OBAMA: . . . which I think is a slightly more significant act than me serving on a board with somebody for actions that he did 40 years ago.
When it comes to November, and people are going into the polling place, they're going to be asking, are we going to go through four more years of George Bush economic policies; are we going to go through four more years of George Bush foreign policy?
STEVE: Just like they did in 2004.
*
MANDY GARBER (Pittsburgh, Pennsylvania): So, the real question is, I mean, do the candidates have a real plan to get us out of Iraq or is it just real campaign propaganda?
STEVE: It's propaganda. Next!
*
STEPHANOPOULOS: Yesterday, Senator McCain singled that the number one issue, in the general election campaign on the economy, is going to be taxes. And he says that both of you are going to raise taxes, not just on the wealthy but on everyone.
Two-part question: Can you make an absolute, read-my-lips pledge that there will be no tax increases of any kind for anyone earning under $200,000 a year?
And if the economy is as weak a year from now as it is today, will you - will you persist in your plans to roll back President Bush's tax cuts for wealthier Americans?
CLINTON: I am absolutely committed to not raising a single tax on middle class Americans, people making less than $250,000 a year.
OBAMA: Well, I not only have pledged not to raise their taxes, I've been the first candidate in this race to specifically say I would cut their taxes.
STEVE: I see your pledge and raise you a pander!
GIBSON: You have however said you would favor an increase in the capital gains tax. As a matter of fact, you said on CNBC, and I quote, "I certainly would not go above what existed under Bill Clinton, which was 28 percent."
It's now 15 percent. That's almost a doubling if you went to 28 percent. But actually Bill Clinton in 1997 signed legislation that dropped the capital gains tax to 20 percent.
OBAMA: Right.
GIBSON: And George Bush has taken it down to 15 percent.
OBAMA: Right.
*
GIBSON: I'm going to go to a commercial break. But I just want to come back to one thing you said, and I want to be clear. The question was about capital gains tax. Would you say, "No, I'm not going to raise capital gains taxes"?
CLINTON: I wouldn't raise it above the 20 percent if I raised it at all. I would not raise it above what it was during the Clinton administration.
GIBSON: "If I raised it at all." Would you propose an increase in the capital gains tax?
CLINTON: I don't want to raise taxes on anybody. I'm certainly against one of Senator Obama's ideas, which is to lift the cap on the payroll tax, because that would impose additional taxes on people who are, you know, educators here in the Philadelphia area or in the suburbs, police officers, firefighters and the like.
OBAMA: What I have proposed is that we raise the cap on the payroll tax, because right now millionaires and billionaires don't have to pay beyond $97,000 a year.
That's where it's kept. Now most firefighters, most teachers, you know, they're not making over $100,000 a year. In fact, only 6 percent of the population does. And I've also said that I'd be willing to look at exempting people who are making slightly above that.
GIBSON: But Senator, that's a tax. That's a tax on people under $250,000.
OBAMA: Well, no, look, let me -
STEVE: Busted!
OBAMA: - let me finish my point here, Charlie. Senator Clinton just said she certainly wouldn't do this; this was a bad idea. In Iowa she, when she was outside of camera range, said to an individual there she'd certainly consider the idea. And then that was recorded, and she apparently wasn't aware that it was being recorded.
STEVE: Maybe she was just being polite.
GIBSON: But there's a heck of a lot of people between $97,000 and $200(,000) and $250,000. If you raise the payroll taxes, that's going to raise taxes on them.
OBAMA: And that's - and that's - and that's why I've said, Charlie, that I would look at potentially exempting those who are in between.
STEVE: Or whatever. Whatever you want me to say, Charlie. I'm having a rough night.
*
GIBSON: Both of you were strong advocates for licensing of guns. Both of you were strong advocates for the registration of guns. Why don't you emphasize that now, Senator Clinton?
CLINTON: Well, Charlie, on Friday, I was with Mayor Nutter, who's here, in West Philadelphia at the YMCA there, to talk about what we could do together to bring down the crime rate that has ravaged Philadelphia.
And what I said then is what I have been saying, that I will be a good partner, for cities like Philadelphia, as president. Because I will bring back the COPS program, the so-called COPS program, where we had 100,000 police on the street, which really helped drive down the crime rate and also helped create better community relations.
I will also work to reinstate the assault weapons ban. We had it during the 1990s. It really was an aid to our police officers, who are now once again, because it has lapsed - the Republicans will not reinstate it - are being outgunned on our streets by these military- style weapons.
I will also work to make sure that police departments in Philadelphia, Pittsburgh, Harrisburg, across America get access to the federal information that will enable them to track illegal guns, because the numbers are astounding. Probably 80 percent of the guns used in gun crimes are in the hands of that criminal, that gang member - unfortunately, people who are sometimes, you know, mentally challenged - because it got there illegally. And under the Republicans, that information was kept from local law enforcement.
GIBSON: Senator Obama, the District of Columbia has a law, it's had a law since 1976, it's now before the United States Supreme Court, that prohibits ownership of handguns, a sawed-off shotgun, a machine gun or a short-barreled rifle. Is that law consistent with an individual's right to bear arms?
OBAMA: Well, Charlie, I confess I obviously haven't listened to the briefs and looked at all the evidence.
As a general principle, I believe that the Constitution confers an individual right to bear arms.
STEVE: As long as the individual's name is Militia.
OBAMA: But just because you have an individual right does not mean that the state or local government can't constrain the exercise of that right, and, you know, in the same way that we have a right to private property but local governments can establish zoning ordinances that determine how you can use it.
And I think that it is going to be important for us to reconcile what are two realities in this country.
STEVE: But how? He always talks about what we need to do; she tells us how she's going to do it.
GIBSON: But do you still favor the registration of guns? Do you still favor the licensing of guns?
And in 1996, your campaign issued a questionnaire, and your writing was on the questionnaire that said you favored a ban on handguns.
OBAMA: No, my writing wasn't on that particular questionnaire, Charlie.
STEVE: Busted.
OBAMA: As I said, I have never favored an all-out ban on handguns.
STEVE: Are you gonna believe me or my lying handwriting?
OBAMA: What I think we can provide is common-sense approaches to the issue of illegal guns that are ending up on the streets.
STEVE: For example? Name two. One?
OBAMA: We can make sure that criminals don't have guns in their hands.
STEVE: We can?
OBAMA: We can make certain that those who are mentally deranged are not getting a hold of handguns.
STEVE: How?
OBAMA: We can trace guns that have been used in crimes to unscrupulous gun dealers that may be selling to straw purchasers and dumping them on the streets.
STEVE: Aren't we already doing this?
OBAMA: The point is, is that what we have to do is get beyond the politics of this issue . . .
STEVE: On what planet?
OBAMA: . . . and figure out what, in fact, is working.
STEVE: Any ideas from your eight years as a state legislator representing a Chicago district?
OBAMA: Look, in my hometown of Chicago, on the South Side of Chicago, we've had 34 gun deaths last year of Chicago public school children.
And I think that most law-abiding gun owners all across America would recognize that it is perfectly appropriate for local communities and states and the federal government to try to figure out, how do we stop that kind of killing?
STEVE: Yes. And their answer has nothing to do with guns.
STEPHANOPOULOS: Senator Clinton, you have a home in D.C. Do you support the D.C. ban?
CLINTON: You know, George, I want to give local communities the opportunity to have some authority over determining how to keep their citizens safe.
This case you're referring to, before the Supreme Court, is apparently dividing the Bush administration. You know, the Bush administration basically said, we don't have enough facts to know whether or not it is appropriate.
And Vice President Cheney who, you know, is a fourth special branch of government all unto himself - (laughter) - has actually filed a brief saying, oh, no, we have to, you know, we have to prevent D.C. from doing this.
So -
STEVE: She won't answer the question either.
STEPHANOPOULOS: But what do you think? Do you support it or not?
CLINTON: Well, what I support is sensible regulation that is consistent with the constitutional right to own and bear arms.
STEPHANOPOULOS: Is the D.C. ban consistent with that right?
CLINTON: Well, I think a total ban, with no exceptions under any circumstances, might be found by the court not to be. But I don't know the facts.
STEVE: Shouldn't you?
GIBSON: Well, with all due respect, and I'm not sure I got an answer from Senator Obama. But do you still favor licensing and registration of handguns?
CLINTON: What I favor is what works in New York. You know, we have a set of rules in New York City and we have a totally different set of rules in the rest of the state. What might work in New York City is certainly not going to work in Montana. So, for the federal government to be having any kind of, you know, blanket rules that they're going to try to impose, I think doesn't make sense.
STEPHANOPOULOS: But Senator, you were for that when you ran for Senate in New York.
CLINTON: I was for - I was for the New York rules, that's right. I was for the New York rules because they have worked over time. And there isn't a lot of uproar in New York about changing them, because I go to upstate New York, where we have a lot of hunters and people who are collectors and people who are sport shooters; they have every reason to believe that their rights are being respected. You walk down the street with a police officer in Manhattan; he wants to be sure that there is some way of protecting him and protecting the people that are in his charge.
*
GIBSON: People are in trouble. And yet the whole world pays a whole lot more for gas than we do. What are you going to do about it?
CLINTON: Well, I met with a group of truckers in Harrisburg about a week and a half ago, and here's what I told them. Number one, we are going to investigate these gas prices. The federal government has certain tools that this administration will not use, in the Federal Trade Commission and other ways, through the Justice Department, because I believe there is market manipulation going on, particularly among energy traders. We've seen this movie before, in Enron, and we've got to get to the bottom to make sure we're not being taken advantage of.
Number two, I would quit putting oil into the Strategic Petroleum Reserve and I would release some to help drive the price down globally.
And thirdly, if there is any kind of gas tax moratorium, as some people are now proposing -
GIBSON: Like John McCain.
CLINTON: - like John McCain, and some Democrats, frankly - I think Senator Menendez and others have said that we may have to do something, because when you get to $4-a-gallon gas, people are not going to be able to afford to drive to work. And what I would like to see us do is to say if we have that, then we should have a windfall profits tax on these outrageous profits of the oil companies, and put that money back into the highway trust fund, so that we don't lose out on repair and construction and rebuilding.
GIBSON: Very quickly, Senator Obama, I - the same thing. But we've heard from politicians for a long time we're going to end dependence on foreign oil. I just have a quote: "The generation-long growth in our dependence on foreign oil will be stopped dead in its tracks right now." That was Jimmy Carter in 1979.
STEVE: And everybody laughed at him.
OBAMA: I think many of the steps that Senator Clinton outlined are similar to the plans that we talked about. It is absolutely true that we've got to investigate potential price gouging or market manipulation. I have strongly called for a windfall profits tax that can provide both consumers relief and also invest in renewable energies.
*
GIBSON: Let's say you're at the convention in Denver, and you're talking to a group of 20 undecided superdelegates. How are you going to make the case to them why you're the better candidate and more electable in November?
CLINTON: Well, I say to them what I've said to voters across America - that we need a fighter back in the White House.

OBAMA: The bet I was making was a bet on the American people; that they were tired of a politics that was about tearing about each other down, but wanted a politics that was about lifting the country up; that they didn't want spin and PR out of their elected officials, they wanted an honest conversation.
STEVE: So I'm firing David Axelrod.
-
Beachwood Analysis
Obama had a terrible night. He looked depressed. He stumbled badly on questions I'm sure he was well-prepared for. He seemed, um, distracted. Clinton's debate and policy mastery continued, and she was the bright, happy one for a change. Gibson and Stephanopolous are actually miles better than Russert and Williams.
-
Catch up with the entire Mystery Debate Theater series.
Posted by Lou at 07:52 AM | Permalink
April 16, 2008
Westward Ho!
I am sure many people who have left their hometowns can relate to one of the best parts about moving away: going home from time to time to see the family, cuddle with the dog, and have a drink with old friends. Also vital for the wayward Chicagoan: eating Vienna beef hot dogs, getting stuffed with stuffed pizza, and drinking copious amounts of Leinenkugel's.
I just celebrated/lamented my first anniversary of living in Seattle. In the course of the year gone by, I went home three times. And my fourth trip is just around the corner. I haven't exactly been shy about staying at my mom's when I come back to visit, begging the inevitable question: "How can we miss you if you don't stay gone?"
Two months after I arrived in Seattle, I had the excuse to return to Chicago for my sister's June wedding reception. During this trip, I had the immense pleasure of experiencing the 17-year-awaited return of the dive-bombing cicadas, as well as the disgustingly thick and humid heat that I find so hard to miss now that I am out here. I do not know to what extent this has to do with the air quality in Washington, but after a decade of asthma in Chicago, I have not once needed my inhaler in the past year.
This first trip home was sensational. My departure was still fresh on the minds of my forlorn acquaintances, who all seemed to clear their schedules for my arrival. Aside from having open access to everyone I initially wanted to visit, my sister's reception brought together people I didn't even realize I wanted to see. The party was full of familiar faces, and we joked and jested and toasted as though time and distance never separated us in the first place. Everyone I encountered was remarkable and radiant just for the fact that I knew them and, just as notably, they knew me!
Being only two months gone, life was relatively unchanged at home. I walked right back into the same dramas in the lives of my friends, and my mom was still flustered about the condition of the basement - just like I never left. My room, however, was already a thing of the past - my mom must have waited all of the three days it took me to drive to my destination before she repainted, rearranged, and refurnished my former room to more suit her tastes. Nothing wrong with that; she made it a lot nicer than I ever had. Still faintly unsettling to walk into my former space, completely remodeled, without the slightest trace of my influence or history there.
My first trip home was everything I worked it up to be, and surprisingly a little more stupendous than that. I was six years old the last time the cicadas swarmed Chicagoland, so it was a great thrill to experience walking through the yards and streets being pelted by the incorrigible fornicators, having to pry their sticky suction feet off of my clothing or from my hair. Oddly enough, it brought back childhood memories to hear their encompassing whirr. It was difficult returning to Seattle in June.
And then came my second trip home. This one had no rhyme or reason other than good old-fashioned homesickness and despair. It was October, my favorite month in Chicago, and I took an impromptu long weekend trip home. Naturally, I over-hyped the trip since June went so well and I was far sadder and in need going into the October visit. I even took an extra day off of work since my only complaint about the first trip was a lack of time. How could it be anything short of wonderful and rejuvenating? I thought.
Well, let me tell you how. Since June taught me how tough it is to stick to all pre-made plans in a short period of time, I decided (partly due to its last-minuteness) not to make many definitive plans. I wanted to leave the weekend open to spontaneity. I tentatively laid out with whom I would be spending certain chunks of the days - but even that was not solidified by the time I landed at O'Hare.
I did get to spend time with several lovely people, but the absence of some major players weighed heavily over the weekend and I ended up with a lot of free time alone, making phone calls, wondering where everyone was. My best friend moved to Colorado to pursue graduate school in July, so she was not around to welcome me home. My most ideal and convenient calendar weekend to go home fell on a weekend when my mom was out of town. She was expected back Sunday afternoon and I would get to spend Sunday night with her, and I expected Monday too.
My mom's flight was delayed Sunday, so our evening together turned into a late-night airport pick-up and about an hour of time at home before her jet-lagged ass went to bed. I did not know that she had to get up and go to work on Monday. Less importantly, though also upsetting by then, my Sunday night plans got canceled in light of the flight delay.
My dad was also out of town and returned Saturday, but had an obligation Sunday and couldn't see me. He was not as concerned with this trip of mine, since his own to Seattle was only a couple weeks away. He figured he would see me then.
A couple of other circumstantial cancellations - a friend's grandmother was taken to the hospital; another non-local friend got so lost on her way to my house that her chauffeuring boyfriend did not want to waste any more time searching, especially since the Bears game was well underway, and went home. Like I said before, I spent a lot of time alone that trip sadly wanting to just go back to Seattle. I envisioned my cat, Monster, who was probably pouncing around the back-yard ravine, chasing bees and tormenting mice, loving his Washington life at the same time Chicago was giving me the cold shoulder.
I was extremely lucky that my dear sister and a couple of friends were devoted to my visit and, in the loss of the others, entertained me multiple times over the four days I was home. It may qualify me as selfish or childish to find disappointment in a trip home, but I couldn't help it. A lot of what I love about Chicago was not present, including baseball in October (ha!). Six months was now past and I suppose people just thought it was time to finally move on from me. I am hoping to get my head around that someday soon (ha again).
My third trip home was in March. There was a purpose: Shawn Phillips was returning to Fitzgerald's for his 65th birthday tour and I was not intending to miss it.
I won't go into details of the trip, but suffice to say it was absolutely charming. I got to spend some quality time with some quality Chicago folk - all the ones I missed in October and more. And I got to see Shawn perform and personally hand him an autographed copy of my writing about him, which he loved, which then swelled my ego just a hint. And even better, I got to subject my boyfriend to my life and family, which was a great learning experience for him.
So what have I learned from my trips so far? First of all, I should always have a reason behind my visit - an occasion or purpose. Secondly, deep-dish pizza and Leinie's should not be considered as an occasion or purpose. Thirdly, I've noticed that life keeps spinning on without you. Those people who used to love you so tend to find solace in befriending others and taking up new hobbies when you leave (though you know it's only to distract from their grief of not having you around).
And moreso, I learned that maybe it was time to head back West and be appreciative for some of my friends out there. The realization struck that those are the people around me now in my day-to-day mire. That is probably the best place for me to be expending my allotted energy for sociality. I don't love anyone or anything about Chicago less, I just can't live in denial that I now have to call Seattle home, and live among its residents, whether they understand me or not. It's a consequence of the decision I made to leave. But I still intend to be myself until that special friend comes along and gets it. I have a couple prospects now.
So despite the troubling trip, one of my favorite things about leaving is still going home. Like I said, my next Chicago adventure is already in the works, and has a purpose! I get to meet my soon-to-be baby niece, who is going to be named after her aunt. I've got some work to do in terms of instilling a sense of coolness in the babe while she is still young and malleable. I'll have her reciting George Carlin by age six, if all goes well.
-
Previously:
* Part One: Departure
* Part Two: Rebuff
* Part Three: MySpace
* Part Four: Peninsula
Posted by Lou at 05:49 PM | Permalink
The [Wednesday] Papers
The latest CTA fiasco made the New York Times today under the headline "Impatient Subway Riders Revolt in Chicago."
The story carries CTA chief Ron Huberman's unfortunate initial reaction (later wisely walked back): "If those particular passengers had not self-evacuated, we could have gotten people out on trains and restored service much sooner."
Aside from the questionable premise of that statement, I'd like to stick Huberman on an overheated underground train under the care of the Chicago Transit Authority and see just when his patience runs out and his instinct for self-survival kicks in.
This comment on CTA Tattler rang truest to me (I added the links):
"In 2006 when the first Blue Line incident occurred, Kruesi and Phil Cline and Daley were falling all over themselves congratulating themselves on how no one was killed and thousands were spirited to safety. Yesterday we learned that one of those passengers who was almost killed got a million dollar settlement. I was on a train once that overshot Paulina and the front car doors opened over the street. I've been on platforms that were dangerously overcrowded. On numerous occasions I've entered stations and waited a long time for a train only to finally hear about a huge delay the station agent didn't bother to tell anyone about. Anyone who has ridden the CTA for a while is used to incompetence and lack of ability to communicate. If I'd been down in the dark tunnel on a hot, crowded train with a silent operator, I would have been tempted to 'self-evacuate' too."
Similarly, the Tribune account included this:
"Daniel Kotin, an attorney who represents dozens of victims from the 2006 derailment, said the CTA appeared to encounter similar woes in Tuesday's incident.
"'Our hope was that after the July 2006 incident the CTA would learn valuable lessons not only in track maintenance but also how to communicate with passengers in times like that so that people can remain calm and evacuate a train in an orderly fashion,' Kotin said. 'I heard much the same [Tuesday]: no information from the CTA provided in terms of what someone should do, how long they would be waiting or what their options were.'"
My favorite nugget, though, comes from the Sun-Times:
"Brendan Fitzpatrick, 23, who was on the third train from the station, said riders passed the time by cracking jokes about CTA service and singing along to their cell phone ringtones."
That's almost enough to make me wish I was there.
Daley Doinked
"Despite the existence of a federal consent decree and other measures that for decades have sought to bring more transparency and legitimacy to the City of Chicago's civil service hiring, patronage appointments have continued to flourish," the Seventh Circuit U.S. Court of Appeals ruled yesterday. "These defendants were key players in a corrupt and far-reaching scheme, based out of the mayor's Office of Intergovernmental Affairs, that doled out thousands of city civil service jobs based on political patronage and nepotism.The government alleged that the defendants concealed what they were doing by falsely assuring city lawyers that their hires were legitimate, and then shredding evidence and hiding their involvement once a criminal investigation began.
"After an eight-week jury trial, three of the defendants were convicted of mail fraud and the fourth of making materially false statements to federal investigators. The centerpiece of their appeal is a challenge to the government's theory of prosecution: they contend that their behavior, while dubious, is not criminal, and that the honest services mail fraud statute is unconstitutionally vague.
"We conclude that the defendants' actions do constitute mail fraud, and that the statute is not unconstitutionally vague as applied to the facts of this case.
"The defendants also argue that they did not deprive the city or the people of Chicago of any money or property, but the jobs that they wrongfully gave away were indeed a kind of property, so we reject this argument. Individual defendants also challenge the sufficiency of the indictment, the connection to the mails, and the sufficiency of the evidence against them, while one defendant argues that he was entitled to a sentencing adjustment for playing a minor role. Finding none of these arguments persuasive, we affirm on all counts."
And then the money line: "The beating heart of this fraudulent scheme was the mayor's Office of Intergovernmental Affairs (IGA). Formally, the office serves as a liaison between the City of Chicago and state and federal governments and has no role in hiring for the city's 37,000 or so civil service jobs. Informally, the office coordinated a sizeable portion of the city's civil service hiring, ferreting out jobs to footsoldiers in the mayor's campaign organization and to other cronies."
You can read the whole decision here.
Richard Rico
"What the court found is interesting," former star prosecutor Patrick Collins told John Kass, "that we have a form of corruption where the true recipients of corrupt schemes are not always the defendants themselves, but that they are doing it for their patron, for a third party."
Programming Note
Blago, Barack and bitterness coming later today at Division Street.
Citizen Journalism
"Around 09:00, people started to get really restless but were generally good natured," reports Tmeyer, whose photo set is here (via Chicagoist). "10-15 minutes later, people starting opening doors and walking towards Clark & Lake. This led to the driver yelling at us over the intercom, calling us 'STUPID PEOPLE ! IT VERY DANGEROUS !! YOU ARE ALL BEING VERY STUPID !! ... (garble garble ... static ... garble).'"
Also from Chicagoist: "Circles of El."
The Beachwood Tip Line: Evacuating daily.

Posted by Lou at 09:33 AM | Permalink
And Then There's Maude: Episode 21
Our tribute to the 35th anniversary of the debut of Maude continues.
*
Season 1, Episode 21
Episode Title: The Perfect Marriage
Original airdate: 13 March 1973
Plot: The Findlays and their friends Vivian and Chuck are fresh off a two-week vacation in Jamaica and judging from the way they're carousing, I'd say the group has been sipping rum and coconut the entire trip home. They roll through the door singing a Calypso tune to the beat of Maude's maracas (hey, now!). Each couple wears coordinating clothing: a long dress with big frilly hem for the wife, a sport shirt for the husband in a matching island print, and hats woven out of dried palm fronds for all. I pity anyone who had to sit next to this bunch on the plane ride home.
"Everybody!" cries Maude and they all sing, "Mathilda - chicky, chicky, boom, boom - Mathilda - chicky, chicky, boom, boom - Mathilda, she take me money and run Venezuela!" while Chuck bangs on a miniature steel drum and Walter leads a dance line around the living room, ending with the Limbo. The vacation's over when Walter begins his Harry Belafonte impersonation for the umpteenth time, unbuttoning his shirt down to the navel and belting out "Daaaaaay-o, daaaaay-o" to which Maude says, "Walter, we have all seen your belly button. Just put it away."
Reminiscing about vacations past, all four agree this has been their best yet, but all good things must come to an end, so Vivian and Chuck announce it's time to go home. The Findlays aren't ready to break up the party and insist their best friends stay for just one more drink.
With Maude and Walter out of the room, Viv and Chuck trade glowing compliments with one another. Their marriage has been the greatest and they still love each other. And, by the way, when would be a good time for them to tell Maude and Walter they're getting a divorce? "Because (we've) simply had it," says Viv. "Up to here," replies Chuck.
Meanwhile, back in the kitchen, Maude and Walter marvel at the "joy that emanates" from their "lovebird" friends. Maude says that each of the four times she married, she prayed it would be a marriage as perfect as Viv and Chuck's. Bearing a platter of salami and cheese into the living room, Maude tries to spark a conversation about where they should all vacation next, but Chuck and Viv hold off. They have something they want to tell Maude and Walter first.
Maude's excited at the prospect of a surprise announcement. Walter thinks he can guess, based on the gleam he sees in Chuck's eye. "You're going to trade your old jalopy in for a new one." "Well, that's one way to put it," replies Viv. Thinking of only happiness and light, Maude and Walter play at 20 Questions, trying to guess what the big news is. "We're getting a divorce" is that last thing they expect to hear and something they find too impossible to believe.
For a couple who had such a good time on vacation ("Happy? The walls (of the hotel) were paper-thin. We heard them. They were delirious.") they sure seem to be rushing into a divorce. Maude tries to convince them to wait a week. ("I mean until the slides are developed. When you see how happy you were in Kodachrome you'll really change your mind.")
No way. Chuck and Viv have given it a lot of thought and they've made up their minds. After 21 years of marriage, even though they "still dig each other as human beings," when they're alone together they "can't stand each other" and just "bore each other to death." Maude just can't believe what she's hearing from the couple she thought had the perfect marriage. Funny, says Viv, "that is exactly what we've always said about you and Walter. The perfect marriage."
Viv and Chuck leave and a reeling Maude can't believe how calmly Walter is taking the news. "You never know about marriage," says Walter. "Marriage is like a new pair of shoes . . . On the outside they may look beautiful but only the one who wears them knows how much they hurt his feet." This pearl of wisdom from a man in a beer-can hat.
The seed of irrational doubt has been planted and Maude immediately jumps on Walter for wanting to call Arthur as soon as they arrived home. "I obviously bore you!" she yells. Second-guessing everything that's come before, Maude is in fear for her own marriage. It's after midnight and Walter has no desire to get sucked into Maude's late-night drama, which only fuels her marital flare-up even more.
A melodramatic Maude continues to make a mountain out of a molehill, twisting Walter's words and blowing things out of proportion as proof that their marriage is as shaky as Viv and Chuck's. Convinced that everything she does irritates Walter (such as picking a fight every other episode), Maude pushes Walter too far. After smashing some kitchen crockery (again - see Episode 7), Walter reduces Maude to tears by admitting that some of her bathroom etiquette bugs the heck out of him; things like wet panty hose hanging everywhere and "little pieces of Kleenex, that you use to blot your lipstick, lying in the bowl, smiling up at me."
Maude decides they need to get it all out and demands that they each make a list of everything they can't stand about the other. Walter wastes no time getting started, nodding and chuckling to himself while madly scribbling away. Of course this irks Maude even more and she demands to read his paper. Walter declines. He feels better just having gotten this stuff "off his chest" and he heads on up to bed.
Maude's not done arguing and she continues yelling at him from the bottom of the stairs until he returns, his arms full of sheets and pillows. He'll be sleeping in the den. Thanks to Maude, he's second-guessing their perfect marriage now too. "Just think of it as a trial separation," he says as he closes the den door in Maude's face. "Nighty night."
That sneaky Walter - giving Maude a taste of her own medicine. He lets her fume, then simmer, than beg for forgiveness through the door. Demanding to know what he wrote about her, she picks up a note slipped under the door which reads "I love you, I love you, I love you, so get off my back." Meanwhile, Walter has snuck out the window and back through the front door to surprise a tearful Maude with another verse of his maraca-shaking Harry Belafonte impersonation and the two lovebirds "chicky-chicky boom-boom" their way up to bed.
Hot button social issue: Love + marriage + time = divorce?
Fashion statement: Walter pairs his orange and purple island print sport shirt with a pair of orange sherbet-colored slacks. On closer inspection, his straw hat has a Coors beer can attached as part of the hatband.
Neckerchief count: Zero, zip, nada.
Welcome back to 1973 pop culture reference #1: "How can you compare a broken marriage to a pair of tight Hush Puppies?"
Welcome back to 1973 pop culture reference #2: "Oh, Walter. That's so sweet and poetic. If Shakespeare had known you he would never have written Romeo and Juliet. He would have written The Valachi Papers!"
Number of times Maude yells: 4
Memorable quote: "Why go to bed? That's no way to solve these problems. This problem cannot be solved horizontally. This is a vertical issue, Walter."
Times the live audience breaks out into spontaneous applause: 1
References to Nixon: While throwing out ideas for their next vacation, Walter suggests, "How 'bout Red China? I understand Kissinger found a good German restaurant there."
Wow, did they just say that? When Maude refuses to join in the Limbo, she says, "Calypso Joe on island say, trim ship with big stacks can't go under low bridge, mahn."
Recurring character Rue McClanahan makes her second appearance as Maude's best friend Vivian. William Redfield plays her soon-to-be ex-husband Chuck, despite the fact that he'd portrayed Carol's shrink Dr. Stern in Maude's first episode.
-
Previously:
Season 1, Episode 1: Maude's Problem.
Season 1, Episode 2: Doctor, Doctor.
Season 1, Episode 3: Maude Meets Florida.
Season 1, Episode 4: Like Mother, Like Daughter.
Season 1, Episode 5: Maude and the Radical.
Season 1, Episode 6: The Ticket.
Season 1, Episode 7: Love and Marriage.
Season 1, Episode 8: Flashback.
Season 1, Episode 9: Maude's Dilemma (Part One).
Season 1, Episode 10: Maude's Dilemma (Part Two).
Season 1, Episode 11: Maude's Reunion.
Season 1, Episode 12: The Grass Story.
Season 1, Episode 13: The Slum Lord.
Season 1, Episode 14: The Convention.
Season 1, Episode 15: Walter's 50th Birthday.
Season 1, Episode 16: The Medical Profession.
Season 1, Episode 17: Arthur Moves In.
Season 1, Episode 18: Florida's Problem.
Season 1, Episode 19: Walter's Secret.
Season 1, Episode 20: Maude's Good Deed.
Posted by Lou at 07:35 AM | Permalink
April 15, 2008
Obama's Auchi Problem
Who is Nadhmi Auchi and why is he important to Barack Obama? Let's take a look.
*
Contrary to Obama's persistent claims, he indeed did favors for Tony Rezko, including this one:
"While Mr. Obama was running for the Senate, Mr. Rezko was also raising money for a huge development in the South Loop of Chicago, often playing host to dinners in a private room at the Four Seasons Hotel here.
"Former Rezko associates said that Governor Blagojevich attended one of the dinners, and that at Mr. Rezko's request, Mr. Obama dropped in at one for Middle Eastern bankers in early 2004, just as he was starting to pull ahead in the Senate primary. The visits, Mr. Rezko's partners said, helped impress foreign guests.
"'I remember that he had been on the campaign trail, and he was completely wiped out and exhausted,' said Anthony Licata, a lawyer who represented Mr. Rezko on real estate deals. 'My recollection is that he drank ice tea, and he talked about how he was really making progress, and we were all excited to see him.'"
Last March, I asked: Was Nadhmi Auchi there?
Stuart Levine's testimony on Monday didn't answer that question, but no matter. Levine testified that both Barack and Michelle Obama attended a reception Rezko held at his Wilmette home for Auchi. "News reports from the courtroom said Mr. Rezko wanted to impress Mr. Auchi, who ultimately poured nearly $170 million into the real estate venture," the New York Times reports.
"Mr. Rezko's lawyers have raised questions about Mr. Levine's credibility on other issues, and Mr. Levine offered few details on Monday about the party at Mr. Rezko's house. Mr. Levine said Mr. Obama's wife, Michelle, was there. Mr. Obama's campaign said she had no recollection of the event. Mr. Auchi's lawyer, Alasdair Pepper, has said that his client does not remember meeting Mr. Obama."
The Sun-Times, however, reports that "according to two sources familiar with the gathering, the Obamas attended the Wilmette reception, which came less than a month after Obama's Democratic primary win for his U.S. Senate seat."
Let's be clear then: The Obamas attended the Rezko party, and it's not like Auchi was just another guest. He was the guest of honor. The party was for him, as part of Rezko's effort to get him to invest in a real estate venture in the South Loop. Surely Obama would know the purpose of a party and why the guest of honor was the guest of honor (even as he somehow didn't know that Rezko had slum properties in his state senate district at the same time).
So that is established. Now, why does it matter?
*
First, who is Nadhmi Auchi?
A lot of folks have been asking that question.
Short story: He's a controversial Iraqi-born, British billionaire who, according to one report, "set up a variety of deals with Saddam Hussein's regime prior to the 1991 Gulf War, and was one of the largest private shareholders in BNP Paribas, the bank that trafficked most of the funds involved in the UN Oil-For-Food scandal. He also admitted taking kickbacks from the French petroleum company TotalFinaElf in the 1990s (Auchi later sued Elf for entangling him in their criminal activities, according to Forbes)."
Auchi is apparently still appealing a 2003 fraud conviction in France. He visited Chicago and Detroit in 2004, but wasn't allowed back in the country in 2005.
"Prosecutors in Mr. Rezko's case have said that Mr. Rezko asked Illinois officials to help obtain a visa for Mr. Auchi's visit to Chicago," the Times says. "The officials have not been identified, and Mr. Obama's campaign has said he was not involved in that effort."
Let me ask you a question: You're Tony Rezko and you've bankrolled Barack Obama's entire political career. You helped him buy his house and you and your wife socialize with him and his wife. You've held a reception for a potential investor in which you invited Obama, who had just been elected to the United States Senate, to impress your business partner. And you appeal to Illinois officials to help him get a visa. Are you telling me you do not ask for Obama's help?
*
Obama's campaign says the senator "does not recall" meeting Auchi. There's a lot he didn't "recall" about Rezko either for quite awhile. You know, like actually knowing him.
*
Via RezkoWatch:
"Rick Moran of Pajamas Media reminds us that, during his March 14, 2008, exclusive interview with the editorial board and reporters of the Chicago Sun-Times, "Obama denies helping Auchi in any way with his visa [in 2005] but can't vouch for his staff":
Q: Did you ever help Auchi enter the country?
A: No.
Q: Or your office?
A: Not that I know of.
*
Here's the way the Trib put it:
"Just weeks after winning the Democratic U.S. Senate primary in 2004, Barack Obama was the guest of developer Antoin 'Tony' Rezko at a party for a controversial British billionaire whom Rezko was trying to lure into an investment, a witness testified Monday at Rezko's corruption trial.
"Stuart Levine, the government's star witness, said Obama and his wife, Michelle, were among the guests at Rezko's home on April 3, 2004, for the party honoring Nadhmi Auchi, an Iraqi-born tycoon currently appealing a fraud conviction in France.
"As he campaigns for president, Obama has acknowledged social and political ties to Rezko, as well as a real estate deal between the two that involved Obama's South Side home. But Obama has not disclosed his presence at the Auchi party, which Rezko threw as part of a campaign to persuade Auchi to pour money into a financially troubled 62-acre development in the South Loop."
And:
"Auchi came to the rescue as Rezko's business ventures began to crumble and his legal troubles mounted in recent years. Auchi, who heads General Mediterranean Holding SA, bought about 15 Wisconsin pizzerias from Rezko, court records show. He also took a stake in Rezko's South Loop development at Roosevelt Road and Clark Street.
"But help from Auchi ultimately landed Rezko in jail. Rezko had remained free on bond after his indictment in 2006 by convincing U.S. District Judge Amy St. Eve that he was nearly broke and had no access to overseas funds.
"Then $3.5 million from an Auchi-related company was wired from Beirut to Rezko's lawyers, who argued it was a loan to pay legal fees and family expenses. St. Eve didn't buy it and in January revoked Rezko's bond."
*
And now it gets interesting. Via MyDD:
"The [London] Times has, however, discovered state documents in Illinois recording that Fintrade Services, a Panamanian company, lent money to Mr. Obama's fundraiser in May 2005. Fintrade's directors include Ibtisam Auchi, the name of Mr Auchi's wife. Mr Auchi's spokespeople declined to respond to a question about whether he was linked to this business."
*
"In what appears to be a clumsy 'cleanup' operation, evidence of Auchi's visit to Illinois has now been deleted from two websites linked to his company, General Mediterranean Holding," Raw Story reports.
"After rumors began circulating that Auchi may have met with Obama, information was deleted from two websites connected to Auchi's company about a spring 2004 visit to the United States that occurred as Obama was campaigning to be Illinois' junior senator.
"On Tuesday, ABC News first reported the existence of photos showing Auchi meeting with Gov. Blagojevich on the website Middle East Online. The link on the website that the report pointed to, which said that 'businessmen, and congressmen' also met with Auchi, is now gone.
"Auchi had extensive commercial ties with Rezko, including the $130 million purchase of a property development near downtown Chicago from the indicted businessman. In 2004, according to Crain's Chicago Business, Rezko brought Auchi to Illinois for the aforementioned meeting with Blagojevich and other government officials in Illinois. Blagojevich promised at the time that he was "ready to provide the necessary means for [GMH's investments] to succeed."
From Crain's, Sept 29, 2005:
"Chicago businessman Antoin S. 'Tony' Rezko, a controversial figure in local political circles, has agreed to sell his massive real estate development in the South Loop to an Iraqi-born British billionaire with a similar knack for generating controversy on the international stage.
"General Mediterranean Holding SA, a Luxembourg-based conglomerate headed by Nadhmi Auchi, is buying Riverside Park, a yet-to-be-built development on a prime 62-acre parcel on Roosevelt Road, says Michael Rumman, a consultant on the project. He declines to disclose a price, another person familiar with the deal pegged it at $130.5 million.
[Who is Michael Rumman? "Michael Rumman, former director of the Illinois Department of Central Management Services, the state's internal operations real estate agency. Mr. Rumman, the former president of Peoples Energy Services, has been hired as a consultant.He announced his resignation in April after a draft audit of CMS found problems at the agency."]
"A partnership headed by Mr. Rezko, chairman of development firm Rezmar Corp., had planned to build 4,600 residential units and about 670,000-square-feet of retail space on the site. But a city minority contracting scandal involving Mr. Rezko imperiled the project's chances of getting as much as $140 million in tax subsidies to help cover infrastructure costs."
And:
"Mr. Rezko, a close confidante and fundraiser for Gov. Rod Blagojevich, arranged for Mr. Auchi to meet the Governor and State Senate President Emil Jones on a visit to the U.S. last year.
"The odds that Mr. Rezko's partnership would be able to pull off the project fell this year, when city officials determined that he set up a minority front to obtain a concession for two Panda Express restaurants at O'Hare International Airport. The Daley Administration would have had difficulty explaining $140 million in tax increment financing (TIF) - the most ever requested by a developer in Chicago - to someone who skirted city rules, especially with corruption allegations sweeping through City Hall."
*
Wow! The only one untouched is Todd Stroger!
Let's see if I can summarize, because I know this is confusing. Tony Rezko pimped out Barack Obama to impress Nadhmi Auchi, a bad operator who found the political culture in Chicago and Illinois amenable to his kind of investment acumen. The only problem was that Rezko's deal was in trouble, and Rezko himself was caught up in, among other scandals, a minority-contracting scam with the Dalely administration. At the same time, Rezko was wheeling and dealing with the Blagojevich administration and everyone in the political universe knew he was under federal investigation for it but Obama asked for his help buying a $1.6 million mansion and appeared at a couple of events to help Rezko impress Auchi and others.
Now Obama's memory is faulty because there's that pesky question of judgement, as well as the stain on his meticulously burnished image as a beacon of hope and reform because his relationship with both Rezko and the Machine and politics-as-usual is deeper than he's ever cared to admit. Have I missed anything? Does that make sense now? Do you get the feeling there's still more to the story that we don't know about?
Another editorial board meeting!
*
-
See more of the worlds' best Obama analysis in Obamathon.

Posted by Lou at 09:36 AM | Permalink
The [Tuesday] Papers
"A government witness testified on Monday at the trial of the Chicago businessman Antoin Rezko that Senator Barack Obama attended a party in 2004 that Mr. Rezko held to court a controversial Iraqi-born investor for a large real estate project," the New York Times reports.
This is important news in the least because Obama has insisted that he never did any favors for Rezko, yet he has now been placed at two different parties Rezko held to impress potential investors in his far-flung financial schemes - and, like with Obama's house purchase, at a time when it was widely known that Rezko was under federal investigation.
I'll have more on this later today on our Politics page and at Division Street.
*
Also later today, Mary Mitchell will explain how this is another example of Hillary Clinton playing the race card.
I'm not even going to link to her column today because it's heinous on about three different levels, ironic on four, and outright false on five.
Oh geez, I better give you the link. I'll utterly destroy it later.
*
"Maybe there are well-intentioned folks giving money to presidential candidates based on their philosophies and hopes and dreams for our country," Mark Brown writes today.
"Around here, though, people mostly give money to politicians because they want something.They want a contract. They want a job. They want a zoning change.
"Their company wants favorable treatment on a tax issue or an environmental problem. Or they just want the Legislature or City Council to leave them alone.
"The pat explanation these days is that the only expectation from those making political contributions is that they want access, meaning they want a chance to be heard in the halls of government.
"There's nothing wrong with that except for allowing their voices to be heard above the rest of us who don't make political donations."
Brown stops just short of connecting the dots. What did Tony Rezko want - and get - from Barack Obama?
Actually, I think that question has been answered, but a lot of people refuse to see.
There is a case to be made for Obama's campaign, but you can't be for change and hope without being honest. Obama's prime movers in Illinois were Tony Rezko and Emil Jones (and some would say Jeremiah Wright; he actually bothers me the least). Michelle Obama worked in the Daley administration, which Barack never challenged. And his campaign has been no less disingenuous and spun than anyone else's. Those are facts, whether Obamaphiles want to admit it or not.
But the Obama Nation is no longer a reality-based community - if it ever was.
Children's Center
The Tribune begins a series on its editorial page today exploring possible locations - other than Grant Park - for a new Children's Museum.
Maybe the Sun-Times should start a video or limerick contest.
Mother Goose
Maybe there's room on Goose Island for the Children's Museum. Because there's no longer room for the Goose Island brewery.
"Goose Island Beer Co.'s pioneering North Side brew pub, where the Chicago area's flagship craft beer was launched 20 years ago, is scheduled to close at the end of 2008, a victim of rising rents in its hip neighborhood," the Tribune reports.
Tax Returns
"Daley has disclosed his tax returns since 1979. Gov. Blagojevich has also released his tax information. Cook County Board President Todd Stroger, who heads the state's third-largest government, does not make that information public."
Poll Pablum
Yet another columnist asks why they have never been polled. Have you ever won the lottery? It's a big country. I've never been called for jury duty, but I don't doubt that juries exist.
(The link is to Huffington Post; the column was also published in the Sun-Times today. Of all the material they had to choose from!)
Recall Call
The Tribune notes today that Lt. Gov. Pat Quinn's effort to pass a recall amendment is nothing new. "In 2000, he led the 'Recall Ryan' effort aimed at then-Gov. George Ryan."
And who can say he was wrong - then or now?
Blago Rebuttal
"I didn't know Pat Quinn had dinner with Stuart Levine and Tony Rezko at his house until I learned that today," said the governor, who has also insisted he wasn't following the Rezko trial because, you know, he's not a part of it.
Ode to Ebert
A.O. Scott wrote a story about Roger Ebert on Monday in the New York Times that brilliantly captured the essence of our very own living legend. The key passages:
"It is this print corpus that will sustain Mr. Ebert's reputation as one of the few authentic giants in a field in which self-importance frequently overshadows accomplishment. His writing may lack the polemical dazzle and theoretical muscle of Pauline Kael and Andrew Sarris, whose names must dutifully be invoked in any consideration of American film criticism. In their heyday those two were warriors, system-builders and intellectual adventurers on a grand scale. But the plain-spoken Midwestern clarity of Mr. Ebert's prose and his genial, conversational presence on the page may, in the end, make him a more useful and reliable companion for the dedicated moviegoer.
"His criticism shows a nearly unequaled grasp of film history and technique, and formidable intellectual range, but he rarely seems to be showing off. He's just trying to tell you what he thinks, and to provoke some thought on your part about how movies work and what they can do.
"He is rarely a scold, and more frequently (perhaps too frequently) an enthusiast, and nearly always enlightening, in particular when he has brought calm good sense and moral conviction to overwrought debates about hot-button movies like Oliver Stone's JFK and Spike Lee's Do the Right Thing. Other critics (Ms. Kael and Mr. Sarris most famously) have spawned schools, or at least collected bands of acolytes and imitators. Mr. Ebert - do you mind if I just call him Roger from now on? - has no disciples, only friends."
Movietone News
Newspapers ditching their film (and TV) critics don't understand what makes them so valuable. Scott also writes:
"Sean P. Means, who writes for The Salt Lake Tribune, has compiled a list of 27 critics who have, over the past year or so, been downsized, laid off, bought out or otherwise subjected to a corporate logic of streamlining and syndication. Local dailies and weeklies, increasingly enfeebled links in national chains, no longer see a need to keep employees on the payroll whose job is to see movies before everyone else does and report back knowledgeably on what they've seen.
"Such attrition is hardly limited to movie reviewers, and it has more to do with the economics of newspapers than with the health of criticism as a cultural undertaking. If you spend time prowling the blogs, you may discover that the problem is not a shortage of criticism but a glut: an endless, sometimes bracing, sometimes vexing barrage of deep polemic, passionate analysis and fierce contention reflecting nearly every possible permutation of taste and sensibility."
In other words, the market for criticism is huge. Rather than using its resources and expertise to corner and organize that market, newspapers are ceding it.
The Beachwood Tip Line: A sea change.
Posted by Lou at 07:32 AM | Permalink
April 14, 2008
Other People's Money
Both Parade and Chicago did their annual "What They Earn" issues recently. We combined the most interesting into one list.
-

* Twila Schuster, real estate broker in Fairbanks, Alaska: $173,300
* Rex Grossman, quarterback, Chicago: $629,290
* Jeff Foxworthy, Atlanta: $10 million
* Glen Heroy, hospital clown, New York City: $28,000
* Allison Elmore, senior colorist, Art + Science salon, Chicago: $80,000
* Lyle Wing, assistant to the president, Rainbow/PUSH, Chicago: $74,000
* Briant Kent, personal trainer, Crunch, Chicago: $80,881
* John Vinson, bounty hunter, Morgantown, W. Va.: $74,000
* Jessica Zimmerman, Secret Service officer, Washington, D.C.: $48,400
* John Vincent, singer, Mike Ditka's restaurant and elsewhere, Chicago: $211,000
* Mariska Hargitay, actress, Los Angeles: $7 million
* Margaret Clodius, court reporter, St. Louis: $100,000
* Deborah Miller, waitress, St. Michael, Md.: $36,000
* Alison Miller, life coach, Chicago: $164,000
* Jason Miller, rodeo steer wrestler, Lance Creek, Wyo.: $178,000
* Julie Krug, sign language interpreter, Chicago: $62,000
* Laura Davis, flight attendant, United Airlines, Chicago: $35,000
* Sanjay Dhar, marketing professor, University of Chicago: $787,867
* Amanda Lewis, school principal, Columbia, Ill.: $109,600
* Ted Dawson, sportscaster, Idaho Falls, Idaho: $33,500
* Elizabeth Moisant, Comic book publisher, Oak Park, Ill.: $110,000
* Donna Puls, locksmith, Iowa City: $45,200
* Mary Lindgren, detective, Prospect Heights: $72,447
* Jimmy Parrish, ID theft consultant, Birmingham, Ala.: $143,000
* Brian P. Wicks, orthopedic surgeon, Silverdale, Wash.: $425,000
* Tiffany Todd, 911 supervisor, Decatur, Ill.: $54,500
* Gary Zell, meteorologist, Tucson, Ariz.: $77,500
* Bridget Matarrese, regional airline pilot, Marietta, Ga.: $31,000
* Brian Leachman, car sales manager, Odenton, Md.: $205,000
* Cynthia Hess, psychic, Albuquerque: $38,000
* Mike Crawford, deputy sheriff, Baton Rouge: $35,000
* Shetal Amin, speech pathologist, Piscataway, N.J.: $85,000
-
Complete lists:
- Parade
- Chicago
Posted by Lou at 06:34 PM | Permalink
What I Watched Last Night
When O.J. Simpson was acquitted of butchering his ex-wife and her friend back in 1995, I thought I had seen the last of O.J.'s golf buddy and legal "Dream Team" member Robert Kardashian. But no. Thirteen years later, the Kardashian name is bigger than ever - even though daddy Kardashian died in 2003. For the Kardashian name is now part of reality TV renown.
That's right - Keeping Up With The Kardashians are those Kardashians, spawned from that guy.
Robert Kardashian, then, will not only be remembered for being part of one of the most notorious criminal defense teams ever, but for his three TV reality daughters: Kim, Kourtney and Khloe (all are spelled correctly).
Robert also left us with one son, Robert Jr., whose mother, Kris, is now married to 1976 Olympic Decathlon gold medalist and star of that cinematic tour de force Can't Stop the Music Bruce Jenner. They have two kute girls, Kylie and Kendal and they live in a well-appointed house in Calabasas.
Sounds like a typical F-list Hollywood celeb story, right? If they had decided to go quietly into that good night, there might have been an occasional Kardashian sighting around town - only recognizable with Bruce in attendance. However, all of that changed when oldest daughter, Kim, caught the public's eye with her first oops - a sex tape made with rapper Ray J (aka the brother of singer Brandy, remember her?). Kardashian sued, but settled for a cool $5 million. Now that Kim has paved the way with her videotaped exploits, the other Kardashians have now witnessed that even the sleaziest of exposure can work wonders for careers.
When their show premiered in October 2007, I didn't give it much attention except a slight eye-roll or when I saw that other F-list celebs were making an appearance on the show as an attempt to elevate their careers. At one point, Brittny Gastineau was Kim's BFF for one episode. Then, there was the episode with the mannish Robin Antin, who is responsible for unleashing the Pussycat Dolls on society. I guess some crimes do go unpunished.
These guest appearances beg the question: who are the executives at E! approving these reality shows? Who, out in LA LA land, has the uncanny ability to get shows such as these approved? Only one man can - Ryan Seacrest - with a little help from Bunim/Murray, the same company responsible for MTV's The Real World. Seacrest is a reality show genius - he understands that the average TV viewer has the mentality of a 12-year old and produces shows accordingly. But even a media genius like Seacrest has reached a new low with this one.
So far this season, we've seen Kris set up a chicken coop with live chickens because celeb trainer Kathy Kaehler told Kris her family needs to eat organic eggs. This action prompted Bruce to wisely state that he "won the Olympics eating old eggs." We see the family caravan on over to the local feed store where they proceeded to pick out the more fashionable chickens festooned with red and black feathers. The eggs, well, weren't so cute or tasty for that matter - "dirty" is how one of the gals described the taste. When the chickens ended up in the master bathtub then pooping on the hardwood floor that was the last we saw of them. Thus ended the organic egg experiment.
Robert Jr. has fallen in love with Disney pop star Adrienne Bailon, and no, I've never heard of her either. After withholding the vital stats of his love life from his nosy sisters, Adrienne's cover is blown when Kim uses her keen cell phone snooping skills to track her down. Then, the sisters invite Adrienne out for a coffee klatsch of sorts to find out if she'll end up hurting Junior in some way - a meeting that was scheduled without Junior's knowledge. Upon discovering that Adrienne is the real deal, they tell Junior of their meeting and subsequent approval of the Cheetah Girl. Overjoyed with the sibling approval, Junior declares to his family that Adrienne "looks better naked."
Kim was asked to join some old-broad hip-hop dance/cheerleading troop so she and Bruce brainstorm about whom could best help Kris with her quest. They decide upon the ex-Mr. J. Lo who proceeds to teach Kris some bitchin' new steps and look blase as Kris injures her knee. Kris ends up having surgery to repair the damage. Also, during this particular episode, the older Kardashian sisters teach the preteens all about the glory that is puberty. There is something inherently creepy about being taught about which type of feminine protection to use by an older sister whose resume is highlighted by a Playboy pictorial, a sex tape and an insured booty.
Oh wait. There's more.
Kendall, wanting a pair of $50 see-thru shoes she saw at the mall, asks her mom for the money. Mom passes the buck to Bruce who wants to teach the value of money by having Kendall do chores around the home for the dough. Future enterpriser, Kendall (who bears a spooky resemblance to Ali McGraw circa her Love Story days) turns around and hires the local immigrant dog walker to do all her chores. Dad figures it out and then we see Kendall picking up dog poop in the yard for 25 cents per piece of poop.
The sisters own two clothing stores - Dash and Smooch - which sell the type of clothing these women wear. All of the gals chip in, but what's interesting is there are never any shoppers in the store whenever the cameras are on.
The gals spend most of their time lounging on the faux animal-striped furniture, sipping Starbuck's and playing with their hair-extensions. They even set up an online profile for Khloe on a dating website and set up speed dates for her while Kim and Kourtney observe the dates from afar with binocs and mini-walkie talkies.
There is definitely a strong sense of sistership here because they're all fiercely protective of each other and I actually kind of admire these girls because of these characteristics. But, why do they need a TV show?
-
See what else the Beachwood staff watched last night.
Posted by Lou at 04:56 PM | Permalink
The [Monday] Papers
Has anyone asked Allstate whether their naming rights deal is contingent on the Grant Park location? Just wondering. Maybe State Farm would buy in at an alternate location - like a good neighbor.
Museum Musing
"I believe the musuem's proposed move to Grant Park offers the opportunity to promote inclusiveness," Chicago Urban League president Cheryle Jackson writes to the Tribune.
First, the paper ought to note that a batch of letters it is receiving or will soon receive are orchestrated by Hill & Knowlton.
Second, what relevance does the Urban League have to the siting of a private children's museum? Is Jackson suggesting opponents who prefer, say, moving the museum to Northerly Island or the old post office or one of 20 other possible sites are racist? Are you saying that, Cheryle? Be clear.
Third, did you have an opinion on this, Cheryle, before the mayor and/or Hill & Knowlton got ahold of you? Have you studied the other possible locations? Was political pressure brought to bear on you to do this - or are you doing it for future political gain?
Fourth, why isn't Jackson lobbying for the museum to move to a neighborhood that could really use it? Why, for example, shouldn't the Children's Museum move to, say, Englewood as part of a city campaign to stop the violence against children, perhaps as an anchor to a new zone that could be dubbed "the most kid-friendly" in Chicago?
Bad Call
I just want to note that our 3 a.m. piece is a lot funnier than theirs.
Kelly Kelly Kelly
"R. Kelly Case Shrouded In Secrecy."
Thank God the headline didn't say the case was in the closet.
*
Maybe this has something to do with it:
"Prosecutors in the upcoming R. Kelly child pornography trial want to introduce evidence of other crimes allegedly committed by the R&B singer, court records show," the Sun-Times reports.
Tiger's Tank
There has been some chatter that Woods isn't just an amazing golfer, he's one of the great athletes of this era," our very own Jim Coffman writes in SportsMonday. "In a word, No. Athletes have to do something slightly more strenuous than walking and swinging golf clubs to earn a spot in the pantheon of athletic greatness."
Think Tank
"Finding the Right Deodorant: We Know Our Armpits Should Smell Like Something Else, But What?"
Bloody Hands
This is from Sneed, but I think it's actually accurate because I'm pretty sure it's already been reported:
"It's no secret Mayor Daley is furious with renegade Ald. Brendan Reilly and his battle to quash Daley's dream of placing a new children's museum in Grant Park.
* Behind a previous battle scene: Sneed hears Reilly's earlier, unsuccessful attempt to squelch construction of a rooftop heliport at the new Children's Memorial Hospital in Streeterville drew this admonition from Ald. Reilly to Daley: "The first helicopter that goes down will be blood on my hands."
* Daley's response: "The first child who loses his life [if there's no heliport], you'll have blood on your hands."
Of course, Daley's response is nonsense. A children's hospital has little business being downtown, especially with a heliport (hey, what happened to the mayor's no-fly zone?)
Maybe the children's hospital should have moved to Englewood . . .
Collision Deductible
The Spindle is for sale on eBay. Why not put it in Grant Park? Sponsored by Allstate.
Sox Rock
"Gavin Floyd strikes The Sox Report as the type of guy that would be more interested in listening to Interpol than throwing a no-hitter," our very own Ricky O'Donnell writes in The White Sox Report.
Tax-Free Trib
"A 2004 U.S. Government Accountability Office (GAO) study found that 61 percent of American corporations, including 39 percent of large companies, paid no corporate income taxes between 1996 and 2000," Parade noted on Sunday. "Last year, corporations shouldered just 14.4 percent of the total U.S. tax burden, compared with about 50 percent in 1940."
And with the deal Sam Zell structured, Tribune Co. joins the ranks of companies not paying corporate income taxes.
Steno Spielman
Ron Huberman: "You often see customers hear something and then run down the stairs."
Fran Spielman: "The days of running down the stairs when you think you hear the rumble of an approaching CTA subway train are coming to an end."
*
Doesn't it seem like we've been promised schedules and trackers and alerts for years? Besides, not knowing when the next train is arriving is not really the problem. Trains that don't work is the problem. Delays, slow zones and mechanical failures are problems. Message boards with news and advertising is a good idea, but a better idea would be to focus on preventing tracks from rotting.
*
"Four years ago, Daley returned from a weeklong trade mission to China and Japan determined to bring to CTA riders the same kind of bend-over-backwards courtesy he had seen in Asia."
Right. Daley was so determined he did . . . nothing, while the Blue Line burned.
Newspaper of Children
"The mayor clarified things a bit Friday, when he said he doesn't plan to scratch the 'Urbs in Horto" citywide and replace it with "Babes in Horto" - or something like it."
He never planned to do it; he made an offhand remark ("We're the city of flowers. We're the city of trees and gardens and all that. I'd like to maybe change that motto to, 'City of Children.' I really believe that.") that the Sun-Times blew up into a story.
Crusty Dusty
"The number of times during the Reds series that Cub fans will be happy they no longer have Dusty managing their team +/- 18," our very own Marty Gangler writes in The Cub Factor.
Division Street
Don't forget to visit me there.
Coyote Ugly
Around the Coyote is moving out of Wicker Park. What, the Bank of America lobby in the Flatiron Building didn't make for good exhibition space?
The Beachwood Tip Line: Piped in.

Posted by Lou at 07:26 AM | Permalink
Chasing Skinny Rabbits
Tax Time is upon us once again. Millions of Americans are hustling and bustling to make the dreaded deadline of April 15.
But is the work that we do and the frenzied pace we live our lives worth the mental, emotional and spiritual exhaustion?
Conducting Talk Show interviews addressing this question is best-selling author Dr. John Trent, who says, "No!"
During your interview with Dr. Trent who gives nuggets of wisdom from his newest, Chasing Skinny Rabbits: What Leads You Into Emotional and Spiritual Exhaustion . . . And What Can Lead You Out (Thomas Nelson Publishing, January 1, 2008).
According to Dr. Trent, Americans are just plain exhausted - more so at tax time but also on most of the other 364 days of the year - tired from the endless chase of perfection, reward, busyness, success, and a never-ending list of other daily distractions.
But there is hope! There is no longer the need to deplete all your energy chasing skinny rabbits. Nationally renowned motivational speaker Dr. John Trent encourages your audience how to avoid the common pitfalls of exhaustion.
Said Trent, "People don't realize it, but thousands are chasing after 'Skinny Rabbits' - things in our lives that move us towards emotional and spiritual exhaustion and away from the purpose and life we really want."
Chasing Skinny Rabbits is a comprehensive look at what causes extreme fatigue in so many of us and offers simple solutions that promote awareness of the "skinny rabbits" in daily life. The book provides periodic checklist and self-tests to assist readers in evaluating their own life for evidence of skinny rabbits. Playful animated rabbits provide a bit of humor throughout while enticing readers to discover more about the source of weariness.
In an effort to determine potential skinny rabbits, straightforward chapters caution "Beware of the Skinny Rabbit", teach "The Most Common Skinny Rabbit Trails", and discuss "Bogs, Pits, Swamps, and Caves". There is also a chapter devoted to those in danger of becoming a "Skinny Rabbit Bride".
To accompany the release of the book, Dr. Trent has also developed an interactive explanation of the skinny rabbit online at: www.skinnyrabbits.com where viewers can explore the definition and anatomy of a skinny rabbit and if you think someone you know is headed down a skinny rabbit trail, an electronic skinny rabbit alert in their inbox might be just the thing to curve their path.
For anyone overworked, tired, depressed, or just plain exhausted from a life filled with chasing skinny rabbits, heeding the advice from Dr. John Trent is just the prescription you need to get off the rabbit trail and back towards a life full of expectation and aspiration.
ABOUT DR. JOHN TRENT
John Trent, PhD, is president of StrongFamilies.com and The Center for Strong Families, a training center in Scottsdale, Arizona, where lay leaders, counselors, and pastors are trained to become StrongFamily Coaches in their churches and corporate settings.
Dr. Trent is a much sought-after speaker on the topics of building strong relationships and strong workplace teams. He has authored and co-authored more than a dozen award-winning and best-selling books for adults and children. His books include The Blessing, The 2-Degree Difference, and The Treasure Tree. John has been a featured guest on numerous radio and television programs across the country. He and his wife have been married for more than twenty-eight years and have two daughters.

Posted by Lou at 06:20 AM | Permalink
SportsMonday
No matter what obstacles you may be facing on this frightfully frigid April Monday morning in Chicago, no matter what difficulties stand in your way, take heart from one fact in particular: At least you aren't a Tigers fan (and if you are, well, what the heck are you doing in here anyway? Go read Detroit sports stuff. I'm sure somewhere there's a breakdown of how Rasheed Wallace really, really, really will control himself this time around - he promises - and lead the Pistons back to the NBA Finals).

But back to the Tigers, I mean, are you kidding me? They got beat 18-0 by the White Sox on Saturday and Sunday. They gave up two grand slams in one game to wrap up another disastrous series. Their payroll is the second- or third-highest in the majors, they are 2-10, and they could be out of it by the end of April at this rate.

My son's Sports Illustrated for Kids 2008 Baseball Preview edition arrived in the mail, typically late, in the middle of this past week. The cover photo was a big picture of the face of a cartoonish Tiger and inside was a big story about how good the team from Detroit would surely be. This probably marked the first time in sports publication history that a pre-season favorite had been eliminated from contention (after the Tigers' 0-7 start, stat-heads were right there with the news that no team that has started with that many losses in a row has ever made the playoffs) before many of their readers received the magazine in the mail.

* It is a little obvious but it still must be said - it was a tough week for Tigers overall. And now, for the first time in the long and stories history of this column - the last three-plus months or so - I'm going to venture into golf. Fore!!

I know Mr. Woods brought all the Grand Slam chatter on himself by talking about how it (wins in the Masters, the British and U.S. Opens and the PGA championships in the same year) was easily foreseeable this year. But it is still so dim for others to talk about Woods' being favored or expected to pull this off. The fact of the matter is, winning a PGA tournament is the equivalent of winning a raffle. It just takes one guy (out of the 100-plus in an average field) playing the tournament of his life, and it's not your week. And that's what has happened at the last two Masters: one guy has played the tournament of his life and it has been enough to knock off Woods (the runner-up both times).

You have to hate it when guys you've barely heard of rise up and record fluke victories, spoiling the chances of more consistent and accomplished golfers to not only win but to add a chapter to a compelling sports biography. At least there is a much better chance that this year's champ, Trevor Immelman, won't be a one-major wonder than there is with Zach Johnson, last year's champ.

At the other end of the spectrum, there has been some chatter that Woods isn't just an amazing golfer, he's one of the great athletes of this era (that chatter was a lot louder when he was winning tournament after tournament earlier this year). In a word, No. Athletes have to do something slightly more strenuous than walking and swinging golf clubs to earn a spot in the pantheon of athletic greatness.

* In other baseball news, the Red Sox pulled out a second straight win over the Yankees Sunday evening (8-5) in a typically interminable American League game. How do people sit through this stuff? Hour after hour after hour of occasionally exciting but too often somnambulant baseball is tough to take. The Cubs' 15-inning contest with Pittsburgh was considerably easier to watch (OK, OK, it was easier in part because I had a stake in the proceedings - but it was still much better baseball, briskly contested). More on the Cubs later.

Elsewhere in the wide, wide world . . .

* I took in the Bulls game on Sunday night. We bought the tickets long ago and what are you going to do? It isn't like you can even give them away at this point. And the game unfolded just about exactly the way you might have guessed. The Magic dropped in more than a half-dozen wide-open three-pointers in the first quarter to seize a lead that was never truly threatened the rest of the way.

Fortunately we had something to look forward to in the second half, something that promised true drama and intrigue. And the Dunkin Donuts race did not disappoint. My horse in this masterfully presented bit of scoreboard entertainment was the bagel; the kids were backing Cuppy Coffee. After several highly entertaining laps around the cartoon racetrack, it was looking good for the kids as the Java approached the finish line in front. But then he started inexplicably (mysteriously, some might say - was the fix in?) spinning his wheels. We were crushed as the donut came on on the inside and eked out a victory. But we knew we had witnessed competition at its highest level and there was at least some satisfaction in that.

Back to baseball.

* There was plenty for this Cub fan to love last week - on Wednesday night that is, as that game with the Pirates went on, and on, and on. Sure, Kerry Wood blew the save in the ninth and yes, Kevin Hart botched a potential win in the 14th. The great thing, though, was that they lost the lead but they didn't completely blow the game, a game the Cubs eventually won 6-4. Both Wood and Hart recovered after botching things up and got multiple outs to keep the game going.

How about that Geovany Soto? He had clutch hits all through the week and even threw a guy out stealing to cap off one of the most exciting plays in baseball (the strike-'em-out, throw-'em-out double play) early against the Phillies Friday. But against the Pirates, Soto kept the final Cubs rally alive with a nice takeout slide at second, preventing a double play.

Sure enough a few batters later, Felix Pie came through with a huge (for the Cubs and for him) two-run single that finally proved too much for the Pirates to overcome. You had to be happy for Pie, who has done nothing but win at every level of the Cubs organization coming into this year. I was not pleased to see him head to the bench during the first week of the season after all of four games (and Rich Hill goes to the bullpen after two shaky starts?) but Mr. Piniella promises Pie is still the primary centerfielder.

All I am saying Lou, is give Pie a chance.

-

Jim Coffman appears in this space every Monday, but his column will be on a two-week hiatus as he goes undercover deep in the bowels of Carlos Zambrano's brain. SportsMonday will return on May 5.

Posted by Lou at 06:02 AM | Permalink
The White Sox Report
Few Sox players over the years have drawn more admiration from broadcaster Hawk Harrelson than Joe Crede. "Mike Schmidt, Brooks Robinson, those guys are great," Hawk (probably) once said. "But I'll tell you what, gimme Joe Crede at third base any day of the week".
Remember, Harrelson is also the guy who, as Sox general manager, traded Sammy Sosa to the Cubs for George Bell [It was Ron Schueler, not Harrelson. Sorry.]. But Harrelson isn't the only one who appreciates Crede work at third base. He's also one of the Sox's true fan favorites. Crede's play in October 2005 might have something to do with that.

After a stellar 2006, the best season of his career, Crede started to slip last season. He hit just .216 with only four home runs in 47 games before a back injury sidelined him for the rest of the year. Top prospect Josh Fields was called up and proved all the hype surrounding him was warranted. Fields clubbed 23 home runs in just 100 games, and looked to be the best Sox prospect since Magglio Ordonez. While Fields wasn't nearly as glove-savvy as Crede, fans and management seemed to realize that 24-year old power-hitting third basemen don't come along every day, especially not in the Sox normally barren farm system.
To clear a spot for Fields - and because his contract runs out after this season and he's represented by agent Scott Boras - the Sox tried desperately to trade Crede throughout spring training. When Williams couldn't find equal value, he had to make one of the hardest decisions of his career: keep Crede as the starting third basemen and send Fields down to AAA Charlotte.
Most felt it would only be a matter of time before Fields got called up and claimed his throne as the Sox third baseman of the present and future. But if Crede continues to play like he has been the first 11 games, Fields may just stay in the minors all season.
While drawing full conclusions from such a small sample size is dangerous, Crede has been nothing short of phenomenal thus far in 2008. He clubbed two grand slams this week, one that proved to be the game-winner Monday against the Twins, and now leads the Sox in RBI, homers, and total bases. While he still doesn't take as many walks as some would like, Crede continues to be one of the premier defensive third basemen in baseball. Even if the Sox lose him next year with only a few draft picks coming as compensation, it seems that Williams has made the right call, at least so far.
*
Week in Review: The Tigers will snap out of this early season funk eventually, but it's nice the Sox already got to play them six times while they're still in it. The Sox finished the week 3-2 after taking two of three games from Detroit to close out the week.
Week in Preview: Oakland heads to town on Monday as Nick Swisher meets his former team for the first time since being traded to Chicago this winter. Road trips to Baltimore and Tampa Bay follow. Don't call them the Devil Rays either, it'll cost you five bucks.
Turn on the Bright Lights: Gavin Floyd strikes The Sox Report as the type of guy that would be more interested in listening to Interpol than throwing a no-hitter. Even so, Floyd, in the best outing of his pro career, held the Tigers without a hit on Saturday for more than seven innings in leading the Sox to a 7-0 victory.
D-Train D-Railed: The real reason why the Sox didn't sweep the Tigers this week? Dontrelle Willis got hurt. Before injuring himself by slipping on the mound while delivering a pitch, the Tigers starter was off to a horrendous first inning on Friday. Willis walked the first two Sox batters and then threw a wild pitch before leaving the game. Some think Willis' performance has slipped this season because he's put on extra weight. Since we don't think he's taking the same stuff that Gary Sheffield is taking, maybe he should lay off the same food that Todd Jones is eating.
Silver Lining of the Week: Carlos Quentin isn't particularly gritty or grindy, more just plain good. That's why it was unusual to see manager Ozzie Guillen come to his senses and hit Quentin, a slower corner outfielder with a propensity to get on base, in the leadoff hole on Friday with Swisher out. While the Sox lost, Quentin wasn't the problem. He reached base three times, getting a hit, a walk, and being hit by a pitch.
Immortalized: The White Sox unveiled a new monument on Friday, a tribute to the 2005 World Series champs. Four players are depicted in bronze statues for their contributions during those playoffs: Paul Konerko, Orlando Hernandez, Juan Uribe, and Joe Crede. And yes, it's official, Uribe is now the worst athlete of all-time to ever be immortalized in with a statue. Somewhere, Jud Buechler is wondering when his statue is coming.
That's Ozzie: "I don't like that guy behind the plate. And I'm going to let him know. He don't like me, I don't like him. One reason is, if you don't like me as a man and what I do, I respect that. But if you don't like me, and all of a sudden you're going to take it out on my players, you're wrong. That's unprofessional. And I just let him know I don't like him the first day I see him, and I think he feels the same way about me. And we have to move on. Every time he's behind the plate, we might have a problem. We might. We have. The last couple times behind the plate, we have a problem. And he tried to be smart with me, and I do what I have to do and he does what he has to do. And I got a good sleep last night."
Beachwood Sabermetrics: A complex algorithm performed by the White Sox Report staff using all historical data made available by Major League Baseball has determined Ozzie may need to put a little more money into that "MLB fines" account.
-
Ricky O'Donnell is the proprietor of Tremendous Upside Potential.
Posted by Lou at 05:47 AM | Permalink
The Cub Factor
Another week in the books and more proof that the Cubs manufacture runs like, well, like a thing that doesn't manufacture things very good. Sure they got a few wins, but it took them forever. Three extra-inning victories this week prove little to show this team is ready to contend for the World Series. But a few things have happened so far this season that are really surprising. Like being able to count on Ryan Dempster. Yeah, Dempster has been lights out through two outings. But should we count on that continuing for the rest of the season? I don't really think so. With this in mind, we here at the Cub Factor would like to list a few other things that you shouldn't count on either.
* The war in Iraq ever ending.
* Kerry Wood's right arm. Or left toe. Whatever.
* Todd Stroger growing a brain.
* Aramis Ramirez running the bases as hard as he swings the bat.
* K-Fed, Madonna or Heather Mills saving Britney Spears.
* The (non-)situational hitting of Alfonso Soriano.
* Pete Wentz unpressing his hair.
* Felix Pie being at least the next Corey Patterson.
* A straight answer from Richard M. Daley.
* Daryle Ward with a glove.
-
Week in Review: The Cubs swept 3 from the Pirates then lost 2 of 3 to the Phillies to go 4-2 for the week. Not a bad week, but 3 wins came in extra innings. And beating the Pirates in extra innings is kind of like losing.
Week in Preview: The men in blue come home to welcome Dusty Baker and the Reds for 3 games and 3 more with the crappy Pirates. Let's hope the weather is cold so both managers will have an excuse in the Reds series.
The Second Basemen Report: Mark DeRosa started four games at second this week; Ronnie Cedeno and Mighty Mike Fontenot started one each. DeRosa also got a start in right field, while Fontenot's hot start (he leads the team in hitting!) may give earn him more playing time at the second sack. Just like Jim Hendry drew it up.
In former second baseman news, Gary Woods played one game at second base for the Cubs in 1983. Gary was the hitting coach of the 2006 National Baseball Congress champion Santa Barbara Foresters. He is missed.
Zam Bomb: Another poor play behind him in the field and it's time to call the bomb squad.


Lost in Translation: Tud Lillie-san is Japanese for petrified cow dung.
Sweet and Sour Lou: 75% sweet, 25% sour. Lou is down 2 more points on the Sweet-O-Meter due to leaving way too many runners on base. And like your real crazy drunk uncle, Lou is glad you got your driver's license but you're not ready to drive his 1967 GTO. ou're not ready for the big time yet, junior.
Center Stage: Reed Johnson looks as if he's the Cubs starting centerfielder going forward as he got the nod in 4 of 6 games this week. Felix Pie started one game and Kosuke Fukodome started the other. Expect the Cubs to get another centerfielder before long and send Pie back for more seasoning. Just like Henrdy drew it up.
Beachwood Sabermetrics: A complex algorithm performed by the The Cub Factor staff using all historical data made available by Major League Baseball has determined that Dusty Baker will be a net loss for the Reds.
The Cub Factor: Catch up with them all.
Over/Under: The number of times during the Reds series that Cub fans will be happy they no longer have Dusty managing their team +/- 18
With Apologies To Nena: 99 Years of Cub Losses (99 Jahre von Bengeln Verlusten).
Mount Lou: Lack of the big hit has Mount Lou hovering at yellow. Pressure should build this week and Mount Lou will show the first cracks in the surface. Expect smoke to billow sometime Wednesday in the first three innings.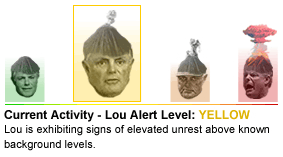 -
Marty eagerly awaits your comments!
Posted by Lou at 05:17 AM | Permalink
April 12, 2008
The Weekend Desk Report
Remember that one weekend when it was sunny and warm? Yeah, that was awesome.
Market Update
The cost of rice continued to rise this week. Analysts were quick to point out, however, that it's still a bargain compared to the cost of bush or dick.
Green Jacket Quest
It's Masters weekend again, and time for the Beachwood Reporter's annual review of the World Leaderboard. Scores are expected to plummet to new lows as the front runners pull out all the stops. However, our money's on Taiwan to take the coveted green jacket for its unbelievable naivete.
Directly Behind
One of life's great mysteries is soon to be solved as CTA riders will now know exactly what it means to have a train "following directly behind." CTA President Ron Huberman says a new train tracking system will be installed "sometime directly after we fix the slow zones."
Blue Line
Huberman further stated that train trackers on the beleaguered O'Hare branch will simply say, "fuck it."
Ask a Stupid Question . . .
The answer is no.
The Awful Drewth
Finally this week, we'd like to congratulate uberhusband Larry King for finally finding a serial groom creepier than he is.

Posted by Natasha at 08:32 AM | Permalink
April 11, 2008
The [Friday] Papers
"In 646 days, a lot of people can forget how things work in this town."
Child's Play
"On Wednesday, opponents of the land grab booed Chicago Park District commissioners who - instead of protecting Grant Park - rolled over for the mayor. Commissioners empowered their staff to negotiate with the museum on deeds, contracts and operating rules," the Tribune editorial page says today.
"Don't forget: The Children's Museum wouldn't just get a long-term, low-cost berth in Grant Park. This private museum also would be eligible for a subsidy from the Chicago Park District under a program that pays millions of dollars to other museums. Maybe you like the idea of taxpayers subsidizing the Children's Museum. Or maybe you think you suddenly understand why the museum has so assiduously pursued a location in Grant Park: It's following the money."
Name of the Game
"On Wednesday museum officials said they were sticking with plans to give Allstate Insurance Co. naming rights to the new museum. In September 2006, the mayor's office announced that Allstate was donating $15 million to the new museum and the new building would be named Chicago Children's Museum at Allstate Place," the Tribune reports.
Whoa! So Daley Bicentennial Plaza will become Allstate Place? Or will Allstate Place just be the part of Bicentennial Plaza (let's drop the Daley, folks, huh?) where the Children's Museum . . . well, whatever. Why don't we start calling it Wrigley Field, that name may be available soon.
"'A commitment was made,' said Jim Law, the museum's vice president of planning and external affairs. 'This is what the Chicago Children's Museum wanted to do to honor their gift.'"
And how would the museum honor the citizens' gift of public parkland - aside from naming rights to taxpayer subsidies?
"Parks Supt. Tim Mitchell said he saw no problem with a corporate donor getting naming rights to a museum on Park District land.
"'It's the way we have to do things,' Mitchell said. 'Most people would rather we do that than raise the taxes.'"
What? We'll have to raise taxes if we don't allow the Children's Museum into Grant Park and let them sell naming rights?
And shouldn't the Park District, i.e., you and me, get to sell the naming rights? (Beachwood Park!)
This deal stinks more with every passing day.
Good Hands
"Allstate Eliminates 109 IT Jobs."
Money spent on Children's Museum naming rights instead.
Bid Rigs
"The IOC is expected to narrow the 2016 field of seven applicant cities in June and select a host city in October 2009," the Tribune reports.
"Andrew McKenna Sr., co-chairman of Chicago 2016's fundraising efforts, said the city's goal is to raise $42 million in a second phase of fundraising, which will include a major event planned for July 14 at Millennium Park. 'We want to connect it closely to the Olympics, which open in Beijing on Aug. 8,' he said."
Tanks will roll over the Gehry bridge to the new site of the Children's Museum in a ceremony that honors both Tiananmen Square and Meigs Field. Later, the Cook County Democratic Party's Central Committee will dine with the Beijing Municipality Central Committee and evaluate their politician exchange program.
*
Wait. The IOC will narrow the field to seven in June and Chicago 2016 is planning an event for July?
*
"We want to connect it closely to the Olympics, which open in Beijing on Aug. 8."
A) All media reports will have to go through City Hall censors.
B) Tibetans in Chicago will be exiled to Kendall County.
C) Chicagoans of African descent will be oppressed that day. Er, wait . . . they'll be doubly oppressed!
Tough Crowd
"The issue of escalating campaign tactics reared its head in Guatemala City last summer, when the IOC selected Sochi, Russia, as the site of the 2014 Winter Games. Among a number of aggressive moves by candidate cities that raised the hackles of some IOC members was Sochi's decision to fly in an ice rink on the world's largest jet."
I don't even know what to say about that.
Teen Scream
"Chicago high school students who use a new CTA reduced-fare card could find themselves riding to and from classes with Big Brother, even if they don't have siblings," the Tribune reports.
"The experimental card, embedded with a computer chip that records trip histories, is designed primarily to ease commuting for students and reduce fraud, CTA and Chicago Public Schools officials said Thursday. A pilot project will run through June and later could be expanded to all Chicago high schools.
"But the new 'smart' card's capability to track students' movements by rail and bus is certain to spark controversy if school officials follow through on plans to use the technology to crack down on truancy.
"At a CTA board meeting on Thursday, president Ron Huberman disclosed that the card will be used to 'improve the tracking of truants.'"
A) I think they already do this in Beijing.
B) Let's embed chips in every city contract handed out.
C) Better yet, maybe we should embed chips in guns instead.
The Beachwood Tip Line: Chipping away.

Posted by Lou at 08:19 AM | Permalink
April 10, 2008
Chicagoetry: Come Back To The Five And Dime Bag, Stu Levine, Stu Levine
COME BACK TO THE FIVE AND DIME BAG, STU LEVINE, STU LEVINE
Back, come back: you can blame it all on me.
I was wrong and I just can't live without you.
You are my Poster Boy! Lovely: the polished image
of suburban Caucasian
propriety. MY MAN!
Wide lawns, narrow blinds, freshly-washed SUVs
stocked with
Miley Cyrus DVDs.
Goddam! Sure: goddam the Pusher Man.
But where would we be
without me? And my single greatest ally:
American Moral Hypocrisy made voluptuously manifest
in Prohibition.
Whoop-whoo! Whoop-whoo!
I was 'round the State Capitol
when I saw it was a time for a change.
Backed a Democrat for Governor,
Judy Baar-T. screamed in vain.
Whoop-whoo! Whoop-whoo!
If you got bad news you wanna shake the blues,
when the day is done and you wanna run around . . .
Get the story, bag the babe,
close the deal, get it up.
Whoop-whoo! Whoop-whoo!
But keep it clean, maintain the superficial moral
sheen. After all, it's just you and Me.
Let's stay together!
Prohibition, fellas. Genius: keeps the cops lyin',
the children dyin'
and the mothers cryin'.
Whoop-whoo! Whoop-whoo!
Sixty-hour work weeks, internet porn freaks,
children who hate us,
wives who berate us: don't we DESERVE our PARTY?!
The War on Drugs sweeps the price under
the rug: after all, they're just inner-city
colored kids, miles away from our driveway.
No big
whoop . . .
-
J. J. Tindall is the Beachwood's poet-in-residence. He can reached at jjtindall@yahoo.com. Chicagoetry is an exclusive Beachwood collection-in-progress.

Posted by Lou at 12:57 PM | Permalink
What I Watched Last Night
I could have spent Wednesday night tuning into the Save Humanity Edition of American Idol, but as far as I'm concerned, no celebrity has ever been able parlay heartstrings into purse strings like actress Sally Struthers. These days, Sally is involved in more profitable, actual acting work on the CBS sitcom Still Standing - one of the funniest shows still standing today - so I wasn't in the mood for amateurs no matter how noble the cause.
So I went instead with Steve Guttenberg as a hack movie director on NBC's Law & Order: Criminal Intent trying to convince the entire New York City police force to track down whatever criminal mastermind was responsible for his facelift gone terribly wrong, and the huge tuft of hair growing under his lower lip like a giant black caterpillar in search of something green and leafy.
It turned out to be one of those "CI" episodes featuring Chris Noth instead of Vincent D'Onofrio, who I like to call Sideways Guy because of the way he freaks out skels and other social misfits into spilling the beans by cornering them in the interview room and using that halting, unsettling vocal cadence of his while invading their personal space bent sideways at the waist. As much as I like D'Onofrio's Detective Bobby Goren to Noth's Detective Mike Logan better, the reworked theme song for last night's "CI" is dramatic enough to scare you into a major heart attack if you're sitting too close to your TV set and not paying attention when it begins.
If those responsible for "CI" had any sense, they would find a way to have temporary Noth partner-replacement Alicia Witt (formerly daughter Zoe on the 1995 Cybill Shepherd sitcom Cybill) stick around once Julianne Nicholson gets done with maternity leave. Not only is she great eye candy, but she's one of the few actresses since Angie Dickinson starred in Police Woman able to give us the impression that you can be a serious cop and relate well to men off-duty without eating them whole just on general principle. Witt is as sexy as "CI"'s Kathryn Erbe is haggard-looking, less distant than "CI"'s Nicholson, and as cop-pushy as "Special Victims Unit"'s Mariska Hargitay without all that man-eater ball-busting.
Come to think of it, the law enforcement community might consider adding "say 'Mariska Hargitay' five times fast" to its arsenal of field sobriety tests.
Wednesday's "CI" involved far too many people for me to keep track of while doing other things at the same time, but the storyline revolved around the therapist wife of a supreme court judge getting professionally gunned down through the window of her kitchen and creating a substantial biohazard mess in front of the sink. The judge hears divorce cases involving people he's acquainted with, but the plot thickens through the involvement of a hooker, a shady private detective whose office is outfitted with an aquarium that has no fish and a gun room hidden behind a secret revolving bookcase, and a shrew of a wife who managed to frame Steve Guttenberg into an orange jumpsuit at Rikers after screwing the PI and the judge and offing the judge's wife.
Fortunately, the wife's incredibly complex scheme of deception was exposed soon enough after she double-crossed everyone watching American Idol into forking over $200 to various international charities to buy massive amounts of nourishing, life-sustaining food which will ultimately be hijacked by regional warlords in keeping with long-established local custom.
I'm not sure how everyone managed to piece the whole thing together. I was too busy being distracted by Alicia Witt.
* * *
If last week's episode of Fox's Hell's Kitchen was predictable, Tuesday night's show was so uneventful that if biblical Hell is equally uneventful, we might as well all be off robbing banks and pillaging convents. Even though I don't watch ABC's Dancing with the Stars, I'm convinced my TV time would have been better spent seeing how Adam Corolla managed to look like Zorro and get booted off the show after doing part of his dance number on a unicycle. A unicycle of all things. The judges' eyeballs are probably still trying to un-sear their retinas from that spectacle, but that's just the sort of spectacle you just don't see anymore. Christ, we haven't seen that sort of effort and showmanship since the 1960s, when some guy would show up on The Ed Sullivan Show every few months and keep a whole line of dinner plates spinning perfectly balanced atop tall poles for a good five minutes.
Tuesday night's Hell was so unremarkable I can't manage to keep my attention on it long enough to share anything beyond a few highlights and observations:
*
Blondie cheftestant Corey managed to cook risotto to Chef Ramsay's impeccable standards. As we all know by now, cooking up the perfect risotto seems to be as difficult as cooking up the perfect crime. The miracle was not that Corey managed to give good risotto so early in a Hell season, but that she was able to say, "I was honestly, like, super-impressed with myself" without the microphone picking up the the sound of the breeze whistling in one ear and out the other.
*
Ramsay chooses cheftestants Craig and Rosann to mingle with the dining room guests they will soon be starving by learning the assistant maitre'd ropes. The experiment doesn't go swimmingly for either one of them. Craig updates the scene in Airplane where the stewardess walks down the aisle conking passengers in the back of the head with a guitar by whacking a female diner in the back of the head with a table chair he's carrying through the crowded dining room. This causes restaurant mother hen Jean-Phillippe to react like one of the guests just took a giant shit in the middle of the place. Meanwhile, Rosann spends two hours devising a brilliant system for delivering orders to the kitchen by not delivering them to the kitchen at all because she didn't want the night to get too busy for the Red Team.
For the first time in Hell history, Ramsay is so dumbstruck by Rosann's logic that all he can muster is a high, squeaky "What?!" instead of the characteristic stream of profanity and kicking of whatever's handy.
Meanwhile at the same moment, in an unprecedented display of Chef Ramsay solidarity, the owner of every gyro stand in Chicago picks up Ramsay's slack by verbally abusing the kitchen help more than usual.
*
I don't have a dictionary handy right now. What's the proper pronunciation of the word "fillet": Our own "fil-LAY" or Ramsay's "FILL-it"? I know we on the South Side like to mangle perfectly good sentences into unrecognizable forms, but I'm pretty confident that if Ramsay showed up at the counter of a McDonald's anywhere in the country, he'd be asked the same question: "Dude, what the hell is a filidafish sandwich?"
*
Cheftestant Jason emerges as the show's Head Douchebag because, well, the misogynistic crowd on Mad Men have been away for a long time and damn, we really miss assholes like that. "They need a man to lead them," Jason comments in all earnestness during his interview. "A room full of girls; I mean, that's useless, unless what are they having, a Tupperware party over there?"
I can see it now: Hell's Kitchen winner Jason - the only guy in Los Angeles raking in $250,000 a year who even crackhouse whores wouldn't want to date.
*
Notable Cheftestant Quotable, during a halibut-filleting challenge: "Make love to that fish, man!"
Notable Ramsay Quotable: "You're not really a chef, are you? You're just a showgirl with a big feather coming out your ass."
Up next week: Fat cheftestants from both teams in a would-be hot tub lust romp showing far more skin than anyone really needs to see, fat guy cheftestants getting all fashionable in farmer overalls with the bib hanging open, and Chef Ramsay standing around for a long time banging his head against a countertop.
-
See the whole wide wonderful world of What I Watched Last Night
Posted by Lou at 10:41 AM | Permalink
The [Thursday] Papers
"Five years ago today, a group of looters broke into the National Museum of Iraq, stealing artifacts thousands of years old - evidence of some of man's earliest civilization. Photos of broken sculptures and busted vases made international news," the Sun-Times reports.
"But lesser known is the damage looters are doing outside Baghdad. Elsewhere in Iraq, craters reveal illegal digs where thieves have stolen remnants of the culture that invented the wheel.
"'Holes are 10 feet deep,' said Geoff Emberling, curator of the Oriental Institute. 'It's like the surface of the moon.'
"The University of Chicago's museum today opens a new exhibit, Catastrophe! The Looting and Destruction of Iraq's Past to mark the damage. Photographs and objects tell the story of 'history erased.'"
Programming Note
Sun-Times broadcast columnist Robert Feder wrote this today (second item):
"We'll be keeping a closer eye on Steve Rhodes, the acerbic media critic who writes The Beachwood Reporter blog now that he's on the payroll of NBC-owned WMAQ-Channel 5.
"Channel 5 officials declined to say how much they're paying Rhodes to write Division Street, a political blog linked off the station's Web site.
"Regardless of the sum, it sets up exactly the type of potential conflict of interest that Rhodes has been known to rail against on his Beachwood blog."
-
This is the response I sent to Feder in an e-mail, and I think it's important for readers to know:
Robert:
I appreciate the mention in your column today and I'd be happy to tell you anything you want to know. A few things.
1. On March 25, 2008, I wrote this in my Beachwood column:
Beachwood Update A while back I wrote about trying to complete some deals to put the Beachwood on financial footing. Those deals are still, um, afoot with only a smidgen of movement, but I do have an announcement to make: I have begun a political blog on the side for NBC5 called Division Street.

This will offer greater exposure for the Beachwood through cross-promotion, and bring a small bit of needed revenue into the company. At the same time, I'll get to work with some of the Internet and politics folks over there, which hopefully will produce exciting results.

Please visit, but please be gentle. It's still in the early-going and many improvements are coming. In short order, the blog will find a voice and character of its own.

I'll keep everyone posted on other developments as warranted.

*

I suppose this means an ethical disclosure is in order: I am under no obligation, nor would I agree to one, to praise Channel 5 or criticize its competitors. I rarely comment about TV in this space, and as you can see today, I gave major props to Fox Chicago's Placko, as I have in the past. Regular readers know that I am a big Carol Marin fan, and she is affiliated with NBC5, though I almost always reference her here in relation to her work at Chicago Tonight and the Sun-Times. But I'm more than happy to field questions or concerns about this.
2. I will soon post a permanent ethics disclosure statement on my site. I have spoken to Robert Steele at the Poynter Institute about this because of this very thing: How to address the inevitable appearance of conflict even when there is no impact in reality. This includes advertisers, potential advertisers, investors and potential investors as well.
3. Readers familiar with my work at Chicago magazine know that I certainly did not hold my fire in my media column there when the Tribune Co. bought us (and the Tribune Co. never tried to interfere with my work). In fact, if someone wants to send me a story about why they think NBC5 sucks, go for it!
4. Not to nitpick, but I am not on Channel 5's payroll per se. I have signed a freelance contract with NBC in New York; it was a person there who hired me. I just want to be clear that I am not a full-time employee of Channel 5 or NBC.
5. Nonetheless, you are right: I should be under the same type of scrutiny as those I write about. That's sort of my point - that the media should get the same scrutiny it gives others. So scrutinize away! I welcome it, and again, I appreciate the mention.
Junk Pile
* That whole chicken and waffle thing got resolved.
* That whole O'Hare and Circle Interchange thing did not.
* Smokey, The Horse That Paints.
* "Canadians really shouldn't envy us. Like all truly cool people, they know not how much cooler they already are."
* Cubbie Cover?
* Reading With Scissors rules!
Park Place
"Apparently money does grow on trees, because there's no other way the Park District can justify the $22 million it's spending on Streeterville offices," Ben Joravsky writes in the Reader.
The Beachwood Tip Line: Linked in.
Posted by Lou at 09:12 AM | Permalink
Reviewing the Reviews
Former Chicagoan Liz Phair penned a review in the New York Times on Sunday of Black Postcards: A Rock & Roll Romance, by indie rock hero Dean Wareham.
It's a mess - Phair's review, that is. We'll look elsewhere to get a sense of Wareham's book.
Phair's opening paragraph starts with a highly questionable interpretation of a Freddie Mercury quote and ends by telling us that (while reading the book, apparently) "Dominick Dunne would make sure his seat was saved before excusing himself to use the restroom."
Or, Dunne could take the book with him.
Let's take a quick run through the rest of Phair's effort.
1. "His honesty is challenging and humbling. Yet, for an egghead (Wareham is a graduate of both the Dalton School, the progressive and prestigious Upper East Side preparatory academy, and Harvard) with an elective reading list to rival Art Garfunkel's (Thomas Mann, Mark Twain, Andre Malraux, Nietzsche, to name a few), he seems perfectly happy to partake in whatever recreational opportunities come his way, with enviable disregard for the consequences. Guilty? Not guilty? What are we as a jury to think?"
Because you can't be an "egghead" and still, you know, enjoy sex and drugs. Further proof that Phair was an accidental indieist always destined for mainstream muck. (And the jury is to think, who the hell is this lame-ass square prosecutor?)
2. "After the big business of arena rock trampled through pop culture in the 1980s, with its smoke pots and high ticket prices, a fresh crop of homegrown bands espousing the D.I.Y. ethos, culled from the underground punk scene, suddenly came into vogue. A countercultural wave with roots in political and social activism swept the nation, culminating in the enormous success of bands like Nirvana and Pearl Jam. These self-proclaimed nerds conquered the world for a time, making up in originality and earnestness what they lacked in glitz and swagger."
The marketing of Pearl Jam as an indie, punk or alternative band always (rightly) rankled Kurt Cobain, and Eddie Vedder himself said the band was no such thing. Unlike Cobain, Vedder was hardly a self-proclaimed nerd, and he hardly lacked swagger. Finally, the ascendancy of the indie rock scene had very little to do with any "countercultural wave with roots in political and social activism" sweeping the nation. If only that it did. It was, to be sure, in large parts about a different way of seeing and living life, including politically and socially. But it was also, sadly, as much about style, taste and fashion, and in any case hardly part of a movement "sweeping" the country, as opposed to pockets of resistance to the dominant culture.
3. "It's as if a curtain were brushed aside and we all got to go backstage and experience the lives of those who ran away to join the circus: we ride in buses, drive in vans, count T-shirts, bicker with our bandmates, play shows, get courted and booted by record labels, make albums, fall head over heels and, throughout, rub elbows with countless influential artists of the day, crisscrossing the globe in tour trajectories so overlapping and incestuous it makes you want to call in a band traffic controller just to keep all the names straight."
Um, didn't Phair get to experience this in real life?
4. "One particularly unforgettable story involves the rags-to-riches-to-rags-again tale of a high-flying A & R executive at Elektra named Terry Tolkin, whose musical discernment never translated into the other areas of his life. Riding around in limousines, showing up late to work, throwing outrageous parties for artists and charging it all to the label, the surprisingly likable Terry finds himself on shaky ground as a corporate realignment threatens to squeeze him out of a job: 'If he had signed just one platinum act, all would have been forgiven. Instead he gave them Luna, Stereolab and the Afghan Whigs.' Things go from bad to worse, until 'Terry had lost his wife, which he pretended not to care about. Now he had lost his job . . . Six months later he was working at a gas station in New Jersey, changing oil and brake liners by day, snorting heroin by night."
This is particularly poignant, and connects Wareham's book to the larger themes I'm guessing are the point, which Phair seems to be missing as she scans for tabloid material. If it's not part of any larger themes by Wareham, then his target audience is very small indeed.
5. "Even his writing style has a rhythm to it: passages move rapidly back and forth between incident and impression, creating a kind of (I'm not kidding) rock 'n' roll."
Please be kidding.
By the way, Phair follows that sentence, by noting that "If the writing suffers from a tone of detachment throughout, the author is well aware of it."
So, in other words, the writing style is very indie rock.
I'm kidding.
Loose Juice
From a Sun-Times interview of F. Lee Bailey, who is promoting a new book:
Q. Many people believe O.J. Simpson was guilty of murder, despite his acquittal. When you try to persuade someone that Simpson was innocent, what do you emphasize?
A. There are three things that stand independently and are all inconsistent with guilt. The first is the timeline. [In the book, Bailey argues that Simpson did not have enough time to commit the murders, return home and catch a flight to O'Hare, as prosecutors claimed he did.] The second was the demeanor, which is extremely important in cases where people known to be non-criminals are involved in a murder case. And the third was his statement to the police, which I think . . . no guilty person with his background could possibly have pulled off. He spoke to them for three hours . . . and never slipped one bit. And a guy who had just killed two people the way these two were killed could never have done that.
Cartooning While Black
"Jackie Ormes, nee Zelda Mavin Jackson, was a journalist, artist, socialite and progressive political activist, a well-known figure in Chicago's black community in the '50s and '60s," the New York Times Book Review noted recently. "She was also, as the subtitle of Nancy Goldstein's biography indicates, the first African-American woman to write and draw widely distributed comic strips: four different series, published between 1937 and 1956 in black newspapers including The Pittsburgh Courier and The Chicago Defender.
It was those breakthrough strips that truly marked Ormes as a Chicago - and American - original.
"The premise was simple: precocious kid Patty-Jo makes a wisecrack, and her big sister/guardian Ginger, another Ormes stand-in, hangs around striking pinup poses and looking glamourous in the latest styles. 'Gee . . . it must be awful to have to have that Dior fella switch rules on you in the middle of the game," Patty-Jo quips in one 1954 strip, as Ginger reads about the advent of a new Christian Dior line.'
Ormes was topical and top-shelf.
"In contrast to the images of African-Americans that prevailed in other pop culture of their time, the sisters are overtly upper class; they live in a well-decorated home, graced with fancy new products like plastic boots and a television. Patty-Jo comments on current events and occasionally pitches for the March of Dimes, sometimes at the same time. ('MAO -- ???' she asks Ginger, who stands by attentively in toreador pants. 'Golly, Sis, do you s'pose he's any relation to old POLIO-MYE-LITIS? HE'S been attacking kids in their own neighborhood, an' all we got to fight back with is volunteer DIMES!')"
Ironically, Ormes' various activities were catalogued in a 287-page FBI file "which didn't mention her cartooning at all - and as the McCarthy red hunts and the civil rights movement gathered steam in the '50s, the best jokes in Patty-Jo 'n' Ginger were often the most politically pointed."
- Daniel Strauss contributing


Posted by Lou at 07:06 AM | Permalink
Juno & Feist
I'm not so much of a blind Canadaphile to be unaware of the fact that the country has its annoying quirks. Like the Progressive Conservative Party, eh? You cannot be both, I don't care what country you're from. And the fact that their Elvis is a figure skater. Weird, and pretty annoying. Still, it makes me wonder how they can come up with things like that and still be as cool as they are. Probably precisely because they think of themselves as so uncool compared to us. Hey, Canadians, wake up! Our Elvis died on the crapper!
Of course Canadian music is also like that. They fret endlessly about how American culture is overwhelming them, but at the same time, if you listen to CBC Radio for instance, it's like you took one part NPR - so far so good - but then mixed in three parts Clear Channel. You can just feel how their love/hate towards us is pretty heavily weighted toward love, and that they hate themselves for it.

Which is a long, meandering way to get to my point - that Canadian music fans, when they decide to support their own, consistently come up with better choices than we do. Canadians held their version of the Grammy's this week - The Junos - and it's a case in point. The biggest winner was indie chick-singer phenom Feist, whose catchiness and huggability is just this side of bearable. But she is smart and has undeniable artistic merit. Compare this to the Grammys' big winner: Amy Winehouse, a train wreck whose big hit, "Rehab," was basically a well-done but derivatively retro R&B number which got a huge boost because of the much-celebrated autobiographical troubles of its writer. And she's not even American. At least Feist's "1 2 3 4" was nothing if not quirky and original. Easy to get sick of, yes, an iPod commercial, yes - but Canadians seem to reward quirks with their big prizes rather than relegate them to easily dismissed cult status.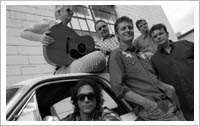 They also know how to support their alt-country bands. Blue Rodeo was the other big winner at the Junos, a band that, to me at least, roughly parallels the Jayhawks here in the U.S. Founded at about the same time (the late '80s), and with their biggest artistic successes coming at about the same time (early-to-mid '90s), both Blue Rodeo and the Jayhawks have traveled the same musical road. They both make achingly beautiful songs that straddle the line between hard twang and Beatles-esque psychedelic pop, and they both have soaring dual vocals (Gary Louris and Mark Olson for the Jayhawks, Greg Keelor and Jim Cuddy for Blue Rodeo). Both are beloved by music critics (like me).
The big difference is that Blue Rodeo has been a huge commercial successs in their country while the Jayhawks have never had two dimes to rub together in the good ol' U.S. of A, where honest, un-bombastic alt-country acts have never been embraced as worthy of anything more than an afterthought on the way to the Big Hat section. At the Junos, Blue Rodeo won Group of the Year. Wow. Can you imagine an alt-country act, say Steve Earle or even Wilco, winning something like that at the Grammys? Never in a billion years. Blue Rodeo's 2007 record, Small Miracles, won the Juno for adult alternative album and the video for its memorable lead track, "C'mon," won for video of the year.
"C'mon" is the kind of career-topping moment that the Jayhawks deserved but never got. The song is a jaunty, country rock number with clever lyrics and a chorus with enough hooks to land a boatload of cod off Nova Scotia. It's just the kind of wonderful song the Jayhawks and scores of other chronically unsuccessful American alt-country bands, from the Bottle Rockets to Whiskeytown, made year after year without a whiff of recognition from the wider world. But "C'mon" is a big, fat award-winner in a country that much more often embraces artists who don't fit the kinds of commercial straitjackets imposed on American tastes.
Canadians really shouldn't envy us. Like all truly cool people, they know not how much cooler they already are.
-
See what else is rattlin' round Don's Root Cellar.

Posted by Don at 02:58 AM | Permalink
April 09, 2008
The [Wednesday] Papers
Fireworks flew on Chicago Tonight last night as Todd Stroger's flak-in-chief tried to defend adding an outside public relations consultant to the roster of propagandists already working on our dime to convince us that Cook County is the bestest government anywhere, despite what the mean media tells us.
Let's pick it up with where the voices of BGA chief Jay Stewart, Stroger hack Gene Mullins, and Commissioner Larry Suffredin really started to rise - when talk shifted to the new independent hospital board now forming.
STEWART: My concern is not really with the details of the [new independent] board's work, it's that it has a sunset provision after three years. What happens in 2011?
MULLINS: This is not a new idea. President Stroger introduced this almost eight months ago.
SUFFREDIN: He fought against this!
MULLINS: In the 2007 campaign he mentioned this. It was his idea.
SUFFREDIN: Then why did he resist it?
MULLINS: He didn't resist it!
SUFFREDIN: He resisted it completely!
MULLINS: We didn't have any money.
SUFFREDIN: President Stroger opposed my proposal all the way to the end.
MULLINS: It was his idea.
ME AT HOME WATCHING: Maybe that's why he resisted it; even he knows his ideas are terrible.
For the whole thing, go see my post at Division Street.
Lesson Learned
"LISA: It's about priorities. On sex night, sex is the priority and other things slide."
Cockfight
The Houses of Chicken And Waffles go to court.
Slow Ride
"The last toboggan slides in the Cook County Forest Preserve District will come down despite an impassioned plea to preserve the historic attractions enjoyed by generations of city and suburban residents," the Tribune reports.
Here's an idea: Let's put 'em in Grant Park! What, you're afraid to put children at the center of the city?
Flight School
I had no idea the Chicago Board of Education used to own Midway Airport either.
Head Lines
"Lack Of Insurance Kills 960 A Year In Illinois."
But I thought Obama brought health care to everyone here!
"Museum Campus Tunnel Coming."
Enter and exit at the new Children's Museum in Grant Park.
A headline that matches trying to find the logic in this column.
Tax Irony Financing
"Mayor Daley wants to use $25 million generated by tax increment financing districts to make 15 Chicago Public Schools accessible to students with disabilities," the Sun-Times reports.
"On Tuesday, the City Council's Finance Committee signed off on the idea. But not before aldermen unleashed their anger about the mayor's plan to raid their neighborhoods' TIFs.
"'Helping the handicapped . . . is great. [But] every time I turn around, I see more TIF dollars being used for education,' said Ald. Ray Suarez (31st).
"Two years ago, aldermen complained about Daley's plan to divert $600 million away from their neighborhood TIFs and toward a citywide program to build nine new high schools and 15 elementary schools."
Okay, isn't one of the chief problems with TIFs that they take money away from the schools? So who is being more, um, ironic, the aldermen or the mayor?
*
"If this were challenged, it would be illegal," said Ald. Leslie Hairston (5th).
And then she voted for it.
*
Actually, I don't know if she voted for it; the paper doesn't tell us. But I think that's the correct assumption to make until learning otherwise, don't you?
*
Hairston is actually a lawyer. Before becoming an alderman, she worked as assistant attorney general in Springfield, according to her Wikipedia bio. "She also handled litigation for the office of the Illinois Attorney's Appellate Prosecutor's Office, where she argued before the Illinois Supreme Court."
*
The mayor also has a law degree. Just sayin'.
Recall Math
"In a blunt show of disgust with Gov. Blagojevich, the Illinois House moved Tuesday to give voters the right to recall state officeholders who are either incompetent or unethical," the Sun-Times reports.
"'This is about cronyism and corruption and stopping it,' said Rep. Jack Franks (D-Woodstock), who spearheaded the plan.'How many of our governors have to go to jail before we wake up?'"
At least three, by my count.
Child's Play
"In the latest salvo over building the Chicago Children's Museum in Grant Park, the Chicago Park District Board is poised at its meeting today to order negotiations to begin ahead of City Council approval. Under the measure, Park District Supt. Timothy Mitchell would be permitted to begin talks with the museum and the operator of Grant Park underground garages. As for the Council turning back the controversial move - the local alderman and some neighborhood groups object - Mitchell said 'I don't see that happening.'"
Why even go through the motions of public meetings and presentations? The deal is done.
Todd Squad
"A federal court monitor warned Cook County Board President Todd Stroger on Tuesday that she's prepared to take steps to prevent illegal patronage if the county doesn't start to clean up its hiring practices," the Tribune reports.
"The shot across Stroger's bow came a day before retired Cook County Judge Julia Nowicki is set to appear before the County Board to defend a similarly critical assessment she has filed in court."
Gee that sounds familiar. Is there any level of government in Illinois that works right?
"Nowicki notes that it has been 17 months since she was appointed to monitor county hiring. She said Stroger's administration has failed to hire a new human resources chief, provide a list of administrative positions exempt from the prohibition on patronage hiring and develop a 'plan to inform itself of current illegal patronage practices.'"
Hey, I've got an idea: Why doesn't Stroger hire a new public relations executive to take care of that?
The Beachwood Tip Line: Prioritizing.
Posted by Lou at 10:50 AM | Permalink
Stanley Cup 2008: Playoff Preview
The 2008 Stanley Cup playoffs are about to kick off and the theme this season is "redemption." Both conferences feature players and teams searching for the kind of pressure cooker performances that ultimately will lead to hockey immortality and an engraving on North America's oldest trophy in professional sports.
It's also time to sit back and enjoy a tasty beverage while firing off one-liners at the TV screen for every shot that hits a goalpost or every bad penalty call made by the zebras "policing" the ice. This is also the time of year when players bury their razor blades in the far recesses of their bathroom cabinets as the "playoff beard" is born.
Let's just jump right in and look at the matchups.
*
Western Conference
(1) Detroit Redwings (54-21-7; 115 pts.)
(8) Nashville Predators (41-32-9; 91 pts.)
Detroit has a lot to prove after a deep playoff run that ended in the conference finals last season at the hands of eventual Cup champion Anaheim. Once overlooked as a team too old and lacking physicality, Detroit added old tough guy Darren McCarty down the stretch to help out if things get a little "old time hockey" against Nashville. Nashville sports Jordin Tootoo, one of the best pests in the league. If Nashville hopes to upset the Red Wings they'll need to play physical, capitalize on turnovers, and stay out of the penalty box at all costs. It might also help if they take a run at mercurial Dominik Hasek, who'll get the first shot at backstopping Detroit's Cup hopes. Traffic and more traffic in front of Hasek's doorstep might be crucial to rattling him early and improving the Predators hopes for a series upset. Detroit's power play was the third best in the league and even the third best penalty kill that Nashville boasts will have all it can handle with Detroit's skill players.
(Players to Watch Det: Offense: Pavel Datsyuk, Henrik Zetterberg, Tomas Holmstrom, Johan Franzen; Defense: Nicklas Lidstrom & Brian Rafalski are a deadly 1-2 punch from the blueline; Goaltending: Dominik Hasek & Chris Osgood)
(Players to Watch NSH: Offense: Jason Arnott, J.P. Dumont, & Alexander Radulov; Defense: Dan Hamhuis, Marek Zidlicky, & Ryan Suter; Goaltending: Dan Ellis)
Pick: Barring an injury to a key player on Detroit, it'll most likely be Detroit in 5.
*
(2) San Jose Sharks (49-23-10; 108 pts.)
(7) Calgary Flames (42-30-10; 94 pts.)
San Jose is considered a favorite to beat in the West because they've had a red-hot finish and nearly caught Detroit for the best record in the regular season. A trade deadline deal with Buffalo brought over slick puck-moving defenseman Brian Campbell. He stirs the drink both with his crisp passing and his ability to take the puck from the defensive zone, rush up the ice, and find a way to gain entry into the offensive zone. Joe Thornton is still the most important offensive forward and it'll be a big order for Calgary to slow both him and Shark Captain Patrick Marleau down. Marleau epitomizes the theme of redemption. After a poor start to his season and a disastrous playoff last season, he finished the season strong and could be the "X" factor for the Sharks. The Calgary Flames boast mirror image type players on offense and defense in the form of Jerome Iginla and Dion Phaneuf. Both are talented leaders that play with the right combination of sandpaper and skill. They can hurt a team with their offense just as much as with a powerful crunching check. Mike Keenan coaches the Flames and he'll undoubtedly have his squad ready to play a physical style in an attempt to intimidate and overpower a more skilled Shark squad. This series should be a barnburner if the refs let both teams play. In net it shapes up to be an excellent battle between former Shark and current Calgary Flame stalwart, Mikka Kiprusoff, and San Jose workhorse Evgeni Nabokov.
(Players to watch SJ: Offense: Joe Thornton, Jonathon Cheechoo, Patrick Marleau, Milan Michalek, & Jeremy Roenick in what might be his last crack at a Stanley Cup; Defense: Brian Campbell, Craig Rivet; Goaltending: Evgeni Nabokov)
(Players to watch: CGY: Jerome Iginla, Daymond Langkow, Kristian Huselius; Alex Tanguay; Defense: Dion Phaneuf, Adrian Aucoin; Goaltending: Mikka Kiprusoff.)
Pick: Take the Sharks in 7.
*
(3) Minnesota Wild (44-28-10; 98 pts.)
(6) Colorado Avalanche (44-31-7; 95 pts.)
Minnesota is a "system" team that will use the trap to force turnovers and create offense off those turnovers in transition. They rely on solid goaltending and player commitment to the system to produce effective results. It'll be a tall order to shut down the Avs as they have a unique combination of young upstarts and grizzled vets looking to prove they're still relevant. Minnesota must get offense from their lone stick of high-octane dynamite in Marian Gaborik, but also look for Brian Rolston to chip in when needed. Minnesota's Brett Burns is the kind of defenseman that can chip in with an occasional goal and he could be important if the Wild don't get offense from players not named Gaborik or Rolston. For the Avalanche, their offense is no longer predicated upon the exploits of Joe Sakic and Peter Forsberg, although both are sure to make their presence felt. The younger Avalanche players, Paul Stastny and Wojtek Wolski, will look to initiate in the offensive end. On defense Adam Foote and Scott Hannan have the unenviable task of shadowing Gaborik and keeping him off the scoresheet. In net Nicklas Backstrom will have to be sharp and steal a few games where he faces more shots than his teammates throw at Colorado goaltender Jose Theodore. Theodore was once a Vezina winner and the next big thing in goaltending. Then he fell on hard times, got traded and struggled to find his former excellence. This season served as a bit of a rebound year and he'll be looking to prove his regular season wasn't a fluke.
(Players to watch MIN: Marian Gaborik, Brian Rolston, Pavol Demitra, Pierre Marc Bouchard; Defense: Brett Burns, Kim Johnsson, Kurtis Foster; Goaltending: Nicklas Backstrom)
(Players to watch COL: Paul Stastny, Wojtek Wolski, Joe Sakic, Andrew Brunette, Ryan Smyth, Peter Forsberg; Defense: Scott Hannan, Adam Foote, John-Michael Liles; Goaltending: Jose Theodore)
Pick: Colorado in 6.
*
(4) Anaheim Ducks (47-27-8; 102 pts.)
(5) Dallas Stars (45-30-7; 97 pts.)
Anaheim and Dallas could be as physical a matchup as there is in the first round. Both teams have played contested battles during the eight regular season meetings. While Dallas won five of those, the last two went in favor of Anaheim, both in the month of March. Anaheim got a boost when Teemu Selanne decided to play the last 26 games of the season after sitting out the start. Similarly, Scott Niedermayer came out of his self-imposed semi-retirement to lace up the skates in time to play half a season. Both added skill and leadership to the defending champion Duck squad that already boasted solid young players and two very good defensemen in Chris Pronger and Mathieu Schneider. Anaheim is posed to prove that last season's Cup wasn't a fluke. In net J-S Giguere will have to out duel Dallas netminder Marty Turco. On offense Dallas had a stellar season from Mike Ribeiro and captain Brendan Morrow. Dallas is hoping their trade deadline acquisition of former Conn Smythe trophy winner (playoff MVP), Brad Richards, will pay dividends against a sound Anaheim defense.
(Players to watch ANA: Ryan Getzlaf, Chris Kunitz, Corey Perry, Teemu Selanne, Doug Weight, Samuel Pahlsson; Defense: Chris Pronger, Scott Neidermayer, Mathieu Schneider, Francois Beauchemin; Goaltending: J-S Giguere)
(Players to watch DAL: Mike Ribeiro, Brendan Morrow; Mike Modano; Jere Lehtinen; Brad Richards; Defense: Phillipe Boucher, Matt Niskanen, & Stephane Robidas will have to pick up the slack for injured Sergei Zubov; Goaltending: Marty Turco)
Pick: Anaheim in 6.
*
Eastern Conference
(1) Montreal Canadiens (47-25-10; 104 pts.)
(8) Boston Bruins (41-29-12; 94 pts.)
Montreal and Boston meet in a classic Original Six matchup. Historically the Canadiens have dominated this playoff matchup winning 22 out of 29. Montreal is a dynamic offensive team with a dangerous pp (power play) unit ranked 1st in the league at 24.2% which matches up favorably against the Bruins pk (penalty killing) unit that ranked 28th in the league at 78.6%.
(Players to watch: MTL: Offense: Linemates: Alexei Kovalev, Tomas Plekanec, & Andrei Kostitsyn; Defense: Andrei Markov & Mike Komisarek; Goaltender: rookie Cristobal Huet )
(Players to watch: BOS: Offense Patrice Bergeron, Marc Savard, & Marco Sturm; Defense: Zdeno Chara; Goaltender Tim Thomas)
Pick: Barring a miracle, Montreal will win this series, probably in 5.
*
(2) Pittsburgh Penguins (47-27-8; 102 pts.)
(7) Ottawa Senators (43-31-8; 94 pts.)
Pittsburgh has a return engagement with Ottawa with the roles reversed: the Penguins are now the team to beat and the Senators will be looking to spoil what Pittsburgh fans hope will be a lengthy post-season. Last season Ottawa dumped the Penguins in five, but look for NHL poster child Sidney Crosby and his dynamic duo partner Evgeni Malkin to reverse that outcome this year.
(Players to watch: PIT: Offense: Sidney Crosby, Evgeni Malkin, Marian Hossa, Peter Sykora; Defense Sergei Gonchar; Goaltending: Marc Andre Fleury will look to redeem himself after last season's quick exit.)
(Players to watch: OTT: Offense: A deadly top line of Dany Heatley, Jason Spezza, & Daniel Alfredsson; Defense: Chris Phillips & Wade Redden will have a tough task stopping the Penguin offense; Goaltending: Martin Gerber and Ray Emery both might see action but look for Gerber in net first.)
Pick: Take the Penguins in 6.
*
(3) Washington Capitals (43-31-8; 94 pts.)
(6) Philadelphia Flyers (42-29-11; 95 pts.)
Washington is the Cinderella team in this year's playoffs. They qualified on the very last day of the season by beating the Florida Panthers. Washington can be explosive and they're heading into the playoffs red hot with offensive sensation Alexander Ovechkin. Ovechkin is a goal scoring machine (65 in the regular season) and if Philadelphia wants to win this series they must find an answer for slowing down the Ovechkin train. In net Washington boasts Cristobal Huet, a trade deadline deal stole him away from Montreal and he's done nothing but win in Washington, at an 11-2 clip with a .936 save %. Philly must get offense from their 2nd ranked pp (21.8%) which matches up nicely against Washington's weaker pk that ranked 25th in the league at 80.5%.
(Players to watch: WSH: Ovechkin, Nicklas Backstrom who dishes to Ovechkin, & Alexander Semin; Defense: Mike Green & Tom Poti; Goaltending: Cristobal Huet)
(Players to watch: PHL: Offense: Daniel Briere, Mike Richards, & Jeff Carter; Defense: Kimmo Timonen & Braydon Coburn; Goaltending: Martin Biron)
Pick: Take Washington in 6.
*
(4) New Jersey Devils (46-29-7; 99 pts.)
(5) New York Rangers (42-27-13; 97 pts.)
The battle of the New York market pits the 4th seeded New Jersey Devils against the 5th-seeded New York Rangers. Look for a very low scoring affair as both teams will pin their playoff hopes on their stalwarts in net: New Jersey boast the veteran Martin Brodeur while the Rangers will ice the equally impressive Henrik Lundqvist. On paper New Jersey appears to be overmatched by a much deeper and very talented New York Ranger team that underachieved in the regular season. If the scores remain close Brodeur is the type of goalie playing in a defense-first system in New Jersey that can steal a few wins en route to an upset but it's a tall order as the Rangers appear to have the better depth. Scott Gomez will get to dash his former team (NJ) Stanley Cup hopes as he centers a line alongside Jaromir Jagr for the Rangers.
(Players to watch: NJ Offense: Zach Parise, Patrick Elias, & Brian Gionta; Defense: Paul Martin, Johnny Oduya; Goaltending: Martin Brodeur)
(Players to watch: NYR Offense: Jaromir Jagr, Chris Drury, Scott Gomez, Brendan Shanahan; Defense: Michal Rossival; Fedor Tyutin; Goaltending: Henrik Lundqvist)
Pick: NYRangers in 7.
Posted by Lou at 08:27 AM | Permalink
And Then There's Maude: Episode 20
Our tribute to the 35th anniversary of the debut of Maude continues.
*
Season 1, Episode 20
Episode Title: Maude's Good Deed
Original airdate: 6 March 1973
Plot: A visit from Maude's high school chum has the two women hugging and giggling like schoolgirls as they reminisce about the good old days, when they were "young and dinosaurs ruled the Earth." Maude and Jane spend the first five minutes of the episode singing old sorority songs. "Oh how we danced on the night we were wed," they duet. "We danced and we danced 'cause the room had no bed." Maude's daughter Carol declares they're "a riot." I suspect someone's in the kitchen sneaking sherry from the beef stroganoff Jane is cooking for dinner.
Jane and Maude have another reason for carrying on like teenagers. Jane has been dating Maude's next-door neighbor Arthur for three whole days and things are going great! Maude seems awfully happy that her good friend is seeing Arthur, a man she usually can't stand, but then again, he is a doctor. As Maude and Jane used to say back in the day, "hubba hubba."
Maude hums a tune and does a little hand-waving Charleston walk. (I'm confused. Was she in high school during the Roaring Twenties?) Looking through an old scrapbook, Maude points out a photo of Jane and her young daughter Linda; the same daughter who grew up and took her mother to court over her father's inheritance. "If Harvey had wanted her to blow $25,000 on gurus with greasy ponytails, he wouldn't have named me executor of his estate. He'd have named Sonny and Cher."
Clinging to her own daughter, Maude tries to paint a rosy picture. Surely Jane, having come all the way from Chicago, wants to contact her estranged daughter while she's in town. Jane refuses to hear any more about it and heads upstairs to fix her face before Arthur arrives. Carol, who knows her mother too well, realizes now why there's an extra place setting at the dinner table. Meddling Maude has staged a surprise mother-and-child reunion.
Walter arrives home, shortly followed by Arthur bearing roses for Jane. He charms her with movie dialogue and she proclaims that all his "lady patients" must fall in love with him. The lovebirds are both old movie buffs and a running gag develops in which one person quotes some dialogue and the other guesses the movie, year, and cast.
Things appear to be going great until Jane's daughter Linda arrives. Walter answers the doorbell to find a redhead on the doorstep. "Hi, I have this big problem. I need to be jumped." Walter's eyes bug out. Maude introduces Walter to Linda, who immediately flirts with her host by tickling his mustache.
The reunion between Linda and Jane is chilly until Jane introduces Arthur. In less than a minute, Linda has hooked her mother's boyfriend and reeled him right out the front door. ("Listen Artie, you wouldn't happen to have a couple of jumper cables in your little black bag? My battery's dead," which Arthur finds very hard to believe.) A deflated Jane pulls a barstool up to the mini-bar and Walter enters the movie guessing game with, "James Mason, Lolita, 1963."
The next morning we learn the dinner party was a disaster. Linda and Arthur never returned and Jane isn't speaking to Maude. Desperate to patch things up, Maude hides Jane's fur coat so she can't leave and again stages a reunion through deception: Carol leaves the office because Maude swallowed shampoo by mistake (she didn't); Walter rushes home because the basement is flooded (it's not); and Arthur hurries over thinking Maude has broken her leg. ("I did but it went away. I took a couple of Midol.") Linda is the last to arrive, thinking her mother has consented to release her inheritance - Maude's final lie.
Maude tries to reconcile Arthur and Jane, creating an excuse for Arthur's disappearance last night with a little wink-wink nudge-nudge but he's too dense to catch on. Instead, he giddily tells the group that he drove Linda home and had a few drinks at her place, complete with incense, "cushions all over the place," and so many cats he couldn't count them when tipsy on "vino."
Since Arthur isn't helping, it's up to Maude to set things right. She demands everyone sit down and listen while she pleads her case. It was with the best of intentions that Maude set up her widowed best friend with the doctor-next-door and reunited Jane with the daughter she hasn't spoken to in over eight years. "Is there a crime in this? I mean if anybody can see a crime in this, please raise your hand." The vote is unanimous.
Maude's plan completely implodes. Carol sides with Linda. Linda reveals she's not interested in Arthur. ("Can you imagine me being interested in a middle-aged man who comes to my apartment, sits on my floor, has one glass of wine, and throws-up on my cat?") Arthur leaves in a huff. Carol goes upstairs to drink a bottle of shampoo and Walter flees to the liquor store "for strength." Linda takes off, telling her mother not to write, "just send money." Jane is the last to go, leaving Maude alone to argue with a phone caller. Before she slams down the phone, she yells into the receiver, "Keep your opinions to yourself and quit bugging me. Goodbye mother!"
Hot button social issue: No good deed goes unpunished.
Fashion statement: Maude's friend Jane is wearing an olive-colored floor-length dress with five-inch pointed collars and a light blue scarf, knotted at the neck and extending down to her toes.
Neckerchief count: Zero!
Cocktail hour: "Carol, to think I gave up martinis for six months so I could breast feed you."
Welcome back to 1973 pop culture reference: Arthur gives four stars to Franco-American spaghetti.
Number of times Maude yells: 2
'70s slang: Commenting on Linda's apartment, Arthur declares it's "quite a pad."
Memorable quote #1: "Blow on my stethoscope and I'll follow you anywhere."
Memorable quote #2: "Jane, be reasonable. Nobody goes to Chicago without a mink coat."
Memorable quote #3: "Walter, tact, T-A-C-T, is the only four-letter word that doesn't describe you."
Times the live audience breaks out into spontaneous applause: 4
Wow, did they just say that? After Arthur insults Maude, she hold up her hand and says, "Five American fingers, Arthur. One of them is for you."
-
Previously:
Season 1, Episode 1: Maude's Problem.
Season 1, Episode 2: Doctor, Doctor.
Season 1, Episode 3: Maude Meets Florida.
Season 1, Episode 4: Like Mother, Like Daughter.
Season 1, Episode 5: Maude and the Radical.
Season 1, Episode 6: The Ticket.
Season 1, Episode 7: Love and Marriage.
Season 1, Episode 8: Flashback.
Season 1, Episode 9: Maude's Dilemma (Part One).
Season 1, Episode 10: Maude's Dilemma (Part Two).
Season 1, Episode 11: Maude's Reunion.
Season 1, Episode 12: The Grass Story.
Season 1, Episode 13: The Slum Lord.
Season 1, Episode 14: The Convention.
Season 1, Episode 15: Walter's 50th Birthday.
Season 1, Episode 16: The Medical Profession.
Season 1, Episode 17: Arthur Moves In.
Season 1, Episode 18: Florida's Problem.
Season 1, Episode 19: Walter's Secret.
Posted by Lou at 08:09 AM | Permalink
April 08, 2008
The [Tuesday] Papers
Congratulations - and gratitude, admiration and respect - are due the Tribune on the occasion of the well-deserved Pulitzer Prize it was awarded on Monday.
"The Chicago Tribune won the Pulitzer Prize in Investigative Reporting Monday for a series of articles about dangerously defective toys and children's products, the federal regulatory agency that failed to uncover them, and families left to deal with the fatal consequences."
You can find the stories here.
The paper didn't need a Pulitzer to validate the important work it did, but it's sure nice when you get it. The individuals who pulled together on the series have already made their impact felt, and it's inspiring to read about it.
"In the Tribune's series 'Hidden Hazards,' an initial story about toy magnets and shortcomings at the Consumer Product Safety Commission widened in scope until it led to dramatic changes on store shelves and in the halls of Congress. The stories prompted the nation's largest recall of unsafe cribs and spurred Illinois authorities to order stores to clear their shelves of dozens of varieties of toys because of dangerous levels of lead," James Janega explains.
"The stories also led Congress to pass the most sweeping reform of the nation's consumer safety system in a generation. Measures approved include stricter tests for toys, greater public access to complaints about products and an overhaul of the federal safety agency charged with regulating most items in American homes."
The award was nicely twinned with a Pulitzer in investigative reporting also given to The New York Times for a series of stories on toxic imports from China.
Also Noted
* Tribune columnist John Kass was a finalist in the commentary category for what the Pulitzer board called "his hard-hitting columns on the abuse of local political power and a lively range of topics in a colorful city."
* Tribune national correspondent Howard Witt was a finalist in the national reporting category for what the board described as "his wide-ranging examination of complicated racial issues in America, from the courtroom to the schoolyard." Here's a recent interview of Witt about his reporting.
* The best work the Trib does.
Truth-Teller
Bob Dylan was awarded a special citation "for his profound impact on popular music and American culture.'
Nobody delivers the news like Bob.
Pulitzer Playwright
Tracy Letts of Steppenwolf won the Pulitzer for Drama for August: Osage County.
Beachwood Prizes
The Beachwood was shut out once again in the Pulitzers, but then again, so was the Sun-Times.
Class A
The ever-classy Sun-Times ignored the Tribune's Pulitzer, but it did note that the Sun-Times News Group won the 2007-2008 Lake County Business of the Year award from the Lake County Chamber of Commerce. Woo-hoo!
Sweet and Lo
"Starbucks Hopes New Coffee Perks Sales."
From now on, they'll buy it from Dunkin' Donuts.
National Champs!
Chicago's very own Lane Tech High School won the urban debate championship over the weekend, defeating Grandy High School from Atlanta.
A) They're really good; they had to argue that Mayor Daley didn't know a thing about the massive hiring fraud and kinky contracts that are the hallmark of his administration.
B) They're really good; they had to argue in favor of moving the Children's Museum to Grant Park.
C) They're really good; they had to make a case for selling Wrigley Field to the state.
Debate This
"The Chicago Children's Museum began a high-powered public relations push Monday for a controversial $100 million structure in Grant Park with supporters arguing that the move from Navy Pier would benefit the city's children without disrupting the park," the Tribune reports.
"'This is one of the most magnificent urban vistas on Earth,' said Lois Wille, former editorial page editor at the Chicago Tribune and author of Forever Open, Clear and Free: The Struggle for Chicago's Lakefront."
So we have to destroy the vista so kids can see it?
"Wille is a co-chairwoman of the All Chicago Children's Museum Committee, which was assembled from about 75 child-care, educational and religious organizations by the museum and the public-relations firm Hill & Knowlton, which is set to make at least $10,000 in fees."
A) Maybe the children's museum should form the All Chicago Stop Killing Our Children Committee instead. Its target market is shrinking by the day.
B) Religious organizations? Are we going to hear that Jesus would want the museum in Grant Park?
C) Forget Jesus. What would Montgomery Ward do?
D) Shill & Knowlton. Shill & KnowNothing. Just trying a few things out.
"Committee member Ruth Kimble, executive director of the Austin Childcare Providers' Network, said members would be 'marketing the idea' of the museum's move in their neighborhoods."
I think that means threats from the mayor's office will be involved.
"Ald. Brendan Reilly, whose 42nd Ward includes the park, said the museum's new committee is both unrepresentative and irrelevant to the debate.
"'All this proves to me is that the museum has been able to identify 50 people who support this bad idea,' Reilly said. 'My experience is that the vast majority of Chicagoans understand the importance of protecting Grant Park and believe the museum should pursue unprotected land.'"
Brendan Reilly, go sit in the corner! This is an adult-free zone.
House Poor
Meanwhile, back in the real world . . .
"A minimum-wage earner would have to work 97 hours a week, 52 weeks a year, in order to afford a modest, two-bedroom apartment in the Chicago area, according to a study released Monday."
Unworthy
The Tribune devoted an editorial today to "how incredibly wrong Hillary Clinton is on trade" because of her opposition to a Colombian trade pact proposed by President Bush without mentioning that Barack Obama is also opposed to the pact.
Programming Note
Don't forget to check in with me throughout the day at Division Street - after you've read every single thing on the Beachwood. Imagine smiley emoticon here.
The Beachwood Tip Line: Imagine frowny emoticon here.
Posted by Lou at 09:01 AM | Permalink
Horse Racing's Dirty Secret
FOR IMMEDIATE RELEASE
Multi-Million Dollar Purse Winner Exposes Horse Racing's Dirty Secret: Jockey Eating Disorders
Coteau, LA - Superstar jockey Shane Sellers seemed to have it all: turning pro in the sport - horse racing - he loved so much as kid, winning more than 4,000 races and $122 million in purses and finding a soulmate in his wife Kelli.
But as candidly revealed in his "rags to riches to rags" autobiography, Freedom's Rein, Sellers' demons from an abusive childhood haunted his personal and professional life to the point of a near overdose death and a brief banishment from the sport.
As documented by author Tricia Psarreas, Sellers used "The Sport of Kings" to escape the grasp of an alcoholic father and quickly found another family in his fellow jockeys, who showed him the ropes and passed down extreme tips to make outdated weight requirements.
"We would starve, eat, heave, sweat and then try to control an animal that weighs ten times what we did," Sellers recalls.
According to Sellers, the daily ritual for most jockeys would be to avoid eating to meet industry requirements (often a 112-pound maximum). If that wasn't good enough, in order to mount and have the possibility to earn money, slightly "overweight" jockeys would then resort to "pulling weight," sitting in "hot boxes" (intense saunas) for hours at a time to sweat off extra pounds. "Flipping" (bulimia) was so common that most tracks had special toilets (heaving bowls) installed in the jocks' lounge to keep the pipes from clogging.
"The industry had to be aware of what was going on because there were signs on the walls saying we'd be fined if we were caught heaving in the wrong type of bowl," remembers Sellers.
Why go through all that pain?
"Because once you are in the game, the game is in you," answers Sellers. "I am not just a former jockey; I am the game's biggest fan."
That, coupled with the untimely deaths of jockeys trying to make weight, is why he's advocated for change concerning the industry's rules on endorsements, weight limits and on-track insurance.
"The lengths others and I have gone through to mount and possibly earn fifty dollars, while having little to no protections insurance-wise for ourselves and our families, are unacceptable," Sellers contends. "No more jockeys should have to die for the chance to ride."
His activism has been successful, but came with a price. In addition to a temporary banishment from Churchill Downs' tracks, unresolved anger issues stemming from his childhood almost cost Sellers his family and life. A near overdose resulted in Sellers entering rehab. His anger issues also forced him to work hard to fix his fractured marriage.
Psarreas, Freedom's Rein co-author, says Sellers' story isn't just about horse racing because he openly shares tales of domestic abuse, battles with addiction and the heartbreak of trying to maintain a marriage while in the midst of a mental breakdown.
Despite the roller coaster career, Sellers still maintains, "Horse racing is a magnificent sport and with a few adjustments, it could be perfect . . . [but] if anybody wants to make changes in order for the whole industry to flourish, they have to work together."
But as Sellers knows, the initial step toward fixing a problem is first admitting that there is one - even if it means exposing the dirtiest of secrets.
About Shane Sellers
Shane Sellers started riding horses at the age of 11 and became a professional jockey by the time he was 16. Over the course of his career, Sellers won more than 4,000 races and over $122 million in purses. He was also the leading jockey advocate for issues like low jockey weights, endorsements and on-track insurance.
Because of his activism, jockeys are now allowed to ride with endorsements, weight maximums have gone up a few pounds and the on-track insurance policy has increased from $100,000 to $1,000,000.
Portions of Sellers' story have also been seen in HBO's controversial documentary, Jockey. He and his wife, Kelli, have three children together: Shali, Saban and Steiner.
More information can be found online at www.FreedomsRein.com.
About Tricia Psarreas
Tricia Psarreas owns a successful freelance writing company called The Brighter Writer and has clients from five different continents. While she has ghostwritten a number of books, Freedom's Rein is the first book to feature her name on the cover.
To interview Shane Sellers, Tricia Psarreas or request a review copy of Freedom's Rein, e-mail Rachel [at] NewsAndExperts.com. Please include your name, publication, and mailing address with your request.
Posted by Lou at 04:58 AM | Permalink
The Periodical Table
Meet Janie Fredell. From the ultra-conservative and ultra-religious community of Colorado Springs, she arrived at Harvard University wide-eyed. "From the start," the New York Times Sunday Magazine reports, "she was awed by the diversity of the place, by the intensity, by the constant buzz of ideas." Except for one: sex.
Like all Harvard freshmen, she was educated in safe-sex practices, including familiarizing herself with a pamphlet called "Empowering You" that taught newbies to"put the condom on before the penis touches the vagina, mouth, or anus . . . Use a new condom if you want to have sex again or if you want to have a different type of sex."
Janie was having none of it. She founded an abstinence group called True Love Revolution and landed on the cover of the Times magazine - because the media loves abstinence stories and celibacy pledges and extrapolating large themes from the actions of small number of sheltered 18-year-olds, and this one filled this year's quota nicely.
Is abstinence really something to be lauded, though? And does it, um, "work"? The facts are not so clear. "In a follow-up study to a 1995 national survey of close to 12,000 students in grades 7 through 12, two sociologists, Peter Bearman at Columbia University and Hannah Bruckner at Yale, found that while those who took virginity pledges preserved their technical virginity about 18 months longer than teenagers who didn't pledge, they were six times more likely to engage in oral sex than virgins who hadn't taken a pledge," the Times reports. "They were also much less likely to use condoms during their first sexual experience or to be tested for sexually transmitted diseases. Disease rates between those who pledged and those who didn't were actually similar."
The truth is that our little Janie seems more ignorant of sex - forgivable given her young age - than on the cutting edge of a new movement we've been hearing about for years. "Whenever sexual urges struck, she told me, she was able to manage them by going on a long run and assumed that everyone should be able to do the same. 'The biological drive can be overcome,' she said. 'It's not like it reaches a peak and you have to go out and have sex.'"
We beg to differ, Janie. You'll learn.
Subprime Suspect
Rev. Jeremiah Wright's jeremiads against White America's greed are certainly true, but Black America is getting there. The Wall Street executive who has walked away with the biggest payout for driving an investment house to the brink of disaster is Stanley O'Neal, who took home $162 million when he was forced out last fall, the New Yorker reports, thus capping off a remarkable story of the rise of the first African-American to head up a major Wall Street firm.
O'Neal's grandfather was born into slavery. O'Neal golfed - posting his scores on the Web - while Merrill Lynch was crumbling. Ain't that America.
Out Of The Litter Box
Who says there's no use for newspapers anymore? A local graffiti artist has moved on from building walls to "a new type of canvas: USA Today's weather maps, Wall Street Journal stock tables, and New York Times combat photographs," Editor & Publisher reports.
"With color pencils, markers, and ink, Rodriguez will draw his graffiti name, 'Tsel,' across a USA Today weather map, creating a piece that looks as if the landscape of the entire nation had been tagged - which can be seen as sly commentary on what the newspaper itself is doing with its rainbow of temperature shades."
Rodriguez was born in Mexico, raised in Uptown, and educated at the American Academy of Art Chicago (Fine Art & Graphic Design), the University of Illinois-Chicago (Art History), and Columbia College (Interactive Multimedia),
His portfolio includes a tagged RedEye cover of Saddam Hussein, as well as photographs from the Tribune. He tells E&P that he gets home delivery of the Sun-Times, and that newspapers are 'like a capsule for art,' with the date carefully recorded and photographers credited."
Too bad he doesn't work one; he's the kind of talent the business needs.
FukuBall
"Japan loves baseball - but increasingly the American sort," the Economist reports.
Maybe that's because we keep stealing their best players.
"Japan risks becoming a mere farm-team and fan base for America, frets Masaru Ikei, a professor at Keio University and author of Baseball and the Japanese People.
In fact, Major League Baseball is expanding its interest not just in Japan, but globally. "American clubs played two exhibition games in China for the first time this month, and MLB officials are eyeing India and South Africa as promising new markets," the Economist notes. "The MLB has foreign offices in Tokyo, Sydney and London, and last year it opened one in Beijing. It is a disappointment for Japan, explains Mr. Ikei. Japanese teams once harboured the ideal of turning the 'World Series' from an American affair into a truly international one. 'That is a long ways off,' he says."
Posted by Lou at 04:33 AM | Permalink
April 07, 2008
Westward Ho!
There is one final follow-up to my singing the blues last week. One more chance to rub your thumb and index finger together and play the world's smallest violin for me before I get going on a bit of Washington State optimism.
Remember how I had the good company of my two cats traveling across the country and softening my loneliness to a degree? Well one of those felines - the one I had since I was 10-years-old - died one month after I arrived in Washington. Now understand, this was my first pet. I had this little critter from pre-pubescence, through the pit of hell that was high school, all the way through a year past college graduation. Thirteen years of life, he lied by my side, loyal and regal as a cat can be.
In a story by David Sedaris, he makes a comment that rang quite true for me upon the death of my first pet. He says when cats die, their owners tend to veil an entire period of life - the cat's death is emblematic of their own chapter coming to a close. One of the main thoughts that crossed my mind as I sat awake with my old friend, certain that this night would be his last, was how symbolic it was that this cat of mine who saw me through my whole life in Chicago, this symbol of my life there, was leaving me. I actually envisioned a chapter titled "Chicago" and saw the pages closing.
So now that that's out of the way, there are a couple of neat things about life out here. My personal favorite is the landscape. Being relatively land-locked my whole life and desiring some coastal inspiration, the Pacific Ocean is the main reason I moved here. The sound and smell of an ocean can soothe the soul; and there is nothing comparable to its healing power. Nothing at least, that can be found in a loud city.

The natural beauty of the Olympic Peninsula is magical to the senses. Shades of green paint the entire countryside. Hundreds of vibrant, dazzling hues in one glance. The rain forest trees look shaped for a Tim Burton film, or a Dr. Seuss book. They each have a character in the way the moss drips and droops and mopes from the branches.
As aforementioned, I took up surfing when I moved here. You know, that gnarly sport where a bunch of hot people in bikinis and board shorts show off their tans and ride some killer point breaks all day long? Yeah, that sport has nothing to do with Washington surfing, aside from the basic mechanics regarding the wave and board relationship.
The waters on the Pacific Northwest Coast are frigid. Now having surfed here a full year, I can attest that the water temperature varies by no more than seven degrees year-round. It's cold in the summer, and icy cold in the winter. In summer, you can take your wetsuit hood off of your head on a nice sunny day, and, during an especially warm swell, maybe even leave your gloves on the beach. In winter, you drink a lot of coffee before getting into the water, and hope that your pee supply is ample.
And of course, those hot and tan surfer bodies to which you are accustomed are nowhere to be found out here. Wearing a five-millimeter full-body wetsuit year-round keeps away the sun exposure, that's for sure. And since the sun is hard to come by in the rainforest anyway, our faces remain pale too.
But I am honest to say that I appreciate the difficulty in being a Washington surfer. There is nothing comfortable about it, and half the battle of surfing here is getting up the nerve to face its discomfort. From struggling in and out of a cold and wet wetsuit (especially when the cold wind is a-blowing), to getting into the colder water for hours at a time, to inconsistent swells and the scary tides and the rogue waves and camping for days in the constant (and often sideways) rain . . . there is nothing desirable about surfing in Washington.
Aside from, of course, the thrill of screaming down the face of a pretty wave. And the gratitude when a nice swell finally does come through. And the fascination of sitting alone on your board, staring up at the sky or looking back to the mountains, contemplating how small you are amongst the grandeur of the species' surrounding you.
And the accomplishment of paddling yourself around the ocean for a few hours, expending every last bit of energy that you didn't know you had. And the sleep and dreams that occur after a long and fatiguing session. And knowing what it is like to react directly and constantly with nature's most powerful source - a realm that most men will not explore in their lifetimes.
Basically the thrill and wonder of interacting so intimately with an ocean, fully outweighs the many pangs of doing it in the Pacific Northwest. I have a whole new world of merriment and fascination out here - completely differently from what thrilled and wowed me in Chicago. So even if I am not Seattle's biggest fan, I am Washington's. It contains nature at its best, and I cannot entirely blame all the slow-walkers and bad drivers for always taking it easy when there is so much out here that inspires peace.
-
Previously:
* Part One: Departure
* Part Two: Rebuff
* Part Three: MySpace
Posted by Lou at 06:56 PM | Permalink
The [Monday] Papers
"Anyone who was surprised by North Carolina and UCLA's demise Saturday hasn't been paying close enough attention," writes our very own Jim Coffman in SportsMonday. "Memphis simply has more talent than any other team in this year's tournament (and that will usually do the trick if the coach can avoid screwing it up)."
Beachwood Baseball
* Nick Swisher is already the best White Sock.
* Uncle Lou doesn't have to explain his lineups to anyone. Now go get him another Falstaff.
Recorder's Deeds
"Cook County Recorder Gene Moore is looking for a consultant to help his staff better serve the public, but it's a very specific candidate he wants," the Sun-Times reports.
"Moore is now soliciting bids for a $25,000 customer service consultant, but all applicants must have at least 18 years' experience working with his office."
So if you have 17 years and 11 months in the office, forget about it. You're not the person the job description was written for.
Todd Squad
Todd Stroger is looking to hire yet another public relations consultant. Maybe he should hire a brain surgeon instead.
*
Stroger already spends more than $1 million in taxpayer money on a PR staff of 15. What, do they each say "no comment" in a different language?
*
"Stroger spokeswoman Ibis Antongiorgi wouldn't say what Stroger plans to spend on the consultant, or where the money will come from."
That's why they need a consultant; to figure out where the money will come from and how it will be spent. This is meta-government at its best.
The Daley Show
"The Daley administration has awarded more than $153 million in contracts over the past two months for testing, recruiting and hiring city employees," the Sun-Times reports.
This concludes today's lesson in Corrupting Reform 101.
Letter Perfect
"The mayor and many aldermen have taken every opportunity to obstruct, belittle and interfere with any effort to dismantle the patronage machine that has so loyally served them for years," Jay Stewart writes (second item).
Saint's Patron
The Tribune editorial page finds a way to slide a swipe at Hillary Clinton into a rant about state senate president Emil Jones without noting that Jones is Barack Obama's self-described political mentor without whom a President Obama would not be possible.
Save Swallow Cliff!
"Palos Park Mayor John Mahoney is leading a group of residents Tuesday to the Cook County Building to protest a forest preserve commission plan to demolish the shuttered Swallow Cliff toboggan slides in Palos Township," the Sun-Times reports.
"Mahoney and a group of residents will board a bus about 8 a.m. outside the Palos Park Village Hall, 8901 W. 123rd St., for the trip to downtown Chicago.
"'I'm told [the public] isn't allowed to speak during the meeting,' he said. 'I'm hoping they extend me a professional courtesy.'"
You're going about it all wrong, Mayor Mahoney. What you need to do is offer yourself as a consultant who will improve the image of the forest preserve by larding up the toboggan slides with patronage hires, like Sled Supervisors, Assistant Sled Pushers, and Flying Saucer Specialists.
Carter Curse
Neil Steinberg recalls going door-to-door for Jimmy Carter in 1976 because he "seemed smart, dynamic and a breath of fresh air."
Now, he despises Carter so much he advises Barack Obama to go nowhere near him even if an endorsement is offered.
You know, Barack Obama, the smart, dynamic breath of fresh air.
*
Remember how Carter was the candidate of hope and change? In 1976, he was known for his smile. Not so much by 1980.
*
Carter, by the way, was a rising star in the Navy who was selected by Hyman Rickover to serve on a nuclear sub. He was also a Korean War veteran. He served two terms in the Georgia state senate, ran an agriculture business, and was elected governor in 1970, where he implemented a reform agenda. In 1974, he served as chairman of the Democratic National Committee's congressional and gubernatorial compaigns.
In his 1976 presidential campaign, he railed against Washington D.C.'s corruption and special interests, and promised to unite the nation.
There are several lessons to consider here; I'll leave it up to you to find them.
P.S.: This was my response to a reader who reacted favorably to this item:
I guess I wanted to say, hey, let's not get fooled by the caricatures of these candidates. Jimmy Carter was portrayed as this down-home, humble smiley guy, but he was a Naval submarine star and a Korean War veteran and a very ambitious politician with far more experience than Obama who ended up kind of crumbling under the burdens of the office.
And a President Obama might turn out to be great, but let's not just get caught up in hope and change like he's the first guy to say those words. Sheesh.
Flak Jacket
The woman featured in a Sun-Times story on Sunday about the housing market is the vice president of communications and marketing for the CTA, which the paper failed to note. Couldn't find anyone else who has had trouble selling their home recently?
Indiana Wants Me
"Alone among the three presidential candidates Friday, Sen. Barack Obama decided against a personal pilgrimage to the city of the Rev. Martin Luther King Jr.'s death on the 40th anniversary of King's assassination."
"Queried about his absence in an NBC News interview Friday night, Obama responded that he chose to campaign in Indiana, where he said King's pleas have yet to be answered fully."
A) As opposed to Tennessee, where everything is peachy.
B) "Indiana is the last state left. Haven't you seen Hoosiers?" (- Andrew Kingsford)
C) I have a dream - that one day it will be more important to campaign in Indiana than honor my lame ass!
Programming Note
Don't forget to visit me at Division Street. If you go now, you can see the Palatine Militia readying itself for Cook County secession.
Moses Trivia
The studio's first pick to play the lead in Jaws was Charlton Heston, but Steven Spielberg chose Roy Scheider instead.
A Beachwood Reader Comments: Not insulting Roy Scheider, but Spielberg blew it. Just think about this line "Get your stinkin' teeth off me, you damned dirty shark!"
Beachwood Reader Paul Clark Responds: Scheider never got bit by the shark, so Heston, if he had the role, wouldn't have been able to say it. He would have, however, been able to part the waters of the bay, leaving the shark floundering on the bay floor, and then Heston could have driven his chariot over the floundering body.
The Beachwood Tip Line: Rock us gently.

Posted by Lou at 09:43 AM | Permalink
SportsMonday
Anyone who was surprised by North Carolina and UCLA's demise Saturday hasn't been paying close enough attention. Memphis simply has more talent than any other team in this year's tournament (and that will usually do the trick if the coach can avoid screwing it up). And it had a legitimate chip on its shoulder going in against a UCLA team that was getting a lot of attention during the week prior. UCLA was the storied program that has almost restored its faded grandeur, for goodness sake. The Bruins were returning to the Final Four for a third consecutive year and they would prove they were finally, truly living up to the legacy established by the . . . oh, enough already. UCLA won a bunch of championships in the 60s and 70s, one more in 1995 and the Bruins thought they were on their way to another one. Small problem: Memphis was clearly the better team.
In the other semifinal, a Kansas team best described as the deepest in Bracketland was ready to let it all hang out against North Carolina. The Jayhawks had cleared a huge psychological hurdle by barely knocking off Davidson in a regional final to finally give coach Bill Self his first trip to the Final Four. The pressure was off and Kansas blitzed the Tar Heels, stumbled a bit in the first half of the second half, and then held on down the stretch.

This is the place where folks have been writing statements along the lines of "and so we come to a classic final between two of the Titans of college basketball," or some such drivel. But this has been the tournament of blowouts and the final should be no different. So in that spirit, I predict . . . I predict I have no idea what's going to happen. Memphis probably should win but the Tigers know they probably should win and that's never a good thing. Kansas is capable of greatness, but as it showed against Davidson in particular, it is also capable of not playing very well at all. So your prediction is as good as mine.
* The best thing is, both the remaining teams have great local angles. Plenty has been written about Memphis freshman Derrick Rose, the two-time state title winner and pride of the South Side's Simeon High, who already qualifies as one of the best players ever to come out of Chicago. Rose is a 6-3 guard who combines exquisite unselfishness (the classic point-guard mentality) and high-flying style (that often results in rim-rattling dunks). If whichever NBA team gets the first pick in the draft later this year really puts its thinking cap on, it will choose Rose.
But Sherron Collins, who has played a critical role for Kansas, deserves all sorts of attention as well. Collins, who grew up mostly in the North Side Lathrop Homes (which spread out on either side of Diversey in between Clybourn and the North Branch of the Chicago River), and then attended the West Side's Crane Tech, is a sophomore guard. He is generally the first or second player off the bench for the Jayhawks. Collins only stands 5-11 but he is a powerful force who doesn't start but usually finishes games for Kansas. He is a not-to-be-denied penetrator who creates all sorts of opportunities for teammates. And he'll have a chance to really shine starting next season.
So not only is Chicago well-represented, the South, West, and North Sides are well-represented.
In other news . . .
* I took in my first game of the season at Wrigley on Sunday and the good stuff certainly outweighed the aggravation. As the game began we were already focusing on the lightning-rod left fielder, whose lack of discipline at the plate was brutal before we had the chance to compare it to the clinics Kosuke Fukudome put on during just about every at-bat in the season's first five games. But after Carlos Zambrano gave up a single and a double to start the game, rallied with a strikeout but then gave up a routine little fly ball with some RBI sacrifice potential, Alfonso Soriano stepped up. His form was impeccable as he moved forward to make the catch, reared back and fired an absolutely perfect one-hop throw to Henry Blanco to complete the double play.
When Soriano is bad, he is among the worst. But he tied for the major league lead in outfield assists last year, and you know the power will come. In fact, it came later in the game in the form of a big solo home run that barely made it into the basket down the left field line. Of course he shouldn't be hitting leadoff but if not there, where? Certainly not in the two-hole. At some point they may have to try him sixth (because he isn't replacing Lee or Ramirez and if he hits fifth that gives the Cubs three righties in a row), but I understand why the manager isn't eager to do that with the $136 million man.
* The Hawks improved a great deal this season (wrapping it up with a 4-1 loss at Detroit Sunday) and played better than they had in at least a half-dozen years. But the amount of satisfaction felt by those affiliated with the team as the season came to an end (general manager Dale Tallon was practically gushing as he looked back at the campaign in the middle of last week) was a little much. For one thing, their record wasn't as good as it appeared in the standings. After all, 40-34-4-4 is actually 40-42 when you count the overtime and shootout losses for what they actually are, even if they are worth a point apiece. The Hawks may not be that far away from qualifying for the playoffs, but they are still a long way from contending for the Cup.
*
A Beachwood Reader Comments:
Worst NCAA Tournament Ever? By my count, since the start of the third round, only 2 of the 14 games have been decided by less than ten points. The teams are supposed to be more evenly matched at this point of the tournament, but we've been subjected to blow out after blow out. Baseball season couldn't have come soon enough.

Posted by Lou at 07:06 AM | Permalink
The Cub Factor
It's been a week and what have we learned about the 2008 incarnation of the Chicago Cubs that we didn't know already? Well, the team ended last season without a real leadoff hitter and issues manufacturing runs but the pitching was solid. And through six games of the 2008 season it looks like the team has trouble manufacturing runs without a legit leadoff hitter but the pitching has been solid. So, will this change? Unless they make a move, I'd say no. Because until they get a real leadoff hitter they are going to have an issue manufacturing runs. Or maybe the issue is just with Alfonso Soriano, the Michael Vick of baseball. And I'm not talking about dog fighting.
I mean, he really is like Michael Vick. We all know that both players can be electric to watch and can make incredible plays at times. The numbers speak for themselves - if you look purely at numbers. I found a scouting report on Michael Vick coming out of college and the "negatives" in this scouting report sound very similar to those Soriano - well, if you change some of the verbage for the different sports. Take a look, my Soriano comments in italics:
Negatives . . . Tries to carry the "weight of the world" on his shoulders too much. So does Soriano . . . Seems very uncomfortable being in the limelight. Always low RBI totals despite good home run numbers . . . Still needs to mature as a player. Yup . . . Sometimes gets too confident in his running skills, forgetting to eye his secondary receivers in order to run with the ball when his primary target is not available. Certainly, this is IQ for the game and knowing what is best for the team . . . Tends to get into a three-quarter throwing motion as the game wears on, taking a little zip off his tosses. Not focused . . . Has a little bit of a wind-up in his release when throwing long, which makes his receivers work a little harder in order to get to the ball. Won't move a runner over, or cut down on his swing if the situation needs the ball put in play . . . Has good arm strength, but needs to refine his throwing mechanics, as he is not that quick to load and reload in his delivery. He can throw out runners but doesn't anything else well in the field . . . Likes to watch dogs fight to the death. Okay, made up the last part - but Aramis Ramirez likes to watch chickens fight to the death, and Soriano has yet to reject and denounce the practice, even though he plays left field right behind Ramirez.
In the end, like Vick, Soriano is a coach-killer. His talent seduces, but his limitations hamstring the entire team.
*
Week in Review: The Cubs opened the season with 6 games at home, losing 2 of 3e to the Brew Crew and winning 2 of 3 from the Astros to go 3-3. That's okay, but the Brewers were 5-1 for the week. Apparently they didn't get the memo on how good they aren't supposed to be.
Week in Preview: The Cubs hit the road for the first road trip of the season with 3 games in Pittsburgh and 3 in Philly. Is Fukodome going to be really good at rookie hazing too?
The Second Basemen Report: This week Mark DeRosa started all 6 games at second base. But Ronnie Cedeno, Mike Fontenot, and even Alfonso Soriano logged some time at the coveted second sack. All last season the Cub only used 5 different second baseman for the whole year; we got 4 in the first six games. And a slow start could land Brian Roberts on the Cubs before it's all said and done. You know, just like Hendry drew it up.
In former second baseman news, Junior Kennedy last played second base for the Cubs in 1983. His whereabouts are unknown. He is missed.
Zam Bomb: The Zam bomb had good outings this week but is beginning to get angry. God has apparently convinced Carlos to drink more water and that is seriously inconveniencing him.


Lost In Translation: Fonzio Sorino is Japanese for lacks foundation.
Sweet and Sour Lou: 77% sweet, 23% sour. Lou is down 3 points on the Sweet-O-Meter due to questions about the lineup. And just like your real crazy drunk uncle, Lou doesn't have to explain himself to you, about anything. He's your uncle, dangumit, show him some respect. And go get him another Falstaff.
Center Stage: Felix Pie: 4 games, Cubs record 1-3. Reed Johnson 2 games, Cubs record 2-1. You tell me what is going to happen next. If I was a betting man, and I totally am, I would bet that the guy the Cubs picked up off the scrap heap a few days before the season started is going to play center much more than the guy pegged as the next can't-miss prospect. Just like Hendry drew that one up, too.
Beachwood Sabermetrics: A complex algorithm performed by the The Cub Factor staff using all historical data made available by Major League Baseball has determined that they make well-rounded players in Japan.
The Cub Factor: Catch up with them all.
Over/Under: The amount that Derrek Lee's broken wrist from two years ago was still bothering him last year: +/- quite a bit.
With Apologies To Nena: 99 Years of Cub Losses (99 Jahre von Bengeln Verlusten).
Mount Lou: Media questions early this season have already moved Mount Lou to yellow status. The volcano season has officially begun. Villagers in the Wrigleyville area are warned to make proper arrangements for the inevitable Mount Lou eruption.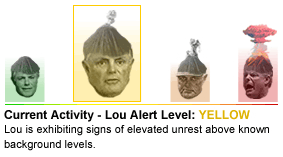 Posted by Lou at 06:34 AM | Permalink
The White Sox Report
During Sunday night's 13-2 beat down of the Tigers, ESPN's venerable Peter Gammons fawned over new White Sox masher Nick Swisher, calling him a gamer and a grinder. While the two adjectives have become dirty words for stat-crunching, Fire Joe Morgan-reading baseball fans everywhere, Gammons is spot-on in his appraisal of Swisher.
Swisher is the White Sox's best player, a fact that seems relatively clear to everyone, even if he's only been on the team for one week. For Sox fans who have grown tired of watching Juan Uribe swing out of his shoes at chin-high fastballs the last three years, Swisher's approach to hitting is refreshing, to say the least. If Swisher isn't thrown a strike, he won't swing at it. It's that philosophy that has helped jump start the Sox offense the first week of the year.
Swisher has ignited that hot start, reaching base in nearly half his at-bats. During one stretch this week, Swisher walked six consecutive times. While hits can come and go, walks always stay consistent. If the middle of the order continues to display good power, the Sox are going to score in bunches this season. You know those Jim Thome and Paul Konerko home runs are worth more with men on base, right? No one is sure if Darin Erstad does.
*
Week in Review: After dropping the first two games of the year to Cleveland, the Sox ripped off four consecutive victories. Few things are more satisfying than a sweep of the Tigers.
Week in Preview: The Sox return to The Cell on Monday for a three-game series against Minnesota. The winless Tigers will follow.
Motown Musings: Why does Detroit always seem to have the most loathsome sports teams? It's easy to blame Isiah Thomas for things nowadays so we'll give him some credit. The best Chicago-Detroit moment of 2007? We nominate this.
No Way Jose: In case anyone forgot, Jose Contreras still sucks. On the bright side, if John Danks and Gavin Floyd continue not to suck, then Contreras is the Sox lone sucky starting pitcher. It's science.
Missile Tracker: The Missile is not ready for the Big Leagues quite yet. We know Ozzie loves him, but maybe a trip to Charlotte, where he can learn second base (and eventually replace Uribe), would be best for all. Maybe they can even give the kid a hot meal while he's down there. Apparently that raft he arrived from Cuba on wasn't equipped with an Ol' Country Buffett. Ex-Sox pitcher Bartolo Colon would consider the slender Ramirez nothing more than a between-innings snack.
Not Sold: Isn't Orlando Cabrera supposed to be slick-fielding? It's no fun to say if it isn't true. The Sox new shortstop didn't exactly light it up defensively this week, while our old friend Jon Garland shined in his first outing for the Angels. Someone tell Kenny Williams that trading good starting pitchers for slap-hitting shortstops on the wrong side of 30 isn't particularly smart.
Over/Under: 25. The number of pitches that hit Phillies second baseman Chase Utley last season. New Sox left fielder Carlos Quentin got hit by a pitch Sunday against Justin Verlander, but, don't worry, he's used to it. At Stanford in 2002, Quentin set a single-game record by being hit with a pitch five times.
Over/Under Part Two: One carton. The number of Marlboro Reds Tigers manager Jim Leyland went through in the Sox three-game sweep of Detroit.
That's Ozzie: "The problem is these old guys think that none of the players now are better than back then,'' Ozzie said, explaining why he feels Ivan Rodriguez is the best Puerto Rican-born baseball player ever, and not Roberto Clemente, as ESPN announcer Joe Morgan maintained. As always, he included a couple "FU's" after this, which weren't fit to print.

Beachwood Sabermetrics: A complex algorithm performed by the White Sox Report staff using all historical data made available by Major League Baseball has determined blonde goatees are totally rad, but do not correlate with increased quality of play.
-
Ricky O'Donnell is the proprietor of Tremendous Upside Potential.
Posted by Lou at 06:11 AM | Permalink
Employing Former Prisoners
Former prisoners are returning in high concentrations to the West and South Sides of the City of Chicago. Generally characterized by high levels of poverty, female-headed households and crime, as well as low levels of employment and educational attainment, these communities are the most socially and economically disadvantaged communities in the city.
While many residents in these communities face challenges in finding adequate employment, the challenges are even greater for former prisoners reentering these communities, after serving their debt to society. MCIC analyzed data from the Illinois Department of Corrections and various employment-related datasets to identify the communities most impacted by re-entry issues and examined characteristics of the re-entry population and re-entry communities in the context of employment opportunity and the availability of services.
Former Prisoners - A Profile
Former prisoners returning to Chicago neighborhoods are predominantly male and under the age of 35; the most commonly represented age group among former prisoners on their final release between 2004 and 2006 was 20 - 25 years of age. African Americans represent 84 percent of returning former prisoners and 60 percent of returning former prisoners have not completed high school.
These former prisoners are younger and less educated than the overall population of their re-entry community, and face the additional employment barriers of having limited job skills, no recent employment history and a criminal record. In addition, many former prisoners are homeless or have unmet needs for mental health care and substance abuse treatment.
Employment Opportunities
MCIC research highlights areas where employment opportunities for former prisoners might be likely - or unlikely - to exist given the current distribution of jobs by industry type, wage category and age category of workers, and projected growth in occupations with low educational requirements.
GROWTH INDUSTRIES
* In most re-entry communities, service jobs are the most commonly available type of employment.
* Excluding cash-handling occupations from which former prisoners are likely to be effectively barred, the most relevant growth sector is in accommodation and food services. These jobs are mostly concentrated on the North and West sides; however, three re-entry communities - the Loop, Near West Side and West Garfield Park - also show high concentrations.
EARNINGS
* Only 12 percent of workers living in re-entry communities earned over $3,400 per month from their primary job; the majority (57 percent) earn between $1,200 and $3,400, and 31 percent earn less than $1,200 per month. This is lower than the city as a whole, where 23 percent earn less than $1,200, 47 percent between $1,200 and $3,400 and 30% earn over $3,400 per month.
UNEMPLOYMENT RATES AND LABOR FORCE PARTICIPATION
* Unemployment rates are higher in re-entry communities than in the city as a whole. While the Chicago rate is estimated at 8.1 percent, the rates in eleven of the twelve re-entry communities range from 12.5 percent in South Shore to 21.9 percent in North Lawndale.
* In addition to high rates of unemployment, re-entry communities have somewhat lower rates of labor force participation. Citywide, 39.1 percent of the population age fifteen or above were not in the labor force. In five of the reentry communities more than half of residents age fifteen or above are not in the labor force.
COMMUTE TIME
* Workers living on the North, Northwest, and Near Southwest Sides have shorter commutes than workers living on the West Side or South Side, where the re-entry population is concentrated.
SOCIAL SERVICES AND TARGETED EMPLOYMENT PROGRAMS
* Some re-entry communities, such as the Loop, East Garfield Park, West Garfield Park, and Washington Park have high concentrations of health and social service providers; others, such as Chicago Lawn, Roseland, and South Shore have lower concentrations of health and social service providers.
* Areas where targeted work to promote the employment of returning former prisoners include those that have a high concentration of workers who resemble the returning population demographically, i.e., areas with high percentages of jobs held by young workers and high percentages of lower paying (and presumably lower skilled) jobs.
UNMET NEEDS: JOBS, HOUSING AND EDUCATION
The vast majority of former prisoners in Chicago live in poverty and are faced with many obstacles when it comes to securing the basic necessities such as permanent shelter and employment. Should they be able to secure employment, limited access to transportation increases the challenges for the re-entry population to get to and from jobs.
While community-based services exist to help former prisoners fully re-integrate back into their communities, they are limited. Lack of education and job skills are still significant barriers to self-sufficiency because the most employment opportunities in Chicago are available to either the highly skilled or the unskilled, with the latter providing less than a living wage. The cycle of poverty and homelessness perpetuates the challenges faced by most former prisoners and will continue until more is done to ensure that former prisoners secure basic education and meaningful job skills.
As the Chicago research partner in the Urban Institute's Re-entry Mapping Network, an initiative to foster community change through analysis and mapping of neighborhood level data related to the re-entry population, MCIC conducted the analysis for this report and produced maps of employment of re-entry population data using a variety of data sources.
NOTE: Top re-entry communities include: Auburn Gresham, Austin, Chicago Lawn, East Garfield Park, Englewood, Greater Grand Crossing, Humboldt Park, Logan Square, Loop, Near West Side, New City, North Lawndale, Roseland, South Lawndale, South Shore, Washington Park, West Englewood, and West Garfield Park.
-
"The Metro Chicago Information Center is an independent, not-for-profit research and consulting source. We provide information and insight to enhance program and planning decisions made by civic, social service, and philanthropic organizations and individuals working to improve social condition and quality of life."
Posted by Lou at 03:12 AM | Permalink
April 06, 2008
Beachwood Brackets '08
Your guide to March Madness, prepared by the research staff of Beachwood Labs.
Updated round-by round!
*
CHAMPIONSHIP
Kansas vs. Memphis
We've had Memphis the whole way and we're not about to abandon them now.
*
FINAL FOUR
North Carolina vs. Kansas
Kansas is just dust in the wind. Let's never forget that, people. Not that North Carolina is a piece of cake; it's most positive attribute is that it's one degree less horrible than South Carolina. If there were a Norther Carolina, we'd go in that direction, but given the choice, we'll give it to the Tar Heels anyway.
Memphis vs. UCLA
Let's face it, Memphis is cool. UCLA is . . . well, beachy and blonde. If the Elvis thing hadn't become such horrible pop culture schtick, we'd like Memphis even more, but let's all pull for the Tigers here and going forward. Automatic for the People.
ELITE EIGHT
EAST
North Carolina vs. Louisville
With an upcoming primary, the Tar Heels are wearing Obama patches on their uniform. Kentucky, however, is Clinton Country. Obama, er, North Carolina in a squeaker.
MIDWEST
Kansas vs. Davidson
Who is this Davidson, and how does he keep winning basketball games all by himself? Kansas always chokes in the tourney and this is as good a game as any to do so again. Plus, the rout of everybody's Midwest Regional will be complete and we can go back to re-calculating our office pool odds.
SOUTH
Memphis vs. Texas
Elvis lives.
WEST
UCLA vs. Xavier
Xavier is on academic probation for not spelling their name with a Z, but then none of the UCLA players are actually enrolled in school. X!
*
SWEET 16
EAST
North Carolina vs. Washington State
North Carolina is a whole state - as opposed to, say, South Alabama - but for some reason has a competing state in South Carolina. Yet, both had slaves, I'm pretty sure. So the split was over something stupid. Washington State is a real state - as opposed to, say, Kent State - but has a counterpart on the East Coast that is a disenfranchised city. That warrants going with the underdogs, WSU, even though that is awfully close to WUSS when you say it out loud.
Tennessee vs. Louisville
Tennessee should continue to be punished for its betrayal of Al Gore in 2000. On the other hand, the double-letters in its name have always looked cool, and Louisville's moniker is the Cardinals, which makes us think of Tony LaRussa. Yuk. Tennessee by a questionable call at the end.
MIDWEST
Kansas vs. Villanova
Most boring Sweet 16 matchup ever. Final score: 25-22. Either way.
Wisconsin vs. Davidson
Davidson is this year's Cinderella, but we always thought he was kind of creepy. Bucky Badger has his own MySpace page. So, Bucky.
SOUTH
Memphis vs. Michigan State
Apparently Michigan State has to win the whole thing in order to be seated at the Democratic convention, so we're pulling for the Spartans against our better judgement.
Stanford vs. Texas
We'd love to see Stanford play Louisville in the championship and chew over the reams of jokes that would be made about the Cardinal playing the Cardinals. Er, maybe not. We don't mind hook 'em 'horns 'cause it's kind of a dumb Texas way of saying we've seen a million faces and we've rocked them all.
WEST
UCLA vs. Western Kentucky
Everyone on the Bruins is really an aspiring actor. Everyone on the Hilltoppers is an aspiring coal miner. We'd like to take the underdog, but UCLA has really good workout equipment.
Xavier vs. Western Virginia
Xavier is all about the X, baby. Western Virginia is the same team as Western Kentucky, no? X!
*
ROUND TWO
EAST
North Carolina vs. Arkansas
Obama picked N.C. to win it all; Clinton is from Arkansas (sort of). Obama unites the party. Tar Heels.
Notre Dame vs. Washington State
Like Jesus, Notre Dame will not actually rise on Sunday. Huskies.
Oklahoma vs. Louisville
Typically an entire state can beat a single city. Sooners.
Butler vs. Tennessee
Al Gore's populism only goes so far. Tennessee in a romp.
MIDWEST
Kansas vs. UNLV
What happens at UNLV is vastly more exciting than what happens at Kansas. Runnin' Rebels.
Villanova vs. Siena
Siena is either a color or an American Indian. Villanova is something Olde English Patriarchal. So, Siena.
Kansas State vs. Wisconsin
Our antipathy to all things Kansas holds. Plus, Wisconsin has the Dells and the Black River Oasis. Badgers.
Davidson vs. Georgetown
We'd like to go with the underdog, but Davidson? Maybe it if was Larry Davidson. Hoyas.
SOUTH
Memphis vs. Mississippi State
Memphis is one of the few cities that can defeat an entire state. Coolness counts for something.
Temple vs. Pittsburgh
It's Easter weekend. The Jews just can't get a break. Pitt.
Marquette vs. Stanford
Irish Catholic beer explorers from a German state take on ambitious overachievers with rich parents. Stanford wins the harsh reality bowl.
Miami vs. Texas
Miami has CSI. Texas has GWB. Go 'canes.
WEST
UCLA vs. Texas A&M
Surfer dudes lull Architects and Mechanics into false sense of security. Bruins.
Western Kentucky vs. San Diego
If it was all of Kentucky, maybe. Chargers.
Purdue vs. Xavier
School named after fancy dessert falls to school named after classical music dude. X.
West Virginia vs. Duke
Coal miners defeat aristocrats for once in our lives.
*
ROUND ONE
Play-In Game:
Coppin State vs. Mt. St. Mary's
We predict Mt. St. Mary's will continue its improbable run with a nine-point victory.
EAST REGIONAL
North Carolina vs. Mt. St. Mary's
North Carolina ends Mt. St. Mary's improbable run with a ninety-point victory.
Indiana vs. Arkansas
We usually prefer the North over the South. But which is Indiana? Plus we like saying "razorbacks."
Notre Dame vs. George Mason
George Mason was a Founding Father who refused to sign the Constitution because it lacked a Bill of Rights. He also called slavery "a slow Poison, which is daily contaminating the Minds & Morals of our People," and said at the Constitional Convention that "Every master of slaves is born a petty tyrant. [Slaves] bring the judgment of heaven on a Country." Of course, he owned slaves himself. On the other hand, Notre Dame gave Charlie Weis a ten-year deal, so we'll stick with Mason.
Washington St. vs. Winthrop
I think Winthrop was one of those New England witch hunt ministers, though the school's website claims a Rock Hill, South Carolina provenance. The school's motto is "Campus of Champions," which is provably untrue. On the other hand, Washington State gave us Microsoft and Starbucks. We'll take the minister for a round.
Oklahoma vs. St. Joseph's
St. Joseph's makes aspirin. Oklahoma doesn't make anything at all, though the Flaming Lips live there. So, Okies. Er, Sooners.
Louisville vs. Boise St.
Real bluegrass vs. fake blue grass. We like the fake.
Butler vs. South Alabama
Butler is only there because the team van got in an accident and the judge sentenced them to community service. On the other hand, there is no state such as South Alabama, though I'm sure there is a part of Alabama that wishes it so. Take the Butler.
Tennessee vs. American
Choosing American would be an empty and cynical show of patriotism. Choosing Tennessee gives us a chance to make an Al Gore joke in the next round - especially if they play Butler.
MIDWEST REGIONAL
Kansas vs. Portland St.
We do not like Kansas as a concept, general proposition, or state. It bores us and makes us thirsty. On the other hand, Portland State violates our long-standing policy against States that aren't really states. But Kansas is the No.1 seed in this region and we'd like to watch them choke later in the tournament, as they inevitably do every year. So, Kansas.
UNLV vs. Kent St.
Again, there is no state named Kent, and frankly, the Runnin' Rebels are always an entertaining team, in part because you can also catch some of players on Inside American Jail. So, UNLV.
Clemson vs. Villanova
Clemson is really more of a football school, plus, we have no idea where it is. We don't know where Villanova is either though it sounds vaguely Catholic East Coast Hoity Toity, like a mini-Georgetown. And we hate when people just say 'Nova. So, Clemson.
Vanderbilt vs. Siena
The robber baron industrialist vs. the tree-hugger. We'll go green.
USC vs. Kansas St.
Kansas does not get two bites of the apple. USC.
Wisconsin vs. Cal-State Fullerton
We're always partial to the Badgers because of our fondness for Madison, but CSF has Cinderella written all over it. Plus, we didn't know it had a Lincoln Park branch. CSF.
Gonzaga vs. Davidson
Gonzaga is like a favorite underground band that everybody knows about now and it just isn't the same. Davidson is the band that Gonzaga used to be. Davidson.
Georgetown vs. UMBC
We just don't think the University of Marine Band Corps has enough to stay with the Hoyas.
SOUTH REGIONAL
Memphis vs. Texas-Arlington
Memphis is the home of the blues. Besides Chicago and the Delta, that is. Texas-Arlington is the home of George W. Bush's Rangers. We like black people. Bush does not. We'll take Memphis in a rout of racial reconciliation.
Mississippi State vs. Oregon
We almost always prefer the North over the South, but Bulldogs vs. Ducks? A no-brainer - which is the only way a Mississippi school wins.
Michigan State vs. Temple
Though the DNC has decided that Michigan State's stats will not count, we always prefer the secular to schools of faith, even if Temple is probably Reform and only in it for the food. MSU.
Pittsburgh vs. Oral Roberts
Pittsburgh makes us think of Dave Wannstedt. Oral Roberts makes us think of a sex technique, as in, "Did you give him/her an Oral Roberts?" We'll take the sex.
Marquette vs. Kentucky
Our preference for Northern teams totally breaks down. Marquette just never seemed like a real school to us. Kentucky gave us crappy fried chicken. Crappy, but sometimes the right thing at the right time, despite the totally aggravating commercial featuring the dad who used to play in a band. Kentucky.
Stanford vs. Cornell
Stanford is a bit nerdy and brainiac for our tastes. But Cornell is a bit plate-y. It is the digital age, though, so Stanford.
Miami vs. St. Mary's
And the name of the game . . . was murder. Haaaaooooooooow!
Texas vs. Austin Peay
Though Texas has its pockets of cool, it is mostly a menace of rather large proportions. Austin Peay, however, is as aesthetically unappealing as, say, Villanova. So Texas, for just one round. Unless they face St. Mary's next. Haaaaoooooooow!
UCLA vs. Mississippi Valley State
MVS sounds like a nice school. I hope they get some nice parting gifts.
BYU vs. Texas A&M
We're not big on the Mormons - no Coke? - but when it comes to Texas Army & Military, my enemy's enemy is my friend. Plus, Texas. Talk about a state whose delegates shouldn't count.
Drake vs. Western Kentucky
Drake is just Butler under another name. Western Kentucky is illogical because all of Kentucky is already playing against Marquette. We'll take Drake in the hopes that they face Butler in the championship game. It will be like Bruce Wayne playing Batman. They'll probably dress up Alfred as Wayne. Robin will be the ballboy. Hey now!
Connecticut vs. San Diego
San Diego is home to Duncan Hunter. Connecticut returned Joe Lieberman to the Senate. Go Dunc!
Purdue vs. Baylor
We don't know where Baylor is, and we vaguely fear it is in the South and really fratty, but Purdue doesn't treat its chickens very well. So Baylor for a round.
Xavier vs. Georgia
If Xavier changed its name to just X, this choice would be a lot easier. We'll start the X movement here.
West Virginia vs. Arizona
West Virginia is actually its own state, not just a region of Virginia. Arizona makes flavored iced tea that sells for just 99 cents each in those tall cans. It feels wrong, but we like that tea. So, Arizona.
Duke vs. Belmont
A preview of the Drake-Butler match-up. Oh, wait, Duke is that uppity lacrosse school. There are bars on Belmont, so we'll go with them.

Posted by Lou at 03:27 AM | Permalink
April 05, 2008
The Weekend Desk Report
We'll be watching all of the most riveting stories for you this weekend. Well, all except for this one. Because, seriously? Whoa.
Market Update
Good news for once this week: Turns out, there's a quick, painless way to make all of this unpleasantness disappear. And it's about to get way easier, too.

Final Four
The brackets have been whittled down in this year's Dysfunctional Transportation Invitational and, amazingly, all four top seeds remain. We predict Trains will prevail against a rapidly-cooling Pedestrians team, but there's no way the Choo-Choos have the power to take down the winner of an intriguing Big Auto/Airlines match-up.
Cafeteria Times
NATO this week officially invited two more first graders to sit at the Cool Kids' Table, perks of which include the highly-sought protection of fifth-grade pugilist George W. Bush. Of course, Bush is somewhat preoccupied at the moment trying to make sure fellow graduating bully Vladimir Putin has his back once they both reach middle school.
Cafeteria Times, Part 2
In other news, we now know who'll be catering the Cool Kids' Table for the foreseeable future.
Paper Swoon
In other news, duh.
Truth in Advertising
Finally this week, given the salacious nature of the charges in question, this article is no where near as kinky as its headline suggests. Quit teasing us, Free Press.
*
Programming Notes
- Miss this week's Papers? Catch up here!
- And don't forget, Division Street is open for business over the weekend.
Posted by Natasha at 09:15 AM | Permalink
April 04, 2008
The [Friday] Papers
Here cometh the dreamer. Let us slay him and see what becomes of his dream.
* "I Have A Dream"
* "April 4, 1968: A Day Of Infamy At The Defender"
* "40 Years After The Riots: Residents Say Lawndale Area Is Still In Shambles"
God's Work
"Years ago, I asked him why he ran for mayor in 1991, when it was virtually impossible to defeat Mayor Daley," Mary Mitchell writes today of Eugene Pincham, who died on Thursday.
"Pincham told me that somebody had to challenge Daley and that he had prayed about it. He didn't want to face God without having done everything he was supposed to do, he said."
Perverting the Dream
Sayeth the mayor: "You tell me that children from Hanson Park, from the West Side or South Side or any neighborhood can't go to a museum in Grant Park?"
Well, wouldn't it be easier for those kids if the museum was on the West Side or South Side? Are you telling me those children don't deserve to have a museum in their neighborhood? And, as the Defender notes, Lawndale is still in shambles. Maybe a museum would help.
*
"They're only five years old. They're not gangbangers. They're not drug dealers."
You know, they're good blacks.
*
"I'm very passionate about it. I think it's really important to have a great children's museum next to Millennium Park. What's more important?"
I can think of at least a hundred things more important, but let's start with little things like supplying the city's poorest kids with freakin' decent textbooks.
Beachwood reader Geoff Stander says: We may be putting kids at the center of the city, but with the proposed underground design, aren't we really just pushing them down in to the basement?
*
"We have really enjoyed an outpouring of support from everyday citizens across the city of Chicago," museum president Jennifer Farrington says.
A) Produce three of them!
B) And that outpouring will get even louder if Hill & Knowlton spends our money wisely!
C) Is it really the right thing to do to teach children to lie to obtain your goals?
*
"Although opponents counter that public opinion is overwhelmingly on their side, what's clear is that the museum enjoys strong support from Mayor Daley and a long list of people with close ties to him," the Tribune reports.
Behold, The Chicago Children's Clout Museum!
"Together with its application to city officials, the museum estimated it's spending $85,000 for lobbyists, real estate consultants and others to push forward the proposed move from Navy Pier to a new building on Randolph Street, at Grant Park's northern edge," the Trib says.
"'The Children's Museum's roster of lawyers, lobbyists, directors and consultants reads like a who's who of Chicago clout and influence,' said Ald. Brendan Reilly, who opposes the plan for the site in his 42nd Ward."
Among the players working on the museum's behalf, according to the Trib:
* Meredith O'Connor, the sister-in-law of Ald. Patrick O'Connor (40th); Meredith O'Connor works for Jones Lang LaSalle, the museum's project manager
* Patrick O'Connor serves on the Plan Commission, which will consider the museum's proposal
* As does Chicago Transit Authority Chairwoman Carole Brown, who is also a museum director
* DLA Piper, the law firm whose partners include Daley nephew Patrick Thompson.
* Longtime mayoral supporter, Marilyn Katz, the PR whiz who cashed in on her contract to promote the mayor's blue bag recycling program.
The fix is in, folks. The deal is done. And it's the mayor and museum officials who are acting like children.
Brendan's Beat
"Usually, when a developer is seeking approval from the Plan Commission, they review that application with the local alderman prior to them making the filing," Reilly says. "The fact that they didn't says, perhaps, that they're not open to extensive public scrutiny."
*
"Tom Wolf, president of Friends of Downtown, said he fears that granting the museum's request would set a dangerous precedent.
"We see this as the tipping point," Wolf said. "If the Children's Museum is allowed to build in Grant Park, what stops any other cultural institution from coming next?"
But the precedent has already been set - with Millennium Park.
"The museum also argues its plan complies with the city's Lakefront Protection Ordinance, especially in light of the above-ground structures, such as the Harris Theater's entrance pavilion, that the commission allowed in Millennium Park, which is a part of Grant Park."
And it's not just the Harris Theater. It's the Gehry pavilion.
"[Project manager Ed] Uhlir recognized, unbeknownst to anyone else, the gravity of the meeting: Frank Gehry's pavilion violated the Montgomery Ward height restrictions in Grant Park," Timothy Gilfoyle wrote in Millennium Park: Creating a Chicago Landmark.

"But he devised an ingenious solution. He was well aware that the Illinois Supreme Court had indicated, without actually ruling on the matter, that certain structures necessary to the proper use of Grant Park are not 'buildings.' These include shelters to provide protection during storms, band stands, lavatories, and similar support structures.With this caveat in mind, Uhlir determined that Gehry's bandshell - specifically the curving ribbons of stainless steel above the proscenium reaching more than 130 feet in some parts - was not a physical structure or a building. Rather, it was a piece of art . . . He admitted that if the cantilevered metal ribbons were defined as a 'structure,' the pavilioin was indeed in violation of the park's height limitations."
It was a ruse.
"Back in Los Angeles, Frank Gehry knew little about this political maneuvering. 'I don't know that they necessarily got art,' he said after learning about it, 'but they got a building.'"
Programming Note
Don't forget to visit me at Division Street.
The Beachwood Tip Line: In the name of love.

Posted by Lou at 08:28 AM | Permalink
I Have A Dream
I am happy to join with you today in what will go down in history as the greatest demonstration for freedom in the history of our nation.
Five score years ago, a great American, in whose symbolic shadow we stand today, signed the Emancipation Proclamation. This momentous decree came as a great beacon light of hope to millions of Negro slaves who had been seared in the flames of withering injustice. It came as a joyous daybreak to end the long night of their captivity.
But one hundred years later, the Negro still is not free. One hundred years later, the life of the Negro is still sadly crippled by the manacles of segregation and the chains of discrimination. One hundred years later, the Negro lives on a lonely island of poverty in the midst of a vast ocean of material prosperity. One hundred years later, the Negro is still languished in the corners of American society and finds himself an exile in his own land. And so we've come here today to dramatize a shameful condition.
In a sense we've come to our nation's capital to cash a check. When the architects of our republic wrote the magnificent words of the Constitution and the Declaration of Independence, they were signing a promissory note to which every American was to fall heir. This note was a promise that all men, yes, black men as well as white men, would be guaranteed the "unalienable Rights" of "Life, Liberty and the pursuit of Happiness." It is obvious today that America has defaulted on this promissory note, insofar as her citizens of color are concerned. Instead of honoring this sacred obligation, America has given the Negro people a bad check, a check which has come back marked "insufficient funds."
But we refuse to believe that the bank of justice is bankrupt. We refuse to believe that there are insufficient funds in the great vaults of opportunity of this nation. And so, we've come to cash this check, a check that will give us upon demand the riches of freedom and the security of justice.
We have also come to this hallowed spot to remind America of the fierce urgency of Now. This is no time to engage in the luxury of cooling off or to take the tranquilizing drug of gradualism. Now is the time to make real the promises of democracy. Now is the time to rise from the dark and desolate valley of segregation to the sunlit path of racial justice. Now is the time to lift our nation from the quicksands of racial injustice to the solid rock of brotherhood. Now is the time to make justice a reality for all of God's children.
It would be fatal for the nation to overlook the urgency of the moment. This sweltering summer of the Negro's legitimate discontent will not pass until there is an invigorating autumn of freedom and equality. Nineteen sixty-three is not an end, but a beginning. And those who hope that the Negro needed to blow off steam and will now be content will have a rude awakening if the nation returns to business as usual. And there will be neither rest nor tranquility in America until the Negro is granted his citizenship rights. The whirlwinds of revolt will continue to shake the foundations of our nation until the bright day of justice emerges.
But there is something that I must say to my people, who stand on the warm threshold which leads into the palace of justice: In the process of gaining our rightful place, we must not be guilty of wrongful deeds. Let us not seek to satisfy our thirst for freedom by drinking from the cup of bitterness and hatred. We must forever conduct our struggle on the high plane of dignity and discipline. We must not allow our creative protest to degenerate into physical violence. Again and again, we must rise to the majestic heights of meeting physical force with soul force.
The marvelous new militancy which has engulfed the Negro community must not lead us to a distrust of all white people, for many of our white brothers, as evidenced by their presence here today, have come to realize that their destiny is tied up with our destiny. And they have come to realize that their freedom is inextricably bound to our freedom.
We cannot walk alone.
And as we walk, we must make the pledge that we shall always march ahead.
We cannot turn back.
There are those who are asking the devotees of civil rights, "When will you be satisfied?" We can never be satisfied as long as the Negro is the victim of the unspeakable horrors of police brutality. We can never be satisfied as long as our bodies, heavy with the fatigue of travel, cannot gain lodging in the motels of the highways and the hotels of the cities. *We cannot be satisfied as long as the Negro's basic mobility is from a smaller ghetto to a larger one. We can never be satisfied as long as our children are stripped of their self-hood and robbed of their dignity by a sign stating: "For Whites Only." We cannot be satisfied as long as a Negro in Mississippi cannot vote and a Negro in New York believes he has nothing for which to vote. No, no, we are not satisfied, and we will not be satisfied until "justice rolls down like waters, and righteousness like a mighty stream."
I am not unmindful that some of you have come here out of great trials and tribulations. Some of you have come fresh from narrow jail cells. And some of you have come from areas where your quest - quest for freedom left you battered by the storms of persecution and staggered by the winds of police brutality. You have been the veterans of creative suffering. Continue to work with the faith that unearned suffering is redemptive. Go back to Mississippi, go back to Alabama, go back to South Carolina, go back to Georgia, go back to Louisiana, go back to the slums and ghettos of our northern cities, knowing that somehow this situation can and will be changed.
Let us not wallow in the valley of despair, I say to you today, my friends.
And so even though we face the difficulties of today and tomorrow, I still have a dream. It is a dream deeply rooted in the American dream.
I have a dream that one day this nation will rise up and live out the true meaning of its creed: "We hold these truths to be self-evident, that all men are created equal."
I have a dream that one day on the red hills of Georgia, the sons of former slaves and the sons of former slave owners will be able to sit down together at the table of brotherhood.
I have a dream that one day even the state of Mississippi, a state sweltering with the heat of injustice, sweltering with the heat of oppression, will be transformed into an oasis of freedom and justice.
I have a dream that my four little children will one day live in a nation where they will not be judged by the color of their skin but by the content of their character.
I have a dream today!
I have a dream that one day, down in Alabama, with its vicious racists, with its governor having his lips dripping with the words of "interposition" and "nullification" - one day right there in Alabama little black boys and black girls will be able to join hands with little white boys and white girls as sisters and brothers.
I have a dream today!
I have a dream that one day every valley shall be exalted, and every hill and mountain shall be made low, the rough places will be made plain, and the crooked places will be made straight; "and the glory of the Lord shall be revealed and all flesh shall see it together."
This is our hope, and this is the faith that I go back to the South with.
With this faith, we will be able to hew out of the mountain of despair a stone of hope. With this faith, we will be able to transform the jangling discords of our nation into a beautiful symphony of brotherhood. With this faith, we will be able to work together, to pray together, to struggle together, to go to jail together, to stand up for freedom together, knowing that we will be free one day.
And this will be the day - this will be the day when all of God's children will be able to sing with new meaning:
My country 'tis of thee, sweet land of liberty, of thee I sing.

Land where my fathers died, land of the Pilgrim's pride,

From every mountainside, let freedom ring!
And if America is to be a great nation, this must become true.
And so let freedom ring from the prodigious hilltops of New Hampshire.
Let freedom ring from the mighty mountains of New York.

Let freedom ring from the heightening Alleghenies of Pennsylvania.

Let freedom ring from the snow-capped Rockies of Colorado.

Let freedom ring from the curvaceous slopes of California.
But not only that:
Let freedom ring from Stone Mountain of Georgia.

Let freedom ring from Lookout Mountain of Tennessee.

Let freedom ring from every hill and molehill of Mississippi.

From every mountainside, let freedom ring.
And when this happens, when we allow freedom ring, when we let it ring from every village and every hamlet, from every state and every city, we will be able to speed up that day when all of God's children, black men and white men, Jews and Gentiles, Protestants and Catholics, will be able to join hands and sing in the words of the old Negro spiritual:
Free at last! Free at last!

Thank God Almighty, we are free at last!
-
-
Here cometh the dreamer. Let us slay him and see what becomes of his dream.
Posted by Lou at 06:12 AM | Permalink
Jesus Glasses
TRIAL SET FOR TEACHER FOR TEACHING: "When you put on your Jesus Glasses, you can't see the Truth"
CONTACT: To schedule an interview, call Shauna Whitlock or Lynne Campbell of Special Guests at: 630-848-0750. Television inquiries: Jerry McGlothlin, 212-699-2518.
A California High School student named Chad Farnam filed a lawsuit against his teacher, James Corbett, in 1999, claiming that his first amendment rights were violated when his teacher repeatedly advocated "irreligion".
Teacher Corbett is on tape saying things that many Christians would find incendiary at best and blasphemous at worst. For example, "When you put on your Jesus glasses, you can't see the truth."
Conducting Talk Show interviews on this topic is a spokesman from Home School Legal Defense Association.
During your interviews, your expert education guest can explain how Corbett's lectures had been taped by Farnam (at first, for the purpose of note-taking) whose family heard the tapes and was moved to act.
Your audience will be encouraged as to how Farnam's claims have gained new credibility with the decision by U.S. District Judge James Selna clearing the way for that the case to proceed despite a motion filed by Corbett's attorney calling for a dismissal.
In addition to this ruling being viewed as a victory for Christians who don't believe their faith should be attacked by those who claim to champion the First Amendment, it could also add new fuel to the argument that homeschooling should be protected in California.
Recently, the California Supreme Court left the door open for parents who homeschool their children to be prosecuted as criminals.
Now that a case is proceeding which quite possibly could expose the public school system as an institution that has failed to guarantee First Amendment protection, the homeschooling debate should be heating up. And what better guest than an expert from the world's largest homeschooling organization? And what better time than now? Call now to book your expert interview guest.
HSLDA EXPERT SPEAKERS AVAILABLE FOR INTERVIEWS:
The following guest experts are available to discuss home schooling and various education issues in the news. Each speaker's geographic region is listed below.
About Dewitt T. Black III, Esq.
Speaker for interviews from: Alabama, Alaska, Arkansas, Connecticut, Delaware, Georgia, Mississippi, Montana, No. Carolina, No.Dakota, Pennsylvania, So. Carolina, Tennessee.
Dee Black received his Juris Doctorate degree in 1973 from Memphis State University School of Law and his Master of Laws degree from Georgetown University Law Center in 1979.
Mr. Black has been practicing law for 32 years and is licensed to practice in his native state of Arkansas, in addition to the District of Columbia and South Carolina where he was in private practice for 11 years just prior to joining Home School Legal Defense Association. As Senior Counsel at HSLDA for the past 15 years, Dee and his wife, Ricci, have four children, all of whom have been taught at home.
About Christopher J. Klicka, Esq.
Spokesman for national shows and as a substitute speaker for states where the official designated spokesman is unavailable.
Christopher J. Klicka is Senior Counsel of the Home School Legal Defense Association as well as Director of State and International Relations.
Chris earned his B.A. from Grove City College in Grove City, Pennsylvania, and his Juris Doctorate from O.W. Coburn School of Law, Tulsa, Oklahoma. He is a member of the bars of the Virginia Supreme Court, the United States Supreme Court, the Fourth Circuit District of Appeals, and the U.S. District Court of Virginia (Eastern Division).
Since 1985, he has represented thousands of HSLDA member families with their legal conflicts both inside and outside of the courts. He has provided expert testimony before numerous legislative and regulatory bodies on behalf of home schoolers.
A frequent speaker, Chris has addressed home school conferences throughout the country and is often interviewed by the media. He is also author of several books including The Right Choice: The Incredible Failure of Public Education and the Rising Hope of Home Schooling, Home Schooling in the United States: A Legal Analysis, and The Right to Home School: A Guide to the Law on Parents' Rights in Education.
Chris and his wife Tracy are home schooling their seven children, including a set of twins (Bethany, Megan, Jesse, Susannah, Charity, Amy, and John).
About Thomas "T.J." Schmidt
For interviews from Arizona, Hawaii, Kentucky, Louisiana, New York, Oregon, and Washington State.
Thomas J. (Tj) Schmidt is the eldest of nine children and was home educated for nine years, much of that time spent on foreign mission fields.
Tj received his J.D. from Oak Brook College of Law while serving as a Legal Assistant at HSLDA. Now, as an HSLDA Staff Attorney, Tj answers general legal questions and assists members experiencing legal difficulties.
Tj and his wife, Susan, have two children, Josiah and Suzanna. They look forward to teaching all of their children at home.
About Michael Smith, Esq.
Spokesman for interviews in California and Puerto Rico.
J. Michael Smith is the President of Home School Legal Defense Association, an organization which he cofounded with Michael Farris in 1983 to protect the right of parents who choose home education as their way to satisfy the compulsory attendance law in the various states and Canada. Home School Legal Defense Association now represents over 54,000 member families. Michael Smith is an attorney licensed to practice in the states of California, the District of Columbia and Virginia. Mike received his undergraduate degree from the University of Arkansas and his Juris Doctorate from the University of San Diego.
After serving two years as a Deputy City Attorney assigned to the Criminal Division in San Diego, he went into private practice but after he and his wife, Elizabeth, decided to home school their children, Mike became involved in defending the rights of home schoolers in California. It became glaringly apparent that home educators could not afford attorneys, and as a result, Home School Legal Defense Association was established to defend and advance the constitutional rights of parents to direct the education of their children and protect family freedom.
He and his wife have four children. Their oldest daughter, Kari, is a paralegal in San Francisco. Their next daughter, Chrissy, was their first homeschool graduate and is a graduate of UCLA. Their two youngest children, Andrew and Erin, were also homeschooled and graduated from George Mason University. Mike has a simple purpose and message for his life work: Faith, family, and freedom.
About Scott W. Somerville, Esq.
Spokesman for Talk Show interviews from Washington, DC, Massachusetts, Minnesota, Nebraska, New Mexico, Ohio, Utah, Vermont, and Wyoming.
Scott Somerville is Executive Director of the Center for the Original Intent of the Constitution, and brief writer for the litigation team at the Home School Legal Defense Association, where he has worked as an attorney since 1992. He entered Harvard Law School in 1989, and graduated with honors in 1992. Scott graduated from Dartmouth College in 1979 as a Phi Beta Kappa, where he met and married Marcia Lawrence Somerville (Dartmouth, 1980). Before Harvard, Scott worked as a computer programmer. He and Marcia have home schooled all six of their children, with two now in college. Scott handles special projects for HSLDA's President, writes briefs for many cases, and directs the Center for Original Intent. When Scott isn't writing briefs, he's writing action adventures for kids like his first novel, Olympus.
About Scott A. Woodruff, Esq.
Spokesman for Talk Show interviews from Indiana, Iowa, Kansas, Maine, Maryland, Missouri, New Hampshire, New Jersey, Oklahoma, Rhode Island, South Dakota, and West Virginia.
Scott A. Woodruff has been a staff attorney for Home School Legal Defense Association since 1998. He has defended thousands of homeschool families when their rights were threatened by social workers, school superintendents, state departments of education, law enforcement officials and others. He is currently responsible for helping HSLDA members with homeschool legal issues in 13 states.
He has testified on behalf of HSLDA members at hearings before legislative committees in nine states. His articles have been published in the Peabody Journal of Education and the Washington Times and he has been a guest on numerous radio shows.
After finishing law school at the University of Virginia in 1980, he worked for three years under John Ashcroft, then the Missouri Attorney General, and later U.S. Attorney General. He is a member of the bar of the United States Supreme Court.
He and his wife of 22 years, Jane, live in Lincoln, Virginia. Their son, who was homeschooled, is attending Baylor University on an academic scholarship. They continue to homeschool their two daughters.
Michael P. Donnelly, Esq.
Speaker for international and U.S. interviews on the German Homeschooled girl taken from her family.
Mike Donnelly gain national prominence conducting Talk Shows on the topic of the German Home Schooled girl who was taken away from her family for psychiatric evaluations for alleged "school phobia." Mike valiantly exposed the dark deeds overseas to the light of international scrutiny.
Mike Donnelly joined Home School Legal Defense Association after nearly 10 years of corporate and private legal practice. Before his legal career, Mike served in the United States Army including combat service as a cavalry officer in the first Persian Gulf war. Mike attended law school at Boston University where he graduated with honors and was recognized for being in the top 10 in his class. Mike is a member of the New Hampshire and Massachusetts Bar Associations.
Previous experience for Mike includes founding a top-30 Internet marketing and advertising firm where he served as chief operating officer and general counsel followed by a private business consulting and law practice.
Serving on the board of CheNH (Christian Home Educators of New Hampshire) and the Marketplace Network, Mike is able to help Christian workers integrate their faith and work. CheNH is a Boston-based ministry.
Mike resides with his wife Patty and five children in Charles Town, West Virginia where they homeschool all five of their children.
*
WHAT ARE SOME OF THE MERITS OF HOMESCHOOLING?
Homeschooled children consistently score well on standardized achievement tests. The most comprehensive study shows a 20 - 30 percentile point gap in favor of homeschoolers. For example if the public school average is the 50th percentile a homeschooler will on average be in the 70th or 80th percentile.
Homeschooling is the fastest growing education sector in America, growing at a rate of 7 to 15 percent per year. Some of the Reasons people homeschool include:
1. Safety of their children in public school, crime, drugs, and negative peer socialization.
2. The ability to teach from a religious perspective.
3. The belief that parents, in conjunction with a homeschool support group, can provide a better education than either a public or private school.
4. Desire to spend more time together as family for better quality of family life.
Homeschool graduates are more involved in community activities than the average public school student.
Homeschool graduates are significantly more politically active than the average public school student. Over 74 percent of homeschooled graduates aged 18-24 voted in an election in the past 5 years. Compare this to a token 29 percent of public schooled graduates who voted during that same time period.
Homeschooled students consistently win national geographic and spelling bee contests.

Posted by Lou at 12:16 AM | Permalink
April 03, 2008
The [Thursday] Papers
If you're anything like me, you might think that it's front-page news when the mayor accuses those opposed to the proposed move of the Children's Museum into Grant Park of bigotry against children of color.
That's about as big a charge you can make, isn't it? Isn't it sort of a big deal when the beknighted mayor of the country's third-largest city makes it? Particularly when there isn't a shred of credible evidence to support the charge?
Instead, it's treated as an afterthought because, well, that's just Daley. Or maybe because praising Barack Obama's race speech was the extent of the conversation the media is really interested in having.
*
Sayeth Daley:
"The thing I can't understand about this issue - it's a 5-year-old, a 5-year-old child coming to Grant Park and you tell me that children from Hanson Park, from the West Side or South Side or any neighborhood can't go to a museum in Grant Park. They're only five years old. Now, they're not gang bangers, they're not the dope dealers - these are five-year-old kids. The oldest is 8-years-old. We could all walk around Millennium Park, that's alright, but the children should not have a museum in that park, put them someplace else. I'm very proud of our children. I'm very proud of the children of Chicago. Black, white, Hispanic, Asian, physical, mental difficulties - doesn't matter. I want the best, best museum we can have for our children. That is the future. The future's our children."
Sayeth me:
"The thing I can't understand about this issue is why the mayor doesn't seem to want children of color attending a children's museum on Northerly Island, or at the museum campus, or at more than 20 other locations in the ward. Why is Daley determined to segregate children of color in a little corner of Grant Park in an underground building? Does he not want them to be seen?"
Questions for the Mayor
1. Will you concede that it's possible that the motive of those opposed to this plan are concerned about the precedent of building in Grant Park, and aren't in any way racist at all?
2. Did you discuss this strategy with your message manager, David Axelrod?
3. You accused those who supported the big-box ordinance of being racist too. Why do you play the race card?
4. Do you think it was racist of the state's attorney's office when you were in charge there - and later under your mayoralty - when the police department tortured black suspects?
5. Why are you such a dick?
Gov. Baloneyvich
Testimony from the Rezko trial: The governor knew.
Lights Out
A ComEd ad in the Sun-Times estimates a 7 percent reduction in electricity use last Saturday during Chicago Earth Hour.
Q. Will they raise our rates again to make up for the lost revenue?
Also:
* Why not do this every week instead of once a year?
* The biggest savings listed in the ad was by far the 16,000, um, watts, or whatever, conserved by turning off the Navy Pier ferris wheel light bulbs for an hour. To get an idea of what that means, consider that the next closest savings came from "Business, retailers, restaurants and hotels" - at 1,600.
In The Dark
"A House panel grilled a high-ranking Blagojevich aide, Deputy Gov. Louanner Peters, about how the politically connected Loop Lab School mysteriously wound up with $1 million in state funds the governor had intended for fire-ravaged Pilgrim Baptist Church on the South Side," the Sun-Times reports.
"But at least 59 times in the roughly 90-minute hearing, Peters professed ignorance toward what Blagojevich has called a 'bureaucratic mistake.'
"'I would not have any idea who in the governor's office would have the most answers,' Peters told members of the House State Government Administration Committee.
"Even though Blagojevich last month indicated two former aides oversaw the apparently errant deal giving Loop Lab School money, Peters said she was unaware of whom the governor was talking about."
Maybe it's time to haul the governor before the committee.
Daley Doubletalk
Jack Higgins illustrates item #12 in yesterday's column.
Sex Hex
This explains that huge sigh of relief men just breathed the world over.
Barack Ball
About that conversation on race that no one - including Barack Obama - is having . . . Eric Zorn asks if the Obama campaign has kept the media away from his private basketball workouts in part to avoid racial stereotyping (the answer: partly yes).
For example, this is what the noxious Chris Matthews had to say. Shouldn't that be enough to cost him his job?
I suspect the Obama campaign has stayed silent to, you know, avoid a discussion on race.
Urban Epidemic
"Kidney Failure Takes Deadly Toll On Blacks In Chicago."
Barrington Banker
I don't know how I missed it up til now, but Treasury Secretary Henry Paulson is from Barrington. He and his wife still have a home there, according to today's puffy Tribune profile. He's just a regular guy with modest tastes!
Musn't-See TV
"Did someone turn away a goat at WBBM?"
The Beachwood Tip Line: Hex-free.

Posted by Lou at 10:56 AM | Permalink
What I Watched Last Night
There are few things on Tuesday night commercial TV interesting enough to peel me away from WPWR's airing of Jail, a program that picks up where Cops leaves off within the criminal justice chain-of-custody food chain. That's why I was both glad and dismayed to see this week's return of Hell's Kitchen to Fox.
On one hand, I'm glad because Gordon Ramsay is great TV, and his Kitchen Disasters show - which tends to pop up during the Hell off-season - isn't as engaging because Ramsay spends nowhere near as much time screaming at everyone around, kicking anything not bolted down, and hurling ill-treated food around the room in ways nobody originally intended food to be treated. This guy replaces entire kitchens and table services for dimwit mom-and-pop restaurant owners whose business plans amount to little more than "running my business into the ground," for Chrissakes.
Yet, on the other hand, I'm dismayed because short of Ramsay zapping cheftestants in the groin with a cattle prod, Hell has become predictable. Not so for Jail, where you never know whether the next guest of the county escorted under their own power or carried in hogtied will be a cooperative check kiter, an entertaining public intoxicant, or a rabid, frothing tweaker speaking in tongues. For my entertainment dollar, you've made your mark when you've figured out endless ways to marry criminal behavior, rage, personal failure, untreated mental illness, un/underemployment, grinding hopelessness, marital discontent, illegal weaponry, domestic unrest, and unchecked substance abuse in less than 60 minutes.
Since there's no shortage of unsavory behavior in this country, I decided to go with Hell instead. Tuesday's opening crop of 15 cheftestants was probably the motliest-looking collection of overconfident dice-rollers thinking they can somehow overcook risotto into a runny pile of mucus and yet win a $250,000-a-year gig running the kitchen of Ramsay's new restaurant in Los Angeles. The standouts right off were:
* Dominic, a stay-at-home dad for the past 10 years who would be a dead ringer for Robin Williams if Robin Williams put on a furry black toupee and beatnick glasses after swallowing Jon Lovitz whole. Dominic's leading kitchen talent, we would see later, is the serial murder of innocent scallops. For some reason, I see him showing up somewhat soon on an episode of ABC's Wife Swap, a show which actually knows how to deal with guys who haven't had a career in a decade.
* Bobby, an executive chef who likes to refer to himself interchangeably as the "black Chef Ramsay" and a "four-star general." He might be able to wrangle a promotion to five-star general if he actually knew how to direct a team of clueless cheftestants or actually cook worth a damn at this point, but because he looks and sounds like Pvt. Benjamin Buford "Bubba" Blue, I kept seeing Bobby and Dominic on their knees scrubbing the Hell's Kitchen floor with a toothbrush every time he opens his mouth: "There, uh, shrimp kabobs, shrimp creole . . . shrimp gumbo, pan-fried, deep fried, stir-fried. There's pineapple shrimp, lemon shrimp, coconut shrimp, pepper shrimp . . . shrimp soup, shrimp stew, shrimp salad, shrimp and potatoes, shrimp burger, shrimp sandwich . . . that's, that's about it."
* Vanessa, a 31-year-old line cook with a pierced lower lip and, if I recall correctly, at least one big honkin' back tattoo who sees Hell's Kitchen as her appointment with destiny. I didn't think biker-gang clubhouses had kitchens, but Ramsay actually liked her pan-seared halibut. As for me, maybe it's the red hair. Or maybe it's the notion that a very good date with her might involve some very bad things. But then, that's just me.
* At the head of the line of this freak show, though, is Louross, a skinny, rather overwound little hotel cook soooooo awfully trendy and hip that he melted a perfectly good first and last name into a single, uh, title. He's not just on a campaign to revive the Mohawk, he's bent on forcing it to accessorize with the wussiest chin-fuzz goatee known to mankind, a gold nose ring, and red hipster glasses. He also looks and speaks like a girl. Nothing wrong with it; I'm just sayin'. I'm not sure which North Side neighborhood you'd typically find a little fella like this, but I know folks in Barrington would be wondering exactly when those goddamn carnies started rolling into town. I spent a lot of time trying to make up my wind whether Louross or Dominic spent more of their formative years getting beaten up on their way home from school.
Maybe Ramsay recognized a bit of the predictable seeping into what's now the show's fourth season, so a makeup artist transformed him for Tuesday's opener into "The Dark Lord" - a curious Halloween-disguise mix of Wicked Witch of the West, Bono, and Ozzy Osbourne - so he could mingle with the cheftestants on the shuttle bus ride to the Hell's Kitchen set. In seasons past, Ramsay at least waited until the cheftestants tried to poison him with horribly cooked food before he started getting pissed off and hating someone. This season, someone decided it would be a fantastic idea to piss off Ramsay even earlier by seeing who might talk smack about him and have him there to hear it with his own ears. See? The reality TV industry was right: you really don't need to dump boatloads of money down a black hole to attract the best and the brightest.
The only cheftestant who took a reasonable stab at it was Craig, a sous chef who showed up wearing a chef's hat tall enough to require red blinky lights so commuter plane pilots don't fly into it. Later, after proclaiming Craig's jerk-seasoned Chilean sea bass and risotto dish "a pile of shit," Ramsay tells Craig if he sees him wearing his punk-ass skyscraper hat again in his restaurant, he's going to shove it up his ass sideways.
Too bad Ramsay wasn't around during the 1970s. He could have done something about the leisure suit.
Unfortunately, he couldn't do anything about Petrozza, a catering director with a name so hip it really doesn't matter if it's your first or last name just as long as it sounds good and works on a big banquet hall sign. Somewhere down the line, I predict a light saber duel between Petrozza and Louross over the naming rights to a rather cavernous yet opulently-furnished west suburban building that has a lot to do with nomadic DJs and the mass serving of chicken, beef, sausage, mostoccioli, mashed potatoes, and green beans with nowhere near enough almonds mixed in on Saturday afternoons. But hip goes only so far when your signature dish is a Cornish hen cooked inside a small pumpkin (even scarier when you consider the whole thing was prepared and cooked in less than 45 minutes) and served with a side of fried potatoes drowning in butter and oil.
While we were busy imagining what dinner must be like at the Petrozza house on Thanksgiving Day, one of those Hell's Kitchen moments we absolutely love surfaced when Ramsay took a handful of Petrozza's 'taters (which looked more or less like a huge lump of nightcrawlers), held them aloft, and watched enough grease to Jiffy Lube a whole fleet of Checker cabs pour off the whole sopping mess. An unruffled Petrozza was, uh, unruffled by Ramsay's pronouncement that his signature dish was "dry" even with the goopy-glop pumpkin innards. "I believe my dish was memorable," Petrozza said.
The dish might have actually been memorable if not for sous chef Matt's signature dish called "Exotic Tartare," a brutal concoction of venison, scallops, caviar, and white chocolate. Which - surprise surprise! - made Ramsay puke into a trash can not just once, but twice. I'm not sure what it is about Hells Kitchen and sous chefs that drives them to create insanity like this, but when Ramsay asks you in all sincerity if you're high after you mention the ingredients of your signature dish, your food damn well better be just as good coming back up as it was going down.
Anyway, the rest of the program was filled with the typical Hell's Kitchen fare: Ramsay hurling rubber-cooked chicken against a wall, Ramsay shrieking like a crazed banshee, Ramsay extremely pissed off that not a single crumb of food has managed to leave the kitchen in 45 minutes. As usual, not a damn one of the cheftestants knew how to fry a simple goddamn egg, the team captains had as much control over their cheftants as the captain of the Exxon Valdez, and Ramsay got so fed up with what has become the chronic and unapologetic abuse of risotto that he forced sous chef (Christ, one of those again?) Jason to sit in the middle of the kitchen and eat a whole soggy plate of it. Meanwhile, Dominic spent his kitchen time murdering a good three dozen scallops when he wasn't otherwise occupied with standing around with raw meat in his hand, looking hopelessly dazed and confused.
As even more usual, the diners got so fed up with subsisting on bread and water that every single damn one of them left to get their heads examined for thinking they could show up on opening night and actually get fed. Where have these people been for the last four years? Even people without television sets know that concentration camp inmates eat better until maybe the fourth or fifth show.
Personally, I find it completely astounding that it hasn't occurred to either Ramsay or the show's producers to employ a simple trick that the owners of every table service restaurant in Greektown discovered countless generations ago: When the kitchen help is fucking up or fucking off, simply fill the patrons to the gills with half-off Roditys, a cheap but effective imported table wine. After a half hour or so, nobody with an empty stomach gives a shit whether the food ever arrives, and everyone leaves happy even if their food never arrives. Oopah! Life good for everyone!
In the end, losing men's Blue Team captain Louross puts up Bubba Gump twins Dominic and Bobby as sacrificial banishment lambs, leaving it up to Ramsay to tell Dominic to piss off for good because really, between the two, Bubba just has more ideas for shrimp.
Ramsay Notable Quotable (in reference to Louross' hair): "And you! Running around like a toilet brush!"
Cheftestant Notable Quotable: "I don't think 'stupider' is a word."
Next week on Hell: A mass Dumpster dive/pukefest, the bitch-sniping begins, and PETA considers adopting risotto to halt the senseless and unethical testing of cheftestant cooking skills.
*
Dip into the What I Watched Last Night archives for the best TV reviews in the universe.
Posted by Lou at 08:38 AM | Permalink
Reviewing the Reviews
"Steve Coll's riveting new book not only gives us the most psychologically detailed portrait of the brutal 9/11 mastermind yet, but in telling the epic story of Osama bin Laden's extended family, it also reveals the crucial role that his relatives and their relationship with the royal house of Saud played in shaping his thinking, his ambitions, his technological expertise and his tactics," Michiko Kakutani writes in "The Bricklayer's Sons: The Family That Spawned 9/11."
"It is a book that possesses the novelistic energy of a rags-to-riches family epic, following its sprawling cast of characters as they travel from Mecca and Medina to Las Vegas and Disney World, and yet, at the same time, it is a book that, in tracing the connections between the public and the private, the political and the personal, stands as a substantive bookend to Mr. Coll's Pulitzer-Prize-winning 2004 book, Ghost Wars: The Secret History of the C.I.A., Afghanistan, and Bin Laden, from the Soviet Invasion to Sept. 10, 2001."
Just looking at the photo below of the bin Laden family makes me want to read this book; it isn't useful to think of Osama bin Laden as a demonic caricature instead of an actual human who was spawned from, you know, other humans. Doing so doesn't make him less despicable and murderous to us.
"As for Osama bin Laden, Mr. Coll, like Mr. Wright in The Looming Tower, suggests that the Qaeda founder's turn to international war against the United States was not inevitable," Kakutani writes.
Indeed, it seems a combination of Bush-like Oedipal issues, conflict with the Saudi royal family, money problems, a divorce, and a son who left him isolated in his new Sudan home when he returned to Saudi Arabia coalesced in anger he eventually directed toward America. Not so the rest of his family.
"While he careered toward violence, other members of his family moved to strengthen their ties with the West," Kakutani writes. "There were family investments in enterprises ranging from Iridium, a satellite communications network, to the Hard Rock Cafe franchise in the Middle East."
*
The Washington Post - where Coll was once managing editor - hosted a online discussion with Coll on Tuesday as part of its Book World Live series. You can see the transcript here.
*
Kill the Cliché

The death of Bambi's mother is often considered "poignant."
"Last week, the fine folks at Paper Cuts, the NY Times' book blog, came up with the seven deadliest words of book reviewing: poignant, compelling, intriguing, eschew, craft, muse and lyrical," Carolyn Kellogg writes in the Los Angeles Times's Book Review.
"While I'm sure that all of these appear far too often in book reviews, I'm not sure that makes them deathly clichés. Take 'eschew' - not a bad word, just too sneezy for spoken conversation - it looks nice on the page, and is more, um, lyrical than 'avoid.' Simply seeing 'eschew' in a review would not make me toss it aside.
But then there's 'poignant.' Meaning emotional and affecting, to me, 'poignant' is a flag raised only by those prone to cheap sentimentality. Any reviewer using 'poignant' becomes, in my eyes, immediately suspect. Books (films, what have you) described as 'poignant' are to be avoided. 'Poignant,' in addition to being a descriptor of things I dislike, is an ugly word. Poignant. Blech."
Baseball Biology
Johan Santana, the best pitcher in the major leagues, made it to America on the shoulders of others. Player One in the stream of Venezuelans to the major leagues was Andres Reiner - now "a small, stooped 72-year-old Hungarian immigrant with a balding pate and wire-rimmed glasses," writes David Baxter in his Los Angeles Times review of Venezuelan Bust, Baseball Boom.
"During the 1970s and early '80s, oil-rich Venezuela was the wealthiest country in Latin America. More than 75 percent of the population was middle class and rising, thanks in part to a government that spent lavishly, sending thousands of students abroad to study.
"As a result, baseball was considered a game, not a career, and parents weren't beyond hiding a son's glove should he ever get the two confused. The major leagues paid the country little notice.
"Then came Black Friday, Feb. 18, 1983 - the bust in the book's subtitle - when a steep drop in oil prices led to a devaluation of the bolivar. Before long, more than half of all Venezuelans were considered poor and baseball suddenly was seen as a way to escape poverty, just as it is in the Dominican Republic, Nicaragua, Cuba and elsewhere in Latin America."
For Carlos Zambrano, too. He was born in Puerto Cabello.
Dickweed Alert
"I will say this on public record: James Collins, you are a dickweed, and anyone who likes you deserves you. If we were seven and we were on the playground together, I would throw sand in your face and give you a wedgie. You and your ilk are the reason nobody cares about literary fiction. That's right, it's all your fault."
Find out what has Eugenia at Literago so royally (and rightly so) disgusted.

Posted by Lou at 07:44 AM | Permalink
April 02, 2008
The [Wednesday] Papers
1. The 20 All-Time Greatest Chicago Guitarists.
2. If privatizing Midway is such a great idea, why not privatize O'Hare and really make a bundle?
3. "Stuart Levine was a man of big and crooked dreams, deep grudges and a twisted sense of integrity."
4. "2. Chicago Cubs (94-68, 795 RS, 677 RA). The Cubs don't have a leadoff hitter, so adding Brian Roberts would be worth a bit more than the models suggest. The switch-hitter with OBP would really help a lineup that lists to the right side. As good as the 2003 and 1998 teams were, this is the best Cubs team in a very long time. They'll score, they'll strike out a bunch of guys, and the defense is pretty good. The Cubs aren't just NL Central good; the Cubs are MLB good."
- Baseball Prospectus projection
5. "Reforming the hurricane-ravaged New Orleans school system has proven an easier task than running the schools in Philadelphia, former city schools chief executive Paul Vallas said here yesterday," the Philadelphia Inquirer reports.
"In his first appearance in the Philadelphia area since leaving in June, Vallas said that there are no union contracts tying his hands in New Orleans and that there is more funding than he had in Philadelphia. He has extended the school day to 4:30 p.m. and the school year into July . . .
"But the job, he said, has proved less stressful. He's lost 30 pounds and no longer pulls his eyebrows out, he said, showing off the bushy crops. With his wife and sons living in Chicago, he can focus on the job 24-7, he said. He visits his family at least once a month, sometimes more often, he said.
"Vallas said he has committed to staying in New Orleans for two years and then may consider another run for Illinois governor, a position he sought before coming to Philadelphia. 'You never say never,'"
Vallas is scheduled to speak to the City Club here on April 28.
6. "From Behind Bars, Milwaukee Alderman May Be Re-Elected."
7. "Wrigley Field Now On Endangered List."
8. Dutchie spelled backwards is "give it a rest".
9. Cook County's living, breathing structural deficit.
10. The award of $75,000 by a federal monitor to defeated aldermanic candidate Jay Stone seems out of whack, but now that the mayor is whining about it I'd like to see it doubled.
"At a news conference Tuesday, Daley noted that volunteers associated with labor unions helped unseat many of the mayor's allies in last year's City Council election," the Tribune reports.
"I guess all the candidates that lost will blame the unions and file a complaint against the unions for stacking it against them, taking political money and taking people off of jobs, so I think it's silly to tell you the truth," Daley said.
This is a thousand times more disingenuous than anything Todd Stroger has ever said.

"According to testimony in the federal corruption trial of Daley's then-patronage chief, mayoral political operatives directed workers to help Matlak against Stone's challenge," the Trib account notes.
"Mr. Stone presented persuasive evidence that the City of Chicago used its employees and its resources against him," monitor Noelle Brennan said.
Think about that for a second.
"[Brennan] said Daley's comment equating political patronage and union activism 'is not an apt comparison.'
"The city as a government entity is prohibited from using its resources to support or oppose a political candidate and then offer jobs or promotions to individuals because of their support of a particular candidate,' Brennan said.
"Daley's remark also sparked an angry response from the Service Employees International Union, which spent about $2 million and deployed hundreds of its members in council races a year ago. Jerry Morrison, executive director of SEIU's State Council, said most volunteers for union-backed candidates work for private companies.
"'It shows you the level of corruption that has existed in this city that people can't tell the difference between a campaign volunteer and a political worker,' Morrison said.
"Morrison said the only things SEIU offered as inducement for campaign help were better government, a T-shirt and some pizza.'"
11. Christopher Kozicki rigged the test scores to make sure that a 19-year-old son of a massive Daley campaign contributor - who was a clouty union official - got a job as a $50,000 a year building inspector.
Noelle Brennan wanted him fired. So did city inspector general David Hoffman. It's a good bet that an overwhelming number of citizens of Chicago familiar with the case did too. Those unfamiliar would only need to be told to fall in line with common sense.
But not Richard "It's Silly" Daley.
"In the end, it wasn't important that a 19-year-old who barely knew which end of a hammer to use was suddenly going to make life-and-death decisions about building safety," Carol Marin writes today.
"Mayor Daley and his people weren't going to budge. Worse, the mayor and his minions came up with the utterly absurd, not to mention untrue, claim that they really couldn't fire Kozicki because it would discourage others from coming forward to testify in federal court.
"Oh please. Kozicki, let's recall, got immunity from the feds. That lucky fairy dust at work again, I guess."
12. "Decrying the recent spate of slayings and shootings involving Chicago teenagers, Mayor Richard Daley on Tuesday deplored what he said was the lack of discussion of the issue in national political campaigns," Clout Street reports.
"'They better start talking about violence in America,' Daley said at a press conference. 'It doesn't matter where you are or who you are, but there is something wrong in America when we have teen-agers killing teen-agers. There is something we have lost in a generation.'
"After alleging that the gun lobby has 'purchased Washington, D.C.' to prevent the passage of more restrictive laws, Daley added that in the campaign debates 'you never hear the word Gun, you never hear the word Violence.'
"But when a reporter asked if his criticism applied to both Democratic presidential candidates, the mayor laughed and replied, 'I'm not going to go after Obama - I'm an Obama supporter.'"
The Beachwood Tip Line: Begging for change.

Posted by Lou at 08:50 AM | Permalink
And Then There's Maude: Episode 19
Our tribute to the 35th anniversary of the debut of Maude continues.
*
Season 1, Episode 19
Episode Title: Walter's Secret
Original airdate: 27 February 1973
Plot: Walter is cheating on Maude with a blonde half his age! Carol caught him at the Holiday Inn cocktail lounge where a pretty young thing was "nibbling the pimento out of his olive."
Walter comes home from work in an anxious state, asking Maude where Carol is. Has she been around? Where is she now?
Maude tells him to calm down and have a drink before Arthur comes over for dinner. (Frequent dinner guest Arthur loves beef stroganoff, so Maude is serving franks and beans.) While Maude's in the kitchen, Walter calls Arthur to create his alibi: He and Arthur were out bowling last night. Got it? Bowling . . .
Carol arrives home and immediately fixes the evil eye on her stepfather. Here's where we learn that Carol spotted someone who looks suspiciously like Walter noodling in a dark corner of the Holiday Inn with a much younger woman. Carol has no trouble telling Walter he's a louse but she won't hurt Maude by telling her what she saw. That's for Walter to do.
Maude re-enters, catching Carol and Walter arguing at top volume. They try to cover it up but Maude repeatedly insists they tell her what's up. Carol begs off and heads upstairs. Before she goes, she leaves the parting comment, "Go ahead Walter, tell her. Start with the pimento." Maude jumps to the conclusion that her daughter is pregnant. Walter assures her that's not the case, telling his wife he'll let her know what the problem is when the time is right. Okay, says Maude, and after two seconds she declares the time is right, now.
Walter chickens-out and sprints up the stairs two at a time to take a quick shower before dinner. Florida is none too surprised to hear the Findlays at it again, to which Maude says, "Florida, if it's peace and quiet you want, go work for the Partridge Family."
Maude will not be defeated so easily. As soon as Carol comes downstairs, Maude pretends that Walter has told her everything and she's just fine with "the whole rotten, sordid mess." Maude tricks Carol into revealing what she saw ("These things happen when a man gets to be Walter's age. I'm sure she was just a fling.") to which Maude flips out, pressing her daughter for more details. When she learns it was last night, Maude assures Carol she must be mistaken. Walter was bowling last night. Whew, crisis averted - for about ten minutes.
Arthur arrives for dinner and immediately blows Walter's alibi by doing a bad imitation of the Bugs Bunny imitation he saw the night before on The Dean Martin Show. Oops!
The cat's out of the bag. Walter admits he lied to Maude but insists over and over that nothing happened. Maude gets used to the idea of being cheated on by asking Walter what it was exactly: "A little peccadillo? Or was it a dalliance? I love those words: 'peccadillo,' 'dalliance,' 'tidy little foolings-around,' 'sweet little girl-boy things.'" Wait, what?
Next thing we know, Maude is strolling down Memory Lane, recalling the special little moments she and Walter shared together. Interestingly, they all involve alcohol: Walter would "pour a pony of white creme de menthe in my coffee, " which Maude found so cosmopolitan. A dessert of brown coconut and ceème de cacao Walter lovingly nicknamed Maude's Miracle; we can only guess why. "But the thing that thrilled me more than anything," she says, "over martinis, the way you used to let me nibble the pimento . . . out of . . . your . . . olive . . . PIMENTO!!!"
Walter is in for it now. Maude rushes upstairs and Walter is left to explain his behavior to his best friend Arthur. Hitting the big 5-0 has been hard for Walter; it's really changed the way he looks at girls. "It's how I've been thinking about girls," he says. "I don't even see them as people anymore. I just see them as parts. Legs, necks, breasts, hips, knees." Arthur's response: "Way of the world, Walter. That's how people buy chicken nowadays."
On his way out the door, Arthur's word of advice is for Walter to tell Maude the truth. Walter may not have a chance to, as Maude comes downstairs with Walter's bags packed. She's kicking him out and doesn't want to hear another word about it. She wants everything of his out, dropping his bowling ball at his feet ("Here's your excuse") and shoving the vodka bottle into his luggage ("I don't want anything in this house that is going to remind me of you.")
Finally, with a barking "Maude! Sit!" Walter gets his wife to shut up long enough for him to try to explain. A former employee of Walter's named Gladys Horton - someone he knew long before he met Maude - needed emergency root canal work. (Maude: "What work? What canal?") Gladys asked him for a $500 loan and, curious to see her again, Walter agreed to meet Gladys at the Holiday Inn to give her the check. While it's true that Gladys nibbled on his olive, Walter insists nothing happened with the 26-year-old. ("I hear that number again, Walter, I'll find your root canals with my bare fingers.")
His explanation isn't good enough. ("In the history of husbandly excuses, this cock-and-bull, gum-digging root canal story has to be the lowest.") Maude goads Walter into admitting that yes, while nothing happened, it wasn't because he didn't feel more than a little lust for his dentally-impaired former employee. But Walter insists he loves Maude and nothing happened! When he asks Maude if she knows why nothing happened, she falls into his trap and supplies him with the perfect answer - "Because I've spoiled you for other women." Exactly!
They kiss and make up, Walter thinking he's dodged a bullet and Maude satisfied with the outcome, not fooled at all by his answer.
Hot button social issue: Middle-aged married men and their wayward pimentos.
Fashion statement: Walter sports the shortest tie (it barely passes the half-way mark down his chest) and Carol wears the largest cameo at the neck of her long purple argyle sweater dress.
Neckerchief count: Just one, worn by Arthur.
Cocktail hour: Walter says he's going to mix up a batch of martinis. On close inspection, it seems the Findley recipe for a good strong martini is straight vodka on the rocks.
Welcome back to 1973 pop culture reference: The latest in dental hygiene - Maude mentions she needs a Waterpik to get the pimento out of her teeth. (LINK: http://www.waterpik.com/about-us/oral-care-history.html)
Number of times Maude yells: 6
Memorable quote #1: "Walter, if you were a new puppy and I saw that look on your face, I'd be searching every square inch of carpeting in the house."
Memorable quote #2: Arthur: How's she built? Walter: Like a brick shipyard.
References to Nixon: When Walter says he supposes Maude called her mother for advice on kicking him out of the house, she replies, "Actually I called President Nixon and he and Bebe Rebozo suggested a thirty day cooling off period."
Wow, did they just say that? On the brink of learning that Walter might be cheating on her, Maude laments, "Oh Lord. Oh, why didn't the world stop with yesterday? Yesterday was such a lovely day. My cramps went away and everything."
-
Previously:
Season 1, Episode 1: Maude's Problem.
Season 1, Episode 2: Doctor, Doctor.
Season 1, Episode 3: Maude Meets Florida.
Season 1, Episode 4: Like Mother, Like Daughter.
Season 1, Episode 5: Maude and the Radical.
Season 1, Episode 6: The Ticket.
Season 1, Episode 7: Love and Marriage.
Season 1, Episode 8: Flashback.
Season 1, Episode 9: Maude's Dilemma (Part One).
Season 1, Episode 10: Maude's Dilemma (Part Two).
Season 1, Episode 11: Maude's Reunion.
Season 1, Episode 12: The Grass Story.
Season 1, Episode 13: The Slum Lord.
Season 1, Episode 14: The Convention.
Season 1, Episode 15: Walter's 50th Birthday.
Season 1, Episode 16: The Medical Profession.
Season 1, Episode 17: Arthur Moves In.
Season 1, Episode 18: Florida's Problem.
Posted by Lou at 07:01 AM | Permalink
April 01, 2008
The [Tuesday] Papers
Stuart Levine continued to rock the Illinois political community on Monday with his testimony in the Tony Rezko trial. Who knew?
"Levine testified he reserved a private room on the fourth floor of the exclusive Standard Club downtown," the Sun-Times reports in "Fast Times At Purple Hotel." "Levine said he asked the waiter not to interrupt and drew up in his notes how he'd split a series of fees paid by firms seeking to do state business."
"I wanted Mr. Rezko's undivided attention," Levine told a federal courtroom, according to the Daily Herald's reports in "Steak 'N Bribes." "Mr. Rezko is a very busy man."
"Over strip steaks, a little red wine and some vodka, Levine testified, he pulled out some scribbled ciphering that showed that their corrupt relationship could be worth $3.9 million to Rezko in the short term alone," the Tribune reports.
Prosecutors also walked Levine through his prodigious drug use to inoculate the coming attacks on his credibility from defense lawyers.
Levine, it turns out, is something of a bellwether of American drug use. As described by Rich Samuels on Chicago Tonight, Levine smoked pot in the 70s, snorted coked in the 80s, and turned to drug cocktails of crystal meth and Special K in the 90s. He also variously used at times quaaludes, LSD, ecstasy, and speed. Stuart Levine, I wanna party with you!
Levine's drug venue of choice was The Purple Hotel in Lincolnwood, which has in previous lives been a Hyatt, a Radisson, and a Ramada, but which has lost whatever luster it once had in recent years.
The hotel is best known as the location for a momentous event Outfit history.
"Last week, as Dorfman and Irwin Weiner, his former partner in Mob-connected enterprises, walked to lunch through the parking lot of the suburban Hyatt Lincolnwood Hotel near Chicago, two men wearing ski masks ran up behind them," Time reported in 1983. "'This is a stickup!' yelled one. But obviously it was not. The man opened fire immediately with a .22-cal. handgun, hitting Dorfman in the back of the head seven times. As the attackers fled, Dorfman lay dying in a pool of blood. Weiner was uninjured."
("The saloonkeepers banded together in 1922 and officially incorporated the Village. This was so they would have the power to grant liquor licenses.")
Levine would also occasionally charter private jets to ferry him and five "male friends" to party in Springfield. Good times.
More important, today's testimony could be even better. According to the Sun-Times, "Levine is expected to talk about a shakedown scheme involving powerful political insiders."
The only thing this trial is missing is sex. But that might be on the way.
Opening Day
* Fukudome's Diary.
* Vs. The Cell. Discuss.
* Dusty Baker not only brought Corey Patterson to the Reds and named him the starting centerfielder, but also made him the leadoff hitter. Patterson went 0-4 in the season opener. This is not an April Fool's joke. It really happened.
X X X
Are there X's in Grant Park yet where the Children's Museum will go?
If I was Save Grant Park, I would post guards.
Worst People in Chicago
Today's nominees:
* Elizabeth Abrams, Channel 2 communications director, on the bloodbath there: "The reorganization of our team allows us to operate more efficiently. We will continue to invest in the people and in the infrastructure that will drive our future growth in ratings, in revenue and in community service."
* Donna Dunnings, embattled Cook County finance chief, at a City Club luncheon: "To use the fact that I am the [County Board] president's cousin as a distraction from the true problems the county is facing is the type of tactic George Bush and Karl Rove would admire.
"Confuse the facts. Scare the public. Tap into their anger and their fears - all in an effort to distract them from the real problems we face and to avoid going out on a limb to propose a real solution. It is a lot easier to claim patronage and nepotism than to come up with a reasonable and balanced plan to address the problem."
Smackdown
"Todd Stroger and Donna Dunnings just don't get it," county Commissioner Forrest Claypool said. "They just raised taxes by almost half a billion dollars and gave out the largest raise in Cook County government to a member of Stroger's family who already is making a huge six-figure salary."
As The County Turns
"Stroger stands by his assertion that his whole image is the result of a media conspiracy led by the Sun-Times, but joined in by other papers, the Daily Herald included. The negative is always reported, while the positive goes uncovered, he said.
"'Nobody (reporters) cares what happens in county government, so people don't get the story of what's going on in the county. All they get is the soap opera. And with the soap opera, we'll always lose,' Stroger said."
Write a better script, dude.
From Beachwood reader Peg Burke: Todd Stroger's image problem isn't the fault of the press. Todd Stroger's image problem is entirely the fault of Todd Stroger. He's an idiot, and he's the only one who doesn't seem to see that. His many friends and relatives who are supported by the taxpayers have to recognize what a fool he is, and capitalize on that; anyone else would recognize that these people don't belong in jobs that require a certain level of experience and professionalism, and would fire their asses post-haste.

I'm tired of paying through the nose for this much stupidity and corruption. I'm tired of having Illinois bandied about as one of the three (along with New Jersey and Louisiana, fine company if you ask me) most corrupt states in the country. I'm tired of seeing governors go off to prison. When are we going to stop voting these clowns into office?
Millennium Park Follies
"A critic once noted that entering the mostly underground Harris Theater for Music and Dance at Millennium Park was 'like boarding a submarine,'" the Sun-Times reports.
"If that's true, it's a submarine that's taking on water. Roughly $1 million in emergency repairs are under way to remedy a problem that patrons of the theater, which shares backstage and office space with the Pritzker Pavilion, have probably never noticed.
"Water is seeping into the 1,500-seat theater's external stairwells, administrative offices and other 'non-public spaces.' If the problem is not corrected soon, 'long-term damage could occur' to the $52.7 million structure at 205 E. Randolph, officials said."
And what - and whom - is to blame for the latest fiasco at the most overrated "park" in America?
"[Theater general manager Steve] Abrams blamed the phased construction of the $475 million Millennium Park for the theater leaks.
"'The Harris was put in at one point. The park at another point. That probably isn't the most ideal way to put in waterproofing. Water-proofing should be the last thing to be done,' Abrams said."
And who will foot the bill for such a blunder?
You!
"The city [is] obligated to pay," said Cultural Affairs Commissioner Lois Weisberg. "The city has a 99-year lease with the Harris, but the city owns the property."
From Beachwood reader Hugh Devlin: The Harris story is related to the Chicago Children's Museum story. Both are within feet of Lake Michigan and both go subterranean. It's challenging but possible to build below the water table and keep it dry, but not on the cheap.
Let's Go To The Movies
Letter from Ebert.
The Beachwood Tip Line: Revolving credit.
Posted by Lou at 08:04 AM | Permalink
Fukudome!
Translated from the Japanese (via BabelFish).
*
No.100
2008. 4. 1 Tuesday
Today.
It is measure league member Fukudome filial piety mediating/helping, (laughing)
Facing safety commencement, it could debut.
Measure debut + Diary100 time eye! !
Especially there is no reality which has become the measure league member is however,
When facing to first at bat, in the Chicago fan where it receives enormous encouragement, is harsh
Receiving warmly, because it received, as for the feeling that became one member, whether it did.
It did relieved.
' It is accidental, ' just a little you laughed the board,
Regular game considerably had blank, but it could keep entering to the tournament easily.
It was good, is.
Whether 1st at bat become tense by your just a little already, - with thinking, hurting, it does, but
Rather than thinking, it was possible to stand calmly in at bat.
First sphere especially did not aim, is.
Trying probably to keep striking first strike positively
It became the good result, you think that it is.
Don't you think? this attitude (it keeps striking first strike) when being in Japan from, is.
Because home run there was a wind, as for the instant which is struck whether ' it reaches, - ' with you thought, but
It was possible to enter, is. Accidentally is.
Don't you think? Chicago the wind forcing and is irregular. Don't you think? in on and under it is different at all.
Simply as a team being to be defeated, it is regrettable.
The kind of batting which it can contribute to the team even from now on should have been possible, don't you think? is.
Standing on tiptoe it does not do strangely, usually sort, you are your own and we would like to keep doing the fact that it finishes securely is.
Everyone of the fan which sends encouragement from distant Japan, thank you truly.
Now drowsy kana? (Laughing)
Persevering well - it does,
It is completed cripes . . . zzz
Posted by Lou at 07:03 AM | Permalink
Obama's Liechtenstein Doctrine
For Immediate Release
-
FIRST LIECHTENSTEIN BI-RACIAL CITIZEN SENT TO AMERICA TO ASSESS RACIAL CLIMATE IN WAKE OF BARACK OBAMA SUCCESS
Superstar Al Walser meets with presidential hopeful!
-
With the phenomenal success of presidential hopeful Barack Obama, the tiny alpine country of Liechtenstein has sent their first bi-racial ambassador of goodwill to America. Al Walser has met with Obama to discuss how the two men's bi-racial background has been received in several different American states and in other countries.
Walser shared his own experiences as a bi-racial music and dance celebrity, and explained how ignorance can lead to false presumptions. Walser detailed how his own country of Liechtenstein is unfairly seen as a tax haven used for money laundering by Americans who do not want to pay taxes or who obtain money through illegal means. Walser would like the help of a President Obama in reinventing the small country's image as all of America 's good friend. Walser is encouraging Obama if elected to make his first official trip to his country of Liechtenstein .
Lichtenstein has only 35,000 residents, but Walser says the candidate is considering an official visit if elected to show that like individual citizens, small countries matter and have a crucial role in creating the "change" that the Obama administration believes in.
The meetings have captured the attention of another famous American! Talk show host Jay Leno has invited Al Walser to The Tonight Show to share insight and stories of his country and his hope of improving relations between the two countries and relationships between races.
Walser came into the spotlight when pop star Michael Jackson was searching for a family home in Liechtenstein. Walser's work as an artist and Goodwill Ambassador has been generating a lot of buzz in the U.S. bringing him into constant contact with high profile celebrities, politicians and business people. Al Walser is quickly surpassing celebrities in Internet searches on popular sites such as youtube, itunes, and myspace.
Posted by Lou at 12:41 AM | Permalink