« August 2007 | Main | October 2007 »
September 29, 2007
The Weekend Desk Report
We'll try not to get bleary-eyed and fall asleep on the watch this weekend.
Market Update
Critics responded with skepticism to presidential hopeful Hillary Clinton's proposal to flood the market with new consumers, pointing out that each $5,000 birthday grant will probably be worth around $17.50 at maturity.

Disabilify
Drug manufacturer Bristol-Myers Squibb has agreed to pay $515 million to settle claims that it blatantly violated the rules of the English language with its antipsychotic drug Abilify. Company spokespeople have apologized, saying they misunderestimated the seriousness of the offense.
Pardon Possible
Lawyers for the beleaguered drug company are reportedly considering seeking a presidential pardon, although they feel President Bush may be too concerned with his foreign policy efforts to pay much attention to domestic affairs.
Doomsday Redux
In some parts of the world, people risk their lives to resist punitive increases in transport costs. You know, just sayin'.
Oh, Big Brother!
IBM and Chicago officials have announced plans for a massive upgrade to the city's surveillance system. New software will allow security cameras to recognize any anomalies, like, say, when a cop beats the shit out of someone three times in a night.
Taxing Proposals
Finally this week, a citizens' coalition has urged Cook County Board President Todd Stroger to forgo a 2% hike in sales tax, at least until he's figured out how to collect the taxes the county is owed already.
Posted by Natasha at 08:13 AM | Permalink
September 28, 2007
The [Friday] Papers
So much for "cops on the dots."
As reported in the Tribune today, the Chicago Police Department's Special Operations Section - created as the centerpiece of the mayor's strategy to fight an embarrassingly high murder rate - is a disaster.
Seven SOS officers have already been charged with false arrests, robbing and kidnapping in what is described by the Tribune today as a "widening state and federal probe."
For more than a year insiders have buzzed about a unit drenched in massive scandal.
On Wednesday, SOS officer Jerome Finnigan was charged in a murder-for-hire scheme whose intended target was a former SOS officer cooperating in the probe.
And then today, this:

"The arrest report filed by two Chicago police officers claimed they searched Raymundo Martinez outside a Southwest Side bar because he threw a bottle of Corona down on the sidewalk when he saw them coming," the Tribune reports.
"The officers, members of the special operations section, saw a plastic bag that turned out to contain cocaine poking from his sleeve and arrested him, their report states.
"But cameras on the bar's ceiling and outside caught a very different scene that night in 2004 at Caballo's, 3748 W. 63rd St. Instead of two officers approaching a man drinking on a public street, the video shows more than two dozen police from the SOS unit raiding the bar and searching everyone, and arresting Martinez inside the bar.
"The bartender said an officer who appeared to be in charge said, 'This is just routine. We're going to check everybody.'
"The video contradicts the arresting officer's version of what happened that night, but it also raises constitutional issues about whether officers improperly searched dozens of people. The video also adds to a list of questions about SOS officers' conduct, which is the focus of state and federal investigations."
This is not good.
Of course, it shouldn't surprise anyone. History teaches us that elite police squads such as SOS tend to fill up with unrestrained cowboys who make The Shield look like child's play.
Roving bands of aggressive cops swarming "hot spots" is never a good substitute for the fundamentals of policing: beat systems that make sense, unlike the unformed system in place now that the mayor refuses to change, and true community policing, unlike the fake version that the city barely pretends to even employ anymore.
SOS wasn't exactly popular inside the department either. "Some rank-and-file officers resent specialized units such as SOS, claiming it takes clout and connections to win a spot on them," the Tribune reports. "Many officers joke that SOS stands for 'sons of sergeants.'"
It's the mayor's police department, just like it's the mayor's CTA. I guess he's too busy trying to dig up Grant Park to notice.
Sons of Sergeants
"Nobody in Mayor Richard Daley's administration can be trusted to keep city hiring free from politics except the inspector general, a court appointed official has concluded," the Tribune reports.
That's the inspector general the mayor is trying to undermine.
"Noelle Brennan cited the city's 'history of noncompliance,' a series of violations and fears that only Inspector General David Hoffman is independent enough to guarantee compliance," the Sun-Times reports.
"Brennan cited examples, including the case of a high-ranking employee who dared to report a violation to the monitor and was punished.
"Individuals in the mayor's office retaliated against the employee by attempting to 'exclude her from meetings . . . have her stripped of certain duties and attempting to isolate her from the rest of her working group,' the report said. The only explanation for the treatment was that the employee 'could not be trusted.''
"Several other examples were cited.
"'Even after the appointment of the monitor, the city continued to violate the Shakman decree by appointing individuals into 'exempt' positions that simply did not exist,' the monitor wrote."
"'To 'correct' this problem, a former deputy chief of staff violated the decree further by moving open Shakman-exempt slots from one department to another, an action prohibited' by court order."
A deputy chief of staff. To the mayor.
*
Daley responded by accusing Brennan of racism and not liking children.
Child's Play
"The mayor was asked how the [Chicago Children's Museum] was asked how the project could survive a court test after four Supreme Court rulings have affirmed legal covenants restricting lakefront construction," the Sun-Times reports.
"It is free and open," the mayor said. "That's why we have Daley Bicentennial Park, which is a building . . . That's why we have the Frank Gehry. That's why we have museums. That's why you have Navy Pier."
The mayor was apparently not asked what the hell he was talking about and if his gibberish was intended to evade the question or if he had merely forgotten to take his medication that morning.
The Outfit Fits
What makes the Chicago Outfit different from most street gangs and other organized criminal organizations that we go after is that one hundred years or so of building up connections among politicians and cops and judges and businessmen," first deputy U.S. attorney Gary Shapiro tells John Kass.
Connect the dots. Including the ones the cops are on.
Remedy
Wow, someone needs to brighten the mood around here. Got anything for me Rick?
Yes.
ITEM: Blackhawks Owner Bill Wirtz dies
CHICAGO, Illinois - The not-so-beloved owner of the Chicago Blackawks died this week in Chicago. Bill Wirtz was 77 years old."
* He was preceded in death by the Blackhawks, who died about ten years ago.
* His home wake will not be televised.
Ba dum-bum.
The Beachwood Tip Line: At your service.
Posted by Lou at 10:13 AM | Permalink
Mystery Debate Theater 2007
The Republican frontrunners weren't the only ones missing from Thursday night's debate at Morgan State University. Our very own Andrew Kingsford was MIA (in heavy REM, we suspected), though we're certain he loves black people. I would dare say, though, that anyone who votes for Rudy Giuliani, John McCain, Mitt Romney or Fred Thompson is a race traitor - no matter what your race.
The rest of the Mystery Debate Theater team - Tim Willette and Steve Rhodes - gathered once again at Beachwood HQ to bring you the best coverage in the nation. Tom Joyner and Tavis Smiley moderated. As always, this transcript is edited for length, clarity and sanity.
*
JOYNER: We may not agree on all the issues, but we do agree on the importance of an evening like this, and you demonstrate that sentiment with your presence. And to the esteemed candidates, whether you're pro-life or pro- choice, for the war in Iraq or against it, for Kanye West or 50 Cent . . .
TIM: . .. pro-coming here tonight, or against it . . .
JOYNER: . . . it's your turn to share your message with an audience that's stretched further than it's ever been stretched before, and that's a good thing. And let me take a moment right here and now to say hello to those of you viewing from home. Mayor Rudy Giuliani. Senator John McCain. Governor Mitt Romney. And Senator Fred Thompson.
TIM: Good thing this isn't a restaurant or they'd be saying we can't seat you until your party is full.

*
SMILEY: Some of the campaigns who declined our invitation to join us tonight have suggested publicly that this audience would be hostile and unreceptive. Since we're live on PBS right now, I can't tell you what I really think of these kinds of comments.
So I'm proud to introduce to you former Arkansas Governor Mike Huckabee. Texas Congressman Ron Paul. Kansas Senator Sam Brownback. Colorado Congressman Tom Tancredo. California Congressman Duncan Hunter. Former Ambassador Alan Keyes.
STEVE: Who among the other Republicans can ever say again in this campaign that the want to unite the country? They won't talk to black people, they won't talk to gays, they won't talk to Hispanics . . . . why do they hate America?
SMILEY: Please tell me and this audience, in your own words, why you chose to be here tonight and what you say to those who chose not to be here tonight.
HUCKABEE: Well, Tavis, I want to be president of the United States, not just president of the Republican Party. Frankly, I'm embarrassed. I'm embarrassed for our party and I'm embarrassed for those who did not come, because there's long been a divide in this country, and it doesn't get better when we don't show up.
PAUL: Well, the main reason I'm here is because I was invited.
BROWNBACK: I want to say just at the outset, I apologize for the candidates that aren't here. I think this is a disgrace that they're not here. I think it's a disgrace for our country, I think it's bad for our party, and I don't think it's good for our future.
TANCREDO: I am here likewise because I was asked and because I made a commitment on your show. I must admit to you that it is pleasurable and a little bit different to be in this kind of an environment with my colleagues who are here because the last time I was at an event of this nature, it was the NAACP convention and I was the only Republican that showed up.
And I am especially glad to be here to be able to talk about something that was mentioned during the original introduction, something you said, I believe, Tavis, when you talked about - we're here to talk about the promise of America.
HUNTER: You know, when we have family reunions and some of the family members don't show up, we do talk about them. But I'm not going to do that.
KEYES: Now, I wouldn't want to seem to be the fellow who's going to speak up in defense of our absent colleagues here.
But I think it is a little unfair to assume that they didn't show up tonight because they were sending a message of some negative kind to the black community, for the very obvious reason that they didn't show up at the Values Voters Debate, either - which, of course, sent a very negative message to the people who are interested in the issues that were discussed there.
Do you know what these two debates do have in common though? The Values Voters Debate was the first debate I was included in. And this is the second debate I'm included in.
I've been barred from the debate in Michigan, for reasons best known to the party there. And what do you want to make of that? The other guys will show up there.
Now, that suggests that they may or may not be afraid of all Black people, but there seems to be at least one black person they're afraid of.
STEVE: It took him a really long time to get to the punch line, but it wasn't as bad as I thought it would be.
*
SMILEY: Let me now introduce Lucille Victoria Rowels of Chicago, winner of our online contest in which we asked listeners of the Tom Joyner Morning Show to submit their questions to the Web site.
ROWELS: Even though a majority of individuals who have served as president since Abraham Lincoln have been Republican, I believe that most black Americans who will vote in the year 2008 are not able to name even one Republican president in the 142 years since Lincoln's death who have left a positive and significant legacy for black Americans.
If you are elected president in 2008, what positive and significant legacy, if any, will you leave for black Americans?
HUCKABEE: Well, I would say, first of all, that I would hope they would name President Eisenhower. Because he sent those troops and federalized the National Guard in Little Rock, Arkansas in 1957, when it was a Democrat governor who stood at the schoolhouse door and said those young people couldn't come in.
And I would like to believe, if I were fortunate enough to be the president, that at the end of my tenure - hopefully, eight years, by the way, not just four - that housing opportunities would be better, that we made some real strides in the criminal justice system so that you don't have a different sentence for a 17-year-old kid caught with a lid of marijuana than you do some upper-middle-class white kid who gets caught with cocaine. He goes to rehab, and the black kid goes to prison for 10 years.
PAUL: I would like to believe that if we had a freer society, it would take care of blacks and whites and everybody equally because we're all individuals. To me, that is so important. But if we had equal justice under the law, I think it would be a big improvement. If we had probably a repeal of most of the federal laws on drugs and the unfairness on how blacks are treated with these drugs laws, it would be a tremendous improvement.
SMILEY: Senator Brownback?
STEVE: I would try very hard to acquire a black friend if I became president.
*
BROWNBACK: There are several things that I would do. One is focusing in on rebuilding the family.
TANCREDO: One of the things that I will do as president of the United States, to increase the economic opportunities for every American, especially people in the lower economic rung of the ladder in America, is to reduce the flow of illegal immigration into this country, which depresses wage rates for the lowest-income earners in this country.
And it's got to be dealt with. It's got to be dealt with forcefully. And I tell you, yes, Black America, Brown America, White America, all will be enhanced by actually enforcing our laws.
TIM: Everyone will be enhanced. Brown will be much more brown, white will be much more white.
STEVE: Photoshop for everybody.
*
HUNTER: I think that we also have to add, with Governor Huckabee's statement about Ike, that calm hand of Dwight Eisenhower that brought about desegregation - also, you know, in 1964, that Civil Rights Act was passed with a greater proportion of Republican votes in the United States Congress than Democrat votes, a fact that's been forgotten over the years. I want you to remember that.
But, you know, I can't talk about young black Americans . . .
STEVE: . . . 'cause I don't know any . . .
HUNTER: . . . and the need for them to be shielded from pornography.
And in the barrio where I practiced law before I ran for Congress and got this job, I remember Mr. Sanchez down the street with his family, working 18-hour days, a need to have less regulation, less taxation. That would help all Americans.
And I guess I would go with Jack Kemp's great statement: A rising tide lifts all boats. A Republican administration, my administration, would lift all boats.
STEVE: Jack Kemp? I thought Jack Kennedy said that.
TIM: What about PT109? Except for boats with big holes in them . . .
*
KEYES: I would hope that the most important legacy of my administration would be to remind people that in spite of all the talk, I don't believe there is this deep divide between Blacks and whites in America . . . blah blah blah.
STEVE: And if someone's gonna get creamed by Obama in the general election, I've already done it!
*
Tavis: Let me now turn this conversation over to a terrific and very able panel of journalists who will take us the rest of the way. Cynthia Tucker, editorial page editor for the Atlanta Journal Constitution. Ray Suarez, well known to PBS viewers for his work on The NewsHour with Jim Lehrer." And Juan Williams of NPR and a contributor to FOX News channel.
TUCKER: In 2006, the unemployment rate of black high school graduates - that's high school graduates - was 33 percent higher than the unemployment rate for white high school dropouts. What do you think accounts for that inequity?
HUCKABEE: Cynthia, part of that is it is that there is still racism in this country, and the opportunities aren't the same. Some of it has to do with the fact that there are people who unfortunately still look at a person's face and their skin, and that's something that government can't change, but leadership certainly can speak to.
PAUL: Walter Williams, a very astute free-market economist, has studied this extensively, and he has found that prior to minimum wage laws there was no discrepancy like this. So he put a lot of blame on the minimum wage law.
BROWNBACK: What you have to do to try to stimulate [the economy] is really have a tax policy, something I've talked about, about an optional flat tax . . .
TIM: An optional flat tax? I'm a billionaire and I think I'll take the flat tax this year!
TANCREDO: OK, I just cannot agree with this race-baiting kind of comments about the reason why we have these problems.
My friends, I'll tell you that I believe, with all my heart - look, why was it that in the '50s, in the '40s, and actually leading up into the early '60s, the ability for blacks in the United States to improve themselves economically was working? They were moving up the ladder.
Families were in tact - in better shape, by the way, than most white families of that same period of time. What happened? Two things have happened to - I believe - to devastate the black community when it comes to economic opportunity.
STEVE: Integration.
TANCREDO: One, the welfare state; it began to pay people to not be in the home.
STEVE: I thought it paid people to stay home. They certainly weren't at work.
TANCREDO: And when that happened, what we saw is a decline in wage rates. And two, of course, is the importation of millions upon millions of low-income workers that depress the wage rates for the lowest income among us. Those two things are responsible, and it's got nothing to do with race.
HUNTER: You know, Republicans, when we had that great match up of a Republican majority in Congress in the '90s and President Bill Clinton, the Republicans initiated legislation three times . . .
TIM: . . . to throw Clinton out . . .
HUNTER: . . . to reform welfare. The first two times, President Clinton vetoed it, and the third time he signed it and took credit for it. It's something I've done every now and then in my career.
But lastly, there is one party that is very important to jobs, jobs in the community for everybody. That's the small businessman. If we help the small businessman, and that's a Republican trademark, we'll do it . . .
STEVE: Yes, we must help the small businessman!
*
KEYES: I have to say I think the most important factor in all of this does have something to do with policies that had an impact on race, but it was the disproportionately destructive impact that a lot of government programs had on the moral foundations and family structure in the black community.
You talk about folks finding job opportunities. You know where a lot of black men find job opportunities these days? In prison.
And that is something that reflects the reality that when you allow the family to break down, when you have government regulations that drive the father from the home, you have established the conditions for the upbringing of children to be nonproductive, to be violent, to be turned in directions that will be destructive of their economic future.
And when you add to that the promotion of a culture of promiscuity, a culture of selfish hedonism . . .
STEVE: Like that of my daughter.
KEYES: . . . that leads people not to understand that that marriage partnership is the most important foundation of any real economic life, then you have especially destroyed the black community.
STEVE: Especially gay blacks, who shouldn't be allowed to get married.
*
SUAREZ: The most commonly cited statistic for the number of illegal immigrants living in the United States is 12 million people. Is it desirable, is it even practical to try to send them all home?
PAUL: It's pretty impractical to get an army in this country to round up 12 or maybe 20 million. But I do believe that we have to stick to our guns on obeying the law, and anybody who comes in here illegally shouldn't be rewarded.
But I see the immigration problem as a consequence of our welfare state. Welfare because we encourage people not to work here, but the welfare we offer the people who come - they get free medical care. They get free education. They bankrupt our hospitals. Our hospitals are closing. And it shouldn't be rewarded. That means that if you don't round them up, you don't reward them, you don't give them citizenship. At the same time, you can't solve this problem until you have - you get rid of the welfare state, because in a healthy economy, immigrants wouldn't be a threat to us. There would probably be a desire for more, because we would be starved for workers.
But today, they have become scapegoated because of the weak economy and the lowering of our standard of living.
HUNTER: Folks that are here illegally have to leave and let me tell you why. Today, if you're a dry wall contractor and you play by the rules and you pay $27 a loaded hour for each of your employees, you will be constantly under-cut by contractors who use people who are here illegally.
That's not fair to Americans who play by the rules. And we just talked jobs a few minutes ago. That's one reason you have, in certain areas, especially in the construction trades now, higher levels of unemployment.
KEYES: The border is a matter of security, first of all. And we have to make sure that we control it, or no laws we pass have any significance. People will still cross on their own terms.
So the very first priority has to be to get back control. But we also have to remember why we lost control, because these elites who have been under the thumb of certain corporate interests have an interest in cheapening the price of labor in America.
STEVE: I thought he wanted cheap labor. He contradicts himself all the time - just like the Bible.
KEYES: Do you want to know who's first hurt by that cheapened price of labor?
Black folks are first hurt, as they've been hurt in the rebuilding of New Orleans, in the rebuilding of other parts of the United States that were affected by those hurricanes. It's time we stopped fooling around with this issue.
I think people, including a lot of the Black liberals, are more worried about what we do with illegal immigrants than they've ever been about the impact of illegal immigration on Black Americans who have been in this country all along. I'm sick of seeing it.
HUCKABEE: Until something is done to touch the people who are employing illegal immigrants because of the very reason that they've talked about on this stage, to create what amounts to another version of slave labor, then we're never going to stop the flow.
What we have to do is to start putting the penalty on the people who are most benefiting from them, the employers who are using those laborers in order to keep from having to pay decent wages.
STEVE: So they're pro-union?
TIM: They're pro-union, anti-corporate, anti-exploitation, this is great! It's not your father's Republican party.
*
WILLIAMS: Name one reform that you would endorse to assure young Black and Latino people in America that they will have equal justice in America's courts.
BROWNBACK: I may be the only person up here on this stage that's spent a couple nights in jail . . .
TIM: I sat under a tree that was whites-only.
BROWNBACK: . . . I went in to look at the system. I spent a night in a prison in Kansas and I spent a night in a prison in Louisiana. I've stayed in homeless shelters to answer and to get a feel for what you're talking about.
TIM: I want to assure everyone I was in no danger.
SMILEY: Congressman Tancredo?
STEVE: I will put myself in jail.
TIM: If I become president, I'm gonna put Sam Brownback in jail.
TANCREDO: I believe that it was mentioned earlier, and I certainly agree with the fact that first of all, there are far too many criminal statutes at the federal level. The Constitution establishes the roles for the federal government and the state government, and we have taken on far too many things at the federal level, especially drugs laws - mandating certain penalties and that sort of thing.
STEVE: Now he's just pandering.
HUNTER: Juan, I don't know as much about the facts as you do in this particular case.
TIM: After all, I'm just running for president.
HUNTER: But the facts, related, that I read in The Washington Post was that the one young man there was knocked unconscious and was kicked in the head while he was unconscious.
SMILEY: Your answer notwithstanding, Mr. Williams' question was not answered by you, respectfully. And that is: Is there a particular policy that you would support to guarantee young Black and brown men watching right now a fairer equal justice system? That part you did not get to.
HUNTER: I don't think there's any way you can be more fair then to have people in this country, under this wonderful Constitution that we put together, where people who are tried for criminal acts are tried by a jury of their peers.
Juries, obviously, are blemished in many ways and are not perfect, but a jury trial under the law is, I think, the best system of justice on the face of the Earth.
STEVE: So he's proposing a jury system.
KEYES: Well, I've always favored, and if you look at a book I wrote some years back called Masters of the Dream, there was a proposal in it that was part of a package of what we need to do to restore real local self-government, which in our case would be neighborhood self-government in a lot of our urban areas.
One of the features of that neighborhood government would be the reinstitution of what were called in the old days things like justices of the peace.
They were people who lived in the community, came out of the community, were empowered to judge offenses committed by folks who were in and lived in that community so that there would be sensitivity to the truth that you're not just dealing with crooks.
TIM: So we'd have a Wicker Park judge? Who would that be?
STEVE: The alderman. Or Bob at the Beachwood.
HUCKABEE: Well, first of all, we really don't have so much a crime problem in this country. We have a drug and alcohol problem. Eighty percent of the people who are in our prisons and jails are there for a drug or alcohol crime. They either were high or drunk when they committed the crime, or they committed the crime to get high or drunk.
And what has made a huge mistake is that we've incarcerated so many of the people who really need drug rehab more than they need long-term incarceration.
In our state, we established over 20 drug courts, that gave people an alternative course, rather than just putting them in prison, giving them the opportunity to get what they really needed, which is off the addiction.
We've got to quit locking up all the people that we're mad at and lock up the people that we're really afraid of, the people who are sexual predators and violent offenders.
But the nonsense of three strikes and you're out has created a system that is overrun with people, and the cost is choking us.
I would go for more drug courts and for a lot less incarceration of drug-addicted people.
STEVE: He's so much better than the others. If there are any Republicans watching, he just lost the nomination.
TIM: It's on PBS at a historically black college. I can say whatever I want!
*
TUCKER: Recently a push to give the District of Columbia voting representation was defeated because of heavy Republican opposition. In addition, many voting rights advocates are worried about rigid voter ID laws, which require photo ID, like a driver's license.
Are you concerned that some eligible voters will be denied the right to vote simply because they don't have a driver's license?
KEYES: I think the most important thing to remember about Washington, D.C., is that it was established to be a unique representation of the whole people of the United States.
That's a city that's supposed to belong to the nation, not to any one group and not to any one region. That's why it was put together in the first place.
I think it's terribly important to maintain that symbol of the unity of our country. We're a free people. If folks don't want to live in the conditions that prevail in Washington because of its unique status, they can go to Maryland. A whole bunch of folks have done so.
They can go to Virginia. A whole bunch of folks have done so. Some of the biggest churches and everything else now exist in Prince George's County, because people left the District.
They have that right, and I think that they can exercise it. But I think that the country is entitled to have this possession that symbolizes our whole united people, standing together as one community. I think it's terribly important that we sustain it.
HUCKABEE: Well, I may be a little different on this one. I believe that the people of D.C. should be able to vote for representation.
I think that's appropriate, for the simple reason of equality and justice. And if we need to amend the Constitution to make that possible, it should happen.
D.C. is not the same city it was when it was first created, and I think it just makes sense to not have a group of people - I don't care what color they are, I don't care how they vote - they ought to be able to vote, and their color and their political affiliation ought to have nothing to do with the equality that we should give them.
As far as identification - I have to show photo ID to get on an airplane in my home town. I think it's not asking too much to make sure that people who are voting are truly eligible voters.
But look, if it's a driver's license issue, we've gone to Motor Voter - let's have Photo Voter so, when you register to vote, they take your picture, put it on a card, and you simply are able to make sure that you're a registered voter.
STEVE: Can we just have drawings on our Ids? Caricatures?
*
SUAREZ: The Federal Agency for Health Care Research and Quality recently reported that both Latinos and blacks receive "significantly worse," in their words, medical care than whites in the United States.
One out of three Hispanics, one out of five black Americans is uninsured. Hispanics are 2.5 times as likely as non-Hispanic, white Americans to be uninsured. One of three Hispanics hasn't been to the doctor in more than a year. And as has already been mentioned, diabetes, asthma, hypertension are untreated or under-treated in communities across America.
What does your health care plan contain to address some of these disparities in access to care and access to quality health care?
HUNTER: Well, Ray, the first thing I'd say is I can't - as a guy who practiced law in the barrio . . .
STEVE: Here with the barrio again . . .
HUCKABEE: The first problem with our current health care system is that it's upside down. It focuses on intervention. We wait until people are catastrophically ill, and then we spend enormous amounts of money trying to fix them. We need to be putting the money on the preventive side. Prevention is a lot less expensive than is intervention.
The second thing, there has to be ownership of the individual consumer. As long as the government, the employer, as long as the doctor is in charge of your health care, and you have no idea what it costs, and you have no idea what they're doing, and you don't control it, we're never going to get the system fixed.
And the third thing that has to happen is that we have portable medical records so that your health care records go with you. They don't stay with your doctor. You shouldn't have to ask permission to see the records of your own body. Those are your own records. They don't belong to anybody else.
And the policies that we can put in place have to start with individuals buying in, not only on insurance, but buying in on health, their own personal, to start with.
TANCREDO: You should be able to get your drugs from any place that, in fact, it's cheaper to get drugs. If it's cheaper to get drugs in Canada, get drugs from Canada - it's OK with me.
STEVE: They have the best pot anyway.
*
WILLIAMS: What do you say to the one-third of the nation that's minority and overwhelmingly opposed to the continuation of this war, even as the GOP in Congress continues to block attempts to set a deadline to end this war?
KEYES: I think the most important thing to remember is that our efforts in Iraq and elsewhere right now that followed in the wake of September 11 aren't an effort to defend Black people, white people, Jewish people, Christian people, et cetera.
They're an effort to defend the United States of America from a deep and terrible threat that came against us in disregard of the fundamental -- the fundamental moral principle that is supposed to govern all international affairs, all wars that are conducted by countries, and that is that you do not consciously target innocent human life.
HUCKABEE: One of the tragedies is that our military veterans have kept their promises to us . . .
STEVE: But we haven't kept our promise to them.
HUCKABEE: . . . we have not kept all of our promises to them.
There are still people who believe that Iraq had something to do with 9/11, yet 15 of the people were from Saudi Arabia.
STEVE: One of them just spoke on the stage - the black one!
HUNTER: Ladies and gentlemen, we can leave Iraq, and under my leadership, we will leave Iraq in victory. And let me tell you what I would propose.
The key to handing off the security apparatus in Iraq, now that we've stood up a free government -- and it is a free government. It's stumbling along, it's inept, but it's a free government.
TIM: Kind of like another government you may have heard of.
*
HUNTER: I think there is a need for the death penalty. And it's called deterrence. And that means that, when that Charles Manson is getting rid to pull the trigger on an innocent American, just maybe the idea passes through his mind that he, himself, is going to lose his life.
STEVE: Okay, I just saw an interview with Charles Manson. That's not gonna happen.
KEYES: We can only dispatch you to the ruler of us all so that he may ultimately judge you for your misdeeds.
STEVE: Let's just dispatch us all right now and get it over with.
SMILEY: Good night from Baltimore.
-
Beachwood Analysis: Mike Huckabee was the clear winner tonight. He's found his stride and he has crossover appeal. He appears to be a reasonable, likable, nice man - unlike the stinkin' frontrunners without the courage to face black people. Sam Brownback really helped himself; this was his best performance. He showed a compassionate side many times and presented himself as far more well-rounded than the caricature conservative he's appeared as so far. Tom Tancredo also showed himself to be more interesting than in the past, but certainly not presidential - not even close. Duncan Hunter is a cartoonish, one-dimensional figure. While Mike Gravel on the Democratic side is full of (justified) outrage, Ron Paul is more of a theoretician. Kind of like an obscure professor who is always interesting for the first 15 minutes and then after that he's just nuts. Alan Keyes is nuts from the outset.
-
See the entire Mystery Debate Theater series. It's really funny.
Posted by Lou at 07:43 AM | Permalink
The Blue & Orange Kool-Aid Report
After the Bears' 34-10 drubbing at the hands of Dallas, the Kool-Aid Nation centered their thoughts around one mantra: "It could be worse." Well, technically, only two things are worse than their current record: 0-3 and 0-2-1. I'm not one to piss on the Kool-Aid Nation's parade, though. Rather, allow me to help list the things that are non-technically worse than a 1-2 record.
*
After a night of drinking, you crash your car. Thankfully, the cops seem to forget to ask you why you left the accident scene.
*
You ask your spouse for "tickets for the big game;" you get home opener tickets for the Blackhawks.
*
You get to speak to a packed house at an Ivy League school. Unfortunately, your name is Mahmoud Ahmadinejad.

*
Your boss pulls you aside and says, "Take the day off tomorrow;" then he says, "because you're fired".
*
Your one-night stand calls you to let you know she passed her test;her pregnancy test.
*
You wonder if Kyle Orton might be the answer; you wonder if Kyle Orton might be the answer.
*
You think you're being complimentary when you say you "couldn't get over the fact" that there was no difference between the black-run Sylvia's and the others.
*
You're happy buying a new iPod for $169, but then Apple releases a new iPod with 10x the functionality for $29.
-
Bears at Lions
"Brian is our quarterback" doesn't have the same ring as "Rex is our quarterback." At some point, perhaps we can make Lovie do some sort of "Match Game" send-off like "BLANK is our quarterback."
Let's face it, Griese is just a temporary stain remover. Expect the Bears to look more like the 2006 Bears this week, until defenses finally expose the real problem - the Bears need to run well to set up the pass. Calling Cedric Benson! Perhaps Lovie should have insisted that "Thomas is our running back." Expect the words "Kyle is our quarterback" around Week 9.
Pick: Chicago Plus 3 Points, Over 45 Points Scored.
-
Sugar in the Blue and Orange Kool-Aid: 25%
Recommended Sugar in the Blue and Orange Kool-Aid: 25%
-
For more Emery, see the Kool-Aid archive, and the Over/Under archive. Emery accepts comments from Bears fans reluctantly and everyone else tolerably.
Posted by Lou at 12:10 AM | Permalink
September 27, 2007
The [Thursday] Papers
Editor's Note: I'm not going to have time for a column this morning, but we've got new posts this morning in several sections. Please consult Today's Beachwood to your right for details.
*
The [Wednesday] Papers
Blackhawks owner Bill Wirtz is dead.
*
Playoff Putsch
Aren't the Cubs violating the Tribune Company's code of ethics by offering members of the city council - and state legislators from the Wrigleyville area - a special deal on playoff tickets?

After all, these are policymakers whom the company's media outlets cover. And it's obviously being done as a political favor - otherwise all state legislators and other officeholders and dignitaries would be included.
Or is the company allowed to offer the same sort of gifts that its reporters are prohibited from accepting?
"We do it as a courtesy to the aldermen," Cubs community relations vice president Mike Lufrano told the Sun-Times.
A courtesy? Like when a cop from one jurisdiction, say, lets off a cop from another jurisdiction from a speeding ticket?
"But we also believe this is a citywide celebration," Lufrano says. "So it's appropriate for aldermen, as representatives of the city, to have a chance to participate in the celebration."
So, um, our aldermen will represent actual residents of the city at the games? How royally quaint.
And without the graciousness of Tribune Company, the aldermen would otherwise be left out of "the celebration." Unlike the rest of us.
Ald. Ed Smith (28th) says the deal is not a conflict of interest if aldermen pay for their tickets. And they will have to pay for their tickets - face value without standing in line or participating in a lottery. I guess Smith forgot about that part.
"It's one of the perks that comes with the job," Ald. Brian Doherty (41st) says.
And God knows aldermen don't have enough of those.
Meanwhile, for poor lifelong fans left out of the citywide celebration, Cubs playoff games - if they make it - will only be shown on cable TV. I wonder if Comcast gives aldermen a deal on that, too.
Testing Testing
The performance of Illinois schools in nationwide tests "stand in stark contrast to state test results released last week," the Tribune reports.
"Critics contend the wide disparity proves Illinois - and other states - are watering down state tests in an attempt to meet the demands under No Child Left Behind reforms. Illinois made drastic changes to its state exams two years ago, giving students more time to complete tests and lowering the passing bar on the 8th-grade math exam."
In other words, watering down its tests.
Children's Cave
A compromise being floated in the Chicago Children's Museum mess is to place the entire thing under Grant Park; you know, sort of where the underground parking garages are.
"Reilly agreed to consider it, even though he had trouble believing that the Children's Museum would 'want all of their programming to essentially be in a cave,'" the Sun-Times reports.
Because they want to be in - or under - Grant Park real bad.
This looks like the road we'll be going down. An insightful Beachwood reader sent me this the other day:
"My guess: the museum stays, but the argument will now switch to design (which is where it was anyway, really) and Randolph Street, which is really a visual blight east of Michigan, is going to get some pedestrian-friendly street improvements as a sop to residents. And when the Daley Bi park is ripped up sometime in 2008-09 - which it has to be anyway to replace the membrane of the parking lot below it - the residents will get a new park remade in their image/wants/desires."
Another reader notes this nugget from this week's Crain's article:
"'The Metropolitan Pier and Exposition Authority charges the museum $1 a year to rent 57,000 square feet on the west end of Navy Pier but does not subsidize operations.'
"Gosh, that's not a subsidy? Can I lease 57,000 square feet for $1 too???"
Dodge Ball
Player 1: U.S. Rep. Jerry Weller, who announced he will not seek another term.
"After making his announcement, Weller immediately left the luncheon without responding to questions from reporters," the Tribune reported.
"His spokesman, Andy Fuller, denied Weller's decision had anything to do with questions raised about the congressman.
"'Nothing that was printed in the last two weeks had anything to do with the decision,' Fuller said. Weller, he said, made the decision not to run by early this summer."
Now, nobody knows what goes on in families. But with Weller dodging questions it becomes fair game to wonder about the ways this doesn't add up. He just ran for re-election a year ago, for example. Let's give him the benefit of the doubt and say he just realized he needed to spend more time with his family. But he's not leaving for another 14 months - that's right, he's serving out the rest of his term. So his family doesn't need him - and he they - anytime soon. Why even announce right now, then?
Of course, as long as he's in office - even if he's a lame duck - there ought to be a congressional ethics investigation. No public official should be allowed to resign their way out of accountability.
-
Player 2: The mayor's nephew and his development partner.
"[Allison] Davis and [Robert] Vanecko declined to be interviewed by the Sun-Times but offered this statement:
"'We are confident that DV Urban will produce good returns for its investors over its long-term horizon . . . blah blah blah.'
"The mayor had nothing to do with his nephew getting city pension business, Daley spokeswoman Jacquelyn Heard said. 'He doesn't do things like that. It's just not his way.'"
Vote Yes?!
The Interrobang.
READER COMMENTS:
1. Tim Howe writes (with Interrocool in the subject line):
And the best use for an interrobang:
Are you fucking kidding me?!
Useful as a response to just about anything coming out of the mouth of Mayor Daley or President Bush.
Listen Up
"You know something is wrong when the New England Patriots face stiffer penalties for spying on innocent Americans than Dick Cheney and George Bush."
- Bill Richardson
Mount Lou
Trib baseball writer Paul Sullivan talking about former Cubs catcher Michael Barrett on TV a few days ago:
"He was scared off the team. They had to get rid of him because he couldn't deal with Lou."
The Beachwood Tip Line: Our perk to you.
Posted by Lou at 09:16 AM | Permalink
Mystery Debate Theater 2007
Yet again the Mystery Debate Theater team of Andrew Kingsford, Tim Willette and Steve Rhodes gathered at Beachwood HQ to check in with the pathologically power-thirsty people who want to be your president. Andrew ordered fried rice and Tim downed about a half-dozen Red Bulls. Most noticeable was the strange frequency of trains running on the Blue Line through my backyard. Tim theorized they were running a bunch of 'em in a row to get their average up. I theorized that Red Line and Orange Line trains were now also running to O'Hare. Or that trains were just running back-and-forth between the Damen and Division stops, perhaps even drag racing. Andrew was too aggravated to theorize.
As always, the following transcript has been edited for length, clarity and sanity.
*
MODERATOR TIM RUSSERT: Senator Obama, I'd like to start with you. General Petraeus in his testimony before Congress, later echoed by President Bush, gave every indication that in January of 2009 when the next president takes office, there will be 100,000 troops in Iraq. You're the president. What do you do? You said you would end the war. How do you do it in January of 2009?
OBAMA: Well, first of all, Tim, let me say thank you to Dartmouth for hosting this event. And let me also say that had my judgment prevailed back in 2002, we wouldn't be in this predicament. I was opposed to this war from the start, have been opposed to this war consistently.
STEVE: The first thing I will do when I get into office is talk about how opposed to the war I was.

OBAMA: If there are still large troop presences in when I take office, then the first thing I will do is call together the Joint Chiefs of Staff and initiate a phased redeployment. We've got to be as careful getting out as we were careless getting in. But military personnel indicate we can get one brigade to two brigades out per month.
TIM: One brigade, two brigade . . .
ANDREW: Three brigade, four.
OBAMA: I would immediately begin that process. We would get combat troops out of Iraq. The only troops that would remain would be those that have to protect U.S. bases and U.S. civilians, as well as to engage in counterterrorism activities in Iraq.
STEVE: And then I will bore the Shiites to death.
ANDREW: Bore the Shiite out of them.
OBAMA: The important principle, though, is there are not going to be any military solutions to the problem in Iraq. There has to be a political accommodation, and the best way for us to support the troops and to stabilize the situation in Iraq is to begin that phased redeployment.
RUSSERT: Will you pledge that by January 2013, the end of your first term more than five years from now, there will be no U.S. troops in Iraq?
STEVE: In other words, let me ask the question again.
OBAMA: I think it's hard to project four years from now, and I think it would be irresponsible. We don't know what contingency will be out there.
What I can promise is that if there are still troops in Iraq when I take office, which it appears there may be unless we can get some of our Republican colleagues to change their mind and cut off funding without a timetable, if there's no timetable, then I will drastically reduce our presence there to the mission of protecting our embassy, protecting our civilians and making sure that we're carrying out counterterrorism activities there.
I believe that we should have all our troops out by 2013, but I don't want to make promises not knowing what the situation's going to be three or four years out.
STEVE: He's a change agent. He just likes his change to happen really slowly . . . Some people ask how he does change. Volume.
RUSSERT: Senator Clinton, you have said that will not pledge to have all troops out by the end of your first term, 2013. Why not?
SENATOR CLINTON: Well, Tim, it is my goal to have all troops out by the end of my first term. But I agree with Barack. It is very difficult to know what we're going to be inheriting. You know, we do not know, walking into the White House in January 2009, what we're going to find. What is the state of planning for withdrawal?
That's why last spring I began pressing the Pentagon to be very clear about whether or not they were planning to bring our troops out. And what I found was that they weren't doing the kind of planning that is necessary, and we've been pushing them very hard to do so.
You know, with respect to the question, though, about the Democrats taking control of the Congress, I think the Democrats have pushed extremely hard to change this president's course in Iraq. Today I joined with many of my colleagues in voting for Senator Biden's plan, slightly different than he'd been presenting it, but still the basic structure was to move toward what is a de facto partition if the Iraqi people and government so choose.
The Democrats keep voting for what we believe would be a better course. Unfortunately as you know so well, the Democrats don't have the majority in the Senate to be able to get past that 60-vote blockade that the Republicans can still put up. But I think every one of us who is still in the Senate - Senator Biden, Senator Dodd, Senator Obama and myself - we are trying every single day. And of course, Congressman Kucinich is in the House.
STEVE: Dice-K is in the house!
CLINTON: But I think it is fair to say that the president has made it clear. He intends to have about 100,000 or so troops when he leaves office - the height of irresponsibility, that he would leave this war to his successor. I will immediately move to begin bringing our troops home when I am inaugurated.
RUSSERT: Senator Edwards, will you commit that at the end of your first term, in 2013, all U.S. troops will be out of Iraq?
STEVE: I can say the same things those guys just said but move the words around in different order.
MR. EDWARDS: [says the same those guys said but in a different order]
*
RUSSERT: Governor Richardson, you have said that you will bring home all troops within a year. You've heard your three other opponents say they can't do it in four years. How can you do it in one year?
RICHARDSON: Well, I have a fundamental difference with Senator Obama, Senator Edwards and Senator Clinton.
TIM: And you, Tim. And my mother.
*
RICHARDSON: My position in bringing all troops out of Iraq is to end the war. The American people want us to end this war. Our kids are dying - the bloodiest last three months - and my position is this, that you cannot start the reconciliation of Iraq, a political settlement, an all-Muslim peacekeeping force to deal with security and boundaries and possibly this issue of a separation, which is a plan that I do believe makes sense, until we get all our troops out, because they have become targets. And I also disagree with Senator Clinton. I don't believe the Congress has done enough to end this war.
RUSSERT: Governor, how are you going to do this in one year?
RICHARDSON: We have been able to move our troops within three months - 240,000 - in and out of Iraq through Kuwait. This is what I would do. I would bring them out through roads through Kuwait and through Turkey.
ANDREW: And through airports, rivers, beaches . . .
TIM: Using all our breath.
*
RUSSERT: Senator Dodd, you've heard this discussion. Where do you come down?
DODD: Well, Tim, the question is not just how you bring the troops out, but why are we there? As president of the United States, your first responsibility is to guarantee the safety and security of the American people. And so the question you must ask yourself as president: Is the continuation of our military presence enhancing that goal? [blah blah blah]
STEVE: You'd think the questions would get deeper, or you could have them debate each other.
TIM: They'll start talking about the gold standard later.
TIM: The Louisiana Purchase, Tim, I always thought was a mistake.
*
RUSSERT: I want to put you on the record. Will you pledge as commander in chief that you have all troops out of Iraq by January of 2013?
DODD: I will get that done.
RUSSERT: You'll get it done.
STEVE: Git-R-Done.
DODD: Yes, I will, sir.
RUSSERT: Senator Biden, would you get it done?
BIDEN: Tim, we're begging the question here. Everyone says there's no political - there's no military solution, only a political solution.
STEVE: Here we go. Partition.
TIM: I think he's talking about America.
*
RUSSERT: Senator Gravel, I've listened to you very carefully in this campaign.
GRAVEL: You're one of the few that has.
RUSSERT: You were in the Senate, and you take credit for stopping the draft. If you were a senator right now . . .
TIM: Would you stop the draft again?
RUSSERT: . . . what advice would you give your colleagues still in Congress about how they can stop the war even though they don't have enough votes to stop a debate or to override a veto?
GRAVEL: Well, the first thing, you stop the debate by voting every single day on cloture, every day, 20 days, and you'll overcome cloture. The president vetoes a law; it comes back to the Congress, and in the House at noon, every single day, you vote to override the president's veto.
STEVE: Say it, brother!
GRAVEL: And in 40 days, the American people will have weighed in, put the pressure on those - you tell me that the votes aren't there, you go get them by the scruff of the neck. That's what you do. You make them vote.
MR. RUSSERT: Senator, are you suggesting that these candidates suspend their campaigns, go back to Washington and for 40 consecutive days vote on the war?
STEVE: Are you suggesting a campaign is more important than stopping a war?
GRAVEL: If it stops the killing, my God, yes, do it! And, Tim, you're really missing something. This is Fantasyland. We're talking about ending the war; my God, we're just starting a war right today. There was a vote in the Senate today - Joe Lieberman, who authored the Iraq resolution . . .
STEVE: And was endorsed by Mr. Anti-War Obama . . .
GRAVEL: has offered another resolution, and it essentially a fig leaf to let George Bush go to war with Iran. And I want to congratulate Biden for voting against it, Dodd for voting against, and I'm ashamed of you, Hillary, for voting for it. You're not going to get another shot at this, because what's happened if this war ensues - we invade and they're looking for an excuse to do it. And Obama was not even there to vote.
STEVE: Best Moment of the Campaign.
RUSSERT: Senator Clinton, I'll give you a chance to respond.
CLINTON: (Laughs, laughter, applause.) Well, I don't know where to start . . .
ANDREW: . . . to not answer the question . . .
CLINTON: . . . but let me . . .
RUSSERT: Please take 30 seconds.
TIM: First of all, that guy is spitting on me. I'd like to be moved to a different table, please.
ANDREW: [continues his assertion that Russert is drunk - or not drunk enough]
TIM: But on the radio people think he won the debate.
*
OBAMA: I think it's important to back up for a second, Tim, and just understand, number one, Iran is in a stronger position now than it was before the Iraq war because the Congress authorized the president to go in.
And so it indicates the degree to which we've got to make sure, before we launch attacks or make judgments of the sort, that we actually understand the intelligence and we have done a good job in sorting it through.
Now, we don't know exactly what happened with respect to Syria . We've gotten general reports, but we don't know all the specifics. We got general reports in the run-up to the Iraq war that proved erroneous, and a lot of people voted for that war as a consequence.
Now, we are a stalwart ally of Israel , and I think it is important to understand that we will back them up in terms of their security. But it is critical to understand that until we have taken the diplomatic routes that are required to tighten economic sanctions
I have a plan right now to make sure that private pension funds in this country can divest from their holdings in Iran.
STEVE: Our pension funds are going to bring them to their knees?
RUSSERT: So you would not offer a promise to the American people, like Giuliani, that Iran will not be able to develop and become a nuclear power?
STEVE: To repeat the question.
OBAMA: I make an absolute commitment that we will do everything we need to do to prevent Iran from developing nuclear weapons. One of the things we have to try, though, is to talk directly to Iran , something that we have not been doing. And, you know, one of the disagreements that we have on this stage is the degree to which the next president is going to have to engage in the sort of personal diplomacy that can bring about a new era in the region. And, you know, that means talking to everybody. We've got to talk to our enemies and not just our friends.
ANDREW: So what you're saying is . . .
TIM: Because if they have a nuclear weapon, they won't talk to us. So we have to talk to them so they don't get a nuclear weapon.
ANDREW: The Bush Administration refuses to talk to them, so do they even know we don't want them to have it?
*
RUSSERT: Senator Edwards, would the Israelis be justified in launching an attack if they felt their security was threatened by a nuclear presence in Iran ?
EDWARDS: I have no intention of giving George Bush the authority to take the first step on a road to war with Iran.
TIM: And when I'm president, I'm just not going to let him. I don't care what he says.
*
EDWARDS: And I think that vote today, which Senator Biden and Senator Dodd voted against, and they were correct to vote against it, is a clear indication of the approach that all of us would take with the situation in Iran. Because what I learned in my vote on Iraq was . . .
TIM: I think the lesson is, don't vote.
EDWARDS: you cannot give this president the authority and you can't even give him the first step in that authority, because he cannot be trusted. And that resolution that was voted on today was a very clear indication . . .
STEVE: I admit I made wrong vote to send America to war, and that's why I want you to elect me president.
*
RUSSERT: Governor Richardson, would you make a solemn commitment to the American people that Iran will not become a nuclear power?
RICHARDSON: Yes. A fundamental goal of our foreign policy should be not to permit Iran to develop nuclear weapons. Another cornerstone of our foreign policy should be the strength and the security of Israel. So you cannot deny a nation the right to legitimately defend itself.
TIM: Also, we don't want the Israelis to develop nuclear weapons, because that would inflame the whole region.
*
RUSSERT: I want to go to Allison King of New England Cable News, who has been sifting through thousands of questions from across the country and New England and here in New Hampshire.
ALLISON KING: Dozens of cities around the country, including several here, right here in New England, have been designated as sanctuary cities. These are communities that provide a safe haven for illegal immigrants, where police are told not to involve themselves in immigration matters.
TIM: She sounds like the person who reads the civil defense warnings.
KING: Would you allow these cities to ignore the federal law regarding the reporting of illegal immigrants and, in fact, provide sanctuary to these immigrants?
Governor Richardson, I'll start with you.
RICHARDSON: Are you asking me because I'm the Hispanic here?
STEVE: Oh my God, he just accused her of racism.
TIM: Listen, gringo . . .
ANDREW: Senor Richardson . . .
STEVE: What do you think of the Bumble Bee? Should he be deported?
TIM: Don't be fooled by my WASPish name.
*
BIDEN: The reason that cities ignore the federal law is the fact that there is no funding at the federal level to provide for the kind of enforcement at the federal level you need. Part of the problem is you have to have a federal government that can enforce laws.
TIM: That's why I reject the Articles of Confederation. We should have a president, and one of those separation-of-powers deals, you know, an independent judiciary.
STEVE: And make the terms two and six years. Now for Godsakes, can I get some sleep?
*
OBAMA: The federal law is not being enforced not because of failures of local communities, because the federal government has not done the job that it needs to do.
RUSSERT: But you would allow the sanctuary cities to exist?
OBAMA: What I would do as president is pass comprehensive immigration reform.
STEVE: All by yourself?
*
RUSSERT: Senator Clinton . . .
ANDREW: . . . please say sanctuary cities three times fast.
*
GRAVEL: This whole nation should be a sanctuary - for the world and bring the people in.
STEVE: Gravel! Sanctuary Nation!
TIM: Isn't that what the neo-cons are trying to do - make the entire world a part of the United States?
GRAVEL: What's going on? Again, we're in fantasy-land. We're talking about a problem, we're scapegoating the Latinos of our society because we as a society are failing in education, we're failing in health care, we're failing in our crumbling infrastructure, and we're failing by invading countries and spending our treasure. That's what's wrong. And so I'm ashamed, as an American, to be building a fence on our southern border. That's not the America that I fought for.
RUSSERT: We're going to take a quick break.
[Discussion ensues about those Liberty Mutual commercials where everyone who sees someone doing a good deed is then inspired to do one themselves. Just like an insurance company!]
*
CLINTON: I intend to be the health care president. You see a lot of people with those stickers that say, "I'm a health care voter." Well, I want to be the health care president.
STEVE: I want to be the junk food president.
TIM: No jogging allowed.
STEVE: And tax breaks to Hostess.
*
RUSSERT (TO EDWARDS): In 2004 when you ran for president, you said we could not afford universal health care, it was not achievable, and it was not responsible. You've changed dramatically on this issue.
STEVE: I was wrong and I take responsibility and that's why you should make me president.
TIM: Why is it universal health care? Shouldn't it be national health care? What, are we gonna provide health care to other planets?
*
RUSSERT: Senator Obama, I asked Senator Clinton about experience and judgment.
STEVE: Of which I have neither.
RUSSERT: You have served in the U.S. Senate about 33 months. You have no landmark legislation as such that you have offered. When you were elected back in 2004, you said, quote, "The notion that somehow I am going to start running for higher office, it just doesn't make sense."
If it didn't make sense in 2004, why does it make sense now?
TIM: Because I was lying in 2004.
OBAMA: Because I think that the country is at a crossroads right now . . .
STEVE: As opposed to then.
OBAMA: . . . and it needs three things. Number one, it needs somebody who can bring the country together, and that's the kind of experience that I bring to this office. When I was in the state legislature, I was able to get people who were polar opposites - police officers and law enforcement working with civil rights advocates to reform a death penalty system that was broken: bringing people together, Republicans and Democrats, to provide health insurance to people who didn't have it.
STEVE: He acts like he was governor or something. He wasn't even a party leader.
ANDREW: He was sucking Emil Jones's . . .
*
RUSSERT: I want to ask Senator Gravel. You talk about running for president of the United States. In 1980 your condo business went bankrupt.
STEVE, ANDREW, TIM: He had a condo business???!!!
GRAVEL: Correct.
RUSSERT: In 2004 you filed for personal bankruptcy . . .
GRAVEL: Correct.
RUSSERT: . . . leaving $85,000 in credit bills unpaid. How can someone who did not take care of his business, could not manage his own personal finances, say that he's capable of managing the country?
TIM: How can anybody who screwed up every business he ever ran possibly be president? That's completely nonsensical.
GRAVEL: Well, first off, if you want to make a judgment of who can be the greediest people in the world when they get to public office, you could just look up at the people up here. Money - many of them done very, very well in public office. I left the Senate no better than when I went in.
Now, you say the condo business. I'll tell you, Donald Trump has been bankrupt a hundred times. So I went bankrupt once in business.
And the other - who did I bankrupt? I stuck the credit card companies with $90,000 worth of bills. And they deserved it, because I used the money. (Laughter.) They deserved it, and I used the money to finance the empowerment of the American people with the National Initiative, so you can make the laws.
STEVE. He. Kicks. Ass.
GRAVEL: Now, Tim, let me just point one thing out.
TIM: You're damn right I didn't pay my credit card bills! Fuck those clowns!
RUSSERT: Alright.
TIM: And I still have some videos from Blockbuster! I never took those back either!
*
RUSSERT: Congressman Kucinich, when you were mayor of Cleveland, you let Cleveland go into bankruptcy, the first time that happened since the Depression. The voters of Cleveland rewarded you by throwing you out of office and electing a Republican mayor of Cleveland. How can you claim that you have the ability to manage the United States of America, when you let Cleveland go bankrupt?
REP. KUCINICH: You know, Tim, that was NBC's story. Now I want the people to know what the real story was.
STEVE: I thought the story was that he turned out to be right when he was mayor, that he was vindicated.
KUCINICH: I took a stand on behalf of the people of Cleveland to save a municipal electric system. The banks and the utilities in Cleveland, the private utilities, were trying to force me to sell that system. And so on December 15th, 1978, I told the head of the biggest bank, when he told me I had to sell the system in order to get the city's credit renewed, that I wasn't going to do it because - you know, I remember where I came from.
I remembered my parents counting pennies to pay the utility bills in one of the many apartments we lived in, and so I know why I went into public office. I went in to stand up for the people. And the people in Cleveland in 1994 asked me to come back to public life because at that point they expanded a municipal electric system that the banks demanded that I sell, and I showed the ability to stand up for the people.
You know, my campaign in '94 was "because it was right," and people put me in the Ohio Senate for that reason; '96 it was "light up Congress" as a symbol of saving the municipal electric system; and this year it's going to be "light up America" because I'm going to challenge those interest groups. I put my job on the line. How many people would be willing to put their job on the line in the face of pressure from banks and utilities? As this story gets told, people will want me to be their next president because they'll see in me not only the ability to take a stand, but the ability to live with integrity.
*
RUSSERT: Governor Richardson, you talk about your experience, and yet when you were the secretary of Energy, there was security breaches at Los Alamos. You talked about Justice White being your favorite Supreme Court justice, someone who voted against Roe v. Wade. New Mexico ranks 48 in terms of people below the poverty line, 48th in children below the poverty line. You said that being gay is a choice. Based on those kinds of comments and that record of performance or questionable activities, how can you tell people you have the experience to be president?
RICHARDSON: I've been in public life 25 years. And, you know, I may not be the perfect consultant, blow-dried candidate. I make mistakes. I admit them.
TIM: Gov. Richardson, when you pushed that classmate down the slide . . .
ANDREW: You haven't paid your tanning bills in six months . . .
RICHARDSON: But, you know, Tim, the issue is, do I deliver? No one ever questioned me that I deliver when I brought back American hostages and servicemen from Iraq, from Saddam Hussein, from the North Koreans, from Darfur.
STEVE: What does he mean he brought them back?
ANDREW: What, did you give them a free ride in your limo?
RICHARDSON: I got a fragile cease-fire. I received four Nobel Peace Prize nominations.
STEVE: So what, so did Andrew. I nominate him every year.
*
RUSSERT: I'd like to go to Alison King of New England Cable News again for another question. Alison.
TIM: Tim Russert, remember back when you were talking about what a great idea it'd be to invade Iraq?
*
KING: The issues surrounding gay rights have been hotly debated here in New England. For example, last year some parents of second graders in Lexington, Massachusetts, were outraged to learn their children's teacher had read a story about same-sex marriage, about a prince who marries another prince.
TIM: Some are offended by the celebration of royalty. This is America, we had a revolution over this stuff.
KING: Same-sex marriage is legal in Massachusetts, but most of you oppose it. Would you be comfortable having this story read to your children as part of their school curriculum? I'm going to start with Senator Edwards.
ANDREW: There are no gay princes in America.
EDWARDS: Yes, absolutely . . . [blah blah blah] . . . did you say second grade? Second grade might be a little tough . . .
KING: Well, that's the point, it's second grade.
*
KING: Senator Obama, you have young children at home. How do you feel about this?
OBAMA: You know, I feel very similar to John: that - you know, the fact is, my 9-year-old and my 6-year-old - I think, are already aware that there are same-sex couples. And my wife and I have talked about it. And one of the things I want to communicate to my children is not to be afraid of people who are different . . .
ANDREW: 'Cause gays can fight.
OBAMA: . . . and because there have been times in our history where I was considered different, or Bill Richardson was considered different.
STEVE: Mike Gravel is considered different.
OBAMA: And one of the things I think the next president has to do is to stop fanning people's fears. You know, if we spend all our time feeding the American people fear and conflict and division, then they become fearful and conflicted and divided. And if we feed them hope, and we feed them reason and tolerance, then they will become tolerant and reasonable and hopeful.
ANDREW: They'll be hopefully reasonably tolerant.
KING: Quickly, have you sat down with your daughters to talk about same-sex marriage?
SENATOR OBAMA: My wife has.
STEVE: And she told them we can't have gay marriage, we can't have that kind of unity. Not everyone deserves hope.

KING: I'd like to ask Senator Clinton the same question.
STEVE: Let's get back to Gravel and his condo business.
TIM: Maybe it was a gay condo business.
*
RUSSERT: We're going to take another quick break.
ANDREW: The advertisers are an insurance company, private jets and stiffy pills. Cialis - 24-hour rock! It's so perverted, like they're gonna get it on in a national park, or the hammock in the back yard.
*
RICHARDSON: You have to have fiscal discipline. You've got to also grow the economy. You know, this estimate [of the deficit], it's based on the growth of the economy, 1.3 percent. If it grows to 1.8, we don't have this.
STEVE: We could get there using Gravel's credit cards.
RUSSERT: Senator Edwards, can you grow your way out of this?
EDWARDS: No, sir, you cannot, and I would say that the single most important thing for anybody running for president is to be willing to be honest with America. You cannot solve this problem just by setting up a bipartisan commission. All of us are for that. You cannot solve this problem just by growing the economy. All of us are for that.
STEVE: His hair is so overrated.
ANDREW: I think he's really cute. And the more beers I drink, the cuter he gets.
*
RUSSERT: Is there anybody here who's in favor of a national law to ban smoking?
RICHARDSON: I did it in New Mexico as a national law.
*
KING: Would you as president remove the requirement that a state have a legal drinking age of 21 in order to receive federal highway funds, thereby returning the drinking age back to the states?
RICHARDSON: No, I wouldn't lower it. In fact, at this moment, my wife is hosting . . .
TIM: A kegger!
STEVE: You beat me to it, dude.
RICHARDSON: . . . in New Mexico with the surgeon general a forum on underage drinking.
GRAVEL: I think we should lower it to - anybody that can go fight and die for this country should be able to drink. (Applause.)
KUCINICH: You know, I think that not only about service, but we have to have confidence in young Americans. And a president who reaches out to them and talks to them about drinking responsibly is much better than a president who tells them, "Thou shalt not," because young people will do what they do, but they're looking for leadership from a president. I'm ready to provide that leadership.
STEVE: Anybody who looks to the president for leadership is an idiot.
TIM: Especially if you're 18.
KUCINICH: Of course they should be able to drink at age 18, and they should be able to vote at age 16.
*
RUSSERT: Senator Obama, you were criticized by Jesse Jackson and others about your - in their words - tepid response about the situation in Jena involving civil rights difficulties in Louisiana. Should you have gone to Jena, Louisiana, in order to try to bring those communities together?
STEVE: No, because I don't like black people.
OBAMA: No, because I was in Washington at that time trying to bring an end to the war in Iraq, and that was something that was critical.
STEVE: He was trying to end the war! He had to be there for that vote. Remember the End the War vote?
OBAMA: The fact is that I was - before any of the other candidates on this stage, spoke out with respect to Jena. I put out several strong statements, including ones prepared with Jesse Jackson's son, Congressman Jesse Jackson Jr.
STEVE: He put out statements. That's kind of like being there.
OBAMA: And, subsequently, I think Reverend Jackson acknowledged that. This is an issue that's not black or white.
STEVE: It's not black or white? That's exactly what it is!
*
RUSSERT: Before we go, there's been a lot of discussion about the Democrats and the issue of faith and values.
STEVE: Oh boy, here we go.
RUSSERT: Senator Obama, what is your favorite Bible verse?
ANDREW: Well, according to my pastor, who's not here tonight because he wasn't invited . . .
*
CLINTON: The Golden Rule: Do unto others as you would have them do unto you. I think it's a good rule for politics, too.
GRAVEL: The most important thing in life is love. That's what empowers courage, and courage implements the rest of our virtues.
STEVE: I kind of like the one about the day He created the beasts. Or something from Revelation, you know, the three-headed beast rose up from the East dressed in purple. Someone should say that one.
KUCINICH: I carry that with me at every debate, this prayer from St. Francis, which says, Lord, make me an instrument of your peace, and I believe very strongly that all of us can be instruments of peace. And that's what I try to bring to public life.
EDWARDS: It appears many times in the Bible, What you do onto the least of those, you do onto me.
RICHARDSON: The Sermon on the Mount, because I believe it's an issue of social justice, equality, brotherly issues reflecting a nation that is deeply torn and needs to be heal and come together.
DODD: The Good Samaritan would be a worthwhile sort of description of who we all ought to be in life.
BIDEN: Christ's warning of the Pharisees. There are many Pharisees, and it's part of what has bankrupted some people's view about religion. And I worry about the Pharisees.
STEVE: He's so dark.
RUSSERT: Thank you all.
-
BEACHWOOD ANALYSIS: Mike Gravel was the clear winner. Really. But Hillary Clinton once again demonstrated not only her command of the issues but her presidential bearing. Obama was borrrrrrring and seems to be set on automatic, repeating the same scripted lines over and over again. Dodd continues to be much improved, while Richardson continues to bumble. Kucinich is Kucinich, for better and worse. Biden continues to be a really smart guy who seems to be just temperamentally off in some way - and the idea of making him Secretary of State is laughable. He's not a diplomat. He is a quarterback, no doubt about that. But not a president. A lot of the pundits think Edwards had a good night, and he has some admirable qualities and ways in which he is better than his rivals, but he can't give us a good enough reason why he ought to be president. His agenda is interesting, but like Obama, he lacks a certain heft and experience. Twenty years as a trial lawyer doesn't count - unless maybe he wants to be attorney general. After all, he is the RFK in this race.
-
See the entire Mystery Debate Theater series.

Posted by Lou at 08:42 AM | Permalink
Wirtz is Dead: Long Live the Blackhawks
Although you never, ever want to see anyone's demise as a blessing, it's hard for a true hockey fan such as myself to not be somewhat encouraged about the chances for a Chicago renaissance for the beloved game now that longtime Blackhawks owner Bill Wirtz has passed on. If his survivors do the right thing and sell the franchise to someone who knows how to market the game - like Chicago Wolves owner Don Levin - there could finally be something approaching a fitting presence for puck-heads in one of the pro game's storied American cradles.
Not to speak ill of the dead, but the backwardness of Wirtz and the Hawks organization knew no bounds. As a Minnesotan coming to Chicago in the '90s, I had no idea how bad it really was. Of course I realized that the Blackhawks had seen better days, but when I volunteered to cover their games as a sportswriter for United Press International in 1994, I quickly discovered something: The team, from the front office to the coaches on down to the locker room attendants, was comprised of surly pricks whose idea of press relations was to snarl one-syllable answers to pretty much any kind of question. And if that's how they treated the press, imagine how they felt about their dwindling base of poor, long-suffering fans.

I had wondered why no one at UPI's Chicago bureau, where the perks like covering sports or concerts or other fun events were snapped up quickly, had picked up these Blackhawks press passes - they were just lying around. Then I found out. It was so bad at the United Center that even I, whose determined love of NHL hockey stretched back to the 1967 Minnesota North Stars, couldn't stand the atmosphere at Blackhawks games. It was worse than dead - it was oppressive. How those jerks could ever act like they were doing you a favor by letting you into their crapfests was beyond me. After two games, I only went back once - for a chance to meet and interview Wayne Gretzky before he retired. It was that bad.
In utter contrast, I loved trekking out to Rosemont to watch the Wolves. On the occasions when the Houston Aeros would play at what was then still called The Horizon, I would get hired by the Houston Chronicle to write up a game story and get some quotes. It was my pleasure.
Although definitely minor league in comparison to the NHL (such as the size of the locker rooms, number of concession stands and bathrooms, etc.), Levin was still able to create an in-stadium atmosphere at the Horizon that was cutting-edge in terms of what was then happening in the more progressive NHL markets: fan- and family-friendly promotions, entertainment antics, accessible front office people, helpful press assistants, the list goes on and on. Elsewhere in the world, NHL hockey was reinventing itself as a national-level sport. Everywhere but in Chicago, where the potential was so huge.
I still remember chatting after one Wolves-Aeros game with then-Wolves announcer JP Dellacamera (who's now the most prominent soccer play-by-play guy in the country and also calls the Atlanta Thrashers hockey games) about how, in my opinion, the Wolves organization, though tiny in comparison, totally outclassed the Blackhawks. Plus, you had to love it that Levin's fortune came in part from novelties like incense-stick holders and wacky light bulbs. And rolling papers. Do not forget that.
As a hockey fan, I always thought this situation was a shame, and wondered what the Hawks could do for Chicago if they were owned by someone who had a clue about fan and press relations. Now, hopefully, we may have a chance to find out. As described correctly by Steve Rosenbloom, Wirtz was indeed a hockey man who made the right move by joining with Jerry Reinsdorf to build a modern facility for the two teams - for that, you have to give him credit (although as a hockey venue, the cavernous United Center leaves much to be desired). But on the other hand, his organization was so lacking in understanding of basic human relations that it more than compensated for its accomplishment of the UC by nearly destroying the NHL in Chicago.
A resurgent Blackhawks organization under a new owner would be the best thing to happen to the NHL since the lost lockout season. We've been hearing this for years, but it's true: Chicago is a natural hockey market, and the success of the minor league Wolves proves that. It would take years of hard work for a new owner to repair the ill feelings left behind by decades of Wirtz's obtuseness, but I think it could be done, starting by lowering the average ticket price and striking a local TV deal. Those are no-brainers.
But beyond that, it probably wouldn't take much more than a commitment to the people of Chicago by a new owner that he doesn't think they're pond scum.

Posted by Don at 01:01 AM | Permalink
Over/Under
Last season, the most frequent caller in the Chicago sports radio world was The Angry Caller. Or, more to the point, The Angry At Rex Grossman Caller. This season it's already clear that, even with the benching of Sexy Rexy this week, Bears fans realize that the team's problems run deeper than just the quarterback position. Now we have a bevy of Confused Callers. Let's take a look.
*
Caller: "If only X would have happened, the Bears would have won . . . "
For Example: "If Hester would have got the corner" . . . "If Berrian didn't drop that pass" . . . "If Robbie Gould would have run in for a TD on that ridiculous fake FG attempt . . . "
Guess What? If my Aunt had nuts, she would be my Uncle.
Should You Listen To This Caller? No. It's like listening to lunatics explaining that if we don't fight the terrorists in Iraq, we'll have to fight them right here. Well Guess What?
*
Caller: "If only this team was healthier. "
For Example: "It's not fair" . . . "It's not fair" . . . "It's not fair."
Guess What: Depth isn't just a way to measure a river in Egypt.
Should You Listen To This Caller? No. Soon, you will start writing your Congressman believing you can actually change his/her mind on an issue.
*
Caller: "Here's my question: . . . I'll hang up and listen."
For Example: "If only the Bears were healthier." Click.
Guess What? A statement isn't a question, and a conversation takes two people - just like your wife keeps trying to tell you.
Should You Listen To This Caller? No. Soon you will be the guy who takes 20 minutes to ask about every item on a menu and 10 minutes asking how a dish can be changed. And then you will order a hamburger, fries and Coke.
*
Caller: "I don't know."
For Example: "Grossman can't turn the ball over, I don't know, they need a better running game, I don't know, the defense needs help, I don't know."
Guess What? Of course you don't know. That's why you're calling a sports radio show.
Should You Listen To This Caller? No. If he doesn't know, what the heck will you learn?
-
OverHyped Game of the Week: Steelers at Cardinals
The storyline: Three men coveted the Steelers head coach position. Mike Tomlin won, and the other two ran to Arizona. Now, the two disgraced coaches look for revenge against their former employers.
Reality: Have you heard of the maxim "You cannot shine a turd"? Well, Arizona is the turd.
Pick: Pittsburgh Minus 6 Points, Over 41.5 Points Scored.
-
UnderHyped Game of the Week: New England at Cincinnati
The storyline: Probably something about cheating and trouble with the law, respectively.
Reality: Do you like points? How about offenses gaining large chunks of yards? Do you like the feeling that no lead is safe? Are you a Cubs fan afraid of watching your team give up a lead so you want to watch somebody else do it? This game is for you.
Pick: New England Minus 7, Over 52.5 Points Scored.
-
Results
Last week: 4-2 (1-2 Against the Spread, 3-0 Over/Under)
Season: 10-8 (4-5 Against the Spread, 6-3 Over/Under)
-
For more Emery, see the Kool-Aid archive, and the Over/Under archive. Emery accepts comments from Bears fans reluctantly and everyone else tolerably.
Posted by Lou at 12:58 AM | Permalink
Chicagoetry: The Hawk
THE HAWK
Faces in the bitter cold
crowd:
A frozen bough breaks
under a murder
of sleek crows. Rooks
shriek beneath
the black-winged
clouds.

Red buses whir and whiz,
careening through the sprawl,
black tires bare
with bribes . . . say: briared
with bribes. Sign
of the times!
Drunken buses
reeling, poor folk keening
feckless
underneath.
Hawks yet lurk
On the Rookery roof.
This cliff, this ledge,
intercedes between us,
the rust-red dust,
and the Martian
dusk.
The cold hawk scans,
clutching curved
glass, awaiting a collapse,
just one, small fall.
Mine, on the February La Salle Street
Ice.
The hawk sees,
And waits
to break.
-
J. J. Tindall is the Beachwood's poet-in-residence. He can reached at jjtindall@yahoo.com. Chicagoetry is an exclusive Beachwood collection-in-progress.
Posted by Lou at 12:41 AM | Permalink
Reviewing the Reviews
Sept. 22 - 23.
I tried to read On The Road again last weekend. I took nothing else but my 25th anniversary paperback edition - it's the 50th anniversary this year - with me on the plane so I would be forced to read it and nothing else.
I couldn't get past page 10. I read the SkyMall magazine instead. There's a lot of cool stuff in there!

Really. I've tried to read On The Road umpteen times over the years (see the second entry for the Sun-Times here.) It bores me to tears. And I'm a reader, folks. I read books. I couldn't do it, and I doubt I'll try ever again.
Tell me what I'm missing. Comments with a real full name will be considered for publication.
*
Publication: Tribune
Cover: "Best Reads For Fall." The artwork is, um, outlines of what appear to leaves against an orange background. Dig in!
Other Reviews & News of Note: There are actually only four reviews in the entire publication. Let's take a look at how the other pages are used up:
1. Three pages of "Literary Events" that are actually paid listing and labeled "A Chicago Tribune Advertising Section" just lightly enough to deceive readers.
2. A crossword puzzle and brief listings of audiobooks and paperbacks.
3. A two-page listings spread of "Fall's Best" presented in a way that makes reading it a chore.
4. Best Sellers from Publisher's Weekly, a plug for the Trib's lousy Books blog, and an Editor's Choice note from Elizabeth Taylor plugging The Best American Essays 2007.
I'm sort of interested in Beth Kephart's review of Run, by Ann Patchett, which seems to be getting a lot of attention; and less interested in Art Winslow's review of One Drop, by Bliss Broyard, but you know what? I'll just read about those books elsewhere. This book review just makes me tired.
*
Publication: Sun-Times
Cover: "War Dance," a review by the Sun-Times's general manager (!) of David Halberstam's The Coldest Winter: America and the Korean War.
The subhead refers to the war as "the effort to stop the Cold War's first domino," which may have been a rationale given for the fight, but we've since learned that there were no dominos. Or, at least everyone but our president has learned. The president is smarter than everyone else, despite all appearances. He knows best. Plus, he talks to God.
Anyway, Barron writes that "Three years [after the Korean War started], despite heavy fighting and death, all borders and positions remained where they were at the beginning."
Still, Barron leaves readers with the impression that Halberstam's is an approving account of America's involvement in the Korean War, which would be a surprise. For a different view, see Max Frankel's review in The New York Times below.
Other Reviews & News of Note: Books editor Teresa Budasi writes that she wasn't looking forward to reading If I Did It, but once she started she was hooked by the whole of O.J. Simpson's sick "love" story.
Plus: "[Bert Convy] seemed like such a lighthearted guy, a song-and-dance man, game show host," Alan Alda tells the Sun-Times's Miriam Di Nunzio. "And here was this person who, on the spur of the moment, put on a jacket and tie and pretended to be a lawyer to free some of the protesters [at the 1968 Democratic National Convention] who had been illegally arrested. He never really talked about it until one day with me at lunch and it was only in passing because he never wanted to take a bow for what he had done."
*
Publication: New York Times
Cover: "Meet the Supremes," a review of Jeffrey Toobin's The Nine: Inside the Secret World of the Supreme Court."
As noted by reviewer David Margolick, the Supreme Court is an essentially unexamined institution; or, more like, the judges who sit on the court are unexamined. This book appears to give them their humanity - in both enlightening and shocking ways.
Clarence Thomas, for example, is depicted as a lonely man. Desperately lonely.
David Souter is a famously a recluse, we know, but Toobin reports that he's never heard of Diet Coke. Wha? How in the world . . . ? Is this a man we want on the Supreme Court?
Sandra Day O'Connor is reported to consider George W. Bush "arrogant, lawless, incompetent and extreme." Even though she was one of the judges who put him in office in a decision - Bush v. Gore - that nearly every judicial scholar agrees is indefensible. Souter, in fact, as has been noted in news stories, almost resigned his seat because of it.
("Amid a torrent of criticism, O'Connor clearly held off-the-record conversations with reporters, trying to justify what she had done. Toobin does not mention this," Margolick writes, "nor the more general issue of the justices' surreptitious ties to the press.")
Not only that, but O'Connor, a Republican, "routinely referred to her party as 'we' and 'us' in her memos to the late Chief Justice William Rehnquist. She also played tennis with Barbara Bush, and yet became appalled at the Bush administration.
At the same time, as I heard Toobin describe in a radio interview recently, she drove Antonin Scalia crazy because she based her decisions on her own notion of forging a relatively centrist outcome rather than on the law.
Is there no institution left to have faith in? Do even Supreme Court justices need a civics course?
Margolick doesn't wholeheartedly endorse Toobin's book, but it is no doubt an important one.
Other Reviews & News of Note: "David Halberstam discovered his calling in Vietnam, watching men die for a strategic lie."
So begins Max Frankel's review of Halberstam's The Coldest Winter.
"Korea was where America first revealed its imperial ineptitude. Then came Vietnam, then Iraq."
A bit of a different tone to John Barron's piece in the Sun-Times. Frankel explains:
"Ever the patriot, Halberstam bemoans not so much the fact of our intervention as the mindset behind it, which led to 'an American disaster of the first magnitude, a textbook example of what happens when a nation, filled with the arrogance of power, meets a new reality.'"
Quite.
It's also impossible to believe that, like the creators of M*A*S*H who relocated the Vietnam War to Korea for public viewing, Halberstam was unaware of how his book would be seen as a stand-in of sorts for Iraq.
"It once again recalls the ugly fears and smears of the partisan wars at home that provoked politicians to send Americans to bleed needlessly abroad," Frankel writes.
Note to Katha Pollitt: Get over it.
Stay Gold: "[S.E.] Hinton's candid, canny appraisal of the conflict between the Socs, or Socials, and Greasers (for which one might substitute Jets and Sharks), published when she was 17, was an immediate hit and remains the best-selling young-adult novel of all time," Dale Peck writes in an essay about The Outsiders.
I loved the movie, too. How could you not?
Of course, the world is filled with people who don't get it. Many of them are newspaper editors. And developers. And political strategists.
But don't get me started.
S.E. Hinton was 17 when she wrote The Outsiders?
Well, as Peck notes, The Outsiders was "a book for teenagers, about teenagers, written by a teenager."
But it's a mistake - one Peck doesn't point out - to think the book is only for and about teenagers. It's just that that tends to be the age when reality sinks in.
"The test comes when Ponyboy sums up the conflict between the Socs and Greasers as 'too vast a problem to be just a personal thing,'" Peck writes.
And too vast to be just a teenage thing.
CHARTS:
1. Bill Clinton
2. Mother Teresa
3. Navy Seal
George W. Bush is 4th; Tony Dungy is 5th; Pattie Boyd is 6th; Alan Alda is 8th; the wife of Alan Jackson is 9th; Anna Nicole Smith is 10th; the not-so-great God is 11th; Dog Chapman is 13th; Jerome Bettis is 14th.
Posted by Lou at 12:34 AM | Permalink
And Then There's Maude: Episode 7
Our tribute to the 35th anniversary of the debut of Maude continues.
*
Season 1, Episode 7
Episode Title: Love and Marriage
Original airdate: 24 Oct 1972
Plot: Four days into a marital fight, Walter comes home from work to find Maude is still angry. In the middle of their argument about their argument, Carol comes home after an unsuccessful day of job hunting. It seems her only employment opportunities are with married businessmen looking for a good "personal" assistant. After four weeks of unemployment and who knows how long living under the same roof as her mother and step-father, Carol has reached her limit. There's only one thing for her to do - get married. Right on Carol!

Commence much screaming and yelling by mother and daughter with Walter caught in the middle. At the old maid age of 27, Carol is looking for security and a father for her eight-year-old son. So, she's decided to propose to George, a man she doesn't love though he's had a crush on her for years. Despite the fact that Maude likes George, she can't stand the thought of her daughter entering into a loveless marriage. The mother-daughter caterwauling continues.
Carol proposes to George and they have a heart-to-heart where he acknowledges he knows she doesn't love him, but hey, it's no problem! Things move fast - Carol informs Maude and Walter they plan to get married that night. Maude makes one last attempt to talk Carol out of it. All her arguments, even the persuasive "Marriage without love is like going through life washing socks for a stranger," fail to sway Carol. When it comes to stubbornness, like mother like daughter.
Walter is fed up with Maude's meddling and hysterical outbursts. Not only is she interfering in Carol's life but it's keeping him from his dinner. The man of the house asserts himself: "I want you to cater to me for a change and I don't want to hear any more talk about Carol. C'mon, give me my dinner!"
This sparks a plate-crashing, pot roast-smashing fight that lays waste to most of the crockery in the kitchen. Such an overwhelming display of love is just what Carol needs to see what a big mistake she's about to make.
Hot button social issue: Love vs. marriage.
Neckerchief count: 1
Decorating tip: The Findlays have a gorgeous linoleum kitchen floor that looks as if it was stained with rancid squash soup. Throwing food on it is only an improvement.
Cocktail hour: Walter opens the pop top on a can of beer with a satisfying snap, whoosh. Ah, the sound of refreshment.
Number of times Maude yells: 9 (a season high)
Pop culture trivia quiz: Walter says: "According to that movie, love is never having to say you're sorry." Name that movie. Give up?
Memorable quote: "It's all my fault Carol. Yes, you're just like me. I mean you're really stacked."
-
Previously:
Season 1, Episode 1: Maude's Problem.
Season 1, Episode 2: Doctor, Doctor.
Season 1, Episode 3: Maude Meets Florida.
Season 1, Episode 4: Like Mother, Like Daughter.
Season 1, Episode 5: Maude and the Radical.
Season 1, Episode 6: The Ticket.
Posted by Lou at 12:06 AM | Permalink
September 26, 2007
The [Wednesday] Papers
BREAKING THIS A.M.: Blackhawks owner Bill Wirtz is dead.
*
Playoff Putsch
Aren't the Cubs violating the Tribune Company's code of ethics by offering members of the city council - and state legislators from the Wrigleyville area - a special deal on playoff tickets?

After all, these are policymakers whom the company's media outlets cover. And it's obviously being done as a political favor - otherwise all state legislators and other officeholders and dignitaries would be included.
Or is the company allowed to offer the same sort of gifts that its reporters are prohibited from accepting?
"We do it as a courtesy to the aldermen," Cubs community relations vice president Mike Lufrano told the Sun-Times.
A courtesy? Like when a cop from one jurisdiction, say, lets off a cop from another jurisdiction from a speeding ticket?
"But we also believe this is a citywide celebration," Lufrano says. "So it's appropriate for aldermen, as representatives of the city, to have a chance to participate in the celebration."
So, um, our aldermen will represent actual residents of the city at the games? How royally quaint.
And without the graciousness of Tribune Company, the aldermen would otherwise be left out of "the celebration." Unlike the rest of us.
Ald. Ed Smith (28th) says the deal is not a conflict of interest if aldermen pay for their tickets. And they will have to pay for their tickets - face value without standing in line or participating in a lottery. I guess Smith forgot about that part.
"It's one of the perks that comes with the job," Ald. Brian Doherty (41st) says.
And God knows aldermen don't have enough of those.
Meanwhile, for poor lifelong fans left out of the citywide celebration, Cubs playoff games - if they make it - will only be shown on cable TV. I wonder if Comcast gives aldermen a deal on that, too.
Testing Testing
The performance of Illinois schools in nationwide tests "stand in stark contrast to state test results released last week," the Tribune reports.
"Critics contend the wide disparity proves Illinois - and other states - are watering down state tests in an attempt to meet the demands under No Child Left Behind reforms. Illinois made drastic changes to its state exams two years ago, giving students more time to complete tests and lowering the passing bar on the 8th-grade math exam."
In other words, watering down its tests.
Children's Cave
A compromise being floated in the Chicago Children's Museum mess is to place the entire thing under Grant Park; you know, sort of where the underground parking garages are.
"Reilly agreed to consider it, even though he had trouble believing that the Children's Museum would 'want all of their programming to essentially be in a cave,'" the Sun-Times reports.
Because they want to be in - or under - Grant Park real bad.
This looks like the road we'll be going down. An insightful Beachwood reader sent me this the other day:
"My guess: the museum stays, but the argument will now switch to design (which is where it was anyway, really) and Randolph Street, which is really a visual blight east of Michigan, is going to get some pedestrian-friendly street improvements as a sop to residents. And when the Daley Bi park is ripped up sometime in 2008-09 - which it has to be anyway to replace the membrane of the parking lot below it - the residents will get a new park remade in their image/wants/desires."
Another reader notes this nugget from this week's Crain's article:
"'The Metropolitan Pier and Exposition Authority charges the museum $1 a year to rent 57,000 square feet on the west end of Navy Pier but does not subsidize operations.'
"Gosh, that's not a subsidy? Can I lease 57,000 square feet for $1 too???"
Dodge Ball
Player 1: U.S. Rep. Jerry Weller, who announced he will not seek another term.
"After making his announcement, Weller immediately left the luncheon without responding to questions from reporters," the Tribune reported.
"His spokesman, Andy Fuller, denied Weller's decision had anything to do with questions raised about the congressman.
"'Nothing that was printed in the last two weeks had anything to do with the decision,' Fuller said. Weller, he said, made the decision not to run by early this summer."
Now, nobody knows what goes on in families. But with Weller dodging questions it becomes fair game to wonder about the ways this doesn't add up. He just ran for re-election a year ago, for example. Let's give him the benefit of the doubt and say he just realized he needed to spend more time with his family. But he's not leaving for another 14 months - that's right, he's serving out the rest of his term. So his family doesn't need him - and he they - anytime soon. Why even announce right now, then?
Of course, as long as he's in office - even if he's a lame duck - there ought to be a congressional ethics investigation. No public official should be allowed to resign their way out of accountability.
-
Player 2: The mayor's nephew and his development partner.
"[Allison] Davis and [Robert] Vanecko declined to be interviewed by the Sun-Times but offered this statement:
"'We are confident that DV Urban will produce good returns for its investors over its long-term horizon . . . blah blah blah.'
"The mayor had nothing to do with his nephew getting city pension business, Daley spokeswoman Jacquelyn Heard said. 'He doesn't do things like that. It's just not his way.'"
Vote Yes?!
The Interrobang.
READER COMMENTS:
1. Tim Howe writes (with Interrocool in the subject line):
And the best use for an interrobang:
Are you fucking kidding me?!
Useful as a response to just about anything coming out of the mouth of Mayor Daley or President Bush.
Listen Up
"You know something is wrong when the New England Patriots face stiffer penalties for spying on innocent Americans than Dick Cheney and George Bush."
- Bill Richardson
Mount Lou
Trib baseball writer Paul Sullivan talking about former Cubs catcher Michael Barrett on TV a few days ago:
"He was scared off the team. They had to get rid of him because he couldn't deal with Lou."
The Beachwood Tip Line: Our perk to you.
Posted by Lou at 09:10 AM | Permalink
Chicagoetry: Ode to Lyndon Baines Johnson
ODE TO LYNDON BAINES JOHNSON
I dig that we have a history of talking Presidents into
lousy wars. We have WMD, he had Tonkin. His People kept insisting we could win in Viet Nam, then,
when they realized we were hosed,
they
scattered. Dig a Lonely Texas President. Wow: Democrats
do it,
too!

Head Start? Medicare?
Civil Rights Act of 1964? "Hey, hey, LBJ:
how many kids
did you kill today?!" Please. Of course, PBS has to turn every biography
into a tragedy or there's no show. That's In-Fo-Tain-Ment!
Here's me: I shouted out
"Who killed
America?!," when after all
it was you
and
me.
-
J. J. Tindall is the Beachwood's poet-in-residence. He can reached at jjtindall@yahoo.com. Chicagoetry is an exclusive Beachwood collection-in-progress.

Posted by Lou at 06:58 AM | Permalink
The Cubs Answer Men #4
The last two months we've been answering some of your questions about the upcoming Chicago Cubs World Series. Since that original column, we've gotten many more questions. We don't have room to answer all of them here today, but we'll try to get through them before the parade in November.
*
"T" writes: My neighbor is one of those cynical Cubs fans. He thinks they are going to blow it again this year. Please reassure him and tell him that we have nothing to worry about it.
R&D: Don't worry. Being a Cub means achieving the impossible. After all, Cubs great Hack Wilson became an alcoholic during Prohibition.
*
"B" writes: Why does everyone consider the Cubs a pathetic franchise? Shouldn't they get credit for being in the World Series 10 times (1906, 1907, 1908, 1910, 1918, 1929, 1932, 1935, 1938, 1945)?
R&D: So true. Although, let's be honest, they only won two of those ten Series'. And . . . two more of them were during war years (1918, 1945). In 1918, the season ended on September 1st, which means the Cubs didn't get a chance to blow it in their most unsuccessful month. In 1945, the only guys playing in MLB were the guys who couldn't serve in the military - and the military was taking almost everyone. Also, in two other World Series appearances the Cubs were swept in four games (1932 and 1938) by the Yankees. But your point is well taken. Ten times in 39 years is pretty impressive. If only the world had ended in 1945.

*
"L" writes: Don't you think the Tribune Company should buy a round of drinks for everyone at the ballpark when the Cubs clinch it? It's the least they can do for us after the miserable excuse for baseball teams they've put on the field most of the years they've owned it.
R&D: Great idea. At $6 a pop for a Bud Light, that comes out to a measly $240,000. That's still almost a fourth of what they're paying Will Ohman this year.
*
"L" writes: I'm starting to get a little worried. What if God doesn't want the Cubs to win. What kind of wrath or vengeance should we expect if they do?
R&D: Nothing happened when the Red Sox won it in 2004 . . . except for another Bush presidency. And nothing happened during 2005 when the White Sox won it . . . except for that one tiny little hurricane that devastated an entire American city. We have absolutely nothing to worry about.
*
"F" writes: When the Cubs go to the World Series will Illinois Governor/Cubs Fan Blagojevich throw out the first pitch, or will it be Chicago Mayor/Sox fan Richard Daley?
R&D: Neither one of them will risk becoming such an easy target for grand jury subpoenas.
*
"D" writes: I'm a little worried that this Cubs team isn't as tough as the last Cubs championship team. What are your thoughts?
R&D: Both teams are plenty tough . . . they even fought against each other. This year the Cubs had two players who fought in the clubhouse. Michael Barrett ended up with a black eye, and was traded away. The 1908 Cubs fought in the clubhouse too. In a fit of anger, Heinie Zimmerman threw a bottle of ammonia at his teammate Jimmy Sheckard, which almost blinded him. The rest of the team turned on Zimmerman and, led by manager Frank Chance, beat the living crap out of him. He was injured so badly he was out for a month, but he remained a Cub for another four years. You make the call. Who was tougher?
-
Previously:
* The Cubs Answer Men #1: Rule changes and parade seating.
* The Cubs Answer Men #2: Dress codes and left nuts.
* The Cubs Answer Men #3: Parking, beer and Lutherans.
-
Originally appearing at Half Empty. If you have any other questions about how to handle the World Series, feel free to send them to Rick and Dave. Between now and the big parade they'll try to get to as many of your questions as they can.
Posted by Lou at 03:07 AM | Permalink
What I Watched Last Night
How do you throw an intervention for a guy who disappears for days because he's off time traveling instead of losing track of time at the local crack house like everyone else? That was one of the conundrums posed by NBC's Journeyman, an interesting but at times confusing series which premiered Monday night.
It's like another NBC series, Quantum Leap, in that San Francisco reporter Dan Vassar (Kevin McKidd, looking somewhat similar to Anthony Michael Hall of USA Network's The Dead Zone) leaps around time within his own lifetime righting past wrongs of complete strangers. It's not like Quantum Leap in that 1) Reporter Dan doesn't go leaping into the bodies of complete strangers, and 2) it takes far more effort on our part than is probably necessary to figure out what's going on. When Sam Beckett went time traveling, you rarely sat there thinking, "What the fuck is this now?"

Monday night's Journeyman went light on the details of exactly why Reporter Dan ended up being the guy walking down the street minding his own damn business one second, and waking up lying on the streetcar tracks in 1987 the next second. Unless you've been conked in the head or started messing with the brown acid, this tends to be quite unsettling, and you'd start demanding some damn answers right now from someone, and right now. Sam Beckett at least had the holographic Al Calavicci to bitch to. Not so for Reporter Dan, who ends up getting stuck to fend for himself in year-whatever for as long as the celestial travel agent in charge of Reporter Dan's travel itinerary decides he's had enough fun and plops him back into the present day. Might be an hour later or two weeks later. It's a major surprise for everyone.
So, if you're not paying close enough attention, you're never sure what time and space Reporter Dan is occupying at any given moment, unless maybe everyone's cellphone was a gray Motorola brick. Or unless he's getting harassed by his wife Katie, his cop brother Jack, or his editor-boss Hugh over how a guy can disappear for several days without any reasonable explanation that doesn't involve gambling, drugs, booze, sleepwalking, or a babe on the side. That's when you know Reporter Dan's in the present, telling everyone they wouldn't believe where he's been if he told them because, well, going insane is a tougher nut to crack than substance abuse or infidelity.
Well, Reporter Dan eventually does tell his wife. Naturally, she doesn't believe him, particularly when he gets zapped from behind the wheel of his car, leaving it to driverlessly blow a red light and wreck two cars in the intersection. Time travel is pretty bitchin' (especially when you can do things like watch your Past Self leave your own engagement luncheon 10 years ago and then have your Present Self step back into it and talk with your hot, now-dead fiancee like you never left) but there are still some bugs to be worked out.
The other bug for Reporter Dan is he's never sure whose life he's supposed to be changing. He just supposed to wander around until he sees someone in peril, we guess. Monday night it was a suicidal fellow named Neal Gaines, minding his own business standing in the middle of the street waiting to get turned into Rice-A-Roni by an oncoming cable car. Reporter Dan pushes him out of the way, and you'd think that was that, but it wasn't. Turns out that Reporter Dan wasn't time traveling to save Neal; he was here to save Neal's son, who wouldn't have eventually grown up to save a mess of kids from a burning bus had Neal not gunned down him and his estranged wife as they were leaving town to start a new life without him. Reporter Dan saves son and mom by distracting Neal enough to get run over by a bus in somewhat spectacular TV fashion.
In the end, Reporter Dan - now on the brink of getting booted out of his house and marriage - proves without a shadow of a doubt to his wife that he's actually not the biggest liar or crackhead in the history of mankind. He does this by digging up her wedding ring and a 10-year-old newspaper that he stuck inside a tool box and buried beneath the brick patio in their back yard during one of his travels while their house was up for sale.
NBC's new and improved time travel: We don't need no stinkin' accelerator chamber.
*
See our spectacular fall TV preview and the spectacular What I Watched Last Night collection.
Posted by Lou at 12:51 AM | Permalink
September 25, 2007
The [Tuesday] Papers
I have cable, so this doesn't affect me personally, but isn't it an outrage that Cubs playoff games - should they actually come to fruition - won't be on free, broadcast TV?
Not everyone has cable; I have friends who simply cannot afford it. And - memo to Mayor Daley - think of the kids. Really.

Sexy QB
Tribune football writer David Haugh writes today that Kyle Orton actually outplayed Brian Griese in training camp.
Private Museum
In a letter to the Tribune today, the chair of the Chicago Children's Museum Board of Advisers suggests the debate about the museum's proposed move to Grant Park be framed around the the premise that "what do we do with the city's public spaces is a question of social responsibility."
Agreed.
First principle: Public spaces should not be turned over to private entities.
Family Values
Molly O'Connor Hapner of Chicago writes to the Tribune today: "My family would like to see the mayor get as worked up about something that really makes a difference in the daily lives of working families.
"How about calling the city's track record in preserving affordable housing a disgrace?"
Subprime Vendor
Bank of America introduces itself to Chicago.
Glad to have you here!
Presidential Politics
Was Columbia University right or wrong to invite Iranian President Mahmoud Ahmadinejad to speak on Monday?
Very right.
A university - as a (theoretically) non-partisan, non-political, open forum for ideas - is the perfect setting for us to hear the views of even those we may despise. I can't think of a better setting. In part, this is what universities are for - to expose us to the ideas of the world, however repugnant they may be.
We are all better off for having seen, heard and read the remarks of Ahmadinejad. How better to understand a man our president would no doubt like to kill - and whose troops American blood may be spilled fighting.
But understand this: People are complex. Ahmadinejad may be the "petty and cruel dictator" that Columbia University President Lee Bollinger described him as, but he's not an idiot. Iran's grievances with the United States are not without foundation. We toppled an elected, democratic government in Iran once to install the imperious Shah. To Iranians who remember, we are hardly a beacon of freedom. The rise of Ayatollah Khomeini, including the infamous hostage crisis, sprung at least in part from that. And our invasion of Iraq, whom we armed and supported in its war against Iran, doesn't help our efforts to appeal to Iranians for peace and cooperation.
It's also fascinating and enlightening for all of us to understand where this man is coming from. Frankly, I think Bollinger's attack on Ahmadinejad was over the top. The inflamed rhetoric will play well with the public, media, alumni and donors to whom it was aimed, but how much more effective would it have been for Bollinger to calmly stick to the facts - of the Holocaust, of the existence of gay people the world over, of the value of freedom of speech and political dissent - and challenge Ahmadinejad to answer each point by point?
In fact, I would have preferred to see a debate of just that.
It's also easy to dismiss Ahmadinejad as a crazy man when he says things like "In Iran, we don't have homosexuals like in your country."
Consider how crazy our own presidents are, though. "When Bush was running for the presidency in 2000, the feds released their annual report on hunger in America, and Texas was once again in its perennial spot at the top of the list, No. 1 in Hunger," Molly Ivins wrote in 2002.
"Bush thought it was some dastardly scheme by the Clinton administration to make Texas, and hence Bush, look bad. He denied there were any hungry people in Texas and said, 'You'd think the governor would have heard if there are pockets of hunger in Texas.'"
Of course, the easier example would be invading an entire frickin' country that had nothing to do with 9/11 and possessed no WMDs, but you've heard that one already.
So a bill of goods against our president speaking in another nation might look equally as silly - equally as silly, say, as the Tribune editorial page's lambasting of Ahmadinejad's criminal justice and human rights record.
Karla Faye Tucker, anyone?
Of course, the easier example would be the decimation of civil liberties and shredding of the Constitution, but . . .
I also suppose it's better to have a president who believes there are no gay people in his country than to have a president who thinks gay people are immoral reprobates. And wasn't it Ronald Reagan who famously ignored AIDS for years?
So let's get down off our high horse. Ahmadinejad is in no way a sympathetic figure and does, in fact, appear to be a twisted and dangerous man. But, like Hugo Chavez - and unlike, say, Kim Jong-il, who appears to be just downright nuts - he ought to be engaged.
Obamarama
Columbia University is just the kind of place to engage an Ahmadinejad. Personal and private meetings with the president in the White House without preconditions is not.
Barack Obama has it backwards.
"Democrat Barack Obama says he probably wouldn't have invited Mahmoud Ahmadinejad to speak at Columbia University - Obama's alma mater," AP reports. "But Obama said he'd be willing as president to meet with the Iranian leader as a way to protect U.S. interests."
So if Obama was president of Columbia University he wouldn't have invited Ahmadinejad to speak, but if he's president of the United States he would welcome him to the White House?
The Beachwood Tip Line: All tips must go.

Posted by Lou at 10:20 AM | Permalink
Chicagoetry: The Rod Beck Bummer
THE ROD BECK BUMMER
Appropo of
nada
I fell
forward
into the
abyss:

Former Cubs
Ace
Rod Beck
indeed
died, Jack
Falstaff
for a double-
header!
Catfish, meat-
face,
passion in
excelsis.
-
J. J. Tindall is the Beachwood's poet-in-residence. He can reached at jjtindall@yahoo.com. Chicagoetry is an exclusive Beachwood collection-in-progress.
Posted by Lou at 08:30 AM | Permalink
Fan Note: Shawn Phillips is The Man
My dad was ten sheets to the wind by the time my friend J.R. and I arrived at FitzGerald's. I rolled my eyes at the old man; the night was barely underway. My dad grabbed us in the direction of the bar to ensure that we too were properly groovied. Knowing how fun it is to be the only saucy among the sober, I sympathized with his immediacy. Soon enough, however, Shawn Phillips would be the only mood enhancement we needed.
We sat down in front of the bartender, who was already well-familiar with my dad and his running tab. But I guess, to my dad's credit, he was a sort of V.I.P. on this particular night. He did, after all, shelter Shawn on his trip to Chicago (as he has done many times before), fed him well for a couple of days, and personally delivered him to Fitzergald's the day of the concert, ready to rock. And again, then, knowing this much, I must also give credit to his pre-show drunkenness being the product of arriving at the bar hours ago, while I was still at work, counting the heavy Friday minutes.
* * *
My dad discovered Shawn Phillips in the '70s. Their history, as portrayed in my imagination, is a fantastical friendship filled with long hair, rebellious spirituality and lots and lots of bitchin', funky-ass jam sessions. Sure, my dad doesn't play any instruments, but dammit, he is a keyboard prodigy in my mind.
Never a year passed that my dad did not see Shawn in some form, until 1980. The story gets a little hazy here, but if I recall, it has something to do with the inevitable states that separated them, and those damn children.
In 1988, Shawn released a new album (Beyond Here Be Dragons; very '80s, very synthesizer, very shiny blazer and well-groomed shallow beard; but very good nonetheless). My dad took a trip cross-country in his Winnebago that same year to find peace and most importantly, Shawn Phillips. Small town to small town, reading papers and asking around, he traveled West to no avail. It wasn't until Los Angeles that he gave up looking entirely. He was defeated.
As he sat moping in a restaurant in L.A., my dad skimmed the front page of the newspaper. His eyes focused upon a small corner advertisement for an upcoming benefit concert, featuring Shawn Phillips. Not to get Aesopian, but I fear my father would be disappointed if I did not demonstrate that I have fully absorbed the wisdom of this tale: It is when you stop looking for something that you finally find it.
Anyway, you can imagine the excitement. My dad found Shawn and has never let him far from his sight again. Of course, today's media is slightly different and we can do the equivalent of a cross-country search in a matter of seconds. But then again, no city's newspaper today is going to blurb a Shawn concert on the front page, either.
* * *
On this June night at Fitzgerald's, it had been four years since we had last seen Shawn. He moved to South Africa that long ago, which is where he still resides today with his wife and toddler. In those four years, Shawn has continued to write new music, some of it with the inspiration of local South African musicians; all of it as amazing as the work of his youthful fervor.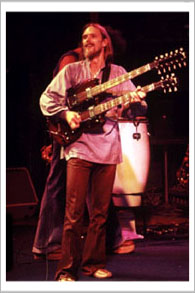 When Shawn and my dad arrived early that Friday afternoon to set up for the show, the two of them took advantage of the barren bar. The room in which Shawn performed, the sidebar of Fitzgerald's, was built for a capacity of 50. The stage was more like a platform, raised six inches; you could call it intimate. Shawn plugged everything in and proceeded into a sort of sound check: "I don't think you've heard any of this stuff," Shawn said to my dad, in his Texas twang. He began to play for my dad, all the music he had written in his last four years in South Africa. The two of them, Shawn's guitars and his three-octave vocal range, occupied the entire room.
Shawn played for an hour and when he was finished, my dad, through tears, could only muster the phrase, "I love you Shawn."
"Aww, I love you too, Greg." Texas twang and all.
* * *
My dad divulged this story to us at the bar when we arrived, and even fought back tears as he told it. Suddenly, I realized that what I had initially brushed off as alcohol intoxication was actually just the childlike giddiness of my father in this supreme state of consciousness. He had had a couple, yes, but I had seen him drunk before, and this blinding gleam in his eye was a different level of enlightenment. His spirit was drunk off its ass.
Here he was, having just spent days with his one hero in life - the man whose music he considers godliness - and the anticipation of Shawn's next performance was enough to send him into delirium. It all suddenly made sense, and J.R. and I couldn't avoid his blazing path of excitement. My dad buzzed around the room, lit up like I had never seen him before, his gapped-tooth smile on constant exposure to all in his foreground.
J.R. and I arrived later than planned, so although my dad, step-mom, sister and brother-in-law occupied the front row, we sat two rows back . . . which only translated to about a foot-and-a-half in the tiny room. I scored the aisle, which would prove handy for the upcoming moments where it was simply impossible to stay seated and still.
After many anticipatory minutes, Shawn finally entered the room. At age 63, he strolled in as enthusiastically as I ever remembered him. And I had practically known him as far back as my recollections of knowing anyone outside my family stretched. I was but six years old when Shawn, then still in his 40's, played "My Favorite Things" for my sister and me, as my dad drove him to the airport, his empty guitar case under our butts in the back seat of the trusty Hyundai. I had seen him many times since then and each show got better the older I got, and the more I understood about life. Shawn is about as wise as they come.
It is difficult to describe Shawn's music in the categorically rigid definitions of how music is prejudged. There isn't really a genre that comfortably pops up when you pop Shawn into the ol' iTunes. When asked, Shawn will tell you his music is "fulfilling." Although I think iTunes prefers the more limiting "folk/acoustic" assignment.
Shawn began the concert with (I will try not to describe every song this way) one of my favorites, "Coming Down Soft and Easy," off his 1971 concept album, Collaboration. Just as Collaboration - as well as his 1975 album Do You Wonder - digs some of the deepest, funkiest grooves you've ever heard, Shawn's lyrics hint of the flowing, interwoven styles later to be found in rap. Deliberately as melodically playful as the flutter of a butterfly's wings, "Coming Down Soft and Easy" is a lyrical delight:
Jellyfish are dangerous
Politics are perilous
And I'm really glad that I'm not Richard's friend
'Cause I say sexual repression can make a lot of trouble
It can only lead to
Craziness
Is in the head
The heart is short of being dead
Have you got a reason for survival in the fall?
Oh look at blood-soaked Charlie
On a silk-stained bedsheet
Tell me do you really want to die in all your false belief?
I tell you now that there is no relief
Oh, you really gotta grow again
This particular June night at Fitzgerald's occurred in 2006, so Shawn instead sang that he was glad not to be Bush's friend, on which we could all agree. The concert progressed, each and every song struck a different emotional chord, and almost always inspired my front-row family to turn around and give me nods of approval. And sometimes they would just turn to show the tears coming from their eyes.
Such was the case during "The Ballad of Casey Deiss," a family favorite. (By the way, a live '80s performance of "Casey" can be found on YouTube here. However, the first song in the nearly 12-minute video is actually "Power of a Woman." "Casey" begins right after the first song ends. It's the more, errr, ballad-y one of the two. Please watch and enjoy!)
Shawn's playlist was incredible. He spanned all the classic albums and then offered us a few of his new songs, written in South Africa. It was inexplicably amazing to hear how Shawn's inimitable style of songwriting fused with and translated into the style of another land's. One of the coolest parts of the show, however, came when he pulled out the beast that is his double-necked guitar - a 1964 Les Paul merged on top of a 1968 Fender Strat. He plugged that puppy in, cranked the amp, and kicked the distortion pedal into action as he took off into a swirling interlocking version of the Hendrix classics, "Purple Haze" and "Hey Joe."
In moments like these, when 63 year-old Shawn Phillips is lost alongside us in the wonder of his own creations, rocking the room with more intensity than any artist I've ever beheld, an electricity courses through his music and forces you to wonder how this, one of the greatest musicians of the last 40 years, has flown so quietly under the popular music radar.
Shawn Phillips doesn't mind popular music's rejection of his work. If he does, it's probably only because I think he agrees that he has a message that more people should definitely be hearing. As opposed to say, Lindsay Lohan, who has an audience of millions and uses it to publicly be an asshole.
But Shawn ain't naive about the way things go, and he readily jokes about radio not playing him. The way he sees it, record companies and producers never want an artist to evolve. They want the tried-and-true formula for songwriting (ergo, instant money-making), without experimentation or expansion. They way I see it, Shawn is too evolved for popular music and media anyway: He is real, writing and creating exactly as he chooses, continuously morphing his songwriting depending on his inspiration. How many radio artists can actually say that?
This brings me to another reason that Shawn is one of the most astounding people I have ever met. Despite his superior musicianship and 40 years of living and creating music, he is the most humble and grounded person in the world. Shawn is compassionate and has the most genuine love for people that I have ever seen. He creates not for money, nor for fame, but to share the brilliance of what he knows, what he experiences and holds true - his passions, and the splendor of life itself.
He lives for wonder, like a great philosopher, and seems to know the weight of life in a world full of people who assume immortality as they go about their uninspired daily interactions with the world. Which may be why he has never slowed down on inspiration - even in the most mundane moments of life, something extraordinary can be discovered if you are paying attention.
Now at age 64, an age at which most men are retiring comfortably into their couches, Shawn has embarked on a new life in yet a new foreign country. From learning the sitar in his teens, to volunteer firefighting still into his 60's, Shawn has always defied the expectations of a person at his age. This past summer in South Africa, Shawn received his National Sea Rescue Institute crew member's badge after three years of difficult training. So basically, in his mid-60's, Shawn is doing the dangerous work of the Coast Guard, as a volunteer nonetheless.
* * *
After the spiritual enlightenment that was Shawn's performance, audience members lingered, knowing that the man of the hour would soon be available to chat. J.R. and I joined the rest of my family at the front of the room, where we immediately recounted our favorite moments of the show.
Eventually the conversation led to the songs we all were bummed not to hear, a conversation triggered by Shawn's very evil teasing of the first few guitar dew drops of "Early Morning Hours," which is, you guessed it, a favorite. When I said that I wanted to hear "Song for Mr. C," from his 1970 album Second Contribution, my dad agreed, and somehow, the two of us began singing it. All, or at least most of the 500 words in the fast-paced tune spewed from our mouths at full volume, for everyone to hear. Sure, it wasn't an immaculate performance, but I'm sure we pleased some onlookers; we were long and lanky folk with matching gapped-teeth, unabashedly crooning a tune that is meant for a sober, lyrical giant.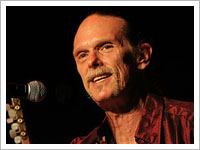 Minutes later we found Shawn outside the sidebar, selling albums, signing autographs and receiving praise. We waited our turn, while my dad volunteered my step-mom to help Shawn handle the cashbox to more speedily get the crowd cleared. After about 10 impatient minutes, my dad made his presence known by hovering awkwardly over the people at the table, bouncing around them like a gnat, staring them down as though they had nothing interesting to offer Shawn, why were they even bothering? We all laughed from a distance as the crowd slowly scattered. It was finally our turn to chat.
Shawn was delighted to see us, and I don't mean that in the sense that all artists act delighted to see their fans. I introduced J.R. to Shawn, and informed him that J.R. was one of Chicago's best guitarists. Shawn offered J.R. some encouragement and they talked about the double-necked deity that just rocked the Hendrix covers. Then J.R. asked him about his unique use of disagreeing chords to end songs, to which Shawn casually explained, "Harmony will show you the wind through the trees and the waves on the beach, but dissonance will show you the world."
I walked away thinking about what he said and completely understanding what he meant. I suddenly realized that my many acquired musical tastes - including my love for Radiohead and all their dissonant madness - all had some element of Shawn in them. He has influenced so much, from giving George Harrison sitar lessons to showing a Saskatchewan waitress named Joni Mitchell how to handle a guitar to inspiring Alanis Morrissette ("You Oughta Know," just so you know, is a very noticeably Shawn-influenced song). And he's done it without selling out, monetarily, moralistically or spiritually speaking.

* * *
If I wanted to talk for pages more about Shawn, I absolutely could. I slap my hands so as not to type out more lyrical examples of his wisdoms. As I said before, Shawn becomes better with age and experience. I have always loved him, but not always fully understood him. I was a small child when my dad was teaching us how to sing along to the lyric,
And the effluvium of excess
It is hidden at the behest of mentality
Of a low degree.
Naturally I was too young to decode the meaning of those words, but the music and the voice registered at even my most primal times in this world. I knew even then, and my knowledge of it is embedded even more deeply today, that Shawn Phillips is unmistakably, unquestionably, indubitably, irrefutably The Man.
-
See also Leigh Novak's "Fan Note: My Life as a Head-head."
-
Wanna write a Fan Note? Please do! Contact Steve and/or Don with your idea.

Posted by Don at 01:18 AM | Permalink
What I Watched Last Night
"Aren't you a little fat to be a storm trooper?"
"Well stay here and rot you stuck up bitch!"
Upset that I still can't do this pose in yoga, it became quite obvious that I needed a few big-time laughs. Especially after this pose caused a classmate to pass gas a little bit too close to yours truly. The season premiere of Family Guy helped put my yoga inabilities out of my mind for a bit. In its sixth season opener, Seth McFarlane and company outdid themselves once again by mocking episode IV of the Star Wars series. This episode was so chock-full of both obvious and obscure cultural references that I've decided to only touch on a few highlights.
The infamous opening crawl through space refers to Angelina Jolie kissing her brother and reminds Ms. Jolie that everyone saw it, including her dad, and that's why they don't talk anymore. "You can run away to Africa but you can't run away from your problems." Also, the viewers are strongly advised to rent the HBO film Gia, since Jolie is naked in it.

Quagmire and Cleveland Brown portray C3PO and R2-D2, respectively. R2 sports a doo-rag over his Afro and digs Tattoine, Wind and Fire. C3PO wants to know whom R2 would rather do: Jabba the Hut right after a shower or a service droid to which R2 sadly states that his father was a service droid.
Stewie Griffin is perfect as Darth Vader and Lois Griffin's Princess Leia almost made me forget Carrie Fisher's cocaine-fueled performance in the original. The nose candy probably is one of the reasons why Ms. Fisher's poorly constructed English accent kept fading. Fortunately, Lois' Leia didn't have that problem.
Chris Griffin portrays Luke Skywalker while Obi Wan Kenobi is played by Herbert, better known as the pervy, child molester who has a thing for Chris. Being a general hasn't curbed his appetite for young boys or for saying inappropriate things at inappropriate times. When Han Solo, played by Peter Griffin, tells everyone to strap in because of an impending battle with Tie-Fighters, Obi Wan asks, "Did he say strap in or strap on?"
"Stop whining Luke and come have some blue milk."
Rush Limbaugh is one of the many living and dead celebs who make an appearance in this episode. It's not much of a stretch for Limbaugh since he's heard raving about the liberal galactic media on Tatooine's All Talk Radio while Obi Wan and Luke are in the land speeder. Red Buttons, Redd Foxx, Big Red Chewing Gum, Simply Red and the nuclear submarine Red October are all standing by for the final fight with the Death Star.
Even has-been celebs like Helen Reddy and Chevy Chase are resurrected for animated punch lines. Having personally worked with Mr. Chase before, I'm sure that McFarlane was relieved when he left the recording stage and is probably starting to wean himself off of the anti-anxiety pills - with the help of board-certified physicians.
*
Curb Your Enthusiasm: The Ida Funkhouser Roadside Memorial
Marty Funkhouser, played by Super Dave Osborne, better known as Bob Einstein better known as Albert Brooks' brother, is mourning the recent death of his mother. She was hit by a car while riding in her wheelchair. However, Larry David is more concerned with the $50 that Funkhouser owes him and the fact that Funkhouser hasn't acknowledged Larry's voice-mail condolence message.
Also, Larry is supposed to be a character witness of sorts for Sammy, who is trying to get into the Dryden School, a high falutin' L.A. private school. Sammy is the daughter of Susie and Jeff. Larry feels that the two young Katrina survivors holed up in his home are just as worthy of admissions to Dryden as Sammy.
In the meantime, Larry tells Jeff that he's going to get ice cream for his long-suffering wife Cheryl because when he wants sex, he does nice things for her and once he gets what he wants, not surprising, he goes right back to his old ways.
It'll be interesting to see if TV life mimics real life. I wonder if TV wife Cheryl will leave Larry the way real-world wife, Laurie left him.
Yep, it's going just where you think it's going.
While waiting in line to get ice cream, he's behind this woman who is sampling every single flavor. Of course, this irks Larry and he makes a big scene. Of course, the woman turns out to be the Dean of Admissions at the Dryden School - a fact that Cheryl lets Larry in on when he gets home, with just enough ice cream for her, not anyone else. Now, Keisha's and Darryl's Dryden School applications are in jeopardy.
Now you know where George Costanza came from.
Who else would tell a man who has just lost his mother and last year lost his father, that he's too old to be an orphan? Or, who would get upset about not getting a return call on his original condolence call? This is what makes this show so great: Larry David does an excellent job actually saying what others are only thinking. Of course, some of the people he deals with are just as awful and obnoxious as he is. Remember the newlywed couple who wouldn't accept a present from the Davids since it was given to them a year after their wedding? Who does that? No one I know. Who would reprimand someone who is trying to give you a gift? A gift is a gift, after all.
Also, the sweaty $50 bill from Funkhouser's jogging shoe that he gives to Larry is also deemed troublesome when he can't pass it off on anyone else. This action makes Larry a three-time Ida Funkhouser Roadside Memorial flower thief. Only Larry would think to steal from a roadside memorial and, only Larry would get caught by the orphan of the memorial honoree, who also happens to possess a heightened sense of smell.
When Cheryl and Loretta chastise him vehemently, Larry then wonders what it'll take to get Cheryl back upstairs for some noogie. She mentions a perfume she loves that can only be purchased at a store on Wilshire Boulevard. There, he's met with a long line and more sampling that irritates him to the point where he loses the last bottle to someone else. Later at the Funkhousers, Larry spies the coveted perfume on the shrine to Ida and steals it for Cheryl.
The rest you have to see to believe.
*
See the What I Watched Last Night collection. Contributors welcome.
Posted by Lou at 12:24 AM | Permalink
September 24, 2007
The Cub Factor
What a week! In the immortal words of Flounder from Animal House, "Isn't this great?" Indeed, this is a Cub fan's dream isn't it? Sure, the real dream is to win the World Series but you have to be soaking this up. Memorable last two weeks of the season don't happen much around here, so let's take in all this race has to offer.
That said, this run isn't for the faint of heart. Oh no, this is life/death, they suck/they're great, I love them/I hate them baseball on most every pitch. With this in mind, we here at The Cub Factor would like to offer some "things to do" to help cope with the potentially gut-wrenching final weeks. Sure they're sitting pretty right now, but do you think it's going to be smooth sailing the rest of the way? Have you not learned anything in your lifetime? These are the Cubs. The lovable - and not so much - losers, remember? So here are a few coping aids to keep you this side of sane.
*
Start smoking. The Cubs' inevitable defeat is probably going to kill you anyway.
*
Date someone horribly wrong for you. All the brutal relationship issues will take your mind off the Cubs.
*
Become a White Sox fan. Good seats still available for the final homestand.

*
Go find a cave to live in. If the Cubs do win it all you might be the only one left in Chicago alive after the fires and looting.
*
Adopt a goat. So you'll have someone to blame when it all comes crashing down.
*
Adopt Steve Bartman. So you'll have someone to blame when it all comes crashing down.
*
Get really, really drunk before you watch the games. In other words, don't change a thing.
*
Please, stop believing. You're only making it harder on yourself. These are the Cubs.
-
Week in Review: The Cubs went 5-1, taking two of three from the Reds and swabbing the deck with the Pirates. Time to get the Opening Day bunting out of the moth balls.
Week in Preview: The Cubs get the day off Monday and then travel to Florida and Cincinnati for three each with the Marlins and Reds to close the season. The Cubs Homeland Security Spoiler Alert System is at Teal and Red.
The Second Basemen Report: Mark DeRosa started all six games at second base last week. I'm almost positive this has not happened all season long. So maybe Jim Hendry was right about DeRosa being the every day second baseman. He was just wrong about the every day shortstop, catcher, right fielder, center fielder and left fielder - five of eight starting positions. And actually, he was wrong about DeRosa too, the every day second baseman who also played third, first, the outfield and grounds crew rakeman. You know, just like Jim Hendry drew it up.
In former second basemen news, Manny Alexander played for the Columbus Clippers, the Triple-A affiliate of the Washington Nationals, in 2007. He is missed.
Zam Bomb: After a short fuse outing earlier in the week on short rest, the Zam bomb destroyed the Pirates on Sunday, but still remains angry.


Sweet and Sour Lou: 75% sweet and 25% sour. Lou is up five more points on the Sweet-O-Meter this week due to late inning heroics and a probable trip to the postseason. And just like your real crazy drunk uncle, Lou is glad you made it to sectionals in the state spelling bee but he's still not going to remember your name.
Beachwood Sabermetrics: A complex algorithm performed by the The Cub Factor staff using all historical data made available by Major League Baseball has determined that in any other division the Cubs are already out of it.
Over/Under: The number of Cub fans who can't believe Ted Lilly is this good: +/- all of them.
Cubs Fans Theme Song: "Please Stop Believin'"
The Cubs Answer Men: No. 4 coming this week.
The Cub Factor: Catch up with them all.
Mount Lou: Despite a tremendous week for the Cubs, Mount Lou continues to stay at Level Orange. Expect playoff pressure to keep Lou's rock molten and ready to explode. Be advised that Magic Number Zero Lava may erupt before the weekend. But this is the good kind of lava.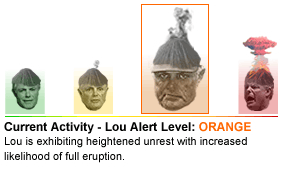 Posted by Lou at 08:49 AM | Permalink
Chicagoetry: Rainbow Over the Adler From An Omnibus
RAINBOW OVER THE ADLER FROM AN OMNIBUS
True story: atop
An omnibus
At the Museum
Campus, after a brief
Shower,
Grinding my teeth

With grief
All day, around and around
In the
Rain,
Grinding pain . . .
First, Burnham Harbor: a glimpse,
A
Glimmer. Sheen. Then,
Clenching my
grief
I saw, complete,
A rainbow
Over the dome
Of the
Adler Planetarium.
We all
Saw it,
Momentarily
Transcending
Unbelief:
Exuberant
Relief
Complete: a sea, shards
Of rain, a little
Light.
Boom: in full
Arc, God's
Shimmering,
Shattering
Grace.
-
J. J. Tindall is the Beachwood's poet-in-residence. He can reached at jjtindall@yahoo.com. Chicagoetry is an exclusive Beachwood collection-in-progress.
Posted by Lou at 08:37 AM | Permalink
The [Monday] Papers
1. The fan poll at the Bears official website asks which of these was the most disappointing aspect of last night's loss to the Cowboys: the return game, the second-half defense, or turnovers. Apparently, like everyone else, the Bears fan poll has determined that Rex Grossman is not an option.
2. Looks like Cubs fans picked the wrong week to quit smoking.
3. "The Chicago Children's Museum, at the center of a political firestorm, stands to get more than $1 million a year in taxpayer money by moving to Grant Park," Crain's reports.
You mean it's not about the children?

4. Just like the Sun-Times, the Beachwood is now accepting ads for Sweetest Day. The more bitter you are, the less your ad will cost. Contact me for details.
5. "Anybody gone into Whole Foods lately and see what they charge for arugula?" Barack Obama asked on an Iowa farm recently, according to a Tribune report. "I mean, they're charging a lot of money for this stuff."
Is this what Jesse Jackson was complaining about when he said Obama was "acting white"?
*
The Trib notes, by the way, that "Iowa does not have any Whole Foods stores, nor do its farmers typically grow the leafy green."
*
"He might as well have said, 'Anybody here getting their hedge fund portfolios screwed by excessive exposure to these Collateralized Debt Obligations since Moody's started rebranding Triple A's?'" says Wonkette.
*
"Arugula is Italian for 'yuppie chump weeds.'"
"Arugula is one of the most dreaded words in 'yuppie-speak.'"
"An appreciation of arugula and goat cheese salads is something that elite lefties, yuppies and urbane conservatives all have in common with each other."
*
Whole Foods' recipe for Goat Cheese and Arugula Quesadillas.
6. "Sometimes you just have to realize that money is a part of life, just as much as art is," says the Flaming Lips' Wayne Coyne, the latest in a long line of clueless rock sellouts breaking the hearts of their fans.
The Flips, as Jim DeRogatis noted this weekend, will take money from Camel cigarettes to play six "signature" shows in which smokers will receive free tickets and backstage passes.
Memo to another one of my former favorite bands: Sometimes it's not about accepting money, it's about who you accept money from. What's next, Blackwater shows with preferred seatings for thugs?
7. "Seventeen years ago, Mayor Daley wanted to pave over wetlands on the Southeast Side to make way for a third airport. But on Saturday, he announced that the city would spend more than $2 million to help restore and expand weltands in the same area," the Sun-Times reports.
"Asked about his earlier efforts to put an airport on the Southeast Side, the mayor said, 'That's why you're flexible. When they didn't want it and the governor pulled the issue, then you modernize O'Hare Airport.'"
A. The mayor pulled the Lake Calumet airport off the table himself. It was also supported by the governor. Daley had so little stomach to make a deal in Springfield his sincerity about the whole thing came under question.
B. One site doesn't work out so you don't support another site, say, Peotone? "Modernizing" O'Hare can do the job of an entirely new airport? And how has that worked out? It's been 16 years since the Calumet proposal. Things better?
C. It was racism. Sometimes black kids go to airports and the residents didn't want that. Er, oops, that was the Chicago Children's Museum. Or was it the big box ordinance? The mayor's played so many race cards I can't keep them straight.
8. A few comments and a correction were added on Friday to our Children's Museum coverage. For your enjoyment:
* Dear Chicago Children's Museum.
* Who's Afraid of a Bunch of Kids? The mayor.
* Let's rename the Children's Museum after Daley because he's acting like a child.
* The loudest voices are racial: those of Mayor Daley and Gigi Pritzker.
* Chicagoans love Grant Park more than they hate corruption.
9. "[A]s with most bullies, Daley can't be counted on to stick around when a tough real fight - a real stand against real racism - comes along," Tom McNamee writes in the Sun-Times today.
Like the concerted, systemic torture of black people by the Chicago police department.
"As Cook County state's attorney in 1982, Daley was informed in writing by Chicago Police Supt. Richard Brzeczek that there was credible evidence Burge and his men had tortured a suspect," McNamee recounts.
"Daley could and should have jumped on it. He had the power, and the legal and moral responsibility.
"But he looked away.
"And as mayor since then, he has continued to look away.
"The city finally fired Burge in 1993 when the mounting evidence of torture became impossible to ignore. But he still draws a city pension. And the city still fights his victims in court.
"'They can look into anything they want,' Daley said earlier this year when a slim majority of the City Council voted to hold hearings on the Burge scandal. 'That's up to them. I was not the mayor or superintendent during all of that time.'
"Civil rights lawyers have collected 108 allegations of torture by Burge and his men.
"Every one of those alleged victims was black.
"'There is no doubt the actions of Burge and his crew were racist,' said Rob Warden, executive director of the Center on Wrongful Convictions at Northwestern University. 'Every single victim was African-American. And there is absolutely no question that Daley had to know about this fairly early.'"
And this man is fit to serve as mayor?
*
Responding on Saturday to a study showing that the Burge lawsuits could cost taxpayers as much as $195 million, Daley said: "Every lawyer wants more money. It's all about the money. Sure you have to settle but you have to have a reasonable settlement. You would take $300 million? That's why lawyers sue everybody."
Funny how the mayor can turn his racial outrage on and off so easily.
I wonder what he thinks a reasonable settlement would be.
"Burge might begin by slamming a phone book to the back of a suspect's head," McNamee writes. "Then maybe a flashlight or night stick to the gut.
"He might move on to a plastic bag over the head. Or arrange for the suspect to suffer a few "accidental" burns from a hot radiator.
"And then he'd get down to business, flexing the alligator clips on his personal hand-cranked electric generator.
"Deliver enough electric shocks to a man's testicles or anus, and he'll confess to kidnapping the Lindbergh baby, if he can stop screaming long enough.
"Burge is retired now, living down in Florida on a $2,500 monthly city pension."
10. Rainbow at the Museum Campus.
The Beachwood Tip Line: Unsweetened.
Posted by Lou at 08:26 AM | Permalink
Dear FCC
The FCC came to town last week for a hearing at Operation PUSH about proposed changes to media consolidation rules as well as other topics such as minority ownership of media outlets. Our very own Rick Kaempfer was there and filed this report.
*
I wrote a two-minute speech (the time alloted for each speaker), hired a babysitter, drove over to Jesse Jackson's Operation PUSH headquarters, and by the time I arrived I was #170 on the list. While I was encouraged to see how many people showed up (it was packed), and how unanimous everyone was in opposition to this latest deregulation proposal, I could also do math in my head. As #170 on the list, at best I had a 5-hour and 40-minute wait, and there was no way I was going to get my time in. So, I listened for about an hour or so, and then drove home. Here's what I would have said:

My name is Rick Kaempfer and I'm a 20-year veteran of the Chicago media community; as a radio producer and host. I've written two books about radio, The Radio Producer's Handbook and a novel about the business called $everance.
Unlike most of the people speaking here today, I owe a debt of gratitude to the Telecom Act of 1996. Without it, I would probably still be working in radio, getting up at three in the morning, dedicating my life to writing and producing a local Chicago morning show with local Chicago content.
When the cutbacks started, and the local shows were replaced by nationally syndicated shows, and the salaries plummeted, I chose to leave the business. And I realized on my way over here that I've never formally thanked the media giants for giving me my life back, so let me say it now.

Thank you media giants.

My family appreciates your insatiable greed.

But I feel like I should apologize for even bringing up the last deregulation. As was pointed out in the Chicago Tribune, that's yesterday's war. The Internet has changed everything.

That is so true.

People who didn't see or hear the information they needed from the deeply cutback radio or television news departments, or the rabid-foaming-at-the mouth syndicated talk show hosts, have messed up the media giants' business model by abandoning the mainstream media.

And that's just not fair.
The media giants can't be blamed for overpaying for radio stations so much that they can't make more than the 40 percent profit margin Wall Street demands. The media giants can't be blamed for buying newspapers and TV/radio stations in the same cities hoping that the FCC would change the rules that have been in place for decades.

Sure, I know that these airwaves were given to them for free in exchange for agreeing to broadcast in the public interest, but how can they be expected to live up to that when they have to work so much harder at making money thanks to those people who brazenly disregarded the media giants' business model?
Just because the overwhelming majority of America, left and right, north and south, blue state and red state, doesn't want this further deregulation, doesn't mean that the FCC should stop it. As my mother used to say, if "the overwhelming majority of America, left and right, north and south, blue state and red state, jumped off a bridge, would you jump off a bridge too?"

No I wouldn't.
That's why I'm on the side of all nine Americans who are in favor of this: the CEOs of the six media giants, and the three Republican members of the FCC.

And I'm not ashamed to say so.
-
Rick Kaempfer also addressed Big Media in his January review of Eric Klinenberg's Fighting for Air.

Posted by Lou at 12:56 AM | Permalink
September 22, 2007
The Weekend Desk Report
We regret to announce that, after the loss of our appeal, the Weekend Desk has been stripped of its archive.
Market Update
At least three of the Four Horsemen are now out the motherfuckin' barn. Shit's bad, people.
Bank of Dad
Noting the moderate rebound in Dow Jones Industrial Average this week, Bank of Dad Chairman Ben Bernanke insisted he's not bailing us out of this latest mess. Someday we're going to have to learn to sink or swim on our own. He just doesn't want us showing up empty-handed this Christmas.
Blackwater Mark
Mattel this week issued an unprecedented apology to China this week, saying it never should've allowed Blackwater to handle its investigation into tainted toys. Some Chinese officials expressed skepticism, however, noting the controversial contractor is already back at work.
Some Are Freer Than Others
In response to customer complaints, Southwest Airlines has announced it will amend its famous "cattle-call" seating arrangement. Customers queuing for seats on Southwest flights will now be assigned numbers based on the amount of free publicity they are likely to generate.
Defending the Caveman
Perhaps sensing blood in the water, Osama bin Laden this week issued another video manifesto. The new appeal calls on the oppressed to overthrow their cruel dictator. And like all great video artists before him, even those most vocally opposed to his views, Osama already has his copy-cats.
Doubting Bob
In related news, secretary of defense Robert Gates this week said he's not sure the United States was right to intervene in Lindsay Lohan's affairs. Gates noted that earlier engagements were progressing toward inescapable quagmire status well before we launched that assault.
Ay, There's The Rib
Of course, none of the above bodes well for our chances of involvement in Darfur given the growing instability of that region.
Keg Stand on Your Own
Finally this week, we knew our idea for a keg-stand lift would take off eventually. Retirement, here we come!

Posted by Natasha at 08:05 AM | Permalink
September 21, 2007
The [Friday] Papers
Wow. The outpouring of opposition to the Chicago Children's Museum's proposed move to Grant Park has been astounding. I'd like to think the hullabaloo is backlash to a mayor whose racial comments finally went too far. On the other hand, Richard M. Daley pulled the same stunt when it came to the Big Box ordinance and there wasn't a peep.
What explains it?

My guess is the deep love and sense of ownership Chicagoans feel for Grant Park. Which is great - though I wish Chicagoans would feel as deeply about police torture and an administration built on corruption and fraud.
Maybe the answer to that, though, is that Chicagoans get something they want out of protecting Grant Park: a free and open park forever on the most valuable land in the city. And Chicagoans at least perceive they get something they want from a dirty City Hall: A city that works.
Of course, I don't believe that. A clean clout-free City Hall would have stopped this Children's Museum nonsense long ago; a new location would already have been found and we'd be on our way. And the mayor might even be forced to address the criminally deteriorated CTA among other pressing issues instead of finding a diversion.
But perhaps there is some sort of insight into the public's mind to be found here.
Gigi Gags
Gigi Pritzker Pucker, chairperson of the museum, appeared on Chicago Tonight last night - solo, without any of the skeptics who appeared on a panel the night before - and for the first few minutes of her interview with host Phil Ponce the sound didn't work.
"Is Daley jamming the TV stations?!" a faithful Beachwood reader said in a voice mail message left for me.
We live under the kind of rule where that sort of joke is possible.
Pritzker Pucker, meanwhile, did her cause no favors, stating:
* That she finds it "disturbing" that the dialogue is about race. Ponce unfortunately let that one go, failing to ask, "So was the mayor wrong? Has he gotten this debate off track?"
* That the opposition is about race. Asked for hard evidence, she unconvincingly cited a meeting with racial undertones and notes received by Father Michael Pfleger. (What does he have to do with this anyway?)
* That "we heard differently, we saw differently" than downtown alderman Ald. Brendan Reilly, who attended nine community meetings and has reported no such undertones.
* That "a lot of kids who come to our museum don't even know there's a lake." You mean the kids who come from Iowa? Because even poor Chicago kids know there's a lake.
* That the demographics of the kids who attend the museum are "pretty diverse." That was as specific as she could get. (A Sun-Times editorial today says the typical visitor to the museum is white, six years old, and accompanied by a parent.)
* That "we have raised money for this location." Aha!
* That clout has nothing to do with it. "The reality is, the mayor listens to a lot of people." All evidence to the contrary - especially this week.
* That this won't set a precedent because "I don't think we'll have a plethora of institutions trying to get into the park." A plethora of institutions have tried to get into the park for 171 years. That's why we have a lakefront ordinance that had to be reaffirmed so many times by the courts.
* That she is trying to "give a gift to the city" and that the museum is "a hidden gem." The Children's Museum, however, is hardly beloved because it is so mediocre.
Mayoral Whim
From the Beachwood in September 2006: "It's not clear exactly why the mayor wants to move the Chicago Children's Museum to Monroe and Columbus, but increasing Millennium Park parking garage revenues may have something to do with it."
Just to be clear, Monroe and Columbus was the previous location in Grant Park the museum was chased out of. So Bicentennial Plaza isn't even their - or the mayor's - first choice.
CLARIFICATION SATURDAY 7:30 A.M.: A reader writes: This is incorrect. Daley Bi was number one. Monroe/Columbus became number two after the first go round when Natarus was in office.
RESPONSE: This may very well be true; what I wrote was a clumsy way of trying to distinguish between the Monroe/Columbus and Bicentennial Plaza sites so readers wouldn't be confused by the excerpt. I wasn't aware of a previous attempt to locate in Bi Plaza.
Aldermanic Vim
I don't believe for a second that city council members reluctant to give up aldermanic prerogative will buck the mayor. What city have we all been living in for 18 years? The mayor gets what he wants. And if he doesn't get it through the council, he'll find another way.
NEW COMMENT 1:49 P.M. (from a Beachwood reader with reason to remain anonymous): That may be true. But Daley doesn't see it that way - and the aldermen don't see it that way. Now that the Office of Intergovernmental Affairs has been decimated, the mayor lacks the big stick to keep wayward aldermen in line. IGA's powers were huge . . . more than just the patronage office. If you're an alderman they could slow-up projects in your ward; if you have a beef with a city official as alderman, they could back the official over you and kill your project, or embarrass you come re-election time. Without that tool anymore, Daley's got a breakaway alderman on the north end of downtown and the south end of downtown with Bob Fioretti. He also has the makings of an opposition bloc (ironically, he fed this bloc with his stance on the Children's Museum) and fears that if aldermen see blood in the water, his sway is endangered.
Whether all of this will turn to anything resembling open government does remain to be seen and I have my doubts. But I do know the folks are running scared because they've never been in this position before.
P.S.: Another sign that the mayor's stance was a failed, desperate bid: You've heard nothing from the black community, or its leaders backing the mayor in his stance. Where are the demonstrations, etc. . . . even from Father Mike . . . in support of this. Where are the other ministers that Daley has held in his pocket, to quote Virgil Sollozzo, "like so many dimes"? Silent . . .
X Marks the Spot
Perhaps. But Ed Lindquist of Lansing isn't buying it.
"My best advice for the alderman is to post a night watchman at the proposed site in Grant Park and report to him any movement of any construction backhoes into the area carving X's in the flower beds," Lindquist writes to the Sun-Times today (last letter).
Grant Park Follies
Lindquist isn't too far off. This is how Lynn Becker began his invaluable "Forever Open, Clear, and Free: Why is the Grant Park Advisory Council so eager to let the Chicago Children's Museum move in?" in the Reader last week.
"Bob O'Neill, president of the Grant Park Advisory Council, jokes that his usual response to citizens concerned about new construction in the park is this: 'Well, they're actually out there building it right now, but thanks for the public input."
Becker also notes that the Children's Museum is "but the latest in a long procession of hustles seeking to circumvent" the forever open, clear and free mandate. Calling Gigi Pritzker!
* "Grant Park's sadly divided state was addressed by the 2002 Grant Park Framework plan, which advocated narrowing or even closing roadways like Columbus Drive," notes Harvard professor Brent Ryan, who says the roadways encourage the fancies of developers.
* "Moms vs. Mayor," in which the Sun-Times's Mark Konkol checks out the neighborhood.
* NEW 12:37 P.M.: Cate Plys appears tonight on Outside the Loop radio at 6 p.m.
* NEW 1:37 P.M.: Boy, the Children's Museum is taking a big hit. I wonder if Gigi Pritzker will have to resign.
"According to Parents Magazine, which ranks children's museums throughout the country, the Chicago Children's Museum ranks 31st in the country, behind not only museums in Boston and New York, but also behind children's museums in Rockford, Bourbonnais and Decatur, Illinois," Yellow Dog Democrat writes at Illinoize.
"The Chicago Children's Museum's 31st place ranking puts it two spots below Waco, Texas and just above Little Rock, Arkansas."
Yellow Dog also lists is favorite, most ironic exhibits (the indoor BIG Backyard and Treehouse Trails) and notes that birthday parties there cost $350 to $500. Nice.
At this rate, the Children's Museum might want to just pack up and set sail from Navy Pier for a new location in another state. Maybe Michigan has some parkland available.
Brew Stew
"In somehow portraying themselves as the ultimate underdog and the lovable losers, the Cubs have pulled off maybe the biggest scam in the history of professional sports. It's like Big Oil being successfully sold as baby seal lovers. No one would buy that, yet legions of Cubs fans didn't seem to mind when the $1 billion franchise scalped its own tickets back to them," a Milwaukee sports columnist writes.
Police Prophets
"Within a few hours after Harrison was shot to death, the Chicago Police Department (CPD) determined that the shooting was justified. A very interesting fact if you consider that the pathologist report is still yet to be completed," Tracy Jake Siska writes at Chicago Justice. "According to David Foley, the administrator of the Cook County Medical Examiner's Office, the only information the Cook County medical examiner has released to anyone, including the CPD, is that Harrison was 'shot in the back and that his death was due to a homicide,' meaning it was not a self-inflicted wound."
Comments
* So-Called Austin Mayor on "Gored" at The Periodical Table.
* Readers respond to Cate Plys's Open Letter to the Children's Museum. We'll continue to post replies as they come in.
* Want to comment on something in the Beachwood? Please do!
Just remember that we ask you to provide a real full name - unless you can give us a good reason why that would be a bad idea, i.e., you are in the mayor's inner circle and you want to tell us the real story without losing your job.
The Beachwood Tip Line: Children welcome.

Posted by Lou at 08:58 AM | Permalink
And Then There's Maude: Episode 6
Our tribute to the 35th anniversary of the debut of Maude continues.
*
Season 1, Episode 6
Episode Title: The Ticket
Original airdate: 17 Oct 1972
Plot: Maude tries to get out of a speeding ticket by racing into her home before the motorcycle cop can catch her. Try as she might, Maude can't talk, argue or yell her way out of the ticket. Having the cop tote her groceries inside, telling him she really has to pee, calling him honey, baby and pussycat face - nothing works.
Maude now has enough moving violations to have her license suspended, a thought that strikes fear into the Findlay household; no one wants to be responsible for carting Maude around town and the last thing Florida wants is to be stuck with Maude at home all day. Arthur knows someone who knows someone and offers to "fix" the ticket but Maude will hear nothing of it. She wants her day in court. Right on Maude!

She gets it, appearing before Judge Motorman, who does everything short of wink-wink-nudge-nudge to let Maude know that the ticket has been taken care of. Maude, upstanding citizen that she is, refuses loudly. No amount of begging and pleading from the judge to let him do this favor for a friend will sway Maude.
The cop takes the stand to testify. First the judge tries to coerce the officer into changing his story. Maude succeeds in reducing the cop to a whining child by treating him like one, referring to him repeatedly as "baby face" and "pussycat." The episode concludes with Maude winning her innocence, leaving behind a very unhinged cop and judge. Her final act is to ask the bailiff to pay her outstanding tickets, bribing him with an extra five bucks to do her the favor.
Hot button social issue: Justice for all and favors for none.
Fashion statement: Maude wears a gray wool cape trimmed with three-inch fringe. Arthur sports a silk scarf around his neck as part of his golfing getup.
Neckerchief count: Two, including the one worn by Arthur.
Welcome back to 1972 pop culture reference: Maude tells the cop she's been "shopping all day for food values" at four supermarkets: Bohacks, Big Bear (both defunct), A&P and something called Fin-est (??) And yet she comes home with just two grocery bags. She's some value shopper!
Number of times Maude yells: Five.
'70s slang: Florida refers to the cop as "The Man."
Memorable quote: "That's it? Biff, bam, goodbye ma'am?"
Keep an eye out for: Vincent Gardenia as judge Motorman.
-
Previously:
Season 1, Episode 1: Maude's Problem.
Season 1, Episode 2: Doctor, Doctor.
Season 1, Episode 3: Maude Meets Florida.
Season 1, Episode 4: Like Mother, Like Daughter.
Season 1, Episode 5: Maude and the Radical.
Posted by Lou at 12:57 AM | Permalink
Ken Burns' Next 10 Projects
- "Next Burns War Could Be Vietnam"
1. The Vietnam War. Yes, there have been some great documentaries done about this war, but his will be better because he'll have a subtle, yet great score playing throughout to hide the fact that Burns keeps making the same doc over and over and over . . .
2. Grenada. Riveting interviews with med students who were probably too stoned to realize what was going on. Subtle, yet great score playing underneath the over-exposed images and blah narration about a blah war.
3. The Falklands War. More riveting interviews with sheep farmers who were more concerned with making the perfect haggis than whether or not Prince Andrew was going to save them from the Argentine Army and their archaic weaponry.
4. The Gulf War. Schwartzkopf and Co. kick ass and save wee Kuwait's booty. Burns is trying to figure out how he can use photos rather than archival news footage since photos are easier to set to a subtle, yet great score.
5. Revisiting the Civil War. Talks to folks below the Mason/Dixon who are still upset that the South lost.
6. R&B. Burns needs to make sure that he forgets some of the pillars of R&B like he did with his jazz series. Also, how will he be able to create a subtle, yet great score when there's so much great R&B music he can use instead? He'll probably be in quite the quandary over this one.
7. Cricket. England's great game, set to a jazz score.
8. The Iraq War. Will use actors in re-enactments because the Bush Administration has made sure there is no archival footage.
9. The War of the Roses. Burns revisits the Michael Douglas/Kathleen Turner classic.
10. The SCA Battles. Burns goes inside the epic battle between the kingdoms of Caid and An Tir, showing how the "armor" is made and how many stolen road signs are needed to make said armor. He talks to survivors and shows images accompanied by a subtle, yet great score.
Posted by Lou at 12:28 AM | Permalink
The Blue & Orange Kool-Aid Report
Clearly, Devin Hester is ridiculous. Of course, we only see His ridiculousness on Sunday. What about the rest of the week? Let's say that Hester works in mysterious ways.
*
Sunday: Hester creates light. Hester divides light from darkness. Hester scores.
Monday: On Sunday, Hester was good. So on Monday, Hester rests.
Tuesday: Hester divides the water from above from the water below. The water from above is called Heaven. This is where Hester builds his many mansions. The water from below is called Hell. This is where Michael Vick lives.
Wednesday: Hester creates Sea and Earth. Neither can stop him, nor sleet nor snow.
Thursday: Hester creates lights in the Heavens and marks Day and Night. He also creates the non-conference schedule so he doesn't get bored inferior competition.
Friday: Hester creates the Birds and Sea Creatures. Hester commands them to be fruitful and multiply. They do, eventually forming extra divisions and wild card entries. But they remain the dominion of Hester.
Saturday: Hester creates Wild Beasts and Humanity. He tames the Beasts and commands Humanity to praise him by buying his merchandise.
-
Philosophical Question: Can Hester create a kick return defense so powerful that it could stop Him?
-
If Bill Belichick coached the Bears.
* Lance Briggs has a GPS chip installed during a rubdown.
* Tank Johnson wears a wire to Cowboys HQ.
* Rex Grossman replaced by animatronic from Chuck E. Cheese.
* Robbie Gould's toes amputated; kicks with Tom Dempsey's old shoe.
* Devin Hester left alone.
* Brian Urlacher secretly made sterile in special hot tub.
* Offensive line commanded to put on the foil.
-
Dallas at Chicago (Sunday Night)
Corny, Homemade Joke/Pun Time: What does a Minneapolis airport bathroom have in common with Soldier Field? Both sit and wait for a Gross-man to perform. Bears fans have been standing and "tapping their feet" to get better results from their QB. To prevent falling in the toilet, the Bears need to use a "wide stance" to keep from falling to 1-2. But Grossman's play makes as much sense as reaching down under a stall in a men's bathroom for no good reason.
Pick: Dallas Plus 3, Over 42 Points Scored.
-
Sugar in the Blue and Orange Kool-Aid: 50%
Recommended Sugar in the Blue and Orange Kool-Aid: 45%
-
For more Emery, see the Kool-Aid archive, and the Over/Under archive. Emery accepts comments from Bears fans reluctantly and everyone else tolerably.
Posted by Lou at 12:22 AM | Permalink
September 20, 2007
The [Thursday] Papers
Now comes Gigi Pritzker Pucker calling the "loudest voices" opposing the move of the Chicago Children's Museum to Grant Park racist.
Note to Gigi: If there are racist voices in this debate, they are surely the quietest - not counting the voices of you and the mayor. The loudest voices belong to Ald. Brendan Reilly, the Tribune editorial board, and various civic defenders of a free and open Grant Park.
And truthfully, it doesn't matter much what the residents along East Randolph think. This isn't about traffic, no matter what their parochial concerns. Mayor Daley is right about one thing: Grant Park belongs to us all. That means that by tradition it isn't to be siphoned off to the mayor's pals.

Now, moving the Children's Museum to Bicentennial Plaza isn't the worst idea in the world. It would fit nicely with Millennium Park across the Gehry bridge. But if we are going to now allow development in Grant Park (a bad idea in my view), it can't be done piecemeal. The fact that we have a "bridge to nowhere" in the first place is just another example of the mayor's lack of the very vision he's so often credited with having. Consider Soldier Field, or moving Lake Shore Drive one way and then another, or his on-again off-again casino proposals. Millennium Park, in fact, is perhaps the greatest example; like it or hate it, it was a planning debacle that needlessly cost us an extra few years and millions of dollars in its making because it wasn't thought through properly from the start.
So please. Let's have a real public policy debate. I know we aren't used to those in Chicago, but it's never too late to learn, is it?
Museum of Daley
John Kass proposes a different kind of museum that would feature the Daley Believe It Or Not wing. This is today's must-read.
Aldermania
The concept of "aldermanic privilege" also seems to weigh heavy in this debate. I have long believed that such a privilege is bullshit. I would love to see it done away with - though not simply in this one instance at the mayor's behest.
The practice of allowing each alderman the ultimate say about what happens in their wards is far from an enlightened vision of grassroots democracy; it is pure folly. Certain issues require full city council approval for a reason. No ward is an island. Every ward is both for all Chicagoans and for its residents.
Beyond that, the real purpose of aldermanic privilege is obviously to allow each alderman his or her own fiefdom; 'you stay out of my business and I'll stay out of yours' is no way to run a city.
We depend upon, for example, Ald. Tom Tunney to do what is right not only for residents around Wrigley Field but for all of us on matters concerning the Cubs home. We depend (hopelessly) on aldermen in neighborhoods like Wicker Park to preserve historic buildings and the wages of gentrification for the betterment of the entire city. We depend on aldermen in neighborhoods like Englewood to fight the violence that kills children who belong to all of us.
Likewise, we elect aldermen not only to represent issues in our ward but city-wide issues upon which they will vote.
That's why it's so frustrating that the local press virtually ignores so many aldermanic elections. The Tribune's metro editor, Hanke Gratteau, explained to me years ago that she didn't think residents in one ward cared about who was elected in another ward. Aside from the fact that not every newspaper article has to appeal to every possible reader, the Children's Museum debate is as good an example as any as to why that just isn't true. We all certainly have a stake in the 42nd Ward alderman, and if we don't all feel a stake in the rest of them, we are sadly short-sighted.
Museum Scoop
From Mark Brown's interview with Reilly's predecessor, Burt Natarus, who also opposed the move:
"'I don't know why this is an issue now,' Natarus grumped, arguing that he'd reached an agreement with the Daley administration while he was still in office to prevent the museum from being relocated from Navy Pier to Daley Bicentennial Plaza, the section of Grant Park that is the subject of the current debate.
"'It was already decided not to build it there,' Natarus said. 'I put it in my campaign literature.'" (Item No. 3)
The mayor's seemingly sudden and adamant position is a bit of a mystery.
John McCormick, the Tribune's deputy editorial page editor who wrote Wednesday's editorial "Reilly's Right - Daley's Wrong," similarly asked of the mayor (not that he was there) on Chicago Tonight last night, "Why now?"
Meanwhile, Bob O'Neill, president of the Grant Park Conservancy, put on one of the shakiest performances seen on the show in recent memory.
[Disclaimer/Kudos: Our very own Cate Plys also appeared, and her Open Letter for the Beachwood this week is published in adapted form today on the Trib's Op-Ed page.]
Media Meeting Today
"Are Chicago's Media Outlets Serving You?"
Double Take
The Sun-Times will be hurt more by Jennifer Hunter staying than John Cruickshank leaving.
Publisher Putsch
"As if overcompensating for the way Radler bullied the editorial board to make political endorsements in the name of the conservative beliefs he and Black shared, without regard for how it might play with core readership, Cruickshank led the Sun-Times to back neophyte political heir Todd Stroger for Cook County Board president, and almost immediately after the election retreated from its support," Phil Rosenthal writes.
Meanwhile, Sun-Times editor-in-chief Michael Cooke tells Rosenthal that "Cruickshank has integrity through to his bone marrow."
Apparently, though, not through to the editorial page.
At any rate, Rosenthal writes that "Cruickshank said the move 'maybe' was an error."
What, the jury is still out?
Jerry Curl
"[Jerry Weller's] campaign manager, Steven Shearer, insisted Weller, a seven-term congressman, is running," the Sun-Times reports.
"'I have been on the campaign payroll nonstop since the last election. We've got a deputy campaign manager on board. We have a campaign headquarters, and we are circulating petitions,' Shearer said."
Really?
"Rep. Jerry Weller, dogged by ethics questions surrounding his Nicaraguan investments and his wife's finances, is set to announce his retirement in the near future, Republican sources said Wednesday," the Tribune reports.
Regional Consultant Authority
Transit is a sweet gig after all.
The Beachwood Tip Line: For the children.

Posted by Lou at 09:07 AM | Permalink
Over/Under
O.J. Simpson may be back in the news, but we think his hijinks will be trumped by the adventures of a few current players this season.
*
Ray Lewis: Follows O.J.'s example with a book called Fuck Yeah, I Stabbed the Shit Out of That Guy.
*
Peyton Manning: Releases a "Best Of . . . " DVD of his best commercials.
*
Eli Manning: Releases a "Worst Of . . . " DVD of Peyton's worst commercials.

*
Brett Favre: Credits his longevity to eating cheese and ceasing to consume massive quantities of beer. Entire state suffers from massive bipolar disorder.
*
Lance Briggs: Refuses to take responsibility for leaving the designer butter out, leaving his designer dirty socks laying around, and leaving the designer toilet seat up. IRS then discovers he left a lot out of his designer tax form.
*
Kyle Orton: Moonlights on Cavemen.
*
Chad Johnson: Getting bored jumping into the opposing team's stands, Johnson begins jumping into the opposing team's lineup and becomes a new kind of two-way player.
*
Donovan McNabb: When asked to finish Sally Field's bleeped acceptance speech at the Emmy's, McNabb quips "If my mom ran the world, there'd be free soup for everyone!"
*
Terrell Owens: In game against Bears. does interpretive TD dance called "Flight of the Sorrowful Sunbeam." Later found to have stolen it from Snoopy and Woodstock.
-
OverHyped Game of the Week: San Diego at Green Bay
Chargers head coach Norv Turner and Bears offensive coordinator Ron Turner are like the Baldwin Brothers: The more you see of them the less talented they appear.
Pick: San Diego Minus 4 Points, Over 43.5 Points Scored
-
UnderHyped Game of the Week: Jacksonville at Denver
So a state senator in Nebraska has sued God The question is, which God? The one sending the typhoon to China or the one that has allowed Denver two straight last second wins? I'm not sure, but having taken the Pat Robertson Correspondence course called "A Conversation with God," I've come to learn that The Almighty does believe that Denver will cover at home, powered by their running game and run defense. And if God is wrong - again - I just may sue.
Pick: Denver Minus 3 Points, Over 35.5 Points Scored
*
Results
Last week: 2-4 (1-2 Against the Spread, 1-2 Over/Under)
Season: 6-6 (3-3 Against the Spread, 3-3 Over/Under)
*
For more Emery, see the Kool-Aid archive, and the Over/Under archive. Emery accepts comments from Bears fans reluctantly and everyone else tolerably.

Posted by Lou at 06:47 AM | Permalink
Serenity Beam Now!
Electrolux Central Vacuum Systems has introduced the new Beam Serenity IQS. We believe visitors to The Beachwood Reporter will find this information helpful as the product can improve the indoor air quality of the home while offering up 25 percent more cleaning power, quiet performance and intuitive technology. The following news release has more detail. You can download low- and high-resolution photos at www.beampresscenter.com.
Contact: Bill Brewer, APR
ZLRIGNITION Public Relations
(515) 244-4456 ext. 104
bbrewer@zlrignition.com
Larry Hartley
Electrolux Central Vacuum Systems
(515) 832-4620
larry.hartley@electrolux.com
*
Beam Serenity® IQS™ Brings Intuitive Communication to Central Vac User Fresh Thinking Provides Performance, Maintenance Information
WEBSTER CITY, Iowa - The quietest, most powerful central vacuum system now is also the smartest system. Beam, the global central vacuum leader, has added an intuitive, electronic user information system to its top-of-the-line system with the Serenity® IQS™ Power Unit.

"The Beam Serenity IQS is an intelligent, quiet system that brings fresh thinking to central vacuums," says Larry Hartley, vice president of marketing for Electrolux Central Vacuum Systems which manufactures Beam products.
"A bright blue liquid crystal display (LCD) on the Serenity IQS power unit provides real-time information telling the homeowner how efficiently the system is performing, when to check the dirt level in the collection receptacle and when to contact a dealer for service. It also provides accurate time and temperature information."
The Serenity IQS also delivers 640 airwatts of cleaning power, up to 25 percent more than competitive systems. Beam also offers AlphaSan®, a permanent anti-microbial agent infused into the collection bucket that prevents formation and growth of mold. It's also the quietest single-motor central vacuum system on the market.
Joining the Serenity IQS Power Unit is the Beam Q Power Team™, which includes the central vacuum system's hose, electric power brush and attachments.
The Q is the quietest electric power brush on the market. With three levels of height adjustment the Beam Q also assures the highest level of carpet cleaning effectiveness. Convenient on-board tools and a QuickRelease™ wand system make the Beam Q not only the quietest, but also the easiest to use
central vacuum power team available. The Q also comes with a factory-installed nylon quilted hose sock, to protect wood floors, wall corners and furniture.
Larry Hartley, vice president of marketing for Beam, says the integrated system will speed the inclusion of central vacuums as standard features in new homes. A recent National Association of Homebuilders study found that nearly one-third of new luxury homes and 15 percent of "move-up" homes were equipped with central vacuum systems or were primed for them.
"This integrated system delivers superior, quiet, powerful cleaning and a healthier living environment that fresh-thinking builders want and buyers expect in a new home," says Hartley.
The Beam Serenity IQS Power Unit and Beam Q Power Team are available exclusively from Beam's 800 independent U.S. dealers. For more information or to locate your nearest dealer, visit www.beam.com.
*
Electrolux Central Vacuum Systems is the world's leading producer and marketer of built-in central vacuums. The company's Beam, Electrolux and Eureka Central Vacuum Systems are sold in 50 countries around the world. Electrolux Central Vacuum Systems is a division of Electrolux Home Care Products North America. For more information and photos, visit www.beampresscenter.com.
Posted by Lou at 12:00 AM | Permalink
Cops Shop
Reality TV got a jump start in its dominance of the television schedule because of shows like Cops and America's Most Wanted. Both deal with factual content and certainly do capture people in the "art of being themselves".
The show Cops premiered in 1989. The simplicity of it is why it works so well and has run so long. Put cops and cameras together and as Seinfeld would say, "That's a show".
No attempts are made to conceal the cameras. Participating officers wear wireless mikes and the resulting footage from the streets of America is better than anything Hollywood make believe might conjure up for Saturday night prime time.

I've seen hundreds of episodes of Cops and the show never bores. The half hour episodes are tightly edited so the action, whatever it is, just keeps on coming. We get an insider's look at human behavior through cops' eyes. Revelations occur weekly.
The producers and crew members on Cops make no attempt to disguise what they're doing and the cameras are quite visible. So, why do so many people appear at their worst in front of rolling cameras? This is puzzling. Misbehaving in the presence of law enforcement is questionable enough, but to pay no heed to the camera while in the act of demonstrating one's bad behavior is confounding. Given that some subjects are intoxicated and others are flying on their drug of choice still gives the lens an eyeful of many sober people conspicuously breaking any number of laws. When confronted the excuses and explanations are more original than anything script writers might manufacture on a studio backlot.
Curiosity got the better of me and I couldn't stop wondering how much filming the Cops crews really do to come up with a solid 22 minutes which is the program length minus commercials and credits. According to available on-line production notes, it can take as many as 400 hours of taping to isolate 22 interesting minutes. Seeing what ends up on Fox TV really makes me wonder what it is they don't show.
During production the Cops franchise uses as many as five to ten camera crews scattered around the country. The two-person crews don't just show up at roll call or jump into squad cars. Prior to shooting any video the producers meet with all the participating departments and interview a number of officers looking for those who appear to be most comfortable with the camera. They also look for those with the verbal skills to narrate their activity verbatim.
The Cops field crews consist of a camera operator and a sound recordist. They are instructed to not become directly involved in police actions but their need to be up close and personal - means that each wears a bullet proof vest. On several occasions, crew members have gone to the aid of officers struggling with arrestees. Their presence has been meaningful in other ways. Several seasons ago a Cops crew on location in Lynn, Massachusetts filmed an officer shooting an armed suspect who attempted to stab the policeman. Their TV video became the evidence proving the officer acted within department guidelines in reference to use of deadly force.
Cops has not been welcomed to film anywhere it wants. Chicago is probably the biggest city that has refused their request to come in and chronicle local law enforcement. A spokesman for the Chicago Police Department has said "Police work is not entertainment. What they do trivializes policing. We've never even seriously considered taping". Orlando and Honolulu have also refused to allow the Cops cameras access.
Chicago is not averse to our police and fire departments appearing in films and TV shows. Several cop shows and movies have used Chicago as their primary location or city of identity.
Remember M-Squad with Lee Marvin, Lady Blue with Danny Aiello? The Blues Brothers with a cast of thousands? The Chicago Fire Department was the backdrop for the 1991 Ron Howard film Backdraft. The NBC series ER has been a Chicago staple since 1994. It was a play before it was a series and the hospital where the original idea was born is actually Illinois Masonic Medical Center on West Wellington. At one time, ER and the other hospital series Chicago Hope were both in production making our town the medical center of the TV universe.
Daniel J. Travanti starred in a great and gritty cop series Hill Street Blues, which used Chicago streets, expressways and other landmarks as the combat locked Hill Street station, a police precinct that was overworked and understaffed. The series ran from '81 to '87 and 93 episodes were completed. Travanti liked the area so much he moved here and now lives on the North Shore.
Film and television productions are good for the local economy. Our craft unions get to work, actors and extras that live here can work, and production companies are big spenders in restaurants, hotels and with industries supplying lighting, sound, catering, and transportation.
Some day I would like to see a change in City Hall's attitude toward a show like Cops.There is no reason our department should be kept from national exposure. Negative things get reported without fail. Twenty-two minutes of episodic TV wouldn't do the police department any harm and just might do some good.
Chicago is far from being overexposed when it comes to film and TV.
Posted by Lou at 12:00 AM | Permalink
September 19, 2007
The [Wednesday] Papers
Editor's Note: If you're visiting due to the AP story, Please Stop Believin' is here, The Cub Factor is here, and Beachwood Sports is here.
*
Donald Jacobsen lives at 400 East Randolph - in close proximity to the Grant Park location now being debated as a possible future home of the Chicago Children's Museum.
On Tuesday, the mayor once again made a spectacle of himself and Jacobsen delivered his verdict to the Sun-Times: "The mayor is nuts."
You think?
"Daley again went unhinged," the Tribune editorial page says this morning, describing the mayor's latest hideous display as a "bizarre eruption" and "a foolish and irresponsible rant." (Eric Zorn has a partial transcript here.)
That gives the mayor too much credit; makes it sound like this is an unusual departure from Daley's typically reasonable and civil manner.
Just get into town?

The "M" in Richard M. Daley stands for mendacious, and the Daley stands for disingenuous.
Or does the "M" stand for Meigs Field and the Daley stand for the Duffs?
Daley's outrage this week would be impressive, commendable and appropriate if it came in response, say, to learning that the Chicago Police Department tortured black men for years, or upon learning that the whole of his administration's hiring practices was a massive fraud. Or . . . well, you name it, there's a long list to choose from.
But his outrage over opposition to moving the Children's Museum to Grant Park - where buildings have not been allowed for 171 years - is as manufactured and despicable as it gets. To suggest that downtown Ald. Brendan Reilly and his constituents are racists who hate children is as big a bunch of malarkey as has ever come out of his mouth. And he knows it.
"Misstating his name, Daley declared, 'Ald. Brendan O'Reilly - and I quote - said 'Grant Park is not a kids' park' . . . Parks are not for kids? He says [Grant Park] is a people's park, and kids are not invited. I think everybody should be outraged that the people think the children can't go to a museum to be educated," the Tribune recounts.
"Informed of Daley's heated comments, [Reilly] said that 'obviously somebody misquoted me' - a point ultimately confirmed by Daley's office."
On Chicago Tonight last night, Reilly said "I've never made any of the comments that were referenced in [Daley's] speech."
Of course he didn't. Daley made it up.
I have a suggestion, though. Perhaps the museum should go there and be renamed Daley's Children Museum, seeing as how the mayor so often acts like a child.
"What's the compromise?" the mayor said. "We will change it to an adults' museum. How's that?"
The mayor needs a time out while the adults sort this through.
The truth is that the Children's Museum plan looks pretty cool, and maybe it would work. But development proposals for Grant Park have come and gone by the dozens. Unless the mayor wants to actually make the museum proposal part of a new plan for the lakefront that could be discussed through proper democratic governmental channels, this deal smells funny - and no one has told us why an exception should be made now.
It's not as if there are no other locations available in the city. Reilly, for one, suggests Northerly Island or the Museum Campus.
But that's not a discussion Daley - or his minions - are willing to have. Instead, they want to play children's games.
"Carole Brown, the chairwoman of the Chicago Transit Authority" - and we all know how well that works - "and a member of the museum board, said she attended a meeting this month where she heard a woman ask why the museum wasn't put in a South Side park, while another opponent held a sign that said it 'is not fair to bus in strangers' and a third 'asked me if the children who came to the museum were going to play on the playground there."
So?
First, I'm wondering why they don't move this to the South Side too; hell, if they built Millennium Park in Englewood maybe we'd all be better off instead of the rich getting richer.
Second, even if some yahoos did voice racist sentiments, that has nothing to do with the issue at hand, which is whether to build in Grant Park.
Third, it's not as if only white people live near Grant Park.
"If the mayor had come [to any of the community meetings], he'd have seen just how diverse these buildings are," Reilly says.
Hey, the mayor don't need no stinkin' community meetings!
(The Sun-Times reports that the mayor's nephew, Patrick Thompson, represented the museum at those meetings.)
Daley did call on the business community, however, to publicly identify the opposition and . . . harm them somehow.
"If you lose this one, you lose the strength of our city looking out for poor children," the mayor shouted. "I've never seen anything like it in my term in office."
He's seen police torture and mobbed-up city contracts and hiring fraud and the midnight destruction of an airport and a heat wave that killed 700 people in part due to the city's crappy response and a CTA that has become life-threatening but he's never seen anything like not allowing the children's museum to break 171 years of precedent by building in Grant Park.

Is the mayor nuts?
No. This is who Richard M. Daley is. Par for the course.
Outrage Off
"Mayor Richard Daley said Tuesday that he doesn't think former Chicago Transit Authority President Frank Kruesi was aware of dangerous and systemic maintenance problems on the CTA's rail system," the Tribune reports.
Therefore, it's not Kruesi's fault.
Besides, the CTA isn't all that different from Tribune Company, the mayor says.
"Asked by a Tribune reporter Tuesday if Kruesi should have known about the conditions, Daley replied by asking if the Tribune Co.'s board of directors should have anticipated the financial problems that followed the company's purchase of the media group Times Mirror in 2000.
"You have a lot of employees," Daley said. "Look at your papers, what you are going through now. Should your former board of directors have known?"
So, like the CTA, the buck doesn't stop here.
PUSH It
I've been trying to get around to writing about the FCC hearing here in Chicago on Thursday, but at least for one more day I'll have to leave it to someone else. Here's a little info from Robert Feder. Hope to have more tomorrow.
Open Letter
And in case you missed it, here's Cate Plys's Open Letter to the Children's Museum.
And, as always, The Papers archives are here.
The Beachwood Tip Line: Forever Open and Free.

Posted by Lou at 09:22 AM | Permalink
Minor League Report 2007
In which we track the travails and triumphs of the area's myriad minor league baseball teams. But mostly the travails. Season highlights updated as events warrant.
In this edition: Two of our mascots are celebrating championships this week. Two others are already booking events for December. The 2007 wrap-up.

Team: Windy City ThunderBolts (formerly the Cook County Cheetahs), Crestwood, IL.
League: Frontier League, no major league affiliation.
Why Be Interested In This League? Added Slippery Rock (Pa.) Sliders this year. And that's just cool.
Ballpark: Hawkinson Ford Field (The Hawk). Capacity is 3,000-plus.
Quality of Play: Fourth-place finish (41-54) in the West Division last year.
Best Player: Brian Beuning (24 SV, .195 opp avg.)
Why Else Be Interested in Brian Beuning? He's from Sauk Center, Minnesota, which we're pretty sure is a fictional town, which makes him a fictional player. And yet, there he is . . .
Mascot: Boomer, a moderately big blue thing resembling Phillie Phanatics' less obese cousin.
Merchandising: Shot glass (Reduced from $3.50 to $3.00 - empty).
Best Promotion This Summer: Backpack giveaway courtesy of Olive Garden on May 29. Carry all your "Let's eat fake Italian food jokes" in your new backpack.
Tryouts? Yes.
Season Highlights: The Thunderbolts open the season May 23 at home against the Rockford RiverHawks . . . 6/8/07: Windy City starts year 11-3. After 5-1 win over Rockford, Windy City mascot Boomer seen saying "pwned" to Rockford in sign language . . . 6/15/07: In latest news from website: "ThunderBolts Suppress Freedom." In response, Bush extends level of irony above Alanis Morissette levels by simultaneously invading Crestwood, Ill., to end the suppression of the Florence (KY) Freedom and then pushes Congress to extend the powers of the Patriot Act to watch "Those evil-doers who literally want to suppress our Freedom." . . . 7/6/07: July 9th was "Big Splash Extravaganza #1." The first 500 morbidly obese children got to splash skinny kids for calling them "Fatty" for the past 364 days . . . 7/17/07: "Baseball Hat Night presented by RC Cola" occurs July 20th. First 1,000 fans get a hat. As a bonus, RC Cola reveals that RC stands for "Really Crappy" . . . 7/24/07: The sequel to "Big Splash Extravaganza #1" is scheduled for July 25th. The ThunderBolts proudly present "Big Splash Extravaganza #2: The Son of Fatty" . . . 8/02/07: The Bolts are 47-18. The White Sox aren't . . . . 8/8/07: After five straight home losses, a fan posts "Just the Tonic the T-Bolts Need" on the team message board. Presumably, the kind that comes with gin . . . 8/15/07: NEW FIELD NAME! Hawk Ford Field is now Standard Bank Stadium. Just a few changes "At the Standard" in keeping with usual bank procedures: You will be asked for your account number and ID when buying a hot dog at the concession stand; if you pay with money from a non-Standard ATM, you will be charged a service fee; and the condiments will now be chained to the counter . . . 8/22/07: National City sponsors a jersey giveaway at Standard Bank Stadium on August 26. With two banks sponsoring portions of a baseball game, expect a Thunderdome-style fight between innings: "Two CPAs enter, one CPA leaves!" Also, ATM fees will double on all in-stadium machines . . . 8/29/07: Thunderbolts win division and set record for team wins at 64. Will play out the rest of the White Sox schedule . . . 9/12/07: The Thunderbolts are in the Frontier League Championship Series against the Washington Wild Things (no Larry Craig jokes, please). Draft beers are $1 all game long tonight . . . 9/19/07: THUNDERBOLTS ARE FRONTIER LEAGUE CHAMPS!
***
Team: Schaumburg Flyers.
League: Northern League, no major league affiliation.
Why Be Interested In This League? Contains two other Chicago area teams. Root for the Flyers by calling Gary and Joliet "Two Bit Fronts For The Mob While They Are Tired Of Running Their Casino Ball Teams."
Ballpark: Alexian Field, named after suburban role model Alex Keaton. Capacity 7,048.
Quality of Play: Won first half championship. After allowing fans to vote on the everyday lineup, went 11-35 and finished fourth in second-half play. Team management converted to fascism.
Best Player: It was Chris Weekly (.328/10 HRs/61 RBIs in 2006) until he decided to finally call it quits, leaving the game as the Flyers' all-time leader in RBI (176), total bases (503), and walks (133), and second all-time in runs (183), hits (314), doubles (62), and home runs (39). Now the Flyers are looking for a new stud.
Why Else Be Interested in Chris Weekly? He was drafted by the White Sox in 1995 (924th overall), later signed by the Blue Jays, and then traded to the Cubs in 2000 as the player to be named later for Cole Liniak. Two years later, the Cardinals purchased his contract, but released him in the fall of 2003. So Weekly may be the only person to play in the Cubs, White Sox, Cardinals, and Flyers organizations.
Mascot: Bearon, a very happy bear. This bear loves to fly and it shows.
Merchandising: Bearon Snow Globe, $20. "Stands 6'' Tall and Sings 'Take Me Out to the Ballgame.'" Scheduled to appear at Wrigley Field in August.
Best Promotion This Summer: Principal Financial Group Family Fun Fest, July 25. The first 1,000 kids gets to complete SEC Form 10-Q for various public companies.
Tryouts? Yes. And if you don't make the team, you can try out for the dance squad.
Season Highlights: The Flyers open the season May 17 in Kansas City against the T-Bones; the Royals weren't available . . . 6/08/07: Website poll asks "Which professional team will have the highest winning percentage in 2007?" Chicago Cubs erroneously listed as an option . . . 6/15/07: Wish team mascot Bearon happy birthday on June 21. Break in the press box and sing "Happy Birthday" over the PA system and stick Bearon with the royalty bill . . . 7/6/07: A Christian music festival will appear at Alexian Field on July 21. All 17 of Bush's supporters have purchased tickets for this event . . . 7/17/07: From the souvenir section, "Bruce Weber/Subaru Bobblehead" wins as the most unlikely souvenir marketed by a professional sports team. Second place: A fountain depicting "Drunk Cubs Fan Pissing in Alley" . . . 7/24/07: July 25th is the Principal Financial Group Family Fun Fest, featuring a traveling minor league museum. Best exhibit: Steve Urkel modeling Barry Bonds' jersey from his days with the Prince Island Pirates . . . 8/02/07: The Flyers have been shut out four times this season. On August 10, the Edmonton Cracker Cats come to town. Stay for the post-game fireworks and a Disney Destinations prize package giveaway . . . 8/8/07: "Bearon Banks" giveaway sponsored by Midwest Bank on August 11. Show your kids the value of saving without the reaping benefit of earning interest . . . 8/15/07: Bears are predators. Contrary to the advice on the Flyers website, do not visit Bearon on his MySpace page . . . 8/22/07: It's MP4 giveaway night sponsored by the Illinois Civil Justice League. The ICJL promotes limits in tort reform. Seventy-five fans receive a MP4 and a 15-page document waiving their right to sue after their kids fall ill from licking off the made-in-China lead . . . 8/29/07: "Skin to Win:" Flyers Dance Team voted as favorite on-field promotion. Word on the street is that the performance is so hot, team mascot Bearon needs to take a "5th inning stretch" after every performance . . . 9/12/07: The Flyers season is over and Bearon is in hibernation. Let's not wake him up next summer . . . 9/19/07: Morgan West hired as new GM by day and crime-fighter by night.
***

Team: Gary SouthShore RailCats.
League: Northern League, no major league affiliation.
Why Be Interested In This League? Its Greater Chicagoland area teams are faster to get to by car than the Cubs and White Sox by the CTA.
Ballpark: USS Steel Yard. Capacity 6,139. Vendors are former steelworkers who have been retrained for the global economy.
Quality of Play: Won the East Division (27-22). Lost in the League Championship Series to Fargo-Moorhead.
Best Player: Jermaine Allansworth (.297/6 HR/46 RBI).
Why Else Be Interested In Jermaine Allansworth? Played in the majors for parts of four seasons. The bad parts.
Mascot: On the team website, a friggin' angry cat named Rusty about to whomp someone with a steel girder. In person, a disappointingly fan-friendly cuddly thing. Secondary mascot Rascal has left the team to spend more time with his family.
Merchandising: Mardi Gras Beads: $3. Off-color jokes regarding the female anatomy: FREE.
Best Promotion This Summer: July 7: Rusty's Birthday Party sponsored by the U.S. Army. First 1,000 kids will be called up for troop surge.
Tryouts? Undetermined.
Season: Railcats open the season at home on May 17 against the Winnipeg Goldeneyes . . . 6/8/07: Good news: Started year 14-6. Bad News: Lost last three games, including a 19-3 drubbing at the hands of the Kansas City T-Bones. After the game, RailCats mascot Rusty was reminded to be "spayed or neutered," the hard way . . . 6/15/07: RailCats bounce back to win 6 games in a row. On 6/17/07, play catch on the field with your dad. If you have no dad, you may rent a dad for $5 . . . 7/6/07: RailCats voted "Best Local Spectator Sport" by Northwest Indiana Business Quarterly for fourth consecutive year. In a distant second place: "Watching people lose their mortgage payment at local casino." . . . 7/17/07: July 22nd is "Motorcycle Day." Rusty plans a skit where he "accidentally" knocks over a row of motorcycles and the Hell's Angels beat him senseless . . . 7/24/07: July 27th is Fireworks/Army Jersey Auction/Boricua Night. According to Wikipedia, The Boricua Popular Army has claimed responsibility for numerous bombings, attacks against the U.S. military, and armed robberies since 1978. Also the FBI classifies this group as a terrorist organization. Coming soon to Gary: "Hamas Night" . . . 8/02/07: The Famous Chicken, who bears an uncanny resemblance to a San Diego Chicken who might face some licensing issues, entertains tonight. Batting Gloves Giveaway is Saturday. The RailCats are overstocked; all gloves must go . . . 8/8/07: Secondary mascot Rascal alert: According to poll, 43% miss the "Rusty and Rascal Dance Off" more than any other retired promotion. Expect triumphant return of Rascal cross-promoted with new DVD Rusty and Rascal II: Electric Boogaloo . . . 8/15/07: Book the "Hot Tub Deck" for the next home game. Please be aware that the Hot Tub is "BYOCTAD" (Bring Your Own Chemicals To Avoid Disease) . . . 8/22/07: It's Latino Family Night on August 23rd. All illegal immigrants employed at the stadium will be let go early . . . 8/29/07: Order your copy of the Fan Appreciation Day photo as you stood on the field. Spend two seconds as you pick yourself out of the dozens of people in attendance . . . 9/12/07: The RailCats are in the Northern League Championship Series against the Calgary Vipers. The Vipers have an equally cool logo. But steel rail beats snake . . . 9/19/07: RAILCATS ARE NORTHERN LEAGUE CHAMPS!
***
Team: Joliet JackHammers.
League: Northern League, no major league affiliation.
Why Be Interested In This League? Two other Chicago-area teams, one represented by an angry cat and the other the home of the mall rat. JackHammer tears them both apart.
Ballpark: Silver Cross Field, which is named after Silver Cross Hospital. Which is lame, yet infinitely more satisfying than the Bud Light Bleachers at Wrigley Field. Capacity 4,616. (If Silver Cross had a Kerry Wood Ward, that'd be different.)
Quality of Play: The JackHammers lost a one-game playoff to the RailCats for the East Division second-half championship.
Best Player: Blake Gill (.298/4 HR/39 RBI).
Why Else Be Interested in Blake Gill? Submitted a testimonial to an instructional program 5tools.com, even though he only has two-and-a-half tools. His tesitimonial touts his power increase in college and subsequent selection in the 33rd round by the Toronto Blue Jays. Fails to mention Gill moved directly to the Northern League instead.
Mascot: On the Web, a righteously menacing jackhammer named Jammer, drilling apart home plate. In person, a slightly psychedelic and disappointingly cuddly Snuffleupagus type.
Merchandising: Jammer Doll, $10. Step-ladder not included.
Best Promotion This Summer: June 25: All Faith Night and Half-Way to the Holidays! Not Appearing: Hanukkah Harry or his Muslim cousin, Ramadan Don.
Tryouts? Undetermined.
Season Highlights: The Hammers open May 17 at home against Calgary . . . 6/08/07: Joliet begins year tied for last place in their division at 9-11. Sunday June 10 is "Chicagoland and Northwest Indiana Chevy Dealers Hat Giveaway." The first 500 fans receive a hat, then a middle aged man in a plaid polyester suit asks "What is it going to take to get you into this hat today?" . . . 6/15/07: Experience "Wrigley"* by booking your group outing on the rooftop at Silver Cross Field. *Drunk frat boys, scantily clad women, expensive parking, and vomit not included . . . 7/6/07: Local DJ's Eric and Kathy are scheduled to appear at the "Racin' the Bases Charity Softball Game" on July 12th. Local businesses chip in $500 to see Kathy get hit in face with softball . . . 7/17/07: New poll appears on website: "What Do the JackHammers Need to Do to Win the Second Half South Division Championship?" Possible answers: Great Baseball! Good Food! Fun Giveaways! FIREWORKS!!!! Obvious answer not available: Score more runs than your opponent every game . . . 7/24/07: Another interesting poll: Which JackHammers opponent do you despise the most? The Gary RailCats dominate with 66 percent of the vote. The RailCats mascot "Rusty" seen in corner weeping quietly . . . 8/02/07: The team filed a Missing Mascot Report with the Joliet Police Department after Jammer failed to show up for an event at a local coffee shop. Jammer was later found in a stadium tower pouting . . . 8/8/07: On August 12th, mascot Jammer will appear at US Cellular Field for "Mascot Day." In the contract rider for his appearance, it's reported that Jammer required a bigger dressing room than Rusty, a bowl of yellow M&Ms, and sparkling water chilled at 38 degrees . . . 8/15/07: Mascot Hall of Fame member Reggy the Purple Party Dude has been voted the promotion JackHammer fans are most looking forwared to. Apparently those Purple Party Pills don't impair memory . . . 8/22/07: Pitcher Nate Sevier pitched a no hitter on August 18th. This is the best individual sporting accomplishment since this occurred in Joliet four weeks ago . . . 8/29/07: In celebrity news, Jammer is scheduled to appear at the Grundy County Speedway September 1. Jammer is not allowed at the Chicagoland Speedway in Joliet after this incident . . . 9/12/07: The JackHammers season is over, but Juan "Big Pappa" Diaz made the Northern League All-Star team . . . 9/19/07: Jammer will appear at the Timbers in Shorewood on Dec. 8.
***
Team: Kane County Cougars.
League: Midwest League, Class A minor league affiliate of Oakland A's.
Why Be Interested In This League? Only local team except the White Sox affiliated with the major leagues.
Ballpark: Philip Elfstrom Stadium, featuring the Leinie Lodge in right field, which is infinitely more satisfying than the Bud Light Bleachers at Wrigley Field. Capacity 7,400.
Quality of Play: Lost the 2006 Midwest League Championship series to the West Michigan Whitecaps.
Best Player: Jacob Smith (28 games, .315/.783 OPS)
Why Else Be Interested In Jacob Smith? He's a nice young man who loves his family and has his own blog.
Mascot: Ozzie T. Cougar (#0) is a slightly more satisfying mascot than most in that he looks much more like a real animal and less like something awful from the 1970s. He also appears more weary, world-wise, and perhaps alcoholic than the average mascot.
Merchandising: Windbreaker Vest, $50. Also Included: Insults for wearing a vest.
Best Promotion This Summer: State Farm Insurance Caps Night, June 2. Followed by training session on how to deny claims to hurricane victims.
Tryouts? Absolutely not. These guys are a lot better than you.
Season Highlights: The Cougars opened the season 6-24 in their first 30 games, managing to fall 10 games behind the division leader much faster than the Cubs . . . 6/08/07: The woes continue for the Cougars. Since the last report, the Cougars are 10-16, and are now 20 games behind the division leader. Perhaps manager Aaron Nieckula should pull a Piniella. Or perhaps the Cougars should hire Alan Trammel . . . 6/15/07: Cougars mirror the Cubs by winning seven of nine games. Experience "US Cellular Field"* by attending the fireworks display at Elstrom Field Friday and Saturday. *Mullets, sterile environment, and fights in stands not included . . . 7/6/07: Cougars hosting a "Peanut Free Night" on July 9th. Roughly 100 people die from a peanut allergy every year. In response, the Cougars commit to losing 100 games this year. They are a little behind pace with 56 losses . . . . 7/17/07: "Peanut Free Night" rescheduled for August 7th. Thankfully, all fans affected by the change will be out of the hospital in time to return to the ballpark . . . 7/24/07: July 27th is "Water Bottle Night sponsored by Fox Valley Orthopedics." First 1,000 fans get 2-for-1 arthroscopies . . . 8/02/07: World's Largest Pillow Fight is August 11, sponsored by Back To Bed, the same folks who scored the first-ever front page ad in the Tribune. When you want to sell out, do it with Back To Bed. You'll still sleep well at night . . . 8/8/07: Cougars host Jimmy Buffet Day August 12th. True to the Jimmy Buffet demographic, expect a large number of a different type of Cougar at the post-game festivities . . . 8/15/07: "Jewel/Osco T-Shirt" day on August 19. Paper grocery bags also supplied to fans of the 50-68 team . . . 8/22/07: It's "Bark in the Park Dog Day" on August 27th. The first 1,000 kids get to ask their parents "What is Scrappy doing to the other dog?" and "Is that where hot dogs come from?" . . . 8/29/07: Final home game August 31 vs. Beloit Snappers. Fans treated to free backpacks and skydivers. Backpacks filled with emergency medical supplies, as skydivers aren't trained, they're just being put up at Holiday Inns . . . 9/12/07: The Cougars' season is over. This was the highlight . . . 9/19/07: Watch for Ozzie's Holiday Hoorah.

Posted by Lou at 12:53 AM | Permalink
The Periodical Table
A weekly review of the magazines laying around Beachwood HQ.
Deja Vanity
The October issue of Vanity Fair feels Green - completely recycled. An airbrushed Nicole Kidman on the cover? Is she still around? The stupidity of George W. Bush? What is this, the 2000 campaign? How the media screwed Al Gore? What is this, the 2000 campaign? Snoopy? Rachael Ray? Sarah Silverman? Hello, she's been done. Way. Meet the real Stephen Colbert? We met him a long time ago. Cooked intelligence and another botched war? Really? The End of News? Gee, haven't heard about that. George W. Bush's disconnect? Really?
C'mon, Vanity Fair. Put all those perfume ads to good use and come up with something new.
Gored
"Going After Gore" is only an important article to those who haven't been paying attention. Unfortunately, that's a lot of people - including many in the media to whom this is really directed. For example, Eric Zorn wrote last spring that "no one seems to know is that Gore never said he invented the Internet."
Hello? Where the hell have you been? The media's handling of the Gore campaign in 2000 has been topped only by its abhorrent coverage of the run-up to the Iraq War as Exhibit A for the last eight years of the media's collective sheer malpractice-by-narrative.
It's a bit late to catch on; no wonder we have so many "journalists" - including Zorn - pounding such ridiculous themes (woven for them by campaign strategists) as Barack Obama As JFK, Abraham Lincoln and RFK.
I was always astounded when I worked in newspapers (and magazines) how little my colleagues seemed to know about their own business - both in terms of the economic structure and the baloney they believed from their corporate paymasters and the methods and ethical parameters of the journalism itself (should we be surprised that Zorn, among others, defended Amy Jacobson?) Hell, I mentioned Romenesko - the world's premier media site - to Phil Ponce once a couple years ago and he had never heard of it. Wha?
This is why I believe so strongly in undergraduate journalism degrees. That's where you learn the history, law, ethics, economics, conventions and criticism of the field. It's essential as much as English degrees are to those teaching literature or medical degrees are to those practicing medicine.
What Evgenia Peretz documents in Vanity Fair, then, is maddeningly true but maddeningly way, way, way too late. She borrows heavily from the work of Bob Somerby of The Daily Howler, but the same criticism has been lodged in other quarters far and wide - far and wide enough for anyone really paying attention to be aware of.
In short, Al Gore never said he invented the Internet, he never said he discovered Love Canal, he was never advised by Naomi Wolf to dress in Earth tones . . . and on and on. The evidence is here and incontrovertible.
Similarly, John Kerry was Swift-boated while the media stood by like potted plants just like they stood by when George Bush ran a presidential campaign in 1988 based on Michael Dukakis's alleged lack of patriotism.
People who wonder why I write what I do about Obama and Hillary Clinton should start here. Much of what the press wrote about Hillary and Bill Clinton - whom I never voted for - was of the same bullshit. As documented by Gene Lyons and others, Whitewater and the "Clinton Scandals" were all about . . . nothing. It is now also well-documented that there was a right-wing effort, funded mainly by Richard Mellon Scaife, to disseminate all manner of anti-Clinton propaganda. (One of those in his charge, David Brock, has switched sides and now runs Media Matters.)
And so it is really the false narratives I am attacking - not Hillary Clinton opponents or Barack Obama supporters - when I write about campaign coverage. As I've written many times now, I'm not voting for Hillary Clinton - her war vote is just one of many reasons why. But that doesn't mean she doesn't get a raw deal from a thickheaded press.Because we still get things like John Kass writing about "Filegate," which he was forced to retract (last item) and did so with a joke about Hillary's cattle futures. Guess what? That was bullshit too.
This isn't ideological, by the way. I am not a Democrat. And as I've written before as well, Dan Quayle got a raw deal with the potato spelling and George H. W. Bush with the supermarket scanner. It's just the way the media works, and it incenses me.
Much of what the Obama camp pushes, meanwhile, is baloney. They're making up a narrative about their candidate just as much as narratives were sewn about Hillary and Gore. It's up to reporters to see through the bullshit, not deliver it to the citizenry. And that is why I write what I do about Obama - and by default, Hillary Clinton.
COMMENT FROM SO-CALLED AUSTIN MAYOR:
I think there is a substantial and significant difference between attacking a politician for something he didn't say (Gore/internet) and the use of analogy/metaphor to talk about a candidate (Obama/JFK/Lincoln/Jesus).
One is a matter of fact. The other is a matter of opinion.
It is wrong to dismiss hard facts as if they were something over which one can disagree. Similarly, we should not treat those with opinions with which we disagree as though they were being factually dishonest.
RESPONSE:
True enough. This item wasn't written with as much clarity and nuance as I wished. I do think, however, there is a line to be drawn between the two categories SCAM identifies, and that is the use of constructed narrative as a substitute for independent and critical analysis. But yes, I wish I would've written this item a bit more clearly to articulate my points. Thanks, SCAM.
Money Pit
"Between April 2003 and June 2004, $12 billion in U.S. currency - much of it belonging to the Iraqi people - was shipped from the Federal Reserve to Baghdad, where it was dispensed by the Coalition Provisional Authority," Vanity Fair reports in its one vital piece this issue. "Some of the cash went to pay for projects and keep ministries afloat, but, incredibly, at least $9 billion has gone missing, unaccounted for, in a frenzy of mismanagement and greed."
Nine. Billion. Dollars.
Billion.
Dollars.
Nine.
"That transfer of cash to Iraq was the largest one-day shipment of currency in the history of the New York Fed. It was not, however, the first such shipment of cash to Iraq. Beginning soon after the invasion and continuing for more than a year, $12 billion in U.S. currency was airlifted to Baghdad, ostensibly as a stopgap measure to help run the Iraqi government and pay for basic services until a new currency could be put in people's hands. In effect, the entire nation of Iraq needed walking-around money, and Washington mobilized to provide it."
Sick to your stomach yet?
"Of the $12 billion in U.S. banknotes delivered to Iraq in 2003 and 2004, at least $9 billion cannot be accounted for."
The story is reported by Donald Barlett and James Steele, two former newspapermen unceremoniously sent packing to magazineland because the newspaper industry couldn't cope with their (relatively modest) salaries and time-intensive investigative expertise. They have long been among my journalism heroes.
Campaign of the Century
"The year is 1800. Americans go to the polls to elect a President. Which Founder do you favor?" asks Jill Lepore in The New Yorker. The Federalist incumbent, sixty-four-year-old John Adams, or the Republican challenger, fifty-seven-year-old Thomas Jefferson, who, awkwardly enough, is currently serving as Adams's Vice President?
"Consider your vote carefully. This is the most important election in American history. What Jefferson dubbed "the revolution of 1800" marked the first transition of power from one party to another. It led to the passage, in 1804, of the Twelfth Amendment, separating the election of Presidents and Vice-Presidents. (Before that, whoever placed second became the Vice-President, which is what happened to Jefferson in 1796.) It might have - and should have - spelled the end of the Electoral College. At the time, many people, not all of them members of the Adams family, thought that it might spell the end of the American experiment."
Our sytem is not set in stone; democracy comes in many forms and structures and requires constant reform and progression.
After 2000, for example, the Electoral College should have been done away with. Look what it has wrought. Just another case where Democrats didn't have the balls and Republicans didn't have the statesmanship to do the right thing by America.
Credit Check
You know how you have to wait for your credit card to be validated after you swipe it and hand it to a cashier? The validation is done via The Luhn Algorithm, invented by IBM researcher Hans Luhn. It's simple. First, your credit card number is reversed. Then every second number is doubled. Then the numbers are added up. If the result is divisible by 10, you're valid.
"Consumers and companies increasingly depend on a hidden mathematical world," reports The Economist.
Hail algorithms! In the commercial world, they enable logistics, optimization, efficiency and security.
"Algorithms are a way to cope," the magazine says. They are, one expert says, "bound to take over the world."
Secret Government
"In the wake of heightened government secrecy in the post-9/11 era, one media outlet has responded by making freedom of information news coverage a full-time job," Quill reports.
"The government secrecy beat at Cox News Service's Washington bureau was the brainchild of bureau chief Andy Alexander, who dreamed up the position in response to heightened levels of secrecy - not just in the Bush Administration but at state and local levels."
Remember that election of 1800? We still don't have it right, do we.
Posted by Lou at 12:27 AM | Permalink
What I Watched Last Night
If you were wondering what all that cheering was about Monday night, it was the sound of overjoyed wardens of Turkish prisons thankful for Fox-TV's third season of Prison Break. That's because Monday's night's season opener shifted the show's inside-prison environs to Panama and the fictional Penitenciaria Federal de Sona That's Sona Federal Penitentiary to us gringos.
Break is one of those shows I never got around to seeing during its first two seasons because of its miserable 7 p.m. Monday time slot, so I always forgot it was on. It's a serial show like Lost and Rescue Me, so if you don't catch it from the beginning, you won't be able to follow a damn thing.
During the first season, Michael Scofield (Wentworth Miller) sent himself to prison specifically to spring his Death Row inmate brother Lincoln Burrows (Dominic Purcell), who had been framed for whacking the brother of the Vice President of the United States. A few other inmates went along for the ride, so the whole bunch spent the second season being hunted by FBI Special Agent Alexander Mahone (the somewhat creepy but always enjoyable William Fichtner). Lincoln was cleared of the charges, but now Scofield's stuck in a Panamanian prison. And so is Agent Mahone. I'm not sure why (and it's a new season so I probably don't need to) they're both there and how they got there, but there they are, and they really don't think much of each other.
Anyway, Sona Federal Penitentiary looks like something out of the aftermath of The Apocalypse ("what goes in never goes out . . . unless its dead") because the inmates took over the place in a riot, which scared the bejeezus out of the keepers and the government so much they gave the inmates the run of the place. The inmates aren't as freaky-looking as the folks populating Mel Gibson's Road Warrior/Mad Max movies; they're just plain inmate scary-looking. The government guards the perimeter and drives up once a week or so to bury whatever dead inmates periodically get dragged out for disposal after lying dead in the middle of the prison yard. Meanwhile, outside the fence, a screaming Panamanian woman keeps the guards in the tower company with her prolonged daily shout-out for her imprisoned husband. Why the guards haven't shot her yet is beyond me, but sometimes TV demands that you suspend your disbelief.
As prisons go, Sona actually seems to be an improvement - and to some extent an oddly content, even colorful improvement - over our own penal system. The inmates mill about the yard freely without shanking each other, and go about their business barbecuing chicken and sitting at patio tables with quaintly colorful umbrellas that look like they should have "Cinzano" silk-screened all over them.
Overseeing the whole affair is drug kingpin Lechero (a very imposing Robert Wisdom) and his toadie, who looks like Morgan Freeman at the tail end of a year-long meth binge. As it works out for all CEOs, Lechero lives comfortably with a big-screen TV, a plush sofa, and an incredibly hot local nun who doubles as his hooker. He's a self-professed devotee of meditation, which makes him less ruthless than he probably could be, especially when it comes to new inmates who are so scared of him that they piss all over themselves and his dirt floor when hauled in by Crazy Meth Freeman for a face-to-face "initiation" session.
"Instead of destroying ourselves, we have thrived," Lechero proclaims. Sona is a "breeding ground for international crime, but there's not one gang. There's just me . . . (to) maintain order." That order includes a system where, if you have a beef for any reason real or imagined with another inmate, you present him with a chicken foot tied to a strip of leather. Once served with the chicken foot, you must fight mano-a-mano until one of you is dead. The only rule is no weapons. "Without rules, we are nothing but savages," Lechero proclaims again.
I'm starting to get the idea this guy knows a thing or two about running a wildly successful penal system.
Meanwhile, Scofield spends most of his time wandering purposelessly around the prison yard because Lincoln has managed to convince some suit to transfer him the following day to another prison somewhere else. It doesn't take a genius to figure out that this ain't gonna happen, so Scofield gets served the chicken foot after his Big Scary Cellmate accuses him of stealing his stash of coke. Although Scofield does a fine job of administering a Class-A ass-kicking on Big Scary Cellmate, it takes Agent Mahone to save him from certain death after someone tosses a shank to Big Scary Cellmate.
"You're my get out of jail free card," Mahone tells Scofield.
It doesn't take a genius to figure out that Scofield is going to spend the whole season being practically everyone's get out of jail free card, beginning with a mysterious inmate named James Whistler. As it happens, Lincoln tells Scofield that he has a week to spring Whistler or else Lincoln's son will end up dead, presumably at the hands of The Company, a band of government employees who like a good conspiracy.
Foreshadowing the upcoming season is a greasy, James Woods-y American sleazeball with a fake hand named Theodore, and a gringo "lawyer of sorts" with funky teeth named Elliott Pike (who you know is a Company man of some sort) who promises to assist Scofield "in every way possible way once you get past that wall," and a henpecked American inmate who doesn't take direction from his fellow inmates very well, so he tends to tell everyone to "bite me."
Inmates running the asylum. How cool is that?
*
See what else Buckner and the Beachwood TV desk have been watching.
Posted by Lou at 12:24 AM | Permalink
Levon's Dirt Farm
My favorite member of The Band was always Levon Helm. I was never a huge fan of their music, just as I was never much of a Bob Dylan fan compared to a lot of people I know. But for some reason, I liked the Band songs on which Helm took the vocal lead a lot more than the others. He just seemed so damn real - to me, his voice was the main connection that The Band had with the painful, soulful heritage of American roots music. Even though Robbie Robertson wrote the songs, he and the late Rick Danko and the other guys kind of seemed more like rock stars in comparison.
Helm, now 67, a cancer survivor and sometime movie actor, is getting set to release his first solo studio album in 25 years, and from the buzz, as well as from a few audio clips available pre-release, it seems to reinforce his role as the voice that perhaps most personified The Band's current of proto-Americana, and is also a pretty amazing performance for a guy who, for years after his 1998 throat cancer diagnosis, could not speak, let along sing.
Called Dirt Farmer, you can tell from the title it's gonna be pretty damn rootsy. On the cover is a lean, wrinkly old man who, good God, is Levon Helm. He has the look of a cancer survivor, kind of gaunt, a bit cadaverous, and sporting a chagrined expression as he stares down at a farm field that seems to be saying, "I've lost everything." You can just imagine this guy channeling the rural blues as he sings about life, death and all the hurt and joy in between.
Dirt Farmer, which will be released on Vanguard Records on Oct. 30, has 13 tracks which indeed include some traditional numbers, including "Poor Old Dirt Farmer," as well as "Little Birds" and "The Girl I Left Behind," which Helm says are among the very first songs his parents taught him as a young boy growing up in Arkansas. Another is the Stanley Brothers' "False Hearted Lover Blues," which he turns into a hard-driving roots rock tune using his now seemingly fully-restored primitive wail (sounding very much like Ralph Stanley himself), and backed by the ultra-talented Larry Campbell on guitar and his own powerful drumming.
On "Anna Lee," he's joined in the vocal harmonies by his daughter Amy Helm, who also co-produced the album along with Campbell. Amy Helm (of the band Ollabelle) guided the project, which was recorded at Levon Helm's Woodstock, N.Y., barn/studio. That's also a tale in itself - most of Levon's dream studio burned down around the time of his cancer diagnosis, and threw him into dire financial straits. He declared bankruptcy, and still faces a mountain of debt. Since then, the Helms have hosted a regular series of fund-raising concerts at the Catskill Mountains studio in an effort to pay the bills and to ensure Levon's musical legacy. Called the Midnight Rambles, they've turned into low-key, invitation-only, All-Star jam happenings that have attracted an impressive list of stars from Elvis Costello to Nick Lowe to Pinetop Perkins.
The new album also includes covers of songs by Steve Earle ("The Mountain"), J.B Lenior ("Feelin' Good"), and a Carter Family tune, "Single Girl, Married Girl," which, in Levon's hands, becomes a New Orleans-style shuffle that could pass for anything he did in the '70s with The Band. Listening to it, it's eerie to hear such very distinct echoes of that same touch that drove ol' Dixie down, despite fire, tragedy, illness and the sheer passage of time.
It also makes me realize for once and all that Helm's utterly distinct vocal style may have been The Band's most direct line to the world of roots music that they were reinterpreting, along with the likes of Dylan, the Byrds and Gram Parsons, for the Baby Boom generation. As such, his position as a key bridge between popular '70s rock and its country/blues forbears is probably overdue for a more thorough celebration.
*
See what else is rattlin' around Don's Root Cellar.

Posted by Don at 12:03 AM | Permalink
September 18, 2007
The [Tuesday] Papers
Mayor Daley wants to know who's afraid of a bunch of kids, as the Sun-Times approvingly puts it all over its front page today for a story about the Children's Museum's controversial proposed move to Grant Park.
I bet the answer is no one. Nobody is afraid of a bunch of kids. Except maybe the mayor. Remember when he insisted that movie theaters not be a part of a rebuilt Block 37? Guess why. And geez, just a few days ago he hinted at enforcing an earlier curfew in the city. So if anyone's afraid of kids, it's the mayor.
But fear of kids - and in particular, black kids - is not the point and the mayor knows it. So does the Sun-Times, though it saw the same opportunity as the mayor to exploit the fiction and friction to sell its product.
As Cate Plys points out in today's Open Letter, the mayor and the museum are spinning a desperate narrative full of holes.

The real controversy is about whether Grant Park should remain "forever open, clear and free" or available for development by the cloutiest bidders.
The mayor's injection of race into the debate is shameful, though not unprecedented. Not long ago, he accused proponents of the Big Box ordinance of bigotry. You know how racist those proponents of higher wages for low-skilled workers are.
Maybe - just maybe - he's finally gone too far.
Downtown Ald. Brendan Reilly called Daley's remarks "totally ridiculous" and "irresponsible," and a real City Council fight is brewing. An opponent of the Children's Museum move said - publicly - that she was "shocked" and "disgusted" by Daley's remarks.
Good for them.
That wasn't the only nonsense dispatched by the mayor, though.
"Maybe people would want to close the Lincoln Park Zoo," the mayor said sarcastically, according to the Tribune's account. "It's unbelievable. Maybe they want to close libraries, they want to close the parks down. They want to close the schools down. You have to understand, you were young once."
One word: What?
Things must really not be looking good for the Grant Park move. Bob O'Neill, president of the Grant Park Conservancy, said that "If the Children's Museum were to be chased out of that location, that sends a message to a lot of people, even around the world, that we are not welcoming people from all over to our front yard."
Folks from Australia to Zanzibar are hanging on where the Chicago Children's Museum will go!
Apparently there is no other location in the entire city available.
Even Rev. Michael Pfleger - who apparently is involved in this issue for some mysterious reason - is spinning as fast as he can.
"According to Pfleger, one woman asked him why the museum wasn't being built in a black neighborhood and another suggested it be moved to Foster Park at 83rd and Loomis," the Sun-Times reports.
"I said, 'Foster Park is in the black community. What are you trying to say?' Pfleger said in an interview. 'I said, That is a racial comment. Our conversation is over.'"
I wasn't there so I can't attest to the tone and intent of the discussion, but why not move the Children's Museum to a black neighborhood - one that needs development? Hell, move Millennium Park to Englewood. Give the South Side a little something, huh? Or, if we're going to violate 171 years of preserving the lakefront, move the museum to the south lakeshore.
Would the mayor object to that?
"Daley was asked about those who contend no new structures should be built on lakefront parkland.
"'We would never build Millennium Park then,' he replied."
If only.
Meanwhile, the whole thing is a nice distraction from the Tribune's revelations on Sunday about just how unsafe and dysfunctional the CTA has become under 18 years of Daley's rule.
After publishing a front-page editorial the other day demanding that the CTA be fixed, you'd think the Sun-Times would stick with the story.
But with kids and race to pimp, the Sun-Times saw the same opportunity as the mayor and took it.
Connect the Dots
A Beachwood reader notes:
* Chicago Children's Museum
Board of Directors
Gigi Pritzker Pucker
Chairman
* Grant Park Conservancy
Board of Directors
Allen Turner, The Pritzker Organization
Manager Man
"I don't manage the CTA," Daley said the other day, according to a Tribune editorial today.
Other recent comments by Daley.
"I don't manage the kitchen," he said, after Maggie burned dinner.
"I don't manage the 4400 block of Kedzie," he said, after seeing an overturned garbage can there.
"I don't manage city contracts," he said, after every scandal uncovered.
"I don't manage the weather," he said, after Heat Wave exposed a mayor more interested in public relations than saving lives.
"I don't manage the schools - except when I do," he said, responding to mixed test scores.
"I don't manage the White Sox," he said, after their disastrous season. Well, I'll give him that.
Judge Dread
Every year two years, Sun-Times reporter Abdon Pallasch attends the slating session of the Cook County Democratic Party and files a report about how our judges are selected. Every year it is one of the most important stories that the local press publishes. And every year, Pallasch is right back at it because nothing changes.
Do we live in a tinpot Third World outpost of authoritarian rule?
Yes.
Maybe the United States of America ought to invade.
"Paula Lingo starts off talking about her 30 years of legal experience working for International Harvester, the Illinois attorney general's office and as chief legal adviser to Cook County Recorder of Deeds Eugene Moore," Pallasch writes.
"Then she dishes out the raw meat committeemen eat up.
"'I have been very loyal to the Democratic Party," she says. "I have worked on many campaigns. I've . . . contributed to some of the campaigns.' Nodding to Illinois House Speaker Michael Madigan, she says, 'Mr. Madigan, let's see here, Mayors Daley and Washington, [Cook County] President John Stroger. I was President Stroger's special events coordinator twice on his campaigns.'"
I thought the Cold War was over and the Soviet Union was defeated. These are judgeships, people.
And yet, after a day of candidates pledging fealty to the Party in order to be named to our judiciary, Ald. Ed Burke, who, according to Pallasch, "runs the show," said "It was a hell of a lot easier in the old days when Mayor Richard J. Daley handed you a list."
Vladimir Putin is saying the same thing. I wonder what Burke's theory of democracy is.
*
Anne Burke was slated in her bid to return to the state Supreme Court. The state Supreme Court. Where deals are made.
Subprime Chicago
We're the worst.
"In 2006, the Chicago-Naperville-Joliet metropolitan statistical area, which includes Cook, DeKalb, DuPage, Grundy, Kane, Kendall, McHenry and Will counties, had more 'high-cost' mortgages than any other metropolitan area in the country, according to a Chicago Reporter analysis of first-lien, conventional home purchase, refinance and home improvement loans in 50 of the nation's largest housing markets. It marked the third year in a row that the Chicago metro area has claimed the nation's top spot for high-cost mortgages."
Face of Immigration
"Most Mexican migrants make their way to the U.S. illegally because, despite the difficulties of living 'in the shadows,' that's the only practical option available to them."
- Also at The Chicago Reporter
Must-See TV Preview
* Dramedy or Comerama? Don and Natasha fill you in.
* Our new national nightmares: The season in drama.
* Nerds & Cavemen. The season in comedy.
The Beachwood Tip Line: So easy even . . .
Posted by Lou at 08:43 AM | Permalink
Dating Dot Com
The dating network of Nerve.com offers automated, pre-written "Quick Replies" you can send to people who have contacted you but who you aren't interested in. When the Beachwood dating network gets up and running, we will offer "Quick Replies" too.
*
Nerve: Sorry, I am too busy to respond to you right now.
Beachwood: Sorry, I am too strung out to respond to you right now.
*
Nerve: Um, I don't think our personalities match.
Beachwood: Um, I'm just curious. What in the world could you possibly be thinking?
*
Nerve: I respond only to profiles with photos.
Beachwood: I'm not sending a photo either. Let's just pretend.
*
Nerve: Sorry - I think we're looking for different things.
Beachwood: As if!
*
Nerve: To be honest, I'm looking for someone younger.
Beachwood: Christ, could you be anything more like my wife?
*
Nerve: To be honest, I'm looking for someone older.
Beachwood: Are you from Dateline?
*
Nerve: You seem cool, but you're really not my type.
Beachwood: I like TV too much to date you.
*
Nerve: Oops, bad timing - I just started a new relationship.
Beachwood: I'll be out of the country for a couple months, but I'd love to get together when I get back.
*
Nerve: I'm not ready to get serious right now. Good luck.
Beachwood: Lighten up. I'm just here for the sex.
*
Nerve: Sorry, but I'm looking for a serious relationship.
Beachwood: What's the catch?

*
Nerve: You seem cool, but I'd prefer a local relationship.
Beachwood: You're okay, but not hot enough to travel for.
*
Nerve: Hey there - I'm not seeing new people right now.
Beachwood: I'll be out of the country for a couple months, but I'd love to get together when I get back.
*
Nerve: Thank you but I am not interested.
Beachwood: Wow, you sound great. I think I'll sabotage this one right now.
Posted by Lou at 12:41 AM | Permalink
Open Letter
Look, I hate Navy Pier as much as the next guy. I don't blame you for deciding to blow that joint. You're probably tired of the insane parking rates.
However, I am puzzled by the widely-promulgated theory that the Children's Museum must move to Grant Park, and only Grant Park. I gather from your supporters that if you are prevented from building an approximately 100,000 square foot, largely subterranean new museum on the site of Daley Bicentennial Plaza in Grant Park, all hell will break loose.
The children of Chicago will be irrevocably harmed, perhaps forced to snack on lead paint chips and play exclusively with recalled toys made in China. A mob of uppity rich people from East Randolph and the developing Lakeshore East will wrest control of Grant Park in a bloody midnight coup, keeping the rest of us at bay by waving hundreds of The Best Flaming Torch from Hammacher Schlemmer.
No, I'm sorry. I'm just not feeling it. You've successfully turned the narrative of this issue, as the spin doctors would say, into "poor children of Chicago versus rich selfish high-rise dwellers." Mayor Daley got in on it too at a Monday press conference with one of his trademark nutty rants, no doubt hoping to steer attention away from the CTA. "You mean you don't want children from the city in Grant Park?" he demanded. "Why? Are they black?"
However, to buy into that scenario, one must believe some manifestly untrue points:
* That the Children's Museum is and will be largely patronized by needy children, rather than the mainly middle-class and wealthy people one generally sees there;
* That the Museum of Science and Industry and the Field Museum don't offer vastly superior exhibits for children, anyway;
* That no other parcel of land in the entire city is available, and if the Children's Museum can't move to Grant Park, it will spontaneously wink out of existence;
* That when Grant Park was declared "Forever Open, Clear and Free" in 1836, a declaration buttressed by four subsequent Illinois Supreme Court rulings, they just forgot to add "except the Chicago Children's Museum";
* That the only possible reason to oppose the Grant Park move, then, is to keep underprivileged kids away from high-rise dwellers, which is simply code for keeping blacks away from rich whites, and;
* That the Children's Museum is not itself an institution backed by extremely wealthy and clout-heavy people - even though Allstate Insurance has already pledged $15 million toward construction of a new home, and the museum's chairman is Gigi Pritzker Pucker.
Let's not skip over that middle name. Perhaps the real narrative here is "well-connected institution and its ultra-wealthy backers versus anyone who stands in their way." According to a 2006 Tribune article on Children's Museum president Peter England, "England would not say who first proposed moving to Grant Park, but Gigi Pritzker Pucker, the museum's chairman and a member of the powerful Chicago clan, is believed to have advanced the notion with city and park officials . . . Pritzker Pucker declined to comment."
So this is how the process has gone: First the Children's Museum got the nod from Mayor Daley to take over Daley Bicentennial Plaza, in the northeast corner of Grant Park - probably via Gigi Pritzker Pucker. As an Oct. 8, 2005 Tribune article put it, "City Hall sources said that museum representatives have discussed with Mayor Richard Daley the institution's possible move . . . They are believed to have gotten a positive response from the mayor . . ." The plan was publicly announced in January 2006.
Enough people objected by May 2006 to persuade even then-Ald. Burton Natarus, notoriously pro-development, to oppose the museum move. The Tribune reported the neighbors gathered about 2,100 signatures against the museum, which said it would go ahead anyway.
Instead, Mayor Daley announced in September 2006 that the Children's Museum would move further south in Grant Park to Monroe and Columbus - supported by Natarus, and farther away from the wrath of Randolph Street neighbors.
Children's Museum, you obviously have clout. Now don't be modest, admit it! Few institutions could persuade Mayor Daley to give them a second, different spot in Grant Park, and announce it himself at a press conference.
As it turned out, though, civic groups such as the Grant Park Conservancy and Friends of the Park opposed the Monroe site, and Natarus was replaced in the last election by new Ald. Brendan Reilly. By spring 2007, you again favored Daley Bicentennial Plaza, at Randolph and Columbus. Reilly will decide his position on that site by the end of September.
So where does that leave us? Most recently, with a well-written editorial in the Tribune on Sept. 2 opposing your move to Grant Park. The Tribune pointed out that ever since 1836, "well-intentioned citizens have coveted parts of Grant Park for the fulfillment of each generation's grand civic dreams." Naturally, the Trib assented, the Children's Museum is a fine endeavor: "No one will ever suggest a sheep slaughterhouse for Grant Park," it slyly noted.
The Trib's most salient point was this: "And there is only one reason the Children's Museum can even imagine its new buildings in the park's unobstructed space: Because for 171 years, special protections have stopped influential people and civic groups from intruding on that sacred space."
Influential people like . . . Gigi Pritzker Pucker, perhaps?
No doubt Ms. Pritzker Pucker would enjoy having her own pet civic institution next door to one of her family's other prominent Chicago landmarks, Millennium Park's Jay Pritzker Pavilion, designed by an architect named Frank Gehry. Millennium Park has made Grant Park a more chic destination these days than, say, Navy Pier.
But there's a problem, Chicago Children's Museum. We can't shoehorn every worthy museum into Grant Park. Letting you in makes it that much harder to say "No" to the next Pritzker in line.
Have you noticed that the Museum of Science and Industry does quite nicely in the thoroughly unfashionable location of Jackson Park? Would you believe MSI is actually on the - gasp! - South Side? Of course, if you move to Daley Bicentennial Plaza, we may be talking MSI down off the Grant Park ledge next year.
Now let's talk about Daley Bicentennial Plaza. This area - bounded by Randolph on the north, Lake Shore Drive to the east, Columbus to the west, Monroe to the south - could certainly use some work. I know it fairly well, because my brother has lived on East Randolph since 1984.
The fieldhouse, which peeks out from the hillside sloping to upper Randolph, is no prize. Everyone agrees it needs to be replaced, though no one has questioned why a building only 30 years old is this decrepit already. Who slept with a park district official for those contracts, hmmm? I remember thinking what a moldy place it was back in the late 80s. I had no idea it was practically new at the time. It's ugly enough, I assumed it was left from the 50s.
Tribune architecture critic Blair Kamin examined the area in a piece on Sept. 11. He reported that the membrane underneath the soil, protecting the East Monroe Garage below the park, is crumbling. The Chicago Park District says the whole thing will have to be torn up and redone in the next few years.
The playground is fairly decent; nothing special, and nowhere near big enough for the neighbors, now numbering about 10,000 and expected to grow with construction in Lakeshore East to about 25,000. That's not counting the influx of outside visitors on nice summer days, and it's a much-needed respite for small children and their families during the Bataan Death March of festivals called "summer in Grant Park."
There's a skating rink adjoining the fieldhouse, nondescript but heavily used. Kamin points out that four nearby tennis courts and their windscreens block some views of the lake, and he doesn't like the miniature golf course along Monroe. On the other hand, the people who use these features like them very much. These are facilities that draw people into the park, and a Sept. 9 piece in the Tribune by Gigi Pritzker Pucker and Peter England specifically endorsed "active" parks over "passive" ones. Of course, they feel a museum would be the correct activity.
To be worthy of Grant Park, this area definitely needs a new fieldhouse and an integrated design. Right now it feels like an outfit thrown together by someone who got up late for work, fighting a nasty flu. This is, in fact, one of the main arguments made for the Children's Museum move: Here's our chance to have the whole thing redone, all funded by the museum!
However, when something needs replacing, it doesn't automatically follow that we should bring in a museum as well. Other fieldhouses around the city are redone, or built from scratch, without any mention of a museum.
This fieldhouse and area, in particular, shouldn't need a museum to get rehabbed. It's Grant Park, for crying out loud. It's across the street from Millennium Park, connected by a Frank Gehry bridge. You'd think someone like a Pritzker or a Crown could help round up corporate and individual donations. Architects would fall all over themselves for the privilege of seeing their design realized in the city's front yard. Surely there are a few more rich people who'd like to see their names inscribed in something close to the lake.
What about Bicentennial Plaza's neighbors and their desire for as much open park space as possible? The current museum design is much improved. According to Kamin, one old plan included "a 32-foot-high, 270-foot-wide facade of faceted glass on the museum's south end." Now, a glass entrance pavilion on upper Randolph is slated to be 20 feet high, and four large "skylights" will rise out of the ground in the park. Kamin notes that two of the skylights will be "as big as houses" - 32 feet high, about 50 feet wide. This isn't an inconsequential imposition on the park, and as Kamin points out, it's still not part of a larger plan for the entire area.
Should Bicentennial Plaza remain a usable neighborhood park space? I haven't seen anyone suggest that there should NOT be a fieldhouse and basic amenities like a playground there. Even you, Children's Museum, have pledged to include a new fieldhouse as part of a relocated museum.
Yet for some reason, you and your supporters appear very conflicted about letting even this one corner of Grant Park serve the burgeoning downtown community. Failure to install a new tourist attraction there is characterized as capitulating to a bunch of rich, snobby high-rise tenants. Simultaneously, you assume normal park amenities somehow exclude anyone who doesn't live within walking distance, unless there's a Children's Museum attached.
Even Kamin writes that while the museum hasn't made a good enough case for taking over this site, to deny the museum would be "a dangerous victory" for the neighbors, would let them "colonize" the precious space. Kamin looks into all the hearts of these downtown dwellers and sees that "their real concern is keeping the hordes of Millennium Park from inundating their little-used sanctum." St. Sabina's Father Michael Pfleger, writing in the Tribune, says the neighbors believe "that Grant Park is 'their' park, and should not be used by 'outsiders.'"
Father Pfleger calls these neighbors "generally privileged and of high socioeconomic status," which is apparently a bad thing to be, even though most people fervently wish to be included in that group, and influential backers of the Children's Museum like Gigi Pritzker Pucker already are.
Father Pfleger labels the position he ascribes to the neighbors "elitist," "narrow-minded" and "morally indefensible." Kamin calls the neighbors' alleged views "selfishness" which "perverts the civic vision of (Montgomery A.) Ward."
If all the opposing residents on East Randolph and in Lakeshore East truly desired to simply keep out Chicago's underprivileged hordes, this might make some sense. In fact, no one is turned away. This park area is not a "little-used sanctum." Neighbors report waiting up to an hour on weekends to get a child on a swing there. (My sister-in-law says only two swings have been functional for most of the summer.) The skating rink is nearly as crowded as Millennium Park's - so much so, I'd rather have my niece come skate at my neighborhood rink. The Bicentennial rink is free - except skate rental - and wide open to all comers. Particularly in the summer, the area is used by many people who don't live anywhere near downtown.
In contrast, Children's Museum, you cost $8 for adults, and $8 also for children. That's right, no discount for kids. Seniors save a whole dollar, paying $7 for admission. Kraft sponsors a Free Family Night from five to eight on Thursday nights. I wonder how many of Father Pfleger's parishioners find that timing convenient.
I'm sure there must be some Bicentennial Plaza neighbors who don't want to mix with anyone of a different background or income level. How could it be otherwise? There isn't a block in this city where you won't find people like that. The rest of the park's neighbors, however, have legitimate concerns about welcoming a museum already drawing about a half million people per year to an area buzzing with traffic - and in the process of adding 15,000 new residents.
As the Tribune editorial put it, "Downtown Chicago, already so gridlocked and stressed that a proposed fee for driving there drew serious discussion, doesn't need more school buses and cars on Randolph, Michigan Avenue and Columbus Drive."
I know, Children's Museum. You'll say you commissioned a traffic report showing "limited impact." You claim a new museum will use all three levels of Randolph, keeping traffic on upper Randolph to a minimum. Excuse me, have you ever driven around that area? I can navigate the three randomly interlocking levels because I've been driving there for more than 20 years. Experienced urban drivers, if they are unfamiliar, are unlikely to figure it out on the first try. Suburbanites? I think not.
Half the traffic on upper East Randolph is already composed of lost drivers who turn east from Michigan Avenue thinking they'll find Lake Shore Drive, panic when they don't, and make sudden U-turns anywhere they can. With a Children's Museum whose main entrance and parking garage are on the middle and lower levels, we can probably bring the number of panicking, lost drivers on upper Randolph to 75 percent or more.
I guess it's easy to demonize the residents of East Randolph and Lakeshore East if you don't know any. I know several families there besides my brother's, and they're all decent people who are not attempting to blockade Grant Park against anyone with less money or darker skin. Let's give them the consideration due any citizen: consider the merits of their actual arguments, rather than inventing nefarious and non-existent motives to debate instead.
Privileged people aren't the only ones who may have a hard time accepting the common humanity of anyone different themselves. Look how easy it is to objectify Bicentennial Plaza neighbors by referring to them as "high-rise dwellers." Yikes! Who knows what those high-rise people are capable of? They have more money than us! They live up in the sky! They don't have yards!
You need not worry. I have met these high-rise people. I have walked among them, sat in their lobbies, used their elevators and even broken bread with them. They are not cannibals, though they do have a predisposition for shopping at Whole Foods and Trader Joe's.
It's true that these high-rise dwellers tend to have more money than most of us. The relevant point here, however, is that these people could easily buy much larger, much more comfortable and much, much more isolated houses in the suburbs. They could pay their taxes in those suburbs, send their kids to school there, and go to private beaches. They could blissfully forget about the city's problems, driving downtown now and then in SUVs to enjoy the restaurants, theaters and museums.
Instead, they've chosen to throw their lot in with Chicago. They understand that cities are important, that you can't just leave them behind like an old sweater when one piece starts unraveling. They think cities are worth putting up with smaller living spaces, bad traffic and crime. They are the people who have fueled the recovery and reinvention of downtown Chicago, which is nothing short of a miracle to anyone who remembers when the Loop, South Loop and North Loop were ghost towns after normal business hours.
I remember those years, and I'm happy the high-rise people are here. But where you go next, Children's Museum, doesn't have anything to do with the downtown population. That's just a red herring your avid supporters have thrown across the Grant Park trail. The real issue is that you believe you are above the law, the one that declares Grant Park should remain open, clear and free. I don't think that's a very good lesson to teach Chicago children.
Sincerely,
Cate Plys
*
Comments? Open Letter is open to letters. Please include a real name to be considered for publication.
*
1. From Michael O'Connor:
Cate Plys certainly has a grasp of the localized issue surrounding the Children's Museum move. It's a pattern now - that Daley rants like this anytime he really wants something. He was just as self-righteous when opponents cried foul on his Meigs Field land grab. Perhaps the Pritzkers feel that they gave so much $$ toward the construction of Millennium Park that they should just be able to take a piece of it. There's precedent here, too, since former Ameritech CEO Dick Notebart gave a bunch of cash so his wife could have a butterfly museum in Lincoln Park.
Could this also be a way for the city to drive up revenues from the Millennium Park garages? The ones that were going to open early to defray the cost overruns of building the park? That is, until the support pillars holding up the roof began to crumble.
One side thought: that skating rink at Bicentennial Plaza was little-known for years. It was always a favorite haunt for a filler picture in the paper, capturing some lonely, stoic soul out there gliding peacefully in the depths of a brutal Chicago winter. Fifteen years ago, if you told people there was an ice rink downtown, many would not have believed you.
2. From Beth Murtagh:
Can you say "Gigi Pritzker Pucker" five times fast?
3. From Peg Burke:
I'm among the legions who think that the museum in Grant Park is a lousy idea. One thing I haven't seen on the subject:
Has anyone mentioned the likelihood that the land would be given/leased/whatever to the museum developers at no or little charge? This looks like another situation where Daley's pals profit handsomely
at the expense of the taxpayers. As always, I'd love for someone to follow the money, since I'm sure there's money to be followed already.
And I agree that the Field and Sci & I do a much better job of catering to kids. Not only do they cater better to kids, the exhibits are of such high quality that they're interesting to adults as well, so it's not like having to waste another day dragging your kids to another crappy kids' entertainment venue.
4. From Prescott Carlson:
"A lot of kids who come to our museum don't even know there's a lake."
- Gigi Pritzker on Chicago Tonight (see Gigi Gags item)
Is "Gigi" Pritzker really trying to float the bullshit that kids attending the current Children's Museum location on a giant pier that sticks out into, uh, the lake, don't happen to notice the giant body of water surrounding them as they go inside? And that moving it underground in Grant Park will somehow make the lake more apparent?
"Chumbolone," indeed.
*
See who else Cate has been writing to in the Open Letter archive.
Posted by Lou at 12:25 AM | Permalink
September 17, 2007
The [Monday] Papers
A Tribune examination of thousands of documents in a federal investigative file adds ballast to those of us who have long thought the mayor's fancy flowers and power-washed downtown streets were the perfect front for a city whose realities fail to live up to its picture-perfect postcards.
In this case, it's the CTA - just the latest in a long line of city agencies and municipal projects riddled with incompetence and corruption that somehow fails to attach itself to the mayor who has overseen it for 18 years.
"Thousands of pages containing documents and transcribed interviews with CTA workers tell the hidden story of why track inspections were hit and miss, repairs were backlogged and managers either failed to correct dangerously deteriorated track conditions or claimed they were unaware of them," the paper found.
"The core issue, investigators found, was not funding troubles, but a gross lack of management and oversight by the CTA and its parent agency, the Regional Transportation Authority. Investigators were unable to determine what had become of thousands of inspection and maintenance reports and are unsure whether they were done at all or were either lost or destroyed.
"It's a disturbing picture of the nation's second-largest transit system, which each day carries half a million passengers a total of 225,000 miles over its eight lines."
The paper's findings, unsurprisingly, directly contradict the mayor's claim last week that the latest problems on the Blue Line were not the result of systemic failure, but of a few individuals doing their jobs poorly.
The CTA, some readers may conclude, is unridable.
"The NTSB stopped short of saying commuters should keep off CTA trains," the Trib reports. "But spokesman Peter Knudson said: 'We believe the CTA could be significantly safer.'"
I'll say. Consider:
"CTA inspectors said that some foremen ignored verbal warnings and paperwork about unsafe track, prompting some rail inspectors to write their findings on subway walls in chalk as evidence that the weak links on the line had not been simply overlooked.
"Some of the dates scribbled on the walls went back as far as 1996."
Kruesi, described by the Trib as a mayoral confidant, ran the CTA from 1997 until last spring, when he was replaced by Ron Huberman.
The Trib notes that Kruesi is "known for his style of micromanagement."
But his priorities, which surely reflected those of the mayor or he wouldn't have held the job for a decade, were elsewhere.
"[One inspector] told the NTSB it disgusted him to see millions of dollars being spent for station upgrades when the tracks were a mess. 'The train doesn't run on the station,' he said. He pleaded with the safety board to help him."
If I remember correctly, those station upgrades were mostly at stops in gentrifying areas designed to make yuppies feel better about the CTA. There may have even been some flowers and sidewalk sweeping involved. And I'm certain the CTA's public relations campaigns were beefed up with additional funds.
Meanwhile, the system was rotting from the inside out.
Last week, however, the mayor dispatched the City Hall press corps with the back of his hand, even as he declared a new day at the CTA. As Carol Marin writes, it's the same new day Daley has declared over and over again. And not just at the CTA, but at the CPD, the CHA, inside City Hall and its hiring and contract abuses - it's always a new day in Daley's Chicago.
That's how they keep you from seeing what the old day looks like.
Jerry Weller
A non-profit fund formed by Rep. Jerry Weller "raises questions about whether Weller's financial dealings overlap with his wife's - and whether he can legally exclude her assets from his congressional financial disclosure form," the Tribune reports.
Questions Weller is unwilling to answer.
"Weller's office did not respond directly to repeated inquiries this week about what role, if any, Weller played in creating the [non-profit] fund and whether he is actively involved in its operation or fundraising. Instead, Weller issued an e-mail statement through a spokesman."
I think that's called Spam.
Omission Suspicion
Sun-Times publisher John Cruickshank wrote a little note to readers on Sunday about changes in the paper's delivery operations "that will provide you superior service."
Cruickshank failed to mention that the changes come from contracting delivery out to the Tribune.
Dance Craze
The Sun-Times's front-page story (!) on Sunday was about "juking," a term describing dirty dancing. (Hey, remember that movie that middle-aged parents love so much?)
Anyway, the paper approvingly reports on a crackdown on crazy new dancing that mimics sex. Unlike all the forms of dancing in human history up to now.
Remedial Education
I'm far more worried about the adults of America than our teenagers.
Retail Foreign Policy
Turns out that "If you break it, you own it" has never been the policy of the Pottery Barn.
It's Ridiculous
Still a work in progress, but we'd like to introduce DevinHesterIsRidiculous.com.
Ultimate Bill Signing
Our fair-haired governor made the Beachwood's very own Julia Gray a happy camper last week when he signed a mixed-martial arts bill into law.
The Beachwood Tip Line: Your name here.

Posted by Lou at 04:06 AM | Permalink
The Cub Factor
Last week we likened the 2007 Cubs to the remake of the horror classic Halloween, but this week we think we've been thinking about the rollercoaster they're going to build at Great America in Gurnee called The 2007 Cubs. Featuring:
The Soriano Slinger: Your car immediately climbs the most expensive section of track to its highest point and then sends you careening toward Earth, which is a thrill but seems a bit early for such dramatics. Park engineers are still debating whether to move this segment to the middle of the ride.
Ryan's Runway: This is the old-fashioned part of the track that scrapes and scratches its way into position for the big arcs and loops that follow. Traditionally, this would be the start of the ride.
The Derrek Loop-Lee-Loop: This part of the ride is really well-oiled but only has enough power to barely get the cars through the loop.
The Michael Barrett Barrell Roll: This portion of the ride has been removed.
Carlos's Corkscrew: This is a central section of the ride, yet it makes most customers uncomfortable. Suddenly they question God, worry about the coaster's mechanics, and wonder whether the rumors of angry ghosts in this part of the park are true.
Mark Prior's Mountain: This part of the ride is in the shop.
Woody's Curve: This portion of the ride is extremely vulnerable, held together with baling wire and duct tape. Which makes it all the more thrilling. Regulators, however, might shut it down.
Dempster's Dumpster: The end of the ride is bumpy and often results in customers throwing up.
-
Week in Review: In very un-Cublike fashion, the home team took four of five from the Cardinals and knocked them out of the race. The Cubs also took two of three from the Astros. If the Cubs win the Central division, they may be invited to play in the big leagues next year.
Week in Preview: Last homestand of the regular season with three against the Reds and three against the Pirates.
Second Basemen Report: Mark DeRosa started six of eight at second with Mike Fontenot starting the other two. Maybe we'll see Steve Trachsel or Sam Fuld there down the stretch. Just like Jim Hendry drew it up.
In former second basemen news, Jeff Blauser managed the Double-A Mississippi Braves in 2006. He is missed.
Big Z: Bomb squads stay on alert as the wick remains at Getting Angry.


Sweet and Sour Lou: 70% sweet and 30% sour. Lou is up six points on the Sweet-O-Meter. And just like your real crazy drunk uncle, Lou is happy you finished up your GED and got your life moving in the right direction, but keep it up! Don't throw it all away like Uncle Pete on fast women and slow horses.
Beachwood Sabermetrics: A complex algorithm performed by the The Cub Factor staff using all historical data made available by Major League Baseball has determined that Carlos Zambrano is likely to end his career by putting his fist in a wall.
Over/Under: Amount of "experts" who took the Brewers and then the Cubs and then the Brewers and then the Cubs again to win the division: +/- all of them.
Cubs Fans Theme Song: "Please Stop Believin'"
The Cubs Answer Men: Preparing you for October.
The Cub Factor: Catch up with them all.

Mount Lou: Even though the Cubs had a good week Mount Lou stays at level Orange. Mount Lou could erupt at any minute now if he feels that anger lava will light a fire for a win. Even winning a big game could set Lou off, emotional magma very close to the surface.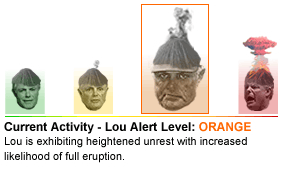 Posted by Lou at 12:11 AM | Permalink
Con Ed
My lights were flickering during a thunderstorm when the latest commercial for Com Ed appeared on the TV. While their wires whipped about in the wind and rain, casting thousands into darkness, the sartorial president of the world's largest maker of short circuits explained how much they have done for us without rate increases. You don't have to be a deep thinker to know what's coming.
A utility like Com Ed spends millions each year on advertising. The fact they have no competition doesn't seem to matter. Why advertise a monopoly? The ad campaigns often attempt to sell us confidence and trust. Not good messages on rainy and windy days if you get my meaning.
All the common utilities, electric, gas and phone were at one time reliable, available, timely and much simpler to engage.
Smell natural gas? One phone call to People's brought a service person rapidly to your door. Home phone DOA? Ma Bell was once the most reliable utility without question. Remember the olive green trucks? Before things like deregulation, mergers and divestitures there was one phone company and dialing 611 would bring you more than adequate service if you needed repairs.
Utilities were once focused on their customers. Now the stockholders and executives seem to come first. Time for an example of today's typical response to problems.
Living in a large modern high-rise with hundreds of units means an abundance of telephones. There are at least a thousand phones in my residential and commercial skyscraper. The phone company installers and repair techs are always around. That doesn't mean a new problem gets rapid attention. Sorry Charlie. Make an appointment .
The following odyssey was my latest trip to Phoneville . It s a very rocky road.
Lots of neighbors means lots of phones. The structure is designed in tiers. There are sixteen and they run from top to bottom. To put it simply, the size and layout of the units above and below mine are the exact same size. Each tier is different in terms of room size, shape, exposure and square footage. There are sixteen units per floor. What happens below my feet or above my head should matter not. Oh how I wish it were so.
Every time the phone company (who knows which one?) is called to solve a problem or do an installation in any of the 50-plus units in my tier they manage to short out, turn off or disconnect my phones. The last time it took seven days to get them to reconnect their handiwork. I actually was forced to run out and buy a cell phone it took so long for service, The old, green, concerned Illinois Bell would never have created the problem.
We must now all suffer the fools that manage the phone company, more for their stockholders, than customers. What kind of devious corporate penny pincher came up with the inside wire maintenance charge? You are billed every month just because everything is working.
Depending on your age you might remember the old phone company. It was called Illinois Bell. Army green trucks, fast response to customer calls, service techs with giant tool belts, plaid shirts and the steely eyes of well-trained wire plant warriors.
In the name of progress our three old line main utilities, Illinois Bell, People's Gas, and Com Ed have all seemingly warped into a new millennium approach of don't call us, we'll call you - or just don't call us. The once reliable phrase "The customer is always right" is now just "The customer is."
Complaining about problems, failures, lack of performance and similar conditions will get you nowhere if you don't complain to someone that can do you some good. Satisfaction will not occur until you reach this person. A case in point follows.
Five o'clock on a Friday night. The cable TV goes out. Calling for service brings a promise of service early next week. The wrong thing to say to a guy with a Ph.D in telephone complaining. First stop, the Internet.
After an hour of looking thru on-line corporate documentation about the cable company I was able to locate the names and cities of their corporate officers. A little more scrolling and I found the president of the company. Continuing on I found enough information to figure out what city he was living in. Hours had passed since beginning the search and it was now 11 p.m. here and midnight where the boss lived. He was listed with information and I called him. It was 12:15 in the morning and he was sleeping.
Hello, I'm a customer of yours in Chicago. I'm sorry to wake you up, but for the third time your people disconnected my cable service while installing new service in my building. After some silence came, What time is it? I told him it was after midnight and the groan was obvious. He was more understanding than I expected. Asking my name, address and phone number he assured the problem would get rapid attention. Can I go back to sleep now , he inquired. I sent him back to dreamland.
The next morning brought a knock at the door and in marched three cable company technicians and the area technical supervisor. Thirty minutes later they found the disconnected cable connections in the building's cable room and my screen came alive. Once again I proved that to get something, anything, taken care of you must get to somebody who can do you some good.

Posted by Lou at 12:07 AM | Permalink
Dramedy or Comerama?
A while back, some insightful network executive decided audiences might like a little humor with their overblown drama, and thus the Dramedy was born. Still the same weighty themes, but explored with lightness and good cheer. Then, like some mad professor locked away in the cellar, writers began to tinker with the formula.

They upped the silliness, threw in extra yuks, and dared to crack wise about the soul-crushing themes that had weighted down traditional TV fare. And then the line got blurry. Did someone put a little funny in their drama, or did they get some angst in their comedy? Are we meant to laugh through our tears or feel bad about laughing? What are these programs, Dramedy or Comerama?

1. Viva Laughlin (CBS, Sundays 7 p.m.) CBS calls this show a "drama." If that's the case, they're combining a noir-ish thriller with Grease, because that's what this reminds me of - a Grease for sexy, sexy grown-ups who, even though they're up to very serious things like running crooked casinos and killing people, can nonetheless spontaneously start singing and dancing to rock 'n' roll oldies. And if that's the case, it's a "black dramedy," or a "musical comerama."

Oh, crap, let's face it - Viva Laughlin defies categorization. The question that will have to be answered here is, are the producers capable of doing something that only the British have so far succeeded in doing - bending genre conventions in such a novel and memorable way as to produce a very intense drama that can also incorporate wacky, ironic rock musical numbers? Or is that too much to ask of American network TV? In my world it shouldn't be, but as I've learned so many times, Hollywood and I don't often share the same planet.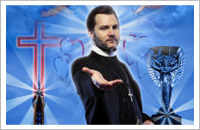 Maybe it'll help that the main creative force behind the BBC mini-series this is based on (Blackpool), has made the jump to CBS to help the Tiffany Network try something that, for us Yanks, is truly different. Peter Bowker's original mini-series was mighty strange but it worked because of the freedom that British TV has compared to the American networks in an era of FCC crackdowns. 2004's Blackpool and its later follow-up special, Viva Blackpool, were great partly because of the over-the-top salaciousness and utter abandon of its musical numbers, many of which starred the inimitable David Morrissey as the Rev. Ripley Holden, a small-time wedding chapel entrepreneur who dreams of striking it big with an amusement park in the British seaside gambling town of Blackpool. They were so weirdly out-of-step with the "straight" story that was being told that the combination somehow worked . . . but it was fragile. Its conceit was gossamer thin, and a lot of its oomph depended on several very edgy stylistic elements working together perfectly.
It's hard to imagine CBS allowing the same kind of freedom to Bowker and his American producing partner, Hugh Jackman. I've seen a clip of one Viva Laughlin musical number - and it's almost exactly the same as from Viva Blackpool: fittingly enough, the Elvis song "Viva Las Vegas." But that was the least "shocking" of the Blackpool numbers that are available on YouTube. What's CBS going to do when they show, say, two men doing a tango, and the angry calls from Idaho start pouring in to advertisers?
A lot will rest on the abilities of Lloyd Owen as the American Ripley Holden, which is kinda weird because Owen's a British stage actor. So you're going to have a Brit playing an American in a series based on a quirky British show. I don't know, but I think this is all going to go over the viewing public's head.
Diagnosis: Dramedy
Prognosis: I predict Viva Laughlin will be trashed, panned and beaten bloody, but that it won't deserve it. My guess is that it will be a valiant try to do something different that will come up somewhat short.
- Don Jacobson

2. Big Shots (ABC, Thursdays 9 p.m.)
Having scored impressive successes with female-oriented comeramas like Desperate Housewives and Ugly Betty, ABC has decided to woo the testosterone-soaked side of the gender divide with the same formula.
And why wouldn't it work? After all, as revealed in Big Shot's signature gag, men are the new women. And by "new women," the creators evidently mean "gossipy bitches." It's essentially Sex and the City with a disparate group of four men who are friends solely because the script tells them to be. Oh, and because they're men, they're all wealthy CEOs, meaning ABC thinks its male viewers want to watch the comical travails of the guys who just pink-slipped them, raided their pensions and tried to grab their wives' behinds.
ABC also seems to think its male viewers want to listen to the same tired jokes that weren't funny when Jackie Gleason spouted them in The Honeymooners. To wit, in one of the previews currently in heavy on-air rotation, Christopher Titus' character deadpans, "I'm married. I'm done with good times." Hilarious, right? Because we all know that once a man marries, his wife zips up her vagina and opens it only to release a shrieking, needy, thankless brat every two to three years.
I'd write more, but I have to go brow-beat my husband.
Diagnosis: Comerama
Prognosis: If this does well, please kill me.
- Natasha Julius

3. Pushing Daisies (ABC, Wednesdays, 7 pm)
Producer Bryan Fuller is really on a roll. His Wonderfalls was another of those criminally under-appreciated terrific shows that usually last about five weeks because of their mismanagement by network suits (in that case, Fox), who, if they can't neatly pigeonhole something, they get very afraid and toss it over almost immediately. But now I'm sensing a change - the whole willingness to engage in genre-bending like dramedies and comeramas is finally giving weird comedy-dramas like Wonderfalls and Pushing Daisies space they never had before.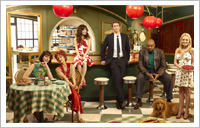 Since that show was yanked two years ago after a measly 14 episodes (some of which never aired), Fuller, who started his TV life as a Star Trek geek, struck paydirt as an exec producer of Heroes. That has earned him a chance to use WF's sweet-yet-edgy fantasy style with a full-on network blitz behind it. As you can tell, I'm pretty damn excited about this show. It could be this year's most-deserving show that makes it huge.
Pushing Daisies seems to be a lot like Wonderfalls only writ much larger. It even stars a WF veteran, Lee Pace, who in the Fox series played a key supporting role as an atheist doctoral student whose slacker younger sister has apparently developed an ability to "talk to God" through various inanimate representations of animals, such as a wax lions, brass monkeys, totem poles, you name it. One of the many funny ironies of Wonderfalls' premise was that the sister's completely unwanted conversations with something that may or may not be God fills his heart with a unbridled jealousy - it turns out his atheism is just a pose that he's built into an entire persona when all he really wants out of life is a reason to believe. Instead, it goes to someone who doesn't give a damn. So clever.
The way Fuller integrated the visual effects of animating inanimate animals (get it?) was so smooth and fit so well into the semi-comedic premise (an early comerama) that the results were at once hilarious, spectacular and actually kind of deep. I'd be rather shocked and disappointed at this point if he doesn't succeed wildly at doing it again, this time with Barry Sonnenfeld (Men in Black, The Addams Family), the current master of the brightly colored, visual feast style of filmmaking, handling the direction. The buzz is already pretty loud about Pushing Daisies.
This show also has a high concept very similar to Wonderfalls: Pace is an unassuming man who has let the world find out his secret that he can bring dead people and animals (again with animated animals!) back to life with a touch, but if he touches them again, they immediately die, this time for good. This is both a blessing and curse when the girl he had a childhood crush on is murdered. He reanimates her in order to find her killer, all fine and dandy, but of course, they fall in love and can't consummate due to that no-touch thing. He also uses his power to bring other murder victims back to life, discern their killers and collect the rewards.
Diagnosis: Comerama
Prognosis: Two words. Can't wait.
- Don Jacobson

4. Chuck (NBC, Mondays 7 p.m.)
I think I saw this show a few years ago. Only it was called Jake 2.0 and it rocked. Chuck? Well, maybe not so much.
A computer nerd working at a local electronics store somehow opens a magically encoded e-mail that implants a laundry list of government secrets into his head. Were this to happen in real life, I think we all know how it would play out. The feds would declare him an enemy combatant, lobotomize him and shove him in Guantanamo where the sun don't shine. However, since this is television, the computer nerd is given a pair of hot FBI agents as bodyguards and trained in uber-cool espionage techniques like that slightly-dated laser thing from Mission Impossible.
Here's the thing, though. In Jake 2.0, the central character ingested a bunch of nanobots that altered his physical form, turning him into the ultimate agent. His brain and his personality, however, remained utterly geeky. The joy was in watching him adjust to his new corporeal abilities. In Chuck, the massive information dump into the main character's head doesn't appear to come with a personality change or a physical upgrade. So what exactly are we supposed to watch? It would be like if you took Joe Pesci's character in Lethal Weapon 3 - the bumbling witness - and made him the star of the movie.
Diagnosis: Comerama
Prognosis: With Lethal Weapon 3, you had the pleasant memories of Lethal Weapons 1 and 2 to get you through. With Chuck . . . you've got Chuck. And he's no Joe Pesci.
- Natasha Julius

5. Reaper (CW, Tuesdays, 8 pm)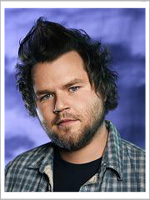 The comerama in its purest form, Reaper takes the adventure/comedy style that was first pioneered by Steven Spielberg in the Indiana Jones movies and updates it to the Kevin Smith era - indeed, the Clerks creator directed the pilot episode in which the show's central themes are set up.
Briefly, they are this: Home improvement store clerk (?!) Sam (Bret Harrison) finds out on his 21st birthday that he has strange powers of making things move merely by willing them to. His fellow slacker buddy (Tyler Labine of the great, late Invasion) thinks it's awesome. His parents then tell him that they sold his soul to the devil before he was born. It's not too long before Beelzebub (Ray Wise playing Satan as a nasty businessman) shows up to tell Sam he's now his bounty hunter on Earth, and his job is to bring escaped demons back to Hell (which makes me wonder, why would Satan want to do that? Wouldn't he want to let the evildoers unleash Hell on Earth?)
Be that as it may, Reaper promises a lot of post-modern black humor, which usually is just my cup of tea. From the clips provided by The CW, the laughs are going to come mainly from Labine, who has the deadest slacker dead-pan in the biz. He was just about the best thing of many great things in Invasion, in which he played (guess what?) a slacker/alien conspiracist who was the only townie who figured out that a cadre of body-snatching extra-terrestrials were taking over the Everglades. This time out, he's got a role that's considerably less grim and more jumping-around funny. I'm sure he'll excel as the bounty hunter's gung-ho sidekick.
Harrison's claim to fame was as the star of the lame Fox comedy The Loop. Was its mediocrity his fault or the producers'? I guess we'll find out now. The showrunner here is Mark Gordon of Grey's Anatomy. Not exactly a hipster comedy. Two of the other producers are from NBC's Ed, which was a comerama pioneer. I'm not sure this bodes well. Kevin Smith's deft touch looked good on the pilot's clips, but what will happen once he heads back to featureville?
Diagnosis: Comerama
Progonsis: I want to believe in Reaper. I could be wrong, but something I can't quite put my finger on tells me it's not equal to the sum of its parts.
- Don Jacobson

6. Dirty Sexy Money (ABC, Wednesdays 9 p.m.)
The insanely wealthy and twee-named Darling clan of New York City needs help with the inevitable legal and PR troubles that accompany its noblesse oblige. To that end, the family recruits Nick George, the embittered son of Papa Darling's late chief advisor.
It seems young Nick became so disgusted watching his father's soul be sucked bone-dry by the Darlings that he ran off and became - horror of horrors - a goodie-goodie lawyer for the unwashed masses. Still, a wad of tainted cash buys a lot more happy endings than a heart full of good intentions, and Nick is willing to deep-throat his sizable pride for the right price.
The dramatic tension will presumably be generated by the clash of values between Nick and his Hiltonishly vacuous charges. There's also plenty of traditional prime-time soap conflict fodder as ABC once again tries to convince us to feel sorry for the filthy rich.
Diagnosis: Dramedy
Prognosis: The cast is impressive, featuring the rapidly-deteriorating Donald Sutherland and a post-Six Feet Under Peter Krause. If it makes it late enough in the season, it'll have Lost for a lead-in. This could be a solid performer for ABC, which has struggled to find a good partner for its Wednesday-night behemoth.
- Natasha Julius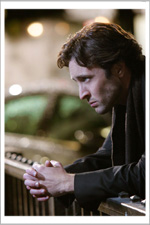 7. Moonlight (CBS, Fridays 9 p.m.)
Ooooookay. So, there's this private eye, right? And, like, 60 years ago he got bit by a vampire. And now he investigates crime while fighting the undead at night. I know.
And apparently he's in love with a mortal chick, which is a serious problem because, well, DUH! He's a vampire! Think Angel meets Moonlighting meets Doctor Friggin' Who. And I'm guessing, although I don't know for sure, that the crimes he investigates are perpetrated by evil demons who only he can slay, because, seriously, otherwise this premise doesn't make a lick of sense.
I'm pretty sure the supernatural bent is being played at least partially for laughs . . . at least, that's the universe I would prefer to occupy. The preview's kinda jokey, anyway. I think. Maybe. When an off-screen interviewer asks what it's like to be a vampire, the main character answers, "it sucks." I KNOW!
Diagnosis: Dramedy
Prognosis: Well, he is undead. This one might be around for a while.
- Natasha Julius
Posted by Don at 12:05 AM | Permalink
Fall TV Dramas: Escapism Is So 2006
If new television dramas can be read as a meta-analysis of our cultural angst, there has been a sea-change in our nightmares over the past year. Gone are the naive innocents caught in twisting superspiracies, replaced with dark characters that are, if not the primary authors, then certainly complicit in the writing of their own tragedies.

There's something refreshing about this honesty. In an age when our real-life heroes are the ones that cop to their dirty deeds, it would feel false if the network dramas trotted out a squeaky-clean roster. The trouble is there's a fine line between gritty realism and a shiny pack of bastards. Not surprisingly, the networks seem to have strayed well south of that meridian.


You know how there's that one drunk guy down the end of the bar who smells a little funny and won't stop ranting about all the people who've screwed him over down the years, but he's sort of endearing in that sucker-punched-by-humanity kind of way? None of these people are that guy. In fact, they are probably the ones he's ranting about. To wit, this year's bumper crop of dramas features a recovering drug addict, two crooked cops, a loser, a biodiesel whore and one-third of the most insipid, dull, irritating love triangle to appear on the small screen for several decades.

Enjoy. Or, very possibly, don't.

*

1. Bionic Woman (NBC, Wednesdays 8 p.m.)

Premise: You know how it goes. Girl leads dissolute, empty life filled with untapped potential. Girl meets nice scientist. Scientist replaces half girl's body parts. Girl deals. It's a lot like Chuck, only not funny and uncomfortably misogynist. So, actually, yeah, it's pretty much Chuck.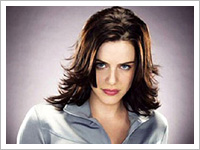 Main Characters: Jaime Sommers is a bar-tending college drop-out pregnant with her hot-shot boyfriend's baby. I don't know why it was necessary to make this girl pregnant, as she's on the receiving end of a pile-driver from an 18-wheeler fairly early in the pilot. One assumes that, along with both legs, an arm, an ear and an eyeball, she also lost the child as a result of this accident. So maybe the idea is to give her even more trauma. Or maybe the aforementioned hot-shot boyfriend kitted her out with a bionic fetus while upgrading her other bits. That'd certainly be a twist.
Anyway, said boyfriend is an ethics professor simultaneously involved in highly unethical experimental surgeries. In case you didn't get it, he's Conflicted. He also has Daddy Issues. And he works for Miguel Ferrer, who has catering issues. Oh, and there's a big, bad, blonde bionic bitch on the loose as well.
Fatal Character Flaws: Too much information. The NBC site for Bionic Woman features a detailed back-story essay on each key figure, including what high school they went to, their last five known addresses, their full medical histories . . . for gravy's sake, people, have you never heard of leaving things to the imagination? Even if I were one of these characters, I wouldn't want to know this much about myself. This is why you don't invite the drunk at the end of the bar home for dinner. It's just too much exposure.
Predictions: It doesn't seem fair to say that this show will shoot its wad in the premiere. Frankly, its wad was shot a good 30 years ago. Even with the enhanced special effects, this feels like a tired retread with lashings of equally tired Matrix retread thrown in for good measure. If all you've done to an already depressing premise is make the characters' lives even shittier, it's tough to see the appeal. Unless we get some bionic morning sickness. That could be pretty damn funny.
*
2. Cane (CBS, Tuesdays 9 p.m.)
Premise: The aging owner of a Cuban sugar and rum empire announces to his assembled family that he is turning operations over to his adopted son. His non-adopted son isn't too hip to this idea. Both sons and a handful of other siblings have hot, sweaty sex a lot. Not with each other; at least not on this network.
The adopted son has to contend with the dark dealings of the sugar trade and the intricacies of Cuban expatriate culture in South Beach. Plus, Whitey doesn't like his idea of cane sugar biodiesel because Whitey wants to continue sucking at the oily teat of petroleum dependency as per usual. If you've ever yearned for a bodice-ripping prime time soap with geopolitical intrigue, this one's for you.
Main Characters: Jimmy Smits is hot. Nestor Carbonell is somewhat less so. Rita Moreno is ridiculously hot. Hector Elizondo is holding up admirably. I can't remember anyone else. I don't think their faces were shown in the preview; just their sweaty, heaving body parts.
Fatal Character Flaws: Despite copious amounts of steaminess and physical beauty, these people are just plain boring. They all have sex with their spouses. They all dote on their kids. There's the usual power-corrupts character arc in which Smits orders random beatings of random threatening thugs, but the most shocking thing about that is that he has to leave his daughter's recital to check how the thumbscrews are turning. Besides, subplots involving energy security and organized labor? Are you serious? This is what happens when CBS tries to be sexy and fresh.
Predictions: This show will probably play really well with CBS's current demographic of old people who love Andy Rooney. It's not going to do a whole lot to draw in anyone else. Still, shows like this have a habit of sticking around for ages once they find their niche. I doubt it'll be the next Desperate Housewives, but it might be the next Law and Order: SVU.
*
3. Gossip Girl (CW, Wednesdays 8 p.m.)
Premise: Based on a "best-selling" "book," the series follows a group of spoiled rich kids in Manhattan as they plot the slow destruction of one of their own who has recently returned from a mysterious absence. Events center on an endless series of formal parties where ridiculously over-dressed hangers-on track the nefarious and melodramatic activities of the main characters via the machinations of the titular SMS-obsessed cyber-mole. Think Heathers meets Dynasty meets I Know What You Did Last Summer, possibly with less killing.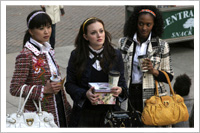 Main Characters: Serena van der Woodsen (seriously, that's the character's name) has just returned to Manhattan after some kind of self-imposed exile brought on by the elicit shtupping of her best friend's boyfriend. The in-crowd she once ruled now shuns her, but politely, because in this universe rich people have class, so she takes up with a less fabulous guy whose name no one has bothered to learn. Meanwhile, Serena's mother appears to have no idea where she went or why she came back.
Fatal Character Flaws: It's obvious from the available previews that we're supposed to root for Serena and see her as a "real" person in a sea of two-faced children of privilege. In fact, we're supposed to like her so much that we look past the fact that she's kinda trampy. And also, kinda rude and haughty and whiny. And damn, girl, would it kill you to stop pouting every once in a while?
Predictions: Given that this is The CW, I'm guessing I've lived far too long to fall in this show's target demographic. That's good, because I'm already sick to death of Serena's exasperated bitchface. I'm sure that in the great tradition of Dawson's Creek, all the main characters will cycle through predictable patterns of coupling with predictable teen-angst shockwaves ensuing. I really don't care. There's probably enough here to chug along for a season or two, but if the central mystery of Gossip Girl's true identity is meant to provide any fuel for the plot, that conceit is strained already.
*
4. Journeyman (NBC, Monday 9 p.m.)
Premise: Someway, somehow, Dan Vassar has started traveling back in time. He's still in the comfortable environs of his hometown of San Francisco, and he's still the same age; it's just suddenly a different date. Not the freshest concept, but one key twist is that time doesn't conveniently telescope for this guy. If he spends two days romping about in, say, 1987, it means he's inexplicably been missing from his 2007 life for that same span of time. This is a problem because, we learn from the previews, he used to be a useless junkie.
In case you were wondering which well-established time travel ethics card would be played, it's the ever-popular "what if you could save someone you loved in the past?" chestnut as Dan comes into fairly regular contact with the fiancée he lost in a plane crash 10 years ago. I'll tell you one thing that'll happen if you save her, Dan. You'll get a frying pan upside the head from the woman you met and married in your 2007 life.
Main Characters: Well, there's Dan, who looks convincingly sweaty and haggard. It's not surprising since every time he pops back in time he comes off as a raving lunatic and possibly gets his ass kicked by the owner of whatever property he's just appeared in. He also has a brother who is a detective. His wife seems to have perfected frosty detachment quite a while before her husband starts disappearing for days on end. Something tells me Dan's a bit of a bounder. His potentially resurrectable fiancee, who is apparently too dumb to notice that her man has suddenly aged a decade, is played by an actress named Moon Bloodgood. Ms. Bloodgood is notable for being crushingly bad as Taye Diggs' fiancee in last season's time travel debacle, Day Break. Something tells me a casting director has it in for this show.
Fatal Character Flaws: As noted above, Dan comes into this tea party with the kind of dark and murky past that would see him vigorously cross-examined by Sam Waterston if he popped up on Law and Order. He appears to be working the character-flaw double whammy of shady drug use and self-centered work obsession. Frankly, he seems like kind of a dick to his wife and family. Worse, it's strongly hinted in the previews that he eventually sleeps with the rock-stupid fiancée (and honestly, honey, if you don't pick up on the extra decade there, well, I can't help you), raising the following really uncomfortable question: Is he cheating on his wife if he hasn't technically met her yet, or is he cheating on the fiancee if she's not actually dead? Like I said, he's sort of a dick.
Predictions: The thing about time travel series is that the characters never just whip around for the hell of it. There's always some deeper drive; a person who needs saving or a wrong that needs righting. And, of course, it emerges over time that the person who's really being saved is the protagonist. It's a long, drawn-out, protracted retelling of the It's a Wonderful Life redemptive arc. The thing is, in It's a Wonderful Life, we already know George Bailey is a great guy. He just needs to be reminded. I think Dan's a fucking punk. Therefore, his potential growth as a human being is of little consequence to me.
*
5. K-Ville (Fox, Mondays 9 p.m.)
Premise: Mismatched buddy cop drama dumped in post-Katrina New Orleans.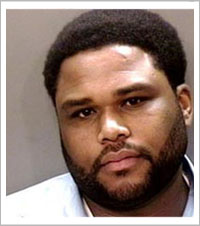 Main Characters: Anthony Anderson got capped in the head in The Departed; therefore he's now the perfect dramatic heavyweight to play one half of our dynamic duo, the Down-Home Boy Who Knows the Streets of His Town like His Baby Girl's Face and Isn't Afraid to Get His Hands Dirty. Cole Hauser is constipated and white; therefore he's the perfect choice to play Anderson's foil, the Tough-As-Nails Former Army Ranger Outsider With a Mysterious Past.
Anderson is mad at the world after staying put in his ravaged city and losing his original partner, although it's not clear if that person perished in the storm or simply left. Hauser has no good reason to go there and put up with Anderson's crap. That means he probably figures he can do more "good" in New Orleans than he did in the Army, because this is Fall 2007 and cynicism is selling like hotcakes.
Fatal Character Flaws: Once again it seems we're dumped into the redemptive arc at the worst possible point. Anderson's character is of course meant to be a noble man caught in an impossible situation, but the preview juxtaposes way too many shots of him helping people off their roofs on the one hand and drowning suspects on the other. It's schizophrenic, which may be the point, but it doesn't make for appealing viewing. Besides, whatever dramatic chops Anderson may have, his nose-bleed bad New Orleans accent is just too big an obstacle to overcome. I don't know a damn thing about Hauser's character, but I'm assuming that, this being Fall 2007, he probably killed and ate a small Afghan village during his tenure with the Rangers. Or hell, since this show so obviously yearns to be Topical and Important, maybe he shot Pat Tillman.
Predictions: Fox doesn't do gritty reality well. Over-the-top action heroes? Sure. Brilliant prison breakers? You got it. Subtle, conflicted characters dealing with real-life horrors? Not so much. Sorry, K-Ville. You'll probably be seeing Anthony Anderson in a traveling production of Hamlet in the near future.
*
6. Life (NBC, Wednesdays 9 p.m.)
Premise: Charlie Crews (get it?), an L.A. street cop, is jailed for life (get it?) for a murder he didn't commit. Somehow he's sprung a dozen years later, wins a huge settlement and goes back to work. Although outwardly chipper and nursing no hard feelings at all, he's secretly obsessed with finding the person or people who set him up and seeking vengeance. Because he's emerged from the big house with more loose screws than a dancing wood chipper, he's given a hot, sassy female partner who just wrested herself from the grips of a heroin addiction. Because, you know, it's Fall 2007 and we've all got Issues.
Main Character: Charlie is now all wacky and unorthodox and he GETS RESULTS with his creepy human touch. And he loves fruit. And he has shitcakes of money to throw around. And, oh yeah, per the preview, he's apparently the fucking Dog Whisperer. I hate this guy already. His partner is restricted to wrinkling her brow sexily in response to his latest pearl of wisdom. His former partner hates him for getting promoted to detective. A lot of people seem to hate him.
Fatal Character Flaws: Aside from almost-palpable unlikeability, it seems young Charlie did something sinister in the joint, something that is bound to emerge like his partner's drug problems and bite him in the ass some day. I'm assuming it's a conscious choice on the actor's part to play Charlie like Jeffrey Dahmer's smug younger brother. It's not an appealing one.
Predictions: This one has some tantalizing threads of superspiracy laced into it. You just know that everyone from Charlie's former partner to the D.A. to the nameless blonde he bones in the preview is in on the master plot to send him up the river. The trouble is, once Charlie uncovers the truth, I have no doubt he will go seventeen kinds of ape-shit and kill everyone. And it's not fun standing under the dam and watching leak after leak spring up. And also? I hate him.
*
7. Private Practice (ABC, Wednesday 8 p.m.)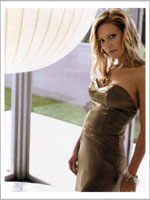 Premise: Dr. Addison Forbes Montgomery has decided to leave the cushy environs of Grey's Ana- oh, sorry, "Seattle," and mosey down the coast to "Santa Monica" because that's what frosty adulterers who are spurned in their attempts to win their spouses back do in TV Land. They also get awesome jobs at private health clinics stocked with attractive and interesting people just waiting to entangle them in their artfully messy lives.
Main Characters: Addison has come to work for a college friend and her husband who are having marital problems because her husband is Taye Diggs and he's much too hot to stay hitched. Addison's ready-made romantic foil is an unconventional doctor played by Tim Daly, who is also very hot but probably a good two inches shorter than Kate Walsh. Awkward! Added to the ABC Cancelled Show Players repertory group is Amy Brenneman, who is presumably whimsical and funny.
Fatal Character Flaw: Spin-offs automatically assume that you want to know more about a character who didn't get to develop on their first show. I don't watch Grey's Anatomy, but from what I understand we got plenty of information about this chick during her stay there. I sort of feel like every time I see a commercial for Grey's Anatomy, I've just overheard one of those painfully personal cell phone conversations you sometimes encounter on the train that just make you think, "Please, for the love of all that's shiny and bright, stop talking so frickin' loud!"
Predictions: Grey's is, inexplicably, one of the most popular shows on network TV right now, so it's certainly possible this will carry a big audience eager for more medical melodrama. However, it's occupying the seemingly doomed this-isn't-Lost slot, which is not a good sign.
*
8. Women's Murder Club (ABC, Fridays 8 p.m.)
Premise: Apparently, we are at the dawn of a new age when women - those fair creatures that have beguiled us for lo these many years - will now be allowed to investigate, analyze, research and prosecute crimes just like men have being doing for centuries. But it'll be different because, well, they're women, and they bring with them special womanly qualities like unconditional trust of every other woman alive... and sass.
Main Characters: Angie Harmon needs a softball vehicle to prove she's still a draw after taking time out to breed with Jason Sehorn. It seems this is the best her agent could come up with. There are other men and women floating around, but they really don't matter.
Fatal Character Flaws: According to the trite, insulting title, ovaries.
Predictions: There's very little video on this one, which supports my theory that the production was thrown together in about 15 minutes and that the show is basically renting its Friday night time slot week-to-week until Angie gets a better offer. If I had to guess on a plot, I'd say the rock-solid friendships of the central coffee klatch will be tested when someone sleeps with someone else's ex-boyfriend, because that's what women do.

Posted by Don at 12:05 AM | Permalink
Fall TV Comedies: Nerds & Cavemen
If traditional network comedies are a dying species, it'll be up to an old warhorse (Back To You), some sub-humans (Cavemen) and an overflowing A-V room full of nerds (Aliens in America, Big Bang Theory, The IT Crowd, Chuck) to save them from a permanent spot on the cutting room floor.

And given the clips and previews that have been made available by the networks, the prognosis is cloudy. None of the new shows seems like a sure-fire hit, while some - like Cavemen and the Return of Jezebel James - are high-stakes dice-rolls that could succeed wildly or put the last nails in the TV comedy coffin if they go down in spectacular, unfunny flames.

Oh, the humanity.

*

1. Back To You (Fox, Wednesdays, 7 p.m.)
No big deal here. Just the fate of the entire traditional sitcom genre hanging in the balance, if we are to believe the hand-wringing industry types. Why do they always think it's "genres" that are suffering when it's really the unimaginative, unfunny crap they try to stuff into them?

I admit I've never been a huge fan of the traditional, multi-camera, laugh-track sitcom - even as a kid in the '70s I couldn't stand the "classic" likes of The Jeffersons or Laverne and Shirley. I always preferred comedy movies where the laughs came out of the storylines and characters rather than from non-stop, hit-and-(mostly)-miss gags, so nowadays I'm fully invested in hoping that last year's success of "single-camera" comedies like The Office and 30 Rock can forever drive a stake through the form. But it's not going down without a fight. With Back To You and The Return of Jezebel James (see below), the giants of the industry are assembling at Fox and giving multi-cam one last college try.

In Back To You, dependable comedy all-star producers Steven Levitan (Wings, The Larry Sanders Show, Just Shoot Me, Frasier) and Christopher Lloyd (you know him) are pulling out all the stops, and the show looks good enough to perhaps stave off the inevitable for a while longer. It's falling squarely on the shoulders of Kelsey Grammer to do what he can to put some life into the rattling bones of the trad sitcom, and I'm guessing he's up to it. He looks sharp in this show, where he does a variation of the Will Ferrell character Ron Burgundy from the hilarious movie Anchorman. He plays the "legendary" Chuck Darling, who unwillingly returns to his former station in Buffalo 10 years after he left it behind for a career in major markets. Now he's confronting some of his burned bridges, but has yet to re-adjust his haughty attitude to befit his humbling newfound status as an aging loser.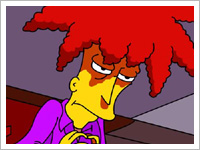 A lot of the comedy seems to come from his antagonistic relationship with co-anchor Patricia Heaton (from the way, way overrated Everybody Loves Raymond), who never left Buffalo and in the meantime carved out her own niche as the big anchor fish in the small pond. Let the sparks fly! The dialogue, which is everything in these laugh-trackfests, judging from several clips, seems pretty good. Grammer's Chuck Darling is a bit more crass than Frasier Crane. He's actually more like Grammer's Sideshow Bob character on The Simpsons - just a bit on the evil side but ultimately too screwed up to do any real damage. As for Heaton, well, will there ever be a good role for a woman in a male-dominated sitcom? She's the same character that Joely Fisher is playing in Til Death (a modestly successful Fox multi-cam), and the same character every female lead has played in every male-dominated comedy since Alice in The Honeymooners: the sarcastic, bitter, bitchy reactionary woman whose main job is to suffer under the thumb of the egocentric male star and give him occasional kicks in the balls (kinda like on Raymond). But under it all, she loves the guy, right? Gawd.
Ultimately, if Back To You represents anything, it's the belief that thousands of awful laugh-trackers over the years haven't completely soured the genre for all time. I respect the effort here to prove that isn't true. It seems Levitan, Lloyd and Grammer are really giving it their all, and that this show could be good enough to make a dent. But, really, not even a dozen such big successes will ultimately rescue the traditional form, and I, for one, will not be too sorry to see it go.
Life lessons learned? Hopefully Chuck Darling will be too full of himself to learn anything meaningful. I really didn't much like the way Frasier Crane came to some kind of cloying conclusion about trust, tolerance, or whatever every week.
Cute kids? None in sight.
Annoyingly wacky family? Not immediately apparent.
Nerd factor? Medium. It looks like the TV station manager is a nerd, much like Kenny, the radio station manager on Frasier.
*
2. The Return of Jezebel James (Fox, midseason)
It's got Parker Posey and Lauren Ambrose. It's the brainchild of the Gilmore Girl herself, Amy Sherman-Palladino. It's slated for mid-season on Fox. How can it possibly go wrong?
Oh, let me count the ways.
First off, the idea that Parker Posey, whom I have fallen in love with so many times in so many great, great indie movies (The House of Yes, Dazed and Confused, The Daytrippers, Suburbia, all those Christopher Guest mockumentaries) would do a sitcom, for Christ's sake... with a laugh track! Well, it just makes me sad. Just kind of resigned and sad. Sort of like when I hear Wilco's music in a car commercial. Oh, Parker. We're getting impatient, aren't we? What else can it be? Although she has made some guest-starring forays into TV before (The Simpsons and Futurama on the cool side and Will and Grace on the dark side), this is something else again.
I will give her props, though, because she says she had never even seen The Gilmore Girls when she read the script for The Return of Jezebel James. I mean, how deep into the indie world are you when you've never even seen one of the most popular TV shows of your generation? I love that. She's either too smart or too wrapped up in her ultra-cool career to be bothered with TV. Mmmmm, Parker. And yet, here she is, playing Amy S-P's brand new quick-bantering, supposedly self-sufficient heroine, who's approaching a mid-life infertility crisis and reacts by turning into a quivering mass of female insecurity. She needs to be a mom, dammit, and she needs someone to help her. She targets her estranged, slacker sister (Ambrose), whom she relentlessly recruits to be a surrogate mother.
It's not quite clear from the clips I've seen if Parker's a calculating harpy or merely shallow. One clip shows her shocking a gynecologist by glibly comparing her inability to get pregnant with trying to learn to do cartwheels as a high schooler . . . you know, no big deal - try, try again. Then she tells the doctor she can't adopt because she doesn't like strangers using her bathroom. Wow, you can tell she's going to be spending a whole lot of time learning hard but valuable life lessons. I want to know how someone so clueless can be portrayed as a successful children's book editor (get it?) with a fancy office. Anyone that dumb would be lucky to be working at Burger King cleaning the grease drain.
Yes, you say it's a sitcom where the main character gets laughs because she's so outrageously self-centered and career-obsessed. And I say it's Parker Posey doing an imitation of Tea Leoni in The Naked Truth. Not Megan Mulally. Parker friggin' Posey. My, oh my.
Then there's Lauren Ambrose. I think it's pretty obvious she's falling into typecasting hell at the hands of Amy Sherman-Machiavelli. Of course I loved her in Six Feet Under, where she set fire to the loins of millions of male masochists (like me) who like their women rebellious, whipsmart, emotionally deep yet flawed and usually addled by some kind of illicit substance. As the kid sister on that show, she killed. And, uh-oh, here she is again, playing a cynical, childish-yet-wise-yet-sexy kid sister. Umm, Lauren, honey, I know Amy S-P is the queen of all she surveys, but she's leading you down a primrose path here. Try doing something different on TV, okay? I know you've got a bigger range in you. This is crucial, listen to me! You're too young to take the easy money.
The main reason this show will flop is that Amy is showing hubris. By forcing her trademark idea of, as she calls it, "chicks talking to each other" into what will be a traditional, multi-camera sitcom format, she's betting she can succeed where so many others have failed miserably in a genre that's undoubtedly dying a mostly-deserved death. She's even filming it in the same studio where they made The Cosby Show all those years. And by casting two indie-cred heartthrobs as the leads, she's upping the stakes even more. Her downfall may be spectacular. I just hope Parker and Lauren don't get hurt and lose their coolness in the process. I'd be crushed if that happened. Remember ladies, there's always a place for you at Beachwood Video.
Life lessons learned? Since this is all about a relationship between two screwed-up sisters, the life lessons are going to be relentless.
Cute kids? Doesn't seem to be, unless you count Parker's unborn baby.
Annoyingly wacky family? Nothing but.
Nerd factor? Looks to be nil. But you never know. One will show up.
*
3. The IT Crowd (NBC. midseason)
Hey, Office fans! Wouldn't it be great if there were yet another workplace comedy that started off as a British sitcom, become a hit there, was transferred over to NBC along with its original producer, and this time - with its original star as well? The biggest reservation I think all fans of the British Office had was, how well would it translate without Ricky Gervais playing David Brent (renamed Michael Scott)? Steve Carell's job was to win us over. He did - with Gervais' help, mind you - but it was distressing at first.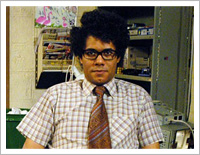 No need to worry about that with The IT Crowd. The ubergeek from the British series, Richard Ayoade, has made the leap across the pond, along with executive producer Graham Linehan. And no doubt about it, Ayoade is a comic gem. With his unkempt Afro, thick glasses, short-sleeve shirts with wide ties, "Ross" is the epitome of the first of TV's two types of techies - the guileless, slightly autistic ones who are brilliant at their jobs, mean well but are easily distracted by bright shiny objects and completely befuddled by office and sexual politics. The other type - played in the U.S. show by Joel McHale (whose only experience seems to be as the host of Talk Soup) - are the mean, lazy, sexually frustrated ones who take out their troubles on the girls in the office.
I'm not finding any clips from the upcoming NBC show - perhaps because it's not due to break until midseason. But from watching the British show I can say that the big difference between The IT Crowd and The Office is that the latter was a much more solid show all-round. Yes, Gervais was a revelation, but it was so much more, much of which has made it into the U.S. version. The Office was almost more interesting as an examination of human nature and power relationships as it was a hilarious pushing of the outer extremes of humiliation and embarrassment. We love David Brent's antics, but each of the office players has their own fascinating and richly evolved backstories as well. With The IT Crowd, however, you've got Ayoade's endearing mannerisms and phobias and not too much else, except perhaps some amusing tics contributed the psychotic office boss, played in the British show by Christopher Morris and in the NBC version by Rocky Carroll (who played a doc on Chicago Hope, and I don't see a lot of comedy on his resume).
So I'm thinking the question is, is Ayoade alone enough to carry the show, at least at first? I'm encouraged about his chances because of this summer's success of a very similar character - Jemaine Clement from HBO's Flight of the Conchords. They've got a lot in common and I think it might bode well in the coveted geek demographic. Let's see if it works out that way for The IT Crowd.
Life lessons learned? The British show didn't dwell much on them. So we'll see.
Cute kids? None in sight.
Annoyingly wacky family? It's a workplace comedy, so I think the potential is low.
Nerd factor? Off the charts.
*
4. Cavemen (ABC, Tuesdays, 7 p.m.)
While Back To You is the big-budget attempt to save TV comedy's family farm, Cavemen has got to be the biggest, weirdest attempt ever to plow it under. I loved the Geico caveman commercials, but I also loved a lot of Saturday Night Live sketches that turned out to be big ol' messes when they tried to make them into movies, so the curiosity factor here is huge. This has the potential to be the 2007 equivalent of That '80s Show - but if it's any good at all, it'll have tons of built-in word-of-mouth and could be a smash. Which, oh which, will it be?
ABC, sensing a possible phenomenon, isn't releasing any clips of this baby at all. They want to keep the suspense high (and perhaps prevent viral Internet bad-mouthing). But some clues as to where this thing is going are emerging. First off, it's created by the directing team of Will Speck and Josh Gordon, who gave us the hit-and-miss Will Farrell figure skating satire Blades of Glory. That film, while getting some pretty mixed reviews, showed one thing for certain: those guys could attract the best movie and TV comedy talents around (Jon Heder, Will Arnett, Amy Poehler, Jenna Fischer, etc). That augurs well.
Also, I suspect Cavemen will be much like Blades of Glory in its scripting, which would mean it will be a sophomoric but occasionally insightful satire of pop culture in which ridiculous-on-their-faces scenarios will be played "faux straight" with the laughs coming from the incongruity. Instead of the straight-faced Farrell playing an overweight Quiet Riot fan figure skater who chooses to perform with another dude, you've got a caveman who's working on his dissertation about the oppression of his species by Homo sapiens, played (by Nick Kroll) without a hint of irony. My guess is that Speck and Gordon will be a pretty good choice for this show because they've done on a large scale essentially what the Geico commercials did in 30-second pieces.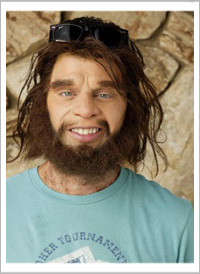 Another clue comes in the obligatory ABC.com sit-down interviews the three cavemen (who also include Bill English as Joel, the most "assimilated" and mature of the group, and Sam Huntington as Andy, the youngest and most guileless caveman) did as part of the network's new show promos. They never break character during the chat, which reveals that a big part of the show's premise will be that the cavemen are treated as racial minorities in their newfound lives in San Diego, and their reactions to the prejudice, ignorance and discomfort they produce in people is going to form a lot of the comedy. Joel, for instance, is engaged to a Homo sapien girl - but her family disapproves.
Here's some of the dialogue from the interview promo:
Interviewer: Now that you're part of Hollywood, what's your reaction to the younger Hollywood, the Britneys, the Lindsays . . . ?
Andy: I love them all. I really think they have such a wonderful place in this world.
Nick: I think they're underrated as actors.
Joel: First and foremost. I mean, I'm an avid reader of all kinds of entertainment publications . . .
Nick: The important stuff.
Joel: . . . just the important stuff, because what's happening in the club scene is important.
Andy: We live in the town, we live in Hollywood.
Joel: Yes, we live here, so . . .
Nick: (angrily) What's happening in Darfur is important! What's happening around the world is important.
Joel: Yes, but I'm just saying . . .
Nick: What's happening among the oppression of cavemen in modern media is important.
Joel: Of course. Thus he's going to segue right now into the . . .
Nick: I'm working on my dissertation.
Andy (exasperated): Every single time. Every time.
Joel: It's fine, though. He's taking the right steps, it's just that it's taking him quite awhile to move forward, because he's been working on it for about seven years.
Nick: I want to get it right! Did Alexander Graham Bell stop when he was inventing the car? No.
Andy: That's actually an extremely valid point.
Life lessons learned? I think this could be the exception where "yes" would be good. The world probably needs to learn a lot about the lives of cavemen, and vice versa.
Cute kids? Doesn't seem to be. I wonder if the caveman-modern woman offspring would be "cute?"
Annoyingly wacky family? John Heard will be playing Caveman Joel's prospective father-in-law. He's good, not annoying.
Nerd factor? Low. Caveman Nick is more a whiny intellectual than a nerd.
*
5. Carpoolers (ABC, Tuesdays, 7:30 p.m.)
The fate of Carpoolers will depend a lot on its lead-in, Cavemen. So I wouldn't want to be former Kids in the Hall Bruce McCullough and Kevin McDonald right now. They're the producers, and it's got to be a pretty queasy feeling for them, knowing that their baby will probably live or die with the fortunes of a high-concept experiment based on the dubious success of some TV commercials. Good luck on that, guys!
The thing that jumps out at me right away about Carpoolers is the presence of Fred Goss, whose criminally ignored and short-lived ABC show Sons and Daughters was, hands-down, the best comedy of the 2005-06 TV season. He wrote and produced that show as well, which he's not doing here, so his contributions will, at least at the start, be confined to acting. But his style veers crazily from middle-aged, mild-mannered, wry everyman to physical comedy in the blink of an eye. It's pretty unique.
The premise here is that culturally conservative businessman Goss spends his morning commutes bonding with his playboy dentist buddy Laird (Jerry O'Connell, who played a detective in Crossing Jordan) and two other guys from his neighborhood: annoying newlywed Dougie (soap opera hunk Tim Peper) and put-upon family man Aubrey (former SNL cast member Jerry Minor). They are very different people who probably wouldn't be seen near each other if weren't for their car pool, so as they interact and reveal their lives to each other, it's a comedic process of discovery, as they say.
The one clip ABC has made available shows the four of them arguing in the car about marriage, the cost of toasters and other such topics, while there also seems to be some passive aggressive maneuvering for parking spaces. It doesn't all take place in the car. That's apparent because there are more cast members, including at least two wives. There's also a scene where three of them break into Goss' home to steal the expensive toaster. I'm sure they have a perfectly valid reason.
I have to say I'm a little concerned because I'm not detecting a lot of sparkling dialog here. But then again, in the realm of the single-camera, no-laugh-track comedy, it's not rat-a-tat Amy S-P-style that's as important as the character development, so it's really tough to judge that with only one clip. But no less a personage than Goss himself assures us on ABC.com that the provided clip isn't indicative: Don't pay attention to it, he says, adding, "It's really a funny show."
We quality-starved comedy fans, and bunch of cavemen, be probably be the final arbiters of that.
Life lessons learned? This has the potential for learned lessons. I hope not. I want the carpoolers to get dumber as the show progresses.
Cute kids? Well, one carpooler seems to have a nagging family. They may not be cute as much annoying.
Annoyingly wacky family? Hard to tell.
Nerd factor? Low. The annoying family guy could be a nerd, though. We'll see.
*
6. Samantha Who? (ABC, Mondays 8:30 p.m.)
Samantha whaaa?
This Christina Applegate single-cam vehicle holds the distinction of being the only show in the history of TV to be slapped around by...ulp... Dr. Seuss, whose estate was so upset about this show they gave Disney's famously litigious lawyers a run for their money. Up until a short while ago, it was going to be called Sam I Am, which was a clever and pretty apt title since it's about a woman named Samantha who wakes up with amnesia and spends most of the show finding out what a jerk she used to be. But then Disney heard a... who? Oh yeah, a legal eagle from a children's book publisher (maybe Parker Posey sent him).
So it was renamed Samantha Be Good, because, see, she used to be mean. And now? Like I said... whaaa?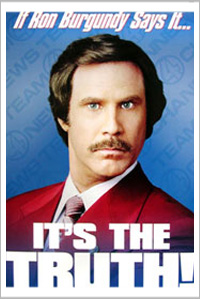 Another thing that this show demonstrates is how thoroughly Will Farrell has become the king of comedy. This is the third new comedy by my count that some kind of Farrell-related DNA. Cavemen is created by the guys who directed his movie Blades of Glory, and Kelsey Grammer's character in Back To You is a rip-off of Farrell's Anchorman. And who was his co-star in that movie? Yep. Christina Applegate. She was truly funny in Anchorman - it was a role that revitalized her movie comedy career, and I think Samantha Who? is a direct result of that triumph. But I wish she could have gotten something better than this, which looks to be unsalvageable even for a top-of-form Applegate.
The premise is hackneyed. I mean, amnesia? Even soap operas think twice before pulling that chestnut out of the hat. The clips show Christina waking up from an eight-day coma, apparently an entirely changed person from the handful she used to be. And as everyone knows, comas will do that to you. Oh, yeah, she's way different now - she's turned into a goo-goo fuddy-duddy totally unlike the hellion she was only a week or so ago. The conceit is it's a chance for someone with a lot of baggage to start over again clean. I suppose it shows us we should look at life as something new and exciting every day, right? I'm learning a lesson here - and I hate that.
Sam I'm Not takes not one, not two, but three age-old TV show plot devices and combines them for a triple threat: It's the fish-out-of-water (cliche No. 1) combined with the convenient amnesia (cliche No. 2), and since the lead character doesn't know who she is, she's going to be spending most of the time "discovering herself" (cliche no. 3). There to help and/or hinder her is what looks like the latest collection in a long, long line of "eccentric" TV friends a family members, including the harridan mom (Jean Smart), the party-animal best buddy (Jennifer Esposito), the long-suffering nice-guy boyfriend (Barry Watson), etc., etc. They're all going to be dealing with having their negative preconceptions of Samantha no longer apply, and while that could be funny, it's all been done so many times before. And, really, how long can it last before the device runs its course? It usually only a takes a few months on the soaps.
Applegate says she has "a lot of input" into the show and its direction. Here's hoping she can rise to the occasion, take a loser of premise and turn it into something resembling a smart comedy.
Life lessons learned? Oh God. Nothing but. That's why I'm very afraid.
Cute kids? Not that I can see. One saving grace.
Annoyingly wacky family? Yes, yes, yes. In fact, it seems to be all about how annoyingly wacky her family is. Yawn.
Nerd factor? Moderate. I think the boyfriend is kind of a "nice guy" rather than a D&D-playing brainiac.
*
7. Big Bang Theory (CBS, Mondays, 7:30 p.m.)
Nerds. Geez, they're everywhere these days. In the movies, on NBC, on the CW, on CBS, every-damn-where you look. You get the feeling that may be because the percentage of comedy writers who at one time may have gotten an atomic wedgie is pretty high. Perhaps far, far higher than the population at large. Really, how else can you explain the uncanny ability of so many TV shows and movies to precisely nail every pathetic detail of the nerd's really-not-so-funny struggle to avoid becoming roadkill on the superhighway of love? It was funny about a million movies ago when Anthony Edwards rode his pocket protector to immortality, but c'mon, after all these years, can't we give the poindexters a break?
Apparently not. CBS, as usual jumping right on top of a breaking trend, trots out Big Bang Theory, where in the first episode, a dumb, buxom blonde moves in next door to an apartment full of brainiacs and, as they say, turns their world topsy-turvy! She's oblivious to their nerdliness (something I call "male writers' fantasy") while they compete for the chick's attention in various hilarious ways, such as a) offering her a juice box; b) showing off their whiteboards chock o'block with math calculations; and c) (woo-hoo!) offering to let her - wait for it, now - use their shower!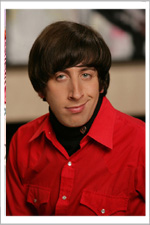 See, hers is broken. (A broken shower. I don't think I've ever actually seen one of those). That brings the comment from No. 2 nerd Sheldon: "It has been some time since we've had a woman take her clothes off in our apartment." No. 1 nerd Leonard answers: "That's not true. Remember at Thanksgiving my grandmother with Alzheimer's had that episode . . . ?" (Sheldon and Leonard. Like in the legendary TV comedy producer, Sheldon Leonard? You know, The Andy Griffith Show, The Dick Van Dyke Show? No, the creators of Big Bang aren't modest whosoever).
Well, now the nerds are really in for it because they, like all book-smart but life-dumb young Aspergers' Syndrome sufferers, they're blind to social cues and mistake the kindness of bimbos for something else entirely. It's not long before they have a run-in with the blonde's boyfriend and somehow lose their pants. Hi-yuk! I love it when nerds are pantsed.
In nerd humor, success is entirely a function of the humiliation quotient (don't mean to sound too, um, nerdy here). That is, the more blithely the nerd wanders onto dangerous ground, and the more the painful his comeuppance, the better. So, with that in mind, it seems like the biggest laugh-getting geek here is neither Sheldon nor Leonard, but their friend, would-be ladies' nerd Wolowitz (pictured), played by Simon Helberg, a refugee from Studio 60 On the Sunset Strip where he played the cast member who impersonated Nicolas Cage. Wolowitz is a Cal Tech scientist who seems proud to be "out" as nerd. I predict he will be just a little too funny, and thus will be severely beaten by a jock.

In the end, though, this one looks pretty bad, along the lines of the tiresome Van Wilder movies. Where is Freaks & Geeks when you need it? Oh, yeah. On DVD.
Life lessons learned? What is a nerd if not a life lesson waiting to happen?
Cute kids? Doesn't seem to be.
Annoyingly wacky family? Again, it doesn't seem likely, at least at the outset.
Nerd factor? CBS goes for broke that this alone is enough. I doubt it.
*
8. Aliens In America (CW, Mondays, 7:30 pm)
Yet another journey into nerd territory, but Aliens in America takes it in more of a Harold & Kumar Go To White Castle direction - that is, one of them is a minority nerd (the second one of the new season, The IT Crowd's "Ross" being the other). The "minority nerd as laff-riot" gambit, which quickly seems to be turning into a sitcom staple, was established by Fez from That 70's Show, and is mined further here by Adhir Kalyan, a South African lad of Indian descent who plays, ironically considering relations between India and Pakistan, a Pakistani Muslim.
Through some wacky mix-up, he ends up as a foreign exchange high-schooler assigned to live with the Tolchucks of Medora, Wisconsin - and, since as everyone knows Wisconsinites are pretty much clueless bigots, the Tolchucks were expecting a blonde Swedish dude and are deeply disappointed when "Raja" shows up at the Chippewa Falls airport. (Also, I'm wondering, given the standard set by That 70's Show, is Wisconsin just inherently funny, or what? Is it the polkas?)
So Raja is one of the aliens of the title, the foreign national kind. The other is Justin Tolchuck (played by Dan Byrd). He's more of the outer-space kind of alien because he's a nerd - he was voted by the senior bullies as the eighth-prettiest girl in school. In an effort to save him from feeling so alone, mom Amy Pietz (about the eighteenth pushy older woman character of the new season) hatched the idea of the foreign exchange student so Justin could have a buddy. Raja isn't what she had in mind, however. And she wants to know why she can't return him like when she orders a coffee maker and gets a toaster. So now the two losers are together - aliens in America. The homeboy nerd and the foreign nerd - kinda like Eric Forman and Fez. Only we know where Raja comes from.
So does the rest of the school. In one clip provided the CW, it looks like bigotry of both young and old Wisconsinites will come in for a thorough comedic airing. The nasty teacher, on the first day of class, says, "For one year we will be in the presence of a real, live Pakistani . . . who practices Muslimism. How does everyone feel about Raja and his differences?"
Oh, and of course, there's a tasty sister Tolchuck, who, like mom, seems to be mindlessly self-centered. Naturally Raja falls in love with her. And what devout Muslim wouldn't want an arrogant, value-free bimbo, as long as she's hot? Judging from the clips, Raja will spend many a guffaw-filled half-hour overcoming the family's and townfolks' prejudices and showing them what a cool, non-terrorist nerd he really is.
Actually, I have to say, this multi-cam laffer (I'm really working on my Variety lingo) has the makings of a pretty funny show. And to be sure, it's refreshing to see issues of race and religion dealt with at all on network TV. But it'll be geek vs. geek on Mondays, as this is scheduled opposite The Big Bang Theory on CBS. My money's on Raja, though, whom I think could become this year's Harold , , , or is it Kumar?
Life lessons learned? I foresee nothing but life lessons, but I think these, instead of the usual kind of smarm like 'being true to yourself", "seeing the good in others," etc., etc., we'll get lessons that maybe we really should know, like, just because you pray towards Mecca three times a day, you shouldn't be called "Fudge-Pakistani."
Cute kids? The teens are cute. No acting-challenged l'il kids that I can see.
Annoyingly wacky family? Yep.
Nerd factor? High. Raised to a new TV level.
Posted by Don at 12:05 AM | Permalink
Reviewing the Reviews
Sept. 15 - 16.
Publication: The New York Review of Books
Cover: Citizen Gore? I'm reading this online.
"There is almost no autobiographical reflection in The Assault on Reason, but early on he tells a story about his first Senate race, in 1984," Michael Tomasky writes. "He had done no polling when he first ran for the House, but as a statewide candidate, he succumbed. He describes a 'turning point' in the race when his opponent, Victor Ashe, was gaining on him:
"After a long and detailed review of all the polling information and careful testing of potential TV commercials, the anticipated response from my opponent's campaign and the planned response to the response, my campaign advisers made a recommendation and prediction that surprised me with its specificity: "If you run this ad at this many 'points' [a measure of the size of the advertising buy], and if Ashe responds as we anticipate, and then we purchase this many points to air our response to his response, the net result after three weeks will be an increase of 8.5 percent in your lead in the polls."

I authorized the plan and was astonished when three weeks later my lead had increased by exactly 8.5 percent. Though pleased, of course, for my own campaign, I had a sense of foreboding for what this revealed about our democracy. Clearly, at least to some degree, the "consent of the governed" was becoming a commodity to be purchased by the highest bidder."
Of course, if the pollsters were really that good each and every time out . . . well, we know they aren't. And couldn't the other side's pollster see the same thing and take steps to prevent it?
*
"The sad irony of the 2000 debacle is not only that we've been stuck with George W. Bush, frightful as that is, but also that Gore, even with his limitations, could have been a great president," Tomasky writes. "He distinguished himself as an engaged - though not overbearing - vice president, whose participation in 'eight years of six-days-a-week CIA briefings' would clearly have counted for a great deal in light of events. I've always thought it possible that a Gore administration might have prevented the September 11 attacks. But even failing that, his response to September 11 would have been along the lines many Americans now wish we'd pursued - forceful but measured and concerned to promote a new, democratic internationalism that would not have squandered the world's good will. We would at least have started doing something about climate change, health care, and a host of other issues."
*
Publication: Tribune
Cover: "The Enemy's Voice: Viet Cong's diary of life during the war."
Other Reviews & News of Note: Garrison Keillor has a new Lake Wobegon book. Reviewer Art Winslow took so much time explaining what Lake Wobegon was that I turned the page before I got to the new book. I'll read about it somewhere else.
*
Publication: Sun-Times
Cover: "A Stitch in Time: Gioia Diliberto steps back into the early 20th century world of fashion's Coco Chanel."
No thanks.
Other Reviews & News of Note: A review of Jeffrey Toobin's The Nine: Inside the Secret World of the Supreme Court fails to mention the book's startling revelation that Justice David Souter was so distraught over the court's partisanship in Bush v. Gore that he almost resigned.
*
Publication: New York Times
Cover: A review of The Indian Clerk.
Other Reviews & News of Note: "Twenty years ago, when Reagan and Gorbachev were negotiating the end of the cold war and college cost far less than it does today, a book arrived like a shot across the bow of academia: The Closing of the American Mind, by Allan Bloom, a larger-than-life political philosophy professor at the University of Chicago. Subtitled "How Higher Education Has Failed Democracy and Impoverished the Souls of Today's Students," it spent more than a year on the best-seller list, and today there are more than 1.2 million copies in print. Saul Bellow, who had urged his brilliant and highly idiosyncratic friend to write the book in the first place, wrote the introduction. (Bellow later cast Bloom as the main character in Ravelstein)," writes Rachel Donadio.
"Bloom's book was full of bold claims: that abandoning the Western canon had dumbed down universities, while the "relativism" that had replaced it had "extinguished the real motive of education, the search for a good life"; that rock music "ruins the imagination of young people"; that America had produced no significant contributions to intellectual life since the 1950s; and that many earlier contributions were just watered-down versions of Heidegger, Nietzsche, Weber, Freud and other Continental thinkers. For Bloom, things had gone wrong in the '60s, when universities took on "the imperative to promote equality, stamp out racism, sexism and elitism (the peculiar crimes of our democratic society), as well as war," he wrote, because they thought such attempts at social change "possessed a moral truth superior to any the university could provide."
Of course, anyone who thinks rock music ruins the imagination of young people is an idiot. Including Allan Bloom.
So much for his open mind and fancy education.
CHARTS:
1. Bill Clinton
2. Mother Theresa
3. Navy Seal
George W. Bush is 4th; Tony Dungy is 5th; Pattie Boyd is 6th; Alan Jackson's wife is 9th; Anna Nicole Smith is 10th; the un-great God is 12th; Dog Chapman is 13th; Jerome Bettis is 14th.
Posted by Lou at 12:01 AM | Permalink
September 15, 2007
The Weekend Desk Report
Don't worry. Everything is still just fine.
Market Update
Markets soared this week on the unexpected news that, despite copious evidence to the contrary, we are totally winning. Just remember, success is always a little costly.

Juice Wins!
In related news, O.J. Simpson has announced he is a victim of his own success.
Earth Wins!
In more related news, scientists have discovered that international shipping has won the war on ice. Also tallying encouraging victories? Potatoes, fast-swimming polar bears, and, surprisingly, Big Oil.
Morality Wins!
In still more related news, Southwest Airlines has announced this week another victory in the seemingly intractable War on Hotties.
Steve Wins!
In totally related, happy news, Richard Branson has announced that Steve Fossett has won the War on Death.
We win!
And finally, in the most impressively related news of all, Governor Blagojevich has announced that he has won the War for Transit. Or was that the War on Transit? Whatever; everything is fine until November.
*
Natasha Julius's Weekend Desk Reports are stored here, with The Papers. Join the Beachwood Archivists Club and read them all!
Posted by Natasha at 08:15 AM | Permalink
September 14, 2007
The [Friday] Papers
The mayor pulled out one of his favorite tropes on Thursday to deflect criticism in a federal report of a CTA crumbling with incompetence, stupidity, and life-threatening shoddy maintenance complete with false and missing inspection reports.
It happened on Richard M. Daley's watch. He's been mayor for 18 years. But, as usual, his reply to questions about the report was to point a finger back at the media.
"When we get one of the newspaper people [who] does something wrong, we don't indict all the media . . . we would not do that to your profession. The same thing here."
Yes, it's the same thing here!
"You have instance after instance in your profession. You close your eyes and look the other way. We don't look the other way."
If the Sun-Times really meant its front-page editorial on Thursday demanding a CTA fix, it would have followed today with a front-page excoriation of the mayor's disingenuous assault on reason.
But ho hum, time to move on.
I have some questions, though.
So, Mr. Mayor, do you bear any responsibility for the shape of the CTA?
Was your oversight lax?
If you are such a demanding boss, how could this occur on your watch?
Were you aware of these problems when you replaced Frank Kruesi with Ron Huberman?
Does the CTA need a complete overhaul? A new vision? How are you going to fix it?
"With CTA President Ron Huberman nodding at his side, Daley insisted that the problems uncovered by the National Transportation Safety Board have been fixed - and that all of the employees responsible have been held accountable."
Really, Mr. Mayor? How have you fixed the problem of 80 percent of the Blue Line's inspection records going missing? And how have you fixed the problem of falsified inspection reports?
"Huberman insisted that the director, manager, supervisor and foreman involved all have been replaced."
Well, that's a start. But what about their bosses? And the underlings who went along? How could this happen?
Mr. Mayor, you insist that these problems were isolated, not systemwide. Just like the rampant corruption in City Hall. But just how could that be? The Blue Line's inspection reports can be either falsified or non-existent and only the four people mentioned by Huberman know about it?
No reasonable person could draw a conclusion that there isn't a systemic problem here.
And while the local press certainly needs remedial journalism education, they certainly don't need the kind coming from the mayor.
Daley's CTA
"Bob Chipkevich, director of the [NTSB's] office of railroad, pipeline and hazardous materials investigations, said the CTA's track inspection and maintenance were the worst he had ever seen at a U.S. transit agency," the Tribune reports.
Free to Ride About the City
"The obvious solution to the CTA debacle is to turn it over to Southwest Airlines," Scott Phillips of Rogers Park writes to the Sun-Times (sixth letter).
In the least, perhaps the city should ask: What Would Herb Do?
Ebert on Dylan
"Let us now praise I'm Not There, a film about a famous man, Bob Dylan. Todd Haynes (Far From Heaven) takes an enormous risk and makes a brilliant, if seemingly impossible, film starring six actors as the mysterious cultural icon. Who is Dylan? How many selves does he have? Why are we so fascinated by such questions?"
- Roger Ebert, "Everybody Must Get Cloned"
Seven Up
Breaking news this morning: "Seven Cities Apply For 2016 Olympics."
1. Baku, Azerbaijan
2. Chicago
3. Doha, Qatar
4. Madrid
5. Prague
6. Rio de Janeiro
7. Tokyo
Suicide Suspected
"Orlando Jones, the top aide and godson of former Cook County Board President John Stroger, parlayed his connections into a lucrative career as a behind-the-scenes government consultant with ties stretching from Chicago to Springfield and Las Vegas," the Tribune reports.
"But in the last year, his quiet, insider role had brought him under more scrutiny of law enforcement, and on Tuesday he met with his lawyer to discuss how to refute allegations that he was involved in a contract scheme at a Las Vegas public hospital.
"A day later, Jones, 52, was found dead on a beach in southwest Michigan, and authorities said they believe he shot himself near the vacation property where he had hoped to build a home."
*
"Jones was the brains of Chicago's 8th Ward political organization, the South Side seat of Stroger's power," the Tribune says in an editorial today.
"He shared Stroger's passion for protecting the poor - and Stroger's use of political muscle to achieve what he wanted. In talking about contracts and jobs, Jones sometimes posed a very good question: If white Chicago pols and their friends could profiteer from clout, why not African-American pols and their friends?"
*
John Kass on Orlando Jones and Daley's CTA.
*
In the FCC Loop
Outside the Loop Radio has an interview today with FCC Commissioner Jonathan Adelstein today at noon and the audio will hit the WLUW (88.7-FM) airwaves at 6 p.m.
Adelstein will be in Chicago next week for hearings on media consolidation.
In Your Head
Product Placements of the Week.
The Beachwood Tip Line: Inspection records available.
Posted by Lou at 08:50 AM | Permalink
The Blue & Orange Kool-Aid Report
In roughly a month, Drew Carey debuts as the new host of The Price is Right. Carey is famously a Browns fan. If he was a Bears fan, he might make these slight adjustments to TPiR's games.
*
Now . . . and Then: Compare key rushing statistics and determine if the Bears top back is Cedric Benson (now) or Thomas Jones (then).
*
East of Edens: Estimate the blood-alcohol level, speed of car, or number of lies told by Tank Johnson without going over.
*
Lucky 7: Make contestants determine whether the figure behind the screen is the Adrian Peterson who had more than seven yards per touch or the Adrian Peterson who had a seven-carry, one-fumble performance.

*
Grossman Plinko: Drop a football-shaped chip into a myriad of pegs resembling defenders. Sometimes the chip falls into defender or into slots at bottom labeled "Complete" or "Incomplete." Ironically, the player never wins, but rather relies on somebody else's performance to determine victory or defeat.
*
Rename "Pricing Game" the "Cedric Benson Pricing Game:" Like any TPiRer who wants to be "called down," the player acts excited to get into game, but not so much while playing.
*
Shell Game: Make contestants determine whether the blank stare on the sideline belongs to Lovie Smith or two-time ex-Raiders coach Art Shell
*
Hit Me: Have contestants use their thumb and forefinger to crush as many Bears receivers going over the middle trying to catch wobbly, inaccurate passes as they can in the time allowed.
*
One Away: List four players who would make Chicago Super Bowl champs if only he played for the Bears. Estimate the size of their contract without going over.
*
Hole in One or Two: Estimate cost of Mike Brown surgeries without going over.
-
Kansas City Chiefs at Chicago Bears
It's been a weird three days. First, somebody hit my car and drove off. Then I witnessed a domestic abuse situation. Both times, the police came and failed to use unnecessary force, though somebody deserved it. Therefore, I need to see somebody get their ass kicked . . . I'd much rather see the Steelers doing the ass-kicking, but this week the Bears beat the Chiefs like a rented mule.
Pick: Bears minus 12, Under 35 Points Scored.
*
Sugar in the Blue and Orange Kool-Aid: 50%
Recommended Sugar in the Blue and Orange Kool-Aid: 45%
*
For more Emery, see the Kool-Aid archive, and the Over/Under archive. Emery accepts comments from Bears fans reluctantly and everyone else tolerably.
Posted by Lou at 12:56 AM | Permalink
Should You Buy It? O.J. Ethics
You have a right to buy If I Did It . . . but it's not right to buy it.
After a delay of almost a year, you now have an opportunity to buy a copy of O.J. Simpson's book, If I Did It.
You have a right to buy it. But you shouldn't. This is an immoral book that should never have seen the light of day.
Beaufort Books, a small, independent publisher, had a legal right to publish If I Did It, but it was wrong for them to do so.
How is it possible that we can have a right to do something that is wrong? Who is to say that this book, or anything for that matter, is immoral? I'll explain.
Living in a free-market economy means that, except in extreme circumstances, merchants are entitled to offer whatever goods and services they please, and consumers are free to decide what they want to purchase and what they wish to do without. Not everyone is able to buy what they'd like, and most consumers will find something objectionable in the marketplace. However, unless a product or service is justifiably illegal (e.g., child pornography, heroin, or pirated movies), consumers are obliged to put up with the sale of material that they might find offensive, disgusting, off-putting, or immoral. A broad level of tolerance is the price we must pay for living in a free society.
Still, having the right to buy something does not mean that it is right to do it, and simply because it is legal to do something doesn't mean that it's ethical to do it. For example, you are not breaking any law by lying to your spouse, but you shouldn't do so. You have a right to eat junk food three times a day, but a steady diet of hamburgers, fries, and milkshakes is harmful, so you ought not to eat this way. With rights come responsibilities, and two of the central responsibilities human beings have is to do no harm and to treat others with respect.
This is why it would be wrong to buy a copy of what the family of Ron Goldman, one of Simpson's murder victims, is calling "the killer's confession."
The claim that it is immoral to buy the Simpson book was uncontroversial last year when HarperCollins, a division of News Corp., attempted to publish the book under Judith Regan's imprint there. The idea that a company would profit by such a lurid spectacle provoked such outrage that Regan was fired, HarperCollins withdrew the book, and News Corp. President Rupert Murdoch issued a public apology about his company's involvement in the whole sordid affair.
Since then, however, a Florida bankruptcy court awarded the Goldman family the rights to the book, and in an astonishing about-face from its original position, the family has now sanctioned publication. The book now includes a 14,000 word-commentary, along with a redesigned cover that appears to make the title look like I Did It because the word If is almost impossible to see. The family has also changed the name of the author to "the killer."
Surely now that a portion of the proceeds of the book are going not to Mr. Simpson but to a foundation established in Ron Goldman's name, it would not only be permissible to buy the book; it would be a good thing to do. Right?
Wrong.
The content of the book itself is unaltered from the way it would have appeared last year had HarperCollins gone through with its plans. The gruesome details of the night of the murder are there for all - including the two children of one of the victims - to see. If I Did It is not a legal document, and it does not even purport to be the truth. It is exploitation masquerading as a significant literary event, and its mere existence is a blight on civilized society. To buy it is to contribute to the degradation of our culture, our dignity, and our own souls. This is why Beaufort Books did the wrong thing by publishing it, even though they had a right to do so. This is also why you ought not to buy it, even though you are entitled to.
The Ron Goldman Foundation for Justice is one of many worthy nonprofit organizations to which we can and should contribute - but not in this way.
The fact that Denise Brown, the sister of Mr. Simpson's other victim, Nicole Brown Simpson, has called for a boycott of this book is another reason why those of us who want to be a force for good, or at least not a force for evil, would do well to reject the opportunity to buy If I Did It, even if we are within our legal rights to do so.
"But what you're calling for is censorship!" some may say.
Not at all. Censorship occurs when a government prohibits its citizens from reading, viewing, or listening to anything it deems objectionable. If Congress passed a law barring the publication or purchase of If I Did It, that would be censorship. Citizens who attempt to make a case for why it would be wrong to buy this book are not engaging in censorship. They are legitimately exercising their legal and moral right of free speech, and this is the most patriotic, American, Constitution-loving thing a person can do in this country. That is, along with attempting to make a case for why it would be a good thing to buy this book.
Thus, one of the best ways you can make use of the marketplace of ideas right now is to decide for yourself whether or not you ought to buy O.J. Simpson's book, to justify your decision, and to make your position known.
Let freedom ring!
*
Comments? You must provide a real name to be considered for publication.
*
The Ethics Guys is Bruce Weinstein. This essay also appears today at BusinessWeek.com.
Posted by Lou at 12:46 AM | Permalink
Hemp for Horses
The following press release introducing Hemp for Horses, a business that takes a holistic approach to equine health, may be of interest to your audience. Any editorial comment or mention that you may give this press release would be greatly appreciated.
- - -
HEMP FOR HORSES: A HOLISTIC APPROACH FOR BETTER EQUINE (and CANINE) HEALTH
Dateline: September 13, 2007 . . . Minton, SK, Canada
Contact: Lana Tatarliov
Phone: (306) 869-2244
Web Address: www.hempforhorses.com
MINTON, SK, CANADA - September 13, 2007 - Despite misconceptions about hemp, an increasing number of horse owners are finding that the plant's nutritional properties reduce inflammation and increase the overall well being of their animals (all warm-blooded animals can benefit). "Hemp is emphatically not a drug. It is a natural product that is absolutely safe with no side effects," says Lana Tatarliov, who has launched Hemp for Horses (www.hempforhorses.com). "Feeding hemp to horses provides them with a combination of essential fatty acids not found in other oils."
Although illegal to grow in the United States, the strictly regulated Canadian hemp can be imported to the U.S. "Commercial hemp is tracked, inspected and tested from certified seeds through harvesting to ensure that it contains less than 0.3 percent of the psychoactive agent THC," says Tatarliov.
Tatarliov, an organic farmer who raises beef cattle and Egyptian Arabian horses in Saskatchewan, was inspired when two farmers contacted her to market their human hemp product to horse owners as a holistic approach to better equine health. After seeing the positive results of feeding hemp to her own horses and doing her own research, Tatarliov was convinced that she had a nutritional powerhouse on her hands. In fact, it has been called by some the most nutritionally complete food source in the world.
Tatarliov enumerates the many nutritional qualities of hemp, which include essential amino acids, essential fatty acids, flavonoids, cannabinoids, and terpenoids. "Amino acids are the building blocks of protein, while essential fatty acids are important for the development of the brain, eyes, and nervous system," she says. "Flavonoids are powerful antioxidants, cannabinoids have anti-inflammatory properties, and terpenoids have both, as well as antimicrobial properties." In addition, hemp protein consists of edistin and albumin both commonly thought to be the most easily digestible protein.
While most human hemp food products use only the hemp-seed, Hemp for Horses uses the entire plant harvested at its nutritional peak. It is 100% hemp, with no additives. "We feel that the benefits are greater using the whole plant because there are important compounds in the leaves that are not in the hemp-seed. These compounds provide horses with a number of potential benefits," Tatarliov says.
Tatarliov has solicited owners of several sanctuaries for abused and neglected horses to try the product on their most severe cases of arthritis, joint ailments, inflammation, intestinal conditions, founder, and hard keepers. The results have been astounding with horses regaining their mobility, hard keepers maintaining weight, and attitudes significantly improving with the decrease of pain. Concluded Tatarliov, "Although this is not a clinical trial per se, we're confident that it will provide owners with the information they need to begin supplementing their horses' diets with hemp." Progress reports on the rescue horses can be found at: www.hempforhorses.com
*
Hemp for Horses is planning on expanding its product line soon to include horse treats, dog treats, and cat treats. Also in the works is Hemp for Pets a supplement for rabbits, hamsters, gerbils, and other small animals.

Posted by Lou at 12:39 AM | Permalink
September 13, 2007
The [Thursday] Papers
Still slightly hobbled by my ISP issues, but I'm reporting live again today from the Beachwood's Palmer Square bureau. Beachwood HQ should be up to full speed later today.
Nonetheless, we have a new Over/Under, the wildly popular football column by the wildly popular Eric Emery; and in case you missed it yesterday, a new Periodical Table featuring Rick Rubin, Tina Fey, loud eyeballs and the conservative U of C scholar who found the White House's abuse of power too much to bear, as well as a 9/11 poem by our poet-in-residence, J.J. Tindall. Plus, the Beachwood debut of longtime local personality Chicago Ed Schwartz.
And now, on to the news.
Blago Blackjack
Rosemont Mayor Bradley Stephens says Rod Blagojevich told him to his face that he supports a casino in Stephens' town, the Tribune reports.
We all know, though, that the governor keeping his word about anything is:
A) A crapshoot.
B) A long shot.
C) A bluff.
"Representatives of Blagojevich and legislative leaders would not confirm the meetings were held."
Officials from the governor's office would also not confirm that Blagojevich was, in fact, the governor nor rumors that he was an android.
Duty Calls
"[S]ometimes, as we have learned repeatedly in Iraq, optimism is just another word for self-delusion."
- The Trib's Steve Chapman, "More False Optimism on the Iraq War"
Alt Police
"[T]he city has signed an $8.7 million contract to buy as many as 300 Toyota hybrid vehicles that use electric power and plans to buy the first city police cars ever to run on alternative fuel," the Tribune reports.
Apparently, though, we can't afford alternative policing.
Bug Out
I wonder if Wilco played their Volkswagen commercials between songs last night.
Slipshod Accounting
The Chicago Park District has agreed to one of many coming contracts to spend $67 million building two new harbors that could be used for the 2016 Olympics, the Sun-Times reports.
"Park officials say that even if Chicago doesn't win its bid for the Games, demand for harbor space will make the sites successful. Slip revenues from pleasure boats would cover construction costs, parks Supt. Timothy Mitchell said."
A) And if not, Mitchell will pay the difference out of his own pocket. Er, I mean, you will.
B) Then Mitchell stuffed a red flag back in his pocket.
C) Then Mitchell burst out laughing.
Great Godson
John Stroger's godson gets a six-figure "referral fee" every year for an introduction he made to a state board in 2004, the Sun-Times's Chris Fusco reports.
That's the same godson being pursued by Las Vegas police in an alleged kickback scheme.
The one who used to work for Tony Rezko.
BREAKING NEWS 10:16 A.M.: Orlando Jones Found Dead.
Nondisclosure Agreement
"The Better Government Association says 66 people appointed to state boards, commissions, authorities and task forces have failed to file a required state contracts disclosure form with the secretary of state's office," the Sun-Times reports.
The list includes deputy governor Sheila Nix, chief operating officer John Filan and CTA board chairwoman Carol Brown.
"We don't need no stinkin' disclosure forms," a source close to the governor said.
Top 10 Dealbreakers
Danielle writes to Cheryl Lavin's Tales From the Front:
"There are 10 dealbreakers for me. And guess what? My ex had all of them. (Except No. 6.)
1. Married.
2. Criminal history.
3. Addiction (alcohol/drugs/sex/gambling.)
4. Lives with 'roommate' of the opposite sex.
5. Unemployed.
6. Lives at home with mom who doesn't need him for medical reasons.
7. Has been married more than twice.
8. Is behind in his financial obligations.
9. Has history of infidelity.
10. Has children for whom he has never assumed financial responsibility."
Well, nine of 10 ain't bad.
Grow Up Now
The Sun-Times's front page editorial about the CTA would be more convincing if - given the run of desperate and silly front pages in recent months - it didn't smack of a marketing ploy.
It might also be smart for the Sun-Times at this point to steal a page from RedEye and give itself away free at train stations.
*
The Sun-Times chastises the political hacks who have sent the CTA into crisis but the paper hasn't exactly done its part, covering transportation and state budget issues on the cheap just like those they criticize.
*
Ultimately, it would have been more effective if the Sun-Times put a photo of the mayor riding bikes in Paris on the front page with its editorial and amended its cover language to "Mayor Daley, Fix the CTA Now!"
He should be in Springfield not only fighting for his constituents - us - but facing the music for allowing the system to deteriorate so badly under his watch.
*
The opening to today's superior Tribune editorial on the CTA: "Transit riders, stand down. Your crisis has been rescheduled for Nov. 4."
The Beachwood Tip Line: Stand up.
Posted by Lou at 08:37 AM | Permalink
Over/Under
Coming into the opening week of football, media coverage typically centers on the coaching and roster changes that occurred during the off-season. But what about the changes to the media coverage? For exampe, ESPN is now featuring a 10-year old in their pre-game program. So we're looking for wisdom from a prepubescent?
Well, okay then. Here are some other new segments I'd like to see.
*
Segment: John Madden and Special (and Naked) Guest Food Network Personality Giada Di Laurentiis in How To Fix a Bacon During Halftime.
Pro: Bacon is yummy. It is mankind's greatest invention.
Con: Madden stands in front. Splashing bacon grease on bare skin hurts.
*
Segment: Dr. Phil gives his folksy advice to wives trying to cope with their husbands' obsessive football watching habits.
Pro: Gives husbands leverage in watching more football.
Con: Gives wives more leverage in watching Oprah.
*
Segment: Neighborhood Guy Guarantees the Winner Against the Spread.
Pro: Builds community.
Con: Aggressive payment program when for surprisingly frequent losses.
*
Segment: Learned advanced football technology from Bill Cowher.
Pro: Tell Frank in Accounting about how you loved the Bears call of "I Right, Motion Right, Z Zip, X Drag" on that 3rd-and-12 play.
Con: Wife doesn't appreciate your new way of giving directions.
*
Segment: Office Confidence Pool Weekly
Pro: Easy way to make your weekly office confidence pool picks.
Con: Twenty-way tie for first place every week.
*
Segment: Internet Confidential: The latest on sites that bypass your office's Internet filter system.
Pro: Get your football information without alerting IT or HR.
Con: None.
*
Segment: Take An NFL Player To . . .
* Work - It could go something like this.
* Dinner at the in-laws - Do you think your brother-in-law would brag about God knows what with Joey Porter sitting next to you?
* IRS Audit - Shove "documentation" where it belongs.
* Wedding Reception - Use NFL fullback to blaze a path to bathroom after your 15th Captain and Coke.
* Hospital - Have NFL player talk to the media regarding your injury. Have player give the standard "he'll be fine" response. This gives you confidence that you'll pull through surgery.
* Car shopping - Have player push the hood repeatedly to test the suspension. Later, have player run into door to test side-curtain airbag system.
Pro: Rock star parking and free drinks at every stop.
Con: Most players actually poor company.
-
OverHyped Game of the Week: San Diego at New England
Last week I declared my Man Crush on Tom Brady. I always thought he was the smartest, and dare I say, sexiest QB in the world. Now I find Brady has been video-enhanced. Something tells me this baby Brady allegedly fathered is as real as Tom Cruise's. Oh the humanity!
My heart cannot go on. On the other hand, this game's hype will.
Pick: San Diego Plus 3.5 Points, Under 47.5 Points Scored
*
UnderHyped Game of the Week: Green Bay at New York Giants
Did you see that befuddled look on Tom Coughlin's face last week? I recognize it. It's the same look my parents had when I told them I shoved a rock up my nose and I couldn't get it out. I was three, and enjoyed putting rocks up my nose. Thankfully, I no longer take pleasure in such pursuits.
Are there any great games this week? No. So just watch the one that results in the total destruction of Coughlin's will to live.
Pick: Green Bay Plus 3, Under 39 Total Points Scored
*
Last week: 4-2 (2-1 Against the Spread, 2-1 Over/Under)
-
For more Emery, see the Kool-Aid archive, and the Over/Under archive. Emery accepts comments from Bears fans reluctantly and everyone else tolerably.
Posted by Lou at 12:13 AM | Permalink
September 12, 2007
Things Found in Blago's Hair
A Beachwood investigation.
1. The system he was going to rock.
2. Favors list.
3. Address to the mansion in Springfield.
4. His sincerity.
5. His wife's real estate commissions.
6. Elvis TCB (Takin' Care of Business) ring.
7. Budget calculator.
8. God's will.
9. Emergency press releases.
10. Lost car keys.

Posted by Lou at 08:35 AM | Permalink
The Periodical Table
A weekly look at the magazines laying around Beachwood HQ.
Conservative Estimate
"In the fall of 2003, Jack L. Goldsmith was widely considered one of the brightest stars in the conservative legal firmament. A 40-year-old law professor from the University of Chicago, Goldsmith had established himself, with his friend and fellow law professor John Yoo, as a leading proponent of the view that international standards of human rights should not apply in cases before U.S. courts. In recognition of their prominence, Goldsmith and Yoo had been anointed the 'New Sovereigntists' by the journal Foreign Affairs."
Then he got to the White House and it was too much even for him.
Bright Eyes
"Your article made me smile because I, too, can hear my eyeballs."
- letter to Scientific American Mind in response to this article
Change Agents
"Many attempts to change our behavior are unsuccessful," Scientific American Mind reports. "For example, psychologist John Norcross of the University of Scranton found that only 19 percent of those who had made a New Year's resolution to change some problem behavior maintained the change when followed up two years later.
"People have a tendency to engage in patterns of behavior - jealousy, dependency, nagging, anger, violence and withdrawal, for example - that are often destructive to their significant relationships."
The problem? "Changing may take away the only means the person has known of dealing with distress."
The solution? "Helping people change means helping them want to change - not cajoling them with advice, persuasion or social pressure."
Tina Famous
Does Tina Fey really have to do American Express magazine ads (and commercials) that say "My card makes sure the funny stuff stays on my show and not on my bill"?
Ha ha ha ha ha, you're killing me, Tina!
How much money do people need? Isn't it enough to be fabulously wealthy? Why participate in letting crass commercialism erode our culture and put everything up for sale? And for creating an uneven playing field for those whose ethics and principles and values operate at a higher level?
Here's an idea for an ad:
Tina Fey: For Sale.
Like the rest of 'em.
*
Sadly, the Tina Fey ad was the most interesting thing in The New Yorker's advertiser-driven Food Issue.
*
Coming Never: The Annual Hunger Issue.
Inside Google
"Then there is the question of what all these people are supposed to do. 'We kind of like the chaos,' says Laszid Bock, Google personnel boss. 'Creativity comes out of people bumping into each other and not knowing where to go.'
"The most famous expression of this is the '20 percent time.' In theory, all Googlers, down to receptionists, can spend one-fifth exploring any new idea. Good stuff has indeed come out of this, including Google News, Gmail, and even those commuter shuttles and their Wi-Fi systems."
I'm sure that, as good as working for Google may be, it's not all Rock and Roll Heaven, but man I wish they would buy a Chicago newspaper.
*
Also from The Economist: Three of the world's biggest companies are now Chinese.
Rockin' Rick Rubin
Pretty fascinating New York Times Magazine cover profile last week of music impresario Rick Rubin, who is now trying to turn around Columbia Records.
"I'm not sure they realize that they are selling art," Rubin says. "Right now they could be selling any product. That's why we have to move - we're in the art business."
Journalism isn't art, but man I wish Rubin would buy a Chicago newspaper.
Back to Goldsmith
"What exactly are the legal limits of executive power in the post-9/11-world?"
The same as the limits in the pre-9/11 world. That's the beauty of the Constitution.
It's like free speech. It's easy to be for it when nobody is saying anything offensive or frightening. But then, those are times when Constitutional protection isn't even necessary. It's when speech offends and frightens that the right to express it has to be protected.
It's the same thing with our civil liberties and separation of powers. The only time they need protecting is when they are under threat. That's when we find out if we really mean it or the Constitution is just a bunch of words on paper tucked away in a drawer.
*
Goldsmith, the University of Chicago scholar in this week's New York Times Magazine, resigned nine months into his job in the White House Office of Legal Counsel because of "what he considered the constitutional excesses of the legal policies embraced by his White House superiors in the war on terror."
But he did not go public until now. Likewise, Colin Powell played Good Soldier and even Supreme Court Justice David Souter kept his mouth shut over Bush v. Gore. Dissent, done properly, is required in a democracy. It ought not be heroic and extraordinary in a healthy society, but a routine part of our governing process. Unfortunately, we're short of leaders who understand their duties and responsibilities to the citizens they work for.
*
In his profile of Rudy Giuliani, conventional pundit journalist extraordinaire Matt Bai channels his subject's message as a Colonel Jessup whom we need on that wall.
He never gets around to reminding us that Jessup was convicted of crimes that resulted in the peacetime death of a soldier in his charge.
Posted by Lou at 08:06 AM | Permalink
The [Wednesday] Papers
"Federal safety investigators blamed last year's CTA Blue Line derailment on poor track conditions that grew out of faulty inspections, falsified reports and systematic failures in the transit agency's management of track maintenance and inspection," the Sun-Times reports.
Meanwhile, Mayor Richard (Manager of the Year) Daley is in Paris riding bikes.
"Inoperative emergency call boxes in the tunnel the day of the accident and outdated subway maps at the CTA control center caused confusion about the eight-car train's location in the tunnel, between the Clark/Lake and Grand/Milwaukee stations in downtown Chicago, the [National Transportation Safety Board] report said," according to the Tribune's account.
"The disorder fueled a 22-minute lag in the Chicago Fire Department's arrival to evacuate the approximately 1,000 passengers aboard the evening rush-hour train."
And: "More than 80 percent of inspection records were missing for the Blue Line, the board's report noted."
And: "CTA tracks are supposed to be inspected twice a week, but one track inspector told a safety board investigator that he had inspected his assigned area only once in five months."
Meanwhile, the Daley Administration announced, according to a radio report this morning, that cabbies with two complaints against them will be called to City Hall for a good talking-to.
And the CTA doomsday clock is at T-minus 4 days.
"While our mayor tours the globe touting Chicago's many charms, he neglects less glamorous chores closer to home that have as much bearing on our chances of winning and successfully hosting the Olympics," Crain's said in an editorial this week. "First, there's the issue of public transit funding for Chicago and the surrounding region. Mr. Daley has invested little of his own political capital in the fight in Springfield this summer for money to stave off deep service cuts by the Chicago Transit Authority."

City Secrets
"[A]ccording to a Chicago Tribune investigation in 1989, no Outfit murder had been solved in Cook County in 20 years," John Kass writes this morning, once again putting into perspective the importance of the Family Secrets trial.
"That was 18 years ago.
"The report focused on the Cook County sheriff's office, and how high-ranking sheriff's officials 'sabotaged investigations of brutal, execution-style murders and covered up evidence of possible crimes of other law enforcement officials, and judges."
If it weren't for the feds, Kass concludes, the Outfit wouldn't have to worry about murder cases.
Because the local authorities, for some strange reason, aren't going to solve them.
Internal Affairs
"The Los Angeles attorney hired to restore public confidence in investigations of police wrongdoing disclosed Friday that she inherited an 80-employee department with 20 vacancies," the Sun-Times reports.
Only 20? Maybe progress is being made.
His Eminence's Domain
"Lincoln Square, be forewarned," Sun-Times business columnist David Roeder writes today.
The city aims to take control of development in the neighborhood in a way that may force out independent businesses in favor of chain retailers, big boxes and high-rise condos.
Because gentrification isn't an inevitable natural phenomenon, it's a policy.
Banana Republic
"The Justice Department said Tuesday it will not prosecute 10 Chiquita Brands International executives involved in the company's now-defunct payoff of Colombian terrorist protecting its banana-growing operation," the AP reports.
"Sun-Times Media Group CEO Cyrus F. Freidheim, who led Chiquita from March 2002 to April 2004, told the Sun-Times board in March that he was a part of a group of current and former Chiquita employees who might be subject to a federal investigation."
In a separate announcement, Gangster Disciples Inc. announced it had struck a deal with Freidheim to provide protection for the newspaper's delivery trucks.
Babbling Barack
Lynn Sweet said it, not me.
Decoder Ring Wanted
If someone can parse the logic of today's Neil Steinberg column, let me know.
*
Over/Under on how long it took him to write it: 17 minutes.
*
Classic Neil:
"You'd think the artists and the radicals, the malcontents and the visionaries, college students and tree-worshipping cultists would be the most patriotic of all, understanding that it is this great country that accepts their deviation, while in many other places they would be stoned to death or, more likely, never even exposed in the first place to the ideas that so overwhelm them."
One word: Huh?
*
Oh, I get it: Neil loves America but hates Americans.
Hero of the Week
"Among the players promoted to the big leagues on Sept. 1, when rosters expanded, none were more grateful than San Francisco's Dan Giese, a 30-year-old right-hander who two years ago retired to sell cars at a Honda dealership outside of San Diego," Tribune baseball writer Phil Rogers reports.
"That was the worst job," Giese said. "I'm not going to knock anyone selling cars, but for me personally . . . that was tough. I sold five or six cars in two months, so I was going to get fired anyway. I was telling people, 'This isn't a good deal at all.' I couldn't rip them off."
Big Zero
Unremarked upon in the Trib and Sun-Times: How Carlos Zambrano almost blew his stack again in his last start, staring down the home plate umpire and barely catching his tongue from the dugout after he was taken out of the game.
The Beachwood Tip Line: Suspend disbelief.

Posted by Lou at 07:51 AM | Permalink
September 11, 2007
The [Tuesday] Papers
"The world is far less safe now than on September 11, 2001 due to US President George W. Bush's reaction to the attacks, notably in Iraq, the general who led UN forces in Bosnia said Tuesday.
"British General Sir Michael Rose praised the United States' invasion of Afghanistan in the immediate wake of the terror attacks in Washington and New York, saying the war on terror got off to a 'brilliant start.'
"Instead of following up the military defeat of the Taliban with civil action and ensuring permanent security, President Bush, in his haste and ignorance, transferred his attentions to Iraq.
"The result is that the world is far less safe today than before he declared his war,' he wrote in the Daily Mail, adding that Afghanistan remains unstable and the Taliban have regrouped."
We blew it.
We failed these people, and we failed ourselves.
Instead of standing up for ourselves - with the world at our back - and declaring a new age of liberty and rededication to our ideals, we let the psychosis of a religious fanatic and his fascist compatriots hollow out our souls.
Petraeus is a joke. A joke the Democrats are in on.
Family Secrets
The Family Secrets trial has been remarkable for its scope - 18 murders, several well-known - and the spectacle of figures like Joey "The Clown" Lombardo and the Calabrese boys taking the stand.
But the day-to-day hasn't lived up to its billing because, well, trials aren't TV shows, they are grinds. And in this case, we already knew the plot.
The best and most meaningful part of the trial to me, though, wasn't the brutal killings. Those are horrible, and horribly the logical end of the mob's modus operandi, but what said more to be about the way Chicago and the Outfit works - how it has insinuated itself into our everyday lives and wrapped itself around not just pols and dolls but the most elementary aspects of the city - was the tale of Connie's Pizza.
Connie's is a Chicago institution - and as such it was mobbed up.
Jim Stolfe, who founded Connie's in 1963, testified that one day in the 1980s a couple of gentlemen visited him with a request for $300,000. It seems his street tax payment was due.
Stolfe negotiated the payment down to $100,000 and allegedly became pals with his extorters.
"Mr. Stolfe went to my client's son's wedding-that'a all I really have to say. That doesn't sound like a shakedown," said Joe Lopez, the lawyer for Frank Calabrese Sr.
According to ABC-7's report, "Connie's original location is on 26th Street, the heart of the outfit's 26th Street Crew that controlled crime syndicate rackets from the Loop to Chinatown. According to Calabrese Sr.'s, attorney, the pizzeria would actually employ mobsters to follow these familiar looking home delivery vans, reporting back to Connie's owner which drivers were sleeping on the job. 'They were friends. My client was employed there for a number of years. They were friends and they remain friends,' Lopez said."
Another report noted that "Stolfe said Calabrese Sr. never threatened him and admitted he never complained about the street tax. Stolfe said he also lied for Calabrese Sr. before a grand jury.
"Even though Stolfe played handball with Calabrese Sr., went on a vacation with him and had dinner with him, he was still 'very intimidated' by him."
Which would still not add up to much beyond a dirty pizza joint until you consider Connie's status as Chicago's official pizza, honored with cloutlets at places like O'Hare and Navy Pier. In a way, being associated with the mob paid off. The city didn't seem to mind. It's a bite-sized example of the larger way the city that works actually works.
That's Todd!
"The Internal Revenue Service has slapped a federal tax lien on Cook County Board President Todd Stroger's campaign committee," the Sun-Times reports.
Seems the campaign failed to withhold income tax from its workers, though campaign treasurer and Sixth Ward Ald. Fredrenna Lyle explains that the real problem was that "we were trying too hard to do everything right."
Yes, I generally find that trying too hard to do everything right ends up with the IRS knocking on your door.
Stroger, through a highly-paid-by-the-taxpayers spokesman, declined to comment.
Fidel's Friend
"[A] top official with an Olympics-related event, the AIBA World Boxing Championships, to be held in Chicago Oct 23 through Nov. 3, said Monday that Cuba skipping the event will not damage the effort," the Sun-Times reports.
"At a press event, Jack Sandler, chairman of the organizing committee for the World Boxing Championships, said the Cubans were 'turning a wonderful, wonderful event into a political stage. I'm very discouraged. It's a shame it got politicized.'
"Cuba reportedly fears defection of its boxers.
"'I'd love [Cuban officials] to sit down and think through their decision. I would tell you, there will be no defections if they come here. We'll make sure of that,' Sandler said."
Sandler added it would be wonderful, wonderful to force potential defectors back to their island prison to avoid politicizing the event.
Smearlings
Mary Mitchell links an alleged smear campaign against interim police chief Dana Starks to her colleague, Michael Sneed.
In Today's Beachwood
* Carlos Zambrano is getting angry.
* Larry Craig sing-a-long.
* Chicago Ed Schwartz makes his Beachwood debut with a "betcha didn't know that" story about nuclear-tipped missiles in Jackson Park and Belmont Harbor.
* One helluva playlist.
* Our tribute/episode guide to the debut season of Maude continues.
The Beachwood Tip Line: Be a patriot.
Posted by Lou at 09:32 AM | Permalink
Reviewing the Reviews
I didn't get around to this column last week, so this week we'll do two weeks' worth.
Publication: Tribune
Cover: "Two of Fall's Most Buzzed About Novels." You have to squint really hard at the text under that to find out what they are. In case you weren't already lured by the illustration of a bunch of male figures with (apparently) hands in pockets standing around thinking (thought clouds) of generic depictions of books.
The Tribune book review is just . . . tiring.
Other Reviews & News of Note: "Military Manual May Offer Clues To Petraeus' Plans For Iraq." Is this the Trib's way to spin the fact that they are the last to get to The U.S. Army/Marine Corps Counterinsurgency Field Manual out of the University of Chicago Press, first noted in the Beachwood on July 23rd and reviewed pretty much everywhere else by now?
And from last week's Tribune:
Cover: "Male in America: Anyone who says growing up is easy hasn't read these smart, new books."
Um, who says growing up is easy? An entire TV and movie genre has grown up around the difficulties of growing up, not to mention . . . books.
So anyone who says growing up is easy isn't that smart, and probably doesn't read books.
Other Reviews & News of Note: "Weathering the Storm: Powerful memoirs explore New Orleans during and after Hurricane Katrina."
Which might have been worth a cover - seeing as how it was the two-year anniversary and all. Sheesh.
Also: What's this, "Teen Angst Redux" on page 10? So actually a third book on how growing up isn't easy. Maybe this one wasn't "smart" enough to be included in the cover lineup.
*
Publication: Sun-Times
Cover: A bunch of back-to-school stuff.
Other Reviews & News of Note: "How possibly does a girl forget her first high school boyfriend, not to mention her best friend in the world and her parents' divorce?
"In Memoirs of a Teenage Amnesiac, my back-to-school choice for young adult readers, Naomi Porter trips and falls down a flight of concrete stairs and cracks her head," writes books editor Teresa Budasi. "And that's how she forgets the entirety of her still-in-progress teenage years."
Now that sounds interesting.
Also: "Lobotomy tells the unsettling story of why the author's step mother sought this treatment for her then 12-year-old 'troublemaker.'"
Why, yes, tell me more!
And: "Anti-Hero's Portrait Skewers Society," a review of An Arsonist's Guide to Writers' Homes in New England.
Go on, I'm listening!
Finally: "Age of Contrariness: At 70, [Joseph] Epstein admits he's fallen out of step, embraces his hatred of fun and curmudgeonly ways in this 19th book filled with criticisms and barbs."
Eh, seems a bit too cranky for me. But a nice run.
And in last week's Sun-Times:
Cover: Okay, I own a copy of On the Road and I have nothing against Jack Kerouac, but my God can we get over it?
That was a sentiment I expressed two months ago when the Tribune book review put Jack on its cover, it's a sentiment I expressed last month when the New York Times put jack on its cover, and it's now a rage I want to scream to the world as the Sun-Times put Jack on its book review cover this week.
It's not that the 50th anniversary of the publication of On the Road doesn't deserve notice; it's that we've been noticing the book for 50 years. It's been drained of its significance and turned into a prop that can mean anything to anyone.
You know how it goes: It's a book that affirms Christianity! It's really a book about how we should have stayed in Vietnam! It's actually an anti-drug screed! It's about rebelling against The Man, man!
I mean, I've tried to read it several times and I can't get past the first 25 pages. It bores me silly. But yes, I understand its significance in its time and place.
But what of it? What lessons have we learned from it? To me it is fantasist lifestyle nonsense for the vast majority of its name-checkers, as opposed to the true believers who see their own lives reflected somehow or whose eyes were opened up to alternative possibilities about how to live.
But I view it much like a lot of nostalgic culture from that time period. By the time we got to Woodstock, we were half a million strong. The other tens of millions were going to economics class or business school - or to work - every day. Now everyone wants to pretend they were part of something.
I'd be more interested to read about what Kerouac has wrought, and to see coverage and respect given to today's inheritors who instead are told to put on a suit and grow up.
Do we believe in Kerouac or no?
Either live the life or blow him apart, but please let's not engage in thinking some shallow appreciation of a beatnik author can put a patina of cool on your despicable corporate life.
-
A Slate debate: On The Road: Masterpiece or Masturbation?

*
Publication: New York Times
Cover: "Haitian Fathers," a review of Brother, I'm Dying.
Other Reviews & News of Note: It's kind of hard to resist this: "The trick of balancing a serious novel on a single potential act of intercourse can't help causing its author, one would think, some performance anxiety."
But it's also a bit too much to open this review - of Jeffrey Lent's A Peculiar Grace - with "All novels end, but not all novels climax."
Nice try, but please.
And from last week's New York Times:
Cover: A line drawing that kind of looks like Lou Piniella but is really . . . I dunno, author Denis Johnson?
Other Reviews & News of Note: "There's not much reason to think that the Democratic Party has suddenly overcome its confusion about the passing of the industrial economy and the cold war, events that left the party, over the last few decades, groping for some new philosophical framework," Matt Bai writes in The Argument: Billionaires, Bloggers and the Battle to Remake Democratic Politics."
The Democrats are confused about a lot of things - the Iraq War, chiefly - but I'm not so sure the passing of the industrial economy and the Cold War are two of them. If anything, the passing of the Cold War has confused Republicans, who need - and have found - a new global enemy in order to define themselves and what they are against.
At its core, the Democratic Party still (ostensibly) stands for blunting the cold sharp edge of unrestrained capitalism and ravenous captains of industry, often using government as a leveling tool to protect those who most need protecting and to re-balance the scales of economic predation.
The fact that they do a miserable job of it - and in many cases merely pretend to stand for this - has nothing to do with the confusion Bai identifies, and in fact even the premise of his book seems wrong from the start, as if billionaires and bloggers are battling to remake the Democratic Party when the true internal battle is the same one that's always existed - moderates vs. progressives (who have now had that label appropriated by their interparty enemy), corporate shills, meek souls and sellouts vs. true grassroots believers.
What might have been an interesting book would have been sussing out the main division between these groups: Economic policy. If Democrats only represent the middle-class and their health care concerns and job security, that's a different party than the one who put the last first and took it from there.
On the other hand, if this book is really about the Democratic Netroots, the best such a book could do is explain that there really is no such thing - not ideologically speaking - except perhaps for a demand for authenticity. But I get the feeling that Bai's book is more of the same old pundit gibberish; and Reason editor Nick Gillespie, the libertarian who reviews the book, isn't much better as he takes offense, for example, at the "elitism" of Rob Reiner for interrupting a policy discussion by saying "I've got to take a leak. Talk amongst yourselves." And the problem is what? Sounds more crude than elitist to me, but more than anything it's completely representative of . . . a guy who had to take a leak. Please.
I think I've located where the real confusion is: Among the pundits who conduct our political discourse.
*
Charts:
1. Tony Dungy
2. Navy Seal
3. Duane "Dog" Chapman
Alan Jackson's wife is 4th; God (the not-great one) is 5th; Billy Graham is 8th; Ike is 13th.
Posted by Lou at 12:59 AM | Permalink
Nuclear Chicago
Some will never get over the shock of learning that the U.S. Army missile sites at Belmont Harbor and Jackson Park were nuclear-equipped during the Cold War without the civilian population and the local government knowing. Just thinking of all the times I played or passed by both locations gives me shivers.

The A-bombs were not like "Fat Man and Little Boy" from WWII fame. These were nuclear-tipped missiles. When they conducted on site drills and raised missiles to firing positions those nukes were there, right out in the open, but we just didn't know. This revelation is one of the most disturbing reports of government lying I have ever heard.
Before we get a little technical, understand that a nuke on the end of a missile launched right in the city was supposed to explode without even hitting the target. With an atomic warhead all you have to do is be in the neighborhood. A direct hit was never the objective. Nice if you could do it, but close is good enough.

The targets of these Army missiles were Soviet bombers. This was before the intercontinental ballistic missile. Russian Bear Bombers would be the target. Fire off a nuke at an incoming squadron of Ruskies approaching the Wrigley Building, Comiskey Park, or - with radar intercepts - catching them inbound from Hammond or Gary. A nuke tipped Nike Hercules missile need only be in the ballpark to hit a mushroom cloud home run.

The nuke tipped missiles "on duty" in Chicago were of different magnitudes. Rich Samuels recently interviewed a former soldier from the Belmont Harbor facility for a report on Channel 11's Chicago Tonight. The veteran reported they had nuclear warheads from 2 kilotons all the way up to 30 kilotons. Where did the Army think it was going to fire off a 30-kiloton atomic blast? The atom bomb dropped on Hiroshima was only 10 kilotons. The monsters of Belmont Harbor were the size of three Hiroshima bombs. Had one ever "accidentally" detonated, the City of Chicago would have been left uninhabitable till the end of never. Should the Army have ever launched such a warhead, the air burst fireball, radiation and smoke would probably have taken out Lake Michigan along with everything for 360 degrees for miles around.

Imagine all the thousands of people living along Sheridan Road, Lakeview, Belmont, Fullerton and the dozens of other streets that passed close to the Belmont Launch Site every day for years. Even a small accident involving radiation would have been our nuclear nightmare. Remember, there were no disaster plans, the fire department was not trained or equipped to handle an "incident" at either Belmont or Jackson Park. It's ironic that the South Side nukes were almost neighbors to The University Of Chicago where their genesis occurred. I don't think Fermi would have approved.

Just filling in the blank here, the Nagasaki bomb two days after Hiroshima was a bit more powerful at 12.5 kilotons.

Time to suggest some fascinating reading. A computer will make this a quick project in terms of gathering information, but once you start reading, it's like popcorn. You can't stop. Here we go.

Choose your favorite search engine, Google, AOL, etc, and use search terms like these: "U.S. Military Nuclear Accidents," "Atomic Bombs," "Warheads and Weapons," or "Atomic Bomb Accidents and failures." Similar questions to your search engines will present you with enough to turn your hair gray. We haven't been nearly as careful or safe as these weapons demand. Things got so bad some years ago the Air Force was ordered to not fly with atomic weapons on planes even if they were un-triggered. You don't need a nuclear detonation to have a nuclear disaster. We've had a bunch, but few people know about them. When read how many times our planes have "accidentally" dropped or lost A-bombs both at sea and on land you will have to catch your breath.

The tribulations of flying around with A-bombs is only part of the available data. Back to the search engine and take a look at: "Accidents In Nuclear Power Plants," "Nuclear Research Facility Accident," or "Nuclear Accidents Involving All Forms of Transportation." Take a look back at Chernobyl and Three Mile Island, too.

Most of the problems, disasters, accidents and incidents involving nuclear weapons, nuclear power and all things atomic seem to be the result of human error and failure. Mechanical failures occur as well, but most of the machines do what their human operators order them to do.

Those who fear the atom have history on their side. We ended WWII with the only two A-bombs ever used in anger. We then focused on a new campaign. Remember "Atoms For Peace"? For the government it was a slogan. For many of us it was a stretch, and still is.

Posted by Lou at 12:29 AM | Permalink
Chicagoetry: I Was Watching Jim Miklaszewski
I WAS WATCHING JIM MIKLASZEWSKI
I was watching Jim Miklaszewski when the plane
hit the Pentagon. I did not yet know that my friend
Dan was killed. Rod would call
with that "news" the following day. Our hilarious, radical, knucklehead
high-school buddy had become Commander of Naval Intelligence
for the Middle East. Later on 9/11, on the
radio, I heard that the plane hit the Navy part of the building.
I went, to myself, "I didn't hear
that." When the Cole was bombed a year or two before, I was glad that
Dan was safe in the
Pentagon.
On, 9/12, I sent him an e-mail: "You OK?"
We hadn't been getting along so well
of late, and that made me more
worried.
Then, Rod
called . . .
I'm losing it right now . . . shit! . . .
(SHIT!) He was our
friend, and
we miss
him
a
lot . . .
-
J. J. Tindall is the Beachwood's poet-in-residence. He can reached at jjtindall@yahoo.com. Chicagoetry is an exclusive Beachwood collection-in-progress.
Posted by Lou at 12:09 AM | Permalink
And Then There's Maude: Episode 5
Our tribute to the 35th anniversary of the debut of Maude continues.
*
Season 1, Episode 5
Episode Title: Maude and the Radical
Original airdate: 10 Oct 1972
Plot: Stand back. Maude is throwing a cocktail party.
The grueling pressure of playing hostess to thirty guests spins Maude from one panic attack to another. Even after two Miltowns ("the greatest tranquilizer known to man") she's as nervous as a long-tailed cat in a room full of rockers - a joke that's used no less than three times in this episode. The guest of honor is Jim Chambers, "one of the most important black militant leaders in the country." The party is a fund-raiser, a minor point Maude keeps from her guests, fearing no one will show if they think their pockets will be picked.
You can see where this is going.

Adding to the mayhem, the one black couple Maude invited has called to cancel and she's frantic to find a replacement. ("That's right, Maude, you should always have a back-up black.") Maude ropes Florida into attending the party. Wearing a fabric headdress, the housekeeper is introduced as "Florida Dubonet," an honored guest from a rising black nation - Harlem.
The shindig is in full swing, the living room filled with wide ties and towering hair-dos. Maude makes a big production out of taking a phone call from Jim Chambers' aide, announcing to the crowd that the guest of honor is just 12 minutes away.
Compliments about the party flow like the liquor but Maude refuses to believe the evening is anything but a disaster waiting to happen. To ensure that outcome, she begs Arthur for some Valium and chases the pills with a tumbler of scotch.
In no time, a loopy Maude is on the stairs calling for attention ("Fellow liberals! Fellow liberals!") After a brief speech, she segues into her rendition of "Some Enchanted Evening." The crowd begins to get restless. After all, Maude promised them Jim Chambers would be arriving in 12 minutes, and it's way past 12 minutes now! This is a group of very punctual fellow liberals.
Maude's attempt to stall backfires when she brings up Jim Chambers' latest book, Give Us Colorado. No one in this group appears to know exactly who the guest of honor is because they seem surprised that his book argues that the state of Colorado should be given to blacks. Ultra-conservative Arthur relishes pointing this out ("Jim Chambers has gone mad!") and Maude's guests are appalled ("Isn't that where Aspen is?") and confused ("Everyone knows blacks don't ski.")
Maude tries another tactic, asking Florida (her "very dear friend and a true black herself") to share with the group some of her "vast black experience." This sets Arthur off again and he begins to hint at Florida's true identity, prompting a now thoroughly stoned Maude to break into song again. When she lets slip that the gathering is a fund-raiser and then insults the group when they express surprise, everyone (including Carol, Florida and Arthur) clears out fast, leaving Maude to face Jim Chambers on her own.
Hot button social issue: Booze, pills and white liberal cocktail parties for black militant leaders - shaken not stirred.
Fashion statement: Maude sports two fantastic ensembles in this episode. The first I mistook for an outrageous dress until a second viewing revealed that she's wearing a bathrobe! It's cut like a pink velour circus tent with elastic cuffs, a full-length zipper, and an attached scarf that wraps around the neck and down to the floor.
The second is an eggplant-colored long dress that incorporates two signature Maude looks, the floor-length vest and the floor-length scarf draped around the neck and flowing down the back. Add a row of buttons down the front from neck to toe and a pair of big dangling black earrings and it's party time!
Neckerchief count: 0
Cocktail hour: Florida begins the episode in the kitchen whipping up a batch of "hot hors d'oeuvres." This reminds me of the cocktail parties my parents threw in the '70s with a full bar for mixed drinks, California dip (dried onion soup mix in sour cream), water chestnuts wrapped in bacon, and little Vienna sausages (or meatballs) in a sauce of ketchup and mustard warmed in a chafing dish for hours. Entertaining straight from Betty Crocker's Picture Cook Book.
Welcome back to 1972 pop culture references (File these under "I did not know that"):
* Ptomaine poisoning - otherwise known as food poisoning
* Miltown tranquilizers - otherwise known as "Mother's Little Helper"
Pop culture trivia quiz: In discussing the deep pockets of the guests coming to her non-fund-raiser fund-raiser, Maude ecstatically relates how one couple (who she keeps referring to as "The William Kennys") once gave a telethon $5,000 to talk on the phone with Julius La Rosa. Give yourself 20 points if you can correctly identify who that was.
'70s slang: "That's not where it's at!"
Wow, did they just say that? Part 1:
Maude: Where am I going to find a black guest at this hour?
Carol: Try the Yellow Pages.
Walter: Aren't they just for Orientals?
Times the live audience nearly groans: Once (see "Wow, did they just say that? Part 1)
Wow, did they just say that? Part 2: It seems one of the female guests has an unexpected visitor of her own. When the woman approaches Maude and whispers in her ear, Maude directs the guest to the bathroom upstairs and explains where to find what she needs. Then Maude says, "Isn't it always the way, though? You wait and wait and wait and then it happens, right in the middle of a party." (This gets such a big laugh from the live audience that the actors have to pause before going on.)
Keep an eye out for:
Patsy Garrett as the whispering lady (see above). She's best known as the woman dancing the "Chow-chow-chow" cha-cha with her cat in a series of commercials for Purina Cat Chow from the 1970s.
Number of times Maude yells: Seven - we have a new record.
-
Previously:
Season 1, Episode 1: Maude's Problem.
Season 1, Episode 2: Doctor, Doctor.
Season 1, Episode 3: Maude Meets Florida.
Season 1, Episode 4: Like Mother, Like Daughter.
Posted by Lou at 12:03 AM | Permalink
September 10, 2007
The [Monday] Papers
1. The Bears.
"Based on the Bears' performance against the Chargers, they have a defense that could carry them back to the Super Bowl and an offense that could prevent them from even making the playoffs."
*
The view from Sports Illustrated.
2. The Cubs.
"The Chicago Cubs fell out of first place in the NL Central because they again couldn't beat a team that's spent most of the past month in last place."
*
3. Rush.
"Having replaced traditional stage gear with cutting-edge digital amplifiers and in-ear monitors, Lee filled the space vacated by his own speaker cabinets with three rotisserie ovens packed with roasting chickens."
*
4. The Flaming Lips.
"Before the Flaming Lips' sold-out concert Friday at the Aragon even began, singer Wayne Coyne fired streamers and roadies tossed red-laser pointers into the audience. A blinking lighting rig then descended like a UFO from the ceiling and disgorged three-quarters of the band. Coyne then emerged from the top of the contraption in a transparent bubble and rolled over the ecstatic crowd.
"The merry band of Oklahoma City pranksters had seemingly blown their bag of tricks five minutes into the show. But, as it turns out, they were just getting started."
*
The view from inside Wayne Coyne's head.
5. The world's No. 1 soccer team at Soldier Field.
"USA: A 4-2 loss to the five-time world champions Brazil, who looked as though they'd been sampling some of the finer sights of 'Chi Town,' judging by their marking at set-pieces."
*
Thanks Flickr!
*
The view from another Flickrite.
7. The Univision debate.
The Mystery Debate Theater team gathered at Beachwood HQ to take in Destino 2008 Foro Presidencial. Unfortunately, we didn't realize that the Spanish-language debate would only be translated for the gringo candidates on the stage, though we're pretty sure the first question addressed to Barack Obama was "Are you black enough?"
Having missed the last Republican debate, we came well-stocked with catch-up Fred Thompson jokes, but instead spent our time wondering if Bill Richardson was as inept in other languages as he is in English and if anyone was calling Mike Gravel El Loco.
After the debate, I stumbled upon an AP report that said: "Anchors Jorge Ramos and Maria Elena Salinas posed questions in Spanish and the candidates had earpieces to hear simultaneous translations into English. The candidates' responses were simultaneously translated into Spanish for broadcast, and English-speaking viewers could watch using the closed caption service on their televisions."
Which made us feel like idiots, except that even then I couldn't figure out how to get my closed-caption to translate.
We are pretty sure, though, that Univision means "One Vision." We, however, prefer Telemundo, which means "Great Television!"
*
The view from Bill Richardson.
8. Britney.
"At least she should have plenty of spare time to look after the kids.
*

The view from Britney Spears Fan.
9. Oprah.
"Thanks for nothing."
*
10. Iraq.
"There is a sense of deja vu surrounding Monday's Congressional testimony by General David Petraeus. In 1967, President Lyndon B. Johnson recalled his top general in Vietnam to defend the war against criticism from Congress.
"Back in Washington, General William Westmoreland said the military had reached a point where 'the end begins to come into view.' There would be 'light at the end of the tunnel,' but 'mopping up the enemy' might take two more years."
*
The view from the White House.
-
Tree House
The Sun-Times on Sunday published a five-page special report on Barack Obama's "remarkably far-flung family tree."
An ancestor said to have been slain by pirates!
Slave owners!
A thieving witch hunter!
Wow, Barack Obama sure is the embodiment of . . . everyone!
Oh wait. What's this?
"[A]s dramatic as some of the leaves on Obama's family tree might seem, [genealogist Christopher] Child said most people who trace their lineage back several gerneations would find comparable intrigue."
In other words, most of our family trees wouldn't be any less shocking or revelatory than Obama's. So why do the story? Can we stop fetishizing the man's background now?
Or will we have to keep putting up with this sort of nonsense?
"Obama definitely has presidential timber in his family tree: He's distantly related to three U.S. presidents - Harry S. Truman, George W. Bush and George Herbert Walker Bush - as well as to Vice President Dick Cheney."
And you probably are too.
"I found I'm related to 18 presidents," Child said.
If you go back far enough, we all are.
My Bad
A correction I posted late Friday may have escaped notice to many readers. In my item about the Tribune's report on Rep. Jerry Weller's land holdings, I wrote that the Tribune had failed to mention the Reader's previous work on the subject. Not so. The Tribune indeed mentioned the Reader thusly: "Last October, the Chicago Reader identified three properties that Weller bought or sold in 2005 without disclosing." My apologies.
Futile Attempt
A Gannett News Service story picked up by the Sun-Times on Sunday describes efforts by University of Iowa administrators to schedule mandatory Friday classes in order to eliminate students' ever-popular Thursday night benders.
In other news, several Iowa City bars have announced that Sundays are the new Thursdays!
When will people learn.
The Beachwood Tip Line: Closed captions available.
Posted by Lou at 10:51 AM | Permalink
The Cub Factor
Watching the Cubs try to blow the season this week got me thinking about the 2004 season and how the Cubs blew that one down the stretch too. It's like, "I've seen this movie before." Which got me thinking about a movie I just saw which was "new" but essentially still the same. This week I was roped into seeing the remake of the horror "classic" Halloween. I think you see where I'm going with this. Let's take a look.
*
1. The movie's franchise player is a violent psychopath. Just like the Cubs' franchise player.
2. The same scenes unfold grotesquely in sequel after sequel. For both franchises.
3. Michael Myers never gets better but his corporate owners reap millions in profits from his failures. Sound familiar?
4. Michael Myers randomly kills his victims in all sorts of imaginative ways. Just like the Cubs do to their fans.
5. And yet, Michael Myers can't be killed, no matter how dreadful and damaging to the community. Like Tribune Company.
6. Both franchises produce really bad results yet draw huge audiences.
7. Michael Myers kills people with whatever weapon is available. The same way other teams beat the Cubs.
8. Except the Cubs also have a habit of killing themselves. Michael Myers is too smart for that. But still.
9. Michael Myers's mask is actually a William Shatner mask. The Cubs have engaged their cloaking device and disappeared.
10. Neither Michael Myers nor the 2007 Cubs are for real.
-
Introducing . . .
The Zam Bomb: The wick on Big Z has moved quickly from apologetic to getting angry, calling for an increase in readiness for area bomb squads.


-
Week in Review: The Cubs went lost three of four to the Dodgers at home and two of three to the Pirates on the road. The Cubs are playing flatter and tighter than this chick's abs.
Week in Preview: The Cubs play a make-up game at Wrigley against the Cardinals today, then travel to Houston for three St. Louis for the big four-game showdown. Eight games in seven days, including another Steve Trachsel start. Well, how 'bout them Bears? Is Rex really the answer?
Second Basemen Report: Mark DeRosa started six of the last seven at second, with Mike Fontenot getting the other game. This is exactly the way Jim Hendry drew it up and, duh, it's not working.
In former second basemen news, Jeff Huson is a color analyst for the Colorado Rockies. He is missed.
Sweet and Sour Lou: 64% sweet and 56% sour. Lou is down 15 points on the Sweet-O-Meter. And just like your real crazy drunk uncle, if it was up to Lou he'd take you out behind the woodshed and beat you silly for poisoning Aunt Mildred's prize pig right before the fair. He knows he can't hit you, though. But he sure wants to.
Beachwood Sabermetrics: A complex algorithm performed by the The Cub Factor staff using all historical data made available by Major League Baseball has determined that there is no correlation between the growth of Uncle Lou's beard and the team's performance.
Over/Under: Rex Grossman fumbles this season: +/- 8.
Cubs Fans Theme Song: "Please Stop Believin'"
The Cubs Answer Men: Preparing you for October.
The Cub Factor: Catch up with them all.
Mount Lou: As distance from first place increases, expect to see desperation magma surface. First sign of a soot cloud will be today around the third inning, with lava near the surface by the eighth. Eruption likely later this week.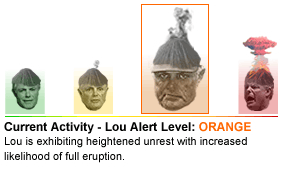 Posted by Lou at 07:36 AM | Permalink
TV Towns
A Beachwood guide in-progress. Submissions welcome.
SOAPS
Show: All My Children
Town: Pine Valley
State: Pennsylvania
Where: Near Center City (Philly)
Popular Stores: The Boutique, The Glamorama
Popular Eatery: The Cluck-Cluck Chicken Shack
Show: As the World Turns
Town: Oakdale
State: Illinois
Size: Small Town
Amenities: Airport, TV Station, Luxury Hotel, 3 Major Newspapers, University, World-Renowned Hospital
Major Industry: Worldwide Enterprises
Show: Days of Our Lives
Town: Salem
Where: Somewhere in the Midwest with lots of Cubs fans . . .
Industry: Rivals Titan Industries and Basic Black
Strange But True: Despite its Midwestern location, has industrial harbor with direct ocean access and tropical water with many deserted tropical islands
Shopping District: Salem Place
Recent BIG NEWS: "Patch" returns from the dead . . .
Show: General Hospital
Town: Port Charles
State: New York
Where: By Lake Ontario
Most Mysterious Feature: Network of catacombs beneath the city
Ruled By: The Mob
Show: Guiding Light
Town: Springfield
State: Generally Assumed to be Illinois
Where: Not far from Oakdale
Slice and Dice: Was divided for several years between Springfield and San Cristobal
Show Us the Money: The Spaulding Family
Wackiest Relationship: Josh and Reva
Show: One Life to Live
Town: Llanview, county seat of Llantano County
Where: Suburban Philly, across the river from Pine Valley
Newspaper: The Banner
Home Of: Three prisons: Stateside, Statesville, and Lehigh
Industries: Buchanan Enterprises, Melador Cosmetics, Craze Magazine, Foxy Roxy's Hair Haven
Previous Cast Members: Tom Berenger, Laurence Fishburne, Tommy Lee Jones, Ryan Phillipe, Phylicia Rashad
Show: Passions
Town: Harmony
Where: New England Seaside, Massachusetts or Maine
Major Industry: Crane Industries
Newspaper: Harmony Herald
Weird Twist: Town is run by witches, including the evil Tabitha, as well as by the ruthless Alistair Crane
Planning a Trip? Stay in Harmony's Bed and Breakfast, pop into the bookstore, give a donation to the Harmony Youth Center, and don't forget to stop in at O'Carol's Hats!
Show: The Young and the Restless
Town: Genoa City
Where: Wisconsin
Conflict Between: Newman Family and Abbott Family
Major Industries: Newman Enterprises and Jabot (owned by Abbots)
Hairy Ex-Cast Members: David Hasselhoff and Tom Selleck
SCI-FI
Show: Battlestar Galactica
Town: Battlestar Galactica
State: Outer Space
Unisex Activities: Boxing, drinking in the mess hall, macho posturing, daydreaming about loved ones lost on New Caprica
Execution Method: Out the airlock!
Chief Export: Convicted traitors
Popular Music: In short supply, but heavily Celtic
Show: Batman
Town: Gotham City
State: New York
Areas Of Interest: Gotham Point Beach, Gotham Park, Gotham Airport, Gotham Library
Local Officials: Police Commissioner Gordon, Police Chief O'Hara
For minor emergencies: Contact Gotham City Hall
For dire emergencies: Use red phone under glass or, at night, use huge search light shaped like a bat
Local culture: Home of the largest super-villain community in America. Costumes encouraged.
ANIMATED
Show: Futurama
Town: New New York City
State: New York
Where: On top of Old New York
Lodgings: The Robot Arms Apartments
Flagship Business: Mom's Friendly Robot Company
Hall of justice: Famous Original Ray's Superior Court
Show: Aqua Teen Hunger Force
Town: Unspecified
State: New Jersey
Evening Amusement: Super Trivia
Parallel Justice System: Wood Court
CLASSIC
Show: The Andy Griffith Show
Town: Mayberry
State: North Carolina
At The Base Of: The Blue Ridge Mountains
Near: Mt. Pilot
Popular Businesses: Floyd's Barber Shop, Walker's Drug Store, Weaver's Department Store, Wally's Gas Station
For Emergencies: Pick up phone and ask for the sheriff. The operator will connect you.
COMEDY
Show: The Office (US)
Town: Scranton
State: Pennsylvania
Chief Economic Asset: Disgruntled white- and blue-collar label
Popular Bar: Poor Richard's
Amusements: Fewer than prison
Scenery: Bountiful parking lots, meandering office parks

Posted by Lou at 12:55 AM | Permalink
The Casbah
Our latest playlist comes from The Casbah. Being taken away to this Casbah means a trip not to North Africa but to Garageland and its musical neighbors - Punk Point, Psychedelic Surf City, Shoegazeville and Cool Jazz Junction. It's a mysterious and surprising journey guided by DJ Brian Parrish of San Antonio's KSYM 90.1 FM, who uses his exquisite and extensive taste in these kinds of grooves to produce one of the best such radio shows and podcasts in the land every week.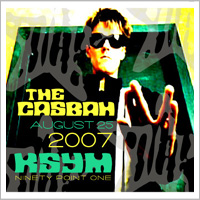 According to his bio, Parrish not only is an arbiter of garage and surf rock taste, he's also a very talented visual artist who produces illustrations for both local Texas and national bands. If you subscribe to The Casbah podcast (which you can do here), as an extra added attraction you get a Brian Parrish rock art piece as part of the deal (he produces a new one for each show). The one pictured here is for the Aug. 25, 2007, show, which featured the playlist below.
Check out The Casbah each week if you're seeking the best in retro rock and jazz from both the classic bands as well as deserving up-and-comers.
1. The Pyramids, "Penetration." The 1964 surf-rock classic instrumental.
2. Bow Wow Wow, "Aphrodisiac." Resurrected by Sofia Coppola in last year's Marie Antoinette.
3. The Sidemen, "Soho." They surf in Germany, too.
4. Bo Diddley, "500% More Man." One of Bo's best '60s tunes, none of which sold too well.
5. The Jimi Hendrix Experience, "Fire." Let Jimi take over.
6. Les Guitares, "Galaxie." Early '60s French rockeurs.
7. The Krayolas w/ Augie Meyers. "Little Fox (Spanish version)." Nod to the locals.
8. The Millions, "On My Mind." Chicago's own power-popsters.
9. The Coffin Daggers, "But First... Tranya." Cowabunga!
10. Ringo Deathstarr, " Rats Live On No Evil Star." Gaze at your shoes. Your shoes. Gaze at your shoes.
11. Jesus And Mary Chain, "My Little Underground." Snarl and pop.
12. The Standells, "Why Pick On Me?" See them perform it on The Hollywood Palace.
13. Sunnyland Slim, "Johnson Machine Gun." The last of the Delta Blues piano players.
14. Jimmy Forrest, "Flight 3-D." Swingin' sax man. Check out this effort with the Count Basie band from the 1977 Montreux Jazz Festival.
15. Jack Kerouac, "Charlie Parker." What the speedsters want.
16. Barney Bigard, "Sweet Marijuana Brown." Love the licorice stick.
17. Jimmy Coe, "After Hours Joint." That joint was probably in Indy.
18. The Modern Lovers, "Government Center." An unreleased song produced by Kim Fowley added to Rhino Records' 1989 re-issue of the The Modern Lovers.
19. Simple Kid, "The Ballad Of Elton John." Did Elton John really get his mojo sucked out?
20. Clarence White, "Hong Kong Hillbilly." Early country rock pioneer who was killed by a drunk driver as he was unloading his van in 1973.
21. Hopewell, "All Angels Road." Tasty pop-rock from their latest, Beautiful Targets, on Tee Pee Records.
22. Jimmy Haskill, "A Shot In The Dark."
23. Terry Buffalo Ware, "Our Man 008." There must be surf in Norman, Okla.
24. The V.I.P.s, "I Wanna Be Free." The precursor to Spooky Tooth! Say no more.
25. Shy Guy Douglas, "Long Gone." A Nashville blues master from the '40s.
26. Freddie King, "Goin' Down." The girthy West Side Chicago bluesman credited with laying the groundwork for surf guitar.
27. Spacemen 3, "Revolution." Minimalistic psychedelia? Yes.
28, Brian Jones Presents The Pipes Of Pan, "JouJouka (side 1)." Moroccan goat-god-worshipping trance music, which is apparently what Brian Jones had on his mind right before he drowned.
29. Slowdive, "Catch The Breeze."
30. Dungen, "Du Ska Tru Att Det Ordnar Sig." The Swedish psychedelic rock phenomenon!
31. The Astroglides, "The Adventures Of Rabbi Jacobs."
32. Them, "I Can Only Give You Everything."
*
Beachwood playlists for your perusal.

Posted by Don at 12:15 AM | Permalink
Tap Three Times: The Larry Craig Song
Hey boy, what ya doin' in there
Sitting alone in that stall let's engage in lewd conduct
I can hear the toilets flushing
Soon our fluids will be gushing
My Senate seat is below me, perhaps you will blow me
I'm not gay
Never have been!
Tap three times in the men's room if you want me
Stand up and wipe, if the answer is no
I've got a wide stance!
[tap tap tap] means I might give you a swirly
Stand in this bag, we'll get on the down low
If you look through the crack in my door
Flatulence in the breeze, with my pants round my knees oooh, I'm soo hard
I'll make you feel oh so groovy
Like Pee Wee Herman at the movies
Or George Michael from Wham I'm a hot blooded man but I'm not gay
I'm Larry Craig, man!
Tap three times I am from the U.S. Senate
The divider I'll swipe
'cause I'm from Idaho
Ignore my wedding ring!
[tap tap tap] means you want a public servant
The Republicans like being on the down low
"Let me be clear: I am not gay, I never have been gay . . . You're a nasty, bad, naughty boy."
At the airport in Minneapolis
We'll have gay sex where all this crap is
Don't make a sound, do a swift reach-around but
I'm not gay
Let's play footsies!
Tap three times in the men's room if you want me
Stand up and wipe, if the answer is no
It's just a quicky!
[tap tap tap] means you'll greet me in the back door
Republicans like being on the down low
Tap three times means my career is over
"Thank you all very much for coming out today . . . "
*
Also from Beachwood A/V:
- "Cubs Fans: Please Stop Believin'"
- "Oklouhoma" and "Ozzie Cabana"
- "Dusty Must Get Fired"
- "I Had a Crush On Obama"
- "I"m the Tribune/I'm the Sun-Times"
Posted by Lou at 12:05 AM | Permalink
September 08, 2007
The Weekend Desk Report
Don't worry. Enjoy your weekend. Everything is just fine . . .
Market Update
In a desperate attempt to calm a panicky market, the Federal Reserve is prepared to confirm that NASA miscalculated the most recent job figures. The data set released on Friday was actually from August 1937. Don't worry; you totally still have a job. Everything is just fine.
Life on Mars
In related news, NASA has announced with absolute certainty that none of its astronauts have ever flown drunk. None of them are batshit crazy, either. Everything is just fine.
On the Home Front
In still more related news, NASA has announced with absolute certainty that there is no more fat to trim from the Cook County budget, and that none of the non-existent fat involves Bill Beavers. Everything is just fine.
You Are Now Free to Sit Your Skank Ass Down
Southwest Airlines this week angered Iraq War hardliners by ordering an immediate "draw-down" of its passengers' "troops". Despite angry rhetoric from General Petraeus, analysts note that most people support a "pull-out", if you know what we mean. And we think you do.
Jail's Skilling Him
Meanwhile, incarcerated former Enron executive Jeff Skilling has asked for a new trial, asserting that the original prosecution used "incorrect legal theories" to secure a conviction. Observers are quick to point out that Skilling is uniquely qualified to spot such inaccuracies, so prospects for a new hearing look strong.
War of Words
Meanwhile, it wouldn't be a week of our Commander in Chief didn't piss off a friend. Despite international confirmation that North Korea has abandoned its nuclear weapons program, President Bush has called for more inspection and satellite monitoring. By NASA.
Everything is just fine.
Posted by Natasha at 08:14 AM | Permalink
September 07, 2007
The [Friday] Papers
- Jim DeRogatis previews this weekend's Hideout Block Party.
- He also recommends Saturday night's Rush show.
- Eric Emery previews the life cycle of a Bears season.
Jerry Rigged
A Tribune investigation this morning examines the Nicaraguan land holdings of Illinois congressman Jerry Weller.
The two main points:
* "[H]e didn't declare the extent of his holdings on his required congressional disclosures, and he indicated dramatically different purchase prices for the land in American and Nicaraguan records."
* "His investment got a boost from the narrowly passed Central America Free Trade Agreement, which Weller pitched in 2005 as a tool to enable businesses in his hard-pressed district to sell tractors and food to Latin America. CAFTA also includes additional legal protection for American investors, including those who have purchased lots from Weller."
The Tribune sent two reporters to Nicaragua to help produce its extensively researched report.
Weller did not cooperate or comment.
"When asked about the discrepancies [in recorded purchase prices of various parcels], Weller's office first insisted that questions be given to the congressman in writing. After a week passed with no response to the written questions, the Tribune requested to talk to Weller in person. On Thursday afternoon, Weller's spokesman said he would not answer questions and had no comment."
Maybe the Tribune didn't say pretty please.
Of course, for all its reporting goodness, this isn't the first look at Weller and his questionable Latin American dealings. A year ago, the Reader published Frank Smyth's "The Congressman and the Dictator's Daughter." That story outlined the inherent problems of the then-vice chairman of the House western hemisphere subcommittee - "by far the most important committee in Congress writing legislation on Latin America and the war on drugs and overseeing U.S. policy on those issues," Smyth wrote - marrying the daughter of a Guatemalan dictator and the second most powerful person in her father's political party.
Smyth's follow-up, "Is Jerry Weller's Beach an Ethics Breach," broke the story the Tribune reports today, near as I can tell, "that Weller owns several pieces of property in Nicaragua, some of which he's disclosed to Congress as required by its rules - and some of which he apparently hasn't," as Smyth wrote. The Tribune doesn't mention it.
CORRECTION 4:05 P.M.: The Tribune indeed mentioned the Reader, stating at one point that "Last October, the Chicago Reader identified three properties that Weller bought or sold in 2005 without disclosing." My apologies.
In another follow-up, Smyth wrote that "Weller has yet to explain the beachfront property he apparently owns in Nicaragua but has failed to disclose to Congress as required by law."
(You no longer have to pay to access the Reader's archives, by the way, thanks to a decision by the weekly's new owners. A smart decision - this is just one example of the unlocked value held in those (and anyone's) archives.)
The Reader's Michael Miner then reviewed the irresponsible lack of oldstream media follow-up to Smyth's work - Weller was only in a re-election campaign at the time - and came up with this gem of deflection by Team Weller.
"When the [Morris] Daily Herald called, Weller let campaign manager Steve Shearer do the talking, and Shearer went after the messenger. 'He does not own three [undisclosed] parcels in Nicaragua,' Shearer told the paper. 'He does not own six parcels in Nicaragua. He has filed his disclosure for everything that he owns. The evidence [Weller's opponent] is using is a Chicago left-wing-newspaper article.' Elaborating on his description of the Reader, Shearer said, 'Half of it is sex ads, so it's not exactly a Grade A newspaper. You have to consider the source in this, and the timing.'"
Jerry's Kids
Today's Tribune story adds that "The congressman missed all recorded House votes in Washington this week. His spokesman said he was out of the city, caring for his 1-year-old-daughter."
That may seem reasonable until you realize how familiar and convenient it sounds, too.
As noted in Miner's story last year, "the Tribune's archives indicate that the nearest the paper's reporters came to the subject during the campaign was a September 2 story on a campaign donation Weller accepted from a telecommunications executive vaguely linked to phone-sex lines based in Guyana. Here's the reference in its entirety: 'Efforts to reach Weller for comment were unsuccessful. The congressman has been in Guatemala since his wife gave birth to their first child there a couple of weeks ago.'"
And I wonder if those sex lines advertise in the Reader.
Weller's Wife
"Since his wedding, Weller has omitted his wife's finances from his annual personal financial disclosure form, which calls for the inclusion of spousal assets," the Tribune reports.
"I am aware that my wife may possess assets in her native Guatemala," Weller stated in a letter claiming an exemption from disclosure rules. "However, I do not know what those assets are, nor have I inquired."
Love means never having to ask how much money your daughter-of-a-dictator wife has.
Love Is . . .
Now that's more like it.
War on Democracy
* There is nothing illegal about videotaping public meetings. Unless you live in Thornton.
* Sunshine melts toboggan run.
Product of the Day
Hooves-R-Us.
In Your Head
Product Placements Of The Week.
Fight back. Boycott all products you see placed. Don't let them into your head.
The Beachwood Tip Line: What love truly is.
Posted by Lou at 08:34 AM | Permalink
Chicagoetry: The Relentless Music of Hollow Cliches
THE RELENTLESS MUSIC OF HOLLOW CLICHES
Sorry, ladies:
I want
to be an
artist.
"GROW UP!
BUY ME
A HOUSE
OR YOU
DON'T LOVE
ME!!!"
Get a
motherfucking
CLUE
about your
lousy
values.
Hate me.
Fine.
I am not
like you,
so I must
be a
prick.
STOP BUSTING
MY BALLS
TO CHANGE
FOR
YOU!
Accept
that you
don't like
me,
let alone
love me,
as I
am.
Go buy
your own
goddam house,
or a bust
some OTHER
CHUMPS BALLS
into it (and
insist it's because
you are so
beloved).
You are a ruthless,
mercenary
manipu-
lator. Accept.
Hate me,
if you must.
I can live
with
that.
Can
you?
And get your own
goddam
SUV,
too, for that
matter. WOO-
HOO!
-
J. J. Tindall is the Beachwood's poet-in-residence. He can reached at jjtindall@yahoo.com. Chicagoetry is an exclusive Beachwood collection-in-progress.
Posted by Lou at 06:35 AM | Permalink
The Blue & Orange Kool-Aid Report
The life cycle of a Bears season.
Stage 1: A whole lot of noise precedes a little action.
The process begins every April. For roughly 12 hours, fans watching ESPN moan, scream, swear and cheer each pick their team makes in the NFL draft. Chris Berman also works up a sweat and after all this Kama Sutraesque verbal action, the proceedings generate seven little draft picks, looking for an egg to fertilize.

Stage 2: Afterglow.
Immediately following the draft, these seven little sperm travel up the uterus and fallopian tubes of the Bears fan's mind, looking for a fertile egg. Bears fans dream that the resulting zygote will grow into a mighty Brian Urlacher. But not all your children can live up to your dreams, and most likely the little zygote will grow into Tank Johnson and one night under cover of darkness you will leave him on somebody's doorstep, ring the bell, and run.
Stage 3: Vomiting and food cravings.
As the zygote grows within the warm womb fed the world's best nutrients thanks to a huge signing bonus, post-draft afterglow gives way to massive nausea and vomiting as mini-camp and late-night hijinks make fans wonder if they really wanted this baby, and why Jerry Angelo didn't abort the pick a they wished. Bears fans soothe their anxiety by answering their food cravings with massive doses of Kool-Aid.
Stage 4: Training camp - pains and growth.
As training camp opens, the visible signs of pregnancy finally appear. Like any expecting parent, Bears fans put a lot of stock in the littlest signs. For instance, when the little guy starts kicking, we say "That's my Robbie Gould!" On the other hand, when the ultrasound shows the umbilical cord wrapped around the baby's neck, you think, "Not another Rex!"
Stage 5: The big day.
Usually the big day consists of sweating (from eating and drinking too much at 10 a.m.), screaming (because of that fourth offside call in the first half), and blood (after punching the TV). From there, either everything settles into serenity shared by mother and child after a Bears win, or incessant screaming all night by baby on sports radio.
Stage 6: Is our baby deformed?
Like the little babe we hold in our arms, we look at the Bears for signs of greatness. We're happy when they devour their peas and carrots, yet we try our best to look past the tiny hands that just don't seem able to fit around the ball.
Stage 7: The first day of school.
We teach our children the difference between right and wrong. We practice it with them every day in preparation for the first big game. Your kid might come home with gold stars - or he might misbehave and need punishment. The worst outcome is if he's bullied. Then it's over and you move on to your other children.
Stage 8: High school graduation.
By this time we either have a team that is taking college prep courses or making Ninja throwing stars in shop class. But the future is unwritten. The gifted student may start touching himself n math class. The burnout may excel at mechanics. Your little project is at a crossroads.
Stage 9: The 30th birthday.
Sipping your Corona Light, you realize you have reached an important milestone. Your life path is pretty much set. You're either riding the wealth of a division-leading team, or living paycheck-to-paycheck one game behind the wild card leader, or living off the welfare of the league's revenue-sharing.
Stage 10: Middle Age.
Hopefully you passed your annual physical and you're going to enjoy another Bears playoff appearance. Beware if the doctors says "Oh no! I see you have a case of fumblitis and early onset Alzlacher's Disease. If so, your season is checking out early.
Stage 11: Elderly wisdom.
Just as you acquire the wisdom you need to gain the proper perspective on life, you lose all control of your faculties and end up dead. But before you do, you advise your kids that the Bears have the talent to go all the way if Grossman limits his mistakes, the defense stays healthy, and Lovie continues to develop the young talent on the roster.
*
Chicago at San Diego
Clearly, the Kool-Aid Nation approaches this game with much trepidation. To carry out the analogy, they're worried the baby failed to develop 10 toes and 10 fingers while in the womb. I count at least nine of each.
Pick: Bears Plus 6 Points, Under 43 Points Scored
-
For more Emery, see the Kool-Aid archive, and the Over/Under archive. Emery accepts comments from Bears fans reluctantly and everyone else tolerably.

Posted by Lou at 12:40 AM | Permalink
September 06, 2007
The [Thursday] Papers
"A B-52 bomber was mistakenly armed with six nuclear warheads and flown for more than three hours across several states last week, prompting the firing of one commander, Pentagon officials said Wednesday," the Sun-Times notes in a brief on page 27.
Whoa!
What?
A B-52 was mistakenly armed with six nuclear warheads? And flew across several states? Didn't anyone, um, notice?
And, um, which states?
*
Other news briefs at the top of that page: "Craig Starts Day 1 of Campaign to Save Job," and "False Leads But No Sign of Steve Fossett."
Geez, you've got the makings of a front page right there!
Unless you've got some important news from the mayor's office you need to put out there instead.
Mother Goose
I read the Sun-Times first in the morning, then the Tribune and then the New York Times - you know, in order of intellectual exertion I'll have to muster as I shake out the cobwebs - so I already had the above item written in my head before I turned to the Trib and saw that they indeed put the nuke story (via the Washington Post) across the top of its front page.
"An Air Force B-52 bomber carrying six cruise missiles armed with nuclear warheads flew across the central United States last week after the nuclear weapons were mistakenly attached to the plane's wing, defense officials said Wednesday," the Post reports.
What, the ground crew thought they were attaching luggage canisters?
"The munitions squadron commander" - pictured here - "was relieved of his duties."
But the editor of the Sun-Times will retain his.
Twin Killings
The Sun-Times pairs photos - and stories - of two criminal suspects under the headline of "The Look of Hate" today.
Suspects.
You know, people who aren't convicted yet.
Tattoo You
The Sun-Times felt it relevant to note that John Haley, who is charged with the murder of a fisherman who drowned after Haley allegedly pushed him into the lake at Montrose Harbor on Saturday, has tattoos on his neck and forearms.
You know, like most murderers.
Get out of the newsroom much?
*
Mary Mitchell also notes that Haley is "heavily tattooed," in fact using that description right in front of the word "loser."
Nice.
Mitchell argues that Haley is guilty of a hate crime - by her definition.
Fortunately, the criminal justice system doesn't go by Mary Mitchell's Book of Legal Definitions.
The reports so far say that Haley was looking to push someone - anyone - into the lake. That doesn't constitute a hate crime, and it may not even constitute first-degree murder by the time this thing is done.
Visa Secrets
The Family Secrets jury asked the judge on Wednesday for a definition of the word "usurious."
The judge sent them back this.
Brainy Bloc
The following aldermen voted against the mayor's proposal establishing a compliance office designed to undermine the effectiveness of the new inspector general:
- Fioretti
- Preckwinkle
- Hairston
- Jackson
- Munoz
- Moore
The rest sold you out.
Target Product of the Week
Deer Wine Holder.
Product Placement of the Week
Megabus.
Flippers
"One of Chicago's top city planners agreed to buy a town home from politically connected developer Tony Rezko, even as her agency was deciding whether Rezko would be allowed to expand the project," the Sun-Times reports.
The culprit: Rosemarie Andolino, the director of the mayor's O'Hare Modernization boondoggle.
This Rosemarie Andolino:
* "[A] former Water Department personnel director, Phyllis Bergthold, testified that Rosemarie Andolino, now executive director of the O'Hare Modernization Program, was present in some IGA meetings where Bergthold got names from Sorich of political workers who should get jobs or promotions. Andolino worked in IGA then."
* "Andolino is the latest in a clique of former Victor Reyes proteges to be rewarded with powerful City Hall posts."
And this O'Hare modernization.
Rover Reilly
New downtown alderman Brendan Reilly says the new ordinance that he co-sponsored allowing dogs to dine at sidewalk cafes will "go a long way to restoring our prestige as one of the most dog-friendly cities in America."
A) And will increase our chances of landing the Doggie Olympics
B) Which is one of my top priorities, after landmark preservation
C) And will seal the deal with that new Doggie PAC
Market Swing
"Descent Seen for Airfares."
- Tribune, Sept. 4
"Southwest Raises Its Airfares; United, Other Rivals Follow Suit."
- Tribune, Sept. 5
Fill in the Blank
Except give him a penis.
The Beachwood Tip Line: Show your love.
Posted by Lou at 08:43 AM | Permalink
What I Watched Last Night
Reflections upon watching the U.S. Open this week.
I've been into tennis for years. My dad is a great player and my mom was until her pesky knee gave out and got a bionic one. Nowadays, she's fights rudeness and bad behavior with her knee. It's quite the sight. Two of my sisters, Liza and Catherine, are solid players, but we hardly ever played together because the bickering got to be too much for players on the surrounding courts. I grew up playing on green clay courts in the western 'burbs, where one had to wear white tennis togs and the Wilson T2000 was the racquet to have. My dad had one, but ended up ditching it for a Wilson Jack Kramer. What was great about the clay is we could do awesome Bjorn Borg-esque slides, and get green clay everywhere. Those were the days.
Whenever I think of the U.S. Open these days, though, I'm more apt to remember that time when George was caught on camera in the stands wolfing down that ice cream sundae. That was the same year that Jerry fell for that deaf lineswoman and Kramer became the Open's first ballman. Ah, memories . . .

*
At the comedy club
Jerry: Professional tennis. To me I don't understand all the shushing. Why are they always shushing. Shh, shh. Don't the players know that we're there? Should we duck down behind the seats so they don't see us watching them? Tennis is basically just ping-pong and the players are standing on the table. That's all it is. And that goofy scoring, you win one point and all the sudden you're up by 15. Two points, 30-love. 30-love. Sounds like an English call girl. 'That'll be 30, love . . . And could you be a little quieter next time, please, shh.'
In the bleachers at the tennis court. Two players are hitting the ball back and forth.
Jerry: Are these seats unbelievable or what?
George: Where's the sunblock?
Jerry: Here.
George: 25? You don't have anything higher?
Jerry: What, are you on Mercury?
George: I need higher. This has paba in it, I need paba-free.
Jerry: You got a problem with paba?
George: Yes, I have a problem with paba.
Jerry: You don't even know what paba is.
George: I know enough to stay away from it.
George: So are you going to Todd's party this weekend?
Jerry: I'll go if someone else drives. You going?
George: Gwen really wants to go.
Jerry: You're bringing a date to a party?
George: No good?
Jerry: A party is a bad date situation. It doesn't matter who you're with. You could be with J. Edgar Hoover. You don't want to sit and talk with Hoover all night. You want to circulate. (Makes hand motions) Ho, ho, ho.
George: Why'd you pick Hoover? Was he that interesting to talk to?
Jerry: Well I would think, with the law enforcement and the cross dressing. Seems like an interesting guy.
George: Yeah I guess. What can I do? I gotta take her with me. Todd introduced us, I'm obligated.
Jerry: That woman is absolutely stunning.
George: The Croat? [the tennis player]
Jerry: Not the Croat, the lineswoman. That is the most beautiful lineswoman I've ever seen.
George: Yeah, she's a B.L.
Jerry: B.L.?
George: Beautiful lineswoman. I'm going to go to the concession stand and get some real sunblock. You want anyting? Jerry? (Jerry is staring at the lineswoman) Jerry?
* * *
At the tennis court concession stand. George is eating a sundae. At Jerry's apartment. Kramer is watching TV.
Announcer: And that is it. The match to Ms. Natalia Valdoni. Comming up next, mens single, but for now let's stop a minute and take a look at our beautiful tennis center backdrop.
Kramer: Hey, hey, it's George.
George is on TV eating a sundae. His face is covered in ice cream and fudge. He is taking a bite of ice cream and dripping it around his mouth.
Announcer: Holy cow it's a scorcher. Boy I bet you that guy can cover a lot of court. Hey buddy, they got a new invention. It's called a napkin. We'll take a station break and continue with more . . .
* * *
At the tennis court.
Jerry: I can't take my eyes off that lineswoman. That lineswoman is absolutely mesmerizing.
George: Boy you are really smitten.
Jerry: I gotta talk to her. What do you think?
George: Cold? How are you going to do that? You're not one of those guys.
Jerry: I'm going to psyche myself into it like those people that just walk across the hot coals.
George: They're not mocked and humiliated when they get to the other side.
Jerry: I have to. I won't be able to live with myself.
George: Wait a minute Jerry, there's a bigger issue here. If you go through that wall and become one of those guys I'll be left here on this side. Take me with you.
Jerry: I can't.
George: What are you going to say?
Jerry: I don't know, "Hi".
George: You think you're going to the other side with 'Hi'? You're not going to make it.
* * *
At the tennis court. Jerry is standing behind the lineswoman.
Jerry: Excuse me. (Woman ignores him) Excuse me? (Still ignores him) Oh that's nice. That's right ignore me. That's real polite. Nobody's even talking to you. All you big lineswoman. Oh you've got some kind of a cool job. I know your type thinking your too good for everyone, but it's women like you (woman turns around and notices him) oh well, what are you deaf?
* * *
Kramer: You got it. Hey Jerry, do me a favor. The next time you see that lineswoman ask her how those ball boys get those jobs. I would love to be able to do that.
Jerry: Kramer, I think perhaps you've overlooked one of the key aspects of this activity. It's ball 'boys', not ball men. There are no ball men.
Elaine: Yeah I think he's right. I've never seen a ball man.
Kramer: Well there ought to be ball men.
Jerry: All right I'll talk to her. If you want to be a ball man go ahead, break the ball barrier.
Elaine: Hey you know a friend of mine from work said that she saw George at the tennis match on TV yesterday.
Kramer: Yeah, yeah me too. Yeah he was at the snack bar eating a hot fudge sundae. He had it all over his face. He was wearing that chocolate on his face like a beard and they got in there real nice and tight. And he's . . . (Imitates scooping up ice cream.)
* * *
Kramer: Hey, George, I saw you on TV yesterday.
George: Really? At the tennis match?
Kramer: Yeah you were at the snack bar eating a hot fudge sundae.
George: Get out of here. I didn't see any cameras there.
Kramer: Oh, the cameras was, vrooom, there. The announcers, they made a couple of cracks about you.
George: Cracks? What were they saying?
Kramer: That you had ice cream all over your face. They were talking about how funny you looked.
George: Maybe Gwen saw it. Maybe that's what [made her break up].
Kramer: Well I'll tell you it wasn't a pretty sight.
George: She must have seen me eating it on TV.
Jerry: So she sees you with hot fudge on your face and she ends it? You really think she would be that superficial?
George: Why not. I would be.
The phone rings.
Jerry: Hello . . . Oh hi dad . . . You saw him? . . . Really with the ice cream? . . . All right I'll talk to you later, bye.
George: You're parents saw me on TV?
Jerry: Yeah.
George: This is nightmare. Kramer how long was I on?
Kramer: It felt like 8 seconds.
George: One-one-thousand, two-one-thousand, three-one-thousand.
Elaine enters.
Elaine: I heard you *really* inhaled that thing. Did anyone tape it?
* * *
At the tennis court.
Elaine: It's so amazing getting to see Monica Seles playing in the finals.
Jerry: I know and on the first tournament of her comeback.
Kramer is sitting poised on the sideline. He waves back to the group. George and Elaine gives him a thumbs up. The two players hit the ball back and forth. The ball lands in the net. Kramer springs into action running toward the ball and runs into Monica Seles. Monica falls to the ground in pain.
Jerry: Thus ends the great ball man experiment.
-
More TV goodness in the What I Watched Last Night files.
Posted by Lou at 06:08 AM | Permalink
Chicagoetry: I Once Prayed to God
I ONCE PRAYED TO GOD
I once
Prayed to God
To
Die.
I once
Prayed to God
For
Pussy,
For money,
For a bus.
I now
Pray to God
For
Mercy.
Only.
Once.
-
J. J. Tindall is the Beachwood's poet-in-residence. He can reached at jjtindall@yahoo.com. Chicagoetry is an exclusive Beachwood collection-in-progress.
Posted by Lou at 06:05 AM | Permalink
Over/Under
The NFL isn't exactly a repository of great wisdom these days - outside of whatever we can learn from strip clubs and dogfights. But the sages of the ages do have some useful advice for fans if you know how to interpret their words. We'll translate for you.
*
Tupac Shakur: Reality is wrong. Dreams are for real.
Applied to NFL: And Lovie dreamed that Lance Briggs wasn't drinking and didn't violate any team rules.
*
Shakira: Hips don't lie.
Applied to NFL: But the football players attached to them do.
*
Scott "Dilbert" Adams: If there are no stupid questions, then what kind of questions do stupid people ask?
Applied to NFL: Watch any locker room interview to find out.

*
Confucius: By three methods we may learn wisdom: First, by reflection, which is noblest; second, by imitation, which is easiest; and third by experience, which is the bitterest.
Applied to NFL: We will never be allowed to forget the 1985 Bears.
*
Henry Wadsworth Longfellow: Into each life some rain must fall.
Applied to NFL: And some of it will slip through the hands of Rex Grossman.
*
Tammy Wynette: Sometimes it's hard to be a woman. giving all your love to just one man.
Applied to NFL: It's hard to be a one-team fan when your team keeps letting you down.
*
Thornton Wilder: Marriage is a bribe to make the housekeeper think she's a householder.
Applied to NFL: And sports event is a bribe to make fans think they have something to do with the team.
*
Thornton Melon: The football team at my high school, they were tough. After they sacked the quarterback, they went after his family.
Applied to NFL: A violent ground acquisition game such as football is in fact a crypto-fascist metaphor for nuclear war.
*
Gandhi: I believe in equality for everyone, except reporters and photographers.
Applied to NFL: Nosterdamus said much the same long before Gandhi, and foresaw the creation of Mike North to boot.
*
Francis Bacon: The root of all superstition is that men observe when a thing hits, but not when it misses.
Applied to NFL: Still, it seems like Robbie Gould makes more kicks when I'm standing up than sitting down.
*
Mark Twain: I didn't attend the funeral, but I sent a nice letter saying I approved of it.
Applied to NFL: Fans will jump off bandwagons at twice the rate they jump on.
-

OverHyped Game of the Week: New Orleans at Indianapolis (Thursday night)
Will the game measure up to the quality of the commercial?
Probably not. But having finally won the Big One, the Colts will actually have the bigger chip on their shoulders and more to prove.
Pick: Indianapolis Minus 6 Points, Over 53 Points Scored.
-
UnderHyped Game of the Week: New England Patriots at New York Jets
Has the media lost its collective "man crush" on Tom Brady? It seems like they only heart Peyton these days.
Not me. Though Patriots games are usually prime contenders for OverHyped status, this time the cleat is on the other foot. Both teams really hate each other. The Jets surprised the Patriots with a win early last last season. And I still heart Tom Brady.
Pick: New England Minus 6.5 Points, Over 41 Points Scored
-
For more Emery, see the Kool-Aid archive, and the Over/Under archive. Emery accepts comments from Bears fans reluctantly and everyone else tolerably.
Posted by Lou at 12:04 AM | Permalink
September 05, 2007
The [Wednesday] Papers
The funny thing about Carlos Zambrano is that if he wasn't a player he'd be one of those guys jumping out of the stands and running across the field to accost a player.
Wake-Up Call
Cubs rookie Eric Patterson was sent back to the minors for showing up late to the ballpark - again.
You're a rookie called up to play at Wrigley Field in a pennant race and you're late to the park? They couldn't get me to go home at night. I'd just sleep at my locker.
Close Call
By the time R. Kelly goes to trial, George Ryan will be out of prison.
Bad Call
The endorsement of the Sun-Times editorial page is hardly worth the 25,000 votes that separated Paul Vallas from Rod Blagojevich in the 2002 Democratic primary for governor, but no one from the editorial board nor publisher John Cruickshank or editor Michael Cooke have come forward to this day to explain what really happened when then-publisher David Radler overruled the board in issuing its endorsement of Blago.
If the paper really wants to put the Radler (and Conrad Black) Era behind it, it has to come clean about what really went on - not just in the business suites but on the news pages. Surely that's what the editorial board would demand of other civic entities.
Call Ahead
"A Paris program that allows residents to rent a bicycle on one side of town and drop it off miles away could be duplicated in Chicago if Mayor Daley has his way," the Sun-Times reports.
It would replace the CTA.
*
If the mayor has his way?
Did I wake up in an alternate universe where this even remotely a question?
"The mayor's bike rental proposal went down in flames today before a city council committee that questioned the program's cost and effectiveness . . . "
*
The program will be funded by one of the mayor's new Mobile TIFs.
Routine Call
Meanwhile, the world's greatest manager has another entirely predictable mess on his hands.
Earth to Neil
A guide to (the print version* of) today's Neil Steinberg.
1. Let's be flip about a missing man who may be dead while pretending to care!
2. I don't follow sports but I read somewhere that something interesting happened this weekend!
3. Add Lou Holtz to the list of public figures I've never heard of!
4. Invoke tough guy Chicago columnist persona from the past because I don't recognize the present and then pretend to apologize for having a big enough vocabulary to score 551 points against my 11-year-old son in Scrabble! See, I'm really smart!
* The online version is a bit scrambled.
-
On 848's Month in Review segment last Friday - which also featured our very own Cate Plys - Steinberg objected to John Kass's portrayal of the Family Secrets trial as a blueprint for how the city works.
The days of laying a dollar on the seat to pass a driver's license test are over, Steinberg noted.
True enough. Now we have an ex-governor on his way to prison on corruption charges that began with driver's licenses being awarded to truckers in return for campaign contributions.
Cynical Call
Aside from being a day late to the Zambrano story, the Sun-Times's front page today features this tease: "Skinhead a suspect - but death wasn't hate crime."
From the page 5 story "Harbor Suspect Said He'd Attack Man: Cop:" "The man is allegedly a member of a skinhead group."
Sidebar underneath that story you might have missed: "Reportedly Member of Skinhead Group That Fights Prejudice."
So, you know, disregard the premise we used to draw you into the story and the assertion we made therein.
Hammer Time
Bob Reed on how the Oak Brook-based Ace Hardware's proposal to turn itself from a co-op into a traditional corporation would enrich management but screw you and your neighborhood store owners.
Don't Call Us
Sneed's World.
Calling Out Clooney
Forgive us, George, you're just trying to make a living.
Call Plan
"Fed up with dropped calls and a string of defective cellphones, [Chicago consultant] Corey Taylor said he became irate when he learned he'd have to pay $175 to get out of his long-term contract with Verizon Wireless. So he resorted to a rather extreme measure. He faked his own death."
Calling All Cars
The 10 Worst Cars of All Time. (via Consumer World)
Call Them True
Tied and true.
The Beachwood Tip Line: Always on-call.
Posted by Lou at 09:04 AM | Permalink
And Then There's Maude: Episode 4
Our tribute to the 35th anniversary of the debut of Maude continues.
*
Season 1, Episode 4
Episode Title: Like Mother, Like Daughter
Original airdate: 3 Oct 1972
Plot: Maude's livid that Carol is dating Russell Asher, world famous author and noted lady-killer. Could her extreme reaction have anything to do with the fact that Maude dated Russell once upon a time? Maude insists it's because Russell is a rake who is twice, no, make that three times Carol's age.
Russell arrives to pick Carol up for their date. They're taking a helicopter into the city for his appearance on The Tonight Show . . . with Johnny Carson. Maude insults Russell at every turn. After the couple leaves, Maude worries that Russell will dump Carol the way he did Maude. The next morning, Maude learns that Carol is breaking up with Russell because he called her by her mother's name.
Maude is radiant, flattered to think that Russell carries a torch for her. When Russell arrives to plead his case to Carol, Maude fawns over him. As Carol and Russell argue, it comes out that it was in the heat of an argument, not passion, when Russell uttered Maude's name. Carol calls Russell a conceited, pompous boar to his face, Maude (her bubble burst) backs Carol up, and mother and daughter usher him out the door.
Hot button social issue: The male "change of life" - dating younger women and male menopause.
Fashion statement: Maude wears a brown vest, orange sherbet blouse and purple paisley neckerchief. Russell's leisure suit ensemble includes a powder blue shirt (unbuttoned down to his navel, with a gold fish necklace (Rrrrrrowwww!), a wide belt and those button loop things worn like epaulettes on the shoulders. (What was with those, anyway?) This is what he's wearing on The Tonight Show, a look he's put together that says I'm "male, dominating (but not domineering) and authoritative yet understated." Or, look at me. I'm a conceited, pompous boar.
Neckerchief count: 2
Cocktail hour: 12-year-old scotch with a twist.
Welcome back to 1972 pop culture reference: This one is as obscure as it gets: Maude mentions the name of someone who supposedly appeared on The Tonight Show the same night as Russell. Ready? Hands on buzzers. Twenty points if you know who Virginia Graham is.
Number of times Maude yells: 2
Memorable quote: "Maude, stop it. You're acting like Bette Davis on a bad day."
-
Previously:
Season 1, Episode 1: Maude's Problem.
Season 1, Episode 2: Doctor, Doctor.
Season 1, Episode 3: Maude Meets Florida.
Posted by Lou at 12:56 AM | Permalink
Pool Daze: No Lifeguard on Duty
Previously: "Pool Daze: It Happened One Summer."
*
"That sounded like a pool falling!" observed Joanne Kimzante, an almost-daily poolie who never once lived in the pool's apartment complex. Joanne was referring to one of the many construction clanks and bangs that sounded during Chicago summer days; although this particular noise, in my ears' opinion, was no different than any other to occur that morning. Joanne's comment was just one of the batty remarks I heard pass her vampiric mouth in all the summers of her polluting our pool.

Joanne got through our sturdy gates on account her niece actually rented an apartment there and had a pool pass that we never checked. Her niece, Kim, was one of our favorite poolies, who frequently brought us snacks and invited us to use her bathroom. So Joanne was at first considered cool by association.
Now, it's one thing to accept this "in" and stop by on occasion when visiting a niece, but Joanne took her allotted coolness and spent it in about two weeks of constantly showing up to bathe. There were many days that Kim didn't even know her aunt was there; Joanne wouldn't even bother to stop by and say Hi to Kim on her way to Kim's pool. Often, we would inform Kim of her presence in the afternoons, well after Joanne had left.
We didn't mind Joanne because there was typically a lot of silence during the days. Kathleen and I couldn't keep each other company on every shift, so Joanne e often filled the conversation void. And boy, did she have a lot to say! Joanne was notorious for striking up conversations with any old pool-dweller; even the small children who were mostly petrified of her.
You see, Joanne was like no woman you've ever beheld. Or maybe you've seen her in caricature form - like the really tan old woman in There's Something About Mary. Joanne made that woman look pale.
And it wasn't just because she spent countless hours at our poolside, oil dripping from her long boney toes, fucking up the pH. Joanne showed up the first week of June raisin-dark and ready-to-wrinkle. We always wondered what her winter tanning routine entailed since she never seemed to skip a beat, nor get any darker throughout the summers. It seemed as though the oil she constantly slathered was not to increase her tan, but to soften her chocolate-brown leather skin - true tanning, in the ancient sense of the word.
Her hair stood a good two feet off her head; a stark black nest of immovable teasing and Aqua Net. She was careful not to let water near her head, and if it came close, by some cannon-balling teen, for example, she was certain to cause a scene and move her towel. During these huffy moments, we were able to catch a glimpse of Joanne's true colors. As she bent down to retrieve her Harlequin romance novel from the deck, we saw the creases where Joanne's buttocks met her legs - stark white streaks, completely untouched by the sun.
Joanne provided us with endless entertainment, even though she could be pesky at times. One day, intrigued by our school system, she wondered aloud, "How many black people are at your high school?" As if Kathleen and I kept racial pie charts in our pool totes. One summer, we battled murky pool waters for at least a month; no amount of chlorine could fight the cloudiness in the pool. We attributed the dirty water to a combination of incredibly hot temperatures and Joanne dipping her oiled legs into the pool.
In spite of all the ways in which Joanne was tacky and knowingly abusing her privilege to bathe at our pool, it was my own actions that eventually severed our good terms. One afternoon I came to the pool on my day off to kick back and not worry about not worrying about the short list of pool attendant duties that usually didn't plague my shifts. It was a busier day and I pulled up the vacant long chair next to Joanne, and proceeded to drift into a well-needed nap.
An hour later, I was awoken by Joanne, who frantically alerted me that someone was drowning. I jumped up and quickly turned to the deep end to see a semi-regular poolie flapping about in the water. Being familiar with this woman, I dismissed it almost immediately. She was a towering blonde woman who stood at least 6-foot-3, making it almost impossible for her to drown in calm six-foot waters.
But Joanne continued on hysterically. I assured her the woman was okay and perhaps mentioned that I was not on duty, which did not please Joanne. Besides, I told her, even if I was on duty, I was not a lifeguard. There was even a sign that said "No Lifeguard on Duty;" how much clearer could it get? And furthermore, who did she think I was? My 17 year-old, 115-pound stature would have crumbled under the weight of that 200-pound woman the instant we rose above the water's surface. I was not about to attempt heroics in this situation . . . even if I did graduate from the same high school as David Hasselhoff.
The large woman in the pool eventually realized she could touch the bottom and made it out safely within a minute. But that minute of my neglect was enough for Joanne. Kathleen overheard her repeating a version of the story to another disgusted poolie the following week. Things were never the same with Joanne. Never again did she probe into the minority ratios of my school, nor offer me her special sun oils, in hopes I would crisp to the beef jerky texture that she had.
Luckily the near-drowning occurred my final year at the pool, before I began college and started working harder for less money; so the awkward silent moments spent with Joanne were limited. Unbothered by her turned-shoulder, I was actually satisfied with her new disdain for me. I saw Joanne as one of those people I was happy to displease; her disliking me was my confirmation that I was an okay chick, by my own and most standards.
I wonder about her whereabouts today, but if my inkling is correct, Joanne is still dipping herself into somebody else's pool and many people's personal lives. Although it ended sourly, Kathleen and I will always remember and laugh at those long summer days, stuck behind the gates, listening to pools falling with Joanne, Kim's auntie.
To be continued.

Posted by Lou at 12:37 AM | Permalink
September 04, 2007
The [Tuesday] Papers
BREAKING PHOTO 10:39 A.M.: Carlos Zambrano.
Big Zero
"I don't accept the fans booing at me. I can't understand that. I thought these were the greatest fans in baseball. But they showed me today that they just care about themselves. That's not right. When you're struggling, you want to feel the support of the fans. No, I don't accept that."
Um, first time at a ballpark, Carlos?
*
Zambrano promised to remember this.
What's he going to do, pitch well for revenge?
*
Big Z isn't a real bright guy, but he does understand where that $92 million comes from, right?
*
It's just so stupid it's not even fun to make jokes about. This is a guy who pummeled a teammate, routinely shows up the opposition and has an obvious anger management problem. In other words, he's a fabulously wealthy child.
I hope it's Cubs fans who never forget.
Child's Play
Speaking of children, the front page story of the Sun-Times today is about two brothers who oversee operations at the Hancock and Sears Tower?
Seriously, how can you be so out of ideas in a city like Chicago?
Oh wait, here's something: A woman went into labor . . . on Labor Day!
*
The lead story in the business section on Sunday was a Bloomberg News profile of the Bank of America's CEO. Well, he's a laborer too! And apparently the business section takes the whole weekend off.
Goose & Gander
"In newsrooms all over the city, poorly qualified reporters and editors hang on, comfortable and protected. Our citizens deserve better."
- Sun-Times editorial
Er, wait. In classrooms all over the city, poorly qualified teachers hang on. Sorry.
Segway Segue
Both papers wrote up the story fed to them about a police officer on a Segway chasing down a suspect in a shooting - a first for the Segway unit.
Sun-Times "crime reporter" (the paper does not have police reporters, which gives you an idea of which way the coverage slants) Frank Main wrote: "Now Segways have proved valuable in chasing crooks,"
Yes, after all these years! The evidence is finally in!
But really.
Buried at the bottom of the Tribune's account was the officer's admission that he could outrun the Segway he was on. So why didn't he?
In other words, the story is that a police officer, upon hearing gunfire and seeing two men sprinting from the area, didn't run after them but revved his scooter up to an alleged 10 to 12 mph in pursuit.
I wonder if that's department policy. Or if Segway funding is currently under threat and they needed the PR.
Either way, I'm kind of outraged that the cop didn't get off his frickin' scooter.
Face to Face
"[Elvira] Arellano's case was just one among an estimated 12 million illegal immigrants in this country, and we think there are better cases to rally around than hers," the Sun-Times editorial board declared on Monday.
And as soon as they find one they'll let us know.
*
Mark Brown found one and guess what? It involves Social Security fraud too. Maybe the face of illegal immigration should be someone working off the books and not paying taxes. Would that make everyone feel better?
TV Tray
The Tribune editorial page remembers a time when "families talked at the dinner table." You know, a time before TV.
But without The Sopranos and American Idol to discuss, what did they talk about?
*
"When's the last time you heard anything good said about television?" the paper asks.
Hello?!
Boy, I would not want to live in these people's dreary world.
And if the Tribune editorial board is still dubious about television - but high on the radio, as you shall see in the next item - it's no wonder it doesn't have a clue about the Internet.
*
On Saturday, the Trib edit board advised the Federal Trade Commission to "get out more" in response to its opposition to Whole Foods' proposed buyout of Wild Oats Markets.
"Go shopping," the board said. "Flip on the radio. You'll be amazed at the choices."
The radio? You mean the medium held in a chokehold by a couple megacorporations trying to shut down choice on the Internet?
Camp Obama
The Sun-Times has finally gotten around to the Camp Obama story that is on the campaign coverage checklist handed out to every media outlet by the Mainstream Media Council's Enforcement Committee.
This version, like the others, has the Obama campaign teaching its volunteers to be "absolutely ruthless" even as the usually admirable Abdon Pallasch writes that "Obama is not like other candidates."
I'm still waiting for someone to square that circle.
Is it because Obama uses Saul Alinsky's technique of appealing to people's self-interest - you know, the strategy Republicans have used so successfully?
I mean, it's not like Alinsky has influenced other candidates through the ages.
My Latest Heroes
"On the Appalachian State campus downtown, a crowd estimated in the thousands steamed out of dormitories and student apartments, headed for Kidd Brewer Stadium and tore down one of the goal posts - no matter that the game took place more than 500 miles away in Ann Arbor, Mich. They carried it in a serpentine route through campus, knocking over two lamp posts in one particularly tight spot, then up Rivers Street and hilly Bodenheimer Drive to Chancellor Kenneth Peacock's residence, where they deposited the souvenir neatly in the middle of his driveway. The scene was promptly marked off with yellow police tape."
- "Appalachian State Proves There Are No Givens," New York Times
Tap Dance
The Tribune on Sunday ran excerpts from the police report filed on disgraced Idaho Sen. Larry Craig (R-Closet) that turned up an item I haven't heard anyone comment on: He apparently tried to use his office to get out the charge.
"When we got to the Police Operations Center," the report says, "Craig handed me a business card that identified himself as a United States Senator as he stated, 'What do you think about that?'"
It's not in the report, but I think the officer's reply was "Well, I won't hold that against you."
*
If it was Rod Blagojevich in that men's room . . .
The Beachwood Tip Line: Morse code accepted.

Posted by Lou at 09:48 AM | Permalink
Our Foot-Tapping Governor
If Rod Blagojevich had been the one caught tapping his foot in a men's room . . .
*
1. "You've got this all wrong. I just reached down to grab my approval ratings, which had actually fallen through the floor . . . "
2. "I guess I was being too literal in my efforts to low-ball the state legislature."
3. "I have to use a wide stance when I'm on the toilet, officer, because I'm completely full of shit."
4. "Listen, officer. Things have been a little frosty at home since I shut down the wife's father's cousin's landfill . . . "
5. "What bathroom? I wasn't in a bathroom. I'm not even in this room talking to you right now."
6. "I was trolling for campaign contributions, not sex, you idiot! Ever think about serving on a state board?"
7. "I am not gay, and I want the legislature working in special session every day to prove it!"
8. "I only reached my hand around to see if you were wearing a wire."
9. "I was hoping you could spare a square because I accidentally cut toilet paper out of the budget."
10. "I was just tapping out Morse Code for 'Do you know a good accountant?'"
Posted by Lou at 07:22 AM | Permalink
And Then There's Maude: Episode 3
Our tribute to the 35th anniversary of the debut of Maude continues.
*
Season 1, Episode 3
Episode Title: Maude Meets Florida
Original airdate: 25 Sept 1972
Plot: Maude frantically cleans the house in preparation for the arrival of the new housekeeper. Walter's cranky because step-grandson Phillip kept him awake all night practicing swearing into a tape recorder. Maude is hypersensitive about making the black housekeeper feel welcome and above all Equal with a capital E. It seems Maude has a habit of spoiling black maids ("A black maid says hello and you say sorry") to the point where Walter has to fire them.
Enter Esther Rolle as Florida Evans, soon to spin-off in Good Times just as Maude did from All in the Family.
Maude immediately tries to befriend the new housekeeper, encouraging her to call them by their first names and feel like she's one of the family. Florida, wary of Maude's ingratiating behavior, agrees to take the job on a trial basis and leaves. Maude vows she's going to transform Florida from a "pre-liberation Southern black" into a modern Negro with a sense of self-respect and militancy. Right on, Maude!
Of course her plan to "improve" Florida backfires and the housekeeper quits. (Score one for Walter, who believes Maude incapable of keeping a housekeeper for more than two days.) Before Florida gets out the door, Carol and Walter plead Maude's case and Florida reconsiders. She and Maude have a heart-to-heart where Florida puts Maude in her place, Maude agrees to let Florida do her job, and Florida wins the right to come and go through the back door if she darn well pleases.
Maude does the Superior Dance thinking she won the bet, successfully managing to keep Florida from quitting. When Carol tells Maude that she and Walter were responsible for keeping Florida, Maude drowns them out by bursting into song. "Whatever Maudy wants, bum da da dum da dum, Maudy gets . . . "
Hot button social issue: Racial equality and white liberals who try too hard.
Fashion statement: Purple paisley baby!
Neckerchief count: Zero. It's all big collars, long vests, and wiiiide loosely tied scarves.
Cocktail hour: I want to work for Maude. She's serving martinis to the maid in the middle of the day.
Welcome back to 1972 pop culture reference: Wow, the tape recorder Maude bought grandson Phillip cost 49 bucks!
Number of times Maude yells: Once, during a big argument with the housekeeper, but Florida gives as good as she gets.
'70s slang: When Maude asks Carol what she thinks of the new housekeeper, Carol replies, "I love the way she comes on." Florida thinks Carol is "pretty groovy."
Memorable quote: Maude demonstrates tough love by threatening two family members with "I'll rip your heart out."
Times the live audience breaks out into spontaneous applause: 1.
-
Previously:
Season 1, Episode 1: Maude's Problem.
Season 1, Episode 2: Doctor, Doctor.
Posted by Lou at 07:06 AM | Permalink
The Cub Factor
The Cubs continue to be in first place and I believe that they will finish up this season on top. So what does that mean to Cub fans? Well, it means meaningful games in September and must-see playoff baseball in October, and that doesn't happen much around here. And with playoff baseball comes the hard thinking about where to watch the game. You could try to get tickets and go to the game, but that is hard to do. You could watch it at home (or at a friend's house) with amenities like cheap beer, relatively clean bathrooms, and corn chips at your disposal. Or you could watch it out in one of the bevy of drinking establishments this great city has to offer.
For the sake of argument, let's say you want to go out to the neighborhood corner tavern (they still have those, right?) Now, what are you going to wear? If you are a Cub fan of any significance you probably have at least one team T-shirt, sweatshirt, jacket or jersey. But what if you have more than one? What to do then? Decisions, decisions. It's not like you can wear that shirt that you wore the last time they won the World Series. Back in 1908 you probably loomed a "C" on your own clothes. Okay, you probably didn't loom your own clothes in 1908, but I'm not that into history and the point is you have to make a decision. The problem is, you are probably going to go with your most expensive piece of Cubness, and that would probably be a jersey - if you have one. And then, the problem with the jersey is that it's probably a Sammy Sosa jersey that you bought in 2002. Or that Prior jersey you bought in 2003. Or maybe a Garciaparra or a Pierre. These guys aren't on the team anymore (or in Prior's case anywhere near the active roster ) and more than that they carry some baggage. It's hard to look cool when you are going into the restroom in between innings with your 2001 Kerry Wood jersey when someone across the bar yells, "Hey Woody, don't slip and fall getting off the throne in there!" It's not the funniest thing in the world to say, but it might get some laughs at the bar and do you want to be the guy getting laughed at?
So what to do?
You could put on an Aramis Ramirez or a Derrek Lee and you'd be in the clear. But neither of those guys really say much about you, do they? I realize that the jersey isn't about you per se, but you do shell out a bunch of cash for it so you might as well make it show who you are a little bit. With this in mind I decided that I was going to purchase an authentic Cub jersey. But who to get? Anyone on the current team? I really like Ryan Theriot's approach to the game and focus - but really, can he be counted on for jersey staying power? A Carlos Marmol might be cool, but I'm not really a middle reliever jersey guy, even though he will probably be a closer eventually. I don't think the current roster is going to do. So how about he past? Those 1984 Sandberg and Sutcliffe throwback jerseys are cool, but also pretty expensive and, besides, you've seen them around. Hmm, maybe a 1984 Keith Moreland, that would be cool. But I'd want the "Zonk" away jersey and I don't think they make them. They make some 1969 throwback jerseys but I never really saw those guys play myself so that isn't going to do. So, it's got to be someone I've seen play, someone I was a fan of, and someone that can't really tarnish their image.
I got it: The Shooter. Rod Beck.
Okay, before you think I'm a morbid jerk-face, hear me out. Rod Beck died recently from what looks like a drug overdose at the age of 38. He was a larger-than-life character who saved 51 games for the wild card-winning 1998 Cubs. In 1999 he started with the Cubs before he was traded to the Red Sox. He also gained notoriety for starting a comeback with the Triple-A Cubs and living in a trailer outside the ballpark in Des Moines where fans could hang out and throw down some cold ones with him. He was also buried in his Cubs uniform. Seems like he loved Chicago.
So we have a beer-swilling, Chicago-loving, mullet-wearing, fat guy, bad-ass, nice guy. Why not wear his jersey? It's nice to know there was a guy like the Shooter who did it with his guts in one hand and a beer in the other. Plus, on the straight jersey aspect, the 1998 Cubs wore the Harry Caray patch and the Jack Brickhouse Hey-Hey patch. How perfect is that?
*
Week in Review: The Cubs Meatloafed the Brewers and Astros, then got crushed by the Dodgers on Labor Day. Look out for the bandwagon to roll downhill so fast it might break the sound barrier.
Week in Preview: The Cubs have three more at home against the Dodgers and then head out to Pittsburgh for three against the Pirates. The Pirates have played better of late and will not be pushovers. Beware the Pirates.
Second Basemen Report: Stop the presses! We had one guy start every game last week at second base: Mark DeRosa. With any luck, the Cubs can get up a few games in the standings and give DeRosa a day off to let some of the others play second base. You know, like the good old days. With the rosters expanding, we have even more possibilities to explore. You know, just like Jim Hendry drew it up.
In former second basemen news, Matt Stairs played one game at second base for the 2001 Cubs (look it up, it's true). Stairsy, who is originally from Canada, is currently batting .302 with 18 homers for the Toronto Blue Jays. He is missed.
Sweet and Sour Lou: 79% sweet and 21% sour. Lou is up one more point on the Sweet-O-Meter this week due to winning baseball and a good bullpen. And just like your real crazy drunk uncle, Lou is happy that you guys are getting along and doing well. But don't expect him to get all mushy. He barely remembers your names when he's sober let alone after a bunch of Falstaffs. Just keep it up.
Beachwood Sabermetrics: A complex algorithm performed by the The Cub Factor staff using all historical data made available by Major League Baseball has determined that no team will actually win the NL Central, but five teams will lose it.
Over/Under: The number of Chicagoans by the end of the week who will have turned in their Cubs hat for a White Sox hat who have now fished out that old Cubs hat: +/- 70,473.
Cubs Fans Theme Song: "Please Stop Believin'"
The Cubs Answer Men: #3 is in the building.
The Cub Factor: Catch up with them all.
Mount Lou: Lou is still experiencing a lack of offense pressure in his core. Expect early inning magma to boil up in a minor lava shower in Pittsburgh.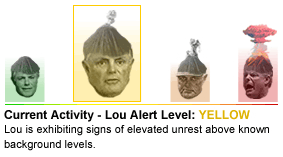 Posted by Lou at 12:20 AM | Permalink
RockNotes: Punks vs. Poseurs
To anyone who grew up admiring the values and raw energy of punk rock in the late 1970s and early 1980s, yet didn't get a Mohawk or pierce up, there's always been a (sometimes strident) tone of condescension toward we more mainstream fans from the true believers who spent long days fighting the man on streets of the big city, then, exhausted from their virtuous struggle, taking their well-deserved rest on the floor of whatever coldwater squat they could scrounge. These guys always wanted to make punk rock less a cultural movement than some kind of meritocracy: "You have to prove you're good enough to listen to our music, man."
We were poseurs.

On one hand, this let you know you were listening to and/or witnessing something special - at least someone thought it was special, something so far beyond the normal parameters of corporate-controlled thought patterns that it was to be defended fiercely against all comers. And that made it fascinating. But it also doomed punk as a truly influential thing, and I think relegated it to something like a cult, while the music of 1960s - which punk rock reinterpreted so brilliantly and is its ultimate legacy - maintained its flawed and calcifying hold on the nation's mainstream despite the furious attempts of the "non-poseurs" to break it.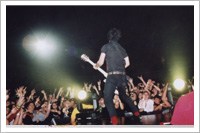 That irksome tendency of punk rockers to be obsessed with authenticity over all else has never waned, which, I guess, may be proof of title of a major new documentary out now called Punk's Not Dead. As long as there are two tattooed people getting into spitting-mad arguments over what constitutes a "sell-out," punk will never be truly dead. Kind of like lefties arguing endlessly over the finer points of Trotskyism vs. Leninism . . . as long as they're groping for the ideological light, the ideology must still be alive out there somewhere. And judging from the discussion about the movie, there are a lot of first-wave punk rockers still out there who are unconvinced that modern bands such as Blink 182 and Good Charlotte even deserve the name "punk."
Why? It's the same old thing with these guys. They can't be "punk" because they've cut deals with corporate sponsors. They're too poppy. They're on major labels. They're copping the style and the images but they have none of the . . . authenticity . . . of their elders because there's a support structure for them. One of the main points made in Punk's Not Dead by producer/director Susan Dynner is that the first wave had to make everything up as they went along - they formed their own club circuits, started their own fanzines, even set up housing networks for touring bands, all without the major labels having any idea what was going on.
Dynner herself was a punk rock hotelier in the early '80s as bands come through her Washington D.C. turf. She also was a proficient rock photographer whose pix became the basis for a many a classic poster and album cover. Now establishing herself an indie filmmaker, she has a pretty compelling and unique perspective on the whole punk rock authenticity question. In her view, the distinctions between poseur and punk are ridiculous. It's all in the eye of the beholder - so true! If only she had been in a position to have her ideas listened to in 1982, maybe punk rock wouldn't have been assigned to the cultural curiosity bin so quickly.
Here are some excerpts from an interview she gave to the American Film Institute as that group was about to screen Punk's Not Dead at the AFI Dallas International Film Festival earlier this summer:
Q: Are the Blink 182s of this generation doing justice to punk music?
Dynner: I think they've redefined it and made it their own in terms of whether or not it's punk. I mean, bands like The Clash and The Pistols all signed to major labels back then. Even bands like UK Subs, who are now considered an underground band who have been playing for 30 years, they were on a major label. They had some film done about them back then. Now kids are doing the same thing today with their bands and they see it as as an acceptable thing to be on a major label, to have corporations sponsor their tours. I mean, that's just the way the world has changed. There are still are loads of underground bands who are still playing in basements who have no interest in going that route, but there are others who are in-between, who see this as a viable career move who don't want to sell out to the man, either.
Q: What about the constant charges of posing in punk rock?
Dynner: It's funny because when you're 13, 14 or 15, being a poseur is a huge deal. When you get older, it so doesn't matter. I mean, it's like, if you're into the music, great. If you're into it because you have something to say, you have statement to make, great. If you're into the politics, great. It doesn't really matter how you get into it. It doesn't matter if you're into it sometimes, and sometimes you're not. It's all how it affects you personally, so I don't really care if people are poseurs or whether they're true punks. It's all up to that individual, I guess.
*
Comment from Tim Willette:
I think they've redefined it and made it their own in terms of whether or not it's punk. I mean, bands like The Clash and The Pistols all signed to major labels back then. Even bands like UK Subs, who are now considered an underground band who have been playing for 30 years, they were on a major label.
Setting aside the "sell-out" charges lobbed even at these bands by certain of their contemporaries, it bears repeating that 1977 was a different universe. The opportunities open to, say, the first wave of CBGB bands were extremely limited. Bands in the late '70s that endeavored to operate outside the major label/venue system needed an extraordinary level of dedication not only to their creative work but to the process itself. The DIY approach of Dischord (hand-cutting every record sleeve!) and SST (a handful of guys with no budget calling record stores around the country, pretending to be anonymous Black Flag fans), not to mention bands like Flag and Dead Kennedys playing fans' basements in Alabama because they'd play anywhere they were asked, may have been born of equal parts desperation and cluelessness. But thank god for them.
The facts on the ground in the late seventies were no longer operative by the mid-'80s, thanks to these nutcases' heavy lifting. Certainly by the '90s, the "alternative" label/venue/zine/radio network had been firmly established. Bands now, as ever, sign to majors and play the game for any number of reasons, but "the Clash were on CBS" is the least convincing rationale today. You could at least argue that absent major backing, the Ramones never would have played London and the Buzzcocks wouldn't have played New York in '79. That argument was laughable by the pre-internet mid-'80s and holds even less water now.
I'm with Albini on this -- forget the ethical/authenticity arguments; the best reason to avoid contact with majors is the majors have the muscle to fuck bands over in ways that smaller labels could only dream of. (Also, the true believers who run at least certain indies like T&G and Bloodshot - businesspeople though they may be - have demonstrated time and again that they treat their bands pretty well.) And they dick bands around for sport - this is hardly a secret. Time ago, bands had little choice, but now? Any band that's thinking about hitching their wagon to a major should consider their situation akin to doing a deal with the mob -- maybe not a bad gig as long as you keep the boss happy, but fail to deliver and you're dead. Only an idiot goes on the street for backing when he can get it elsewhere.
*
Comments? Send them to Don. And please include a real name if you wish to be published. No poseurs!
*
The RockNotes catalog is now available to poseurs and punks, you poseurs! So check it out.

Posted by Don at 12:16 AM | Permalink
September 01, 2007
The Weekend Desk Report
Editor's Note: The Beachwood will return on Tuesday.
Have a safe and happy holiday, everyone, and choose your Michael Jacksons with care. If you're driving, toast the King of Pop. For the rest of you, honor the King of Beer responsibly.
Market Update
Pants are down. Jigs are up.

Resignation Revelation
With the long-anticipated departure of Attorney General Alberto Gonzales, the low-hanging fruit has been picked from the resignation prediction tree. Still, difficulty has never stopped the Weekend Desk before. We see a well-established pattern of cannily-released health issues and vague but continuous whiffs of scandal. Based on this, and informed by the dwindling number of candidates, we believe the next resignation will hit extremely close to home.
Mike Lofong
It appears the blatant campaigning for sympathy has once again paid off for disgraced former North Carolina prosecutor Mike Nifong. If nothing else, we're pretty sure he'll serve every painful minute.
Playground Tyranny
Illinois' favorite whipping boy continued to take it on the chin from the bullies this week. And things are only going to get worse as he has now officially been bailed out by a girl. It's going to be a long recess, Rod.
Drink Up
You know, in some more "vigilant" parts of the world, this would be considered terrorism.
Lazy Day Weekend
We're dedicated to our work here at the Weekend Desk, but even we like to enjoy the odd barbecue. So this week, to lighten our load, we'll supply you the joke and all you have to do is fill in the punch line. So you tell us: who was the benchmark for this?
Posted by Natasha at 07:47 AM | Permalink