« March 2006 | Main | May 2006 »
April 29, 2006
The Weekend Desk Report
Here are the stories that will haunt our dreams this weekend.
War Bonds
A new report released by the Congressional Research Service shows the cost of fighting a meandering war against an entrenched and determined enemy has risen dramatically in the last three decades, soaring 17 percent this year alone. The skyrocketing prices prompted President Bush to call for Americans to be less dependent on debt imported from unstable parts of the world. This weekend the search for alternative deficit sources closer to home begins in earnest.
Nuestro Himbo
On Friday, President Bush declared his opposition to a new Spanish-language version of America's national anthem, stating that immigrants to this country should endeavor to learn English despite there being no legal reason for them to do so. We anticipate the president will put his money where his mouth is any day now.
A Day Without Boycotts
During the same press conference, President Bush disapproved of Monday's planned Day Without Immigrants protest, saying he does not support boycotts. Apparently the philosophical differences between a planned public work stoppage and derelict absenteeism are too much for the president to reconcile, as it's well-established that he has no objection to the latter.

Bush League
With the top spot in Saturday's Shittiest Bush competition all wrapped up, the hottest question is how far will USC running back Reggie Bush fall after revelations of shady dealings with a prospective agent. As no reports have yet surfaced that Reggie went on sex romps in Thailand, used a brain-dead woman to score political points, talked shit about evacuees and dead soldiers, or put the "strip" in "strip mall," he may even drop out of the top five.
Willie or Won't He?
As the artlessly protracted Brett Favre saga ground to its inevitably dull conclusion this week, the BR Weekend Desk despaired of finding another utterly irrelevant and excruciatingly slow decision-making process to monitor. But we hold out great hopes that the mating dance of Britain's Prince William will slip the leaden mickey of boredom into the cocktail of our coverage for weeks to come. After all, if he's anything like his father this could take a while.
Posted by Lou at 09:16 AM | Permalink
April 28, 2006
The [Friday] Papers
We are both amused and rankled to find Chicago Sun-Times columnist Neil Steinberg copying one of our ideas for use in his column today.
Or maybe his appropriation is "unintentional and unconscious."
But his (Don't) Ask Amy column item today sure looks familiar.
We inaugurated a regularly occurring "Answering Amy" item on March 4, in which, our usual description says, "we take one question posed each week to the Tribune's highly-paid, highly-marketed, highly-mediocre advice columnist and contrast her answer with ours."
We haven't posted an Answering Amy since March 24 - low-down in the column here - as I've pondered where to give it a home on the site and who to delegate the work to. Maybe this is just Steinberg's way of applying for the job.
Sorry to inform you this way, Neil, but you didn't pass the audition.
Theft Ring?
The Chicago Tribune is awfully self-congratulating in an editorial today about the troubles dogging Democratic state treasurer candidate Alexi Giannoulias. While I haven't kept a scorecard matching each Giannoulias development with the news organization reporting them, this Greg Hinz story in Crain's Chicago Business is dated March 13 and the Trib edit credits its own reporting of March 15. Just sayin'.
Stolen Courage
"A Glen Ellyn man who fled to New York City after being charged with twice stealing shipments of Red Bull Energy Drink in DuPage County was returned to Illinois recently and was arraigned Wednesday."
I'll bet he fled on foot, too.
- Tim Willette
Stealthy Jury Reports
The Beachwood Reporter noted a study Tuesday by trial consulting firm DecisionQuest explaining why prospective jurors don't tell the truth about their backgrounds when being considered for jury panels. The Tribune published an editorial citing DecisionQuest on the very same topic two days later.
Unintentional and unconscious? Perhaps, though I was tipped to the DecisionQuest study by someone as unlikely to also tip the Tribune editorial board as they would be to enjoy those lame jokes Neil Steinberg now uses to pad off his column.
The Beachwood Reporter: Worth Stealing From Since 2006!
Editorial Ennui
When I saw the headline on the Sun-Times's lead editorial today, "How About A Sign We're Coming To Our Senses?," I thought maybe the page had shaken off its recent torpor.
The page is slumping badly, straining even more than usual to find a point to make, but I suppose we all get sluggish from time to time.
But no. Today's editorial is about the sudden discovery - 1,280 designations later - that it might be a good idea to end the practice of awarding honorary names on our byways.
After all, what of emergency vehicle drivers who could get confused? The last thing we need is for them to mistake a one-block long Fred Hampton Way with some other street in the city.
Required Reading
The Tribune drills a little further into the governor's phony town hall meeting ad.
The Sun-Times gives major advertiser Macy's a wet kiss while the Tribune practices something more resembling of journalism.
Aldermen may ask for a raise and it's too infuriating to even write a clever punch line.
St. Charles blogger Bill Baar says there is an editing battle raging on the Wikipedia entry for Jan Schakowsky.
Self-help books are depressing. Literally.
NEW ADDITIONS 12:44 p.m.: Two worthy Change of Subject postings: See the latest example of how Sun-Times columnist Michael Sneed earns a lucrative paycheck as a major metropolitan newspaper columnist; and treat yourself to a music video parody of Biblically hysterical proportions.
Reefer Madness
The Sun-Times's Andrew Herrmann shows off his reporting chops today by looking up a list of drug terms on Wikipedia to learn that "baked" means "intoxicated from marijuana use."
Then he makes that extra phone call that distinguishes great reporters from merely good reporters by calling an official with the White House Office of National Drug Control Policy to find out that it is "naive" to think that Lollapalooza concertgoers will use rolling papers for tobacco instead of pot.
Pump Profits
I wonder if the hit newspaper companies are taking in delivery truck fuel costs due to the rise in gas prices is offset by the revenue taken in from full-page ads like the one in this PDF bought by the American Petroleum Institute appearing in the Tribune today.
Note From Beachwood HQ
A ton of new stuff coming, as promised in the last week, just hung up a bit on other site improvement-related distractions, like what to do with these "rolling papers" someone sent to us.
The Beachwood Tip Line: We won't "kill your buzz."
Posted by Lou at 08:48 AM | Permalink
April 27, 2006
The [Thursday] Papers
The Fred Hampton Way saga not only appears to be over, but it appears to have ended without anyone learning any lessons.
White reporters and city council members in particular.
Chicago Sun-Times reporter Fran Spielman, for example, continues to telegraph where she and her paper stand on the issue with a story today that begins this way: "Unwilling to divide the City Council along racial lines on a vote she was destined to lose, Ald. Madeline Haithcock (2nd) on Wednesday gave up the fight to rename a West Side street after slain Black Panthers leader Fred Hampton."
Why pin racial division on Haithcock?
Why not start this way: "White aldermen have successfully blocked an effort - initially approved without debate in committee - to rename a portion of West Monroe Street after slain Black Panther leader Fred Hampton, enraging black leaders and others who say their opponents engaged in racial fear-mongering and pandering to the police union."
It's not as if the rejection of Fred Hampton Way hasn't divided the City Council along racial lines. But when white people have the upper hand, racial harmony has been preserved.
"Many aldermen breathed a sigh of relief," Spielman also wrote, perhaps unaware that some aldermen also spit nails. "Thanks to Haithcock [pulling the plug], they managed to dodge a difficult vote on an issue that threatened to divide them along racial lines in a way not seen since the 1980s power struggle known as Council Wars."
Really? No other issue has come before the city council in the last 20 years that has been as racially divisive as this? And this threatened to become as racially divisive as white aldermen paralyzing city government solely because the mayor was black?
The Sun-Times's abominable coverage of this issue played its own racially divisive role. It was their outraged front page story that kindled what had been a routine and unnoticed honorary street sign designation into a cauldron of racial enmity and ignorance.
At its best, the paper equivocated. At its worst, it purveyed conveniently unverified urban legend about the Panthers allegedly killing two white police officers without bothering to do the most basic reporting to learn the facts. It was up to columnist Mary Mitchell to set the record straight, though it's not clear whether Spielman or her editors read Mitchell's column. The paper, after all, committed zero reporting to following up on Mitchell's findings and correcting itself in the news pages.
And as usual, Mayor Richard M. Daley skates, having eluded taking a public stance by whining about all the honorary street signs he has just discovered in the city he has governed for 16 years.
He got another free pass today.
"Mayor Daley, whose father was mayor in 1969, said he had nothing to do with pulling the plug," Spielman wrote unquestioningly. "'Who else are they going to blame? Everybody blames me.'"
That nonsensical comment was in response to Fred Hampton Jr.'s more articulate observation: "Is this a democracy or a Daley dictatorship? All shots come from the [mayor's office]. I know that much about Chicago history. Once you start talking about Chairman Fred Hampton, you've got to start making some connections about who was mayor and under whose tenure he was assassinated. There's a Pandora's box that a lot of people don't want to open in this city."
White reporters and city council members in particular.
Defender Mender: Roland S. Martin has brought some new energy to the Defender, as evidenced by a new design put to good use today with this sharp cover.
UPDATE 11:39 a.m.: Not to mention this editorial. Sorry I missed it first time around.
Art Target
Art Chicago owner Thomas Blackman makes a bad situation worse by refusing to explain why he had to move the art fair from Grant Park to the Merchandise Mart at the last minute. He appeared before TV cameras briefly yesterday looking worn and frightened, lamely telling reporters that he just didn't have time to explain what went so wrong that the fair almost had to be cancelled.
Pallmeyer Watch
Judge Rebecca Pallmeyer says "the most fundamental reason" why she won't allow George Ryan's lawyers to question two jurors dismissed from the case is that they did not participate in deliberations.
But what if the two dismissed jurors have evidence of misconduct that occurred before deliberations, like the rumblings that other jurors talked about the case with friends and family, or had read or watched media coverage of the case? It would still be relevant, wouldn't it?
Learning Disability
A federal judge has denied a request made by federal prosecutors to conduct background checks of jurors in the upcoming trial of former Daley patronage chief Robert Sorich. Because who ever heard of background checks turning up anything relevant in a high-profile political trial?
Learning Disabled
This just in: Aldermen shocked that laws may apply to them as well as common people.
Celebrity Correspondents
Guess who's coming to the White House Correspondents Association Dinner?
Jeopardy host Alex Trebek. Pittsburgh Steelers quarterback Ben Roethlisberger. New York Giants running back Tiki Barber. Actor Joey Pants. And outed CIA agent Valerie Plame.
I kid you not.
Check out the VIP guest list, courtesy of Lynn Sweet's blog, and make up your own seating arrangements.
Snow Job
Sweet on new White House spokesman Tony Snow: "I've met Snow a few times. He is much sunnier than McClellan and will probably be a much better communicator, even if all he does is find more pleasant ways to say nothing."
Rush Job
Back on the print side, Sweet follows up today on her report about the SBC Foundation giving $1 million to U.S. congressman Bobby Rush's Rebirth of Englewood Community Development Corporation.
"Rush founded the nonprofit, tax-exempt Rebirth of Englewood center, located in his South Side congressional district, to improve the economy of the impoverished Englewood community. Rush sits on its board as does his wife, Carolyn, and the center employs his son, Flynn," Sweet writes.
"Payments for the $1 million grant were made by the SBC Foundation between 2001 and 2004 to underwrite the Bobby L. Rush Center for Community Technology, envisioned as a training and business resource facility for the Englewood area. SBC acquired AT&T and switched to using the better-known name. The Rush Center still has not opened, though officials are hopeful it will within 12 months.
. . .
"[T]he Rebirth of Englewood . . . has federal and state contracts, and entities tied to the Beloved Christian Community Church of which Rush is the founder and the pastor. Rush uses money from his federal campaign fund to keep the church afloat."
Nuclear Delay
A day late, sorry. Blame the radiation. Or the fluoride.
The Fred Hampton Tip Line: Intellectually divisive since 2006.
Posted by Lou at 07:48 AM | Permalink
April 26, 2006
The [Wednesday] Papers
It is the consensus today not only of the Chicago Sun-Times editorial board but the 100 Chicago area newspapers in the Sun-Times News Group that distractions are hazardous to drivers.
DOG BITES MAN
News You Already Have
Study: Distractions Cause Most Car Crashes (AP, 4/21)
Emotional Wiring Different In Men And Women (LiveScience.com, 4/20)
Americans Commute Longer, Farther Than Ever
(Reuters, 4/20)
Democrats: No Single Message Sums Us Up (AP, 4/20)
- Tim Willette
Hastert Hijinx
U.S. Speaker of the House and Illinois congressman Dennis Hastert has forwarded three names to President Bush to choose from for the post of U.S. Attorney in central Illinois. One of those names is Darin LaHood, son of Illinois congressman Ray LaHood, Hastert's right-hand man. The Peoria Journal Star got the scoop last week; the Chicago Tribune editorial board today says the move makes Hastert look "tone deaf, secretive, and conniving."
Also Secretive And Conniving
LaHood: No connection between lobbyists and pork.
So those lobbyists just threw their money away and won't make the same mistake again, right?
Ryan Jury Watch
Prosecutors have asked Judge Rebecca Pallmeyer to deny a defense request to interview two jurors dismissed from the George Ryan panel - Evelyn Ezell and Cynthia McFadden - to learn about possible "juror misconduct," Abdon Pallasch reports today in the Sun-Times. "The interviews would accomplish nothing of legal significance," prosecutors argued in court filings.
I'm not so sure. Perhaps Ezell and McFadden have something to say about whether jury foreperson Sonja Chambers ever mentioned discussing the trial with her coffee guy, or watching the coverage on TV, or overhearing other passengers on the Metra talking about the case.
Rock and Roll Jury
"The Supreme Court, in its 1987 Tanner case, considered a jury in which jurors later admitted they drank alcohol and used cocaine during deliberations and that was not enough to reverse the verdict," Pallasch writes. "Screaming, hysterical crying, fist-banging, name-calling, obscene language, and chair-throwing were all ruled to be fair game."
Supreme Conflict
"I had a son on that [Iraqi] battlefied, and they were shooting at my son and I'm not about to give this man who was captured in a war a full jury trial," U.S. Supreme Court Justice Antonin Scalia said about whether Gitmo detainees have legal rights under the Constitution. "I mean, it's crazy."
Art Anguish
Art Chicago is really fucked-up.
Blame The Media Watch
"Enron Corp. founder Kenneth Lay blamed the media Tuesday for undercutting his company's strengths in the weeks before it crashed, by highlighting problems at Enron that he said were already cleaned up," the Associated Press reports.
Rope-A-Dope
Richard Roeper: Beyond Smart?
Pickett Watch
In her Chicago Tonight commentary last night, Debra Pickett suggested changing the slogan on Illinois license plates to "Welcome Federal Prosecutors" or "Indicted We Stand."
Six years ago, John Kass held a reader contest for a new state slogan and city sticker motto. Frank Bemis of Schaumburg won the former with "Illinois: Will The Defendant Please Rise?" and Konrad Voigt of Berwyn won the latter with "Slippus Envelopus."
At least Pickett didn't suggest "Illinois: More Yuppies Wanted."
Lube Job
If George W. Bush thinks the problem behind rising prices at the pump is our addiction to gas, maybe he should go after the dealer.
Topinka Stinka
"What American adult has not formed their opinion on whether Bush is leading the country where we need to go?" asks Jim Leach on AbeLog, talking about Judy Baar Topinka's evasion of the question. "This attempt to deflect and say 'I'm too busy, I can't fill my head with all this complicated federal stuff, I leave that to congressmen" is disingenuous and more than a little silly. The question's not that tough - if she won't take a stand on it, what else will she dodge and deflect?"
Blago Bluff
The governor shows off his leadership skills in addressing rising gas prices. (Video on the right)
- The last two items via items via The Capitol Fax Blog, though we came up with this question on our own: When do the adult candidates arrive?
Ethics Watch
The Chicago Headline Club fails to find an ethical journalist in the city.
So-Called Austin Mayor connects the dots.
Coming Soon In The Reporter
* Showgirls
* Mexicans
* Slot Machines
* Booty
* And More!
The Beachwood Tip Line: News we can use.
Posted by Lou at 07:35 AM | Permalink
April 25, 2006
The [Tuesday] Papers
Here's something new we've learned from the now-released transcripts of closed sessions in Judge Rebecca Pallmeyer's chambers down the stretch of the George Ryan trial: Pallmeyer screwed up. She should have kicked juror foreperson Sonja Chambers off the panel, even if that resulted in the mistrial that hardly anyone wanted to see. And for a reason that had nothing to do with her failure to disclose previous entanglements with the courts in a messy divorce and a civil lawsuit involving a furniture company, though that didn't speak well of her either.
No, it was enough to boot Chambers because of her apparent conversations during the trial with Dennis the Coffee Guy, the one who called WLS-AM radio one day and said he had been talking to a juror about the case.
In closed sessions before Pallmeyer and lawyers from both sides of the case, Chambers denied discussing the trial with Dennis the Coffee Guy, whose full name is Dennis McLaughlin. (McLaughlin runs a coffee stand at the Lisle Metra train station that Chambers frequents.)
After reading the now-released transcripts of those sessions, excerpted at Change of Subject by Eric Zorn, it's almost impossible to believe Chambers over McLaughlin.
Yet, that's just what Pallmeyer did.

Read the excerpts for yourself and see Chambers, the acknowledged Court TV fan, bob-and-weave. Watch her story change to meet every challenge posed by Pallmeyer. Tell me if you too find Dan Webb's take (and Ed Genson's take) on Chambers persuasive on the facts of what Chambers has told the court, while finding prosecutor Patrick Collins's defense of Chambers and attack of McLaughlin full of fact-free rhetoric.
I find so many things disingenuous and illogical in Chambers's explanations that they are too numerous to list here. Again, see for yourself. The only question remaining will be why the newspaper reports in the aftermath of the release of these transcripts have been so wishy-washy.
Lying Jurors: The idea that prospective jurors generally tell the truth answering questions in consideration of their service is a myth, according to a 2006 paper by the DecisionQuest trial consulting firm. "[J]urors have multiple agendas during voir dire. They may want to serve as jurors and thus may try to put on a good face, or they may want to get out of jury service and thus try to create excuses or give answers that will eliminate the possibility. But many studies . . . suggest there are many other factors involved in why jurors may not tell the truth, or may not even know they are not telling the truth."
Those reasons include feeling one's privacy is being invaded and feeling embarrassed by behavior deemed "socially undesirable."
Surprisingly, prospective jurors will lie even more to judges conducting voir dire than to lawyers.
Stealth Jurors: Are they infiltrating high-profile trials? Molly McDonough reports in the ABA Journal.
Worst State Ever: The Daily Herald's John Patterson asks why Illinois is so corrupt. Uberpundit Paul Green says it's the price we pay for a city like Chicago, built by high-risk speculators rather than sober city planners.
Sun-Times Buyouts
The news out of the Chicago Sun-Times regarding buyouts isn't earth-shattering, but a few familiar names will indeed be leaving the paper over the next few months.
The biggest name is longtime Books Editor Henry Kisor. The competition to replace Kisor is fierce, sources say, and why wouldn't it be? The Chicago Tribune's book review, once merely lumbering, now manages to be both lumbering and yet slight in its tiny new size that only serves to make itself more insignificant.
Kisor's review wasn't an intellectual giant, but it was almost always lively and timely, especially given the usual Sun-Times budgetary constraints I imagine he labored under.
Veteran sports columnist Ron Rapoport is also leaving, and will be missed.
Here's the full list as described in a message to the staff from editor-in-chief John Barron. I have added the jobs each held in parentheses.
"The following members of our staff have applied for . . . and been accepted by . . . the company's Voluntary Separation Program:
Departing May 5:
Bob Black (photographer)
Mary Cameron-Frey (society/gardening columnist)
Joe Goddard (sports)
Roy Moody (page designer)
Ron Rapoport (sports)
May 19:
Norm Schaeffer (page designer)
June 2:
Henry Kisor (Books editor)
June 16:
Wynne Delacoma (classical music critic)
Sept. 8:
Gary Wisby (reporter)
Sources say seven others asked for buyouts and were denied, including sports columnist Carol Slezak. Slezak did not return an e-mail asking for confirmation. Sources say Slezak may leave anyway.
Rush Job
Illinois congressman Bobby Rush is a co-sponsor of the "Communications Opportunity and Enhancement Act of 2006," which shouldn't necessarily interest you until you learn that Rush is the only Democrat to sign on to the bill.
Curious?
Now consider that the bill is a piece of telecommunications legislation backed in part by phone giant SBC (now AT&T.) And that Rush, of course, sits on the committee that will consider the bill.
Intrigued?
Now reflect on the $1 million in charitable donations SBC started paying out in 2001 to help fund the still-unbuilt "Bobby L. Rush Center for Community Technology."
Lynn Sweet of the Sun-Times has the story.
Junior Class
When will the Sun-Times grow up? From pimping its White Sox "mini-baseball" promotion on the front page again to its photo out front of Mayor Richard M. Daley blowing out birthday candles; from its "featured letter" photo of veterans holding a Sun-Times sign to columns from another era and journastic maturity level by Michael Sneed and Stella Foster; from the unreasoned meandering editorials trying to find a point before our very eyes to the now-expanding presence of articles imported from even more mediocre sister Hollinger papers in the suburbs and exurbs, I can't get over the nagging feeling that Chicago deserves a second paper with consistently higher standards than the papers some high school and college students put out.
A Different Kind of Leg Room
The airline industry thinks of even more ways to make your flight miserable.
The Beachwood Tip Line: Safe to use in any position.
Posted by Lou at 08:08 AM | Permalink
April 24, 2006
The [Monday] Papers
The papers today are refreshingly absent of George Ryan juror news. Hey, even I could use a break.
But if you want to catch up on the weekend's developments, please see The [Sunday] Papers and find out why I think judge Rebecca Pallmeyer seems naive, and why jury foreperson Sonja Chambers seems unbelievable in her varied explanations of why she didn't answer truthfully on her jury questionnaire when it came to past legal entanglements.
And while you're in our Papers archive, check out our Weekend Desk Reports, brought to you every, um, weekend by the fabulous Natasha Julius. If you've been missing them, they're worth going back to.
Now on to The [Monday] Papers and some left over non-Ryan newsbits from the weekend.
Lost Landmark
A promo with a refreshingly strong come-on for an inside story is stripped across the top of the Chicago Tribune's front page today: "Just Deserts For Revamped Soldier Field: Architecture Critic Blair Kamin On The Lies And Liars That Cost The Landmark Its Status."
And Kamin delivers, ferociously.
"And so, the Big Lie about Soldier Field is finally and officially exposed," Kamin begins, and it just gets better from there, as Kamin skewers Mayor Richard M. Daley and the Soldier Field rehab team who insisted that their renovation was designed to save "one of Chicago's great landmarks."
A landmark that, officially, is no more.
Or Maybe It's Blair's Bungle
A news story on Saturday first reporting the news about Soldier Field contained this nugget: "Ben Wood, one of the lead architects on the renovation that was completed in 2003, blamed the media, especially Tribune architecture critic Blair Kamin, saying a barrage of unfavorable commentary influenced the federal decision."
He has a point. It's only because of Blair Kamin's nitpicking that anyone noticed the changes.
- Tim Willette
[Editor's Note: Shouldn't that Tribune headline be Just Desserts?]
[UPDATE 2:34 P.M: The answer is No! The Tribune got it right, according to an Eric Zorn column from 1994. The column isn't linkable, but in it Zorn says: "The proper spelling, when one wishes to express that an outcome is particularly apt and fair, is 'just deserts.' One s.
"A little research in the dictionary (one of which I do already own) reveals three distinct meanings for a word spelled 'desert.' The first is 'barren landscape' and is pronounced DEZ-ert. As in, 'I lost my camel in the desert.'
"This meaning traces back to the Latin verb 'deserere,' to abandon. This is the same root of the second meaning of 'desert,' 'to leave in the lurch.' Pronounce it deh-ZERT when you say, 'Don't desert me next time, you faithless camel.'
"The third meaning . . . is 'a fitting reward; that which is deserved.' We also pronounce this word as deh-ZERT, but its Latin root is 'servire,' to serve. The prefix, 'de,' acts as an intensifier, so the sense of the word is of a thing that is properly served. Think of the far more common word, 'deserve.'"]
[MORE IMPORTANTLY: Zorn has culled relevant excerpts from the Sonja Chambers transcript in his new post "The Forewoman Vs. The Coffee Shop Owner: Who's Telling The Truth?"]
Demerit Pay
State legislators are in line for a 13 percent pay raise.
Because folks like Jim Durkin are working so hard on our behalf.
Impeaching the Press
The Sun-Times's Tracy Swartz leads a story today about a few state legislators trying to whip up an effort to impeach President Bush this way: "Leave it to the Democratic-controlled state Legislature to find an obscure way to attempt to oust President Bush."
Which is obviously worse than a Republican Congress impeaching a president on obscure grounds.
"This is absolutely ridiculous," John McGovern, spokesman for U.S. Speaker of the House and Illinois congressman Dennis Hastert, told the paper.
Because it takes a lot more than lying us into a war to get Hastert to support an impeachment.
Straight Talk Express
At least we have a president who believes in straight talk. Not like Bill Clinton, who dared to suggest that it really does depend on what the definition of "is" is. For example, if you asked me if there is something salacious going on with my intern, I would say no. But if you asked me if there ever was something salacious going on with my intern, that would be a different question, right?
So what was so wrong with what Clinton said?
Aren't Bush's lawyerly answers about how he has the authority to ignore our eavesdropping laws because they are old and inconvenient far worse? Just for starters?
Yet, it's still Bill Clinton - whom I never voted for - who still gets the brunt of it even in stories about Richard M. Daley and the city clerk's office.
Art Abstraction
The Sun-Times editorial page today supports the Art Institute's decision to make its voluntary $12 entrance fee mandatory (second item in the link).
"[W]atching a decline in attendance, the Art Institute wisely realized it could no longer use the voluntary arrangement."
So, when attendance is in decline you raise the price of admission?
That's almost like raising the price of the newspaper to fight off declining circulation.
Duckworth's Worth
Lynn Sweet reports today that Sixth District Democratic congressional candidate Tammy Duckworth has only about a dozen donors from inside the district, where the voters, unlike her and her major backers, actually live.
New Media Madness
In his magazine roundup today, Jim Warren, the Tribune's deputy managing editor for features recommends an Economist survey of new media. "It's somber about newspapers' fate," Warren writes, "repeating one study's worry about 'the decline of full-time, professional monitoring of powerful institutions.'"
Is that the same decline that started with the newspaper industry itself consolidating until there were monopoly papers in virtually every American city?
Or the decline that somehow hampered the ability of the full-time professional monitors to, oh, get it right in the country's most crucial hour - the run-up to a war?
Or is just that the monitors don't like being monitored?
Mini-Monitors
The professional monitors over at the Sun-Times gave over the top half of its front page on Sunday to advertising its White Sox "mini-baseballs" promotion, including prominent mention of participating retailers Walgreens, 7-Eleven, White Hen, and Speedway. Then it published a page three "news" story by staff reporter Shamus Toomey about the promotion. Another "news" story appears on page three today.
The paper did the same thing a few years ago with Bears medallions. I asked then-editor Michael Cooke about it back then and instead of just saying, "Yeah, we did it because we're the Sun-Times and we'll do anything for a buck," he tried to convince me that "This is a big story in Chicago!"
Cooke, who went on to preside over a short and unsuccessful stint editing the Daily News in New York before slinking back to Chicago, is back in the Hollinger fold working mostly on coordinating the company's suburban papers.
There's probably something to say here about the decline of professional monitors, but I think you can figure it out on your own.
More Monitoring
Page Three headlines Sunday in the Sun-Times:
- "Arrest in Gospel Musician's Killling"
- "Pair Hope To Adopt Girl Put Up For Sale"
- "Your Chance To Fill In Your Own White Sox Mini-Stadium Starts Today"
Page Three headlines Monday in the Sun-Times:
- "Remember Him? 'Forgotten' Bin Laden Has New Tape"
- "Play Ball! White Sox Collectibles Now On Sale"
Essential Sunday Reading
Witness the Tribune editorial board condescend to an entire continent.
Get the low-down on that bad heroin going around.
Crucial A-list celebrity tattoo news you don't want to miss. Really!
The R. Kelly trial may finally begin this summer.
Metro Monitoring
Is this kind of metro column writing an example of what old media are worried about losing in the new world? "Guys, let me tell you something about women," the Tribune's Mary Schmich advises. "You can't really know a gal until you know what she wore to her high school prom, and any woman lucky or unlucky enough to go to one can tell you about that dress."
Professional monitors hardly need the Internet to hasten their decline. They've been doing quite well at declining on their own for years.
The Beachwood Tip Line: Off like a prom dress.
Posted by Lou at 09:56 AM | Permalink
The [Sunday] Papers
Judge Rebecca Pallmeyer unsealed 1,283 pages of transcripts on Friday documenting sessions she had in her chambers with lawyers in the George Ryan trial, ensuring that the saga involving jurors who did not disclose criminal backgrounds as asked when being considered for the panel would continue to dominate the news through the weekend.
To me, the sequence of events puts to rest conspiracy theories about prosecutors leaking juror backgrounds to the Chicago Tribune, which first revealed the anomalies, in order to get pro-Ryan jurors expelled, or, similarly, that defense lawyer Dan Webb knew all along about the jurors' false answers and kept that information in his hip pocket ready to spring when it looked like things weren't going his client's way.
It all seems far too convoluted for either side to have gamed out that way.

For example, when likely Ryan holdout Evelyn Ezell was antagonizing and alienating her fellow jurors, the Ryan defense team fought vigorously to save her place on the panel. But even Dan Webb couldn't construct an argument to save Ezell when it was revealed that she not only had a string of arrests for child neglect, assault, and drug possession but was wanted on a warrant by Broadview police for driving on a suspended license.
And Robert Pavlick, often lumped together in speculation with Evelyn Ezell as a possible Ryan holdout, perhaps only because they were dismissed at the same time, was in fact bounced mainly based on concerns by the defense; Webb argued that Pavlick might bear a grudge against Ryan because Ryan was secretary of state when Pavlick was convicted of DUI. (Pavlick also was discovered to have "a rap sheet'" that included a weapons arrest, according to the Tribune's report.)
And when the Ryan defense team started thinking about asking for a mistrial, Ed Genson, the lawyer for co-defendant Larry Warner, argued against one, saying his client couldn't live through another trial and couldn't afford one anyway.
After the backgrounds of Ezell and Pavlick were revealed, it was Pallmeyer who asked for background checks on the rest of the jurors, and the U.S. attorney's office - agreeing it was unfortunately necessary - which carried them out.
What struck me most reading the coverage was the feeling that Pallmeyer was a bit naive and the jurors unbelievable in their assertions that they didn't understand the question on the jury questionnaires about criminal histories.
For example, juror Raul Casino said he had forgotten about his DUI. True, it occurred 44 years ago.But do you forget a DUI arrest? Or did Casino simply think it was so long ago it wasn't relevant? That seems more plausible to me, but it's also troubling to think that someone might conveniently forget a DUI in order to get on a case.
But, as the Chicago Sun-Times reports, Pallmeyer was "sympathetic" to Casino.
"Grilling Mr. Casino is one of the most distasteful things I have done in this job," she said. "This is a decent man who has given us six months of his life."
It shouldn't have been distasteful; the man endangered a six-month trial years in the making. Casino may indeed be a decent man, but how does Pallmeyer really know?
Juror Kevin Rein, who was found to have a 26-year-old arrest for punching his pregnant sister in an argument over cats, told Pallmeyer he thought the arrest, dropped when his sister didn't press the charge, had, for some reason, been "expunged."
Similarly, juror Charles Svymbersky told Pallmeyer he thought his 23-year-old conviction in connection with a stolen bicycle had, for some reason, been erased from the books.
You would think you would know if you have a criminal record or if any record you once had has been wiped clean. And if they and other jurors truly did not understand the jury form, how in the world could they be expected to understand the jury instructions defining such concepts as racketeering and governing how to reach a verdict?
Most disturbing is the case of foreperson Sonja Chambers, particularly the revelation that she is a fan of Court TV. You get the idea that these folks really wanted to be on this jury.
After Chambers was brought in for questioning before the judge, Webb argued (persuasively in my view) that she had given three different explanations for the her false answer on the jury questionnaire.
Perhaps what really did it for me concerning Chambers was her explanation about talking to Dennis McLaughlin, who runs a coffee stand at the Metra station in Lisle that Chambers frequents. McLaughlin called in to WLS-AM one day and said that a woman juror in the Ryan trial had discussed the case with him.
After McLaughlin picked out Chambers from a batch of photos, she was brought in for questioning before the judge. Chambers acknowledged buying her morning coffee from McLaughlin, but said, "I don't know him that well to talk to him about anything at all, except for, 'Can I have hazelnut in my coffee?'"
"Pallmeyer found Chambers more credible," the Tribune reported. "'I think I would need a solid sense she is lying to me in order to conclude that I ought to remove her at this point,' she said. 'I don't get the sense that she is lying to me.'"
But how would McLaughlin have known that Chambers - whose name he did not know but whose face he recognized as a regular customer - was a Ryan juror if she didn't tell him?
Pallmeyer learned two days later that Chambers answered falsely on her jury questionnaire as to any involvement with court proceedings and lawsuits, despite having been involved in a difficult divorce that included requests for orders of protection as well as having been a defendant in a civil lawsuit filed against her by a furniture company.
Not a good track record.
And with all that Court TV watching, you'd think Chambers would have understood a relatively straightforward question about any past entanglements with the justice system.
Style Channel: The Sun-Times noted in its reporting on Ezell that she was wearing a pink sleeveless top and matching slacks (and smoking a cigarette) at the time a reporter spoke to her.
Eye on Flannery: On Eye on Chicago, Channel 2's Sunday morning public affairs show, veteran political reporter Mike Flannery surmised that the Ryan jury really didn't base their verdict on the evidence, but simply on their apparent dislike of Ryan and co-defendant Larry Warner. "If they didn't do this, they did something else," Flannery accused the jury of thinking.
Here's what I don't get: If you bought into the racketeering conviction of Scott Fawell for running a massive operation that traded jobs and contracts for political favors and campaign contributions; if you bought into the racketeering conviction of the George Ryan campaign fund Citizens for Ryan; if you bought into Dean Bauer's guilty plea for obstruction of justice (while he was the inspector general!); if you bought into bigwig operative Roger Stanley's guilty plea for money laundering; and if you bought into the other 70 or so convictions and/or guilty pleas in the Operation Safe Roads investigation (including more than 30 employees from Ryan's Secretary of State office), why is it so hard to buy into a conviction for the man on top of the pyramid for whom everyone else's guilty actions were done on behalf of? For the guy at the top who ultimately benefitted the most?
The previous trials, convictions, and guilty pleas are almost circumstantial evidence enough to prove George Ryan's guilt as the boss man of a criminal enterprise.
The Beachwood Tip Line: At the top of the real pyramid.
Posted by Lou at 08:02 AM | Permalink
April 22, 2006
The Weekend Desk Report
White House shuffles, shoot-to-kill curfews, gubernatorial convictions . . . There's a common thread here: None of them will make a difference! But they're all in the news heading into the weekend and we'll keep our eye out for developments while you take a load off.
One Tough Mother
Some of us here at Beachwood HQ we think Prince Charles of the United Kingdom is just ducky and, in this day and age when royal amiability is more vital than royal savvy, we think he'd make a swell king. His interests in this area were dealt a heavy blow, however, when his mother defiantly turned 80, still lean and fighting fit. At this point, Chuckles, we say give up the ghost.
Plunging Values
It's too bad this guy doesn't live in Chicago. We've got much better ways for him to flush his money down the toilet.

Nepalingly Awful
The Beachwood brain trust is scratching its collective head trying to figure out what exactly King Gyanendra did to piss off the U.S. State Department. Clearly, it couldn't be suspending democracy, trying to establish an absolute monarchy or violently suppressing an internal rebellion. So what gives, Condi?
European Vacation
Nice try, Switzerland, but we're way too busy cramming for the Dutch entrance exam.
Open Season
After a year's absence due to labor disputes between the National Hockey League and its players' association, the Stanley Cup playoffs finally returned Friday evening. Unfortunately for the 16 teams included in the tournament, it has been determined that the Cup legally doesn't have to go to the NHL champ. And we all know where this is heading, right?
Posted by Lou at 07:18 AM | Permalink
April 21, 2006
Fernwood 2Night: Mull's Masterpiece
Here's something you may not know but ought to: Martin Mull is both a comedic genius and, as the Web's only tribute site to him puts it, an artistic "renaissance man."
Yes, that Martin Mull - the one too many only know, if they know him at all, from his part on Roseanne or, more likely, those old Red Roof Inn commercials.
But when he's not taking sitcom supporting roles or shilling, Mull is unearthing the dark side of the oft-idealized mid-20th century American heartland in surreal, lush paintings. And he's been known to finger-pick his way through his own dry, sarcastic brand of the blues.
His greatest comedic achievement, however, remains Fernwood 2Night, a parody of regional talk shows set at Channel 6 in the fictional town of Fernwood, Ohio. Perhaps more than anything else the Chicago native has done, Fernwood 2Night, which debuted in syndication on July 4, 1977, best showcased his spin on white-bread American life. It's a spin as sardonic as it is silly.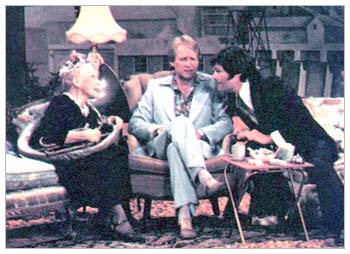 As smarmy, condescending and, above all, vain talk-show host Barth Gimble, Mull introduced us to one rube after another - starting with his sidekick, Jerry Hubbard (Fred Willard, before he brought a similar persona to Christopher Guest's films) and continuing on through an endless series of fake guests. If you were anyone in Fernwood - a man in an iron lung who played piano, a small-time crook wearing a bunny-rabbit mask to protect his identity, a Jew who just happened to be passing through town, or any small child who ever tried to sing - you were invited onto Fernwood 2Night.
Fernwood 2Night was created, as seemingly all sitcoms in the 1970s were, by Norman Lear. It aired weeknights in the summer of 1977 as a spin-off to Lear's soap-opera satire, Mary Hartman, Mary Hartman. In MHMH, Mull had played Garth Gimble, who died tragically when he was impaled on a fake Christmas tree in his closet.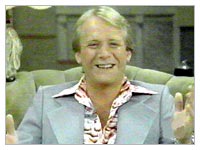 In Fernwood 2Night, Mull is Garth's identical twin, Barth, a self-regarded showbiz bigwig from Miami who comes to Fernwood to resurrect his career after he "had a little problem" in Florida. Always dressed in Hawaiian shirts, the first couple of buttons undone, and filled with a barely concealed disdain for his new town, Barth lords over a set that resembles just about the tackiest, multi-patterned '70s living room you can imagine.
Each episode begins with Willard's Jerry Hubbard shouting "Tonight from Fernwood, Fernwood 2Night!" Then, as he announces the evening's guests, the camera zooms across a studio audience full of expressionless Midwestern-looking folks, a sizable portion senior citizens, most of whom look on the verge of being comatose. Once introduced, Barth, in an easy chair to which he's almost permanently affixed, launches into a monologue/prepared statement that's always obsessed with himself or his show. Talking about how he plans to have an upbeat show one night, Barth, with a twinkle in his eye and a self-satisfied air, addresses his audience watching at home: "I figure who wants a downer? If you folks wanted a downer, you could just turn off the TV and spend the night with each other."
At the same time, Barth isn't above admitting how bad his show can be at times, particularly when he's interrupted, which he is every night, by Jerry, a Fernwood local who got the job as sidekick because his brother is the TV station's general manager. Many of the show's highlights come when Barth tries to regain control of a show hijacked by an oblivious Jerry. Jerry, more than a little slow, and always with a smile on his face, has a way, just as Willard's dog-show color analyst in Best in Show, of being illogically logical, or maybe logically illogical. He means well but can't help saying the inappropriate thing, like when he tells the Jew who's on Fernwood 2Night's first episode just for being a Jew: "I think it's a service to let people know you're actually harmless, just like everyone else."
Then there's the show's bandleader, Happy Kyne, of Happy Kyne and the Mirthmakers. Played by real-life movie and TV composer Frank De Vol (he co-wrote the theme for The Brady Bunch), Happy has a balding, cue-ball head and wears an eternally dour expression. But he's also oddly confident; he has no shame in performing wretched songs and dancing even worse, and whenever Barth invites him over to chat, he somehow manages to promote the fast-food restaurant he owns in town, Bun 'n' Run. After Happy one night describes a charitable campaign the Bun 'n' Run is sponsoring to help shut-ins, Jerry says, "Now when people get sick, they'll think of you and your hamburgers." To which, Happy's face somehow gets even more dour.
Nothing is sacred on Fernwood 2Night, as nearly every guest - whether a completely average mother who just wants her daughter to stay out of teenaged-boys' vans or a Native American woman who doesn't care so much about the overall plight of her people but rather the lack of Native American movie and TV roles she's able to land - comes across as delusional, stupid, pathetic or a mix of all three. And Barth, a master of the underhanded putdown, does little to help them. One guest, a retiring longtime men's room attendant in Fernwood. ends up being particularly dull. So, Barth tells him, "After all those years of service, we thought it might be interesting to have you here, but, hey, we all make mistakes."
Whenever an amateur entertainment act performs, the camera cuts away to Barth, his head in his hands, beside himself in despair. Of course, Barth is ultimately as desperate and deluded as any of his guests. At the end of the first season, thanks to his legal troubles in Florida, Barth has to sell the set's furniture. (The show, both in the fictional and real worlds, returned for a second season as America 2Night, in which Barth took the show national, filming "nearly from Hollywood.")
Part of the fun of Fernwood 2Night is that its cheap production values and thrown-together nature are both a parody of small-town TV and probably an accurate reflection of the actual budget Norman Lear had for the show. It was summer, nobody was watching much TV, and, for all I know, Lear just hired a few young writers and performers, gave them the keys to a studio and let them do whatever they wanted.
Among the show's writers, creative consultants and producers were Harry Shearer; Pat Proft, who would go on to help write the Zucker-Abrahams-Zucker Naked Gun movies; and Alan Thicke. The show's creators have a real skill for pinpointing the way "regular" but eccentric people talk, writing dialogue that, to sound like Jerry Hubbard for a second, is full of cliches you don't hear much. Guest Virgil Simms (played by Jim Varney, in one of the few recognizable guest spots), a greasy auto mechanic with a screw loose, describes the effect of one of his half-baked techniques thusly: "It will do things to that engine that you can't talk about in front of women."
Some have said the show's ironic down-home sensibility and overall parody of the talk-show genre were an influence on David Letterman, especially in his early, looser days. And after watching Fernwood 2Night, it's hard not to connect the dots between Barth Gimble telling his fake audience that he'll give out $10 to help people achieve their dreams to Letterman handing out hams to his real audience. Not to exaggerate the influence of Fernwood 2Night, but you have to think the show's mocking nature had an influence on This Is Spinal Tap, Waiting for Guffman and other works in the same vein. (While Christopher Guest's mockumentaries are all very funny, they've always seemed, to me, a tad off-putting in their condescension; what's great about Fernwood 2Night is that condescension, through the character of Barth Gimble, is part of the joke. And who knows if Mike Myers took a page out of Fernwood 2Night and its basement feel for Wayne's World. Probably out of the question is that Ricky Gervais had Barth somewhere in the back of his mind when he conceived of the arrogant, in-love-with-himself David Brent for The Office. Still, I have to think if Gervais were to watch the show, he'd see some kinship, and get a good laugh.
There were more than 60 episodes in the first season. (And yet, the show remains officially unavailable on DVD, though it can be purchased on lawless corners of the Internet from disc-burning renegades willing to risk everything to right a wrong. We don't want to spoil it for everyone, so you'll have to find the renegades yourself.)
Certainly, not everything is funny, there's a lot of repetition in the humor, and there are times - like during awful musical numbers - when you feel like Mull, Willard & Co. are just wasting your time because they can. But that's somehow all part of the charm. Watching the show today, sometimes you laugh hysterically, and then, other times, you feel like it's 1977, you're actually a resident of Fernwood, Ohio, and for lack of anything else to do, you're home watching the tube.
Posted by Lou at 08:45 PM | Permalink
Ways & Means: The Ryan Ruins
The conviction of former Gov. George Ryan for racketeering and fraud caps a political career that could best be described as Illinois Personified. Has there ever been a pol who better embodies all that is Illinois politics than George Ryan?
From the bare-knuckle Kankakee Machine that he grew up on to his tenure as speaker of the Illinois House, George Ryan ascended the political ladder as a hardcore semi-Downstate conservative who was always more Cook County than Cairo. He patiently served two terms as lieutenant governor and two terms as secretary of state - 16 years! - awaiting his chance to be the boss man. And even then, he only beat congressman Glenn Poshard by a 51-47 percent margin, by running to the left of his Democratic opponent.
Ryan's steadfast conservatism morphed into a willingness to tack whichever way best served his friends and his own political opportunities. As governor, he reneged on campaign promises on such issues as taxes and the expansion of O'Hare airport, and then insisted he had the right to change his mind despite what he told voters. He plunged the state into precarious financial straits and tarnished the most courageous and noble act of his political career when he enacted a moratorium on the death penalty in a hamhanded way and later tried to use the action for sympathy before the jury that convicted him.
A federal investigation that began as a probe into the selling of drivers licenses in exchange for cash that state employees could then donate to Ryan's campaign fund turned led to a full-scale unraveling of a Secretary of State's office deemed "a criminal enterprise" by authorities and a governorship that doled out favorable contracts to friends and contributors. Ryan's way of doing business was Illinois's way of doing business writ large, taken to a level that even shocked longtime wheeler-dealers, with the help of right-hand man and fellow felon Scott Fawell.
Who George Ryan is is not a mystery. How he was able to operate with impunity all these years is more so. Some of the more interesting punditry offers some clues.
Eric Zorn at Change of Subject offers a poignant commentary on George Ryan as the ordinary and exceedingly flawed man, and exceedingly rough and pragmatic politician and dealmaker, we have come to know over the years, as opposed to the kindly grandfather do-dadding around the house portrayed by his press agent, Michael Sneed.
Particularly striking is Zorn's recollection of speaking to Ryan when the former governor was deciding what to do with the death penalty.
"I spoke with him several times, though not at length, when he was going back and forth on whether or not to empty out Death Row in the final months of his term as governor. And what struck me was always how little depth there was to his thinking - how tenuous his grasp was on the essential facts and arguments relating to the issue that was dominating his daily life then."
Burt Constable at the Daily Herald recalls a George Ryan who was reviled by many when he was Speaker of the Illinois House - particularly women angry about his role quashing the Equal Rights Amendment in Illinois.
"It was single-handedly George Ryan who stopped it as speaker of the House, and he was very proud that he stopped it," Gayle Guthrie, president of ERA Illinois, told Constable. "He was a bully, and when he won he was quite gleeful about it."
ERA Now treasurer Karen Boehning told Constable that "There is not a philosophical bone in his body. He was an opportunist."
Kristen McQueary at the Daily Southtown somehow still thinks it was George Ryan's great big heart that tripped him up. She must be a graduate of the Michael Sneed School of Chicago Journalism.
"This was not an elitist who flaunted wealth," McQueary writes. "He was a grandpa from Kankakee with a pudgy wife. The spoils often referenced - corporate jets, premier sports tickets, Jamaican vacations, steak dinners - don't strike me as ostentatious. He was the governor of a major state. Your average state lawmaker is privy to the same recompense, and congressmen, more."
Ryan may not have flaunted his wealth, but he flaunted his power. He delivered wealth to his friends - in multi-million dollar state contracts paid for with our money. McQueary fails to see that the point isn't what Ryan got as much as what he gave (in return for what he got - elected.)
"One of the personal checks shown to jurors as part of the 'spoils' was a $1,000 boost for his daughter," McQueary writes. "One of his kids apparently married a bum who liked to gamble, and so Ryan helped them when he could. What father wouldn't?"
A law-abiding father, that's what father! Ryan "boosted" his daughters in part by shaving money out of Phil Gramm's presidential campaign fund!
"Think of your own life and the people with whom you would surround yourself if elected governor: I'd sure like my best friend from high school, now an attorney, to provide trusted counsel," she continues. "What if she owned a timeshare in Mexico? Would I have to pay her for my room-and-board? It seems a bit absurd."
If you were elected governor, Kristen, your best friend could provide counsel as your private attorney. But would you just turn over the general counsel's job to your pal? And what if your pal, like Ryan's boyhood friend, Dean Bauer, then quashed investigations into, say, a license-for-bribes scheme involving an illegally licensed trucker who killed six kids?
McQueary goes on to make the tired, cynical argument that this is how politics is done in Illinois, and that somehow now the ethical lines have shifted. I wonder how many Chicago journalists realize that in many states and cities, politics is not done this way at all and things still manage to get done. Or that the laws haven't changed at all - find me a federal statute Ryan was charged under that is a recent change of law. Pols have been sent to jail for these types of misdeeds for as long as they have been perpetrating them.
McQueary's column is an important one, though, because it exposes the shocking mindset of many Chicago journalists whose training is so much different than mine. It makes you wonder: If McQueary had been tipped off about some of Ryan's shady deals, would she have thought it not worthy of reporting?
The Better Government Association, by contrast, can chronicle nearly 25 years of investigating Ryan, going back to Ryan blocking as House speaker an investigation into a nursing home rife with safety and health violations. "Shortly after, Ryan's Kankakee pharmacy regained the $60,000 per year of business it had previously lost to the owner of that nursing home facility," the BGA says.
Further BGA investigations of Ryan commenced in 1993, 1994, 1996 and 2001, "mostly focusing on his coercive fundraising from employees and those he regulated," the BGA says. The BGA also sued Ryan twice over corruption in the secretary of state's office, in 1998 and 2000.
While the BGA partnered with media outlets for some of its investigations, the media largely turned a blind eye. And, no surprise, so did most of the state's public officials.
Jeff Trigg at Illinoize takes exposes the empty rhetoric of Gov. Rod Blagojevich's attack on Judy Baar Topinka for not "lifting a finger" while Ryan ran loose.
The Illinois Campaign for Political Reform tries to fix the problem.
And the Onion has the man on the street interviews no other paper seems able to get.
For a review of the media's coverage of the Ryan jury mess, check out The Papers.
Posted by Lou at 10:01 AM | Permalink
The [Friday] Papers
You get the feeling that the Chicago Tribune, which got the ball rolling when it discovered criminal cases in the backgrounds of two jurors in the George Ryan trial who were then dismissed, would now just like to see the whole mess go away.
Once again, the paper today fails to see the mess surrounding the jurors in the trial of the now-convicted former governor as the biggest story of the day.
Instead, the Tribune goes with a story headlined "Ryan Jury Feels It's On Trial Now" on the bottom of its front page, clearly outlining where its sympathies lie.

The angle of the story - of many undeveloped angles left to choose from - and the almost always telltale final paragraph, which newspapers often use as a conclusion telling readers how to feel after exiting the story, make clear that the paper thinks the Ryan defense team and those of us deeply disturbed by the jurors' false answers on their questionnaires are nitpicking fine and dutiful citizens who don't deserve scrutiny.
"I feel bad for the people whose lives have been exposed because of their community service," reads the quote by juror Karen James that the Tribune places above its front page headline.
"Panel Members Upset As Lawyers Dig Up Past," reads the subhead.
"I'm waiting for them to go after me for the three library books I forgot to return," says the quote under juror Denies Peterson's front page photo.
"Case May Hurt Jury System, Expert Says," reads the headline on the back page, where the story is continued.
And at the end of a story that doesn't address the public's legitimate interest in the jurors' integrity but instead manages to feel sorry for jurors who didn't tell the truth when they were chosen for the panel, this quote from controversial forewoman Sonja Chambers:
"A lot of us work. We have young children. And we took the time to do our civic duty. And today, now we're on trial ourselves. So I just think it's unfair and I think it's very unjust that they're treating us this way. Everyone may have something in their past."
Get it yet?
The Tribune and jurors James and Chambers continue to miss the point. This isn't about overdue library books, or even about jurors whose pasts include arrests for drugs, assault, DUI, and theft. It's about the failure of jurors to disclose those things on their questionnaires when being considered for the panel.
As Judge Rebecca Pallmeyer said in a closed hearing last month, if a juror does not disclose their past "in order to be chosen for a particular jury, then one wonders whether the motivation might have been to achieve a particular outcome in the case."
That quote can be found not in a front page narrative of the behind-the-scenes flurry in the closing weeks of one the state's most historically significant trials, but near the end of the Tribune story "Ryan Lawyers Called Jurors Liars" tucked away on page six.
The Chicago Sun-Times doesn't do much better today, but it doesn't seem so willful about it. The paper weighs in with "Backlash Against Jurors Questioned," and an editorial that doesn't know what it wants to say, but that's just the Sun-Times. We don't expect as much from it, and frankly, by and large, the staff doesn't seem to expect as much from themselves; that's why it's always so much fun when it actually delivers.
Debra Pickett manages once again, though, to be thoroughly offensive on multiple levels as the underrepresented voice of the unbearably unaware and undeservingly arrogant yuppie whose ignorance and snobbery is astonishing.
"Basically, I was assuming that people who buy their coffee at Dunkin' Donuts would be inclined to serve on juries, while those who prefer Starbucks would not," she writes, in a column titled "Want To Clean Up Juries? Bring In The Yuppies."
It's as painful to read as it sounds.
You can read more today about the travails of the Ryan jury in our latest installment of Ways & Means, on our Politics page.
Sun-Times Buy Byes
Sources tell The Beachwood Reporter that eight to 10 Sun-Times editors, reporters, and photographers have received buyouts from the paper, and three to seven people who asked for them were rejected. If you can confirm the names we have received and nail down the rest for us, send me a note via the Tip Line. Longtime books editor Henry Kisor appears to be the biggest name leaving the paper.
Freshmen Follies
Both papers lead their front pages today with results from a new study that shows just one of six* freshmen entering a Chicago public school will earn a college degree by the time they are 25.
"Researchers say they're not exactly sure why Chicago schools alumni graduate from college in such low numbers," the Tribune reports.
Yeah, that's a real head-scratcher.
*CORRECTION: It's even worse than my sloppily worded assessment: The study found that of every 100 freshmen entering a Chicago public school, just six (technically, 6.5) will earn a college degree. My apologies.
Clerks
Whether it's a good idea to abolish the City Clerk's office, as the Sun-Times advocates in an editorial today, the paper ought to think twice about the evidence it offers in favor of its argument (second editorial on the link). After all, the Sun-Times would keep coming out, stocked with yuppie columns, "smart girl" book reviews, Sunday lunches, and a limping blog, each more aggravating than the last, by Debra Pickett, long after the the editor-in-chief's chair was vacated.
Back To You, Chuck
"It's looking like a blood-soaked, explosive weekend
ahead. The five-day forecast is coming up."
- WGN-TV Thursday morning
Back To You, Susie
Not really, but plausible, no? Submitted by Tim Willette.
Governor Baloneyvich
The Tribune's Rick Pearson and John Chase get to the bottom of Gov. Rod Blagojevich's new "Straight Talk" television ad by discerning that the "Town Hall Meeting" where a camera captured the governor attacking challenger Judy Baar Topinka's stance on an assault weapons ban wasn't a real town hall meeting at all but a fake town hall meeting staged to film the commercial.
Looking for Love
You still have to hunt for it every day, but Cheryl Lavin's Tales From The Front rarely disappoints.
Must-Read
There is a new Website in town that is "already the most literary and winningly whimsical," says Steve Johnson of the Tribune.
Thirty-Second City Syndrome
Was it really necessary for the Sun-Times to publish a box the other day of Condoleeza Rice's likes and dislikes of a Chicago she barely seems to know, including such gems as "[Hyde Park] has a spectacular university in the University of Chicago," and "This is a great city culturally, architecturally, obviously"?
Friend or Foe
President Bush declared this week that he is The Decider. Debate at Beachwood HQ ensued about whether that made him a Star Trek villain or the name of a Judas Priest song.
The Beachwood Tip Line: It would die 4 U.

Posted by Lou at 07:37 AM | Permalink
April 20, 2006
God Factors
Chicago Sun-Times religion reporter and columnist Cathleen Falsani recently published The God Factor, a collection of interviews with an array of national political, artistic, and cultural figures about their spiritual lives. Among the revelations:
Barack Obama: "Is not shy saying he has 'a personal relationship with Jesus Christ.'" Also sometimes feels the power of the Holy Spirit when he is speaking.
Mancow Muller: "Am I saved? Yes. Yes."
Billy Corgan: Perceives everything he does including (his word) "fucking" in spiritual terms.
Dusty Baker: "The dark side has some real power, especially in the world today. Evil's more accepted and more prevalent." Actually believes that the mythical Cubs curse derives from the dark side. Says he's been "delivered" a "bunch of times" and has witnessed an exorcism.
Carlos Zambrano: "Any man who believes in God is a good man."
Harold Ramis: "Yes, we're alone in the universe, life is meaningless and death is inevitable, but is that necessarily so depressing?"
All very interesting - and indeed, frightening. But we would have appreciated more commentary reflecting historic Chicago values like doubt, pessimism, and a healthy aversion to bullshit. As a post-script, we've provided a short selection from other locals who are not in Falsani's book, in some cases because they are dead and keeping their experiences in the afterlife to themselves. Remember, if God says He loves you, check it out.
Carl Sagan: "The idea that God is an oversized white male with a flowing beard who sits in the sky and tallies the fall of every sparrow is ludicrous. But if by 'God,' one means the set of physical laws that govern the universe, then clearly there is such a God. This God is emotionally unsatisfying . . . It does not make much sense to pray to the law of gravity."
Clarence Darrow: "I feel as I always have, that the Earth is the home and the only home of man, and I am convinced that whatever he is to get out of his existence he must get while he is here . . . I am not afraid of any god in the universe who would send me or any other man or woman to hell. If there were such a being, he would not be a god; he would be a devil."
Saul Alinsky: "Lest we forget at least an over-the-shoulder acknowledgment to the very first radical: from all our legends, mythology, and history (and who is to know where mythology leaves off and history begins - or which is which), the first radical known to man who rebelled against the Establishment and did it so effectively that he at least won his own kingdom - Lucifer."
Steve Albini: "Psychedelic fungus infestation of European grain, not divine inspiration, is responsible for many of the 'visions' so lovingly portrayed in the Christian paintings of antiquity. How many people were pressed under stones or drowned or burned for Satanism while those of faith were quietly tripping their brains out on bad bread?"
Frank Lloyd Wright: "God is the great mysterious motivator of what we call nature, and it has been said often by philosophers that nature is the will of God. And I prefer to say that nature is the only body of God that we shall ever see. If we wish to know the truth concerning anything, we'll find it in the nature of that thing."
Emo Philips: "Probably the hardest time in anyone's life is when you have to kill a loved one because they're the Devil. But other than that, it's been a good day."
Posted by Lou at 07:31 PM | Permalink
The [Thursday] Papers
Worst Jury Ever?
Let's review.
1. Cynthia McFadden is removed from the George Ryan jury for not only sleeping but snoring during the trial, as well as doing crossword puzzles. During the trial. In the juror's box.
2. Evelyn Ezell is removed for failing to disclose on her juror questionnaire that she had previously been charged with misdemeanor child neglect, assault, weapons possession and drug possession.
3. Robert Pavlick is removed for not disclosing numerous DUI arrests.
4. Sonja Chambers, juror foreperson, is not removed but discovered to have failed to disclose court filings in three counties related to her divorce and the seeking of orders of protection, as well as a civil lawsuit brought against her by a furniture company.
5. Kevin Rein is not removed but failed to disclose his 1980 arrest for hitting his pregnant 17-year-old sister, reportedly during an argument over cats.
6. Charles Svymbersky is not removed but failed to disclose his 1983 guilty plea for stealing a bike.
7. Raul Casino is not removed but failed to disclose his 1962 DUI arrest.
8. Jill DiMartino is not removed but admitted that after deliberations began she was questioned about the case by her daughter, friends, and co-workers.
Oy.
Is this typical of most juries? Or do we have a special collection of miscreants here?

Yes, I've seen the commentary fretting that the Ryan jurors are now under attack and that the scrutiny isn't fair.
It is fair.
A jury empaneled to hear one of the most important cases in state history ought to be one of unquestioned integrity. (As should all juries, of course, but the scope and nature of this case demands an even more unusual level of bias-free judgement and attentiveness.)
The jury ought to be even more upstanding than the prosecution and defense, given that those parties are advocates with agendas.
The jury ought to stand with the judge as representatives acting on our behalf, for you and me.
So I don't find it so easy to dismiss these revelations, as much as I agree with the jury's findings.
It is more important that the process be one that is brimming with integrity, and has our full confidence as a result. Justice demands it.
Sure, a stolen bike charge in 1983 sounds about as nitpicky as you can get. And a DUI charge from 1962 sounds like ancient history (though one could easily imagine that a single such incident could form lifelong thoughts about DUI laws and the secretaries of state who help enforce them.)
But the point isn't the nature of the undisclosed charges, it's that they were undisclosed to begin with.
Whether the questions on the jury form we're confusing - and they don't sound confusing to me and I don't think any parent out there would let their kids get away with failing to disclose answers to such questions based on the questions being poorly worded - it happened.
Now there are two questions.
Did George Ryan get a fair trial? That will be decided through the appeals process.
Do we as the public have confidence in the jury system as it is currently constructed?
It may only be a matter of a few tweaks, like requiring background checks on all prospective jurors, but if this jury is typical, I'd say the answer to that second question is no.
As Yet Undisclosed: Is this jury typical? I mean, do most juries have as many members whose backgrounds include so many run-ins with the law? What are the chances? How does this collection of folks compare to the general population. I mean, I have friends who have had their problems but I'm not sure any 12 of us could match this jury. And that's not to say previous legal issues should disqualify someone from sitting on a jury. It's to say there is a reason why prospective jurors are asked to disclose such information - so the officers of the court can make the proper determination of whether they are still capable of performing their duties with the utmost integrity demanded by a upright criminal justice system.
Captive Audience: Several of the jurors have been accused by defense lawyers of buying newspapers during the trial. Hey, a new market! With trial news cut out in advance, perhaps replaced by ads for PR consultants and book agents.
But between the newspaper purchases and Chambers's talk with Dennis the Coffee Guy, who then phoned that radio station, and DiMartino's discussions with her friends and family, you have to wonder why the jury wasn't sequestered.
The Chicago Sun-Times found Dennis, by the way.
Webb's Ways: Master of the Universe Dan Webb's furious attempts down the stretch to use the jury issues to get a mistrial take a bit of the edge off his explanation for not putting Ryan on the stand, as repeatedly and confidently promised: That the government had so spectacularly failed to prove their case that it wasn't necessary.
More Webby Ways: Webb fought to keep the sleeping juror on the panel, which also seems to indicate what kind of case he truly thought he had. Though to be fair to the juror, the Daily Herald reports that her sleeping problem was due to medication.
Court of Public Opinion: I'm filing a motion today asking that Sneed be removed from the newspaper for failing to disclose what an affront to journalism she is.
This Just In: My motion was denied because Sneed discloses it almost every day.
Planet Tribune: The Chicago Tribune somehow thinks there is a more important story today to strip across its front page than the Ryan juror mess. Perhaps they are still patting themselves on the back for their front page exclusive yesterday that took us inside the jury room but not inside the jurors' deliberations - or into the judge's chambers where the real action was.
Massive Misses: The Tribune also owes its readers another explanation, this time about how it missed particularly the background on Chambers, but also the others. I don't mean that in an accusatory way - I suspect the tools available to us journalists may not reach back to ancient stolen bike cases - but just by way of explanation. Every other news agency missed this stuff too. At least the Tribune got the ball rolling, however incomplete its reporting turned out to be.
A Note From Beachwood HQ
The Ryan trial has so dominated The Papers this week that we've missed bringing you all sorts of other news, such as the Tribune being shut out of the Pulitzers, buy-outs at the Sun-Times, and items related to Bleacher Bums; Espoo, Finland; and The Decider.
We'll prepare a Ryan-free column sweeping up the week's crucial tidbits just for your pleasure, and post it tomorrow with or without another Ryan column, depending on developments.
A raft of new postings in all sections will also begin appearing later today, tomorrow, and through the weekend, and hopefully soon you will begin to see the fruits of our efforts on the business side.
Thanks for reading - in the first half of April our traffic doubled from the entire month of March, when we launched. Please keep spreading the word so we can sustain, expand, and improve what we do, because we do it all for you. And so that none of us ever has to work a real job again. But still, for you, too.
The Beachwood Tip Line: Background check not required.

Posted by Lou at 08:11 AM | Permalink
April 19, 2006
The [Wednesday] Papers
The George Ryan verdict continues to dominate the news, as it should. But the Chicago Tribune makes a strange choice today for its top front page story that seems to have more to do with its own ego and bid for a relatively tabloidish headline (relative to the Tribune) than obvious news judgement.
The Tribune seems awfully impressed with its less-than-impressive "INSIDE THE RYAN JURY ROOM" story (and yes, the headline is in all caps, across the top of the page).
But far from delivering a courtroom melodrama about the jury in one of the state's most important trials ever, the story is a rather routine collection of juror reminiscences dressed up with an opening conceit that on the day after the trial ended, the jury room somehow looked like a movie set at the end of a shoot.
What, there were crumpled pages of a script strewn about and a broken director's chair sitting forlornly in the corner?
No. There was a candy dish on "a side table" and, surprise, a dry-erase board and easel facing the head of an oval table.
Message to Tribune: Stop trying so hard to write.
The Tribune also placed on its front page the inevitable back-and-forth between gubernatorial campaigners Rod Blagojevich and Judy Baar Topinka, even though neither had anything remotely of value to say.
Both of these stories made the Trib's front page despite the fact that the big story of the day is the revelation that jury forewoman Sonja Chambers failed to disclose on her juror questionnaire that she had been involved in several court proceedings - the same circumstance that earlier got two jurors kicked off the panel and raised the specter of a mistrial.
(She is also the juror mentioned by a caller to a radio talk show who said she had talked about the case to him; Chambers has denied doing so and Judge Rebecca Pallmeyer reportedly believes her.)
The Chambers disclosure is likely to be the main basis for George Ryan's appeal, but the Tribune not only put that story on page 15, but led the story with the now-just-in news that federal judges in Chicago will consider background checks on future potential jurors. Oh, and that it was the Tribune's efforts that exposed the undisclosed arrest records of the previous two jurors in the first place.
The Chicago Sun-Times broke the news about Chambers yesterday, but I didn't see that anywhere in the Tribune's article.
And while the Tribune did a commendable job a few weeks back with its story about the two jurors who were then dismissed, it looks now like they missed court records in both Cook and Will County involving Chambers.
Perhaps that's why the paper played down the biggest news of the day.
Smart Art: The most compelling aspect of the Tribune's "inside the jury" story is the sketch work of juror Karen James, which is oddly not reproduced online. (When will they learn?)
The paper published James's sketch of Ryan defense lawyer Dan Webb on its front page; a (black-and-white) photo on an inside page catches a glimpse of three other sketches, one of which appears to be Ryan co-defendant Larry Warner.
We learn in the story that James also sketched "a very disgruntled-looking Ryan" but the paper doesn't show us that one.
A better use of space than "INSIDE THE RYAN JURY ROOM" would have been a James sketch gallery, don't you think?
Finger-Pointing: Not only that, but Scott Fornek of the Sun-Times does a better job with the Blago-Topinka reaction story than the Tribune in the way he describes the deployment of Blagojevich's obviously well-massaged talking point about how it is "sad and unfortunate that the finger-pointing has begun blah blah blah."
Fornek notes that in a six-minute talk with reporters, the governor managed to use the finger-pointing phrase four times.
Unappealing Appeal: Most legal experts seem to agree that Ryan's chances to win an appeal, even given the jury problems, is slim. But then, most legal experts didn't foresee a jury finding Ryan guilty on all counts.
Daley's Dreck: Mayor Richard M. Daley is either utterly incapable of reflective thought and having an actual conversation with reporters or he is starring in the longest-running in-your-face media-avoidance campaign in political history.
And it's not cute or quirky. It's disrespectul, patronizing, and demeaning to you, the citizen.
Raggedy Andy: I saw part of Daley's statement to the media on Channel 7 last night, and what I saw was an uptight, sweaty mayor with eyes darting around. But when the station cut back to political reporter Andy Shaw, Shaw said that "The mayor seems to have his confidence back."
Daley Disappearing: It would have been nice if this story made clear whether the mayor planned this trip before the Sorich trial was scheduled.
Party Time: The national media forgets that Ryan is a Republican.
- via The So-Called Austin Mayor Blog
Blind Backers: Rob Warden was back on Channel 2 last night using Ulysses S. Grant as an example (remembered for winning the Civil War, not his alcohol-wracked presidency) of why Ryan's legacy will be the death penalty moratorium, not his conviction for turning the state government into a criminal enterprise.
(In the report, Republican consultant Dan Proft in turn called Ryan "a convicted felon, and a particularly remorseless one at that.")
Defense lawyer and anti-death penalty activist Andrea Lyon is featured in Carol Marin's column today saying, "I do not believe [Ryan] is a criminal and conspirator."
Let's give Ryan the benefit of the doubt for a moment that his death penalty moratorium was sincere, and had nothing to do with trying to gain sympathy from a future jury, even though that's exactly what he did.
Why is it so hard to fathom that a man could believe that a broken system that may be responsible for putting innocent people to death should end and also believe that there is nothing wrong with using public office to enrich your friends and grease the wheels of government? And that one has nothing to do with the other?
In Today's Reporter
Don Jacobson's new installment of Chicago In Song tackles Chicago lyrical references in selections by a dream bill of George Jones, the Misfits, Cheap Trick, and the Marshall Tucker Band.
Only in The Beachwood Reporter.
The Beachwood Tip Line: Like a movie that has yet to start shooting.
Posted by Lou at 08:30 AM | Permalink
April 18, 2006
Chicago In Song: Hard Times, Tough Love, Big City
Welcome back to Chicago In Song. This time around we'll look at song references about the city that focus on marital discord, debauched children, the bad attitudes of its residents and its awful weather.
Just another day in the life of Chicago as portrayed in the world of music.
Golden Ring/George Jones
In "Golden Ring," a 1978 hit for the then-married country music couple George Jones and Tammy Wynette, Chicago serves as the backdrop for a weepy, cry-in-your-beer tale of the ups and down of marriage and commitment. It's a perfect example of the kind of Nashville hokum that alt-country is all about destroying.
The song tells of an optimistic man and woman, head over heels in love, deciding to take the plunge. They find a wedding ring "in a pawn shop in Chicago," lending the song a feeling of hard reality, grittiness, and possibly of portending doom. After all, what good can come of anything found in a pawn shop in a down-at-the-heels city often used as code for poverty or hard times in country music lyrics?
In a pawn shop in Chicago
On a sunny summer day
A couple gazes at the wedding rings
There on display
She smiles and nods her head
As he says, 'Honey, that's for you'
It's not much but it's the
Best that I can do

Golden ring
With one tiny little stone
Waiting there
For someone to take it home
By itself
It's just a cold metalic thing
Only love can make a golden wedding ring
So anyway, they get married but soon things go wrong. They end up in a "two-room apartment," presumably also in Chicago, fighting like cats and dogs and then it's Splitsville. The first verse about the ring in the pawn shop is then repeated, thus completing the cycle of Windy City-based misery.
Probably the most interesting thing about this song is that it was predictive of Jones and Wynette's own marriage. Soon after they recorded it, George was deep into the bottle, Tammy was gone, and he found himself at rock bottom. Then he discovered Jesus and country music continued on a trajectory that proved very unfortunate, much like the couple in the song.
Children in Heat/Misfits
Taking a 180-degree turn, we have the Misfits, a late '70s-early '80s horror/punk band starring Glenn Danzig. Their songs were mostly guitar-thrashing odes to the point of intersection between horror movies, Marilyn Monroe kitsch, loud punk rock and brutal poems about lost innocence and death.
Yeah, they were hot for awhile. "Children in Heat" is from one of their very earliest EPs, around 1979 or so, when Danzig and bandmate Jerry Only were being heavily influenced by the Ramones and favored catchy song formats to sing about sex, destruction and bodily functions.
In this song, Chicago seems to be a clear stand-in for Hell itself. Danzig tells us about how today's children are corrupt, evil, street urchins who spend most of their time "pissing blood" for up to seven days at a time, that they have "no conscience," and mostly, "no resistance." I'm assuming he means no resistance to things like punk rock, but that's only a guess.
After pounding their way through a disgusted/admiring tour of how children in heat behave, the Misfits sing:
Children in heat
You can't control them
Why they're running away
Children in heat
Are young little kindle wood
I see them burning
They all changed their names to Chicago
No resistance
No resistance
No resistance
I think what Glenn means here is that these kids are so debased, so completely out of control, and so likely to combust into flames that they might as well be called "Chicago" because they're burning like the great fire of 1871. Nice reference, totally unexpected. Perhaps he also saw the city itself as "kindle wood," a hellish place where human suffering is so intense that the whole place could go up at any second.
If so, I agree, and give Glenn Danzig the Most Realistic Song Lyric I've Found About Chicago So Far Award. Way to go, dude.
You're All Talk/Cheap Trick
From In Colour & Black and White, the youthful full-flowering of Cheap Trick, comes a Chicago reference that has a tinge of authenticity because it comes from locals (or near-locals, since we're talking about Rockford).
Now, I don't know Rick Nielsen personally and I would never presume to put words in his mouth, but this song sounds to me a lot like a resentful jab at the Big City just to the southeast of Rockford, a certain city known for its stockyards, football coaches and attitude-laden ladies who blow into Hicksville and think they own the joint.
"You're All Talk" is one of my favorite, pre-pop sensation Trick songs, with Bun E. Carlos' fast, syncopated drums mic'ed way up, Rick plucking a tricky riff, and Robin Zander's vocals at their snottiest, so much more preferable to his later heart-throbbie thing. The song's signature line is "Please don't go, please don't go away from me."
So on one hand, the singer is urging the girl to stay because he really loves her, but at the same time he's dissing her for thinking she's better than him, presumably because she's a braggart about being wild and from the Big City:
I got my breakfast in bed
You're big stuff in Chicago - so get in bed
This bedroom's only 12-by-10
You're all talk, you're all talk
I got your number for a real good time
Take the phone off the hook and watch you go wild
They say you go nuts and that's what I like
Being "big stuff in Chicago" apparently only got you so far with some folks in the Rockford of 1976. This kind of rootsy, Midwestern authenticity is one of the things that made me really, really like Cheap Trick, and still does. So Rick, if you're reading this, I hope that stuck-up Chicago lady from the song ended up learning a valuable lesson about greater Northeastern Illinois and its male inhabitants.
Windy City Blues/Marshall Tucker Band
Geez, right back to 1976 again.
This song by the Marshall Tucker Band is, of course, all about Chicago, but mostly it concerns the city's status as a job creation hub. It's a slow-moving, countrified lament about how the singer has to live in Chicago in order to do an unspecified job, but longs to leave the cold wind and snow of the north, jump on a southbound train, and hook up once again with his girl from "Roebuck town."
Written by George McCorkle, Doug Gray and Jerry Eubanks of the Tuckers, "Windy City Blues" initially confused me because of the Roebuck reference. I assumed that a Roebuck town girl would be someone from Chicago, because of the city's famous status as the headquarters of Sears, Roebuck & Co. So why did the singer want to leave Chicago to find a Roebuck girl?
I'm sittin' in Chicago on the thirtieth floor
Lookin' down on the city below
My heart is cold as the wind through the streets
And outside it's starting to snow
Weeks ago I left you in sunny Caroline
Sittin' in our home in the pine
I got a job to do that takes me away from you
But your love still remains on my mind
I'm in love with that girl from that Roebuck town
Since I met her she's made my life so sound
She's sweet and she's kind and she's mine all mine
She's the best thing that I'll ever find
Well, paint my wagon if it doesn't turn out there's a Roebuck, South Carolina, population 1,700. Now it all makes sense. Here's this guy on the 30th floor in Chicago (is he working in an office? Nah, probably building one) who is such a Dixie-fied wimp that he can't take a little bone-chilling wind blowing at 50 miles per hour through our lovely, scenic streets going on and on about this girl he's in love with way down South.
To that I say, man, look around! If you can't find some fine lady to go out with in a city like Chicago, especially in the '70s when everyone was all hopped up on inhibition-reducers, you're just not trying. Quit whining and check out Rush Street.
Check out earlier installments of Chicago In Song: (Mostly) A Wretched Place and 20 Flight Rock.
Posted by Lou at 03:53 PM | Permalink
Ways & Means: Pundits Guilty on Almost All Counts
It's not as if George Ryan is the first high-profile Illinois pol - or even the first who served as governor - to become a convicted felon.
But somehow some pundits insist - even rue - that the rules have now changed. As if we haven't seen a prosecution like this before; as if new laws have been written.
It just isn't so.
Lawyer Tom Durkin, for example, said on Chicago Tonight last night that the Ryan verdict lowers the bar on what pols can be found guilty of.
I disagree.
To me, this sounds like the tired argument that the rules have changed, trapping guys like Ryan who practice a kind of politics that was once allowed. We heard that most vociferously when Dan Rostenkowski was convicted in 1996, a decade ago. In researching a story I wrote a couple years ago for Chicago magazine about defense lawyer Ed Genson, I came across a news story about 20 years old that had Genson making the same argument. As long as there have been corrupt pols, there have been federal indictments and convictions. For quite awhile there was an average of one alderman indicted a year around here. How have the rules changed? Instead, the political environment is depressingly the same.
Culture of Corruption
"Jurors heard limited details about the Willis crash because Judge Rebecca Pallmeyer considered the issue too prejudicial for the defense. Pallmeyer did allow jurors to hear that Ryan was a former Illinois governor, however."
- Tim Willette
Cavise Kvetches
DePaul University law professor Len Cavise was exasperated on Chicago Tonight last night, again repeating the tired Dan Webb argument that no one saw Ryan put any money in his pocket. Apparently putting money in his campaign fund - or not needing money in his pocket because others paid his way for everything - doesn't qualify. Cavise even asked sadly what politicians could offer campaign contributors anymore if they can't offer influence. Perhaps they can offer honest service.
Cavise, by the way, is the same guy who said in January that Ryan "absolutely has to take the stand."
Not Even Close
Ten days, by the way, is a very quick verdict considering it was a complicated six-month case. It could take ten days alone just to read through the jury instructions. This was a slam dunk.
Canary in the Coal Mine
Also from Chicago Tonight, Cindy Canary, director of the Illinois Campaign for Political Reform, says the root of our state's corrupt political culture is campaign funding. "The shakedown," she says. Illinois is the least regulated state in the nation when it comes to campaign contributions, according to Canary.
So will we now see campaign funding reform?
According to political analyst Don Rose, state legislators will pass new ethics rules once they figure out how to evade them after they are passed.
Imprisoned Warden
Rob Warden, executive director of the Center on Wrongful Convictions at Northwestern University, insists Ryan's legacy will still be the death penalty moratorium. And that Ryan didn't enact the moratorium cynically to build a sympathetic portrait for a future jury.
I'd like to believe that, but given that Ryan used the moratorium in an irrelevant bid to gain sympathy from the jury, Ryan's credibility on that is shot.
Warden, I'm afraid, can't see through the prism of his own agenda. This conviction will overshadow the death penalty moratorium as Ryan's legacy.
Bob Crawford, the veteran radio man and political analyst, also on Chicago Tonight, pointed out that legacies can be, and ought to be, mixed, because that can be the only honest appraisal of people and their work. But, he said, Ryan "is the very symbol of everything wrong with pay-to-play. The very thing that did him in was what he was proudest of: The ability to make a deal. That's what put him where he is today."
How Tragic?
Warden agreed with host Phil Ponce's assessment of Ryan as a tragic figure (Warden called him "the ultimate tragic figure").
What's so tragic about him?
Ryan has been Ryan his entire political career. This is who he is and has been. A tragic figure, I think, has to have something unusual befall him, something counter to what he deserves or a single tragic flaw that ruins an otherwise unusually honorable person. That description does not fit George Ryan. George Ryan is, if anything, Illinois personified. The only tragic figures in this case are the Willis family and us citizens.
On To Daley And Blago
Does anyone think anymore that the federal investigations into the current state government doesn't end with Blagojevich? And that the City Hall investigations don't end with Daley? The only real question concerning Pat Fitzgerald's caseload is whether the Plame leak investigation ends with Cheney or Bush.
At least Blagojevich (and Topinka) issued a statement yesterday, meaningless as it was. Here's what our fearless mayor said: Nothing.
"At an unrelated news conference on school issues an hour before the verdict was announced, Daley cut off questions about the Ryan case," the Sun-Times reports today. "He refused to say whether he thought a guilty verdict would embolden federal prosecutors to come after him. 'I'm not going to talk about it,' he said."
To be fair, that was before the verdict, not after. But I still haven't seen him comment and I don't expect to. He doesn't talk.
Here's what he could say, though: "I believe in open, honest government, so I'm not worried about federal prosecutors coming after me. I have nothing to hide. If they can weed out corruption in my administration that has flourished despite my best efforts, I welcome them to because nobody wants a corrupt-free Chicago more than I do."
That is, he could say that if it was true.
Ballot Blues
What a great opportunity this election for an independent reform candidate to run for governor. Instead, we get Blagojevich vs. Topinka.
Worst. Choice. Ever.
Which is why Collins rankled me with one of his statements yesterday. Like reporters, columnists, editorial writers, and pundits have said for years, Collins said in effect that it is up to voters to change the system by choosing clean candidates over dirty ones. The problem with that is that voters can only choose from among the choices they are given. The two (private) parties have a stranglehold on the system. Once again, Blagojevich vs. Topinka. What kind of choice is that?
Maybe voters are sending the only message they can by not going to the polls.
Unfortunately, that doesn't accomplish anything either.
But let's not blame voters for not stripping corrupt pols of power when it's the political parties who most hold the power to do so.
For more Ryan verdict coverage, read why Dan Webb's defense strategy was weak and how the media got it wrong.

Posted by Lou at 07:27 AM | Permalink
The [Tuesday] Papers
I almost hate to say I told you so. But I'm pretty sure I kinda did.
I watched Chicago Tonight's hour-long show last night on the George Ryan verdict and I was once again struck by how weak Dan Webb's defense strategy was. That's not to blame him necessarily--he didn't have a lot to work with. But the media sure bought his talking points hook, line, and sinker, didn't they?
Perhaps it was out of an "objective" need to "balance" each side of the case, but in so doing the media didn't present a true picture of reality: That the evidence was heavily against Ryan.

Webb outlined his three-point defense in a news conference at the beginning of the case that Chicago Tonight re-broadcast in part last night. This was how he planned to - and in fact did - defend Ryan.
1. After reviewing the indictment, Webb said, he was most struck by the fact that the government's six-year investigation had not produced a single witness seeing Ryan accept payment for anything. This was Webb's first and foremost line of defense. And this became the chief talking point repeated by reporters and pundits alike who wondered if the government had really proven its case.
It was a desperate talking point crafted by a lawyer without much else to hang his hat on. I never understood why the press bought into this as a legitimate line of defense. As the prosecution said, they were under no burden to produce any such witness. Ryan was not charged with accepting a bribe. He was charged with racketeering; what the government showed in abundance was that Ryan presided over a criminal operation mainly as secretary of state, but continuing as governor, that used state resources including employees to fund Ryan's political career and campaign warchest, and rewarded employees with promotions and raises based on their participation.
At a higher level, campaign contributors such as the also now-convicted Larry Warner, were rewarded with sweetheart contracts. The media's focus on Harry Klein paying for Ryan's Jamaican vacations also missed the point: It wasn't the relatively petty perk of a couple free vacations that Ryan got as much as the state leases that Klein got in return. That's how you and I were ripped off. Our taxpayer money was used by Ryan to reward his friends, who put him in public office and kept him there.
At the heart of the operation was the already easily-convicted Scott Fawell, Ryan's right-hand man. Ryan may not have known every detail as Fawell did, by design and practicality, but the government won the right to argue that an "ostrich" defense not be allowed to be argued--that showing Ryan did not know what was going on in his behalf was no excuse.
So the prosecution didn't have to produce a witness who saw an exchange in which cash went into Ryan's pocket. And this was the best defense Webb could come up with. You have to wonder what the discussions were like with Ryan about copping a deal.
2. Webb's second line of defense, he said in that initial press conference, was Ryan's enactment of the death penalty moratorium. By this act of courage, Webb argued, the jury would come to know the character of the man.
Of course, while Webb was allowed to use anti-death penalty activists as character witnesses, the death penalty moratorium was as utterly irrelevant to the charges at hand as what I had for dinner last night. This being Webb's second-best defense argument pretty much meant the case was already lost; I suspect in his heart he thought his best hope was creating and gathering reasons for a successful appeal on technical grounds or a mistrial that might at least get Ryan a better plea bargain or buy him more freedom before conviction.
3. Webb's third line of defense was that Ryan was not a man of financial means. He lived modestly on his pension and Social Security, in a modest Kankakee home. And that didn't square with a man on the take.
Tim Novak reports today in the Sun-Times, however, that Ryan's pension amounts to $197, 037.60 a year. Does anyone really consider that modest? That's 30 percent more than the current governor makes, according to Novak. Ryan, in fact, has already collected $566,660 since leaving office in January 2003. (And remember, he has no legal bills because Webb and his politically-connected, Jim Thompson-led law firm, Winston & Strawn, provided him with a $10 million defense for free. Hey, could Ryan be indicted for that political favor? And isn't that evidence in itself of $10 million not so much in Ryan's pocket but spent on his behalf?)
But this case wasn't about showing that Ryan had put prodigious amounts of money in his own pockets, it was about Ryan putting money in the pockets of his political pals (as well as his daughters) in order to attain and retain public office. It's almost always more about power than money with pols; the private sector is much more lucrative. If it was about money for Ryan, he could have become a lobbyist or a consultant or a vendor bidding for state contracts. Besides that, though, there was testimony that Ryan was planning to squirrel away a million dollars or so from his campaign fund for his retirement. Either way, he would be taken care of.
Still, I'm surprised like everyone else that Ryan was convicted on every count rather than a split verdict, but for different reasons, I suspect, than most pundits. Many commentators, as I read, watched, and listened to them, predicted Ryan would be found guilty on what many described as the ticky-tacky charges, such as filing a false income tax statement and making false statements to the FBI (which should never be considered a small deal) but that the racketeering charge would be the tough one to get beyond reasonable doubt.
I saw it just the opposite, and I see now where I was wrong. In our Political Odds feature (now updated), I had put the chances of Ryan being found guilty on all counts at 5 percent. Why? "The volume of counts is a prosecution strategy, yet some reporters have taken the bait," I wrote.
I was wrong about that. U.S. Attorney Patrick Fitzgerald said recently that the government doesn't just pile on extra charges to intimidate defendants or hope something will stick. I think government prosecutors probably do do that, but we should never mistake Fitzgerald for a typical prosecutor. Fitzgerald is earnest, not cynical. I was being cynical.
But my big mistake was in thinking that Ryan would be found guilty of racketeering, but that not all of the lesser charges would stick, just because there were a bunch of lesser charges that, again, I guessed were the result of piling on or being super technical. What I should have realized was that if Ryan was found guilty of racketeering, all the other charges were likely to fall in place logically and be upheld as elements of the scheme.
Like the observers seeing things the other way, I failed to see the ultimate connection between the major charge and the lesser charges. They were all of a piece.
I also wrote that the chances that Ryan would be found guilty on most counts was 80 percent. "Webb wasn't as impressive to the jury as he was to the pundits," I wrote. "They like [lead prosecutor Patrick] Collins more."
Of Ryan's guilt, well, I thought that was 100 percent, writing, "Is there really any doubt?"
But among our press corps, there weirdly was.
Perhaps it had something to do with the media's obssession about the lack of a "smoking gun," still evident in much of today's coverage, as if that's now the legal standard for conviction. Maybe the problem with the media is that there were tons of smoking guns, too many for them to comprehend at once.
For example, Mark Brown, who can read, interpret, and analzye an indictment with the best of them, stated in his Sun-Times column today that "jurors in the Ryan trial couldn't pick out one witness or piece of evidence" that swayed them.
That's because they had so much to choose from to pick just one. Juror James Cwick, for example, was asked what Ryan did wrong, and he said: "I don't think I have enough time to sum that up."
Then he tried: "There were a lot of things with tax issues and hiding taxes, diverting funds from his campaign funds to his family members, stopping investigations with the state's internal investigation department. There's a whole lot of stuff out there. You could pretty much take your pick."
On our Politics page today, I'll continue with further observations of what the pundits had to say, what Mayor Richard M. Daley didn't have to say, and what the otherwise altogether impressive Patrick Collins said that rankled me.
The Beachwood Tip Line: Accepting both guns that are smoking and those that are not smoking yet but have the potential to smoke later.

Posted by Lou at 06:52 AM | Permalink
April 17, 2006
The Beachwood 24/7 Alt-Country Internet Radio Guide
The Internet is the best thing that ever happened to alt-country. That's because it's a terrific way to listen to all those (mostly non-commercial) radio stations nationwide and overseas that have a little or a lot of programming devoted to alt-country, honky tonk, country rock, rockabilly, blues, Cajun, zydeco and roots music in general.
Listed below is a day-by-day, hour-by-hour guide to the over-the-air stations I've found that have such programming on high-speed Internet simulcasts. Many, many more slower-streaming stations also have great alt-country, but I'm an Internet radio snob. I don't listen to them because I crave that clean, clean Hi-Fi sound. I won't settle.
Plus, if you listen to these stations, you'll get to hear who's playing gigs in towns you'll never go to . . . as well as traffic on the I-5.
(All times Central. Show descriptions provided from station Web sites. Last updated: 11/1/2007)

SUNDAY
8 a.m.-noon KCSN (MP3 stream)
Bluegrass, Etc.
From the Banks of the Ohio to the Blue Moon of Kentucky . . . where Bluegrass Express lets off, Bluegrass, Etc. begins. Host Frank Hoppe features traditional bluegrass, old-time and early country music to move your heart and your feet. Legendary artists, from early stars of country music like Hoyt Ming & His Pepsteppers and the Carter Family to contemporary performers like Ralph Stanley and Alison Krauss, are brought to you each week.
9 a.m.-11 a.m., WKCR (MP3 stream)
The Moonshine Show
Bluegrass and old-time music programming first appeared on WKCR in 1966. The Moonshine Show, hosted by Matt Winters, continues this long standing tradition, presenting the hill country string music of the Mid-South via classic recordings and frequent live in-studio performances. The full spectrum of this living art form is covered each Sunday morning.
10:30 a.m.-11:30 a.m. WUSB (MP3 stream)
Down Home Country
Country and western, rockabilly, western swing from the '20s through the '90s, from the popular to the obscure. Hosted by Debbie de Waltoff.
11 a.m.-1 p.m. KVCU (MP3 stream)
Route 78 West
The best Alt-Country music show on the dial. Each Sunday, 10 a.m. to noon, Radio 1190 brings you Honky Tonk, Trucker Songs, Spaghetti Westerns, recycled jukebox 45s, an occasional Surf track and artist interviews. Follow Uncle Jeff and Loki as they spin down the by-ways and blind alleys of Americana's past and future. Roam the range via old scratchy 78s in your hot rod Lincoln.
11 a.m.-1 p.m. WRFL (MP3 stream)
The Hot Burrito Show
w/Rob Franklin and Michael Campbell
On the Hot Burrito Show, we play what Gram Parsons called "Cosmic American Music" - a sound that ranges from country and soul to gospel and rock and roll. A lot of the songs we play on the Hot Burrito Show might be labeled alternative country or roots rock, but we like to mix our Uncle Tupelo with healthy shots of Merle Haggard and Al Green, Emmylou Harris and Robbie Fulks, Lucinda Williams and Billy Joe Shaver, Alejandro Escovedo and The Blind Boys of Alabama. It's a big barn, in other words, with plenty of room for revival meetings and rowdy honky tonk parties. Drop by some time and, to paraphrase Dan Baird, remember to bring your Bible and a bottle!
11 a.m.-1 p.m. WKCR (MP3 stream)
The Tennessee Border Show
Comprising one half of WKCR's country programming, The Tennessee Border Show focuses on the masters of country music from the latter-half of the twentieth century. The show is also not afraid to delve back into country music forefathers, like Hank Williams and Jimmie Rodgers. Over the years, the show has established itself as a source for information about 'real' country music, where elsewhere, commercial country has had the effect of erasing the real music from the record.
Noon-2 p.m. KSYM (Real Audio)
Hillbilly Hit Parade
w/Hank Harrison
2 p.m.-4 p.m. CJUM (MP3 stream)
Tell The Band To Go Home
w/Jeff Robson
Tell The Band To Go Home is a weekly celebration of great songs and the people who bring them to life. I play songs from some of the greatest songwriters of all time, including John Prine, Lyle Lovett, Fred Eaglesmith, Willie P. Bennett, and many more. Along with the legends, I also focus on the hottest new writers of today.
3 p.m.-5 p.m. WMUH (Real Audio)
Cousin Sheila Record Hop
rockabilly
4 p.m.-6 p.m. KSYM (Real Audio)
Third Coast Music
Americana/roots/Independent/blues/western/Cajun, Zydeco, Creole/Adult Album Alternative (AAA)/Swamp rock/Punk Bluegrass/Hillbilly-Surf/rock 'n' roll/Texas music/classic country/REAL country/underground Nashville/anti-NashVegas/Twang/alt.country/CRINGE?(country fringe)/insurgent country/cowpunk/psychadelic country/y'all-ternative/Eclectic...
4 p.m.-6 p.m. KCSN (MP3 stream)
Red Hot
w/Allan Larman
Americana & rockabilly
5 p.m.-7 p.m. KVSC (MP3 stream)
Root Cellar
Mix of old-time, alt country and roots rock
5 p.m.-7 p.m. WFPK (MP3 stream)
Roots 'n Boots with Michael Young
More than a specific genre of music, Roots n' Boots is a place. A dusty highway where Hank Williams welcomes a hitchhiking Woody Guthrie into his long white Cadillac. Where Neil Young stops his old pickup long enough for Gram Parsons and Emmylou to hop in. An old saloon where George Jones buys one too many rounds for Wayne Hancock inside, while Willie Nelson shares a smoke with Steve Earle out back. A front porch where a firecracker like Neko Case can discover nobility in the plain talk of Loretta Lynn, and Merle Haggard unlocks the secrets of love and wanderlust for Alejandro Escovedo over a cold glass of iced tea.
6 p.m.-9 p.m. KCSN (MP3 stream)
Tangled Roots
w/Pat Baker
Tangled Roots features alternative country, folk, folk/rock, gospel, blues and music from the singer-songwriter tradition resulting in an eclectic mix of roots based music. Hear artists like Steve Earle, Lucinda Williams, Hank Williams, Townes Van Zandt, Muddy Waters, Emmylou Harris and Bob Dylan. You'll also hear from the new breed of artists on the Americana scene.
6 p.m.-8 p.m. Radio K (MP3 stream)
Grain Elevator
8 p.m. -10 p.m. PBS-FM (WMP)
5ft High & Rising
The sounds heard on Five Feet High & Rising are described as "alt-country," "Whatever that is" as the music magazine No Depression famously exclaims on its masthead. I like to call it "Eclectic Country" - a potpourri of folk, blues, bluegrass, singer-songwriter &, of course, country. "Alt-Country" is a buzzword & others such as "Americana" "Anti-Folk" & "New Grass" have been invented to describe this style of music. Most of these terms have become somewhat overused but whatever the words are that we use to describe it, interest in new country music remains as strong as ever.
9 p.m.-11 p.m. KXCI (MP3 stream) (DST, 1 hr later)
Rock Around The World
Rockin' Bee brings you rockabilly, surf, and more.
10 p.m.-midnight KUCI (MP3 stream)
Howdylicious!
Rockabilly, psychobilly, alternabilly, all things twangy w/Wanda.
10 p.m. -12 p.m. KXUA (MP3 stream)
The Midnight Ramble
w/ Pretty Boy Floyd
Folk, bluegrass, and country music Tune in every Sunday night for a taste of that high lonesome sound, as Pretty Boy Floyd takes you down that lost highway for two hours of bluegrass pickin', square dancin', country kickin' music.
MONDAY
5 a.m.-8 a.m. WGCS (Real Audio)
Breakfast Blend
Start your weekday with Breakfast Blend host Zach Miller as he plays a rich blend of contemporary folk, bluegrass and Americana plus local weather and BBC news.
5 a.m.-8 a.m. WDVX (MP3 stream)
Rise 'N' Shine
Wake up to a lot a bit of bluegrass & a little bit of classic country. A fresh way to start your day with your host Freddy Smith.
7 a.m. - 9 p.m. WMUC (MP3 stream)
Hobo's Lullaby
DJs: Carter Thomas, Jenna
Songs for drifters and revolutionaries... Folk, bluegrass, country, jazz, rockabilly, psychobilly, hiphop, riotfolk, punk, americana
8 a.m.-11 a.m. WDVX (MP3 stream)
Americana Mix
WDVX plays Bluegrass, Americana, Classic Country, Alternative Country, Western Swing, Blues, Old Time and Traditional Mountain Music, Bluegrass Gospel, Celtic, and Folk. Then we throw in a little roots music from other parts of the world as well as some good old rock and roll and the latest releases in Americana music.
8 a.m.-10 a.m. WGCS (Real Audio)
Mornings
A combination of the newest releases from the Americana Airplay Charts along with a variety of Folk and Bluegrass.
9 a.m.-5 p.m. WNCW (MP3 stream)
WNCW's Music Mix
Americana, rock, blues, bluegrass, jazz, Celtic and other world music, plus live in-studio performances.
10 a.m.-3 p.m. WGCS (Real Audio)
Midday Mix
Join Kimberlee Rohrer each weekday as she hosts the Midday Mix, a combination of the newest releases from the Americana Airplay Charts along with a variety of Folk and Bluegrass.
10 a.m.-1 p.m. KSUT (MP3 stream)
Morning Blend
An eclectic mix of musical styles featuring Americana - folk, roots and bluegrass - plus rock, blues, world and jazz. You'll hear songs by old favorites, segued with new and emerging artists, and world renowned musicians beside the world's obscure talents. Tune-in for a musical journey that's diverse and cutting-edge, yet slightly off the beaten path.
12 noon-2 p.m. WIIT (MP3 stream)
Trucker Caps and Cowboy Hats
Graduate and undergraduate studies in country music.
With Matt Cook and John Dorr.
12 noon-1 p.m. WRVU (Real Audio)
Ken's Country
Golden hits of yesterday.
1 p.m.-8 p.m. WDVX (MP3 stream)
Americana Mix
3 p.m.-5 p.m. KAOS (MP3 stream)
Songs for the Open Road
With Colleen and Lea
Drivetime ditties new and old. Acoustic, alt country, bluegrass.
3 p.m.-7 p.m. (weekdays) KSYM (Real Audio)
Third Coast Music
Americana/roots/Independent/blues/western/Cajun, Zydeco, Creole/Adult Album Alternative (AAA)/Swamp rock/Punk Bluegrass/Hillbilly-Surf/rock 'n' roll/Texas music/classic country/REAL country/underground Nashville/anti-NashVegas/Twang/alt.country/CRINGE?(country fringe)/insurgent country/cowpunk/psychadelic country/y'all-ternative/Eclectic...
5 p.m.-8 p.m. WCNI (every other week) (qt)
Texas Radio Music Show w/W. Lee
Texas Rock, Cajun, Blues, Country
Bringing you the American Cosmic Music, as Gram Parsons called it, with a decidedly Texas bent - including everybody from the Stones to Angelique Kudjo; Leonard Cohen to Joe Ely; Lucinda to Jimmie Dale . . . You get the gist.
5 p.m.-7 p.m. WRUV (MP3 stream)
Emotional Weather Report with Tom Ayres
American Roots & Eclectic
6 p.m. - 8 p.m. KXUA (MP3 stream)
The Mystery Train
w/Blind Derek Jenkins
Blues, R&B, Rockabilly, Doo Wop
6 p.m. to 8 p.m. WCSB (MP3 stream)
Timmie the Hippie's Folk Show
Host: Timmie the Hippie
In the big picture, folk is a small slice of the musical pie, but the Hippie's making sure that piece has all the right ingredients; from alt. country to zydeco. Old and new, there's finger pickin', foot stompin', beer drinkin', spirit liftin' music for and by folks of all sorts.
6 p.m.-9 p.m. (Mon.-Thurs.) WXPR (MP3 stream)
Northwoods Cafe
Traditional, new and ethnic folk music, as well as roots and world music with some blues, Cajun and zydeco thrown in for fun heard Monday through Thursday from 6-9 p.m.
6 p.m.-8 p.m. WRCT (MP3 stream)
Fear & Whiskey w/Karl
Free Range Radio for wide open minds. Fear and Whiskey, your weekly dose of twang. Mondays from 7 to 9 p.m. on WRCT Pittsburgh.
7 p.m.-9 p.m. KXCI (MP3 stream) (DST, 1 hr later)
Starr Tracks
Laurie Starr will boldly take you through a musical galaxy of roots, alt-country, rock, blues and more. Themes and musician features are common.
8 p.m.-10 p.m. PBS-FM (WMP)
Southern Style
Hosted by Jan Dale
Bluegrass and Old-Time music with a touch of blues, Cajun and Western Swing.
8 p.m.-10 p.m. KAOS (MP3)
Catch a Wave
w/Austin Potter
Surf, jangle and twang from then and now.
9 p.m.-midnight WNCW (MP3 stream)
WNCW's Music Mix
Americana, rock, blues, bluegrass, jazz, Celtic and other world music, plus live in-studio performances.
10 p.m.-12 a.m. KWVA (MP3 stream)
Blood On the Saddle
Hosted by the Kranky Kowboy.
10 p.m.-5 a.m. WDVX (MP3 stream)
Americana Mix
WDVX plays Bluegrass, Americana, Classic Country, Alternative Country, Western Swing, Blues, Old Time and Traditional Mountain Music, Bluegrass Gospel, Celtic, and Folk. Then we throw in a little roots music from other parts of the world as well as some good old rock and roll and the latest releases in Americana music.
12 midnight-2 a.m. PBS-FM (WMP)
City Slang
Garage to soul, hip hop to rock'n'roll.
TUESDAY

5 a.m.-8 a.m. WGCS (Real Audio)
Breakfast Blend
Start your weekday with Breakfast Blend host Zach Miller as he plays a rich blend of contemporary folk, bluegrass and Americana plus local weather and BBC news.
5 a.m.-8 a.m. WDVX (MP3 stream)
Rise 'N' Shine
Wake up to a lot a bit of bluegrass & a little bit of classic country. A fresh way to start your day with your host Freddy Smith.
8 a.m.-11 a.m. WDVX (MP3 stream)
Americana Mix
WDVX plays Bluegrass, Americana, Classic Country, Alternative Country, Western Swing, Blues, Old Time and Traditional Mountain Music, Bluegrass Gospel, Celtic, and Folk. Then we throw in a little roots music from other parts of the world as well as some good old rock and roll and the latest releases in Americana music.
8 a.m.-10:30 a.m. KDVS (MP3 stream)
Earthquake Muse w/Craig
Focus on Folk, Blues, Americana, Alt Country, and Rock
8 a.m.-10 a.m. WGCS (Real Audio)
Mornings
A combination of the newest releases from the Americana Airplay Charts along with a variety of Folk and Bluegrass.
8 a.m.-10 a.m. KDHX (Real Audio)
The Back Country
w/Kip Loui
The Back Country features new traditional country music: the likes of the Derailers, Dwight Yoakum, Dale Watson, Robbie Fulks, Justin Trevino, Johnny Rodriquez, Roger Wallace, Elizabeth Cook, Mandy Barnett, Rosie Flores, etc. and NEW music by folks like Merle Haggard, Johnny Cash, and Loretta Lynn.
9 a.m.-5 p.m. WNCW (MP3 stream)
WNCW's Music Mix
Americana, rock, blues, bluegrass, jazz, Celtic and other world music, plus live in-studio performances.
10 a.m.-3 p.m. WGCS (Real Audio)
Midday Mix
Join Kimberlee Rohrer each weekday as she hosts the Midday Mix, a combination of the newest releases from the Americana Airplay Charts along with a variety of Folk and Bluegrass.
10 a.m.-1 p.m. KSUT (MP3 stream)
Morning Blend
An eclectic mix of musical styles featuring Americana - folk, roots and bluegrass - plus rock, blues, world and jazz. You'll hear songs by old favorites, segued with new and emerging artists, and world renowned musicians beside the world's obscure talents. Tune-in for a musical journey that's diverse and cutting-edge, yet slightly off the beaten path.
1 p.m.-6 p.m. WDVX (MP3 stream)
Americana Mix
WDVX plays Bluegrass, Americana, Classic Country, Alternative Country, Western Swing, Blues, Old Time and Traditional Mountain Music, Bluegrass Gospel, Celtic, and Folk. Then we throw in a little roots music from other parts of the world as well as some good old rock and roll and the latest releases in Americana music.
3 p.m.-7 p.m. (weekdays) KSYM (Real Audio)
Third Coast Music
Americana/roots/Independent/blues/western/Cajun, Zydeco, Creole/Adult Album Alternative (AAA)/Swamp rock/Punk Bluegrass/Hillbilly-Surf/rock 'n' roll/Texas music/classic country/REAL country/underground Nashville/anti-NashVegas/Twang/alt.country/CRINGE?(country fringe)/insurgent country/cowpunk/psychadelic country/y'all-ternative/Eclectic...
6 p.m.-9 p.m. (Mon.-Thurs.) WXPR (MP3 stream)
Northwoods Cafe
Traditional, new and ethnic folk music, as well as roots and world music with some blues, Cajun and zydeco thrown in for fun heard Monday through Thursday from 6-9 p.m.
9 p.m.-midnight WNCW (MP3 stream)
WNCW's Music Mix
Americana, rock, blues, bluegrass, jazz, Celtic and other world music, plus live in-studio performances.
9 p.m.-10:30 p.m. WKCR (MP3 stream)
Honky Tonkin'
Whereas The Tennessee Border Show focuses on country music from the latter-half of the twentieth century, Honky Tonkin' is dedicated to the country music of the 1940's and 1950's. One might think that this would limit the show to 78-era recordings, but just this year, a new Honky Tonkin' tradition was born with the premier of the WKCR Radio Jamboree. Occurring the third Tuesday of every month, the WKCR Radio Jamboree has a house band, Sheriff Uncle Bob and the Goodtimers, as well as a new act each month in an attempt to recreate the feeling of live radio in the classic country years of the late 1940's.
9 p.m.-11 p.m. KRUI (MP3 stream)
High Plains Hootenanny
Alt Country with Bob Russell
9 p.m.-11 p.m. KXCI (MP3 stream) (DST, 1 hr later)
Rosie's Rhythm Room
Hosted by: The Roze Lady
Tune in for a great mix of "Swing-billy, Honky Tonk-Twang, Roots Rock n' Blues."
WEDNESDAY
5 a.m.-8 a.m. WGCS (Real Audio)
Breakfast Blend
Start your weekday with Breakfast Blend host Zach Miller as he plays a rich blend of contemporary folk, bluegrass and Americana plus local weather and BBC news.
5 a.m.-8 a.m. WDVX (MP3 stream)
Rise 'N' Shine
Wake up to a lot a bit of bluegrass & a little bit of classic country. A fresh way to start your day with your host Freddy Smith.
8 a.m.-11 a.m. WDVX (MP3 stream)
Americana Mix
WDVX plays Bluegrass, Americana, Classic Country, Alternative Country, Western Swing, Blues, Old Time and Traditional Mountain Music, Bluegrass Gospel, Celtic, and Folk. Then we throw in a little roots music from other parts of the world as well as some good old rock and roll and the latest releases in Americana music.
8 a.m.-10 a.m. WGCS (Real Audio)
Mornings
A combination of the newest releases from the Americana Airplay Charts along with a variety of Folk and Bluegrass.
9 a.m.-5 p.m. WNCW (MP3 stream)
WNCW's Music Mix
Americana, rock, blues, bluegrass, jazz, Celtic and other world music, plus live in-studio performances.
9 a.m.-11 a.m. KFAI (MP3 stream)
Stone Soup
Hosted by Pam K
American traditional music from folk to jazz and country to Cajun.
9 a.m.-11 a.m. CJUM (MP3 stream)
Roots & Writers
Host: Len Osland
Come & join host Len Osland in a weekly cocktail of current and archived Roots/ Blues/ Country & rockin' folk tunes served up by songwriters discovered on a weekly basis in the bowels of UMFM's music library and received regularly in the mail from independents you may well never have heard of before. The planet's crawlin' with 'em and R&W tries to taste as many of the tasty musical morsels as it can. Bring a bib and maybe a beer!
10 a.m.-3 p.m. WGCS (Real Audio)
Midday Mix
Join Kimberlee Rohrer each weekday as she hosts the Midday Mix, a combination of the newest releases from the Americana Airplay Charts along with a variety of Folk and Bluegrass.
10 a.m.-1 p.m. KSUT (MP3 stream)
Morning Blend
An eclectic mix of musical styles featuring Americana - folk, roots and bluegrass - plus rock, blues, world and jazz. You'll hear songs by old favorites, segued with new and emerging artists, and world renowned musicians beside the world's obscure talents. Tune-in for a musical journey that's diverse and cutting-edge, yet slightly off the beaten path.
Noon-4 p.m. KFJC (MP3 stream)
Lubbock or Leave It
with Joe Ed Dick.
Pure country music, all the vitamins, protein and carbs of your grandma's best turkey dinner, plus 15% alcohol!
Vintage Radio Dramas at 11:30 (1:30 Central); 12 noon (2 Central): Dick on Screen - because watching TV and movies is easier than getting up at 3am to go fishing.
1 p.m.-9 p.m. WDVX (MP3 stream)
Americana Mix
WDVX plays Bluegrass, Americana, Classic Country, Alternative Country, Western Swing, Blues, Old Time and Traditional Mountain Music, Bluegrass Gospel, Celtic, and Folk. Then we throw in a little roots music from other parts of the world as well as some good old rock and roll and the latest releases in Americana music.
3 p.m.-7 p.m. (weekdays) KSYM (Real Audio)
Third Coast Music
Americana/roots/Independent/blues/western/Cajun, Zydeco, Creole/Adult Album Alternative (AAA)/Swamp rock/Punk Bluegrass/Hillbilly-Surf/rock 'n' roll/Texas music/classic country/REAL country/underground Nashville/anti-NashVegas/Twang/alt.country/CRINGE?(country fringe)/insurgent country/cowpunk/psychadelic country/y'all-ternative/Eclectic...
3 p.m.-5 p.m. KUCI (MP3 stream)
Buffalo Bayou
Since August 2003, Buffalo Bayou is a weekly 2 hour zydeco show and sonic gumbo laced with Cajun, delta, folk, and a pinch of Texas swing, cooked up, and served live around the world on the internet and broadcasting from southern California. Hosted by Jake Bacon.
4:30 p.m.-6:30 p.m. KDVS (MP3 stream)
Get Smarter
W/Boy Wonder
Folk, Blues, Country, Alt/Country, Singer/Songwriter
Music for a porch life.
5 p.m.-7 p.m. WRVU (Real Audio)
The Hipbilly Jamboree
Nashville's home for THE finest honky tonk, Western swing, rockabilly and bluegrass -- HIPBILLY MUSIC!
6 p.m.-9 p.m. (Mon.-Thurs.) WXPR (MP3 stream)
Northwoods Cafe
Traditional, new and ethnic folk music, as well as roots and world music with some blues, Cajun and zydeco thrown in for fun heard Monday through Thursday from 6-9 p.m.
8 p.m.-11 p.m. KEXP (MP3 stream)
The Roadhouse
The Roadhouse is a roots program emphasizing the blues and other traditional styles of American music. The show presents the wide and wonderful spectrum of our musical legacy - the roots of today's popular music and culture. The show explores regional differences in American recordings with a decidedly Southern bent.
10 p.m. -12 a.m. PBS-FM (WMP)
Acid Country
Hosted by: David Heard
Roots rock, country, honky-tonk, singer/songwriters, Americana, Tex-Mex, blues, bluegrass, Cajun. Including new releases, interviews and gig guide.
THURSDAY
5 a.m.-8 a.m. WGCS (Real Audio)
Breakfast Blend
Start your weekday with Breakfast Blend host Zach Miller as he plays a rich blend of contemporary folk, bluegrass and Americana plus local weather and BBC news.
5 a.m.-8 a.m. WDVX (MP3 stream)
Rise 'N' Shine
Wake up to a lot a bit of bluegrass & a little bit of classic country. A fresh way to start your day with your host Freddy Smith.
8 a.m.-11 a.m. WDVX (MP3 stream)
Americana Mix
WDVX plays Bluegrass, Americana, Classic Country, Alternative Country, Western Swing, Blues, Old Time and Traditional Mountain Music, Bluegrass Gospel, Celtic, and Folk. Then we throw in a little roots music from other parts of the world as well as some good old rock and roll and the latest releases in Americana music.
8 a.m.-10 a.m. WGCS (Real Audio)
Mornings
A combination of the newest releases from the Americana Airplay Charts along with a variety of Folk and Bluegrass.
8 a.m.-10 a.m. KDHX (Real Audio)
Memphis to Manchester
Join John Wendland for Memphis to Manchester, a fun-filled and action packed two hours of soul, R&B, country and other great music.
9 a.m.-5 p.m. WNCW (MP3 stream)
WNCW's Music Mix
Americana, rock, blues, bluegrass, jazz, Celtic and other world music, plus live in-studio performances.
9 a.m.-11 a.m. KFAI (MP3 stream)
Dakota Dave Hull Show
The Dakota Dave Hull Show covers the broad spectrum of folk and roots music. Drawing on his own massive, eclectic CD and record collection, Dakota Dave - an acoustic guitarist and (with fellow string wizard Kari Larson) recording artist of national reputation - plows the soil, plumbs the roots, and trims the branches of a variety of traditions: Anglo-Celtic, Appalachian, Brazilian, Caribbean, jazz, blues, and more.
10 a.m.-3 p.m. WGCS (Real Audio)
Midday Mix
Join Kimberlee Rohrer each weekday as she hosts the Midday Mix, a combination of the newest releases from the Americana Airplay Charts along with a variety of Folk and Bluegrass.
10 a.m.-1 p.m. KSUT (MP3 stream)
Morning Blend
An eclectic mix of musical styles featuring Americana - folk, roots and bluegrass - plus rock, blues, world and jazz. You'll hear songs by old favorites, segued with new and emerging artists, and world renowned musicians beside the world's obscure talents. Tune-in for a musical journey that's diverse and cutting-edge, yet slightly off the beaten path.
12 p.m.-2 p.m. KDHX (Real Audio)
Fishin' with Dynamite
Hop in the john-boat and float along on a slow burnin' journey through the backwoods with Fred Friction, your guide on Fishin' with Dynamite, the program which features the finest alternative country, cow-punk, and roots rock in the Midwest. You never quite know what you'll catch.
1 p.m.-6 p.m. WDVX (MP3 stream)
Americana Mix
WDVX plays Bluegrass, Americana, Classic Country, Alternative Country, Western Swing, Blues, Old Time and Traditional Mountain Music, Bluegrass Gospel, Celtic, and Folk. Then we throw in a little roots music from other parts of the world as well as some good old rock and roll and the latest releases in Americana music.
3 p.m.-7 p.m. (weekdays) KSYM (Real Audio)
Third Coast Music
Americana/roots/Independent/blues/western/Cajun, Zydeco, Creole/Adult Album Alternative (AAA)/Swamp rock/Punk Bluegrass/Hillbilly-Surf/rock 'n' roll/Texas music/classic country/REAL country/underground Nashville/anti-NashVegas/Twang/alt.country/CRINGE?(country fringe)/insurgent country/cowpunk/psychadelic country/y'all-ternative/Eclectic...
6 p.m.-9 p.m. (Mon.-Thurs.) WXPR (MP3 stream)
Northwoods Cafe
Traditional, new and ethnic folk music, as well as roots and world music with some blues, Cajun and zydeco thrown in for fun heard Monday through Thursday from 6-9 p.m.
6 p.m.-9 p.m. WDVX (MP3 stream)
Hillbilly Fever
Nita brings you classic country music at its best!
6 p.m.-7 p.m. KUCI (MP3 stream)
The Hootenanny Swings
Folk-a-delic & Honky-tonk
w/DJ Sunshine
6:30 p.m.-8 p.m. CJUM (MP3 stream)
Free Range Radio Thursday - Steel Belted Free Range
Host(s): Kristi Kolbauer, Terry Wilson, Jeff Robson
Featuring songs you won't hear on your normal radio from the likes of Ron Sexsmith, Steve Earle, Lucinda Williams, Tom Waits, Nathan, Fred Eaglesmith and a whole bunch more. Hosts Kristi and Terry (and their dog Desmond) specialize in roots, country, and all the down and dirty stuff those wimps at other radio stations won't play!
8 p.m.-11 p.m. KEXP (MP3 stream)
Swingin' Doors
Swingin' Doors is dedicated to a wide range of country sounds and styles, from honky tonk and Western swing to alternative country and bluegrass, in sharp contrast to the tight playlists and narrow focus of today's commercial country radio.
8 p.m. -10 p.m. PBS-FM (WMP)
Now Dig This
Retropolitan rhythms; blues and roots music from where its been to where its going.
9 p.m.-midnight WNCW (MP3 stream)
WNCW's Music Mix
Americana, rock, blues, bluegrass, jazz, Celtic and other world music, plus live in-studio performances.
9 p.m.-11 p.m. KCSN (MP3 stream)
Down Home
A native of New Orleans, Down Home host Chuck Taggart is a connoisseur of flavorful food - and music. So, every week Chuck serves up a musical gumbo and he calls it Down Home. It's made with the finest Americana ingredients, from folk, roots, oldtime, bluegrass, country and New Orleans R and B to traditional jazz, gospel, Tex-Mex, French-Canadian, Maritime, and, of course, Cajun and Zydeco.
FRIDAY
5 a.m.-8 a.m. WGCS (Real Audio)
Breakfast Blend
Start your weekday with Breakfast Blend host Zach Miller as he plays a rich blend of contemporary folk, bluegrass and Americana plus local weather and BBC news.
5 a.m.-8 a.m. WDVX (MP3 stream)
Rise 'N' Shine
Wake up to a lot a bit of bluegrass & a little bit of classic country. A fresh way to start your day with your host Freddy Smith.
8 a.m.-11 a.m. WDVX (MP3 stream)
Americana Mix
WDVX plays Bluegrass, Americana, Classic Country, Alternative Country, Western Swing, Blues, Old Time and Traditional Mountain Music, Bluegrass Gospel, Celtic, and Folk. Then we throw in a little roots music from other parts of the world as well as some good old rock and roll and the latest releases in Americana music.
8 a.m.-10 a.m. WGCS (Real Audio)
Mornings
A combination of the newest releases from the Americana Airplay Charts along with a variety of Folk and Bluegrass.
9 a.m.-11 a.m. WNCW (MP3 stream)
WNCW's Music Mix
Americana, rock, blues, bluegrass, jazz, Celtic and other world music, plus live in-studio performances.
9 a.m.-noon WMSE (MP3 stream)
Johnny Z's Chicken Shack with American Music
Z's with a weekly dose of rock!
10 a.m.-3 p.m. WGCS (Real Audio)
Midday Mix
Join Kimberlee Rohrer each weekday as she hosts the Midday Mix, a combination of the newest releases from the Americana Airplay Charts along with a variety of Folk and Bluegrass.
10 a.m.-1 p.m. KSUT (MP3 stream)
Morning Blend
An eclectic mix of musical styles featuring Americana - folk, roots and bluegrass - plus rock, blues, world and jazz. You'll hear songs by old favorites, segued with new and emerging artists, and world renowned musicians beside the world's obscure talents. Tune-in for a musical journey that's diverse and cutting-edge, yet slightly off the beaten path.
10 a.m.-noon KDHX (Real Audio)
Songwriters Showcase
w/Larry and Ed
Songwriters Showcase features some of the best new music in the folk and country traditions, ranging from sensitive singer/songwriters to crunching alt-country. You'll hear about people who will be appearing soon in the area, and get a sampling of in-studio performances too.
11:30 a.m.-2 p.m. KDVS (MP3 stream)
Cool As Folk
Featuring trad./new Folk, Bluegrass, Indie singer songwriters, Americana, acoustic Blues, classic Country and weekly in-studio guests
1 p.m.-3 p.m. PBS-FM (WMP)
Across the Tracks
We are focusing on the roots and blues of singer songwriters and bringing you new music every single week. From alternative folk to straight ahead blues, as long as its by a singer songwriter it is here. And we feature four new albums every single week. So, if you like Tom Waits, Bob Dylan, Steve Earle, Ryan Adams, Lucinda Williams, John Butler Trio, Robbie Fulks, Willie Nelson, Sugarcane Collins, Randy Newman, Tab Benoit, Sara K, .... Or if you want to find out who is changing the face of music... Join me on air, or listen to past shows with Radio On Demand.
1 p.m.-8 p.m. WDVX (MP3 stream)
Americana Mix
WDVX plays Bluegrass, Americana, Classic Country, Alternative Country, Western Swing, Blues, Old Time and Traditional Mountain Music, Bluegrass Gospel, Celtic, and Folk. Then we throw in a little roots music from other parts of the world as well as some good old rock and roll and the latest releases in Americana music.
2 p.m.-5 p.m. WNCW (MP3 stream)
WNCW's Music Mix
Americana, rock, blues, bluegrass, jazz, Celtic and other world music, plus live in-studio performances.
3 p.m.-7 p.m. (weekdays) KSYM (Real Audio)
Third Coast Music
Americana/roots/Independent/blues/western/Cajun, Zydeco, Creole/Adult Album Alternative (AAA)/Swamp rock/Punk Bluegrass/Hillbilly-Surf/rock 'n' roll/Texas music/classic country/REAL country/underground Nashville/anti-NashVegas/Twang/alt.country/CRINGE?(country fringe)/insurgent country/cowpunk/psychadelic country/y'all-ternative/Eclectic...
3 p.m.-4:30 p.m. WMBR (MP3 stream)
Three Ring Circus
W/Joan Hathaway
Music for the unwashed masses- roots rock, indie, blues, garage, surf/instro, and all the billies (rocka, hill and psycho). 3RC often features live performances and each week provides an extensive music events listing.
9 p.m.-10:30 p.m. KZSC (MP3 stream)
Silverfish in the Kitchen
Silverfish in the Kitchen is an alternative country radio show on KZSC Santa Cruz, 88.1fm. Join your host, Carla Brauer, every Friday from 7 - 8:30pm for your weekly dose of hot alt.country lovin'! And if you don't live in the Santa Cruz area, never fear - tune in to our live webcast.
9 p.m.-midnight WNCW (MP3 stream)
WNCW's Music Mix
Americana, rock, blues, bluegrass, jazz, Celtic and other world music, plus live in-studio performances.
11 p.m.-5 a.m. WFPK (MP3 stream)
Woody's Roadhouse with Woody Chancy
So you say you're lookin' for a place to go after hours on a Saturday night? Well, Woody's Roadhouse is open all night and has a great jukebox to boot. All killer, no filler, baby. We feature only the finest in honkin' and twangin' and shoutin' at the Roadhouse. So drop in, won't you? We kick it into gear at one a.m., following the Saturday Night Blues Party and we rock it 'til the cows come home . . . Only on WFPK Radio Louisville. The Mighty Fine Ninety-One Nine.
SATURDAY
Midnight-5 a.m. WDVX (MP3 stream)
The Fringe
Join WDVX out on The Fringe with your hostess Mary Lou Cameron featuring the best in Alternative Country
5 a.m.-8 a.m. WFMU (MP3 stream)
Shrunken Planet with Jeffrey Davison
Folk; old-timey; blues, psych and acid-folk old and new; melodic and lyric-driven rock and pop; varieties of guitar; the occasional detour to somewhere else.
5 a.m.-8 a.m. (every other week) WCNI (qt)
Twisted Roots w/Brian
Alt-Country, Roots Rock, Americana
A rocking mix of alt-country, Americana, and rockabilly with a twist of the blues.
6 a.m.-10 a.m. WUMB (MP3 stream)
Highway 61 Revisited
. . . brings back the spirit of the Sixties when folk-rock and protest music ruled the airwaves. The show, which debuted in the summer of 2000, includes classic folk music and a smattering of classic rock from that era, including "hits" and less-familiar tracks from groups such as the Byrds and Buffalo Springfield. The singer/songwriter genre is defined by such diverse artists from Jackson Browne to Gordon Lightfoot. Less-remembered lights such as P.F. Sloan and Tim Buckley are also tapped for the influence they left behind. Barnes also includes folk and folk-rock from outside the US with gems from Fairport Convention and Steeleye Span, to name but two.
7 a.m.-9 a.m. WMBR (MP3 stream)
Lost Highway
w/Doug Gesler
Take a drive down the highway and hear musical tales about truck driving, cheating, loving, losing and looking for the meaning of getting up early on Saturday.
7 a.m.-10 a.m. KGNU (MP3 stream)
Honky Tonk Heroes
Swing out of bed, waltz into your coffee and yodel on out with old and new Country & Western music! Heroed by Michael C, Calamity Jane, John Baker, Doc Martin & Cousin Nickels Delmore (5th).
8 a.m.-6 p.m. WDVX (MP3 stream)
Americana Mix
WDVX plays Bluegrass, Americana, Classic Country, Alternative Country, Western Swing, Blues, Old Time and Traditional Mountain Music, Bluegrass Gospel, Celtic, and Folk. Then we throw in a little roots music from other parts of the world as well as some good old rock and roll and the latest releases in Americana music.
8 a.m.-11 a.m. WRFL (MP3 stream)
Blue Yodel #9
Bluegrass and Old Time Music
The Best Bluegrass IN The Bluegrass, Every Saturday from 9am to Noon [Eastern]! Uncle Dave & Zeke swap out hosting duties each week, playing songs from all eras of this great music. We feature the latest news about Festivals, Shows, Events and Artists, with a little History thrown in for good measure. Sometimes we even have live studio performances. There are frequent giveaways of tickets to events & festivals near & far, as well as CDs and cassettes. Winning often depends on your knowledge of Bluegrass music, so pay attention, you might learn something!
8 a.m. - 10 a.m. KDHX (real)
Backroads
w/Stacy
A mix of folk, singer-songwriter and Americana, all found along the backroads.
8 a.m.-noon KCSN (MP3 stream)
Tied To The Tracks
w/Larry Wines
Represents KCSN's continually expanding commitment to roots and roots-inspired music. Guitars and vocals from the troubadour tradition will be celebrated, along with the best from the new indie scene and established labels alike. Expect the most accomplished guitarists, harmonious string-backed vocals, great fiddles and mandolins, honky-tonk piano, acoustic blues, harmonicas and squeezeboxes, Appalachian mountain tunes, songs of the Southwest, some Cajun and Celtic, and lots more. The mix of national, regional, and LA-based artists will bring airplay of songs that are on the charts throughout Europe, but ignored by U.S. commercial radio because they are neither Nashville country nor some narrowly defined category of music.
9 a.m.-11 a.m. WMBR (MP3 stream)
Backwoods
w/John Funke
The best in vintage rock 'n' roll, Country & Western and rhythm 'n' blues. More songs about Cadillacs and chicken.
9 a.m.-11 a.m. WCBN (MP3 stream)
Bill Monroe For Breakfast
11 a.m.-2 p.m. WCNI (qt)
Not Exactly Nashville
Mike Trynosky
Country & Roots
Country music the way is oughta be! For the finest blend of honky tonk, hillbilly, western swing, country jazz, and rockabilly, tune in to the cream of American roots music with your host Mike Trynosky.
11 a.m.-2 p.m. KDVS (MP3 stream)
The Saturday Morning Folk Show
w/Robyne Fawx
Traditional and contemporary Folk music including Old-time, Celtic, Bluegrass, and Americana.
11 a.m.-2 p.m. WRFL (MP3 stream)
The Hard Travelin' Revue
Americana: Folk, Singer-songwriter, celtic, little grass . . .
11 a.m.-2 p.m. WMUC (MP3 stream)
Dave's Record Collection w/Dave Sisson
I'm a father of 3 teenage boys. I have a massive record collection (3,500+ records & 2,000+ CDs). I enjoy playing a wide variety of music and comedy. Often the shows are thematic: Halloween, Christmas, Mother's & Father's Day, July 4th, etc. Favorite artists: John Prine, John Hiatt, The Replacements, The Gourds, The Who, The Rolling Stones, Roy Buchanan, The Handsome Family, The Band, Steve Goodman, The Smothers Brothers, Jimi Hendrix, Bob Dylan, Richard Thompson, The Swimming Pool Q's, Warren Zevon . . .
11 a.m. -2 p.m. WCBN (MP3 stream)
The Down Home Show
w/Tex, Longhandle Bob or the 2 O'Clock Cowboy
Noon-2 p.m. KDHX (Real Audio)
The Mid-Day Jamboree
w/Fred Gumaer
Brings you the history of country music including early string bands, bluegrass, western swing, honky tonk and rockabilly styles. You will also hear contemporary roots-oriented country artists.
Noon-3 p.m. KCSN (MP3 stream)
Twang! with Cowboy Nick
Welcome to the world of Country music recorded before the year 1980 and the best of today's underground country scene! TWANG is a radio show that brings listeners the sounds of Country music from its rich musical heyday, plus an exploration of rare b-sides, ancient radio shows, live records and out-of-print compact discs.
1 p.m.-3 p.m. KFAI (MP3 stream)
Good'n Country
Good & Country promotes traditional, classic and vintage American country music. It informs listeners about their favorite artists, musicians and songwriters and their recording sessions. The show offers biographical tidbits about performers, rare live recordings and radio transcriptions that you are unlikely to hear anywhere else in the Twin Cities.
1 p.m.-3 p.m. KXCI (MP3 stream) (DST, 1 hr later)
Ruby's Roadhouse
A celebration of blues, rock roots & honky tonk music, with host Carol Anderson.
1 p.m.-5 p.m. KSUT (MP3 stream)
Saturday Blend
An eclectic mix of musical styles featuring Americana - folk, roots and bluegrass - plus rock, blues, world and jazz. You'll hear songs by old favorites, segued with new and emerging artists, and world renowned musicians beside the world's obscure talents. Tune-in for a musical journey that's diverse and cutting-edge, yet slightly off the beaten path and a perfect soundtrack for your Saturday afternoon activities.
1 p.m.-3 p.m. PBS-FM (WMP)
Blues & Roots
Host : Big Al Watts
5 p.m.-8 p.m. KWVA (MP3 stream)
Nowsville
Old & new rock 'n roll, rockabilly, R&B, surf/instro, classic country, roots mix.
6 p.m. - 8 p.m. KXUA (MP3 stream)
The Roadhouse
w/Jim Kelton
Roots, blues, country and rock 'n' roll
6 p.m.-9 p.m. WDVX (MP3 stream)
Tennessee Saturday Night
With your host Alex Leach. He'll play everything from honky tonk to bluegrass and Western swing to rockabilly, to help make your Saturday evenings fun. Only On WDVX!
7 p.m.-10 p.m. WXPR (MP3 stream)
Country Legends
Country Legends is the first new music program on WXPR in many years. It is not just another Country music show. The show is dedicated to the roots artists who created Country and Western music - people like Jimmy Rogers, Hank Williams, Patsy Cline, Bob Wills, and Ernest Tubb.
7:30-midnight WOJB (MP3 stream)
Honky Tonk
Classic country tunes. This popular program is hosted by "Country Dave" & Nicky Kellar, Steve and Sue Hanson, and Douglas Baker fill-in as hosts of Honky-Tonk. Tune is for the best, gosh darn country music of the Northwoods.
11 p.m.-5 a.m. WFPK (MP3 stream)
Woody's Roadhouse with Woody Chancy
So you say you're lookin' for a place to go after hours on a Saturday night? Well, Woody's Roadhouse is open all night and has a great jukebox to boot. All killer, no filler, baby. We feature only the finest in honkin' and twangin' and shoutin' at the Roadhouse. So drop in, won't you? We kick it into gear at one a.m., following the Saturday Night Blues Party and we rock it 'til the cows come home . . . Only on WFPK Radio Louisville. The Mighty Fine Ninety-One Nine.
11 p.m.-2 a.m. WDVX (MP3 stream)
All Over the Road
Join hosts Mary Lou Cameron or Wayne Bledsoe every Saturday night ... Buckle up as it's sure to be a wild ride.
Posted by Lou at 07:33 PM | Permalink
The [Monday] Papers
GEORGE RYAN GUILTY ON ALL COUNTS.
The Tribune and Sun-Times obviously have packages accessible via their home pages.
The Capitol Fax Blog also has a nice collection of links here.
ALSO: The Tribune is shut out of the Pulitzers. (It almost goes without saying that the Sun-Times was shut out too because it is so rarely in the running.)
And now on to today's papers.
Book 'Em
The Tribune returns today with the second and final part of its report on the sad condition of the state's textbooks. Not only are they out-of-date and falling apart, but many parents and students are shelling out big bucks for books that are free in most states.
It's a ridiculous state of affairs, and I look forward to the follow-up stories I'm sure the paper will do harassing officials to remedy the situation.
To see the Reporter's assessment of the first part of the series, as well as commentary on columns by John Kass and Neil Steinberg, see The [Sunday] Papers.
You can see earlier columns in our Papers archive. And while there, check out our Weekend Desk reports. The most recent is here.
Vintage Politics
The Tribune also reports on its front page today about the latest political shenanigans out of Russia in "Ban On Wines Just Vintage Kremlin, Say Ex-Republics."
"Russia has purged itself of wine from Georgian and Moldovan wineyards, imports that account for more than a third of the nation's wine sales," the paper says. "Russian health officials say the wine is unsafe to drink, but Georgian and Moldovan leaders argue that the Kremlin has found another way to strongarm two former Soviet republics that have allied themselves with the West."
Boy, those Russians are wacky. Nothing like that could ever happen here.
Dennis the Menace
Tribune reader Marshall Wood had a good idea for the paper's editors the other day in a Letter to the Editor: Send Dennis Byrne to Iraq.
Wood was responding to a Byrne column in part complaining about the lack of good news being reported from Iraq.
Here is a snippet of Byrne's logic that earns him a weekly column on the Trib's Op-Ed page:
"News often is defined as something that didn't happen before, or rarely happens. So, if indeed little good is happening in Iraq, every piece of (rare) good news ought to be reported with the same fervor as every act of violence--which we're to believe is an increasingly common occurrence. And, logically, less deserving of reporting. Or does the absence of reporting "good news" in a country the size of Iraq actually mean that reporters can find absolutely nothing good?"
Wood in turn wrote to the paper saying that "It would seem the reason good news is absent from your Iraqi war coverage must be due to a lack of either competence or courage on the part of your foreign correspondents.
"Please allow me to suggest you send Byrne to Iraq so we can finally get some good news.
"Now I know the Tribune's stock has been a little soft lately, so let me do my part. If you pay to send him there, I will pay to bring him back. I promise."
In his column today, Byrne responds to the naysayers by pointing them to the Iraq Index on the Brookings Institution Website tracking the events in Iraq.
Glancing over the Index, it's hard to see how Byrne thinks this will help his case. Nor will the article on the Brookings site reprinted from the liberal-media-hating Washington Times called "Misplaced Blame: The Media's Performance in Iraq."
Sun-Times Buyouts
Buried in David Roeder's Curious Investor column today in the Sun-Times is this little nugget about parent company Hollinger International: "Investors should know that there is a restructuring going on here, i.e. retirement buyouts."
I've heard rumblings of buyouts at the paper as well, though I haven't had time track down the facts. But I've heard at least one significant name bandied about. Stay tuned.
Sneed Deed
Unfortunately, that name is not spelled Michael Sneed. Sneed led her column on Sunday--under the heading "Tipsville"--with this:
"Sneed hears whispers Chicago Cubs management, whose paychecks are signed by Tribune Co., are shopping the team to consortiums interested in buying the North Side club . . . Is the formidable Tower of Truth, a la the cost-cutting Tribune Co., responding to a suggestion in a recent Wall Street Journal article?"
Where to begin? If Sneed is just hearing "whispers" now, she's been out of the country for a couple years. Those whispers are more likely the whispers she's hearing in her head about how she once again has no fresh material for her Sunday column.
Separating "Chicago Cubs management" from the Tribune Company is just plain odd. The Tribune Company owns the team. The Cubs can't sell themselves.
The Truth is that the Tribune Company isn't any more cost-cutting, and in fact is less so, if you can believe it, than Sun-Times owner Hollinger. If the Tribune has more to cut, it's only because the Tribune has invested more to begin with.
And somehow the notion that Tribune executives would read a newspaper article and decide that, yes, selling the Cubs seems like a good idea, is ludicrous. Even for them.
Besides that, Tribune CEO Dennis FitzSimons has already stated since the Journal article that discussed the company's financial picture that the Cubs are not for sale. That doesn't make it true, but it makes Sneed's whispers badly outdated, unless she knows something the rest of us don't.
And that would really be news.
Dodger Destruction
The Chicago Journal follows up on the plight of Bucktown's historic buildings in the aftermath of the Artful Dodger building's destruction.
Stickup Spelled Backwards Is . . .
"The Harry Caray bandit apparently didn't take Good Friday off, robbing a Bridgeview bank Friday--his second holdup in three days and his fourth since March 6, authorities said. In the holdups, the man wears large glasses, similar to the glasses made famous by the legendary broadcaster. The bandit, wearing a fake black beard, robbed the Charter One bank branch at 8739 S. Harlem of an undisclosed amount of cash about 12:45 p.m., authorities said."
- Sun-Times on Saturday
Fluff Stuff
Tom Cruise tells GQ--according to the Sun-Times-- that casual sex is "really horrible and pathetic and lonely."
Sure, but it's better than no sex at all.
Inside Today's Reporter
Head of the Humpback is taking the Web by storm. Read the whole I Lived In Alaska series here.
All Alt-Country all the time: An indispensable guide. Just posted today.
The Political Odds will change soon. Other new postings tomorrow.
The Beachwood Tip Line: Guilty on all counts in its own right.
Posted by Lou at 02:45 PM | Permalink
The [Sunday] Papers
Americans of all political stripes can agree, I'm sure, that a school system that still teaches students using contemporary history books from the 1980s, describing Ronald Reagan as our current president, the Soviet Union as our chief rival, and the power of computers a future phenomenon yet realized, is a school system that is not only failing, but failing preposterously.
And yet, that is the world we are living in, according to a Chicago Tribune report detailing the use of aging textbooks not only in the worst Chicago schools, but in affluent and rural schools alike in Illinois and across the country.
Over three months of reporting, the paper surveyed 50 school districts across the state and interviewed 100 teachers, students, parents, curriculum experts, and other officials across the country.
Among its findings, the paper says that nearly 80 percent of districts it surveyed are using outdated textbooks in English, math, social studies, or science. (A textbook that is at least 8 years old is considered out-of-date.) About 22 percent of districts have books at least 15 years old, the paper says.
Perhaps there is hope for a political solution in the paper's findings that the problem cuts across class and geographic lines. Even affluent schools are having a hard time keeping its books current. And it's certainly not just an urban problem: One of the more egregious examples the paper found came from downstate North Clay Community High School in Clay County, an agricultural area using agriculture business books dating back to 1968.
After a first reading, I was going to criticize one aspect of the Tribune's report: It's seeming lack of placing blame (or to put it more politely, seeking accountability). Who is responsible? The state board of education? A legislative committee? The governor?
After a second reading, I'm not sure that's an entirely fair criticism. The paper shows that a lot of folks are to blame--maybe not as aggressively as I'd like the paper to show, but the picture we get is that state officials are asleep at the switch, school districts are operating under enormous financial pressures, and citizens aren't willing to pay higher taxes, in effect, for up-to-date books. The funding of text books derives from each of these sources.
Still, I'm a little troubled that all we hear from Jesse Ruiz, the chairman of the Illinois State Board of Education, is that he "said he didn't hear any complaints about textbooks in hearings earlier this year."
And that we don't hear from the governor or his budget people. Or any legislative leaders. Or Chicago Schools chief Arne Duncan (we do hear briefly from his budget director) or even Mayor Richard M. Daley, given all the credit the mayor has received over the years for school reform and his efforts at boosting city reading programs.
Still, the report's list of textbook grievances is impressive and shocking, and perhaps meant to illustrate that the problem has grown beyond the reach of any particular political body. And perhaps leaving the commentary mostly to students and teachers was by design.
Part two of this two-part report comes Monday; that will be about parents "feeling the pinch" of textbook costs. But I have a feeling the political fallout will spur enough follow-up stories to affix accountability where it ought to be affixed and to move on to exploring solutions, particularly amidst a gubernatorial campaign.
So an A-.
Profit motive: "Parents are being squeezed to buy their children's books, a practice unheard of in most states," the Tribune says. "In fact, Illinois collects more revenue from book fees and sales in public schools than any other state, federal data show. Some districts also mark up books sold to students by as much as 25 percent, a practice that is raising concerns among state officials."
It's so Illinois, isn't it? I eagerly await tales of mob infiltration and sweetheart contracts granted as political favors to make their way into this story.
West Winging: I have no doubt plenty of school districts, perhaps even the one in Chicago, are riddled with waste and inefficiency. But I get a kick out of those who send their kids to gleaming and successful (public) suburban schools who argue that money is not the answer to our education woes. (I agree only in that the answer is not just more money for schools, but more money in the pockets of poor people living in, let's say, education-impeding environments.)
A big chunk of money seems to have been the answer, though, to building a $600 million football stadium for a private corporation called the Chicago Bears and the half-billion dollars and rising cost of waste-, inefficency-, and corruption-riddled Millennium Park. Why can't we make the same commitment to flooding our schools with money and stop nibbling around the edges?
I'm reminded of a Sam Seaborn soliloquoy in the early-going of The West Wing: "Education is the silver bullet. Education is everything. We don't need little changes, we need gigantic changes. Schools should be palaces; the competition for the best teachers should be fierce; they should be making six figure salaries. Schools should be incredibly expensive for government and absolutely free of charge to its citizens, just like national defense."
Easter Egg
John Kass has a problem with the godless media, but I think he's seeing things backwards, from a defensive crouch. The thesis of Kass's column today is that "doubt sells." And so USA Today writes about the upcoming DaVinci Code movie (based on a book informed by "feminist politics," he sneers, though I'm not quite sure where, say, equal pay for equal work comes into play); the media is agog about the newly-discovered Gospel of Judas (old, discarded news to him); and the recent Newsweek cover story "How Jesus Became the Christ" is merely a cynical circulation device.
I think the media sells faith, and rather blindly, not doubt. Atheists, or even agnostics, are barely represented in the press. Cults are skewered for exhibiting many of the same methods--though compressed in time--as traditionally organized religions. Satanists are never included in the mix--and I'm not joking. Why shouldn't they be? Their beliefs aren't valid?
There is an agreed-upon set of religious beliefs the media deems viable, and even the most bizarre aspects of those beliefs are not challenged.
It's not doubt that sells. It's unquestioned religious faith that sells (and gets promoted by newspaper columnists; why not give Rob Sherman or some other skeptic equal time?). And that Newsweek story? Written by managing editor Jon Meacham, dubbed Parson Meacham by media critic Bob Somerby. "Yes, religious kooks are back on the march, all throughout the American press corps, even as husbands and hacks are sent out to tell the rubes something different," Somerby wrote a year ago. "And their pious parson is Newsweek's Jon Meacham, who's always ready with a sermon or three."
History Books
Neil Steinberg in the Sun-Times today: "[Moussaoui]--and let's all say this together out loud, shall we?--is a native FRENCHMAN, born in FRANCE, of Moroccan parents.
. . .
"To see the lunatic hatred of Moussaoui and to compare it to the expansive humanity of Whitman, the poet of the American soul, is to be reassured . . . We are winning--in fact, have already won. That's why they hate us so much, though the hate--as hate inevitably does--only pulls them down faster.
Howard Zinn in the Sun-Times today: "Now that most Americans no longer believe in the war, now that they no longer trust George Bush and his administration, now that the evidence of deception has become overwhelming (so overwhelming that even the major media, always late, have begun to register indignation), we might ask: How come so many people were so easily fooled?
. . .
"We are penned in by the arrogant idea that this country is the center of the universe, exceptionally virtuous, admirable, superior.
. . .
"But if we know some history, if we know how many times presidents have made similar declarations [of war] to the country, and how they turned out to be lies, we will not be fooled."
One of these men is smarter than the other.
The Beachwood Tip Line: Historically smarter than other tip lines.

Posted by Lou at 08:08 AM | Permalink
April 15, 2006
The Weekend Desk Report
Your knothole in the fence of this weekend's big stories.
We begin by sharing the latest information on a number of the stories we've been tracking for the last few weeks. After we despaired of walking the pizza-paved path to heaven, we've learned we won't be swimming there either. For the record, we told you so and we still don't care. And whoever took this guy in the fantasy dictator draft is kicking ass right now.

Might As Well Face It . . .
President Bush's history of excess once again caught up with him as he revealed this week he is addicted to Rummy. We are dispatching the crack Beachwood Reporter Intervention Team with one or two (or maybe three) words of wisdom he may find useful.
Berlusc-ownzed
Despite vociferous protests and a Hail Mary-tainted ballot attempt, it appears incumbent Italian prime minister Silvio Berlusconi has lost his bid for re-re-re-election to challenger and fellow former prime minister Romano Prodi. However, if history has taught us anything we expect to bring you full coverage of Berlusconi's re-re-re-inauguration in approximately 18 months.
TomBrat
All eyes this weekend will be fixed on the expectant womb of Katie Holmes as the actress prepares to deliver the spawn of diminutive mega-star Tom Cruise any second now. While the Weekend Desk would certainly never condone gambling, we have compiled the following list of odds as a public service to you, dear reader. Here are the hot bets according to someone who absolutely is not our official bookie:
3/1 - She delivers immediately. MI:3 opens in three weeks; we need Katie red-carpet-ready!
5/1 - She delivers in two to three weeks. MI:3 opens soon and we need the last-minute free publicity!
14/1 - She doesn't deliver at all. Worst. Fake belly. EVER!
25/1 - Child someday romantically linked to ubiquitous Hollywood It-child Dakota Fanning.
500/1 - Child eschews Hollywood pedigree to lead a simple life of honest hard work.
5000/1 - Child not emotionally crippled from day one.
Posted by Lou at 06:23 AM | Permalink
April 14, 2006
The [Friday] Papers
I don't think there's much debate that Mike Royko's Boss is still the ultimate primer on Chicago politics and perhaps the greatest piece of non-fiction produced in the state of Illinois.
But what about the Great Illinois Novel? That's where you'll get a debate that will go on for days without conclusion.
I was recently asked to pick the state's all-time best novel by Marshal Zeringue of The Campaign for the American Reader.
Tell me why I'm wrong and make - and defend - your own pick in our Beachwood Books forum.
Heckuva Job, Jehovah!
Maybe we should turn FEMA (and the O'Hare expansion project) over to the Jehovah's Witnesses. That's all I can conclude after reading the piece by Jake Austen (Chic-A-Go-Go! and Roctober) in the current issue of I.D. magazine about the Jehovah Witnesses' famous quick-builds. The story isn't available online but I.D. is always worth the price of a subscription and almost always worth the price on the newsstand.
Burke Watch
Retiring state supreme court judge Mary Ann McMorrow continues to inspire. In this piece by the Chicago Reader's Michael Miner, she declines an interview request. It's not like the salary we've paid her for her years of service or the pension we'll continue to pay her as she travels the world in retirement or the decisions by her pal and secretly-named replacement Anne Burke we'll live under for years as force of law entitles us to an explanation or anything.
Daley Watch
Believe it or not, the bidding for the lucrative news and gift shop concessions at O'Hare airport may not be on the level. One would-be vendor tells Fran Spielman of the Chicago Sun-Times that the new bid specifications seem to have been written in such a way to ensure that the clout-heavy joint venture between Hudson News and JRE Enterprises gets to stay on the job. "It's a done deal," Spielman is told. "They won't get any [competing] proposals. One company can win: The incumbent. It stinks so bad, it's unbelievable."
But then, why should our contracts be any different than our elections?
Like A Dream
If you still read the print edition of the Chicago Tribune, perhaps out of nostalgia, who knows, you'll find an artful photo of Eleventh Dream Day's Rick Rizzo at the microphone by Wes Pope on page two of Tempo. It doesn't say so in the paper, but you can go online to see and hear an audio slideshow by Pope and Tribune rock critic Greg Kot, who rightly calls Eleventh Dream Day "as good as any band produced by Chicago in the last two decades." Their new record is due out April 25 on Thrill Jockey.
Odds and Ends
Why do they call it mumps? The Sun-Times's Lori Rackl has the answer.
Google has yet another amazing innovation.
The definition of the day is apropos at urbandictionary.com. And while you're there, check out their definition of high school.
Chicagocrime.org has gotten even better with an assist from the Chicago Journal.
Wouldn't like to be married to, work for, or even be friends with this woman.
If the Tribune were smart (oh, how many times have we wished it were so . . . ) it would put Tales From the Front on the cover of Tempo and leave it there, and give Cheryl Lavin Ask Amy's promotional budget.
Let's find the downside in this, because we know there is one. And again, all that money spent improving Midway . . . could have gone to shutting it down and redeveloping the neighborhood while building Peotone, no?
Will we have to read Sneed pimping her pal Judy every day now until November - and then twice a day if she wins or just every other day if she loses?
Reinsdorf takes on Mariotti (second letter) again.
UPDATE 2:42 p.m.: Eric Zorn doesn't like "blind linking," as I've done in some items above - that is, providing a link without spelling out exactly what and where you are linking to. See Zorn's post about it here, including comments. My reply to Zorn is as follows:
"Blind links. done right, are part and parcel of the way narrative works on the Internet. The example EZ uses to begin [his post] is a great example of the wrong way to blind link We have no idea what he's talking about. But if I use a link, as I did today, that says 'There is no way I would want to marry, work for, or even be friends with this woman,' and you click the link on 'this woman' to the story about the person with the amazing memory who literally remembers every detail of every day, then you've accomplished a small but satisfying comment/joke while providing something interesting for readers.
"Sometimes, as John Scalzi says, the linked story is the punch line. Other times it allows you to comment on the linked story in a sly way. Other times you can seduce the reader into a story in a way you might not otherwise be able to.
"I used a lot of blind links today in my column today and by doing so I was able to send readers to Steve Johnson's Trib piece on a presumably new Google innovation without giving the game away, for example. It's better than saying, Hey, 'Steve Johnson wrote a clever piece today on a fake new Google innovation that would search your wallet.' I think I do other writers like Johnson a favor by instead ensuring (in my view) that more readers actually go read his piece, rather than just read my summary.
"If you aren't sufficiently intrigued to click on a blind link, the writer/blogger hasn't done his/her job, or you just don't care about the subject matter. So what.
"This is the Internet. Links aren't strictly for background or footnotes. That's traditional print thinking. Links, like music videos and text messaging, are part of a new level of narrative that, I think, engages the reader."
Tribune Critics Update/Clarification
These two paragraphs appeared in yesterday's column about the white-maleness of the Tribune's arts critics:
"At that time [August 2004], Mary Elson, who was then associate managing editor for features, told Miner that an ad the paper posted on journalismjobs.com resulted in a 'tidal wave . . . hundreds of responses . . . a pool of really, really spectacular people.'
"None of them, apparently, a spectacular woman (or non-white), though the Tribune's moves this week also smell a bit budget-constrained--all in-house maneuvering.'"
Just to be clear, my comment following Elson's quote was in no way directed at her. A trustworthy source tells me that "Nobody worked harder to bring minorities and women into this building than Mary Elson."
My comment was directed at the Tribune as an institution, though I think we can safely target the higher-ups in the paper's chain-of-command for apparently not being as enthused about the hiring pool as Elson. The Tribune seems able to attract many of the best and brightest women and minority journalists in America. Apparently actually hiring them is a different matter.
Note from Beachwood HQ
You may not have noticed but I feel compelled to acknowledge a relatively sparse number of new offerings on the site this week. It's for your own good - it's a reflection of my focus this week on the unfortunately necessary business end of this venture, not a dropoff in quality content. In fact, I've got quality content stacked up my butt, so apologies to those writers who haven't seen their pieces see the light of day yet, and apologies to readers expecting a bit more from the Beachwood. I hope to dish out the editorial you've so quickly come to know and love more generously next week.
But if you haven't done so yet, or even if you have, please read Head of the Humpback, by our very own Timothy Inklebarger. This piece is quickly making its way around the Web. Be a part of it.
And you can see even more photos here.

Tell your friends. But tell them to stop by our site first.
Speaking of which . . . we've had more than 4,000 unique users in April so far, double our number in March, when we launched. But we need more. Help us extend that number even further so we can make this site viable and further execute our vision as the kind of Chicago Website that only begins to bring you a beheaded humpback, Taxi Cab Journal, and Metromixology on the same section front.
The Beachwood Tip Line: Now accepting text messages.

Posted by Lou at 08:51 AM | Permalink
April 13, 2006
The [Thursday] Papers
In the wake of the Chicago Tribune replacing its movie critic with its theater critic, a faithful reader tipped me to something I dearly wish I had noticed first. See if you can spot the problem with this lineup:
Architecture: Blair Kamin
Art: Alan Artner
Dining: Phil Vettel
Jazz: Howard Reich
Internet: Steve Johnson
Movies: Michael Phillips
Music: John Von Rhein
Rock music: Greg Kot
Theater: Chris Jones
Yup. All men. (And all white.)

The Tribune is not oblivious to this. "His sex aside, Mike Wilmington should turn out to be just what the Tribune wanted in a film critic," Chicago Reader media critic Michael Miner wrote in 1993, upon the hiring of Wilmington.
The paper was still thinking about it a decade later.
"The Tribune's looking for a new movie critic, preferably a woman," Miner wrote in August 2004.
At that time, Mary Elson, who was then associate managing editor for features, told Miner that an ad the paper posted on journalismjobs.com resulted in a "tidal wave . . . hundreds of responses . . . a pool of really, really spectacular people."
None of them, apparently, a spectacular woman (or non-white), though the Tribune's moves this week also smell a bit budget-constrained--all in-house maneuvering.
To be fair, Julia Keller is the paper's "cultural critic," though other papers might call her a "general assignment" writer. Maureen Ryan's (new) title is "television reporter," though she is critic-ish. And temporary movie-reviewer Allison Benedikt now becomes temporary televison-reviewer, according to the Tribune's memo announcing the changes.
But still. In the Tribune's universe, reviewers and reporters are not as elite (or well-paid) as critics.
Plus, Keller, Ryan, and Benedikt are also white.
For the record, Chicago is a majority-minority city. Whites make up 41.97 percent of the city's population, according to the 2000 U.S. Census. Blacks make up 36.77 percent of city's population, while Hispanic/Latinos make up 26.02 percent of city's population.
Women make up 51.5 percent of the city's population.
UPDATED FRI APR 14 Tribune Critics Update/Clarification
These two paragraphs appeared in yesterday's column about the white-maleness of the Tribune's arts critics:
"At that time [August 2004], Mary Elson, who was then associate managing editor for features, told Miner that an ad the paper posted on journalismjobs.com resulted in a 'tidal wave . . . hundreds of responses . . . a pool of really, really spectacular people.'
"None of them, apparently, a spectacular woman (or non-white), though the Tribune's moves this week also smell a bit budget-constrained--all in-house maneuvering.'"
Just to be clear, my comment following Elson's quote was in no way directed at her. A trustworthy source tells me that "Nobody worked harder to bring minorities and women into this building than Mary Elson."
My comment was directed at the Tribune as an institution, though I think we can safely target the higher-ups in the paper's chain-of-command for apparently not being as enthused about the hiring pool as Elson. The Tribune seems able to attract many of the best and brightest women and minority journalists in America. Apparently actually hiring them is a different matter.
Burke Watch
My faithful Burke Watcher adds this to the new state supreme court judge's contention that winning a single unopposed election somehow confers her as the people's choice (see Burke's Law item in link):
"She ran in 1996 for a ten-year term, meaning that this year, 2006, she should be up for retention. Retention means facing the voters in a uncontested election, but three-fifths of the voters have to vote 'Yes' to retain you. It's rare that judges don't get retained but by jumping to the Illinois Supreme Court, she effectively dodges the retention vote.
"She doesn't seek retention in 2006, and won't have to face the voters until 2008 at the earliest (assuming she seeks the state supreme court seat in her own right)."
And do you suppose that Burke might be unopposed in 2008?
Couric's Case
On the other hand, Katie Couric has struck a blow for women by proving that you can break into the Old Boys Club of network news as long as you are a perky entertainment host known more for being cute than for your intellect. Way to go, girl!
Gender Reversal
Matt Lauer, on the other hand, would never be seriously considered for a network anchor job because his journalistic credentials are too thin, right?
Women's World
Katie Couric is now an historical figure in America, enlightened beacon of the West. I wonder what these women think.
Daley Also Girlish
Now that's more like it.
Good to see the Tribune questioning on the mayor about the latest details in a federal investigation into City Hall patronage, even if answers aren't forthcoming.
The mayor doesnt' seem to care that dodging and disrespecting the press is the same thing as dodging and disrespecting the public. The notion that he can't comment on the ongoing federal investigation is ludicrous. Obviously he may not be at liberty to discuss details of a criminal investigation, either at the request of prosecutors or on the advice of his lawyer. But the idea that he can't comment at all is absurd and obviously disingenuous.
For example, instead of bizarrely (or craftily as a distraction) assuring us that the 911 center still works despite the investigation into how patronage in his administration, he could have said: "I can't discuss the details of an ongoing investigation, but I can say that I have no knowledge of the kinds of activities alleged in the most recent court filing."
That is, if that's true.
Or, he could simply say: "I welcome the investigation and I am cooperating fully because I care enough about this city and its people that I think we all deserve clean government."
That is, if that's true.
Or, he could say: "Look, we're only getting one side of the story right now, the side from prosecutors, and we're going to learn a lot more in the coming weeks and months. There may have been some wrongdoing, but there may also be some explanations to all of this and I want to know as much as you what's going on in my own administration."
That is, if that's true.
There are any number of things he could say.
That is, if he wanted to. He could just tell us the truth.
Doublemint Twin
"It's a serious legal matter that we've got to be careful in making public statements about it."
- George W. Bush about a different court filing from U.S. Attorney Patrick Fitzgerald
Doublemint Triplet
Judy Baar Topinka's campaign wants to know: "Governor, how many days have you been in Springfield since you announced your budget on Feb. 15th? Newspaper reporters have questioned the governor's staff for more than one week, but the Blagojevich Administration is stonewalling the media and the public on that question."
True? Yes, according to the Daily Herald, which says it asked the governor's office last week for the information and repeated the request this week "to no avail."
- via Capitol Fax Blog
UPDATE 11:15 a.m.: The Daily Herald has the answer.
The Daily Herald's John Patterson also fact-checks the governor's recent statements about his voting record on tax caps as a state legislator here.
The Beachwood Tip Line: Where it's alright to talk about ongoing federal investigations.
Posted by Lou at 07:17 AM | Permalink
April 12, 2006
Metromixology
What is it with Wicker Park and tapas lounges? Could
it be the 32 flat-screen TVs? We're struggling to see
the difference between this and the two existing
locations. Listen up, Chicago, 'cause this can get
confusing.
Dark yet inviting design accents and plasma screens
with video art set the scene. But don't expect punk
attitude here. Think sad, sick bulldogs;
glass-clinking hipsters. What was once an
empty-feeling dive now features a redwood and mahogany
bar lit by panels of amber light. There's also lounge
seating along the perimeter, which means the martini
sipping crowd's more stylish than the previous daytime
regulars.
Wine and spirits only; leave the brew at home. But
life--and eating--goes on for the increasingly
residential 'hood of River North. The catch: A jazzy
vibe dominates. Wondering where the name comes from?
Sip your drink around the 64-foot island bar and fix
your eyes on the dozens of plasmas dotting the
surroundings. Want to know more about the name?
The corner tavern is being gutted and transformed into
a destination. New owners are really sprucing up the
place with a Vermont ski chalet style that includes a
35-foot copper-top bar with giant chandelier overhead,
fireplaces in one seating area and woodwork galore.
Now Chicago can see what all the fuss is about.
And the music? Rough, yet polished. Has the latest
crop of American Idol contestants inspired you? We
spied twenty- and thirtysomething, urban professionals
sipping cocktails and noshing on Italian-inflected
small plates. That's just the way we like our rock
stars! Phone ahead, place your order, then use your
cell to let them know you're waiting outside.
In other words, that glowing, kaleidoscopic bar is
history. But look for an added flavor element--they're
installing a salt cave for aging. We're totally ready
for a new local lounge with a way-cool vibe. In the
meantime, kick back with a signature martini and soak
in the traditional, modern and jazz-fusion sounds
pumped through speakers. The spacious lobby's a bit
difficult to navigate, so just point yourself east
towards the lake and keep walking.
[composed entirely from Metromix bar and restaurant reviews]
Posted by Lou at 10:40 PM | Permalink
Head of the Humpback
Living in Alaska provides plenty of opportunities for new experiences: Hiking through old-growth rainforests; viewing grizzlies in the wild; walking across ancient rivers of glacial ice. But it is only on rare occasion - even for Alaskans - that one gets the chance to behead a beached whale. When I was invited along on this gruesome expedition it was like winning the wildlife lottery from hell.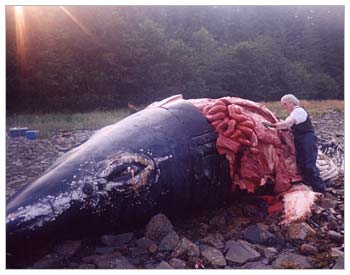 In August 2004, a 28-ton juvenile humpback was struck by one of the many large barges and cruise ships that travel up Gastineau Channel to Juneau. After the National Marine Fisheries Service completed its necropsy, a friend of mine working for the Alaska Department of Fish and Game got permission to recover the skeleton. He planned to display it at Juneau-Douglas High School, making it the first exhibit of its kind in the capital city.

We would start by removing the skull. The plan was to cut through the neck, remove the head and anchor it to the bottom of the channel where fish and crabs would devour the flesh. Only about 10 feet of blubber and guts stood in our way, but we had knives. Mine was a butcher knife brought from home.
Riley, my Fish and Game buddy, planned to return the following summer to recover the rest of the bones after nature had taken its course.



Ironically, the carcass had washed up near the community of Lucky Me, just south of Juneau on Douglas Island. The sun was out the day we set sail and the wind was blowing hard as our boat pulled up to the rocky beach where the 28-foot-long beast lay on its side. The stench hit me hard, pulling up that morning's breakfast into my esophagus. It was horrific, like nothing I had ever experienced.
Riley - a hunter, wildlife enthusiast and true Alaska man - dove right in, shaving chunks of blubber from the rotting mammal while the rest of the members of the five-man crew struggled to keep from puking in our paper facemasks.
After taking a moment to steady my stomach, I climbed onto the beast and began hacking away furiously, ripping off putrid flesh and tossing it to the side. A friend and colleague who also chronicled the experience for the local newspaper described me as appearing "angry in [my] knifework."
The hide of the whale was tough like a car tire. It had already spent a week or so baking in the sun and oil and puss oozed from its lacerations.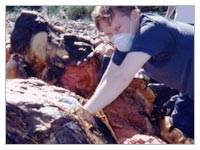 Some crewmembers expressed concern that the natural buildup of gas trapped inside the whale could cause it to explode. At the time I wondered if this was an urban myth or if one misplaced jab of the knife would be my undoing. I later discovered that gas buildup caused a 60-ton beached sperm whale to blow up in Taiwan about seven months prior to our expedition. Workers were transporting the 56-foot-long whale to a research facility in Tainin when it erupted, raining blood and guts on bystanders and storefronts. Luckily, our whale remained intact.
We spent most of the afternoon coaxing one another to act like men and finish the job, but several of us, myself included, were losing hope that we could complete the task.
"How could this be so difficult?" I thought. I had seen video footage of Alaska Natives dismantling whales twice the size of this one with surgical precision in less than a day. But I was no Alaska Native and eventually we realized were in way over our heads.
Riley has returned several times over the last year and a half, recovering about 65 percent of the skeleton to date, but the skull, which weighs in at about 300 pounds, will remain on the beach until he can find a vessel large enough to carry it back to the mainland. He said he plans to return this spring to finish the job.
In the days following our excursion I realized I would never again see whales simply as beautiful and majestic mammoths of the sea, flapping their flukes and breaching for our amusement. A mural of a humpback outside a bakery in Juneau evoked images of death. The foul odor of decomposing entrails still returns to me in nightmares. And almost two years later, I cannot think of whales without pondering our harrowing experience and being reminded that all life - from the colossal to the microscopic, the majestic to the grotesque - is fragile and finite.
And it stinks.
Timothy Inklebarger lived in Alaska. He moved to Chicago to write the I Lived In Alaska column.
Posted by Lou at 09:00 PM | Permalink
The [Wednesday] Papers
Being a cultural critic for the Chicago Tribune (or any major metropolitan newspaper) is a big deal. The potential influence of a critic--not just within the industry but, more importantly, on readers--is as vast as the positions are scarce. And cultural critics are often--or ought to be--right alongside columnists as the strongest voices at a newspaper.
As such, critics represent rare opportunities for newspapers to shape their tone and personality, which, it just so happens, is also great for marketing.

So the shakeup in the Tribune critics lineup announced yesterday ought to be important. The upshot is that theater critic Michael Phillips is the new lead movie critic; movie critic Michael Wilmington remains at the paper but will write about "the growing world of movies on DVD" and more Sunday movie analyses; and second-string theater critic Chris Jones replaces Phillips as the lead theater critic.
Or, as the memo from deputy managing editor for features Jim Warren puts it, Phillips becomes the paper's "leading voice" on movies and Jones becomes it's "leading voice" on theater.
Warren has it right in this respect: Newspaper critics are not just writers, but "voices."
So the Tribune, you might say, is changing its voices, though yesterday's announcement only makes official an experiment in critic shuffling that began last August.
Or it is trying to change its voices. I don't think Wilmington or Phillips has established a strong enough voice at the paper that readers will notice much of a difference. (I don't follow theater, but from what I understand, the most fruitful aspect of the changes might be the elevation of Jones to chief theater critic; he seems to have already established the kind of presence on the beat that can make a critic a Big Deal. Or so I'm told.)
Let's face it, the Tribune's movie criticism is still under the shadow of the late Gene Siskel, not as much for his writing skills as his persona. Even the Chicago Sun-Times's Richard Roeper arguably has more influence over audiences than anyone at the Tribune--and he doesn't even write about movies.
Of course, Roeper benefits from the reflected glory of Roger Ebert, one of the city's few remaining newspaper icons, and a worthy one. Ebert's passion remains unabated, as does his productivity and, as far as I can tell, the quality of his thought.
So though the Tribune's thick movie coverage, which includes several secondary reviewers, is up against just one man, that man is a giant who continues to kick their butt. And instead of imagining an entirely different way of reviewing movies, the Tribune seems content to merely rearrange the deck chairs.
Siskel at least put a face on the Tribune's team of critics, though as great as he was for branding he was something of a pain in the ass to Tribune editors. Siskel's first replacement (and here begins a clarification of what I wrote yesterday about Wilmington replacing Siskel), Dave Kehr, says this on his Website:
"By 1986, the Chicago Tribune, the dominant daily newspaper in the Midwest, had decided to dismiss Gene Siskel as their chief film critic, apparently because the paper's editor resented the time Gene spent on his local television show (soon to be expanded into the national institution At the Movies). They took me on as Gene's replacement, though not without some trepidation about a wet-behind-the-ears writer who had had the temerity to give E.T. the Extra-Terrestrial a mere three stars (for its unintentional insights into Ronald Reagan's spreading, daddy-focused ideology), rather than the eight or ten the film clearly deserved . . .
"A few weeks after my hiring, cooler heads at the Tribune prevailed - 'What!! We've just fired the guy who goes on national television and plugs the paper every week!' - and Gene was reinstated as a sort of senior critic, who submitted bizarre, tortuously written capsule reviews to the Tribune under the rubric Siskel's Flick Picks. (One result of that: I can never hear the word 'flick' applied to a movie without cringing.) Though the handwriting was on the wall, I stuck it out at the Trib for seven long years (made much shorter and more pleasant by the Tribune's irreplaceable arts editor, Richard Christiansen), before I was lured to New York by The Daily News."
The Tribune then hired Wilmington, who had been a secondary reviewer for the Los Angeles Times, to, as I understand it, really replace Siskel as the paper's "leading voice" on movies. (Siskel died in 1999.)
Upon Wilmington's hire, Chicago Reader media critic Michael Miner wrote that "he not only loves film but likes films, lots of them. 'Dave [Kehr] would give three movies a year four stars,' an admirer of both told us, comparing Wilmington to his predecessor. 'That won't be the case with Michael. He tends to find something he likes in a lot of movies and he writes chiefly about that. A performance, a well-edited sequence--he tends to focus on the positive.'"
Perhaps that's why Wilmington has never really pierced the public consciousness in a way that really makes for a successful newspaper critic. It's not that a critic ought to be unrelentingly negative. It's that a critic who isn't discerning doesn't tend to have a strong voice or consistent viewpoint, and so isn't of much help to readers.
(I have already received two e-mails praising Wilmington's writing and film knowledge; post your opinion in our Beachwood forums.)
After Siskel's death, you would have thought that naming the Tribune's lead movie critic to replace him on the Siskel & Ebert show would have made sense, in that the rivalry between not just the critics but their papers was part of the show's conceit. But Ebert didn't appear to give Wilmington, who wanted the job, a second thought.
Phillips also came to the Tribune from the Los Angeles Times, about four years ago. He was hired to replace an icon in his own right, Christiansen, who retired. (Unlike Wilmington, Phillips was widely expected to be more critical than his predecessor.) Though a freelancer, Jones was Christiansen's longtime backup, and considered for the lead role. Instead, the Tribune hired Phillips but made Jones a full-time staffer as Phillips's backup.
Last August, Tribune editors experimented by moving Wilmington aside and making Phillips the lead movie critic and Jones the lead theater critic. It wasn't clear then where the experiment was heading.
"I was told not to read anything into it," Wilmington told Miner, who added that Wilmington was "not so sure where he stands."
Entertainment editor Scott Powers "also told me not to read anything into it," Miner wrote. "We do think it's good for people and readers to hear different voices," Powers told Miner.
The problem with that is that readers will be hearing the same voices, just on different articles.
And if that's the case, the Tribune's big switch could amount to nothing much at all. Until they do it again in a few years.
The Beachwood Tip Line: A thumbs-up for all who deliver their insights into the Trib critics shuffle to our mailbox.
Posted by Lou at 07:08 AM | Permalink
April 11, 2006
Musical Chairs for Tribune Movie, Theater Critics
UPDATE: a fuller commentary here, including clarification on the Siskel-Kehr-Wilmington chronology. The Tribune's memo is below.
It's official: The Chicago Tribune's lead movie critic, Michael Wilmington, has permanently been replaced by lead theater critic Michael Phillips. Phillips, in turn, has been replaced by his previous number two, Chris Jones, who probably should have gotten the job a few years ago to begin with. These and other changes were announced earlier today, in a Tribune memo obtained by The Beachwood Reporter.
Wilmington and Phillips have already been writing on their new beats, but the switch had been described as more of an experiment to shake things up than something permanent. Not anymore.
Both Wilmington and Phillips were hired to replace bigfeet at the paper--Gene Siskel and Richard Christiansen, respectively. Neither has managed to ascend anywhere near the heights of their predecessors, and if becoming a name-brand is the criteria for success, both hires must be deemed failures.
Moving them--and other critics--around isn't likely to produce stronger voices, just the same voices on different articles. But so goes the Tribune. Here is the memo, from Jim Warren, the deputy managing editor in charge of the paper's features sections.
From: Warren, James C.
Sent: Tuesday, April 11, 2006 11:25 AM
Subject: Personnel Matters
I am pleased to make the following announcements on new beats in the entertainment group, which I believe will strengthen and streamline our coverage in many areas:
Chris Jones becomes theater critic, the paper's leading voice on local and national stage productions.
Michael Phillips becomes movie critic, the paper's leading voice on film.
Michael Wilmington continues as movie critic, but with new responsibilities covering the growing world of movies on DVD. He will also increase the number of his Sunday movie analysis pieces.
Mo Ryan, who has been on temporary assignment covering TV, becomes television reporter, continuing her popular and innovative Watcher print and online feature as well as continuing to report on, review and comment about TV shows and trends for online and daily and Sunday sections.
Maureen Hart officially becomes a section editor for Movies and will coordinate movie coverage across features sections.
Sid Smith, who has selflessly taken on a temporary assignment reviewing television, returns to his job writing features and trend stories on many entertainment topics, and will focus many of those efforts on theater. He'll also continue to cover dance.
Allison Benedikt will take on a temporary assignment reviewing and writing about television for daily and Sunday sections.
Jessica Reaves will have an enhanced role in reviewing movies, while continuing her stellar Books/Magazine work.

*
Looking for the daily media column?
Catch up with The [Sunday] Papers and our special edition The [Monday & Tuesday] Papers in our free, extremely easy-to-use media column archive.
Both columns are even more chock full of the folly and frailties of the local press than usual, particularly illustrating the astonishing failure of reporters to actually interview the major players in the two biggest stories of the last few days--the controversial naming of an alderman's wife to the Illinois Supreme Court and the "massive fraud" alleged by federal prosecutors at City Hall.
If you can believe it, Chicago's vaunted (though mythical) tough-as-nails reporters do not appear to have attempted to interview either the judge nor the mayor!
The Papers will return tomorrow with more media madness, as well as new postings elsewhere throughout The Beachwood Reporter.
Posted by Lou at 03:54 PM | Permalink
The [Monday & Tuesday] Papers
Federal prosecutors alleged in a 98-page court filing Monday that aides to Mayor Daley engaged in "massive fraud" to get around a federal court order prohibiting political hiring and erased computer files and shredded documents in a cover-up as investigators closed in.
The filing is the latest development in the case of four City Hall aides scheduled to go on trial next month in an investigation that in many ways resembles the case that put former Gov. George Ryan in the dock.
The story quite appropriately leads both the Chicago Tribune and the Chicago Sun-Times; the details of the filing strike at the heart of the Daley Administration and heightens further the unlikelihood that somehow the mayor who reputedly tracks every pothole in the city was oblivious to how hiring worked at City Hall.
And yet, not only is there no comment from Daley in either paper, there is no "No comment" from Daley in either paper. There is also no evidence of even an attempted phone call to the mayor, much less any evidence that any reporter tried to track him down or even stood by his car and waited for him, as many young journalists are taught to do.
Do we not even try anymore?

The Hardest Part
The Tribune does show evidence today that it is bored and out of ideas.
Burke's Law
A faithful and astute reader (who has good reason to prefer anonymity given his occupational proximity to those in the political arts) noticed this quote in yesterday's column by new state supreme court justice Anne Burke, who was originally appointed to the Appellate Court despite being deemed unqualified by the Chicago Council of Lawyers: "I was also elected in 1996, don't forget, so people voted for me as well."
Our faithful and astute reader points out that Burke ran unopposed in both the primary and general election that year, the only time she faced voters.
"Elected" can be such a technical term in Chicago.
Like a Good Neighbor?
The median sale price of a home in Chicago over the last 15 years has risen from $115,000 to $330,000, according to a Rubloff marketing booklet tucked into one of the Sunday papers.
I assume wages have kept pace and Chicago is still a place where the middle-class can live comfortably, much less the working class and poor.
Otherwise I would have read about the impact of this extraordinarily wracking transformation of the city's very character in the local papers.
Particularly in light of the Tribune's report last month (no longer linkable) stating that renters in Chicago are "facing dramatically higher rents as the housing boom has swept away old buildings and turned others into expensive condominiums."
Beyond that, Cook County is losing about 3,400 rental units each year, according to a Harvard University study cited by the Tribune.
"We are taking one step forward and two steps back as gentrification in some neighborhoods and continued deterioration in others leads to the removal of vitally needed lower-cost rental housing," Joint Center director Nicolas Retsinas told the Tribune.
But given that these changes have largely occurred over the last 15 years, that's old news to readers of the local newspapers, which have thoroughly explored the most fundamental facts about the city's changing neighborhoods and the way Chicagoans live. Right?
All Hail the Par-King
How cool was the photo accompanying this story in the Sunday Tribune magazine? You'll never know if you don't have the print edition, because it is not reproduced online. It was a 1960 shot of the Prudential hole from the Par-King miniature golf course in Morton Grove, featuring a replica of the Prudential Building in downtown Chicago. Christ, they should have posted a whole gallery.
Bogey
This is apparently no substitute for the Par-King.
Stones Drones
Did you see that Chinese authorities censored songs with suggestive lyrics at a Rolling Stones concert in Shanghai on Saturday? Makes you glad to be living in the USA, where we would never do anything like that.
Line-Up
"It's sort of a way for rich people to go slumming."
- Greg Couch of the Sun-Times on the new Batter's Eye Lounge at Wrigley Field
"In New York's tabloid newspaper war, revenge is a dish best served boldface."
- New York Times story about the tabloid wars there
Recommended Reading
Bush has even lost Kass.
Who smells a disaster in the making?
The Katie Card
If you have to debate whether someone is a real journalist, they probably aren't. In the case of Katie Couric, justifying her new gig hosting the CBS Evening News by recalling her early days as a local TV news reporter is a stretch that no real journalist would even begin to contemplate.
And it's only about gender to the executives who hired Couric for her perky girliness. Nobody would have questioned the credentials of Lesley Stahl, Christiane Amanpour, or even our very own Carol Marin, just for starters. So why buy into the "debate"?
Couric's new position is the latest intrusion of marketing values into the newsroom, but news people seem like the last ones who want to talk about that - including the Tribune editorial page, which says Couric's hiring is "not some Hail Mary pass to salvage a losing team."
Because nobody would mistake the last-place CBS Evening News for a losing team.
In fact, that's exactly what it is - a Hail Mary pass to salvage a losing team.
But if Couric really wants to be taken seriously, here is a place for her to start.
What Would Judas Do?
What's next, Brokeback Bible?
Larger Truths
It's time once again to play Headlines/Counterheadlines with Beachwood Headline Affairs Desk Editor Tim Willette.
1.
Mental Patient Charged With Threatening President: 'National Security Gone Berserk'
President As Threatening As A Mental Patient: 'National Security Gone Berserk'
2.
Mental Patient Charged With Threatening President: 'National Security Gone Berserk'
Top Brit: Nuking Iran is 'Completely Nuts'
3.
Bush's Approval Ratings Lowest Ever: Poll
Bush's Intelligence Ratings Lowest Ever: Test
4.
Source: Bush Okd Leak But Left Logistics Up to Cheney
Source: Bush Okd War But Left Logistics Up to Cheney
5.
Huge Alcohol Cloud Spotted By Astronomers
Cubs Win Home Opener
6.
Motorola Parks Car Unit
Motorola Car Unit Stripped
7.
Canada's Pot Plan Goes Up In Smoke
Canada Bogarts Pot Plan
8.
$13.4 Billion Deal Gives Lucent A French Accent
Lucent Receives $13.4 Billion French Tickler
9.
New York Tries Yet More Ways To Fix Schools
New York Ignores More Ways To Fix Impovershed Students
10.
U.S. Study Paints Somber Portrait Of Iraqi Discord
GOP: Media Paints Somber Portrait of U.S. Study
Note From Beachwood HQ
We're slightly distracted this week due to activity on the business end of this venture, but we've got a raft of new material to post and I hope to get some of it up later today. So stick with us. If you are not completely satisfied after 30 more days, you get your money back.
The Beachwood Tip Line: Help us paint a somber portrait.
Posted by Lou at 06:20 AM | Permalink
April 10, 2006
The [Sunday] Papers
[Editor's Note: The Monday Papers will appear later today.]
[UPDATE 2:40 p.m.: Er, no it won't. I've been overrun today by business responsibilities here at Beachwood HQ. I'll combine what was already shaping up to be a highly amusing Monday Papers column with tomorrow's Tuesday Papers column. In other words, look for the first-ever (and hopefully last) The [Monday & Tuesday] Papers in the morning. Meanwhile, read this again. It's good.]

It's easy to get away with not talking to the press in Chicago, particularly when it comes to something important like, oh, safeguarding our civic discourse and democracy.
Last week's secret appointment of Anne Burke to the Illinois Supreme Court is just the latest example of how easy it is to dodge an often weak and unfocused media.

It's true that both the Chicago Tribune and Chicago Sun-Times produced fine stories that explored the politics behind judicial appointments and some historical particulars behind Anne Burke's career as a judge.
But were the main players in this saga really held to account? What sayeth Anne Burke; her husband and political operator Ald. Ed Burke; retiring state supreme court justice Mary Ann McMorrow; the rest of the supreme court justices who agreed on Burke; and the Democratic Party officials who have also shepherded Anne Burke's career? How do they explain themselves?
The answer: They don't have to. And that's the media's fault.
McMorrow announced her bigfoot maneuver of retiring and handing her job to Burke in a statement. McMorrow seems to have spoken--on the phone--to just three reporters: One from the Associated Press who didn't appear to ask about anything controversial; her caddy at the Sun-Times, Michael Sneed; and Sun-Times political columnist Carol Marin.
Marin asked McMorrow if the deal was political.
"'It appears that way,' McMorrow conceded when she took my call in her chambers Thursday," Marin wrote. "'I can understand the skepticism . . . but that's really not true.'"
"McMorrow said she submitted the names of four or five 'highly respected' women, all appellate justices, and her colleagues unanimously picked Burke.
"Could she say who the other candidates were? No, she told me, it was an internal process."
There is no evidence that any reporter has asked any of the other justices, who approved the choice of Burke, about what happened behind the scenes.
Reporters may assume that they won't get answers, but it is their job to ask the questions. And how often are we surprised at just what we learn when we do ask? Besides that, writing that Mary Ann McMorrow and her colleagues refuse to explain how they chose the next state supreme court judge makes for a terrific story in itself.
Lost in the coverage as well is another element of McMorrow's manipulation. "Since McMorrow is retiring after the state primary has taken place, an election for her seat won't take place until 2008," the Tribune wrote in a sidebar to its April 6th story. "At the next election cycle the vacant seat is open to other candidates."
In other words, McMorrow waited until after the primary so she could cheat the system and install her friend on the high court.
And for all the praise that Burke has gotten in the coverage--it's not her, it's the process, the media constantly assures--her behavior as been as untoward.
Burke appears to have spoken to to three people as well: her pal Sneed, Marin, and a Tribune reporter.
Marin wrote: "Burke, who spoke to me by phone from her chambers that same day, pointed out that plenty of political people 'have turned out to be pretty good.'"
That sounds like an admission that her appointment was political--and a defense of such at that.
In the April 6 Tribune story, Burke said: "I was also elected in 1996, don't forget, so the people voted for me as well. I think my own career as a justice and the other things that I've done, I don't think anybody can say I've been biased or unfair. I feel I've been honest both in my personal life and on the court . . . I can't imagine anybody saying that at this late stage."
Yes, I can't imagine.
And then there's Burke's husband, Ed, the powerful chairman of the City Council's finance committee and longtime alderman from the 14th Ward.
On Saturday, Burke managed to get on the front page of the Tribune with what appears to be a cockamamie conspiracy plot that has Venezuelan President Hugo Chavez manipulating the vote in Chicago. (Irony comment will come later.)
Burke got a good ride on the story from the Sun-Times as well, and to be fair, the Tribune says that newspapers including The Miami Herald and Investors Business Daily, as well as the blogosphere, have raised questions about possible connections between Chavez and Sequoia Voting Systems.
Still, it's a convenient distraction for Ald. Burke, who chairs the Democratic Party's judicial slate-making subcomittee, and whose "formidable clout helped orchestrate a clear path for his wife to win a seat on the Appellate Court unopposed" to begin her career as a judge, as the Sun-Times reports.
But what about his wife's latest promotion?
"On Friday, Ed Burke was one proud husband," the Sun-Times's Fran Spielman gushed. "My wife is a wonderful person, an outstanding lawyer and an experienced judge," Burke told the paper, which apparently doesn't know that just because an official tells you something with no value, you don't have to print it.
Spielman goes on to state: "He cut off the discussion before anyone could question the circumstances surrounding his wife's selection. But there is no doubt he has played a role in his wife's judicial ascent."
That's in the ninth paragraph.
Perhaps the way to handle a story like that is like this:
"Ed Burke, the clouty chairman of the city council finance committee who has collected a taxpayer salary as 14th Ward alderman since 1969, refused to answer questions Friday about his role in his wife's judicial career.
"Burke, who was happy to discuss at length what some describe as a crackpot theory--one that cynics might suggest is timed to draw attention away from the details of his wife's ascension to the state supreme court--cut off questioning when the topic changed from the alleged scheme of Venezuela's Hugo Chavez to manipulate the vote in Chicago to an alleged scheme to manipulate the naming of his wife to the Illinois Supreme Court."
(Burke apparently sees no irony in calling the twice-democratically elected Chavez a dictator with the potential to "subvert the electoral process in the United States of America.")
How did Burke cut off the discussion? Was there a scene? Did he storm off? What were his exact words? Because that's the story of the day as far as the Burkes are concerned.
Pols think they are unaccountable only when they are not held to account. And it's obvious in Chicago (and Illinois) that pols think they are unaccountable.
Don't get me wrong. The press coverage about Anne Burke's appointment has been mostly well done. Except for the part about pressing the actual subjects of the story.
The Beachwood Tip Line: Hugo Chavez uses it, you should too.

Posted by Lou at 07:54 AM | Permalink
April 09, 2006
Jim Bakker
Who: Jim Bakker
Where: Branson, Missouri
Organization: Jim Bakker Ministries
Founded: Sometime after he got out of prison.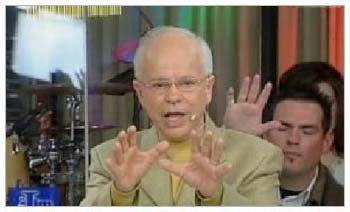 Brief History: Jim Bakker and his famously spunky makeup-laden wife Tammy Faye Bakker were among the most wealthy and powerful televangelists of the 1980s.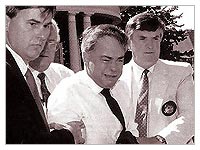 They founded the multi-million dollar Praise The Lord Network in Charlotte, N.C., and built Heritage USA, one of the most successful theme parks in the country in its day. Bakker was busted for fraud and conspiracy to commit fraud in 1987 and was sentenced to 45 years in federal prison. The prison term was later reduced and Bakker was released for good behavior in 1993.
Update: The New Jim Bakker Show runs weekdays at 4 a.m. on the Total Living Network. The show is broadcast in a cafe in front of "a real audience with real people."
Bakker Blog: Today's Revelation.
Book: I Was Wrong: The Untold Story of the Shocking Journey from PTL Power to Prison and Beyond.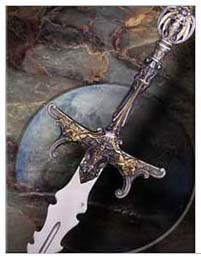 Weapons: Sword of the Apocalypse ($200). "It is crafted from the finest steel and contains beautiful imagery of the Four Horsemen of the Apocalypse as described in the Book of Revelation."
Bling: Jesus Pendant ($48); Jesus Pin ($48); Crystal Cross ($25).
TV Quote: "If you don't have money you better have a big God." What if you do have money?
Money: The times are so lean for Bakker these days that his new ministry isn't even listed with the online televangelist watchdog group Ministry Watch.
Fun Fact: Presidential candidate and conspiracy theorist Lyndon LaRouche was a cellmate with Bakker in federal prison.
Google: Search for "Jim Bakker Ministries" results in only 218 hits, the majority of which are links to his own Website.
Evaluation: For an hour-long show there was very little talk about Jesus, God or the Bible unless it related to donating a "Love Gift."
Lesson: People are who they are - even TV preachers.
Hallelujahs: 3.5
- Timothy Inklebarger
Posted by Lou at 07:43 PM | Permalink
April 08, 2006
The Weekend Desk Report
Your trusted look at the stories that could flare up this weekend. And if they do, we'll be there for you.
You Gotta Take The Lumpy With The Smooth
We here on the Weekend Desk would like you to know that we would never use a headline to make a crass joke at the expense of people suffering from old-world diseases. Unless we thought of it first. Now if you'll excuse us, it's time for our weekly leeching as our consumption is acting up again.
Chariots of Liars
Plausible deniability will miss its name-sake marathon after tearing a hamstring this week during a run with training partner sanctimonious blustering. Bookmakers have installed the always-dangerous imperialistic unilateralism as the overwhelming favorite for the win.
Code Shift
Dan Brown, author of The DaVinci Code, was cleared of copyright infringement charges in London this week. However, controversy still surrounds the big-screen version of Brown's wildly-successful novel. We are told by sources close to the film that star Tom Hanks will soon face a lawsuit alleging he stole the hair, eyebrows and deathly pallor of the late Bela Lugosi for his portrayal of Harvard professor Robert Langdon. We'd just like to remind Mr. Hanks what happened to the last person who tried to tangle with Lugosi.
Frankly, My Dear Cheeseheads . . .
. . . We don't give a damn if Brett Favre turns over a new leaf this weekend or if he decides to run back to football for one more year. But for the sake of our devoted readers, we have a correspondent stationed outside the Favre manse in Mississippi ready to intercept any communications that might be forthcoming. Should Favre toss away his Hall-of-Fame career, you'll be the first to know.
Posted by Lou at 02:56 AM | Permalink
April 07, 2006
Chapter 3: Hot Mama, Hot Merchandise
Junior keeps singing his special brand of blues, only stopping to refill his hot little lungs with air. Over the commotion I can make out individual pairs of CD cases knocking against each other. I count at least five different crunching sounds. She could have as many as ten disks lining Junior's stroller. No wonder he's howling like a wolf with its paw in a trap.
"Come on, sweetie." Hot Mama's starting to get flustered. She bends down and lifts Junior out of the stroller. He sticks his little arms out and pushes her away as if he knows his mom's no good.
I've got a split-second window to get my visual. While Hot Mama turns away, I move around to her side of the bargain bin and take a quick look. There's a fuzzy yellow blanket covering the bottom of the stroller, but one corner is pulled back. The half-peeled security seal at the edge of a jewel case catches the glow of the overhead lighting as it hits my eye. Hot Mama's goose is dressed, cooked and basted.
I've seen everything I need to see here. Time to move it along, Brody. As I look up I see Lucy peeking over from the cafe. Her eyes are full of a thousand questions, so I do the best I can to answer with a subtle nod. You're gold, Lucy. Solid gold.
Hot Mama walks over to the elevators at the far end of the music section. No way can I follow her there without drawing attention. I head to the escalators and take them two steps at a time down the to first floor. The audio books section is closest to the elevator bank. Plenty of tall displays for me to hide behind.
The ding of the left-hand elevator sounds and I wait that long, heavy half second for the doors to swing open. She's looking around suspiciously, making sure she has a clear line to the front doors. I fall in line behind her, holding John Grisham's The Broker in front of my face. She's walking quickly, acting like any busy urban mother.
We're in sight of the front door now and there's trouble up ahead. Lenny's giving some guy directions and his back is turned. Maybe the guy is Hot Mama's accomplice, or maybe this is just her lucky day. Either way, she's ten feet from freedom and closing fast.
I move to the best seller table at the front of the store and knock Oprah's latest favorite to the floor with a thud. Lenny doesn't turn around, but Hot Mama sure does. I manage to duck down before she spots me. If a suspect figures out what I do, I've got no choice but to blow cover and pursue. And when that happens I'm finished at this store.
Hot Mama's almost got the stroller level with the security scanners and still Lenny hasn't turned around. What I wouldn't give for Junior to start singing the blues now.
The nose of the stroller is past the scanners and the alarms haven't sounded. Hot Mama did her homework; she knows how to disable our security devices. Five more steps and she's home-free. She can take Junior and the dirty disks and disappear into the midday crowds on the Magnificent Mile.
Finally, the guy shakes Lenny's hand and cuts in front of Hot Mama to leave. Lenny finally turns around. I don't have time to check and who's looking, I just jump to my feet and point.
Lenny raises an eyebrow, like he can't believe this is the suspect. "Excuse, ma'am," he says as he grabs Hot Mama's arm. "Do you mind if I take a look in your bag?"
"I guess," she says as she hands the diaper bag over.
Lenny feels around a bit and shoots me a quick look. I put my hand out in front of me and make a pushing motion. The stroller, Lenny, check the stroller. He wrinkles his brow a bit but nods.
"One more thing, ma'am. Could you lift up your baby for me?"
"My baby? Why do you need to look at my baby?"
"It's just procedure, ma'am."
I can see Hot Mama's hands shaking as she lifts Junior up. She's looking out the front door like she's behind bars already. Lenny lifts up the blanket and shakes his head.
"That's an awful lot of Wiggles CDs, ma'am. Could you show me the receipt for those?"
Hot Mama cracks. "Please, mister, you don't understand! I promised the other mothers in my play group I'd get these and every store in town is sold out already! You don't know what these women will do to me if I don't come through... you have no idea what they're capable of!"
Lenny grabs her arm in one hand and the stroller in another, marching toward the office. "You can tell it to the manager, lady. Maybe he'll buy your story."
We exchange a wink as they pass me, just Lenny's way of telling me "good job." I don't usually celebrate a big collar, but there's a warm banana-walnut muffin waiting for me upstairs and the bravest barista in Cook County to share in the success. I hop onto the escalator and think about the crinkly-nosed smile on Lucy's face when I tell her how the sting went down. But just as I'm deciding what to say, something snaps me back to reality. Three steps ahead of me stands the figure of a woman in a soft pink sweater.
Rose.
[To be continued...]

Posted by Lou at 04:10 PM | Permalink
The [Friday] Papers
You know how people use the Biblical saying "Judge not, lest ye be judged" in order to admonish those who judge others? I'm not sure how effective that is. Because what if, for example, you don't mind being judged? I judge in this space every day, and if the consequence is for me to be judged in return, I say let it rip. This is still a democracy, not a theocracy, at least for now.
We can all learn anew today, though, that religion is as full of politics as any other money-raising, membership-oriented, real estate-investing, secular venture. After all, the latest Jesus-Judas news is so very Chicago, isn't it?
And by the way, let me add: Report not, lest ye be reported.
Judging Judas
"An early Christian manuscript, including the only known text of what is known as the Gospel of Judas, has surfaced after 1,700 years," reports The New York Times, among other various news organizations on this story since it broke yesterday. "The text gives new insights into the relationship of Jesus and the disciple who betrayed him, scholars reported today. In this version, Jesus asked Judas, as a close friend, to sell him out to the authorities, telling Judas he will "exceed" the other disciples by doing so."
Revelations to come:
Infamous 18 1/2-Minute Watergate Gap Found: Nixon Is Deep Throat
Clubhouse Video: Selig Injected Bonds In The Ass With Steroids
Diary Revelation: Aniston Asked Jolie To Take Pitt Off Her Hands
Court Papers: Leak-Hating President Authorized Aide to Leak
Judge Sneed
Illinois Supreme Court Judge Mary Ann McMorrow and her pal, Anne Burke, proved themselves worthy of the Good Ol' Boys Club this week with a sneaky manuever proving our judicial branch isn't all that.
Both Chicago metros editorialize on the move today, but the Chicago Tribune's entry is particularly noteworthy because of its observation that Burke "uses a local gossip columnist to steer policy debates and made concerted efforts to discredit former DCFS Director Jess McDonald, who did more to bring stability and professionalism to the department than any director in decades. McDonald had not reacted as Burke and her husband, Ald. Edward Burke (14th), had wanted during their disputed quest to adopt a foster child."
The gossip columnist is Michael Sneed, of the Chicago Sun-Times. The Tribune should have named Sneed, rather than leave its less in-the-know readers guessing. And Sneed should cut it out, or lose her job.
It hasn't escaped notice, by the way, that Republican gubernatorial candidate Judy Baar Topinka is in Sneed's Good Ol' Boys Club too (as is George and Lura Lynn Ryan and, strangely, Fidel Castro).
The least the Sun-Times could do is give Gov. Rod Blagojevich--and anyone who goes up against Anne Burke--a personal columnist too.
UPDATE 2:17 p.m.: A faithful reader wonders if Sneed is this/close to Anne Burke. The upshot: Sneedless to say. The buckshot: I bet this was reported elsewhere a week before, but I'll still call it Scoopsville. The rim shot: Eric Zorn, I finally realized this week, is keeping tabs so I don't have to. (There are still some jobs Americans will do.)
Blind Justice
"The decisions judges make aren't political. The selection of judges is political," former state supreme court justice Seymour Simon told the Tribune. "But you can remain independent."
Overruled, Justice Simon. Surely the pols select judges who they are pretty sure will make politically favorable decisions. Your comments are dismissed.
Primary Judgement?
Isn't one of the components to the McMorrow fiasco--hey Mary, isn't instilling confidence in the system rather than cynicism one of your responsibilities?--that she waited until after the primaries were over to announce her retirement so voters couldn't fill her seat?
I thought I saw this in an early article and now I've lost it. Please help, dear readers.
But if true, isn't this akin to John Stroger staying on the ballot despite his stroke so the committeemen could name his replacement? And we all remember that this is how Bill Lipinski passed his U.S. congressional seat--a United States seat in Congress!--to his hapless son, Dan.
Do these people believe in democracy? Or is that just an abstract notion that American soldiers are dying for in Iraq?
And do you think the more heated response to the Stroger manuever had anything to do with race? And do you think that maybe McMorrow naming a pal as her replacement precluded a diverse set of candidates from being considered? Doesn't this once again justify affirmative action?
A lot of questions, I know. But they are really answers.
Jumpy Judge
James Holderman, the next chief judge of the federal district court in Chicago, is known as "Holdermaniac" among his critics, the Sun-Times reports in "Chicago's Next Federal Judge Has a Temper Problem, Group Says." Holderman also "yells, screams and intimidates," the paper says, citing a new Chicago Council of Lawyers study on which the article is based.
For both the print and online readers of this story, don't you wish you could just click on a link of each judge's name and see what the lawyers council has to say about them? The best you can do is download the report here.

Topinka Would Call Him Judge Moron
John Kass skewers Bob Creamer, the felonious public service advocate and husband of U.S. Rep. Jan Schakowksy (D-ILL) today. But most interesting is Kass's revelation that the federal judge in Creamer's check-kiting case, James Moran, didn't recuse himself despite being a former Democratic state legislator from Evanston and the father-in-law of Democratic political consultant Peter Giangreco, who, Kass says, sat on the board of one of Creamer's organizations and has done political business with Creamer and Schakowksy.
UPDATE 2:14 p.m.: A faithful reader points out that the revelation I attribute to Kass actually appeared in a Tribune story yesterday by Michael Higgins and Laurie Cohen. "Creamer's ties to the Democratic community are so deep that Moran considered recusing himself from the case," Higgins and Cohen reported. "The judge, a former Democratic state representative from Evanston, said he had a potential conflict of interest because his son-in-law, political consultant Peter Giangreco, had worked with Creamer and Schakowsky and had sat on the board of one of Creamer's organizations."
Apologies, I missed that.
Judgy TV
A recent recounting of Fox 32's daytime schedule, submitted by a reader with a justified reason for remaining anonymous:
9:00am Divorce Court TVPG, Repeat, CC
9:30am Divorce Court TVPG, Repeat, CC
10:00am Judge Hatchett TVPG, Repeat, CC
10:30am Judge Hatchett TVPG, Repeat, CC
11:00am Judge Joe Brown TVPG, CC
11:30am Judge Joe Brown TVPG, Repeat, CC
12:00pm Fox Chicago News at Noon
1:00pm Divorce Court TVPG, Repeat, CC
1:30pm Judge Hatchett TVPG, Repeat, CC
2:00pm Judge Alex TVPG, Repeat, CC
2:30pm Judge Alex TVPG, Repeat, CC
3:00pm Cops TV14, CC
3:30pm Cops TV14, CC
4:00pm Geraldo at Large CC
Misjudgement
"Bleacher Bums Now Living in Luxury"
- Sun-Times
Ahem. It's no longer the bums who are in the bleachers.
Bleacher Judgements
Someone who studies these things tells me the Wrigley Field bleachers are a metaphor for what Chicago has become.
One might even say, as Tribune architecture critic Blair Kamin did recently in another context, that Wrigley Field symbolizes the conflict that is wracking Chicago. "Call it gentrification, yuppification, corporatization, whatever," Kamin wrote. "How do we maintain its diversity and vitality so it doesn't become a sterile home for the super-rich? At issue is the survival of texture--the urban texture that makes cities endlessly fascinating, quirky, exotic and even a little wicked."
Wrigley Judgements
Carol Slezak on the new Wrigley.
Kamin's less critical take.
(Hey Blair, do you really think the Tribune Company will spend the extra revenue they get from the new bleachers on better players? Did you just arrive in Chicago?)
Injudiciously Ridiculous
Slezak: "The Cubs . . . have started referring to Wrigley Field as the 'Wrigley Field Campus' on their Web site and in presentations."
Tribune subhead: "Wrigley Still Has The Feel Of A Campus"
Poor Judgement
Two features of the Wrigley rehab even worse than the Bud Light Bleachers:
* The centerfield Batter's Eye Lounge, the monstrosity built on what had been a relieving, beautiful patch of green grass separating the right-field and left-field bleachers. Aside from that, the lounge is in direct view of the batters' eyes, giving the Cubs another excuse for their poor play at home this season. You wait and see.
* The Dick Poles, eight speaker poles rising from the bleachers whose only function appears to be to further piss off the rooftop owners across the street by obstructing their views. The poles "mysteriously appeared on top of the the bleachers during construction," Slezak reports. "The poles weren't in the original plans approved by the city."
Cubs vice president Mark McGuire told Slezak: "[W]e tried to be as honest about the changes as we could. We think the rooftops are extremely viable. We want them to do well. We just don't want their interests to come before ours."
Is that an admission that the ability of the Cubs brass to be honest has its limitations? And will the Cubs ever learn that their interests actually are the same as the interests of the rooftop owners?
Note from The Bud Light Beachwood Bleachers
Please take some time this weekend to spread the word among your friends and enemies about The Beachwood Reporter. Make us your home page. Change your e-mail ID tag to "Friend of the Beachwood" and give us a link. Comment on other people's sites and mention our name. If we make it to the high court, there might be a judgeship in it for you.
Use our Tip Line: We won't judge your motives.
Posted by Lou at 08:51 AM | Permalink
April 06, 2006
The [Thursday] Papers
When Chicago Tribune columnist John Kass learned recently that his favorite downtown lunch spot, The Cambridge House, was shutting down because the building owner was turning the spot into condos, he wrote a tough but elegantly mournful piece about the latest loss of another venerable--and affordable--part of authentic Chicago going by the wayside.
"There should be places in the middle, for people in the middle, places like The Cambridge House," Kass wrote. "They're not about atmosphere. You can't taste atmosphere, although speaking of atmosphere, Chicago is losing another restaurant, The Berghoff. It is a culinary landmark, and I'm sure it deserves the thousands of stories being written about it, now that it's closing, as a special place for memories of special occasions.
"But the great thing about The Cambridge House is that it wasn't for special occasions. You didn't walk through the doors to make a statement or a memory. You entered to have a decent meal.
"And so the loss of such places may even be more profound, because it signifies the loss of the everyday."

The Tribune's Blair Kamin followed a couple weeks later in a piece called "Urban Renewal and the Soul Index."
"There, in a nutshell, is the conflict that is wracking downtown Chicago: Call it gentrification, yuppification, corporatization, whatever," Kamin wrote. "Now that we've figured out how to get people to invest in downtown, how do we maintain its diversity and vitality so it doesn't become a sterile home for the super-rich? At issue is the survival of texture--the urban texture that makes cities endlessly fascinating, quirky, exotic and even a little wicked."
In the past week, both the Chicago Journal and the Inside community newspaper have reported on the demolition of the building that once housed the Artful Dodger, one of those "quirky, exotic, and even a little wicked" corner taverns that enriched the Bucktown neighborhood for 21 years.
A wrecking ball has been taken to the late 19th century, Queen Anne/Classical-style Dodger building, despite a 3,000-signature petition drive and an "orange" designation by the Chicago Historic Resources Survey stating that structure has local significance. Orange is the second-highest of color codes the survey uses.
Neither the Tribune nor the Chicago Sun-Times has written about the destruction of the Artful Dodger building, which isn't just remiss because the city is losing a treasure, but because of the identifiable politics behind the story. The Journal and Inside articles cast Ald. Ted Matlak as the villain; Inside reports that Matlak claims to have not known that the building was coded orange when he approved a zoning change that cleared the way for the structure's demolition. (Scroll past the April Fool's front page on the link to the real March 29-April 4 edition.)
There is the larger story, too, which Kass and Kamin write about but in a way that makes them seem oblivious to what has been going on in Chicago's neighborhoods for at least a decade (some would say forever, but the current mayor seems to be on an unrelenting rampage to replace every charm of the city with the boxiest, characterless, most out-of-scale condo complexes possible).
"A friend who studies such things tells me this is a metaphor for what Chicago has become, a place of extremes, for rich and poor, despite all the ink given to symbolic efforts venerating the middle-class bungalow," Kass wrote.
A big city columnist--one as talented as Kass--shouldn't need a friend who studies such things to tell him this.
And a big city architecture columnist--one as talented as Kamin--shouldn't fret more about how soulless downtown is becoming than about how Chicago's neighborhoods are being neutered for transient yuppies with no sense of community. An increasing number of people may now live downtown, but it's still largely a place to work and a theme park for tourists; downtown is not nearly as dear as the city's neighborhoods, no matter how the city's politics are aligned.
The Tribune, Kamin included, did produce a tremendous piece of journalism exploring this issue in 2003 called "A Squandered Heritage," a three-part series which reported in depth the way the city fails to protect its "hidden architectural gems."
One problem with big projects, however, is that they come and go. Sometimes it's the drip-drip of daily reporting that has real impact. (There is a reason why advertising is so repetitive.) Too much journalism is here today, gone tomorrow.
Moreover, on a daily basis the tremendous changes over much of the city during Mayor Daley's reign are usually described in the simplest, City Hall-friendly terms as "progress," without an independent journalistic definition of just what that means or an independent journalistic examination of the forces that are behind the changes (which some might define as "news") most visible and impactful in the lives of Chicagoans.
The destruction of buildings such as the one that housed the Artful Dodger all these years is so commonplace that perhaps we barely even recognize it as news anymore. But in reality that makes it all the more a story that ought to be told, even if it isn't located downtown.
Katie Cruises to CBS
What's all this about Katie Holmes anchoring the CBS Evening News?
Oh, Katie Couric.
Oh well. Same thing.
Burke Baloney
The big news in the papers today is the appointment of state appellate court judge Anne Burke to the Illinois Supreme Court.
"Being married to Ald. Edward Burke (14th) opened doors for her, but she had to succeed or fail on her own, she said," the Sun-Times reports.
I hear this from rich and/or connected people all the time. Someone got them the job interview, sure, but they had to actually get the job. So they really did earn their positions.
Getting the interview--getting doors opened in any number of ways--of course, is 90 percent of the battle. Are these people merely trying to delude the rest of us, or are they deluding themselves too?
"Burke's husband chairs the Democratic Party's subcommittee on slating candidates for judge. He was widely credited with orchestrating a clear path for his wife to win a seat on the appellate court unopposed," the Sun-Times notes.
At the time, the Chicago Council of Lawyers found Anne Burke to be "not qualified" for the seat.
Perhaps the council ought to adjust its criteria; it clearly doesn't understand what it takes to become a judge in this state.
Anne Burke is also likely a close friend of Mary Ann McMorrow, the judge whose retirement opened up the seat for Burke and who appears to have secretly chosen her successor.
I say "likely a close friend" because while I have no personal knowledge of such a friendship, McMorrow and Burke both meet at the nexus that is Sun-Times columnist Michael Sneed.
And then there's this, also from the Sun-Times: "McMorrow got to know Burke when Burke volunteereed for McMorrow's first unsuccessful campaign for Supreme Court in 1990. Two years after being elected to the high court in 1992, McMorrow appointed Burke to the appellate court."
(Burke had to run for the seat in 1996--the campaign that her husband orchestrated and that reportedly featured two ghost candidates put on the ballot to scare off any other challengers. It's nice to have someone who won her judge's seat that way on the state Supreme Court, isn't it?)
Anne Burke will have to run in 2008 to win the seat for real. Ed Burke runs for re-election in 2007. It's never to early to think about sending them a message.
The Beachwood Tip Line: Opening doors since 2006.

Posted by Lou at 06:42 AM | Permalink
April 05, 2006
Exclusive: The Missing O'Briens Ads
The Beachwood Reporter was Dumpster-diving behind O'Briens Restaurant the other night (try the whitefish!) when we came across a folder of its infamous full-page newspaper ads--the ones that typically show local celebrities and pols singing the restaurant's praises. The discarded ads we found featured the primary candidates for governor; apparently they were thrown out accidentally and never made it into print before the election. Click on the thumbnail photos that follow to see what you missed.
Posted by Lou at 04:24 PM | Permalink
The [Wednesday] Papers
I think we can all agree that the entire country needs a civics lesson--from our spineless, spinning, self-absorbed politicians to our greedy corporate chieftains to our ideological and intolerant zealots on all sides of the political spectrum who gum up any chance we have for honest democratic debate about how we will organize society and live our lives.
It's not just young people who are stupid.
But let's talk about newspaper people for a second.
Despite the rhetoric about the role of newspapers in democracy--rhetoric I believe to the depths of my corny heart--most of the newspaper has nothing to do with democracy. If only it did.
Most of the newspaper is ephemera, which isn't to say that isn't important too in a daily account of our cities, states, and nations. It is. But the argument newspaper people make about how important it is to read a newspaper in order to be civic-minded would be a lot stronger if it were more crucial to read a newspaper in order to be civic-minded.
And it would be nice if the media would do a better job of stepping up to the occasion at those times when it is really crucial to do its democratic duty--on the brink of war, for example. No one can seriously argue that newspapers (and the rest of the media) did their job well with the war in Iraq on the horizon. Would those young people who didn't read the papers back then have been made smarter or more stupid by reading the uncritical accounts that passed as news?
The papers also fail in state and local political coverage, which has been dramatically reduced over the years in most shops. Both Chicago metros fail by not covering aldermanic or legislative campaigns, much less in covering the winners once they assume office. My bet is that most of you had no idea who Barack Obama was not only when he was in the legislature but during much of his senate campaign, which he was losing until the final weeks when Blair Hull's divorce papers were released. That's because the newspapers don't cover legislators--even those they will turn around and tout as prospective presidents. (I bet you don't know much about Obama's slim record so far as a senator, either. But reams have been written about whether he should run for president.)
Even the editorial pages offering their endorsements aren't honest, whether it's the Chicago Tribune's hard-and-fast rule of always supporting a Republican for president (or governor) or the shenanigans at the Chicago Sun-Times four years ago, when the entire deliberative process of the editorial board, including interviews with the candidates, was discarded by the imperious publisher and now-convicted felon David Radler.
Newspapers have transformed themselves into consumer entertainment products based on marketing values, abandoning any inherent sense of public service. They provide just enough serious journalism to complete a marketing formula that maintains a bare level of credibility. It's the same formula used by magazines such as Vanity Fair and GQ (and Chicago magazine), which publish what they perceive as one serious piece of journalism each month, amidst a sea of swill that otherwise opposes journalistic values on every page.
So to dismiss young people as a disinterested threat to democracy strikes me as the height of hypocrisy. The "Q" section and "Ask Amy" have nothing to do with democracy, and very little in the news pages does either.
(And it's not just young people who don't know much about their world. Today's front page story in the Tribune about the opening of the Tribune Company-affiliated Freedom Museum reminds us of a poll that seems to show that adults know more about The Simpsons than the five basic freedoms outlined in the Bill of Rights, though that's kind of a silly comparison. There should be no shame in knowing every last detail of a brilliant show broadcast a zillion times a week in reruns.)
The argument put forth yesterday by Jim Warren and Thomas Geoghegan also sounds a bit much like fretting because young people don't listen to classical music or attend opera much anymore. Thank God for that. Newspapers, in short, don't rock. But they should.
Young people generally do rock, in that they have an enthusiasm for their interests that is more fascinating and sophisticated than newsroom crusties give them credit for. The Internet is a perfect vehicle for them--and for the rest of us.
I'd hate to see newspapers die, or even just settle into a mediocre niche like local radio and TV news, but at the same time it would be nice to see newspaper reporters and editors seize the possibilities of the Internet instead of fearing a future that could--and should--be golden.
It should have been a newspaper company, for example, that invented Craigslist. Newspaper companies owned classified ads. One of the oldest rules in the business book is to be your own competition--better you do it than someone else. So when direct mail advertising burgeoned, the smart newspaper companies stopped fretting and started doing direct mail advertising themselves.
Why didn't newspaper companies invent Google? After all those years of hearing newspaper companies preaching that they were in the information business, not the newspaper business (which was always a deceitful justification for gutting newspaper values anyway; of course they were in the newspaper business. General Motors is in the car and truck business, not the transportation business. They shouldn't save themselves by starting to make Segways or airplanes. Beyond that, newspapers at their core are in the journalism business. But I digress.)
And why didn't blogging come from newspapers? They employed thousands of writers!
And yet, newsrooms today still fear and dismiss the Internet, ceding the territory internally to their marketing departments and externally to tech companies and the "amateurs" whose energy is just what is missing in today's papers.
Metromix is fine, but the Tribune Company could have created Pitchfork.
The Tribune Company's acquistion of Times Mirror was based on a strategy of combining TV stations and newspapers in New York and Los Angeles and other major markets. But Gawker Media created the successful New York/Los Angles/Washington, D.C. axis.
I was once asked by my former editor if I'd rather exist online or in the pages of Chicago magazine. He thought the answer was obvious, and so did I. We each had different answers.
Why would I want to be confined to a limited circulation of mostly vapid, rich people, many of whom would never read my articles, which were mostly about local politics (and have to fight tooth-and-nail each month to get those articles eventually posted on the magazine's Website) when I could be online for the entire world to see if they so chose? Where I could be linked to others and be a part of the public debate old-schoolers like Warren and Geoghegan say they so desperately want (but seem to think will occur if we only make kids take four years of civics courses and read a newspaper collection compiled by school officials)?
The Web is where the action is. That's where democracy is happening. And newspaper editors (and apparently labor lawyers) still don't get it.
I can't even figure out why any aspiring journalist these days would rather be in print than online, living without the ability to include links in stories, as well as accompanying audio, video, photo galleries, and the ability to post original documents or extended interview transcripts, just for starters. The Internet extends journalism. It takes reporting to the next level. A reporter who isn't psyched about the Internet is a reporter not interested enough in doing their job better.
That, I think, is what newspaper companies and Warren and Geoghegan and magazine editors and everyone else who cares should be excited about, rather than purvey the constant drip-drip about how no one wants to read our dreary newspapers anymore.
In turn, the daily printed product now has a chance to evolve into something else as well, as a complement to the breaking news, multimedia, and sophisticated packaging advantages (and obliteration of time and space constraints) of the Web.
Perhaps the daily newspaper becomes a place where the Sunday magazine isn't discarded, but elevated into a local version of The New Yorker. Or a place filled with photos, graphics, and artwork printed on high quality paper. Or a place that publishes a weekly sports review that could appeal both to the casual fan and to those who read sites like Baseball Prospectus. Or a place where science, philosophy, and economics are discussed in a coherent way. Or, most importantly, a place where city neighborhoods, schools, businesses, and organizations are covered in a serious, on-the-ground journalistic way, because the ultimate advantage for a daily newspaper in a Web world is local, local, local--and that doesn't mean the "hyperlocal" coverage of "citizen journalism," or the traditionally weak habits of "community journalism," but conducting with rigor real journalism within the city limits but beyond City Hall.
Maybe only then will newspapers offer a better discourse on civics than an episode of The Simpsons--though that may be setting the bar a bit too high.
Why You Can't Trust the Inter . . . Er, Your Newspaper Criticizing "the Internet" for incorrect reporting is like blaming my TV set for the multitude of errors made by local news broadcasters each day, including those on Tribune Co.-owned stations. The medium shapes the message (I never fully bought into McLuhan), but reporters report and columnists columnize and editors edit and pundits pundit no matter how they technologically deliver their work to readers, and they are responsible, not the technology.
The following correction to Warren and Geoghegan's piece appeared in this morning's Tribune. The irony is almost too rich to comment on. So I just did.
"A Commentary page article Tuesday on newspapers and democracy misquoted Thomas Jefferson. A correct version is: " . . . and were it left to me to decide whether we should have a government without newspapers, or newspapers without government, I should not hesistate a moment to prefer the latter. But I should mean that every man should receive those papers and be capable of reading them."
"The quotation is attributed to a letter by Jefferson found in The Papers of Thomas Jefferson, according to A Dictionary of Quotations, Congressional Research Service, Library of Congress.
"Also, a photograph that accompanied the article was incorrectly displayed; the visual image was flopped, or reversed. The picture showed a boy reading a newspaper, circa 1940s."

Use the Beachwood Tip Line, which was inspired by Thomas Jefferson, who also said: "I would rather have a Tip Line without newspapers than newspapers without a Tip Line," according to Things Thomas Jefferson Said About The Beachwood Reporter, Congressional Research Service, Library of Congress.
Posted by Lou at 06:46 AM | Permalink
April 04, 2006
The [Tuesday] Papers
Declining readership isn't the fault of newspapers, but the fault of too many stupid young Americans who don't keep up and thus have put our democracy in peril.
At least that's how I read today's argument ("Why Johnny Can't Be Bothered") put forth by labor lawyer Thomas Geoghegan and Chicago Tribune deputy managing editor Jim Warren on the Tribune's Op-Ed page. And hey, who knows more about how badly misguided young people are out of step with vital institutions that are in no way crumbling than a labor lawyer and a newspaper editor.
Geoghegan and Warren call for a concentrated effort to teach young students to read the newspaper, possibly by requiring four years of civics courses or by state school systems producing a daily newspaper for students culling articles from other newspapers around the state.
Yes, I can see how excited students would be about that. Get those subscription cards ready.
I could suggest that newspaper editors take some civics courses themselves to learn why it is important to cover individual legislative and aldermanic campaigns, which incredibly the two major metros here do not do (low in the link). Or I could suggest that young people teach folks like Geoghegan and Warren how to read the Internet.
Instead, I suggest that after reading Warren and Geoghegan's piece, check out the Tribune's Digital Page, which appears every Tuesday, just to let the realization sink in that except for one page once a week, the rest of the paper is still stuck in analog.
Then marvel at how many newspaper photos are still in black-and-white, for example, and muse about the seemingly random collection of irrelevant stories jammed into awkward spaces that appear each day in, say, the Metro section, such as today's "Home Invader Sought In Assault on Woman;" "Harvey Car Dealer Settles Workers' Suit Over Closing;" and "Stabbing Victim Found In Overturned Car."
Head over to the comics page and check out the hilarious punchlines to today's "The Humble Stumble" and "Sherman's Lagoon."
Remember that Jim Warren created Q.
Be sure to get your fix of wisdom about the war in Iraq by reading the Chicago Sun-Times's editorial today, "Effective Central Government Is Only Way To End Iraq Chaos." (Hmm, maybe by installing a strongman . . . )
Look at the clever artwork accompanying a Letter to the Editor in the Sun-Times written by the state auditor general and wonder if the original was in color, and why it isn't reproduced on the paper's Website.
Then pick up your free copy of RedEye, whose cover today is given over to blonde bombshell Rebecca Romijn, star of the new WB show Pepper Dennis, though the story "Eating Disorders Flare Up During Bikini Season" gets a plug on the front page too.
Reflect on the good old days when cities had several daily newspapers to choose from and didn't deliberately cut off circulation to cut distribution costs and upscale the demographics they could sell to advertisers.
And then write about how today's generation of young people--who can create sophisticated Web sites in their sleep and seemingly program trips to the Moon on their cell phones--just don't get it, and won't until we pound it into them.
Believe it or not, I don't necessarily disagree with everything Geoghegan (I'm a big fan of his books, particularly The Secret Lives of Citizens) and Warren say. But the newspaper industry's readership woes, which in fact come with huge if not obscene profits, are largely self-made, and hardly because each generation of America's youth is more brain-dead than the last.
Accompanying the Geoghegan/Warren story is a (black-and-white) photo from the 1940s of a boy reading a newspaper. Or, more specifically, he's reading the comics page, which looks nearly identical to today's newspaper comics page except the old one is better because the artwork and dialogue is actually large enough to be legible.
Why should we pine for this boy's reading habits of the past over the habits of this boy today, who is instead playing a far more graphically- and narratively-sophisticated video game and having a far richer experience than a three-panel comic?
I'm all for giving the entire nation a giant civics lesson. Let's start here in Chicago where pride in political corruption exceeds pride in the White Sox and racial harmony means tamping down any talk of the interplay of class, housing, education, and our still-largely segregated neighborhoods. Not to mention the refresher course the Tribune Company could use when it comes to their own dedication to public service, reasonable executive compensation or stewardship of the Cubs and Wrigley Field (not to mention getting rid of its editorial cartoonists).
If the newspaper industry keeps spending $50 million on ad campaigns that look like this (without, as well, placing them on Websites where young people are) no amount of civics homework will make young people read their product.
Which is to say, the ads accurately reflect the staleness of the industry they promote, as well as the kind of thinking behind complaints like that of Geoghegan and Warren.
Today's Recommended Reading
Mary Mitchell connects the current Duke University lacrosse team rape controversy to the recent local trial here of Adrian Misbrenner in an unexpected way.
Why there's a rash of oven-door thefts in South Bend.
The latest on an alleged Iraqi spy in Des Plaines. You can read the original indictment here.
Big Beachwood Contest Announcement!
We are pleased to announce that The Beachwood Reporter in conjunction with Chevrolet will award such fabulous prizes as trips to the Country Music Association Awards, the Major League Baseball All-Star Game, and the Chevy Rock and Roll 400 if you submit the winning Chevy Tahoe ad and include the words Beachwood Reporter.
A good place to start is with these examples at slightly Beachwood-affiliated Zero Art Radio. Just add our name and enter!
The Beachwood Tip Line: Please jiggle the handle after use.
Posted by Lou at 08:09 AM | Permalink
April 03, 2006
The [Monday] Papers
If you want to catch up with The [Sunday] Papers, and we think you do because it was a very Lou Dobbs-like day in the local press, go here. It will be totally worth it. And then come back.
If you want to catch up with last night's White Sox game, don't pick up a Chicago Sun-Times unless there is a new edition on the streets.
Because the results of last night's home opener for the defending World Series champion Chicago White Sox and season opener for Major League Baseball ended too late to be included in the Sports Final edition of the Chicago Sun-Times.
Can a newspaper seem any more primitive in the Internet Age?
Also, my computer wasn't wet from the rain this morning, like my newspapers were.

I'm just sayin'.
One More Primitivist Note: I'm reading James Warren's snoozy-enough-as-it-is magazine roundup in the print edition of the Chicago Tribune this morning, because that's the kind of geek I am, and I'm finding myself frustrated by the inability to click on links to the articles he mentions.
And you know what? No links on the Internet version either.
I'm just sayin'.
Stop Hurting Us, 'Hammers
Marty Casey and the Lovehammers playing the White Sox opener last night would be about right. As a passionate fan of the local music scene, I can say that until that horrid but weirdly compelling INXS reality show I had never heard of Marty Casey and the Lovehammers. I'm pretty sure that's because they suck donkey balls. Nobody I know who follows local music had heard of Marty Casey and the Lovehammers. Can someone please explain Marty Casey and the Lovehammers to me? Open a thread in the Music section of our Beachwood Forums.
Omentum
It's not hard to predict that members of the more liberal wing of the Democratic Party who fell for Barack Obama without knowing much about him will continue to be disappointed by his moderation. Last week, for example, Obama was in Connecticut endorsing Sen. Joe Lieberman, perhaps the most conservative Democrat in the Senate and a passionate supporter of the Iraq war.
Not that Lieberman needs Obama's support. Despite a widespread dislike of him inside the party, Lieberman has, according to one poll, a 55-point lead over his primary opponent, Greenwich cable TV excecutive Ned Lamont, who calls Lieberman "George Bush's favorite Democrat."
Sex and the City of Chicago
The city's weird and disturbing ordinance regulating just how nude nude dancers can be at strip clubs that serve alcohol is under review by the Illinois Supreme Court.
The Sun-Times's Tracy Swartz reports that "under the law, clubs that serve booze must ensure their dancers cloak certain parts of their breasts, their crotch, and their buttocks."
Because without the cloaking, worlds would apparently collide.
"The city contends that mixing alcohol with nude or partially nude dancing could have an 'undesirable secondary impact' on the surrounding community, said Jennifer Hoyle, spokeswoman for the city's Law Department," Swartz writes.
Kind of like how city spokespeople often have an undesirable secondary impact when they open their mouths.
Cloaking Device
Date the Chicago Sun-Times published its review of James Green's Death in the Haymarket: February 26
Date The New Yorker posted its review of Death in the Haymarket on its Website: March 6.
Date of the print issue of The New Yorker in which the review appeared: March 13.
Date the Tribune Books section published its review: April 2.
Q is for Quagmire
"Sneak Chic: The Shoes-and-Jeans Combo That Can Make Or Break Your Rap"
Gag Snag
Reporters covering the George Ryan trial are not, I am told, under a gag order. I raised the issue because of these sentences in separate Tribune stories:
* "The Tribune did not contact the juror for comment because doing so could violate a court order not to communicate with jurors during a trial."
*"Under normal circumstances, the reporters would then contact the subject of the story for comment. But an order from Pallmeyer prohibited contact with the jurors while the case is ongoing."
I'm told the inartful references were simply to the paper's (and industry's) standard policy of not tampering with a sitting jury, and that the judge's order referred to was the one applying to jurors and lawyers in the case, not the media.
In Today's Reporter
You will not want to miss this Beachwood Exclusive: The missing O'Briens campaign ads! We found 'em and now you can see them. Our biggest scoop yet.
Just another reason to join us in our Beachwood Readership Drive. Spread the word and show us some love, Phase 2 of The Master Plan is on the way.
And if you want a cool looking Beachwood Reporter link button of your own, check this out.
Use our Tip Line after a night at O'Briens, especially if you wore a wire.

Posted by Lou at 08:31 AM | Permalink
Chapter 2: Sticky Fingers
I close my phone and sigh. Lucy's not the type of girl to cry wolf; if she thinks there's something going down, that means that right now some punk with sticky fingers is trying to pocket store property. Well, he picked the wrong books, music, DVD and coffee retailer to target today.
"Something wrong?" asks the blonde. She's leaning forward in her chair with a concerned look on her face.
"No, it's just, uh . . . That was my office. I've got to get back."
She stands up and walks toward me, her wavy hair falling like liquid gold around her shoulders. "So soon? You must have a pretty important job."
"You could say that," I tell her. I look towards the escalators, trying to see who's working the front door. I'm hoping it's Lenny. No one has my back on a bust like Lenny.
She's standing in front of me now, holding out her hand.
"My name's Rose, by the way." Of course it is. A woman as beautiful as her has to have a name to match.
"Jim Brody," I tell her, taking her soft hand in mine. "Listen, I . . . "
Her lower lip quivers a little as she smiles. "I know. You have to leave. I understand."
"I wish I had more time, Rose."
"Well, maybe we'll bump into each other again some time. Like I said, I come here every week." She reaches toward the book in my other hand. "Or maybe I'll see you in Portugal."
"Yeah, Portugal." I give her a little wink and squeeze her hand. "Why not?"
It hurts walking away from a woman like that, but right now I've got to focus on one thing and one thing only: Protecting store merchandise. Besides, there's only two types of people in this job--suspects and witnesses--and I can't afford to get close to either one.
The escalator is slower than a Monday morning in the kids section, but I've got to be patient. If I'm going to keep my cover I can't do anything to draw attention to myself. I look up and see Lenny standing to the left of the security monitors. I catch his gaze for a second and rub my index finger on the side of my nose, pointing up. His brow furrows but he nods, just a little dip of the chin to let me know he got the message.
I hit the second floor and slip into the cafe, taking a seat in the corner near the sugar station. It's a little after noon now and the place is filled with lunch-hour shoppers. Lucy comes out of the back, her arms full of freshly-baked muffins just like she promised me this morning. She makes her way over by me and pretends to refill the creamers.
"Thank goodness you're here, Jim. I've been trying to keep an eye on the perp, but I couldn't let the muffins burn. Big Ben would fire me for sure . . . "
"Just calm down, Lucy. I need you thinking straight. Do you see the suspect anywhere?"
She takes a deep breath and turns to face toward the music section. "Oh God, Jim . . . she's still there. She's heading right for the Budget Buys bin!"
I follow Lucy's eyes and see a woman in her mid-30s pushing a baby stroller. "You mean Mother Theresa over there?"
"Trust me, Jim, she's no saint. I saw her looking over a couple of CDs one minute, the next thing I know she's holding the baby and the CDs are nowhere to be seen."
My eyes search for some sign of the lady's stash, but she's got way too many hiding places. She could haul out half the movie soundtracks in her diaper bag alone. But before I can give Lenny the sign, I've got to see something with my own eyes.
"Concentrate, Lucy. Did you see anything else?"
She shakes her head. "I'm sorry, Jim, it just happened so fast. But I know what I saw. That woman's up to no good."
"Take it easy, kid, you did great. You go back behind the counter there and keep one of those muffins warm while I get to the bottom of this."
I haven't got much time for strategy; Hot Mama's already wheeling Junior to the second bargain rack. I head into the music shop and start sorting through the new releases. Hot Mama's purse is way too small to fit a CD case. I take a closer look at the diaper bag. If she's smart, that's where she's dumping the goods. The bag is hanging open and I have a clear view inside. All I can see is a couple of Pampers and a canister of baby wipes.
I look Hot Mama up and down. No deep pockets, no over-sized coats. There's only one more place she could hide the CDs, but I don't think she has it in her. It'd take one cold bitch to use her baby's stroller that way.
Just as I'm thinking this, Junior starts crying. "What's the matter, sweetie?" Hot Mama coos. "What's wrong with mommy's little boy?"
She shakes the stroller gently, and there it is. The sick, grating moan of jewel case on jewel case.
[To be continued . . . ]

Posted by Lou at 06:45 AM | Permalink
The [Sunday] Papers
The important news in the Sunday papers is about immigration, baseball, and the American worker. Kind of like a Lou Dobbs show. Only with baseball.
In the Sweet Spot: The Chicago Sun-Times did the logical journalistic thing Sunday by jumping on and localizing the hottest issue in America, producing a front page "special report" on immigration called "Illegal in Chicago."
The paper told its main story through the eyes of Martin Barrios, a 35-year-old father of three kids (all American citizens because they were born here) who escaped a life of poverty in Zacatecas, Mexico, when he was 16.
"He walked away from Zacatecas--like his older brother before him--over a mountain pass, up a riverbank and through an avocado field toward opportunity," writes Mark Konkol.
"That is my only crime," Barrios told Konkol.
When Barrios first arrived in Chicago, he started working as a dishwasher and cook at Raymond's Tacos in Pilsen. Now he is a quality control manager at Sara Lee making $13.77 an hour.
But Barrios, who lives in a Berwyn bungalow with his wife and kids, faces deportation even after spending $32,000, apparently on lawyers according to Konkol's report, to gain citizenship.
Konkol nicely fills in the statistical background. For example, those who suppose that the immigration issue is largely one for the Southwestern border states might be interested to know that Illinois ranks sixth in the nation in the number of illegal immigrants, and fourth in the nation in the percentage growth of illegal immigrants since 1990.
"There's not a person in Illinois who has not benefitted from [illegal immigrants'] work," Josh Hoyt, the executive director of the Illinois Coalition of Immigrant and Refugee Rights, told Konkol.
"In Illinois, immigrants account for a huge chunk of restaurant and food-service industry employees," Konkol writes. "In fact, about a quarter of managers are foreign born, according to [a] Pew [Hispanic Center] study."
Scott Fornek contributes with a reconstruction of how the 100,000-strong rally downtown last month came together. Lynn Sweet examines the prospects of congressional legislation--including a new "whispered solution" called Do Nothing--on the front cover of the paper's Controversy section. Readers respond to Mary Mitchell's column last week suggesting young black American males caught up in the drug trade receive an amnesty similar to what some illegal immigrants may receive--and she responds back.
Over at The Blue One: Meanwhile, the Chicago Tribune also published a front page story on Sunday about the desperate hopes of those south of the border hoping to make a life in America: Cubans. Which is a fine--if familiar--story as far as it goes, but hello? Not even a mention of how the so-called "rafters" fit into the current, raging immigration debate, much less a front page story about the current, raging immigration debate.
The Big Missing Piece: Perhaps I've missed it but in all the immigration stories I've been reading, I've yet to see a simple account of how the present laws work. If Martin Barrios, for example, "played by the rules" instead of illegally entering the country, would he have made it here? Just what are those rules? And what would happen if we did have "open borders" without a quota system and other restrictions? What if we let everyone in but registered them at the border?
This story is larger than the one framed by current congressional proposals and the agendas of those driving them.
Homer Hanky's
All six Tribune writers polled in the paper's baseball preview picked the White Sox to win their division, while three picked them to repeat as World Series champions. The Sun-Times had three writers make predictions; each picked the Sox to win the division and two of the three picked them to again win the World Series.
But veteran baseball writer Murray Chass of The New York Times is smarter than them all. Chass writes: "Forget the White Sox. They are last year's news. This year they will be lucky to make it out of the division."
Instead, Chass sees the division going to the Minnesota Twins, and quotes Cleveland general manager Mark Shapiro as saying the Twins are "the most overlooked team in the majors."
Aaron Error
If the White Sox don't repeat, one reason may be their trading away of centerfielder Aaron Rowand, according to this story in Sunday's New York Times.
Crud Light
William Zolla II, of Chicago, had this letter to the Sun-Times published on Sunday: "Like the Cubs, I am 'proud to have the prestigious Bud Light brand' serving as the exclusive sponsor of the Wrigley Field Bleachers. I'm sure others will agree that when thinking of Bud Light, the first words that often come to mind are 'prestigious,' 'classy,' and 'sophisticated.' Now fans can purchase a $40 bleacher seat for twice that amount from the Cubs' in-house scalping operation, drink $7 cans of warm Bud Light in the 'Bud Light Bleachers' and watch a mediocre team. I look forward to the day that I can enjoy a game with my daughter from the scenic heights of the 'Hooters Upper Deck Box Seats.'"
In fact, Mr. Zolla, the Hooters Upper Deck Box Seats aren't the only possibility still on the table for Tribune Company. In light of Wall Street's pressure on Tribune to unlock value, look for the whole joint to be synergized to within an inch of its life. For example, maybe Ask Amy can sponsor Dusty Baker's errors in judgement. Tom Skilling could produce injury forecasts far more accurate than what we get now. Kerry Wood could be put to work on a blog 'cause he always has a lot of free time during the season.
Send me your ideas for how Tribune can further synergize and sponsor up Wrigley Field and the Cubs.
And Dear Tribune Company: Is there anything at Wrigley Field not for sale? Seriously, provide us with a list. If I don't get one I'll assume the answer is that nothing is untouchable, including the infield dirt.
The American Worker
Remember the NAFTA debate about "free trade" versus "fair trade"? Well, wouldn't we be better off with those labor and environmental standards that the fair traders were arguing for? In other words, wouldn't the global economy work better if we raised everyone's wages instead of lowered them?
Yes, that would mean higher costs for employers. But it's not higher costs per se that is the problem; it's the lack of an even playing field. If everyone's costs were higher, there would be no such thing as higher costs.
Would the prices of goods rise? Marginally. But then, in a stronger economy consumers and workers would still be better off. And the pressures of global competitiveness would still be in play.
Finally, what if Steve Jobs took over General Motors? I have a feeling they'd be opening new plants in no time.
The Tribune's multimedia "Broken Heartland" package starts here.
Americans Idle, the new book by New York Times economics writer Louis Uchitelle, is reviewed here.
"Immigrants and the Economics of Hard Work" is here.
Our Tip Line does a job many Americans won't.
Posted by Lou at 05:51 AM | Permalink
April 02, 2006
The Beachwood Brackets
THE SIXTH ROUND: Otherwise known as The NCAA Championship Game, Which Is Already Anti-Climactic Both Because Most Pool Winners Have Already Been Determined And Because It's Not Nearly As Much Fun Watching A Single College Basketball Game As Tracking A Bracketful Of Picks.
UCLA vs. Florida
Both teams have been in imperious form since the Elite Eight, knocking out the top seeds in their respective brackets and posting double-digits wins in the Final Four. Going by seeding alone, UCLA has had the more impressive run, dispatching #3 and #4 teams to Florida's two #11s. Of course, if we went by seeding alone Duke would be facing UConn right now.
Bruin Notes: UCLA played superb defense against Final Four opponent LSU, although they were helped by extremely poor free-throw shooting on the part of the Tigers. Luc Richard Mbah a Moute gave the team an explosive scoring ability that had been conspicuously absent in earlier rounds. The Bruins are hurting, however. Comically humongous senior Ryan Hollins, a major presence on the boards, is nursing a thigh bruise and logged only 17 minutes in the last game.
Gator Notes: Their Final Four tilt with over-matched George Mason was not so much a win as an outpatient surgery. Florida denied the Patriots their bread-and-butter three-point shots and dominated the offensive glass, frequently getting third and fourth looks at the basket. This team is composed entirely of gangly freaks with Dsungaripterus wingspans. Al Horford could probably slap me upside the head all the way from Indianapolis if he didn't like my bracket picks.
The Match-Up: This final boasts many of the major themes of the tournament. Strict defense versus explosive offense, size versus grit, veteran leadership versus youthful bravado. It's going to come down to the intangibles. Billy Donovan's hair versus Ben Howland's Zoom whitening; Jordan Farmar's ears versus Joakim Noah's pornstache.
The Pick: I fully believe Ben Howland could kick Billy's Donovan's runty little ass in a street fight. Seriously, dude is like four feet tall. However, I have seen the power of the Noah Stache and it is formidable. That stache could eat Adam Morrison for breakfast. Live the Stache. Love the Stache. Pick the Gators.

THE FIFTH ROUND: Otherwise known as the Final Four.
ATLANTA/OAKLAND REGIONAL MEET-UP
UCLA vs. LSU
By almost every established Beachwood prediction standard, this race is too close to call. First off, both state colleges include the names of actual states. The coolest names on each team (Luc-Richard Mbah a Moute for UCLA; Magnum Rolle for LSU) are ridiculously awesome. And while you might present me compelling evidence that even a small bear would rip a tiger to pieces, until I actually a grizzly flossing its teeth with a tiger's whisker I'm going to believe the showdown would end in a draw. So for the second time during this year's NCAA tournament I'm going to the ultimate tie-breaker: School colors. This Final Four match-up will come down to the blue of the Bruins vs. the purple of the bayou Bengals.
I'll level with you, I like both colors. Who wouldn't like blue? It's the color the sky is on a sunny day. No offense to the mighty Chicago River, but it's the color water ideally ought to be. Blue is one of the primary colors. Heck, you can't even make purple without blue. On the other hand, purple is the color of royalty and excess. Millions of tiny mollusks lost their lives in ancient times to make the dye for Caesar's robes. You can't turn your back on that kind of history.
The pick: It's a close one, but given that blue has the longer wavelength I'm going to give the nod to UCLA. Besides, I can't take anymore Big Baby references.
WASHINGTON, D.C./MINNEAPOLIS REGIONAL MEET-UP
Florida vs. George Mason
Everything here points to a Florida win. As a team, they're easily playing the best ball of any of Final Four team. They have by-and-large drubbed their opponents; their average margin of victory in the tourney is 16 points (compared to the six point average margin for George Mason). There's no doubt George Mason was a true patriot, and very probably armed, but an alligator could waste him without breaking a sweat. Have you seen the kind of pants George Mason had to wear? Yeah, good luck running away from a swamp critter in those.
But then, how do you pick against the team that has consistently confounded all our expectations? How do you turn your back on those amazing performances against Michigan State, North Carolina and UConn? And oh yeah, two words: Tony Skinn. Every time the Patriots play a game, a nascent porn star gets his screen name.
The pick: TONY SKINN! I have to go with George Mason.
FOURTH ROUND: Popularly known as The Elite Eight. But not as popularly as The Sweet 16 or Final Four. Rumor has it heads rolled in marketing. And yet, nobody's come up with anything better.
ATLANTA REGIONAL
#2 Texas vs. #4 LSU
Texas's Road So Far: Survived a testy encounter with surprisingly feisty #15 Penn in the first round; had a considerably easier time downing #10 North Carolina State in the Dirty 32. Kenton Paulino's last-second Pittsnogling of #6 West Virginia made that showdown the game of the Sweet 16 for roughly three minutes until UCLA drove a stake into Adam Morrison's heart.
LSU's Road So Far: Pantsed, spanked, and atomic-wedgied the disappointing #13 Iona Gaels in the first round, but found themselves in need of a last-second three pointer to vanquish #12 Texas A&M. Became the bane of casual office gamblers everywhere by knocking off #1 Duke. J.J. Redick wasn't the only one in tears.
The Match-Up: Texas is the more veteran side, boasting a host of talented upperclassmen lead by LaMarcus Aldridge. LSU relies more on the exuberant play of their kiddie corps and the physical presence of megaton man-child Glen Davis. Can the Tigers bust both ends of this bracket, or will the much-fancied Longhorns win through to the Final Four?
Beachwood Analysis: You know, I'm really more of a cat person than a cattle person, so it's all about LSU for me.
OAKLAND REGIONAL
#1 Memphis vs. #2 UCLA
Memphis's Road So Far: Made us all feel a little naughty by giving #16 Oral Roberts a Dirty Sanchez in the first round. Delivered a stealthy knee to #9 Bucknell's manhood in the second round. Finally put the #13 Bradley Braves out of everyone's misery in a straight-forward Sweet 16 romp.
UCLA's Road So Far: Sleepwalked through the first half of their game against #16 Belmont before coasting to the easy victory. Had more than a few nervous moments before seeing off #10 Alabama. Rose from the dead on several occasions during a down-right transcendental Sweet 16 tilt with #3 Gonzaga.
The Match-Up: These teams did meet during the regular season, with Memphis notching an 88-80 victory on their home court. Both teams are young and hungry, with the Tigers arguably boasting more consistent talent up and down the lineup and the Bruins more flashy individual players.
Beachwood Analysis: I saw that movie Grizzly Man and it seriously scared the shit out of me. No way am I backing the Bruins. They'll turn on you, man . . .
WASHINGTON, D.C. REGIONAL
#1 UConn vs. #11 George Mason
UConn's Road So Far: Everyone's no-brainer to walk into the championship game dug themselves a double-digit hole against #16 Albany in the first round before securing a win. Didn't exactly shake the rust off in convincing fashion against #8 Kentucky either. Took advantage of mounting foul attrition to best #5 Washington in overtime in another Sweet 16 classic.
George Mason's Road So Far: Began the shameful exposure of Emperor Big Ten's lack of clothing against #6 Michigan State in the first round. Gutted out a solid win over #3 UNC in the second round. Found absolutely nothing shocking whatsoever about #7 Wichita State in one of the few authoritative Sweet 16 victories.
The Match-Up: This isn't so much David vs. Goliath as it is David's shoe versus Goliath's big brother. George Mason has shown remarkable poise and has the veteran leadership of the inimitable Tony Skinn, but who are we kidding? The Huskies are built like Dolph Lundgren and this ain't no Rocky IV.
Beachwood Analysis: Goliath's big brother.
MINNEAPOLIS REGIONAL
#1 Villanova vs. #3 Florida
Villanova's Road So Far: #16 Mouth may have eaten Ham, but they didn't have the stomach to take out the Wildcats in the first round. The second round saw a tighter contest against #8 Arizona, and the Sweet 16 saw 'Nova stretched to the limit in an overtime shoot-out with #5 Boston College.
Florida's Road So Far: Tripped up #14 South Alabama in the first round; knee-capped #11 Wisconsin-Milwaukee in the second round; sucker-punched #7 Georgetown in the Sweet 16.
The Match-Up: Much like Texas/LSU, this contest features a veteran high seed versus a young and hungry lower seed. The selection of Villanova as a #1 seed raised a few eyebrows back on Selection Sunday, but they have played well enough to justify their favored status. Billy Donovan's Gators have arrived a year ahead of schedule.
Beachwood Analysis: I've picked cats and dogs this whole time and I really see no reason to stop with the potential family pet theme. I know, a bunch of people in Manhattan bought baby alligators for their kids back in the 70s. But then they freaked out when the slimy little things grew nasty and they took it out on the gators by flushing them down the toilet. And rumor has it all the flushies formed an albino alligator colony in the New York sewer system and that they take out a couple of streets and sanitation workers every year. And this sad story, my friends, is why alligators are not good family pets, nor a Final Four team. Ride the 'Nova.

THIRD ROUND: Popularly known as The Sweet 16, ever since the quiet settling of that copyright suit brought by the porn division of Ronco.
Skill and tenacity can see a team through to the Sweet 16, but to have a chance of moving deeper into the tournament that team also needs a lot of luck. Some might even call it destiny. For that reason, in choosing the official Beachwood Reporter picks to make the Elite Eight, I employed the tried-and-true fatetastic method of blindfolded dart throwing.
The rules for this technique are simple. Once positioned in front of a regulation dartboard at regulation distance, the thrower--in this case, me--deploys what is known as a "vision-obscurement device"--in this case, the business end of a backwards hoodie--and throws a single dart. Before each throw an impartial observer, traditionally referred to as "the bartender," announces which match-up is being "darted" and records the results on a slip of paper. If the dart hits inside an odd-numbered section of the dartboard, the higher seed wins. Redarting is allowed only if the dart misses the board entirely or falls out.
So that my super-human powers of perception and rock-steady muscle control wouldn't subtly influence the outcome, I consumed a moderate quantity of beer before darting. And for the safety of all around me, I was allowed to remove the vision-obscurement device to retrieve each dart and reposition myself.
Here are the results of the Beachwood Reporter Darts of Destiny.
ATLANTA REGIONAL
#1 Duke vs. #4 LSU
Most experts expect the Blue Demons to walk into the Final Four, and the darts could not agree more. An emphatic triple-13 indicates an easy passage to the next round and could signal big things to come next weekend.
#2 Texas vs. #6 West Virginia
It won't be easy, but a nine right on the wire tells me the Longhorns will justify their high seeding.
OAKLAND REGIONAL
#1 Memphis vs. #13 Bradley
Oh, Bradley. Man, you were a great little story while you lasted. At first, I really didn't know how to interpret the fat flipping bullseye I drained on this match-up. I don't hit bulls very often, so this was uncharted territory for me. Once I'd gotten over the regret of all those years wasted playing darts without the backwards hoodie, "the bartender" reminded me that a single bullseye is worth 25 points. Therefore, Memphis should crush the little mid-major that could.
#2 UCLA vs. #3 Gonzaga
The first dart-determined upset of this round, a single 18 indicates that UCLA will be Gonzaga'd in most brutal fashion.
WASHINGTON, D.C. REGIONAL
#1 UConn vs. #5 Washington
I think the darts are completely out of their flighted little shafts on this one, but a solid twelve after a miss to the left gives the edge to Washington.
#7 Wichita State vs. #11 George Mason
Apparently this is the upset section of the bracket. The first dart hit for a triple 18, but fell out. Would the second dart also call for a shock of the Shockers? Absolutely. A nice, heavy four calls for a George Mason win.
MINNEAPOLIS REGIONAL
#1 Villanova vs. #4 Boston College
Boston College seems to be the fashionable pick to make the Final Four. The darts, however, are not swayed by such sentimentality. The darts remain cold, calculating and aerodynamic. And with the steel-tipped certainty of an eleven, they fully expect Villanova to prevail.
#3 Florida vs. #7 Georgetown
Yannick Noah's kid will live to fight another day if the darts have anything to say about it. With another lucky number eleven, it looks like Florida will end the Hoyas' run.
SECOND ROUND: The Dirty Thirty (Two)
Dedicated to Duff Gibson. Because we miss you. And everything your name invokes.
ATLANTA REGIONAL
#1 Duke vs. #9 George Washington
Best name, Duke: Martynas Pocius
Best name, George Washington: Pops Mensah-Bonsu
Pick: I'm usually a sucker for a good Lithuanian tongue twister, but from where I'm sitting the Colonials could take this whole damn tourney. Pops Mensah-Bonsu isn't just a terrific name, it's a way of life. Close your eyes and picture Pops and you sitting on a porch in Jamaica, lazing away a summer evening watching the sunset and drinking rum out of a coconut you casually pass between you. Isn't Pops terrific? Don't you just want to sit around with him and get loaded and maybe listen to some Jimmy Cliff or something? Advantage: Pops.

#4 LSU vs. #12 Texas A&M
Best name, LSU: Magnum Rolle
Best name, Texas A&M: Slade Weishuhn
Pick: In any other section of the draw, Slade would walk right into the Elite Eight. Unfortunately, he's completely overmatched here. "Magnum Rolle"? Are you kidding me? Let's just say I'm looking forward to his showdown with Pops in the Sweet 16.
#6 West Virginia vs. #14 Northwest State
Best name, West Virginia: Kevin Pittsnogle
Best name, Northwest State: Alfonse Dyer
Pick: Alfonse Dyer may have had enough firepower to down Kurt Looby and the rest of the dull-handled Iowa Hawkeyes, but this Cinderella story is about to be thoroughly Pittsnogled.
#2 Texas vs. #10 NC State
Best name, Texas: La Marcus Aldridge
Best name, NC State: Engin Atsur
Pick: I'd like to think that Mr. Atsur's first name is pronounced "Engine", but I don't really think that's the case. So there's a little bit of a built-in disappointment factor for me. In the face of that, I lean toward the stately LaMarcus Aldridge.
OAKLAND REGIONAL
#1 Memphis vs. #9 Bucknell
Best name, Memphis: Waki Williams
Best name, Bucknell: Abe Badmus
Pick: When this year's field was announced, a lot of people singled out Memphis as the most vulnerable #1 seed. Now that the dust has settled, I can see where they were coming from. Waki is undoubtedly a wicked-cool name, but line him up next to the feisty Badmus and he looks a little shaky. If we combined the strengths of both players, Waki Badmus could take a team all the way to the Final Four. Since that's not possible, I'm giving the nod to Abe. He is a Badmus, after all.
#5 Pittsburgh vs. #13 Bradley
Best name, Pittsburgh: Antonio Graves
Best name, Bradley: Tony Bennett
Pick: The pipes are still smooth, but he's a little long in the tooth to be playing college basketball. With all due respect to the inimitable Tony Bennett, the advantage goes to Antonio Graves.
#3 Gonzaga vs. #6 Indiana
Best name, Gonzaga: Mamery Diallo
Best name, Indiana: Marco Killingsworth
PIck: It's hard not to be intimidated by Killingsworth and the vague threat of bodily harm implicit in his surname. Is it enough to upset a man whose given name is homophonous with boobs? Sorry, Marco, but my money's on the tit guy.
#2 UCLA vs. #10 Alabama
Best name, UCLA: Luc Richard Mbah a Moute
Best name, Alabama: Alonzo Gee
Pick: Clearly Alonzo is shocked to find himself in the second round of the tournament, and well he should be. No one expected him to defeat the affectionate charms of Ryan Amoroso and Marquette. Earnest surprise is no match for the tripartite assault of Mbah a Moute. Individually, these names could be felled by Gee or Golly or possibly even Aw Shucks. But fused into one mellifluous unit, Mbah a Moute is unstoppable. Look for him to make a strong push toward the Final Four.
WASHINGTON, D.C. REGIONAL
#1 UConn vs. #8 Kentucky
Best name, UConn: Rudy Gay
Best name, Kentucky: Preston LeMaster
Pick: No, his first name ain't baby. It's Preston; Mr. LeMaster if you're nasty. At first glance I thought the 80s pop pseudo-hard-core edge would make Preston a top contender, but there's just something about the irrepressible Rudy Gay. You can't say the name without smiling. It's like a three-syllable shot of sunshine and joy. It's the feel-good pick.
#4 Illinois vs. #5 Washington
Best name, Illinois: Chester Frazier
Best name, Washington: Zane Potter
Pick: It's not looking good for the Illini. Sure, Chester Frazier sounds like a solid guy who would be in his element grabbing a drink at Archie Bunker's Place. Zane Potter eats guys like that for breakfast.
#3 North Carolina vs. #11 George Mason
Best name, UNC: Surry Wood
Best name, George Mason: Tony Skinn
Pick: Surry Wood is a name rooted in the feel-good hippy rebellion of the 60s. It's a name that shook its ass at Woodstock, followed the Dead for a few years, and eventually wound up sitting on a porch with Pops Mensah-Bonsu playing the djembe. And as much as we may love the lascivious pleasures of Tony Skinn, who could turn their back on that kind of legacy? Surry moves on to the Sweet 16.
#2 Tennessee vs. #7 Wichita State
Best name, Tennessee: Major Wingate
Best name, Wichita State: PJ Couisnard
Pick: In another lopsided affair, look for Major Wingate to majorly cuisanart Couisnard.
MINNEAPOLIS REGIONAL
#1 Villanova vs. #8 Arizona
Best name, Villanova: Baker Dunleavy
Best name, Arizona: Fendi Onobun
Pick: One man is his own fashion house, the other his own law firm. It's going to come down to the wire in this one, but look for the affably named Baker Dunleavy to squeak through. He gets up pretty early in the morning to file those lawsuits.
#4 Boston College vs. #12 Montana
Best name, Boston College: Akida McLain
Best name, Montana: Virgil Matthews
Pick: Why are we even discussing this? Have a safe trip home, Virgil.
#3 Florida vs. #11 Wisconsin-Milwaukee
Best name, Florida: Joakim Noah
Best name, Wisconsin-Milwaukee: Boo Davis
Pick: Tread lightly, Joakim, because Boo will sneak up behind you and scare the living shit right out of you. An intoxicating mix of manly toughness and child-like exuberance, Boo Davis will live to spook opponents another round.
#2 Ohio State vs. #7 Georgetown
Best name, Ohio State: Matt Terwilliger
Best name, Georgetown: Octavius Spann
Pick: This is another close one, but I did a little research and learned that Octavius prefers to go by "Tay." Frankly, Mr. Spann, if you're not prepared to use every syllable your mother gave you, you don't deserve to be here. Edge Terwilliger.
FIRST ROUND - The Sexy Sixty (Four)
ATLANTA REGIONAL
#1 Duke vs. #16 Southern
Noun trumps adjective every time. Duke advances.
#2 Texas vs. #15 Penn
Based solely on population, Texas really should overwhelm Pennsylvania. Estimates from the U.S. Census Bureau for 2004 put the number of Texans at almost 22.5 million, with just 9.9 percent aged 65 or older. Pennsylvania limps in with 12.4 million, 15.6 percent of whom are in their golden years. That, my friends, is an ass-kicking.
#3 Iowa vs. #14 Northwest State
One golden bracket rule: If you're taking on a state school and your school has the word "state" in its name, you really need the backing of an actual state. And since I don't recall that referendum to admit Northwest to our mighty union, the edge goes to Iowa.
#4 LSU vs. #13 Iona
As sexy as the official Iona Gael is, I still think the LSU Tiger could take him. He's not even flexing or making a fist or anything; he's just standing there puffing out his chest. I mean, this is a freaking tiger, dude. You gotta bring it.
#5 Syracuse vs. #12 Texas A&M
What does "A&M" stand for? And what in the hell is an Aggie? Syracuse may have the wussy adjective mascot, but Texas A&M is being awfully evasive. I don't trust them. Take the Orangemen.
#6 West Virginia vs. #11 Southern Illinois
Starting with magnetic north, picks should be made by moving clockwise around the face of a standard compass. Unless, of course, you're in the southern hemisphere, in which case they should be made by by moving counter-clockwise. But since we're not in the southern hemisphere, SIU comes first.
#7 California vs. #10 NC State
It's youth and exuberance versus old age and treachery. NC State, founded in 1889, has the age advantage on Cal, founded in 1868. But the tourney rewards the savvy veteran. Besides, one of Cal's star players is called Leon Powe. Hee hee, "Powe!"
#8 George Washington vs. #9 UNC Wilmington
I'm not taking on the father of our nation. He's venerable and he has wooden teeth. Take the Colonials.

OAKLAND REGIONAL
#1 Memphis vs. #16 Oral Roberts
In the battle of teams that sound like raunchy sex acts, the full-on Memphis sounds more fun than an Oral Roberts.
#2 UCLA vs. #15 Belmont
These teams are incredibly evenly-matched in the mascot department, both using the somewhat nondescript Bruin, so I'm moving to the official tiebreaker of team colors. And frankly, who does Belmont think it is taking three colors instead of the traditional two? There's some poor Division 3B school out there wandering around with only one color because they just had to have navy blue, white, AND red. Unforgivable.
#3 Gonzaga vs. #14 Xavier
This one time my sophomore year me and my friends decided to take a healthful approach to substance abuse, so we made Southern Comfort smoothies. Basically, you took a fifth of SoCo, three bananas, a few liberal drizzles of honey, some yogurt, a handful of raspberries, a little ice, some Coke for that extra little kick, orange juice and half a lime, threw it all in a blender, poured it into a pint glass and, while available, topped it with some Redi-Whip. It looked a lot like vomit and tasted a lot like the milk that's left at the bottom of a bowl of Lucky Charms. I'm pretty sure we all Gonzaga'd after downing a few and, dude, it was awesome.
#4 Kansas vs. #13 Bradley
Kansas has "an ass" in it. Bradley has "lead." Which would you rather shake out on the dance floor? Take the Jayhawks.
#5 Pittsburgh vs. #12 Kent State
Pitt plays at the John M. and Gertrude E. Petersen Events Center. Um . . . yawn. I'm not saying Kent State's Memorial Athletic and Convocation Center is much better, but at least no one paid to put their name on it. Take Kent State.
#6 Indiana vs. #11 San Diego State
See Iowa vs. Northwest State.
#7 Marquette vs. #10 Alabama
It's a close call, but the exotic "Q" affords Marquette a slightly higher Scrabble score potential. Go with the Golden Eagles.
#8 Arkansas vs. #9 Bucknell
In this most virile, masculine sporting event, the edge goes to the school with the more virile, masculine name. And they don't come much more strapping and macho than Bucknell.

WASHINGTON, D.C. REGIONAL
#1 Connecticut vs. #16 Albany
Dude, my 81-year-old grandmother thinks UConn is gonna win the whole thing. Besides, I love that their nickname sounds all rugged and Canadian, like, "UConn ho!" That cracks me up.
#2 Tennessee vs. #15 Winthrop
Winthrop comes right out and tells you exactly what they're going to do. They're going to win and then they're going to throp. And that kind of pride always goes before a fall. Take Tennessee.
#3 UNC vs. #14 Murray State
See Indiana vs. San Diego State.
#4 Illinois vs. #13 Air Force
It seems like the Air Force really ought to be a little preoccupied right now, so take the Illini.
#5 Washington vs. #12 Utah State
OK, so apparently an Aggie is a really angry pig-like thing with its arms crossed in vaguely threatening fashion. But seriously, I still don't care. Take the Huskies.
#6 Michigan State vs. #11 George Mason
George Mason? You, sir, are no George Washington. The Spartans shall prevail.
#7 Wichita State vs. #10 Seton Hall
I'm really hoping the Wichita State Shockers live up to their reputation and play the entire game naked. That would certainly shock me. And Seton Hall.
#8 Kentucky vs. #9 Alabama-Birmingham
I have family in Kentucky. And they know where I live. So, go Wildcats!

MINNEAPOLIS REGIONAL
The play-in game:
Monmouth vs. Hampton
In this expanded dance-mix version of Rock/Paper/Scissors, Mouth eats Ham. That's a shame, really, because Ham would easily top Ova in the tournament proper.
#1 Villanova vs. #16 Monmouth/Hampton
I know I hinted that Ham would top Ova, but who am I kidding? Either team is toast.
#2 Ohio State vs. #15 Davidson
Who? Yeah, exactly. No way is Davidson going to bust The Nut.
#3 Florida vs. #14 Southern Alabama
Florida made it through the most recent hurricane season in slightly better shape than southern Alabama, so they should have slightly more firepower.
#4 Boston College vs. #13 Pacific
I deeply admire the beauty and majesty of the Pacific Ocean, but I've seen it try to set a pick and roll and it wasn't pretty. Take BC.
#5 Nevada vs. #12 Montana
Montana has many head of potentially mad cattle. Nevada has many head of half-dead gamblers. Go with the beef.
#6 Oklahoma vs. #11 Wisconsin-Milwaukee
You know how it says on all the Oklahoma license plates, "Oklahoma is OK"? I love that. Seriously, guys, it's like that's their thing. They're OK. Sometimes that seems a little goofy, sometimes kinda sad, but most of the time it's like, thumb's up, Oklahoma! Take Oklahoma. They're OK!
#7 Georgetown vs. #10 Northern Iowa
Georgetown anagrams to "Note egg row" which reminds me that I already picked one team based on their egginess. Any more egg would not be good for the Minneapolis regional's cholesterol. Take Northern Iowa.
#8 Arizona vs. #9 Wisconsin
As the proud descendant of hearty British stock, I still haven't forgiven Arizona for making off with the original London Bridge. So I'm going with the Dairy State on this one.
Posted by Lou at 04:01 AM | Permalink
A Lion Ate My Ozone Layer
With the exception of the projector bulb throwing Power Point slides against a large, white screen, the only light in the hall came from the display cases holding long-dead animals in action poses. From where I was sitting, I could casually examine the almost playful-looking faces of two male lions that inspired a Hollywood movie. Someone at The Field Museum obviously has an interesting sense of humor to set up a lecture on atmospheric ozone depletion right next to the man-eating lions of Tsavo.
I was at the lecture with DB (darling boyfriend) to settle a dispute. DB said that the hole in the ozone layer above Antarctica was nearly closed, and I strenuously disagreed. When I saw a blurb for "Is Earth's Ozone Shield Recovering?" I figured we'd have our answer, and I'd know whether to drive with my car windows down this summer slathered in SPF-40 or blast the A/C without concern.
The ozone lecture was the second of four forums on climate change sponsored by NASA and the Adler Planetarium and Astronomy Museum. The speakers were Dr. Paul A. Newman of NASA's Goddard Space Flight Center, Dr. Stephen Anderson from the U.S. Environmental Protection Agency, and Richard Benedick, a former U.S. ambassador and current president of the National Council for Science and the Environment.
Newman's quip about being no relation to his namesake, but "please buy my salad dressing" received a smattering of polite titters, but we all were impressed that Benedick had an honorary doctorate in metaphysical poetry from Oxford University in England. I had to look this one up on the Web. Metaphysical poetry "investigates the world by rational discussion of its phenomena rather than by intuition or mysticism" (The Cambridge Guide to Literature in English, p. 623). It would seem, then, that Benedick is the perfect ambassador for science in our technovoodoo world.
Anderson and Benedick spoke mainly about how the 1987 Montreal Protocol to eliminate ozone-depleting chemicals from the stream of commerce was negotiated. I was surprised to learn that only two nations have not signed the treaty and its successors. There went my theory that this problem got action because skin cancer is a disease of the pale.
It was the good Dr. Newman who took on the science of ozone for us. So, Doc, is the hole gone? No. Hurray, I was right. But it has closed significantly at various times due to seasonal climatic fluctuations. Boo, I was wrong.
Actually, the hole above Antarctica is the least of our problems. It was lucky we could see the ozone destruction so dramatically there because we probably would not have noticed it in the temperate zones in which most people live. Not only are people developing skin cancers from ultraviolet rays seeping through the cracks in the stratospheric ozone layer, but also fish and crops have been damaged. Cutting our production and consumption of chlorofluorocarbons, used widely as refrigerants, propellants, and flame retardants, and methyl bromide, used in agriculture, has slowed the rate of ozone depletion. Newman, who created the most accurate model for projecting ozone depletion and recovery rates, has estimated that we will be back to our 1980 levels of stratospheric ozone by 2067.
I'll be dead by 2067, but probably not of skin cancer if the ozone layer recovers the way Newman thinks it will. The UV menace is still out there and taking a bite out of us, but it looks like we've got it in our crosshairs. Another man-eater that eventually will get stuffed.

Posted by Lou at 01:35 AM | Permalink
RockNotes: Kill Category
"Legendary death metallers Cannibal Corpse have set Kill as the title of their tenth album, due March 21 via Metal Blade Records Europe. The CD is being recorded at Mana Studios in St. Petersburg, Florida with producer Erik Rutan (Morbid Angel, Hate Eternal).
"Comments bassist Alex Webster: 'Hey everybody, since word seems to be out, we figured we'd make it official. Our new album will be entitled Kill.'
"With regards to the new album's musical direction, the band had previously said, 'We are doing everything we can to make sure it's the heaviest, most brutal one we've ever made.'
Kill?
"Revolution. We are a power and finesse vocalist/harmonica player/songwriter and a bassist/keyboardist/multi-instrumentalist seeking a guitarist of equal caliber (Jimmy Page) for an original and touring band. We will be touring Europe this summer . . .
"I speak from the fire and strike heavy with of the sword, in a chorus championing people long oppressed and long suffering. Music is the gift from God to definitively pronounce our uprising and redemption. This means the poor, the meek, and the oppressed.
"The name of this band is: The Epsilon Rising . . .
"The less limits you have, the better. Regarding image, the longer the hair, the better. If you believe in revolution through music, and you have your place to prove in the world of musical giants, then this is the opportunity you have been seeking. Ethnicity is encouraged as we are dealing with the reality of God and all man, not just modern white materialistic, celebrity craving 'reality', but truly, the counter culture of human reality.
"Double read this!!!! ---This is for a serious, DISCIPLINED, dedicated musician who is in our mindset and wishes to audition for this band. Come with the expectations of working, critiquing, being critiqued, long songwriting sessions, use of white boards and notes, discussing theory, long recording sessions, playing out often, being in a bus often, and awful lot of practing and rehearsing, frustrations, communicating, success and fun!!!
"I mentioned practicing because we plan to continuosly push our limits, and being satisfied with the level we are at is complacency, and not a part of this band. If what we are asking to complete this audition seems demanding, we recognize it is. If you are unable to go this distance, then this band is not for you. There are many others to audition for or create on your own. It is not necessary to critique our expectations, but rather we hope that you take a pro-active approach and create great music that meets your own vision!
"Again, we self-critique and explore many variations of our music and covers. What we do not do is compromise our music in order to avoid dissagreements or tension and just 'move on.' This is a way of life, my life, the bassist's life, and in this band, we struggle with the music until we are all satisfied. Please be in the same mindset and have experience working in this manner. If you can not take constructed criticism, or give it, if you can not focus in on the same song for days and weeks as it evolves, then this band situation is not for you. If what we are saying is does not reflect your personality, save your time and words as this band is not for you -- there are many other bands to audition for to suit your expectations or create a band in your own image. This is for a guitarist in our image, and it is not for everyone, but one."
- The posting that started it all on chicago.craigslist.org
Pistols Kill
"Fame at $25,000 if we paid for a table, or $15,000 to squeak up in the gallery, goes to a non-profit organisation selling us a load of old famous."
- from the Sex Pistols' letter to the Rock and Roll Hall of Fame, declining to attend ceremonies inducting the group

Posted by Lou at 12:01 AM | Permalink
April 01, 2006
The Weekend Desk Report
Stories we'd really rather not keep an eye on this weekend, but we just can't turn away.
'Roids of Summer
The Major League Baseball season opens this weekend, which means it's time for another ham-fisted, bacon-armed and pork-bellied attempt to clean up the sport. It'd be shooting fish in a barrel for us to predict how this investigation will play out given that the actual investigating has already been done, but let's just say we're pretty confident Japan is going to win this thing.
You've Got Appoint . . .
Plausible deniability got in a nice 10K training run this week when reports emerged that Gov. Rod Blagojevich had met Claudette Marie Muhammad prior to her controversial appointment to a state anti-discrimination commission. However it seems the governor meets far too many people to remember any of them, even those he subsequently appoints to high-profile positions. And we applaud him for this. After all, if employers were expected to remember all the people they hire we never would've landed this sweet gig. So get down wit' your forgetful self, Rod.
(Although, for the record, you're still on your own with that Daily Show thing.)
Justice DeLayed
In the wake of news that a former top aide to Tom DeLay pleaded guilty to conspiracy and agreed to cooperate with a federal corruption probe, we will begin mapping out the plausible deniability marathon route this weekend and apply for the necessary permits.
Go With Your Gut
When a movie studio takes more than 10 years to produce the sequel to a successful film, it's generally not because the filmmakers are having trouble deciding which brilliant ideas to include. In fact, it's usually because the filmmakers have run out of things to say, or because it took them that long to forget what a cheesy train wreck the first film was. Either way, kids, if a pretty blonde lady offers you candy this weekend, we advise you to run.
Heaven Is A Place On Earth
Here at Beachwood Weekend Desk HQ, we've been saying for years that the road to heaven is paved with empty pizza boxes. We just didn't think they'd be from frickin' Domino's. So this weekend we'll be taking our good intentions over by the road to hell. At least we can score a decent slice of deep dish.

Posted by Lou at 07:50 AM | Permalink