« February 2006 | Main | April 2006 »
March 31, 2006
The [Friday] Papers
Chicago Tribune sports columnist Rick Morrissey today expresses a sentiment I have heard from a couple others in the paper's sports department over the years: His bosses should sell the Cubs.
"A newspaper has no business owning a baseball team, in the same way a newspaper would have no business owning a cell-phone company, an insurance company or any other company it might have to cover as a news story," Morrissey writes.
For a newspaper to own a sports franchise is, for a sports section, akin to a newspaper owning City Hall. No matter how pure everyone may act, the coverage will always be called into question. And that's untenable for a newspaper's credibility.
Besides, it puts the paper in a no-win situation. When it gets scooped on Cubs news, it is ridiculed for not knowing what's going on in its own company. But the paper would be wrong to ask for special consideration in getting tipped off to Cubs news as well.
It's a burden the sports section and the rest of the paper should not have to live under--and it's not clear that the financial benefits have been worth it, if the analysts are correct (or that those benefits have flowed appreciably to newsroom resources).
The situation also makes a mockery of the vaunted ethics policies of both the Tribune Company and the Tribune newspaper itself. Consider: A reporter can't accept a gift worth more than a keychain but the company can own a baseball team it not only reports on in print, but broadcasts on its TV and radio stations, which in turn cover the team as well, etc. etc.

Morrisey's column is in response to numerous recent rumblings, including a Wall Street Journal article on Thursday, about possible moves the Tribune Company may have to take to shake off the lethargy of its stock and satisfy Wall Street.
It also comes on the same day that we learn that the Tribune Company sought out and accepted a $1 million naming rights deal for its famed bleachers from Anheuser-Busch.
Make that, now, the Bud Light Bleachers. Aren't you psyched?
Anyway, the day the Tribune Company bought the Cubs was the same day that James Squires was hired as editor of the Chicago Tribune.
"'What do you think of that?' [Tribune publisher Stan Cook] asked me, obviously elated that the Tribune Company now owned the city's favorite baseball team," Squires recalled in his 1993 classic Read All About It! The Corporate Takeover of America's Newspapers.
"'You know, it creates some problems for the newspaper,' I responded, trying to be gentle.
"'Not at all,' he said. 'It'll be great.'"
Squires went on to say: "[F]or the newspaper, being a corporate sibling of the famous baseball franchise became a nightmare--a constant source of tension within the sports staff, a political liability in the newspaper's relationship with the public and a regular cause of corporate bickering. Time after time in the next nine years [that Squires was editor], being owned and managed by the same people who managed the Cubs created management and credibility problems for the Tribune."
I have written before--as Morrisey writes today--that I haven't seen any evidence that the Tribune sports pages are biased in favor of the Cubs. But we will never know if, for example, an enterprising staff reporter might have decided to dig into the team's finances or proposed a harsh appraisal of the company's ownership efforts if there wasn't a risk of alienating the bosses. As former Tribune Company director Don Rumsfeld might say, the unknowables are unknown.
It's a conflict of interest that the newspaper wouldn't begin to bear in another civic institution or in the political realm.
So let the "Sell the Cubs Campaign" begin on the Tribune's editorial pages, which are so good at telling everyone else how to do the right thing. Tell it to your bosses.
Sweet Apartment Chicago
As much of a Neko Case fan as I am, the most interesting nugget in the interview she gives to Chicago Sun-Times rock critic Jim DeRogatis today is the one that rings true with many of us but seems to be of no concern to City Hall or the major media, who seem so thrilled that the middle-classes and below are being purged from the city.
DeRogatis: Isn't [the weather] what prompted the Handsome Family to move to the Southwest?
Case: I thought they were excited about the price of homes in Albuquerque. Basically, all of us in Chicago who have ever looked for a house have been immediately squashed. I may eventually leave, simply for that reason, but not because I don't love it.
Mariotti Melee
Cubs President Andy MacPhail and White Sox chairman Jerry Reinsdorf attack Sun-Times columnist Jay Mariotti today in a Letter to the Editor to his paper.
The issue is Bud Selig's handling of steroids. But Mariotti's work habits come under attack as well.
"As is not uncommon with Mariotti," the owners write, "he has made no effort to be the least bit informed on this important subject."
In closing, MacPhail and Reinsdorf add: "If Mariotti would ever trouble himself to make a phone call, maybe he would get the story right."
Mariotti takes on Selig again today.
Obamalamadingdong
Sen. Barack Obama is gearing up to write another book.
Quick, name his top three accomplishments.
No, I don't think speeches should count, but if you must, that's one.
Uh-huh. I see. Well, can you tell me what made him such a great Illinois legislator? (You do know he served in the state legislature before becoming a U.S. senator, right?)
Can you tell me what the top three issues are on his agenda right now?
No, I don't think running for president counts.
No, I don't think I'm being unfair.
Well good day to you too.

Notes From Beachwood HQ
Having just completed our first month of existence, we can safely report that we are an international sensation. Among the countries tapping into The Beachwood Reporter and their hit totals in just the last two weeks:
Canada (435 ); United Kingdom (189); Argentina (181); Australia (131); Mexico (128 - even before I mentioned Lou Dobbs yesterday); Spain (96); Switzerland (81); Russian Federation (78); Czech Republic (71); Italy (53); Netherlands (48); Yugoslavia (36); France (31); Singapore (30); Croatia [Hrvatska] (29); India (27); Poland (27); Greece (13); Japan (7); Austria (5); Germany (4); Israel (4); Seychelles (3).

We have also recorded 111 hits from the U.S. military.
We are averaging more than 10,000 hits a day, a number that would be higher if our weekend numbers weren't so dismal, and have peaked at 39,000 hits one day and 37,000 hits another.
Of course, hits are not the same as unique users, though there is a good technical reason, I'm told, to believe our statistics tools are undercounting unique users. But we can safely say we have had at least 2,200 unique users in the last two weeks alone.
We are ever so close to having our advertisting and financial tools in place, so we are officially kicking off The Beachwood Readership Drive to go hand-in-hand with the revenue strategy that will unfold over the next few weeks. So keep reading, and tell everyone you know to keep reading so we can keep this thing afloat.
Where else, for example, can you get I, Store Detective? Taxi Cab Journal? Crank Calls to Misleadingly Named Suburbs? Politics Beachwood-style? (And don't forget, you catch up on The Papers here.)
We've got a lot more to come, as soon as we learn how to make those damn news feeds show up the way we want them to, for example, and when I find the time to get that photo page going, and when we can get Beachwood-style click polls on the march. So stick with us.
And if you want to join the Beachwood team, we need help in all areas, from news reporting to business management, and particularly in geeky techdom and ad sales. Send me a note and we'll put you to work.
The Bud Light Beachwood Tip Line? Now accepting bids.
Posted by Lou at 06:58 AM | Permalink
March 30, 2006
The [Thursday] Papers
So it turns out the big immigration rally here in Chicago a few weeks ago was just the beginning. A string of protests in other major cities followed and now, suddenly it seems, immigration has leapt to the top of the nation's domestic agenda.
Of course, in reality it's not so sudden. Immigration has been building steam over the years for a variety of reasons, and it's peaking now in large part due to legislation currently moving through Congress.
But it still seems sudden.
Does this mean that Jim Oberweis was actually ahead of the curve?

The best evidence of the complexity of immigration policy is how it doesn't fit into an ideological box. Fighting to protect illegal immigrants, for example, may be a noble defense of a hard-working, exploited underclass trying to achieve the American Dream, or it may be playing into the hands of the corporate exploiters using them as a source of horrendously cheap labor. Just to use one simplistic example.
Eric Alterman, the leftish author/pundit who writes a column for The Nation and a blog for MSNBC, included this item this week in a list titled How Would I Know?:
"Immigration. About twelve years ago, I got Rolling Stone to send me to San Diego to ride around with the Border Patrol for a week and chase illegal immigrants trying to sneak across the border. I could probably spin that into a column about today's hot-button topic, but I don't feel like it. We can't close the border and we need those people. But we can't let everybody in or punish law-abiding people. What to do? Hell if I know."
That about sums it up.
What makes the immigration issue so vexing is that it is really an entanglement of several disparate and often conflicting issues, from security and border control to economics and globalization. It is also unavoidably about race (both the race of those coming here and the race of those here who are impacted by the labor competition) and identity (is America a nation of immigrants, even illegal immigrants, or are we something else?)
I'm less concerned with the issue of border security (can't we just let everyone in who wants to come, but register them as citizens at the border?) than I am of the labor and economic questions surrounding immigration policy. What rankles me the most is the talking point I hear repeated most frequently: That (illegal) immigrants are willing to do the jobs that Americans won't. What I hear is racial code: Immigrants are willing to take on the worst of the worst jobs under sometimes illegal (or ought to be) conditions to make it in America, unlike, say, poor blacks.
This is the proposition I would like to see reporters explore most fully: What truly are not just the top-down economics of immigration, illegal and otherwise, but the bottom-up realities?
Mary Mitchell writes a bit about this today in her Chicago Sun-Times column.
The New York Times reports today about Republicans worried that the immigration issue will harm them with Hispanic voters.
Even Christian evangelicals are split on immigration, according to this story today in The Wall Street Journal.
Better yet, tune in to Lou Dobbs every day at 5 p.m. on CNN and see if this will be the day he spontaneously combusts. That's just one reason why I keep watching.
Second City Syndrome
The city council approved a zoning change sought by the folks behind the proposed Calatrava spire on the lakefront, also known as The Screw.
Alderman Burton Natarus, who represents downtown, said the skyscraper "puts Chicago on the map."
It's about time. Maybe we'll finally . . . I can't. This joke is too easy.
Meanwhile, Mayor Richard M. Daley said that "We have great skyscrapers here. And they employ a lot of people in construction--and even afterwards."
And even afterwa . . . Oh. I can't compete with these guys, they write their own material.
Troubled Trib
"Tribune's stock price has slumped to multiyear lows, Wall Street analysts have slapped the company with rare 'sell' ratings, and the company's strategy of corralling advertisers by owning newspapers and television stations in the same markets seems to have flopped."
- from a Wall Street Journal article today about the increasing pressure Tribune Company executives must be feeling to "do something," like sell the Cubs
Corruption Corner
The Michael Tristano plea deal in which he admitted steering state resources (your tax dollars) into Republican political campaigns does not bode well for Lee Daniels, onetime Speaker of the Illinois House and current state representative from Elmhurst.
"There's no allegations that I did anything wrong," Daniels said yesterday.
But the plea agreement says that "In both his capacities as chief of staff and executive director, [Tristano] reported to and took direction from Lee Daniels."
Rich Miller provides a nice roundup of links on his Capitol Fax Blog, including the plea agreement and the first Crain's Chicago Business story that kicked the whole thing off.
Flying Bind
Lynn Sweet dissects the ethics and lobbying bill that passed the U.S. Senate yesterday that would enact new restrictions on gifts but still allow members of Congress to accept free flights from lobbyists.
The print illustration accompanying Sweet's column is not reproduced online, because, well, the Web isn't really a visual medium.
Too bad, because Thomas Frisbie's handiwork nicely depicts a bunch of airplanes flying around the U.S. Capitol, whose American flag has its stars replaced by a dollar sign.
The airplanes are labeled as follows:
* Panhandle Am
* Air Mooch
* Cookie Jar Corp.
* Quid Pro Quo, Inc.
* Handout Co.
* Rent-A-Senator
* Free Ride Airlines
* Swine Flew
In the Webb
If the George Ryan case ends in a mistrial, the law firm defending him, Winston & Strawn, is in quite a quandry that has everything to do with money and nothing to do with the law. Read why in this Tribune report.
Our Tip Line is pro bono, even if you work at Winston & Strawn. Especially if you work at Winston & Strawn.
Posted by Lou at 07:48 AM | Permalink
March 29, 2006
The [Wednesday] Papers
It was a real cliffhanger in the Democratic primary for the sixth district seat of the Illinois House of Representatives.
With 79 percent of the vote counted last week, for example, unofficial results put challenger Darryl Smith ahead of incumbent Esther Golar by five votes, in a four-way race.
The Chicago Defender reported on Monday that Golar had inched ahead of Smith with 111 of 114 precincts reporting; Golar had 4,201 votes (40 percent) to Smith's 3,892 (37 percent). A third candidate, Samuel T. Bunville, had 16 percent of the vote, while the fourth candidate, Keith Kysel, notched 7 percent of the vote.
Today the Defender reports that Golar's margin has held; with all precincts reporting, Golar claimed 4,343 votes (40 percent) to Smith 's 3,971 (37 percent).
With no one running on the Republican side, this was the election. And what a barn-burner it was.
But in searches of LexisNexis, Google, and the paper's own Websites, not a single story about this race turned up in the Chicago Tribune or the Chicago Sun-Times.
Why should the papers have been been interested in this particular race, besides the standard fact--which ought to be enough--that the contest is for a Chicago seat in the state legislature?
Because the sixth district (among others) represents Englewood.

With all the media's pathos and moralizing over the recent shooting deaths of two young girls in Englewood, you'd think maybe the papers would be interested in the public officeholders of the community.
You'd think wrong.
And it's not as if the campaign was a stiff. The incumbent, Golar, was appointed to the post by party committeemen after Patrica Bailey resigned amidst her conviction for fraud and perjury after it was discovered that she used a fake address on election documents and didn't actually live in the district she represented, which is required by state law.
Golar--whom I'm pretty sure isn't 23 years old as the Sun-Times once unquestioningly reported in a news brief--was not an outrageous choice, having been a community organizer for 16 years, a civilian employee of the Chicago Alternative Policing Strategy Program for eight years, and board secretary of the Neighborhood Housing Services for nine years.
Her current House committee assignments include Appropriations-General Service, Child Support Enforcement, Mental Illness, Veterans Affairs, Judiciary II-Criminal Law, and Tourism & Conventions.
So she has a record to evaluate.
Smith is the head of The Englewood Political Task Force, which, among other things, claims to have won 375 construction jobs for neighborhood residents. He might have been worth listening to. Bunville is a former social worker and former police officer who serves in the Navy Reserves. Kysel is a bus driver, substitute teacher, and real estate agent.
And, according to this story in the Near West Gazette, the race started with three other candidates, including a truck driver who died after qualifying for the ballot and a former state representative.
Not enough to interest the dailies, though.
The Tribune sees fit to write a story about how clout determines the divvying up of CeaseFire funds--a story that says Bailey's lobbying for Englewood's share was adequate despite a less-than-adequate result--but isn't interested in how the next representative plans to go about the job.
Other standard campaign elements were present as well. Golar, for example, received some interesting contributions down the stretch, according to state election records, including:
* $10,000 from the controversial Hispanic Democratic Organization.
* $2,000 from Michael Noonan of The Roosevelt Group, the lobbying firm of former HDO maven Victor Reyes
* $2,000 from the Illinois Road Builders Association
* $1,000 from Exelon
* $2,707.24 from Speaker Michael Madigan in the form of postage
* $2,500 from Assisant Majority Leader Edward Acevedo
* $1,000 from the 23rd Ward Regular Democratic Organization
So Golar was clearly the Establishment's choice.
Smith's contribution data was not on-file electronically with the State Board of Elections as of this morning, though the state did have a record of the existence of his campaign. I say that because Bunville's name didn't turn up anywhere on the election board's Website and the only information on Kysel showed that he ran for alderman in 1999.
Experienced political hands in Chicago might suspect Bunville and Kysel of being plants put in the race by Golar's people, but I'm not about to start throwing accusations around.
This campaign also had election day hijinks, though it's not clear who was zooming who. According to the Defender, two Smith supporters were reportedly arrested outside a polling station and charged with electioneering.
It wasn't the Smith campaign's first tangle with police. In January, the Defender said, Smith filed a complaint with the Chicago Police Department Office of Professional Standards alleging an illegal raid of his campaign offices.
Perhaps more curious, the Defender says that Golar has not returned its calls over the last two months.
Maybe she's simply not used to getting calls from the media and hasn't yet learned how to call them back.
So we don't know how Golar plans to represent Englewood and the other neighborhoods under her watch as a state representative. Reporters from the Tribune and the Sun-Times couldn't be bothered to ask. Perhaps the next time the papers editorialize about how somebody ought to do something in Englewood, they ought to redirect their editorial into an internal memo.
Pols-in-Residence: So, aside from the lying, Patricia Bailey was convicted of doing just what Tammy Duckworth will be doing should Duckworth win her congressional race--living outside the district she would represent?
Gag Me
Still no explanation of the gag order issue about the Tribune I raised yesterday. Perhaps we're all under a gag order now and I didn't get the memo.
Judging TV
Judge Rebecca Pallmeyer, presiding over the Ryan trial, again warned jurors Tuesday not to read the newspapers or watch the TV news. The same restriction does not appear to apply to her, as she has referenced in recent days media reports about why background checks weren't done on the jurors. But isn't she susceptible to being influenced by news reports as well? (Or perhaps she is responding to reporters's questions and not news reports . . . but is she bound by the same restrictions as jurors?)
Sun-Times Gagging
While the Sun-Times is still not naming the two jurors dismissed from the George Ryan trial this week, the Daily Herald on Tuesday commendably profiled one of them, Robert Pavlick, and in so doing presented a fuller human picture of a seemingly well-liked man who works at Home Depot in Palatine but certainly has had a troubled past.
None of Our Business
"While awaiting an appointment at the Capitol, [Illinois Department of Transportation] Secretary Tim Martin declined to answer any questions about Holland's audit without a spokesman present, saying there was no one there to protect his 'interests,'" Dave McKinney reported in the Sun-Times today.
Which is understandable, because we pay a lot in taxes so these guys can hire mouthpieces to lie for them instead of doing it themselves.
In Today's Reporter
What treats we have for you!
Why the suburbs are fundamentally dishonest.
I, Store Detective, Chapter 1: Five-Finger Discount.
Two network comedies that are actually comedic.
Our Tip Line is pretty funny, too: Try it and see what happens.
Posted by Lou at 06:58 AM | Permalink
It's Gold, Jerry. Gold. Two New Network Comedies Pass a Stringent Humor Test
As a TV viewer, I have a lot of rules. All of these rules must be strictly met or the corporate Hollywood types who blithely assume I'm a typical drooling idiot out here in flyover country are never going to get the satisfaction of adding me to their roster of patsies. So, given that the stakes are so high, I have a load of conditions that must be overcome for me to actually invest even an ounce of loyalty to a network TV show.
This is especially true with comedies.
Yes, I am difficult to please, but multiply my built-in baseline by 10 and you'll begin to understand my highly emotional relationship with comedies. To me, comedy is of the essence. You can make a bad show about cops or doctors or psychic profilers or girls that talk with God and I'm not going to take it personally. So if CSI: Miami is egregiously cliched or if Law and Order seems like a kind of meaningless tribal ritual--no skin off my nose. After all, whether I get the satisfaction of knowing that it was the guy's parole officer, NOT the guy himself, who actually stole the money and shot the woman, ultimately means nothing to me. Puzzle solving does not get me high.
But laughing, that's completely different. I take laughing so personally that failure to deliver is a serious offense in my book. So network TV comedies have a lot of hurdles to jump to get from point A (the smoke-filled Burbank writers' den) to point B (my funnybone).
Here are a few of the rules I have (just a few of them, mind you):
1. It shall not have a cute kid who can't act (that pretty much eliminates anything from the 1980s).
2. It shall not have any episodes involving The Prom.
3. Any "lessons" to be "learned" must be done in such a way that you don't know you've learned any lessons at all.
4. It shall not involve un-ironic suburban families (i.e., Tim Allen).
5. It shall never have an episode revolving around a dog or cat.
6. Nor shall there be any storylines about a rich, fun-loving uncle who's actually broke.
7. Or any "special episodes," like the one on Diff'rent Strokes where Arnold is stalked by a child molester. They should all be special episodes. If they're not, then why the hell am I watching?
I could go on. With all these rules, it may seem unlikely that any comedy could get even half-nodding approval from me. But we are indeed living in a golden time, my friends, because there are not one, but two new comedies on network TV that, so far at least, have cleared my fearsome humor hurdles.
Both new shows, despite the denials of their creators, are picking up Arrested Development's slack in the no-laugh-track, seemingly-improvised-dialogue category. ABC's Sons and Daughters (Tuesdays, 8 p.m.) and Fox's Free Ride (Sundays, 8:30 p.m.) both boast that wonderful kind of humor that until very recently has been rare on TV sitcoms--smart, character-driven sarcasm, usually triggered by the truly distressing personal defects of family members. I mean, how much more like real life can it get?
I really approve of this trend. It seems to me that snarky comments about your teenage son's constipation problem--a problem that's complicated by the fact that you don't know how to deal with it because you're living with him for the first time since he was six--is gold, whereas strained wacky hijinks involving Lucille Ball-type schemes to keep your boss from finding out you've trashed the assembly line (where most sitcoms still go) is deadly.
On Sons and Daughters, Fred Goss, who stars as the guy with the constipated son and also is the series co-creator and writer, one-ups Ron Howard from Arrested Development; while the Bluth family in the latter show were hilarious but all caricatures, the Walkers on Sons and Daughters are just as funny but also uncomfortably real. It's as if the stream-of-consciousness comedy dialogue of Arrested were put into a Christopher Guest mockumentary set in suburbia.
The main relationships in the show (and there are a ton of cast members) are between Cameron (Goss), the 40-year-old family breadwinner, his second wife Liz (Gillian Vigman, and Henry, the pissed-off teenage son from Cameron's first marriage (Trevor Einhorn, who played Frasier and Lilith's son on Frasier-- he's a revelation) who has just come to live with them.
The byplay between them is awkward, and so very funny. With resentment of his dad barely under control, Henry comes into his parents' bedroom desperately trying to find a way to solicit advice about his chronic constipation problem without involving his father:
Henry: Ummm, hi. Is this OK?
Cameron: (surprised) Uh, yeah, sure. Usually it's one of the little ones coming in.
Henry: Yeah, I don't like coming in here. Um, I kind of need to talk to you about something.
Cameron: Sure.
Henry: No, not you. Liz. If that's OK?
Liz: (surprised) Oh, sure. (They go into hallway). It really means a lot to me that you want to talk.
Henry: Yeah, well, this is really awkward . . . When I pull down my pants, it . . . (cut back to Cameron, pacing and upset in the bedroom. He puts his ear up to the door) . . . I really don't want to be talking about this anymore, he could be listening!
Liz: No, of course he wouldn't (re-enters the room).
Cameron: What did he say?
Liz: He asked me not to say anything.
Cameron: If I guess it will you nod? Just a little nod?
See, there's no laff-out-loud gags here. It all derives from the premise. And lessons get learned, but in a really nice, unobtrusive way--the way it should be.
The executive producer is Lorne Michaels. The show also has this warning at the beginning of the show, which I can't quite decide is legitimate: "The dialogue on Sons and Daughters is partially improvised." Should we be afraid or something?
Over at Fox, where Arrested Development spawned a bit of a movement before being axed for low ratings, another laugh track-less comedy has emerged, this one on Sunday nights after Family Guy. Free Ride also has the improvised dialogue and ambition to say something about screwed-up modern family relationships, but in a dumb-guy kind of Fox way. That's how it's done there.
Free Ride, despite a nice turn by Canadian hottie Josh Dean as the lead--an ineffectual, sensitive surfer boy who has to return home to bleak Johnson City, Mo., and face the screwed-up parents--he belongs lock, stock and barrel to Chicago Second City and MTV alumni Dave Sheridan. Sheridan is the thinking man's mullet-head. He's one of those big, loud, very stupid guilty pleasures that Fox always has seemed to have up their sleeves.
His character, Mark Dove, drives a jacked-up pick-up and takes over Dean's life like the long-lost friend he never was. In fact they barely knew each other, but that doesn't stop the oblivious, party-hearty Dove from stompin' a mudhole in our hearts. Dove is the kind of arrogant but ultimately well-meaning buffed-up guy who'll join a heavy metal band and not figure out they play Christian rock until he's forced to go to church with them on Sunday morning. He wins the shopping mall tanning contest for three straight years, comparing himself favorably to a rotisserie chicken. He has a tattoo of Kip Winger.
Free Ride is, above all else, a put-down of the kind of dumbshits that make the red states so damn red, and coming from Fox, that means something. It's surprisingly light on the toilet humor and on the Life Lessons Learned sitcom scale; with one being obnoxiously obvious and 10 being barely noticeable, I give it a healthy 8.5. But watch it for the mullet-man. He knows his stuff.
Posted by Lou at 03:06 AM | Permalink
Chapter 1: Five-Finger Discount
You see the worst kinds of low-lifes in this job. Not the mobsters, the crass developers or the crooked politicians that run this town; but the liars and the thieves, the thrill-seekers and the junkies, all of them looking for that five-finger discount. My name is Jim Brody, and I'm a store detective.
Days like this are the ones you learn to savor on this job. The Wednesday before Thanksgiving. It's a dreary morning, the rain fading before it hits the sidewalks along North Michigan Avenue. You'd think people would want to come in from the cold, ease their minds in the paperback section, get a jump on their holiday shopping. But you have to go outside to come in from the cold, and nobody's going anywhere today.
I'm on at 11, walking my usual pattern. The store's so quiet I can hear the listening stations from the music section all the way across in the cafe. They're playing that Arctic Monkeys album again. Lucy is pouring my usual, a double-shot cappuccino, easy on the foam. "They turn those headphones up way too loud," she says, glaring hard over a plate of fresh-baked oatmeal raisin cookies. "Sometimes I think it's going to drive me crazy."
"I know, kid," I tell her. "But they've got to do it. How else are they going to pull in customers?"
"Some customers. All they ever do is hang around there listening. I never see any of them buying anything." She leans a little closer to me. "They're just a bunch of freeloaders, Jim, standing there all day using our electricity. It's a disgrace. Can't you do something about it?"
"There's no law against browsing, Lucy. You know that." I touch her hand softly. "But I'll tell you what. You ever see one of them try to pocket the latest Michael Buble, you call your old friend Jim. I'll make sure they don't get away with it."
She smiles that little crinkly-nosed smile of hers. She's a good kid, Lucy. Pretty, too. Sometimes I think this city's too rough for a sweet-natured girl like her. "Come and see me later, Jim. I'm baking those banana-walnut muffins you like."
I head to the lower level, where they keep the children's and young adult books. It's a tough stake-out for me. I'm supposed to blend in, not draw attention to myself, but who wouldn't notice a single guy in his early 20s rubbing elbows with a bunch of kids?
There's two young-looking teens wandering around the latest Nancy Farmer book display. If these kids have any taste, they'll go for the hard-cover titles. I take up a spot directly across in the travel section, grab a book off the shelf and start flipping through it. One of the teens is getting close to the good stuff, looking over his shoulder to make sure no one's watching. He's going for it, I can feel it. I've got my hand on my cell phone, ready to buzz security, when the other kid calls out, "Hey, we've got to go meet Mom for lunch."
"Yeah, OK," he mutters. The two of them walk toward the escalators, empty-handed. It's a load off my mind. No one likes to see some kid get prosecuted to the fullest extent of the law, not when he has his whole life ahead of him.
I'm about to breathe a sigh of relief when I hear a woman's voice. "Planning a trip to Portugal?"
I look up and see her sitting there, honey-blond hair shimmering in the soft, fluorescent buzz of the overhead lighting. It looks like she's been there a while, judging by the stack of books at her feet. Her coat is draped over the arm of the chair. She's wearing a loose-fitting pink sweater, but you can see she's got all the curves a woman should. I'm thrown off guard by her wide blue eyes, which are staring right at me.
"What did you say?"
"Portugal," she says. "That book you're reading? Are you going there soon?"
I've got to think fast.
"Portugal, yeah, I'm hoping to get down there next time I'm in Europe."
Her eyes open even wider.
"Do you go there often?"
"Oh sure, one or twice a month. For work."
"What type of work is that?"
It's time to change the subject. I take a quick look at the books by the side of her chair. Southeast Asia on a Shoestring, Vagabond Globetrotting, The Most Beautiful Villages of Tuscany. "It looks like you're planning quite a trip too."
She blushes a little, the color bringing out the soft angles of her cheeks. "I just like to read about all these beautiful places I'm never going to see. I try to come here once a week. Say, haven't I seen you in here before?"
My cell phone starts ringing. Thank God I forgot to put it on vibrate.
"I'm sorry," I tell her, "I've got to take this."
"Sure, I understand."
I flip open my phone and put it to my ear.
"Yeah?"
"Jim, it's Lucy."
She sounds like a nervous wreck.
"What's the matter?"
"I . . . I think I just saw something. Can you come up here right away?"
"I'm on my way."
To be continued . . .
Posted by Lou at 12:26 AM | Permalink
March 28, 2006
The [Tuesday] Papers
The Chicago Tribune explains its reporting in the George Ryan jury mess quite satisfactorily today. Columnist Eric Zorn adds some interesting details.
The newspaper did its job. I don't see how it could or should have handled this story any differently.
But can we just move on to the appeal now?

Bound by Gag? One thing continues to confuse me, however, and I regret that I haven't had time to track it down myself. Perhaps a reader can help.
In an earlier story on the now-expelled jurors, the paper said this: "The Tribune did not contact the juror for comment because doing so could violate a court order not to communicate with jurors during a trial."
In today's story in which the paper explained its actions, the Tribune said this: "Under normal circumstances, the reporters would then contact the subject of the story for comment. But an order from Pallmeyer prohibited contact with the jurors while the case is ongoing."
Surely Pallmeyer's gag order doesn't apply to reporters as well as the participants of the trial? Wouldn't that be extraordinary, not to say unconstitutional? I've never heard of a gag order being extended to reporters covering a trial.
It would be another thing if the paper decided to respect the gag order to avoid "tampering" with the jury. But for the media to accept a gag order on itself is a wholly different matter.
What if, for example, a juror called the newspaper to say he or she had been offered money to cause a mistrial? Or that the jurors were reading newspaper accounts of the trial during deliberations? Would the reporter taking that call say, "I'm sorry, but we're under a gag order. Tell it to the judge."?
Please clarify, Tribune.
Over at The Bright One: Now that the two jurors causing this mess have been dismissed, the Tribune rightly felt it was okay to name them, and even plaster a photo of one of them on the front page.
The Sun-Times, a daily reminder of what happens when you schedule ethics class too early to make, what with all the drinking, and you keep forgetting to borrow someone's notes, declined to name names "because a gag order in place bars them from responding."
But the jurors did respond, if only in the form of Robert Pavlick telling reporters outside his home, as quoted in the Tribune, "You're going to waste a lot of valuable time standing out here. I will give a statement when the trial is over."
The two jurors may still be under a gag order--though it's not entirely clear that they ought to be--but the decision not to comment is still theirs, and more importantly, their identities are newsworthy.
There is nothing unfair about naming them amidst publishing details of the public forms they filled out during jury selection or any other information in the public record.
The Trials of the Dan Ryan
Amidst the George Ryan hubbub, don't miss the Trib's front page story about how you, dear taxpayer, are being ripped off by a few folks allegedly skimming from state funds meant to help drivers navigate the Dan Ryan reconstruction.
Legislator Hendon Fails His Audition
I don't know what's worse, the fact that our state legislature, much like many of our other political bodies, seems to be inhabited by overgrown children, or the fact that its members are less witty than your average 7-year-old.
Daley Watch
"You'd be bankrupt tomorrow if you take every bid that came down from contractors," the mayor is quoted as saying in the Sun-Times. "You want us to accept all the bids? Then why don't you just join the contractors association. That's stupid."
I'm pretty sure the question put to the mayor wasn't, "Mr. Mayor, we see that the city rejected all the bids for a runway project at O'Hare. Why doesn't the city accept every bid it gets?"
Why does the City Hall press corps put up with this?
One More and It's a Trend
The embattled Chicago Convention and Tourism Bureau has also issued a gag order, which was promptly leaked to the media. The system works.
Ray of Demographic Sunshine
Editor & Publisher magazine has named the Daily Herald's Doug Ray the publisher of the year.
The magazine says that the suburban paper "is proving that a suburban daily can fend off a powerful big-city competitor and ambitious mid-sized dailies, take advertising market share from long-time category leaders, and grow circulation while the rest of the industry stalls--all the while investing in the areas many metros are scaling back: journalism, production equipment and circulation service."
Or maybe the paper is proving that, like a rich suburban kid, it was born in the right place at the right time. I'd be more impressed if the paper could show us an expansion plan that didn't correspond to income quintiles.
But what really caught my eye in this story is E&P's mention that the Daily Herald has 60 more employees than the Sun-Times.
What E&P got wrong is that that says a lot more about the Sun-Times's management than the Daily Herald's.
Catty Cat
Chicago artist Cat Chow, known for making clothing out of unusual items such as dollar bills and chain mail, was caught stowing away on a flight to Texas and now faces a federal charge.
"Maybe she'll learn how to make a dress out of license plates," says Tim Willette.
News from Beachwood HQ
It only took about three months to navigate the bureaucracy of the Secretary of State's Office, but The Beachwood Media Company is now officially incorporated in the State of Illinois. We will start bidding on roadway contracts shortly.
The Beachwood Tip Line: The best alternate route yet.
Posted by Lou at 06:53 AM | Permalink
Actual Crank Calls to Misleadingly Named Suburbs
"Mount Prospect Chamber."
"Hi. I'm thinking of looking for a place to live in Mount Prospect, and I'm trying to find out how high the mountain is and whether it interferes with TV or radio reception."
"The mountain is about ... 400 inches high."
"Oh. I thought Mount Prospect was named after a mountain."
"We are in Mount Prospect, but there is no mountain."
*
"Buffalo Grove Chamber of Commerce."
"I'm trying to find out where to go in Buffalo Grove to see the buffalo."
"What buffalo?"
"Aren't there buffalo in Buffalo Grove?"
"There used to be buffalo here. In the 19th century. This was a farming community in the 1840s and there were buffalo then. We have buffalo statues around town, but there are no buffalo."
*

"Elk Grove Village Chamber of Commerce."
"Can you tell me where in Elk Grove Village I can see the elk graze?"
"Can you hold for a minute?"
(Pause.)
"On the corner of Arlington Heights Road and Higgins, right across the street from Hoskins Chevrolet. There's a parking lot by the forest preserve, and it's not guaranteed, but more often than not, elk come by."
"Well, you're better than Buffalo Grove."
(Laughs) "Why, because they don't have any buffalo?"
*

"Village of Willow Springs."
"Hi. Can you tell me how to get to the springs?"
"Willow Springs?"
"The springs that the village is named after."
"I don't know. Do you want someone's voice mail?"
"Are there any springs?"
"Like hot springs? No."
"OK. Thanks."

*
"Chamber of Commerce."
"I'm thinking of looking for a place to live in Carol Stream, and I'd like to know if there are any housing developments near where the stream flows."
(Irritated pause) "There isn't a stream."
"Oh. Then how did Carol Stream get its name."
"That's someone's last name."
"Oh. Thank you."
"Bye-bye."
*

"Chamber."
"Hi. I'm thinking of moving to Vernon Hills, and I'd like to know which neighborhoods are up in the hills."
(Amused) "There actually are no hills. There may be a few little mounds."
"So there are no hills in Vernon Hills? You could be in trouble for truth in advertising."
"Well, Vernon Hills is kind of a romantic-sounding name. Are you familiar with what prairie land looks like?"
"Kind of flat and grassy?"
"Yeah. Vernon Prairie might be a better description."
*
"Northbrook Park District."
"I'm trying to find out where I can fish in the brook."
"When? Not now."
"In the spring."
"It's just catch-and-release."
"Where's the brook located?"
"Off Sanders and Dundee."
"And you just have to have an Illinois fishing license."
"I believe so."
"Thanks."
*

"Mayor's office."
"I'm coming to visit Blue Island and I'm trying to find out if there's a bridge to the island or if you have to take a ferry."
"No. Just normal streets. There's no water you have to go over."
"Oh, so it's not actually an island?"
"No."

Posted by Lou at 03:30 AM | Permalink
The Mix Tape, 1991: I'm 13, and I Live in Evergreen Park
I turned 13. I loved metal. Nirvana was a year away. I was not the most popular kid in my class. I discovered girls liked music. I made out for the first time. I did not start puberty. The year is 1991, and I live in Evergreen Park.
SIDE A
Stop! (Jane's Addiction, from Ritual de lo Habitual)
It was the album cover. The original album cover. I always went through the vinyl racks at Wind Records, even though the only turntable I had was a busted Fisher-Price portable unit. I asked the guy behind the counter who they were, not yet hip to a hipster's assumed knowledge. "They're playing right now," he said. And it was this song. I whiled away the next 45 minutes browsing and listening to this whole incredible album. Cheesy? Yes. Derivative of almost every '70s rock trope? Yes. I loved this album because it made me feel older, and because it was Rolling Stone's Critics Pick for Album of the Year (after I bought it!). Stop! was what I wanted drugs to feel like. And when I got older, I found that I was right.

Hangar 18 (Megadeth, from Rust in Peace)
Jack Stanley loved Megadeth. I loved Metallica. He made out with chicks from the public junior high. I began to like Megadeth. The album had a cooler-than-Iron Maiden comic book cover, and Dave Mustaine could shred. I think this song is about Area 51. I don't know. My brain shut out Dave's vocals.
Fade to Black (Metallica, from Ride the Lightning)
I wore huge glasses. My braces would have scared Tim Burton. The year before, two eighth-graders threw me in the dumpster, and the principal yelled at me because my clothes were too filthy for class. I related to this song.
You're Crazy (Guns N' Roses, from Appetite for Destruction)
I ripped off Columbia House for the first time at 10 and started my music collection. I peeled the wrapper off this cassette with my teeth when it finally arrived. I played this cassette so much over the next three years, the mechanism snapped. I grew up with six sisters, and other girls were not my forte. I wanted to run down 95th Street singing this song at every woman I met, shouting them down. I had some misogyny issues to resolve.
Pour Some Sugar on Me (Def Leppard, from Hysteria)
The British call it being a lad. Ya know, stylish guy, hit with the ladies. I wanted to be an American lad. It involved this song, roller skating, and having women fight over me while the referee skated backwards to break it up. A complicated image for an incredibly sophomoric song.
Welcome to the Terrordome (Public Enemy, from Fear of a Black Planet)
The closest I ever got to black people was occasionally the library, the Plaza, or the corner of 99th and Halsted. I certainly didn't know any. But if you couldn't tell, I had a certain affinity for angry music. And no one was more pissed off than Chuck D in 1991. On my door, he glared at my mother for even thinking of emptying my laundry from the Dirty Dunk. Next to him was a photo of what I now know as Flavor Flav's "grill." I grew up in a remarkably tolerant household within a toxically racist village. Chuck D's raps blistered any of that ignorance which may have adhered to me. He was my anti-Martin Luther King. "It's weak to speak and blame somebody else/When you destroy yourself." Word.
What It Takes (Aerosmith, from Pump)
I wanted someone to break my heart so I could feel Steven Tyler's pain. Big. Sappy. Ballad. But it moved me to tears.
Cherry Pie (Warrant, from Cherry Pie)
"So I mixed up the batter/And she licked the beater." 'Nuff said.
Beat on the Brat (The Ramones, from Ramones)
"Yeah, this is punk music." So said Brian O'Neill, one-third of the Brothers O'Neill who had such a huge influence on what I thought was cool. I didn't know punk from funk yet, but I loved this. Dumb and violent, like the best of Tom & Jerry. Unfortunately, this song turned to "Beat on the Brett" when Mike Spadoni and Mike O'Neill felt like giving me "deserved" beatings.
SIDE B
Don't Know What You Got (Cinderella, from Long Cold Winter)
A dusty for me at 13. I left my Crue-lovin' hair metal days long behind (one year). I wanted it faster and heavier--more shop vac, less feather duster. But I would fall in love with Bowie very soon, and my glam-lovin' roots lie right here. Some songs make you air guitar. Some you mouth intently late at night, plugged into your Walkman. This is one of the latter.
Paint It Black (The Rolling Stones, from Hot Rocks)
I bought Hot Rocks at the local Musicland with a Christmas gift coin a year before this and listened to it on my Walkman everywhere for a solid month. Walking home from school. Studying. Reading in bed. Regular radio became extraordinarily boring. I began my baby steps to Rock Snobdom. This was Serious Music. Not pretty; it was untamed. I would close my eyes at night with this song and, maybe like David St. Hubbins, think more black, more black.
Almost Grown (Chuck Berry, from The Great 28)
Another Columbia House heist. Chuck Berry played teen-aged blues, sure, but nobody ever played 'em better. His guitar licks hum and strut; they vibrate. He was black, he was cool, and I wanted to hang out with him all the time. I thought I was being hip and retro, but later I find everybody was into him. Kind of a bummer.
The Warmth of the Sun (The Beach Boys, from Endless Summer)
My sisters listened to crappy music. Phil Collins. Huey Lewis and the News. The Outfield. But they owned a ton of Beach Boys--records, 8-tracks, cassettes--nearly everything. This was my blues. Get cut from the team? Listen to Brian Wilson. Not get a girl to skate with you? Listen to Brian Wilson. Friends ditch you? Listen to Brian Wilson. Guy always knew what to say and empathized with you like crazy. The opening harmony of this song is a straight out music taste scythe for me to this day. Either you get goose bumps, or you just don't get it.
Five to One (The Doors, from The Best of the Doors)
Oooh . . . the Doors. Yes, everyone who loves music goes through a huge Doors phase. Mine went hand in hand with Jim Thompson novels right around the summer I was going into seventh grade. The Corniea Bros. played The Best of all the time, busting through their wonky, aging speakers, talking shit and drinking beer in a bombed-out basement. I sat and soaked it in, occasionally sneaking a smoke, that's it. Happy to be there. I thought this was punk. No, punk has art to it. No art in that basement. And no art in the Doors. I still love Jim Thompson, though.
Angel of Death (Slayer, from Reign in Blood)
Commitment. When I think Slayer, I think commitment. These dudes didn't just take the thrash Kool-Aid, they bathed in it. And it always sounded better coming out of Dennis O'Neill's locked bedroom. More secret. Plus, the real cool public school kids wore Slayer hoodies and would smash your weak-ass won-at-a-carnival framed Bon Jovi poster as soon as smile at you. I couldn't get that committed. But I loved knowing something that beyond the pale was out there for me.
Stairway to Heaven (Led Zeppelin, from Led Zeppelin IV)
Poetry to me then. I also thought drugs were like this song. Thank God I was wrong. The rest of Led's oeuvre I found pretty weak--not heavy enough. But Robert Plant tripping medieval and Jimmy Page at his most prog? To my Tolkien-trained ears, a true symphony. Sometimes it's good you are 13 only once.
Alison (Elvis Costello, from My Aim Is True)
First, the cover. It was me, looking back at me! Then this song. Almost Chuck Berry wedded to the Beach Boys. I could have sworn Elvis ripped it out of my heart's teletype. And my sisters loved him, so I knew he eventually got the girl. Elvis still gives me that faith.
4th of July, Asbury Park (Bruce Springsteen and the E Street Band, from Live/1975-85)
If you are a Brett, you wear Chuck Taylors and have a complete devotion to Bruce. I don't remember life before him, because to me it didn't exist. 1978, he was already the Boss. Bruce was sui generis, all eventual music I held dear to this day derives from him. And this song, well, it was nothing but electric. It's West Side Story mated to S.E. Hinton. I hung on every recycled word of it, because new to me then didn't matter. When you're 13, everything is new and most of it absolutely sucks. You want warm blankets. Bruce is still mine.

Posted by Lou at 02:57 AM | Permalink
March 27, 2006
The [Monday] Papers
Catch up with The [Sunday] Papers here, including a brief look at the stunning developments among the George Ryan jury, a challenge to the president of Exelon Nuclear, and the political sidelight of the Chicago Sun-Times's business editor.
In today's papers, there is one story that stands above all others as a must-read. Can even the most die-hard Republicans now claim that we weren't deceived into war by a president lacking judgement, among other shortcomings?
The president also spoke of assassinating Saddam Hussein here.
But denied it here.
Seat Belt Baloney
Is this what this campaign is going to be like? Pressing issues like a seat belt vote in the 1980s? Unless Judy Baar Topinka says she will try to roll back the seat belt law if elected governor, this is lame. (In fact, it might solidify her cred with the conservative/libertarian wing of the party none too thrilled with her generally moderate ways.) If you're keeping score at home, give Topinka half a point just to spite the Dems for wasting our time.
Use of Force
New York City Mayor Michael Bloomberg proposed last week adding 800 police officers and 400 civilians to his city's police department. "The crime rate has come down more so than anybody would have ever thought," Bloomberg said. "That's the time to make another investment to keep it going. In business, you would devote more resources to the successful parts of your business and cut back those that aren't successful."
According to 2004 figures cited by The New York Times, the size of Chicago's police force lags behind those of other major cities. Here are the number of officers per 1,000 citizens for the world's four biggest police forces:
LA: 2.4
NYC: 4.5
Philadephia: 4.6
Chicago: 4.7
Mmmm, Telecaster
But barely a mention of Springsteen, who put the Telecaster into the public consciousness as much as anyone? And no reproduction of that loving Tele photo online?
Next Year Is Here Again
With the Cubs and White Sox playing today in an exhibition game in Arizona, it's time to check in on the spring training standings. Not that they mean much, but the White Sox, at 7-18, have the worst spring training record in the major leagues.
Beyond that, four of the top five records in the American League belong to their Central Division rivals: Cleveland, Kansas City, Detroit, and Minnesota.
So, at least briefly, all is right with the world again.
The Cubs, meanwhile, are in the middle of the pack (13-10) in the National League. Their mediocrity is comforting.
The Trigger Was Pulled
Today's Tribune editorial in favor of a state ban on assault weapons appropriately connects the issue to the recent shooting deaths of two young girls in Englewood, but is curiously passive when describing the federal ban that was not renewed in 2004.
"Congress let a federal ban on 19 kinds of semiautomatic assault weapons expire in 2004," the paper says, without noting that while many Democrats were spineless weasels on the issue, both houses of Congress were (and still are) under control of Republicans and that, conveniently enough, a Republican sat (and still sits) in the White House.
And where did the Illinois delegation stand? Let's start naming names.
Race Case
"Why is it that only black people are expected to transcend race?" Laura Washington asks today. "Why is it that when African Americans vote as a bloc, it's called race-based voting, but when whites do it, it's called 'reform'? No doubt a goodly dollop of Claypool support was race-based."
Class Case
This letter appeared in the Sun-Times today:
Museums too costly for poor
The Museum of Science and Industry officials reported being "shocked" by the lack of racial and economic diversity in museum attendance as reported by a recent University of Chicago study. Study authors blandly suggest that, "Admissions fees, hours of operations and transportation are areas institutions may need to reconsider if they wish to broaden attendance."
I always knew those guys at U. of C. were brilliant. I mean, really, it doesn't take a U. of C. study to tell us that the average poor and working-class families can't afford the luxury of museum sightseeing. When my husband and I, both Chicago residents, went to the Shedd Aquarium a couple months ago, it cost us $34 to get into the museum and another $20 to have a sandwich. Our friends, a couple with three young children from Oak Park, paid the nonresident rate--more than $100.
Wake up, museum officials. Poor families aren't "overscheduled with soccer practices." They are trying to cover the essentials of daily life.
Wendy Siegel
North Center
In Today's Reporter
Serialized fiction has arrived at The Beachwood Reporter! Be the first on your block to get hip to the pleasures of "I, Store Detective."
We encourage continued persual of "12 Lists." You won't be sorry.
Timothy Inklebarger lived in Alaska. He has many tales to tell, and we've posted the second installment in this already popular series.
And my favorite team in this year's tournament, George Mason, has made the NCAA's Final Four, just as we predicted. If the team wins the championship, I believe there is a mechanism in the Constitution that allows the school to assume control of the nation.
Use our Tip Line: The U.S. Supreme Court has ruled it Constitutional.
Posted by Lou at 10:07 AM | Permalink
The [Sunday] Papers
Count me among those stunned that the defense in particular apparently didn't do a background check on jurors in the George Ryan trial.
I guess $10 million doesn't go as far as it used to.
It strains credulity to think that today's sophisticated jury consulting doesn't include gathering every single fact possible on every single juror, including their favorite colors so lawyers can choose the most advantageous wardrobe and their favorite TV shows so a reference or two can be dropped into closing arguments.
But then, maybe Dan Webb is so brilliant that he doesn't need no stinkin' jury consultants.

Prosecutors get a little more slack, though the Chicago Tribune reported on Sunday that some state prosecutors, including those in the Cook County State's Attorney's Office, say they routinely background prospective jurors for criminal records.
Federal prosecutors, the paper says, rarely if ever do background checks on jurors.
I bet they do from now on.
But somehow we don't expect prosecutors to be wily and manipulative and free-spending with their time and money. But the defense?
The Tribune says that the Webb team has never disclosed whether it hired consultants, but it's unthinkable that they would go to court without jury experts involved in some capacity in a case as momentous as an ex-governor (and close friend of the law firm Winston & Strawn) on trial.
The more skeptical among us might wonder if Webb knew all along about the allegedly untruthful jurors and hoped to use the information to cause a mistrial or set up an appeal--regardless of whether he tipped the Trib or not.
The Tribune, however, hasn't indicated that anything but its own imagination led to undertaking background checks (perhaps in anticipation of interviewing jurors after a verdict).
It also would be a risk I would guess even Webb would not likely take.
"[T]he defense lawyers would have been obligated, as officers of the court, to reveal to prosecutors and [the judge] if they had discovered that a juror had been untruthful on a questionnaire," the Tribune says.
The Tribune, meanwhile, appears to have faced quite an ethical dilemma. Because of a gag order issued in the case, the paper did not seek to interview the jurors in question. The lawyers are also under a gag order. That doesn't preclude the newspaper from asking questions, but to do so would be asking sources to violate the judge's order not to speak. It would be within the newspaper's legal rights (as I understand it) to do so, and the media often asks sources to violate confidentiality agreements and orders of all kinds in order to expose truths. But in this case (as I see it), it would not have been the ethical thing to do as it would be tantamount to tampering with the jury. So while it feels uncomfortable that the paper reported its findings to the judge (or perhaps did so in seeking her comment) before publishing them, I'm not sure the paper had any other option.
If you have a different or clarifying point of view on this aspect of the case, send your comment to me or post an entry in our forums.
Onion or New York Times?
"Rumsfeld: Iraqis Now Capable Of Conducting War Without U.S. Assistance"
Stop Shilling
The recent Chicago Reader story about Stop Smiling magazine (see the item here titled "Why Is Daley Smiling?") says the publication has a circulation of 60,000, a figure I'm guessing the writer got from Stop Smiling's editors. The magazine's media kit, however, states that Stop Smiling has only 12,000 subscriptions. It claims newsstand sales of 45,000, but I suspect that number reflects how many magazines they ship to newsstands, not how many they sell. At Chicago magazine, for example, they work very hard to sell 20,000 issues off the newsstand each month. I'm just sayin'.
Start Drinking
The president and chief nuclear officer (that's what it says!) of Exelon Nuclear had his Letter to the Editor complaining about coverage of tritium leaks at an area plant published in the Tribune on Sunday.
"[T]here is no health or safety hazard to our neighbors at Braidwood as a result of tritium leaks from the Braidwood Station--contrary to the inflammatory statements that have been made by subjects in the story about this issue," wrote Chris Crane, top dog at Exelon Nuclear.
And that may be true. But will it be true the next time a leak occurs? And if it is true, is Crane willing to drink a couple glassfuls of the tritium-laced water?
Q is for Quagmire
"Lose Your Pants?" (This is the print headline; Web headlines differ but are equally, um, compelling.)
Judge Grudge
Chicago Sun-Times business editor Dan Miller is an election judge on the North Side. Has been for many years. Is this appropriate? Should journalists be involved in running elections that their papers cover? (Or even those they don't . . . ) What if Miller's polling place became a source of controversy?
Apparently the editors at the Sun-Times don't have a problem with Miller's sidelight because on Sunday they published his account of this year's polling problems.
Miller's political affiliation is irrelevant to the ethical issue, and he didn't reveal it in his piece. But just so you know, his background offers a few clues: Republican Gov. Jim Edgar appointed Miller to a four-year term as chairman of the Illinois Commerce Commission in 1996. Following that stint Miller worked as a vice president at the libertarian/conservative Heartland Institute before joining the Sun-Times. (Before the ICC, Miller worked at the Chicago Daily News and Crain's Chicago Business.)
In a Binder
James Merriner clears up a few things in Sunday's Sun-Times about the mob, JFK, and the 1960 election. Best of all, he responds to a comment made last week in the paper by University of Illinois at Chicago professor John Binder, who asked: "How in God's name is Sam Giancana going to get anything done in West Virginia? They don't have any influence there."
Because it's not as if the Chicago Outfit's influence ever extended beyond the city limits. For example, could you imagine the Grand Avenue crew having influence in, say, a place as far west as Nevada?
"Giancana got things done [in West Virginia] by dropping money on the county sheriffs," Merriner wrote Sunday. "I grew up in Appalachia and understand these things . . . he passed the cash to sheriffs through a gambling figure in Atlantic City."
Imagine that.
Heart to Hart
Betsy Hart compares anti-smoking forces to the Taliban in her weekly commentary in the Sun-Times on Sunday.
Which might make sense if those wanting to ban smoking in public places wanted to penalize smokers with execution (or maybe execution for merely switching to an unapproved brand), but otherwise it's maybe trivializing and disrespectful to the victims of the Taliban's murderous religious crusade, including those who died on 9/11 and in combat since.
Just a thought.

Recommended Reads
Mary Mitchell on a murder in Englewood that didn't capture the media's imagination.
A Tribune report that acknowledges late in the story the impact of Neil Steinberg's controversial column on the Cook County Board race--without naming Steinberg.
Dale Bowman in an exclusive interview with James "Pepsi" Buonomo on Joey "Doves" Aiuppa and The Case of the World-Record Muskie.
Paige Wiser on Forbes magazine's list of most important tools ever. "Would the wrench edge out the pliers?" she wonders. "Where would the paper towel rank?"
The Beachwood Tip Line: Better than the paper towel, but maybe not so good as the wrench and pliers.

Posted by Lou at 07:04 AM | Permalink
Hipster 101
A list.
1. Naked Lunch/William S. Burroughs. Rotates with Junky when one or the other gets too popular.
2. Manufacturing Consent/Noam Chomsky. Hipsters acquire key buzzwords as they discover the media sucks.
3. A People's History of the United States/Howard Zinn. Hipsters discover America isn't all its cracked up to be. Reading history books stops here, however.
4. Hell's Angels/Hunter S. Thompson. Because they made a movie of Fear and Loathing in Las Vegas.
5. Population 1280/Jim Thompson. Though the really hip kids prefer Population 1279.
6. Sputnik/Haruki Murakami. USSR chic.
7. A Scanner Darkly/Philip K. Dick. Soon to drop off the list with a Keanu Reaves movie in the offing.
8. Man With the Golden Arm/Nelson Algren. Only for Chicago hipsters. NY hipsters prefer Please Kill Me: The Oral History of Punk Rock/Legs McNeil. LA hipsters stock up on books about the historical conspiracy to do away with streetcars.
9. A Confederacy of Dunces/John Kennedy Toole. The central character disdains pop culture.
10. Anything by Charles Bukowski. Because it's not cool to pick just one. Besides, none of them are very good.
Posted by Lou at 02:38 AM | Permalink
March 25, 2006
12 Lists
1. Dan Gleason's Top 42,000 Films
2. Medical History of the Presidents of the United States
4. Text Messaging Abbreviations
5. 25 Tallest
7. Government Resources on the Web - What's New
Including:
Federal Response to Hurricane Katrina: Lessons Learned (White House)
Federal Budget FY 2007
Declassification in Reverse (National Security Archive)
Situation of Detainees at Guantanamo Bay
Chronological list of rulers and primary ministers arranged by country or international agency
8. Guns
9. Top 10 Project Censored News Stories of 2005
10. United States Presidential Line of Succession
12. A Dictionary of Units of Measurement
Posted by Lou at 12:10 PM | Permalink
The Weekend Desk Report
The stories we're watching for you this weekend--because someone has to.
The World Tradeball Classic Wrap-Up
In a shock to almost no one, Japan has officially won NAFTA.
Deliberating Under the Influence
Buried in the story that one of the jurors in George Ryan's corruption trial may have concealed a DUI conviction is the revelation that all 12 people on the jury hate one another already. In the interest of ending this trial in a peaceful and expedient fashion, we recommend providing a deliberation wet bar. After all, a few tall ones and the BR Weekend Desk loves all you sons of bitches.
Belarussian to Judgment
In light of this week's widely-criticized presidential poll in Belarus, we are postponing The Beachwood Reporter Fantasy Dictator Draft. To help you prepare once a new date is determined, the official freely-elected Eastern European leader board stands as follows:
Alexander Lukashenko - Not Cool
Vladimir Putin - Still Cool
Viktor Yushchenko - Allegedly Poisoned
Slobodan Milosevic - Allegedly Not Poisoned
An Exercise in Humility
We here at the BR Weekend Desk work hard to find fresh, insightful stories in the most mind-bogglingly absurd places. Sometimes, however, even we have to accept that there's not much we can do.

Posted by Lou at 12:18 AM | Permalink
The Sporting Life
"You can't just let nature run wild."
This quote by former Alaska Gov. Walter J. Hickel popped into my head last week when I spotted a raccoon trotting along the rooftops in Wicker Park. Hickel made the comment to reporters in 1993 after the state launched a controversial program allowing hunters to shoot wolves from helicopters. He argued that the big bad wolves were procreating too quickly and killing moose and caribou faster than the human predators could. And shooting at stuff from a few hundred feet in the air just sounded like a mess of fun.
That was Alaska. But how could a wild animal run free with impunity here in Chicago, a metropolitan area of more than 9 million people? At first I felt sorry for the racooon, fighting for survival in a sea of humanity. An Internet search revealed that it was no anomaly--Chicago is filthy with the little buggers. The Illinois Department of Natural Resources reported in 2004 that there are more raccoons in Chicago metro area than any other area of the state. But how? The DNR says the raccoon population in Illinois more than doubled between the 1980s and 1990s. As green spaces in Chicagoland have disappeared, hunters and trappers can no longer hunt them because too many Starbucks coffee shops and Dollar Stores stand in the way.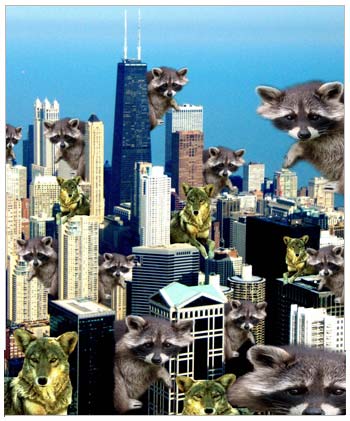 "Today, many cities run together," says DNR wildlife diversity manager Bob Bluett. "Those in-between wild spaces are [now] strip malls and fast food restaurants. [And] it is difficult to hunt and trap raccoons in ways that reduce urban populations."
Animal control officials captured more than 60,000 nuisance animals in Chicago in 2003 alone, with raccoons ranking as the No. 1 offender. But they aren't the only hungry varmints roaming the concrete jungle that is Chicago. A story in the Sun-Times last month reported that an estimated 2,000 coyotes are roaming the City of Big Shoulders. How could this be? Aren't they pretty much just wolves with an eating disorder? The Sun-Times report said the city captures and kills more than 350 coyotes a year. "A pack of coyotes attacked a toy poodle named Molly on Feb. 11 in Oak Brook, leaving the dog with a broken rib and bite wounds," the article explained. Attacking an innocent toy poodle? What kind of twisted coyote packs are we dealing with here?
Hickel and the current governor of Alaska, Frank Murkowski, might suggest shooting the coyotes and raccoons from the air, but Chicago doesn't need helicopters for that. There are certainly enough tall buildings and people with guns to solve the problem. The Sun-Times reported that Cook County has collared 60 coyotes and 60 raccoons to track their movements for the low price of a quarter of a million dollars. Maybe the county could hire urban mercenaries instead. Or better yet, it could establish a community service program for gang members convicted of drive-by shootings. They enjoy shooting just as much as the burly men of Alaska, so why not put them to work and bring an end to wildlife's encroachment on civilization?
Posted by Lou at 12:07 AM | Permalink
March 24, 2006
The [Friday] Papers
The fact that today's column is full of this week's leftovers doesn't mean the items are less than superb. On the contrary, it means that they are so compelling that I saved them just for this occasion.
Rod Reagan
Eric Krol's early preview of the governor's race in the Daily Herald reveals something that hadn't occurred to me before about the Blagojevich-Topinka matchup. In this campaign, the Democrat will be the sunny voice of optimism while the Republican will be the doom-and-gloomer. Even if Topinka provides a more accurate assessment of the state's condition, the advantage goes to Blago.
Richard W. Daley
The mayor would never do this.
Props
Where did the term come from? Nathan Bierma has the answer.
Miner's Gold
Chicago Reader media critic Michael Miner spotted something I missed in Chicago Sun-Times columnist Neil Steinberg's recent apology for his ill-written John Stroger piece. "Later in the column he commented on [his columnist] persona. Questioning the sincerity of President Bush as a man of prayer, Steinberg called himself a 'cynical sort' and wryly added, 'Myself, I never like mouthing the expected pieties. Though they do have protective value.'"
It would be difficult for anyone who knows Steinberg to think this was anything but a disavowal of the pieties that opened that particular column.
Nuclear Threats at Home
Elizabeth Brackett turned in a terrific piece on Chicago Tonight last night on the problems at the Braidwood nuclear plant, but WTTW doesn't appear to make their work available on its Website.
DeRo On Acid
"I thought they were The Replacements on acid*," Sun-Times rock critic Jim DeRogatis says of falling in love with The Flaming Lips, in this fine piece in New City. DeRogatis just published a new book on the band, Staring at Sound: The True Story of Oklahoma's Fabulous Flaming Lips.
* The Web version of this quote says "drugs," not "acid," but I could swear I read "acid" in the print version. If not, then that's what DeRo should have said.
Ewwww
Isn't the new commercial featuring Jonathan Brandmeier pimping for a new Loop girl creepy? Move on.
Fighting Illini
Lines about the University of Illinois's matchup with Air Force that we didn't get to use in our Beachwood Brackets:
Illinois defeats Air Force.
Air Force defeats small Iraqi village.
Why does Illinois hate America?
Air Force: Illini insurgency in 'last throes'
Illini insurgents defiant in face of Air Force attack
Air Force: Illini insurgency in 'last free throws'
- Tim Willette, Natasha Julius
Spooky Chicago
Is the CIA is developing a loyalty program with the help of a Chicago company? That's what this story suggests.
Litmus Test
If Ald. Todd Stroger were to be installed as his father's successor as Cook County board president, would the ruckus be louder or quieter than when Bill Lipinski bowed out after winning a primary and arranged for his son Dan to replace him in the U.S. Congress?
The Poor Should Really Show More Character
Are bankers a root cause of crime? A study in the April issue of The Journal of Finance, co-authored by the University of Chicago's Tobias Moskowitz, suggests just that.
"Using a unique sample of commercial loans and mergers between large banks, we provide micro-level (within-county) evidence linking credit conditions to economic development and find a spillover effect on crime," the journal's abstract to the article says.
"Neighborhoods that experience more bank mergers are subject to higher interest rates, diminished local construction, lower prices, an influx of poorer households, and higher property crime in subsequent years. The elasticity of property crime with respect to merger-induced banking concentration is 0.18. We show that these results are not likely due to reverse causation, and confirm the central findings using state branching deregulation to instrument for bank competition."
- via a Floyd Norris column in The New York Times
One More Thing You Didn't Know About Canada
"According to the ads, the drought ends today.
"Which means at precisely 6 p.m., when MTV Canada is officially (re)born, those disgusting commercials featuring actors sucking on faucets, lapping at dishwater scum or wringing sweaty socks into their parched mouths will come to a merciful end.
"The pre-launch campaign, tinged with late-'90s irony, was making a point, even if it's a questionable one: Canadians are thirsting for MTV."
- from "Do We Want Our MTV Any More?" in The Toronto Star
Bracketology
"Some big prizes are being offered for anyone who fills out a perfect NCAA men's college basketball tournament bracket. Papa John's is dangling one million pizzas. America Online is offering $1 million. Gambling site Sportsbook.com has put up $10 million, and says it may offer even more money next year.
"But it's unlikely anyone will pay out a single penny--or slice of pepperoni. "You're much more likely to get hit by lightning attending the game than to win the pizza," says Brad Carlin, a professor of biostatistics at the University of Minnesota who has studied the NCAA tournament."
- from "Picking the Perfect Bracket" in The Wall Street Journal
Against Depression
"The largest study ever done on treating depression has found that patients who didn't get well with the first medicine they tried had a good chance of succeeding the second time around."
Miner's Whiner
"But some of us at the Reader now sense a change in the public's ability to even recognize as journalism reporting that doesn't advertise the reporter's allegiances. Is this an effect of the Internet--where it's all too easy for a reader to sail only in friendly seas?"
Because the Internet offers so fewer viewpoints than when we just relied on the CBS Evening News and the Chicago Reader.
Molly's Folly
"Aside from my own sentimental attachment to newspapers, I have no objection to all of us shifting over to the Internet and doing the same thing there," Molly Ivins wrote this week. "You'd still have the two big problems, however: A) How do you know if it's true? And, B) How do you put a lot of information into a package that's useful to people?"
Memo to Molly:
A) The same way you know if something in the newspaper is true. You research it on the Internet to find out.
B) I suppose you'd have to find a clever way to cope with the Internet's obliteration of time and space constraints.
Answering Amy
In which we take one question posed each week to the Tribune's highly-paid, highly-marketed, highly-mediocre advice columnist and contrast her answer with ours.
Dear Amy -
I am a law clerk and work at a respectable firm that stresses professionalism and has an unwritten rule about how we are supposed to dress.
One of the female secretaries does not abide by these rules and continues to wear form-fitting clothes, and to make matters worse she appears to be wearing no undergarments.
I feel that her manner of dress may be turning away potential clients, because she is the first person that greets them.
How would you handle this situation of the "Commando Co-worker?"
- Concerned Co-worker

Dear Concerned:
Lawyers are the last people that I would expect to leave rules unwritten. If your firm doesn't have a written dress code, then perhaps it's time to get one. That way, everybody would be clear on what the standards of dress are.
If this co-worker is threatening the good standing of your firm, then I imagine that the managing partners of the firm would notice this and take the appropriate action. On the other hand, perhaps the partners of your firm imagine they have a budding "Erin Brokovich" in their employ and don't mind your colleague's attire quite as much as you do.
- Amy
Dear Concerned (cc: Amy): Which firm is this again?
Chicago Patent of the Week
Collapsible Grill and Stand
"A collapsible grill and stand which can be used indoors over a fireplace, having a grill stand which makes it possible to position and support the grill member over the burning logs, charcoal or gas within the fireplace and under the flue so the smoke, gases, odors and heat are exhausted to the outside through the flue and do not enter the interior of the room or building."
Inventor: William A. Czajkoski (Custer Park, IL)
Filed: July 7, 2003
Granted: March 21, 2006
Chicago Trademark of the Week
"Landmines Blow! Raising Awareness of the Global Landmine Crisis"
Applicant: Alison J. Bock (Lombard, IL)
Filed: Oct. 14, 2004
Granted: March 21, 2006
Our Tip Line is collapsible and can be used over a fire.
Posted by Lou at 04:47 AM | Permalink
Cab #3256
Date: March 16, 2006
From: Wicker Park
To: Roscoe Village
The Cab: Intimidating full shield of bulletproof glass created vaguely aquarium-esque feel. Very clean, but with a slightly suspicious fabric-softener-on-crack smell.
The Driver: A cipher due in large part to the aforementioned protective screen. All we know for now is that he listens to sports radio at an inoffensive volume and takes an extremely conservative approach toward opening his safety panel to accept payment.
The Driving: Efficient if overly aggressive for the time of night and traffic conditions. Another clue to our driver's internal life is that he never met a pedal that he did not wish to put to the metal. In fact, your reviewer was hard-pressed to take legible notes due to the sometimes violent acceleration, deceleration and centrifugal forces invoked by rapid lane changes. Perhaps this man is a retired rally driver, dreaming of one final glorious dash from Paris to Dakar in a modified Land Rover. And while I don't dispute the romance of this dream, I can't help but note with some concern the swathe of death and destruction that event annually carves across northern Africa.
Overall rating: 2.5 extended arms
- Natasha Julius
Posted by Lou at 02:00 AM | Permalink
Cab #2428
Date: March 16, 2006
From: Lakeview
To: Wicker Park
The Cab: Clean enough to belie the age of the vehicle. One hundred percent of the stitching on the seats was intact and slightly shiny, giving it the look of your grandmother's classic Oldsmobile that never leaves the insulated bubble of her Florida garage. Backseat seams appeared to have been vacuumed recently, so complete was the lack of dust. The radio was kept at an acceptable level for the seminal ZZ Top classic "Sharp-Dressed Man" (that is to say, extremely quiet), although it did creep into intrusive noisiness once jangly, over-produced hip hop came on.
The Driver: Spent the entire ride talking on his cell phone, although to his credit using a hands-free device and admirably hushed tones. Seemed way too young to put that much effort into the care and maintenance of his vehicle; maybe this actually is his grandmother's classic ride.
The Driving: Driver showed creativity in using side street to avoid traffic lights and congestion. Clearly knew the route and didn't need any reminding. My companion felt the speed was a tad excessive, particularly on the smaller roads. I did not share this concern as the driver clearly appreciated the nuances of the steering wheel.
Overall rating: 3.5 extended arms
- Natasha Julius

Posted by Lou at 01:55 AM | Permalink
March 23, 2006
Ways & Means: A Primary Review
A look at what we've learned from Tuesday's primaries, and what we can expect from here until November. It's depressing in either direction.
Rod Blagojevich: As we asked in our primary guide, Has there ever been such a lack of enthusiasm for a virtually unchallenged incumbent? Clearly it was the governor's bulging-at-the-seams campaign fund rather than his record in office that scared away challengers. And that, my friends, is example No. 845,000 (or so) of how money has hijacked your democracy. It is also Example No. 845,001 of how the private two-party system operates to prevent you from having too many choices.
Edwin Eisendrath: His phantom campaign won 30 percent of the vote. Makes you wonder what it would have been like had a real challenger stepped up and forced a real referendum on Public Official A's job performance. Eisendrath now goes back to cooking school.
Pat Quinn: The forgotten man as Blago's lieutenant governor. So we just thought we'd mention him.
Judy Baar Topinka: We'll still be wondering in the fall what it would have been like to have a real campaign challenge to Blagojevich--unless his world is rocked by more indictments.

Jim Oberweis: Instead of sliding into political oblivion with his third failure to win public office, Oberweis will likely be encouraged by his strong showing. After all, he did revolutionize the straw poll. And actually, had his straw gambit worked, he might have beaten Topinka. He could recover a portion of his financial investment in the campaign by selling his polka ad to Blagojevich.
Ron Gidwitz: Learned that politics isn't for adults.
Bill Brady: Stupendously rich, but not ready for prime time.
Andy Martin: Andy, it might be easier to become a Cook County judge than to win a lawsuit. Think about it.
Joe Birkett: Topinka will regret running with him.
Steve Rauschenberger: His next run is for comptroller.
James Meeks: Reportedly on his way. Topinka's new best friend. But if he runs he'll come out of it damaged, with far less political influence.
John Stroger: We learned just how devoted African Americans are to a man who has "done a lot for black people," as one supporter told Sun-Times columnist Mary Mitchell. Even though he wasn't with Harold, and even though he's probably done a lot more for white politicians like the Daleys. On the other hand, the MSM seems to tolerate white people's Machine politics a lot more than black people's Machine politics. I favored Claypool but by the end (?) of the campaign felt the inner surge of a backlash in Stroger's favor, just because. We also learned something about Neil Steinberg (and his editors), but I'll leave it up to you to decide what.
Forrest Claypool: Funny how "reform" candidates these days simply sound like Republicans. Don't get Bill Daley to handle the recount.
Tom Dart: Look for more jail escapes under Dart's tenure as the new Cook County Sheriff, provided he beats his Republican challenger in the fall. And even if he doesn't.
Dan Lipinski: Endorsed by the Tribune. But they're against Machine Politics. (See Stroger.) Let's unite behind Ray Wardingley, a.k.a Spanky the Clown, and take back this seat!
Tammy Duckworth: Dick Durbin strikes a blow for grassroots democracy. Duckworth didn't win her district because she doesn't live in her district. She did, however, win in the district she is running in. (Does that mean she couldn't vote for herself? Did she vote in her own district's primary instead?) Unfortunately for her and her party patrons, it was a squeaker, despite the backing not only of Durbin but of Rahm Emanuel and Barack Obama. Doesn't bode well. Feels like another Democrat the party handed a nomination to based on electability via war service. His name was John Kerry. The Republican, Peter Roskam, will eat Duckworth for lunch in the general, and the Democrats will once again wonder what they should stand for.
Luis Gutierrez: I just want you to know I saw your name on those signs along with judicial candidates Ed Lechowicz and Gloria Chevere, both deemed Unqualified by all 11 state bar associations. Next time around: "Luis and Lech, Let's Not Forget."
Posted by Lou at 02:19 AM | Permalink
The [Thursday] Papers
Note: I futzed around with this opening paragraph a bit throughout the day. My original gnawed at me because while I said the elephant in the room (and I hate using cliches, but I'm not above being lazy when tired) wasn't race, it was the media, the example I used was all about race. For example, I could have examined the Duckworth-Cegelis contest for Congress and argued that in the analyses so far (and in those to come) about why the results came in as they did, the impact of the media was (and will) be missing. Duckworth, after all, received international publicity and the bulk of the attention from the print and broadcast accounts I read, saw, and heard ( which did not include the Daily Herald or other suburban media, so don't write me moaning if the coverage out there was different.)
Are we to believe the media had absolutely no impact on that or any other contest?
The example I did write about below was meant to show the media's unrecognized impact, but of course it involves race. So just to be clear. Feel free to disagree with a posting in our Forums or send me a Letter to the Editor. - SR
When it comes to the myriad analyses now appearing purporting to explain Tuesday's primaries, there is a proverbial elephant in the room, something right in front of us but ignored by virtually everybody: The impact of the media itself on election outcomes.
For example, Cook County Democratic Party Chairman Thomas G. Lyons says in today's Chicago Tribune that the illness of embattled county board president John Stroger galvanized Stroger's African-American, South Side base.
"They didn't want to see their guy pushed around," Lyons said. "He's kind of an iconic figure, and when they think people are coming at him, they're going to rally around him."
Despite challenger Forrest Claypool's aggressive campaign, I never got the sense that he was energizing the opposition by "pushing around" Stroger.
But it sure felt like the media was pushing Stroger around.
The endless parade of editorials, columns, and news stories detailing Stroger's incompetence and alleged corruption reached a tipping point. And then, perhaps, folks pushed back.
I don't vote in primaries because I don't think it's appropriate for journalists to participate in party activities (another column for another day), but I did hope for a Claypool victory. I agree with the criticisms of Stroger. He's a hack.
But to many African-Americans, he's their hack. A certain measure of equality has been reached in Chicago politics when all ethnic and racial groups get to be hacks and divvy up the proceeds from the Machine.
So when we're all ready for reform, let's start with the white guys first. Has John Stroger's leadership been any more egregious than Rod Blagojevich's?
I certainly think four more years of Blago (or Topinka) will have more negative impact on our lives--and in the long-term prospects of the state--than four more years of Stroger, or whoever the ward bosses choose to replace him with.
So it is perfectly understandable that the fever pitch of--let's face it--white media and white columnists and white reporters finally touched a nerve.
"The message of what John Stroger means for the African-American community began to resonate [when he was hospitalized]," Ald. Howard Brookins told the Tribune. "I don't know why it wasn't resonating before."
If the audience of WVON-AM is any indication, the tipping point for that resonance was Neil Steinberg's lazy, vitriolic column in the Chicago Sun-Times. From that day forward even I felt an inner backlash to Claypool and his moralizing supporters, who seemed to want to take away the punch bowl just when it fell into the hands of an old black man who worked his way up through the regular Democratic organization, playing by the white man's rules. And mainly because they're upset about their tax bill, not, say, about the medical care of the poor under the county's purview.
I don't agree with it, but that's the way it felt.
The attacks on Stroger and his supporters also felt racist in their underpinnings. I'm not accusing any individual of bigotry. But the collective media tilt attacked Stroger voters for stupidity, cynicism, or (unironically) racial divisiveness. Those attacks never reached Sen. Dick Durbin or Mayor Richard M. Daley, though, whose "late strong pushes for Stroger" were cited by Claypool campaign manager Mike Quigley as a significant factor in the outcome.
Somehow, Durbin and Daley have escaped the wrath of those pundits despondent over Stroger's win.
Stroger's unofficial margin of victory stood at just under 23,000 votes this morning, out of about 500,000 votes cast. With a combined daily circulation of about a million papers, I'd say the Tribune and Sun-Times constitute as large a factor as any other to be included in any post-election analysis, not to mention the rest of the press and broadcast outlets.
Instead, outcomes we don't like are the fault of the voters. Those in the media who inform the voters--and the professional consultants and operatives they depend on for insight -- never think to look at themselves when it's time for the post-mortems.
Forrest Finished: An independent run for Forrest Claypool in the fall is out, according to the Sun-Times. The paper reports today that state election codes forbid someone who loses a primary from returning to the ballot in the general election as an independent, or a representative of another party.
Huh. That doesn't sound right. But it does sound Illinois.
Daley Watch
"HBO, HDO. I watch it every day," the mayor was quoted by the Sun-Times as saying yesterday, in response to a question about the influence of the controversial (and scandal-plagued) Hispanic Democratic Organization. "There's nothing wrong with Hispanics gaining political power."
I'm pretty sure the question wasn't, "Mr. Mayor, what's wrong with Hispanics gaining political power?" Or, "Mr. Mayor, Hispanics have been gaining political power. Should we be concerned?"
Why do reporters put up with this?
Follow the Money
Just so we know what we're talking about when we talk about what terrible straits newspapers are in these days:
"In 2005, publicly-traded U.S. newspaper publishers reported that newspaper operations produced operating-profit margins of 19.2%, down from 21% in 2004, according to figures compiled by independent newspaper-industry analyst John Morton. He says that figure is still more than double the average operating-profit margin of the Fortune 500 companies."
Go Goth
"Most youth subcultures encourage people to drop out of school and do illegal things," reports the London-based Guardian. "Most goths are well educated, however. They hardly ever drop out and are often the best pupils. The subculture encourages interest in classical education, especially the arts. I'd say goths are more likely to make careers in web design, computer programming . . . even journalism."
If only.
From Beachwood HQ
We don't need market research or insane profits to know how to serve you better. You will be amused, enlightened and informed by the fresh postings we already have prepared for every section in the coming week. Our coverage will only get deeper and wittier as we go along, and we will never allow our profit margins to overwhelm our sense of duty. When we get profit margins.
So stick with us, we're all in this together.
Tipping point Tip Line: When you've had enough.
Posted by Lou at 12:34 AM | Permalink
March 22, 2006
The [Wednesday] Papers
For our look at the primary results and what we think it all means, check out our Politics page.
Tell us where we're wrong on our Forums.
And to catch up on recent editions of The Papers, we have an archive just for you.
War Wonders
Doesn't the very fact that we're still debating the rationale for the war in Iraq inherently prove it has been a failure? If you're still debating a war three years in, you've screwed up.
Doesn't the very fact that the war is still going on with no end in sight prove that it has been a failure?
If you are debating whether a country has fallen into civil war, isn't it beside the point whether it is technically true or not?
Isn't it continued folly to ask, as CBS news anchor Bob Schieffer did the other night, that Sunnis and Shiites (and Kurds) come together as Iraqis, when there really is no such thing as an Iraqi per se, other than those people from these three groups who were artificially forced together when "Iraq" was created?
Isn't that a bit like asking evangelical Christians, Orthodox Jews, and Scientologists to come together and form a government?
And is Alan Simpson a horse's ass?
Georgie's Complaint
Veteran syndicated columnist Georgie Anne Geyer wonders why there was so little debate about the war nearly four years ago. She blames the American people.
Gee, I seem to remember quite a debate about the war. In fact, it took Colin Powell's appearance before the United Nations--one he has now apparently disavowed--to really sell the war to the doubters in the mainstream. I don't know where Geyer was, but in America there were grave doubts about this venture. Geyer must not have been have been able to hear the debate above the clatter of Washington's cocktail parties, where everyone was joking about Freedom Fries.
Geyer also says the worldview of Americans is "irrevocably blurred by the 80,000 new blogging sites launched every week."
As opposed to the mainstream media's clarity of thought.
Geyer, however, thinks that if more Americans read newspapers, maybe we wouldn't be in this mess. Yes, I can see how more Americans reading Judith Miller's stories in The New York Times would have altered history.
French Kiss-Off
"Anger focuses on a new rule championed by [French Premier Dominique] De Villepin that will allow employers to hire young workers for a two-year trial period and fire them during that time without giving a reason."

Sounds a lot like the Tribune's two-year "residency" program. So in other words, what's considered routine business at the Tribune causes massive riots in France.
- Don Jacobson
Letter to the Editor/Re: Englewood
Dear Beachwood:
Very good bit on "Barack's Bromides" and "Explaining Englewood" (The [Tuesday] Papers).
The solution to violence is complex (remember, a solution is a mixture). But that doesn't work well for sound bites. We need to paint a more realistic picture of violence in our communities, while working to build a sense of community, a desire for community, and a cohesiveness of community.
We need to replicate (or develop) programs aimed at lessening the tolerance for violence, the teaching of the consequences of violence, the expansion of reaction choices beyond the choice of violence. We need to promote community and personal values so that violence is no longer an act of first retort but an action of last resort.
These community and personal values are needed society-wide; they have atrophied. We must also aggressively work on the root causes of poverty and disenfranchisement. We and our government must meet our responsibility of a hand up to build up. No longer can violence be considered the problem of the other. To steal a line from somewhere: "He's my brother from another mother."
- Richard L. Keller, MD
Coroner, Lake County, IL
Decoding Dennis
The final installment of our series ripped from the pages of the Columbia Journalism Review, which says in its latest edition that Tribune Co. CEO Dennis FitzSimons is "the media world's most embattled CEO." The magazine goes on to parse FitzSimons's recent pitch to Wall Street analysts. The first installment can be found here. The second installment can be found at the bottom here. The third installment, also at the bottom, is here.
Once again, "Said" is FitzSimons, "Unsaid" is CJR's comment. "BR" is The Beachwood Reporter adding value.
Said: We're also redeploying resources and re-engineering processes, especially in publishing.
Unsaid: By way of example, FitzSimons mentioned Tribune's newly consdolidated D.C. bureau, and how it will save money whle simultaneously improving coverage of Washington "through greater collaboration." The former is a given, the latter is dubious. The number of journalists in this new bureau has been reduced, dramatically in some cases (Newsday went from 14 to five, for instance, while The Hartford Courant went from five to one). And the kind of journalism the nation needs out of Washington--investigative, explanatory--is both labor- and time-intensive.
BR: The Chicago Tribune has shown the rest of the company that the size of a bureau's reporting staff has no correlation with the quality of its work, so maybe FitzSimons is on to something.
Said: Our tradition of journalistic excellence isn't going to change.
Unsaid: After the Los Angeles Times won five Pulitzers in 2004--a record for the paper--the staff received bupkis from corporate on this historic achievement. Instead, then-editor John Carroll got word that the home office was displeased with the Times's revenues, and was demanding deep cuts. Carroll ultimately quit; Dean Baquet, his successor, will need guts and luck in the coming budget battles.
BR: FitzSimons vowed not to alter the company's notion of journalistic excellence, and obviously the Los Angeles Times didn't get the message.
Decoding Decrossword
Finding liberal bias and other oddities in The New York Times crossword: In Tuesday's edition, 1-Down was Bop, 3-Down was Strungout, 4-Down was IHOP, 20-Across was UpForAnything, 32-Across was Suitor, 41-Across was Sot, 45-Across was Pernod, 53-Across was ThePerfectFit, 67-Across was Erect, 10-Down was RedHot, 30-Down was Tosspot, 47-Down was ATrip, and 49-Down was Tesla. Throw in 17-Across (Perot) and 23-Across (CNN) and this thing looks like it was written while on a real bender.
In Today's Reporter
Check out the Hipster 101 playlist in Music.
Learn as much as you can possibly take about the Air-O-Space Sofa Bed in TV.
Stimulate your mind with 12 Lists you never would have come up with yourself. Because we're here to serve.
Use our primary Tip Line: It's the same one we'll use for the general.
Posted by Lou at 12:11 AM | Permalink
March 21, 2006
The Air-O-Space Sofa Bed
What It Is: An air mattress that turns into a couch--and other stuff.
Such As: The five-in-one sofa bed also folds into some kind of beach chair and can be used as a "high-rise sleeper" for children.
Quote: "Get off the floor and suffer no more! The future of relaxation has finally arrived!"
Science: Every seam is electronically fused. It works because of Air-O-Space's "advances" in weightless load technology.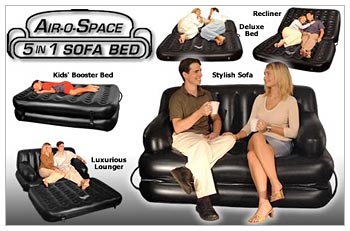 Cost: Double Size is $99; Queen Size is $128.85. Air pump and nozzles included. Claims to replace $5,000 worth of furniture. Slip covers also available for purchase.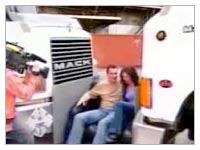 Gimmick: The show's host, Brandon, sits on the sofa bed while two Mack trucks from opposite sides try to squeeze the sofa--and therefore Brandon--to death. But they trucks are not strong enough to destroy the Air-O-Space. It does not burst, it does not budge. Brandon's co-host squeals with fear and delight.
Comment: This infomercial was a real letdown in that, like so many others, it showed the same footage over and over. I was slightly interested in the prospect of seeing Brandon get splattered, but I knew in my heart it wouldn't really happen.
Evaluation: Looks an awful lot like sitting in a blow-up swimming pool. There doesn't seem to be much difference between the "luxurious lounger" and the "relaxing recliner."
From the Company That Brought You: Youth Cocktail and New England Patriots Stackables.
Rating: 4
- Timothy Inklebarger
Posted by Lou at 01:16 AM | Permalink
Hipster 101
A list.
1. Gang of Four/Elemental. Elemental for all current indie.
2. Thin Lizzy/Jailbreak. Template for brash, post-ironic hard rock band.
3. T. Rex/Electric Warrior. Dudes singing touching songs.
4. Steely Dan/Aja. Approaching, appreciating 30.
5. Joy Division/Unknown Pleasures. The alienation that is "hipster."
6. My Bloody Valentine/Loveless. Drug record for generations.
7. Can/Tago Mago. Don't listen, don't understand, but makes me worldly.
8. Slint/Spiderland. Hard guitar not tied to metal or hair.
9. Television/Marquee Moon. A piece of the NYC experience, less the rent.
10. Brian Eno/Taking Tiger Mountain by Strategy. Seem smarter for it.
Posted by Lou at 12:53 AM | Permalink
The [Tuesday] Papers
One of my favorite reads every election season is the the one where Cornelia Grumman, of the Chicago Tribune's editorial board, dishes on the weird and disheartening responses candidates give to questions from the board in live appearances and to the board's questionnaires that it sends out as part of its endorsement process.
This year's version is once again a gem. The only problem with it is that it leaves me wanting more. I'm sure Grumman could fill a whole page with this stuff--and she should be allowed to.

I don't know how painstaking it would be to put all the questionnaires online, but I wish the paper would do it, searchable by district and so on. You can at least find the questionnaires filled out by the candidates for governor on the Tribune's comprehensive election guide, which also includes a collection of stories from the paper as well as all manner of voting information.
Election Guidance: Last week, Chicago Reader media critic Michael Miner assailed the media's performance this election season. "Sometimes the media can breathe life into an election," Miner wrote. "This year they seemed to suck it out."
He goes on to mock in particular the Chicago Sun-Times's candidate profiles, at least the edition that included Republicans Judy Baar Topinka and Ron Gidwitz, and issued a call for "old-fashioned horse race journalism that ignores platforms, trivializes issues, and marginalizes talented but underfunded underdogs while slavering over billionaire nincompoops."
Geez, I guess the press can't win either way.
I didn't find myself particularly distressed with this year's primary campaign coverage, though I think frontrunners Topinka and Gov. Rod Blagojevich could have been grilled more aggressively and the congressional races fleshed out more.
At times it seemed like the nuttiness of Jim Oberweis and the jockeying between Topinka's challengers perfectly distracted the press from more closely examining Topinka's issueless campaign. And in the absence of a stronger challenger than Edwin Eisendrath, there's nothing wrong with the press playing the part of the governor's debate partner.
Still, I found the Sun-Times's candidate profiles much better than the standard, dutiful, check-it-off-the-list variety that the papers tend to put out, particularly the Tribune.
As I put together A Beachwood Guide to the Primaries, I found myself leaning heavily on the Sun-Times's coverage. Scott Fornek's piece on Republican fringe candidate Andy Martin is an instant classic in my book.
Lynn Sweet's coverage of the state's congressional delegation once again surpassed the competition, at least at the Tribune. (I didn't read the Daily Southtown, the Daily Herald, or any other papers closely enough to include in the comparison.)
The Chicago Defender and WVON-AM enlightened me about the loyalty the black community feels toward John Stroger. Perhaps Forrest Claypool's campaign (or the reporting of it) should have focused more on how cleaning up Cook County government will better serve the medical care of the poor under its purview instead of just cleaning up the books. (N'Digo also carried a strong endorsement of Stroger, though I couldn't find a link to it this morning.)
Why Is Daley Smiling?
The best media story in the Reader last week was Martha Bayne's look at the Chicago-based Stop Smiling magazine, which somehow claims 60,000 readers. (Bayne's story is apparently only available online as a PDF; you can find a link on the right rail of the Reader's home page under Our Town.)
Bayne reports that the magazine's recent 10th anniversary party drew city cultural affairs czarina Lois Weisberg, the Tribune's Rick Kogan, and folks from Lumpen magazine and the Thrill Jockey record label. Ira Glass emceed.
The Stop Smiling editors "idolize the giants of New Journalism," Bayne writes. Except for the journalism part.
Consider the recent cover story interview with Mayor Richard M. Daley. The interview "took several months of wrangling," editor and publisher JC Gabel told Bayne, "and when they sat down the parameters were predetermined and strict. So Gabel didn't quiz the mayor about the hired truck scandal, or the water department heroin ring, or the Millennium Park budget debacle, or the smoking ban. He asked instead how that ticker-tape parade for the Sox got put together so fast."
"It's not our job, really, to be busting him up for machine politics or corruption," Gabel told Bayne.
Bayne also reports that "The magazine lets subjects vet articles and request changes before they're published. 'Sometimes it's such an accomplishment to just be able to be speaking to some of these people, that we know that, obviously, they're going to be looking at the piece later,' says [Gabel's partner James] Hughes. "Where we're at, it's just better to be more symbiotic than adversarial. We'd never try to out someone on something that they're hiding from. We're not looking for scoops. If we're going to spend this much time on something, then the people on the cover who gave us an awful lot of their time [had] better be happy with it too.'"
Just so Weisberg, Kogan, the Lumpen folks, the Thrill Jockey people, and Ira Glass know what kind of "journalism" they are supporting.
The Daley Rules
Does Daley ever give sit-down interviews without rules? I mean, he must, right? Because Chicago is home to that tough, City News-style bare-knuckles kind of journalism.
The Daley Schools
The Los Angeles Times reports a story about Daley's performance with Chicago's schools that's a little different than the one you get here in the local press: "Chicago, the nation's third-largest school system, can hardly be seen as an advertisement for mayoral control of schools," the paper says. "After a decade with Daley in charge, the Chicago district has failed to distinguish itself from other major urban school districts. Many of its schools remain subpar and, overall, Chicago's students continue to score poorly on reading and math exams used to compare big-city districts."
- Via Alexander Russo's District 299 Chicago Public Schools Blog.
Explaining Englewood
The Sun-Times's Mary Mitchell picks up on yesterday's front page New York Times story about the plight of the young black male.
We can talk about guns, drugs, and gangs until we're blue in the face. Isn't the real issue poverty? And isn't the real answer jobs? (And isn't this also the only way we're really going to improve city schools as well--by improving the conditions of our poorest neighborhoods?)
Otherwise it seems like we're asking justifiably alienated young people growing up impovershed to show more moral character to overcome their circumstances than I see shown in the world of the privileged every day.
Barack's Bromides
At an anti-violence rally last night on the South Side, Barack Obama said this, as reported in the Sun-Times: "Neither the government, nor the politicians nor Jesse Jackson nor Barack Obama are going to save us--we have to save ourselves. I'll fight for programs. I'll sit down with Mayor Daley and Governor Blagojevich. But money and programs will make no difference unless we have a change of heart."
Self-reliance and responsibility and accountability are words and concepts that sound good, but they simply don't correspond to what I see around me in the people I know of all economic classes.
I see spoiled brats from rich families, many of whom simply aren't very bright and whose futures would have been very different had they grown up in the 'hood. I see a political and corporate system built on who you know, not what you know. I see networking and office politics and backstabbing and jockeying for position. I don't see a whole lot of moral character. Those who do have moral character tend to get left out of the mix.
But we want poor, disaffected teenagers to have a change of heart? I think we're asking the right thing of the wrong people. Let's ask for a change of heart the next time the Federal Reserve rushes to raise interest rates because unemployment is falling (and don't tell me about inflation, which hasn't been a serious threat in more than a decade). Let's ask for a change of heart the next time we find money to subsidize a football team's new stadium downtown (and don't tell me about economic development, because the research is in and there isn't any), but we're told we have to be realistic about money for social programs. And let's ask for a change of heart the next time the stupendously rich companies that own our media explain to us why they can't devote more resources to covering the whole of the city, instead of just those parts that are demographically appealing to luxury advertisers.
Let's not ask those in the worst of all possible situations in America to show more heart and character than the rest of us are able to muster. Their burden is great enough. Let's ask more from ourselves.
Dennis Decoded
Continuing our series stolen from the Columbia Journalism Review, which calls Tribune Co. CEO Dennis FitzSimons "the media world's most embattled CEO." The magazine, in its latest edition, goes on to parse FitzSimons's recent pitch to Wall Street analysts. The first installment can be found here. The second installment here (at the bottom). Once again, "Said" is FitzSimons, "Unsaid" is CJR's comment. "BR" is The Beachwood Reporter adding value.
Said: We'll continue looking to serve our readers in ways that deliver the most value to them, so we'll be investing more in research to determine what's important to our readers."
Unsaid: The debate over how to balance what readers want with what they need to be educated participants in a democracy is real, and FitzSimons may actually believe, as he told The New Yorker last year, that 'journalists make "too many fake arguments"' about how newspaper companies are trying to "dumb down."' But solving the declining readership puzzle need not--and must not--mean wholesale surrender to the entertainment/diversion aspect of journalism.
BR: FitzSimons is right - the argument about whether newspaper companies are dumbing down is fake, because there is no argument. No one is saying it isn't happening. And FitzSimons is going to keep investing in research to learn how to do it even better.
Our Tip Line: Better than a questionnaire.
Posted by Lou at 12:15 AM | Permalink
"ATTACK!" They Sang, And Other Notes From SXSW
The sun is out, trees are gaining back their natural color, and a frail, scraggly man is swaying down Fifth Street in women's pants. He looks like he could be Bon Jovi's little brother. More likely, he's just another wannabe rock stars menacing SXSW XX, the 20th South-by-Southwest annual music festival in Austin, Texas.
I'm in my At the Drive-In T-shirt.
On the day before the music began, thousands of press people and musicians who have arrived early to claim their badges and wristbands fill Austin's convention center. I'm denied a priority badge, so I line up for a wristband instead.
The cute Asian girl on wristband duty spots my T-shirt, then asks me if I like The Mars Volta.
She chuckles and even blushes a little when I wink at her. Then she says she likes The Mars Volta because of their Afros, and not necessarily because of their music. I shoot her a disturbed look and decide against asking for her number.
Because it's about the music.
The first act I see is New London Fire. NLF sounds a bit like Flickerstick (of VH1 Bands on the Run fame) crossed with the Red Sparowes. The singer looks like a bastard version of Michael Rapaport and sings each song in the same key regardless of what key the song is in. He says the band has been on tour for months, which I find hard to believe because their set is so bland. Or maybe that's why. The crowd of about 50 offers faint, scattered applause that makes their exit a little awkward. This is not the grand opening I expected.
The next show would cure that. As I walk in to a secluded spot called The Hideout, Jad Fair and Lumberob are stomping their feet on the stage like two kids throwing a temper tantrum, making noises into microphones and looping the sounds they create, one on top of the other. The "songs" are a cappella and create an effect I'm guessing can only be replicated by 10 or 15 schizophrenics.
"ATTACK!" yelled one while the other scatted. Or scut.
Highly satisfying.
But topped by the Japanese showcase I saw later at the Elysium.
Vasallo Crab 75, was lead by a balding, hip-shaking guy who made up for what the band lacked in songwriting ability. The Rodeo Carburettor's raunchy attitude matched its aggressive style. But it was Pe'z, a five-piece jazz act, that absolutely stole the show. Unbelievably, they sounded like a ska/fusion version of John Coltrane--and it worked.
The longest line of the festival was for Belle and Sebastian. I didn't get in. And I never saw the guy in women's pants again, either. But by this time next year he's bound to have a record deal.

Posted by Lou at 12:13 AM | Permalink
March 20, 2006
The [Monday] Papers
Today's world, as seen through The New York Times.
When wondering what in the world is going on in Englewood, consider this.
When evaluating the effectiveness of policing strategies, don't forget this.
When you wonder what's gone wrong in Iraq, remember, the correct answer is Nothing Except the Media Reporting Too Much Bad News.
When mourning the 2,300-plus American lives lost in Iraq, don't forget that an estimated 33,000 to 37,000 Iraqis have died.
And why are the elderly so hung up on global warming, nuclear war, and Medicare?
Nike never fails to spot an opportunity, even when it comes to hijabs in Kenya.
Why doesn't the Tribune or Sun-Times hire some heavyweights like Vanity Fair just did?
Maybe the Tribune Company should hire this Marimow guy; he seems to be doing a helluva job at NPR. Oh wait, they fired him.
Has the Barack backlash begun? Get ahead of the curve, because it's coming.
The War At Home
Former Sen. Peter Fitzgerald, in an interview with the Daily Herald's Eric Krol, says he and his colleagues were bamboozled by the Bush Administration.
Q. You voted for the war when you were in the Senate. Do you regret doing that, knowing what you know now?
A. Certainly a lot has come out that has given me pause. For example, senators were called in and told there was evidence Saddam was developing weapons of mass destruction. That he was importing these aluminum tubes and that he was trying to build nuclear weapons. We all know a lot of that was overdone. I regret that I didn't have a better understanding beforehand, better intelligence to inform that vote. I do think it's a good thing for the Middle East and for the world and for the people of Iraq not to be living under a dictator anymore. But our country has paid a horrible price and we have an ongoing civil war in Iraq that is not easy for us to extricate ourselves from. I hope we can get our men and women in uniform back as quickly as possible. Do I regret my vote? No.
Village Voice
If you're not tuning in to WVON-AM at least every once in awhile, you're not getting a full picture of life in Chicago. If you truly wanted to understand the full story of Fred Hampton Way, for example, listening to WVON would have been a good way to get beyond the narrow and ahistorical WGN/Tribune/Sun-Times point of view. Same with why Cook County President John Stroger has such a strong black base despite his well-chronicled failings. At least one reporter at the Tribune seems to be listening, though it would have been more interesting to explore the station's brash and often controversial content and what it tells us about Chicago than to give the little radio station that could a pat on the head.
Q is for Quagmire
Catching up with Q's big story on Sunday, "A Field Guide to Male Shoppers"
Next week, a story about men who leave the toilet seat up.
Answering Amy
In which we take one question posed each week to the Tribune's highly-paid, highly-marketed, highly-mediocre advice columnist and contrast her answer with ours. Edited for length and sanity.
Dear Amy: Please help me handle this like a sane woman. So far I'm not doing a good job.
My husband and I have been married for more than 25 years. We have two teenagers living at home. We golf together, enjoy working in the yard and doing home projects. We also have hobbies that we do on our own.
About three months ago my husband mentioned that he wanted to get a motorcycle. This is the first time that he was even remotely interested in them. After realizing I was making the motorcycle more desirable by resisting it, I told him it was OK with me, though I would rather he purchase something the family could enjoy.
I am very worried about him getting hurt, and I am distressed that he is already taking time away from the family to ride it.
- Worried Wife
Dear Wife: Women don't always understand the desire that many men have to suddenly live on the edge at midlife. But men who do this are experiencing an important life passage and it is your tough job, as your husband's life partner, to watch your guy become a thrill-seeker.
Welcome to the MIdlife Wives club.
If your husband needs to spend a few hours a week feeling the wind ripple his golf shirt, then let him do it.
Make sure he is aware that according to the National Highway Traffic Safety Administration, "Per vehicle mile, motorcyclists are about 32 times more likely than passenger car occupants to die in a traffic crash." Yikes.
A book you might find helpful is "How to Survive Your Husband's Midlife Crisis: Strategies and Stories From the Midlife Wives Club."
- Amy
Dear Wife (cc: Amy): Get off his back and let him enjoy his motorcycle in peace. And whatever you do, don't go imagining that something deeper is going on, like that he's having a midlife crisis, against all available evidence.
- The Beachwood Advice Affairs Desk
The [Sunday] Papers
In which we explore coverage of Englewood. Catch up with them here.
And fresh postings promised for today will be put up tomorrow. Sorry, we're a little discombobulated today at Beachwood HQ. But only because we're coming up with new ways to serve you better. On Tuesday we'll also catch up with Patent of the Week and Trademark of the Week, which got lost in the shuffle of our weekend lineup.
Use our Tip Line if you must: And even if you mustn't.

Posted by Lou at 03:53 AM | Permalink
The [Sunday] Papers
Both the Tribune and Sun-Times put Englewood on their front pages Sunday as the press struggles as much as the community for an effective response to two recent shooting deaths of innocent children caught in the grip of the neighborhood's violence.
The Sun-Times dedicates the bulk of its front page to "Inside Englewood: Kids in the Crossfire." The two-page spread takes us inside the home where Siretha White was killed by a stray bullet from the street during a party for her 11th birthday.
The piece is nicely laden with a brief list of how the neighborhood "tries to carve out safe havens for children," though even a hint of skepticism about the effectiveness of block clubs, recreational programs, and Saturday activities organized by the police would have been welcome.
Similarly, the article contains useful statistics (the Englewood police district not only led the city in murders with 37 last year, but led in aggravated batteries; also, hospitalizations due to gunshots for kids in West Englewood, at 98.2 per 100,000 kids, are twice that of kids living elsewhere) but lacks skepticism of police efforts.
"[P]olice officials say they have sent every extra resource to the neighborhood to pressure gangs and take guns off the street," the paper reports dutifully.
"Crime declined [in the district, I assume] 7 percent in 2005," the paper reports, which is a meaningless statistic unless we can compare it to the crime rate citywide, which then must be compared to the falling crime rate nationally.
If indeed, the police's efforts are responsible for the drop in Englewood crime, we might ask that they do even more of the same, but with "every extra resource" already deployed, they would seem to be at their limit.
Nonetheless, reporters Lisa Donovan and Annie Sweeney manage to largely avoid the bathos this story could have drown in.
The Tribune takes a different approach, telling the story of what it's like to live in West Englewood through the eyes of a single family (who can also be heard themselves in audio/video on the paper's Website.)
But sympathetic neighborhood portraits are the media version of marches against violence: An appropriate response that feels good and might even have a small measure of effectiveness, but hardly enough to confront the deep-rooted, complex problems of a community seemingly in perpetual crisis.
While the media calls upon lawmakers and citizens to uphold their end of the bargain in Englewood and do something, it can ask more of itself as well. The media can't make policy, but it can produce better journalism, particularly with the kind of caring and investment it seems to want everyone else to commit to.
Perhaps the local press ought to treat the violence (and the poverty that drives it) in Englewood and elsewhere like Hurricane Katrina--an opportunity to explore race, class, and economics.
Because the media is as responsible as anyone for "disinvesting" in Englewood and other neighborhoods like it.
The Tribune, for example, doesn't much care for the residents of Englewood in terms of growing its readership. To the contrary.
"By reducing circulation efforts among low-income, minority readers, newspapers actually improve the overall demographic profile of their audiences, which they then use to justify raising advertising rates," wrote James Squires in his 1993 book, Read All About It! The Corporate Takeover Of America's Newspapers. Squires was editor of the Tribune for eight-and-a-half years; I have yet to hear his account disputed.
When Squires was at the Tribune, the paper divided Chicagoland into five Quintiles. Quintile One had the highest demographic profile while Quintile Five had the lowest. You can guess which Quintile Englewood fell in. That's why there are fully-staffed bureaus in Vernon Hills, Schaumburg, Oak Brook, and Tinley Park, but not a single reporter (as far as I know or that anyone could glean from the newspaper's coverage) assigned to Englewood.
So when the Tribune editorial page calls on everyone else to act, it ought to consider the role its own paper is neglecting. Perhaps it should call on the police to implement more innovative strategies, local political leaders to do more about guns and gangs, national leaders to focus on poverty, and the paper to open an Englewood bureau to better report on it all.
But then, the paper only sporadically assigns a reporter to cover the Chicago Housing Authority--which is only engaged in a so-called Plan for Transformation that has the eyes of the nation upon it. So clearly the Tribune's priorities are elsewhere.
Of course, it's not just the Tribune that's remiss. The media as a whole, for example, refuses to adequately explore the issue of realigning police beats according to where crime actually occurs. Every few years the issue of beat realignment crops up and is quickly pushed back down. How can the police have really shifted "every extra resource' to Englewood without just such a beat realignment? The formation of "hot spot" units doesn't count; this is a strategy above and beyond daily beats, which were supposed to be the cornerstone of community policing.
A more comprehensive evaluation of the mayor's plan for Englewood--one on par with the media coverage given to his past plans for, say, downtown improvements--would also be useful. Updating this fine package by The Chicago Reporter would be a good place to start.
(Though, like the police, the papers shouldn't count on "hot spot" coverage to do the job instead of daily beat coverage.)
The impact of the mayor's budget on Englewood and other poor neighborhoods also bears exploring. Why am I skeptical of Richard M. Daley's War on Poverty? How will these holes be filled? And should we now revisit the debate over a third airport in Peotone in a more constructive way given the project's potential economic impact on the city's South Side?)
Finally, there is something even more fundamental the papers and the rest of the media could do: Cover the city council in a more serious manner. Even during campaigns we rarely see the performance of individual aldermen evaluated.
In 2003, for example, incumbent Ted Thomas of the 15th Ward, which includes part of Englewood, won re-election in a runoff against former Chicago Bull Bob Love. Almost all of the slight coverage of the race focused on Love's celebrity. As I wrote at the time in my old Press Box column on Chicago magazine's Website, a third candidate, Livia Villarreal, a former FBI agent, finished about 700 votes behind Love and received the Tribune's editorial page endorsement. Yet, Villarreal never appeared in a Tribune story, and her name appeared only once in the Sun-Times--as one of eight "other candidates."
The story was similar in nearby wards such as the 21st and the 6th. In the 21st, Howard Brookins Jr. defeated incumbent Leonard DeVille in a runoff. While stories appeared in the papers about the possibility that former alderman and felon Jesse Evans would run in this race, no stories appeared in the Tribune or Sun-Times about DeVille or Brookins.
In the 6th, incumbent Fredrenna Lyle fended off former Olympic athlete Willye White, whose celebrity earned her some coverage. White won 20 percent of the vote (2,573). But then, so did Eugene Davis (2,505 votes). And Eli Washington wasn't far behind (2,409 votes.) Neither Davis nor Washington was ever mentioned in a Tribune news story. The Sun-Times included Davis and Washington in a 486-word story about the race--the only such story I could find.
At the time, Tribune metro editor Hanke Gratteau told me the paper didn't do more to cover city council races because it didn't think residents cared to read about races in wards other than their own.
But apparently the paper thinks readers are interested in violence in other people's neighborhoods when the circumstances are suitably dramatic.
Note: The [Monday] Papers will be posted later today. Please come back for more Beachwoody goodness, as well as new postings elsewhere on the site.
Posted by Lou at 12:37 AM | Permalink
March 18, 2006
The Weekend Desk Report
We're a little befuddled here at The Beachwood Reporter Weekend Desk. We thought we were going to be up to our ears covering the most recent U.S.-led air assault in Iraq, but apparently it ain't no thang. So here are the stories we think we'll be watching for you instead this Saturday and Sunday.
Obamest
Of course we will continue to monitor the condition of Cook County Board President John Stroger, to whom we wish a speedy recovery. Likewise, we are watching Sen. Barack Obama's rhetoric closely for signs of excessive hyperbole, which the Beachwood medical advisory panel warns us could be a sign of dangerous overexposure.
The Frying Game
If you're scoring at home, we're pretty sure the death penalty is back in play at the trial of confessed al-Qaida member Zacarias Moussaoui. If not, try flowers.
New Economic Order
Mexico defeated the United States at the World Baseball Classic on Friday, ensuring that both countries will be dismissed from the North American Free Trade Agreement. Per the rules of international competition, NAFTA will henceforth comprise Japan, the Dominican Republic, Cuba and one or both Koreas. Our correspondents are en route to Tokyo, Santo Domingo, Havana, Seoul and possibly Pyongyang to bring you all the latest developments.
Be Not Afraid of Greatness
In entertainment news, an important new film opens this weekend that every young person should see. With She's the Man, Hollywood has finally seen fit to produce a modern-day version of Shakespeare's Twelfth Night, and we at the BR Weekend Desk couldn't be more excited. While modernizing the language and setting of the original, the three credited screenwriters have preserved the most valuable aspect of any Shakespeare comedy: The plot. At last, teenagers the world over will be liberated from reading the Bard's troublesome prose. After all, if he'd meant for us to read his stuff like a book he wouldn't have written plays, right?
Posted by Lou at 12:45 AM | Permalink
March 17, 2006
A Beachwood Guide to the Primaries: Congress & You
This state's congressional delegation is a powerhouse. You might not know this, but the frickin' Speaker of the House, you know, the guy who used to be Newt Gingrich, and before that Tip O'Neill, is from Illinois. His name is Dennis Hastert. He is from Yorkville. He is two heartbeats from the presidency--meaning if Dick Cheney shot George W. Bush while hunting and then had a heart attack, Dennis Hastert would be president.
So yeah, he's kind of undercovered in the local press. Others have taken notice though.
[See also: The Beachwood Primary Guide: Governor and Cook County President; The Beachwood Primary Guide: Judging Not.]
Illinois holds several other seats in the U.S. House of Representatives. On the Republican side, Mark Kirk, who represents the North Shore up through Waukegan, is one of the brightest. Henry Hyde, the old lion from DuPage County who is still far more upset about Bill Clinton's fudging about blowjobs from an intern ("Catch the falling flag!" he implored in his impeachment speech) than George Bush's phony war and illegal spying, is retiring. Jerry Weller, based around the Southwest suburbs, is kind of out to lunch.
On the Democratic side in the House, Rahm Emanuel has done a terrific job maintaining the cynicism enshrined in the North Side seat previously held by Danny Rostenkowski. He's a comer. Jesse Jackson Jr. is kind of the Democratic analog to Kirk: The smart one. Jan Schakowksy is the party player, rising through the leadership ranks as fast as she can raise money. Danny Davis seems like a halfway decent guy. Bobby Rush and Luis Guiterrez are niche representatives. Dan Lipinski is a royal ass.
Over in the U.S. Senate, President-in-Waiting Barack Obama is smart enough to know he hasn't accomplished anything yet except defeat accused wife-aggrievers Blair Hull and Jack Ryan, and the thoroughly beat down illegal alien Alan Keyes. It's funny how the Illinois media missed spotting our next president all those years he was down there in Springfield toiling away on the Earned Income Tax Credit. Our other senator, Dick Durbin, is the Assistant Democratic Leader and frequently the national party's go-to guy for the Sunday morning news shows. But the pundits like their new novelty toy, Barack, better.
Neither Obama nor Durbin are up for re-election this year. So we'll keep our attention on the U.S. House races in Illinois. The U.S. House is designed to protect incumbents from challengers, because real democracy causes instability. So most of these races aren't competitive. But we think you should know about them anyway. By district -
1. Incumbent Bobby Rush is a minister now, which means he's stealing money from his congregation as well as his constituents. His challenger is Philip Jackson, who flamed out badly as head of the CHA and seems more suited to working with kids in the education sector from where he came and where he has returned. Though that kind of commends him for congressional work. Jason Tabour is unopposed on the GOP side.
2. Two Republicans from little Lansing--a high school math teacher and a town library trustee--are battling for the chance to be the Republican slaughtered by Jesse Jackson Jr. in the fall.
3. In the Third District, the Beachwood Political Desk would like to see Dan Lipinski turned out even if it takes Ray Wardingley" to do it. There is more democracy in Baghdad's Third District right now than in Illinois's.
Daddy gave Danny his job and Danny doesn't appear to feel the slightest bit sheepish, much less embarrassed and ashamed, about it. That makes him twice as unfit to hold the seat.
Lynn Sweet reported this last week:
"The poll also shows that if enough people know about how William Lipinski sneaked his son into office, it will change their opinion of if he deserves another term. . . . Dan Lipinski spokesman Chris Ganschow told me Wednesday he does not think the senior Lipinski's politicaly trickery will come home to deny his son a second term."
So yeah, the Lipinski campaign is counting on the ignorance of voters in the district. So I guess it makes sense that Lipinski's base is the ignorant.
The Tribune, for all its constant haranguing of voters to throw the bums out, endorses Lipinski, apparently because the paper's editorial board considers challenger John Sullivan, a Cook County prosecutor, to be too liberal for the district, as if voters couldn't decide that for themselves. (John Kelly, a financial advisor, is also in the race, though he is suspected of being a Lipinski plant designed to steal votes from Sullivan.)
To be fair to Lipinski, we went to his Website to check out his most recent accomplishments. Here they are--from him not us.
* House Passes Lipinski's Bill Honoring Contributions of American Engineers, Cites Need to Improve Education to Continue American Technological Leadership in World - WASHINGTON, DC - This week the U.S. House of Representatives passed Congressman Dan Lipinski's resolution, H.Res. 681, Supporting the Goals and Ideals of National Engineers Week. Since 1951, National Engineers Week has been celebrated across the country to raise public awareness of the important contributions engineers make to our nation and to inspire more young Americans to become interested in engineering.
* Congressman Lipinski Questions Funding Cuts to Small Business Programs - WASHINGTON, DC - Congressman Dan Lipinski, ranking member on the House Small Business Subcommittee on Workforce, Empowerment, and Government Programs, responded today to the administration's seriously underfunded budget proposal for small business entrepreneurial development programs.
* Congressman Lipinski Hosts Senior's Fair in Berwyn Held in Conjunction With Michael O'Connor, Mayor of Berwyn - CHICAGO, IL - Congressman Lipinski is hosting a Senior's Fair at the Berwyn YMCA located at 2947 South Oak Park Avenue on Thursday February 23, 2006 in conjunction with Mayor Michael O'Connor. The Senior's Fair will start at 10:00 a.m. and run until 1:00 p.m.
On the Republican side, Wardingley is taking on neo-Nazi Arthur Jones.
So let's turn Lipinski out, even if means getting behind the clown. Uh, we mean Wardingley, just to be clear.
4. Incumbent Luis Gutierrez is running unopposed. So we're against him. GOP challenger Ann Melichar is running unopposed. So we're against her, too.
5. Rahm Emanuel has two challengers: Mark Frederickson, a community advocate, and bar worker Johnny "Hap" Haptonstall. We prefer either of the challengers to the Emanuel, the master politician. Vote for the bar guy. 'Cause he works at a bar. Kevin White will be the GOP nominee.
6. How cynical is the campaign of Iraqi war veteran and double-amputee Tammy Duckworth? Well, with Rahm Emanuel (and Dick Durbin) behind it, very. Watching the Democrats pimp an Iraqi war vet is pathetic. "Like the Republicans wouldn't stoop so low," a Duckworth operative told me. How edifying.
This is the race to replace Henry Hyde. Christine Cegelis won 44 percent against Hyde last time out, yet the national party has thrown her overboard. Thanks for your hard work, Christine!
(The operative told me that Cegelis "couldn't put it together." Yeah, I guess 44 percent against Hyde doesn't really qualify as "putting it together." As opposed to Duckworth, who so obviously put her campaign together all by herself.)
Perhaps Cegelis is this year's Nancy Kaszak, the true community candidate who you would have thought, like Cegelis, had earned her party's support to a North Side seat in 2002 only to be swamped by Emanuel's decision to move into the district and buy a seat for $2 million. But it's not like money has hijacked your democracy.
Because guess what? Duckworth doesn't live in the district. The district she is running to represent. She has never lived in the district. Because who needs that?
The notion that Duckworth "has a good story to tell" because she lost her legs in Iraq is sickening. They aren't running for novelist.
Besides, she hasn't offered a single insight into the war. So what story exactly is she telling? That anyone can be a carpetbagger?
Lindy Scott, a teacher at Wheaton College, is also in the race. Late last month, the Sun-Times reported on the percent of campaign contributions coming from inside the district for each candidate.
Dems -
Tammy Duckworth: 3 percent.
Christine Cegelis: 28 percent
Lindy Scott: 32 percent
GOP -
Roskam: 33.3 percent.
Sweet reported: "Duckworth's campaign would rather the national aspect of her candidacy and fund-raising not get special attention. In the questionnaire Duckworth filled out for the Sun-Times editorial board, she did not respond to a series of questions about fund-raising. [Spokesman Billy] Weinberg said the omission was accidental and sent the requested information."
It was just an accident that that part of the form went blank.
Then Weinberg spun: "You are looking inside the numbers. I prefer to look at the bottom line."
Again, from Sweet (this is a lot from her, but she really lays it out): "The [Dem] leaders' support has helped Duckworth raise more money than Cegelis or Scott -- about $719,000 so far, compared with more than $300,000 for Cegelis and $104,840 for Scott. Duckworth has endorsements from Sen. Barack Obama (D-Ill.) and Sen. John Kerry (D-Mass.), and from the AFL-CIO and the Illinois Federation of Teachers.
"She alone is running television commercials, one featuring Obama. Her campaign bombards voters with mailings and automated 'robo-calls.' Next week, Sen. Hillary Rodham Clinton (D-N.Y.) will hold a Duckworth fund-raiser.
"Cegelis and Scott counter with home-grown support. Their lawn signs dot the district, while Duckworth signs are nowhere to be seen, two Democratic township chairmen said. Meanwhile, the anointing of Duckworth has bred resentment among some of the party faithful.
"'There's been some opposition about the way it's been done, in that the national party has come in and endorsed a candidate who a lot of us didn't know,' said Don Dudycha, vice chairman of the Milton Township Democrats.
"Laura Fletcher, chairwoman of the Democratic Party in Wayne Township, said Duckworth is 'articulate' and 'personable.' But she added, 'Tammy probably doesn't get out to the common person as much as Lindy and Christine do.'
"Duckworth has also been criticized -- especially by her opponents -- for not living in the district. The Iraq vet lives in Hoffman Estates, about three miles outside the district, in a home remodeled to accommodate her disabilities.
"In Duckworth, Durbin and Emanuel saw the potential to overcome [Republican nominee Peter] Roskam's advantages with a powerful personal story. Duckworth was a major in the National Guard when she was deployed to Iraq. On the afternoon of Nov. 14, 2004, a rocket-propelled grenade hit her Black Hawk helicopter. Duckworth lost both legs. Released from Walter Reed Army Medical Center just three months ago, she now walks on legs of titanium.
"Before going to Iraq, Duckworth worked for Rotary International in Evanston and was pursuing a doctorate in political science. Now 37, she is married and has no children.
. . .
"Cegelis, 53, lives in Rolling Meadows. A divorced mother of two, she got into politics because 'I was just angry about things that were happening,' she said.
"Cegelis cites education and jobs as the most important issues. She wants the No Child Left Behind Act amended to be less 'punitive' and would fight 'offshoring' of U.S. jobs by cracking down on U.S. visas for high-tech workers, she said.
"Cegelis supporters emphasize her 'ground game' and 'grass-roots' support. She won the endorsement of Democracy for America, founded by Howard Dean supporters and chaired by Dean's brother. The group is employing Dean's Internet fund-raising strategy on her behalf.
"The International Association of Machinists and Aerospace Workers union endorsed Cegelis. And a devoted cadre of volunteers has been canvassing for her. She needs 14,000 out of about 30,000 Democratic votes to win the race, she said."
Now you tell me which candidate sounds more appealing.
Again, I defer to the Duckworth operative who called me the cynical one for questioning the rationale and methods of her campaign: "It's a beautiful democracy," she said.
Yes, I suppose it is, for those who buy their way into it, and for the pets they tame along the way.
7. Danny Davis. We suppose he's harmless. He's facing Jim Ascot of Chicago and Robert Dallas of Oak Park. Charles Hutchinson will be the GOP nominee.
8. Republicans David McSweeney and Kathy Salvi are battling it out for the right to face Democrat Melissa Bean in the fall. McSweeney's radio ads are annoying.
9. A Republican businessman from Park Ridge and a substitute teacher from Evanston are battling it out to see who will be slaughtered by Jan Schakowsky in the fall.
10. Mark Kirk is a sharp guy.
11. Democrat John Pavich is running unopposed for the right to face incumbent Jerry Weller. Sigh.
12. The Tribune doesn't endorse in this race, featuring incumbent Jerry Costello against Granite City contractor Kenny Wiezer for the fourth time. We don't know anything about Wiezer, but let's give the Granite City guy a chance this time.
13. Judy Biggert is the incumbent. Naperville architect Bob Hart is her challenger. Downers Grove manufacturer's rep Bill Reedy is running against Wood Ridge lawyer Joseph Shannon on the Democratic side. We simply don't care.
14. All Hastert all the time.
15. These higher numbered districts tend to be boring. In the 15th, incumbent Republican Tim Johnson will face Democrat David Gill in the fall.
16. Incumbent Republican Don Manzullo runs unopposed.
17. Lane Evans is the Democrat incumbent. The Republicans will choose from commerical real estate developer Jim Mowen; former Quad Cities TV anchor Andrea Zinga; and businessman Brian Gilliland. How can you not support Zinga? I mean because of her name, not her last job.
18. Democrat Steve Waterworth will take on incumbent Republican Ray LaHood in the fall. LaHood is what you would call an insider. Always seemed to take great offense at former Sen. Peter Fitzgerald's frequent outbursts of truth.
19. John Shimkus is the Republican incumbent. Retired coal miner Vic Roberts battles it out with Kaskasia College poly sci prof, Danny Stover. Congress needs a coal miner. Go Roberts!

Posted by Lou at 01:03 AM | Permalink
A Beachwood Guide to the Primaries: Judging Not
Less than half of the lawyers running for Cook County Circuit Court judgeships are qualified, according to the Chicago Council of Lawyers.
Many of them, as they always do, will win seats on the bench. We have an incapable judiciary.
Our judges are even less qualified than our aldermen.
What kind of place are we living in?
[See also: A Beachwood Guide to the Primaries: Governor and Cook County President; A Beachwood Guide to the Primaries: Congress & You.]
To twist an old William F. Buckley saying, I'd rather be judged by the first 36 names in the Chicago phone book than by the 36 judicial candidates "Not Recommended" by the Chicago Bar Association.
And that's just the Cook County courts. That doesn't count the numbskulls running for, say, the Illinois Appellate Court.
Such as Cassandra Lewis, Christine Patricia Curran, and Barbara Ann Riley. All three are rated unqualified by the CBA.
[NOTE: An informed reader explains that "the CBA is part of the Bar Alliance, of which the Chicago Council of Lawyers is also a member. The Alliance coordinates the interviews of judicial candidates for the bar groups; each bar issues their own evaluations, but the interviews are coordinated by the Alliance to make it easier for all of the bars to meet with all of the (willing) candidates.]
For a more comprehensive look at judicial candidates, including those in your area, go here.
Here are the rest of the judicial candidates the CBA doesn't recommend. They are almost all Democrats.
Cook County Circuit Court (various seats)
Joanne Guillemette (D)
George Sarolas (D)
Sharon Finegan Patterson (D)
Pamela E. Hill Veal (D)
Thomas "TJ" Loftus (D)
Susan Mary Matyus (D)
Phyllis F. Ringer-Taylor (D)
Margaret Ann Carey (D) is deemed "Qualified" by the CBA, but we don't like her because she appeared in one of those O'Brien's Restaurant ads in the Sun-Times shilling for herself.
Subcircuit 1
Bonita Coleman-John (D)
Subcircuit 2A
Alzetta L. Bozeman Martin (D)
Jack L. Genius (D)
Marc M. Hamilton (D)
Carl B. Boyd (D)
Subcircuit 5
Andre Martin Thapedi (D)
Stephen Stern (D)
Subcircuit 6
Edward J. Lechowicz (D)
Roxanne L. Rochester (D)
Subcircuit 6A
Gloria Chevere (D)
Subcircuit 7A
Melanie Rose Nuby (D)
Leopold "Leo" Lastre (D)
Kenneth K. McNiel (D)
Subcircuit 10
John Joseph Pembroke (D)
David Michael Barry (D)
Subcircuit 11A
Lawrence Andolino (D)
Subcircuit 12
Michaela Nolan Ryan (R)
Subcircuit 12A
Ellen L. Flannigan (D)
Giuseppe R. "Joe" Papavero (R)
John A. Lartz (R)
Subcircuit 13
Cary J. Collins (R)
Jill C. Marisie (R)
Subcircuit 15
Daniel Patrick Brennan (D)
Mary Beth Duffy (D)
Arthur D. Sutton (D)
Angelo J. Toscas (R)
The chairman of the Cook County Democratic Party is Thomas G. Lyons, whose judicial slate makes him unqualified for his job, too.
Posted by Lou at 12:02 AM | Permalink
The [Friday] Papers
The Chicago Sun-Times leads its front page today with "Guilty Plea By Worker Who Wore Wire," the latest installment of the Hired Truck Scandal, James Laski Edition. The Chicago Tribune goes with "Offensive Targets Rebels," about the massive U.S. airborne assault in Iraq.
Each a justifiable choice.
But when I see stories like the AP dispatch "What Happened Right After Big Bang? Inflation" on Page 36 of today's Sun-Times, I wonder if they shouldn't be on the front page.
I mean, I know it's not "local" news per se. Or even "national." You see where I'm going with this.
But consider:
"Physicists announced Thursday that they now have the smoking gun that shows the universe went through extremely rapid expansion in the moments after the big bang, growing from the size of a marble to a volume larger than all of observable space in less than a trillion-trillionth of a second.
"The discovery is the first direct evidence to support the two-decade-old theory that the universe went through what is called inflation.
"It also helps explain how matter eventually clumped together into planets, stars and galaxies in a universe that began as a remarkably smooth, superhot soup."
I mean, c'mon! That's not front page news? The size of a marble to a volume larger than all of observable space! In less than a trillion-trillionth of a second! Into a remarkably smooth, superhot soup!
This is so good it's almost tabloid fare.
It reminds me of an Onion headline from 1969:
HOLY SHIT
MAN WALKS ON FUCKING MOON
Neil Armstrong's Historic First Words on Moon:
'HOLY LIVING FUCK'
Was a truer headline ever written anywhere?
Perhaps we all should just be a little bit more in awe of the world--the universe--around us. Maybe a more universal perspective could spare us offensives against rebels and wire-wearing city employees. Thinking large could keep us all from acting small.
Get Well Cards
Neil Steinberg and the Sun-Times apologize here and at the bottom here for Steinberg's hamhanded column on Wednesday about John Stroger's health.
The Chicago Tribune's editorial page comes back respectfully asking for more disclosure of Stroger's medical condition so voters can make an informed choice in Tuesday's primary.
Nuclear Episode
Beachwood Special Correspondent Tim Willette was perplexed Wednesday at the poor play given this story in Wednesday's Sun-Times about radioactive tritium that was accidentally released from the Braidwood nuclear plant into the groundwater in Will County.
Today the paper follows up with a story in which Will County State's Attorney James Glasgow likens the Braidwood nuclear plant to the Springfield nuclear plant in The Simpsons.
"In reviewing how ComEd and Exelon have operated," the Sun-Times quoted Glasgow as saying, "it reminded me of the Homer Simpson episode I saw where Homer worked at the local reactor and would put his jelly doughnut on the control panel. It's that bad."
I'm guessing from that quote that Glasgow doesn't watch The Simpsons, but nice try.
I'm also guessing that Glasgow is right, as is the state for filing a lawsuit, and that Braidwood deserves a full journalistic examination. Not only is there an outstanding question about the health risks posed by the Braidwood plant, and the apparent sloppiness with which it is run, but the state alleges that ComEd/Exelon failed to report the leakage.
I'm also guessing that the story would have gotten more attention and Braidwood a full vetting by journalists if it were located say, in Lincoln Park, Evanston, or on North Michigan Avenue.
But I'm just guessing.
Sample Ballot
A smiling Tom Dart, candidate for Cook County Sheriff, appears today in one of those ads for the clouty O'Brien's Restaurant that frequenly appears in the Sun-Times, saying "Great Food . . . Strictly Enforced!"
So we're against him.
Terence J. O'Brien, president of the Metropolitan Water Reclamation District of Greater Chicago, also known as the Taxpayer Reclamation District, also appears in an O'Briens ad today, saying, "O'Briens, The Water Is Great!"
So we're against him, too.
Today in the Reporter
Still unsure of who to vote for in Tuesday's primaries? Let us help.
Still unsure of who to lay extra dough on in the NCAAs? Let us help.
Still unsure of whether Slobodan Milosevic was poisoned? Let us help.
Catch up with this week's Papers here.
Watch for our Weekend Desk report this, um, weekend. And a raft of new features next week.
Advertising, gift subscriptions, and begging for money coming soon, so start a Beachwood Savings Jar at home, and when we're ready to relieve you of it, we'll let you know.
Many thanks to our fine readers. We just may have something here.
Our Tip Line: Better than their tip line.
Posted by Lou at 12:00 AM | Permalink
March 16, 2006
A Beachwood Guide to the Primaries: Governor & Cook County President
Still haven't decided who to vote for in the primaries on Tuesday? Let us help.
We've analyzed each candidate's record, studied their policy papers, parsed their campaign contribution data, and spied on their neighbors and family. And then we flipped through the articles written by other news organizations and wrote our evaluations. We are particularly indebted to the Chicago Sun-Times's series of candidate profiles, especially in isolating each candidate's Creepiness Factor. So a blanket nod to The Bright One and everyone else we stole from. Good work!
[See also: A Beachwood Guide to the Primaries: Congress & You; A Beachwood Guide to the Primaries: Judging Not.]
GOVERNOR/DEMOCRAT
Name: Rod Blagojevich
Current Job: Running for re-election as governor.
Creepiness Factor: For all the hype, his hair sucks. Also, didn't know The Daily Show was satirical. If we were dating him, both would be deal-breakers.
Comment: Has an incumbent governor anywhere at any time in history ever appeared to be such a shoo-in to win his primary and remain the favorite in the general election while garnering such grudging endorsements?
Crain's Chicago Business, for example, put its endorsement this way: "Blagojevich, For Lack Of A Better Choice."
No, really. They did.
The Chicago Tribune, quite honorably, couldn't bring itself to endorse Blagojevich or his opponent, Edwin Eisendrath. Instead, the Tribune resigned itself to a Blagojevich primary win but asked readers to vote for Eisendrath to send the governor a message.
The Sun-Times's endorsement of Blagojevich was pathetic. The paper (whose editorial board remains under suspicion) said Blagojevich "deserves a chance to keep moving forward," as if he's a poor student being awarded social promotion to the next grade.
Let's face it: Blagojevich isn't a very good governor. And why did anyone expect anything differently, because he loves the hobnob of the campaign trail? Blagojevich wasn't a very good congressman, either. In fact, he hasn't been a very good anything.
True, the governor's All Kids health insurance plan probably hasn't gotten enough attention. We'll give him that. But it's hard to think about the children when the adults are behaving so badly.
Name: Edwin Eisendrath
Current Job: Vice President of Academic Affairs at Kendall College
Creepiness Factor: His stealth campaign is almost stalker-like.
Comment: Has a lone challenger to a vulnerable sitting governor whose administration is drowning in corruption ever run as lame a campaign anywhere at any time in history?
Where have you gone, Paul Vallas? A lonely Illinois turns its eyes to you.
If there ever was a time for a maverick independent to run for governor, this is it. If Paul Simon was still around, we'd lead a movement to draft him. If Peter Fitzgerald was still around, we'd root for him to run. Hey, what's Blair Hull up to these days? Anyone have Bob Kustra's number?
Where is our Jesse Ventura? Our Arnold Schwarzenegger? Someone has to jump in because Eisendrath isn't the guy. And neither is James Meeks, who is reportedly considering a run. We don't want a reverend for governor; we've already got one for president.
See how Eisendrath's candidacy even vanished in the space of this item? It's creepy.

GOVERNOR/REPUBLICAN
Name: Judy Baar Topinka
Current Job: State Treasurer
Creepiness Factor: Joked about farting during her first inauguration as treasurer.
Comment: Has there ever been a more reluctant candidate with a chance to topple a scandal-ridden sitting governor at any time anywhere in history?
Topinka "has spent a lifetime speaking her mind," according to an enamored press corps. But does she have anything interesting to say? Her platform, she says, is Common Sense.
Topinka would really rather remain treasurer, but she's doing her duty. Her duty to the party. See, Topinka has been treasurer since 1995. Before that she served two terms in the state House and a decade in the state Senate.
So she's running as an outsider.
She likes to say she's not "one of the boys."
She probably says that a lot behind closed doors when she talks to her running mate, Joe Birkett, the DuPage County State's Attorney who comes out of the DuPage County Republican Machine, also known as the Let's-Kill-Rolando-Cruz-Despite-The-Evidence wing of the party.
Topinka's leadership skills are proven. As chairman of the state party, she presided over the Republican nomination of sex-club fiend Jack Ryan in the U.S. Senate race, as well as the installation of Ryan's replacement, Alan Keyes, a solid contender for most bizarre candidate in Illinois history.
On the plus side, she called her current primary opponents "a bunch of morons."
Then she took it back, which showed she was just like the rest of 'em.
Name: Ron Gidwitz
Current Job: Running for governor.
Creepiness Factor: Tried to score chicks by volunteeering for John Chafee's campaign for governor of Rhode Island.
"Ron Gidwitz got his start in politics in the mid-1960s, and his interest had little to do with high ideals or public policy," the Sun-Times reported in its Gidwitz profile.
"I had heard there were some very attractive young women working on John Chafee's campaign for governor in Providence, R.I., so I signed up and rang some doorbells," Gidwitz told the paper. " [Chaffee] won . . . but I could not find one attractive woman. That was my first political disappointment."
Comment: Gidwitz is the run-government-as-a-business candidate. His business experience? He inherited the Helene Curtis cosmetics company from his daddy. So yeah, he knows how politics in this state works
Gidwitz told the Sun-Times that his biggest mistake in life was developing a hair-care product called Atune.
"This one cost about $30 million. It was an absolute, total failure," he told the paper.
So again, he's well-suited to be governor.
The Tribune thinks Ron Gidwitz is the candidate to "drain the moat of cronyism and self-dealing that isolates the domed Statehouse from 12 million Illinois citizens."
Unlike Topinka, who called her opponents morons, Gidwitz called the voters morons.
On the other hand, he appeared to be the only adult on the candidates panel that appeared on Chicago Tonight Thursday night, painfully but gamely trying to play ball with the inanity of discussions such as who owned an iPod. (Hell, I don't own one. Does that disqualify me?)
On the other hand, he is still forced to deny he is a slumlord.
Name: Bill Brady
Current Job: State Representative from Bloomington
Creepiness Factor: Take your pick.
"I enjoy asking for money."
"I don't think I've ever read a book more than once, cover to cover."
"I never watch [Leno or Letterman]. But that's not good. Don't say that. Who would I like
better? I probably like Letterman better."
"He once made [his wife] take back a purse she had bought for herself. It was a pretty fancy purse, she said. He said, No, I'm to buy you those things. That should be a gift."
Comment: For a multimilionaire with business interests in an arena football team, two radio stations, a furniture store, home construction, and real estate, he sure seems like a dull guy.
Name: Jim Oberweis
Current Job: Ice Cream Magnate
Creepiness Factor: Ice Cream Magnate. Although his operation looks pretty good.
Comment: In 2001, Oberweis said the Taliban "is what can happen if we try to impose our religious views on others."
At the Illinois State Fair in August, he slammed Republican national committeeman and uber-consultant Bob Kjellander for his lucrative deals with the Blagojevich administration. Kjellander was seated behind him when he did it.
And that Shake and Cone Club looks pretty good.
Hey, this guy makes a lot of sense!
I wonder what he thinks about immigrants.
Name: Andy Martin
Everything About Him: Priceless.

COOK COUNTY PRESIDENT/DEMOCRAT
Name: John Stroger
Current Job: Cook County President
Creepiness Factor: If he could be trapped in an elevator with anyone, he told the Sun-Times, it would be Sen. Dick Durbin.
Comment: Let's face it, John Stroger sucks. I know he's ill, and we wish him a speedy recovery. But he built a new county hospital, had it named after himself, and then went to Advocate Trinity Hospital and later transferred to Rush University Medical Center when he wasn't feeling well.
So John H. Stroger Jr. Hospital is, at best, John H. Stroger Jr.'s third choice for medical care.
Stroger is as old-school as they come. And not in a good way. He was the only black committeeman to support Richard M. Daley over Harold Washington in 1983. He also supported white candidates who ran against Barack Obama, Bobby Rush, and Roland Burris.
That isn't to say a black politician should be expected to only support other black politicians. Hardly. It is to say he has managed to build a huge base of black support while kowtowing to the Daley clan, where his first loyalty lies. So that's whose interests he serves first.
The mess of county government under Stroger is so well-documented as to be tiresome.
He should retire for health reasons. Then he and his organization should be blocked from engineering his replacement. And then he should enjoy reflecting on his long political career, in good health and with the gratitude of those he served.
Name: Forrest Claypool
Current Job: Cook County Commissioner
Creepiness Factor: He is what passes for a reformer in Cook County.
Comment: Claypool is the obvious media favorite. But the newspaper editorial board bloc only controls so many votes.
As the superintendent of the Chicago Park District, he seemed little more than a Daley tool with an eye for manufacturing good PR. Is he a poser? Or a policy wonk? Perhaps he believes in a little bit of reform--just not too much.
If he wins, he isn't likely to stay at County long. He could be a mayoral or gubernatorial candidate. Which could also make him the next Paul Vallas. Go Phillies!

COOK COUNTY PRESIDENT/REPUBLICAN
Name: Tony Peraica
Current Job: Cook County Commissioner
Creepiness Factor: Vice President of International Scouting, Boy Scouts of America
Comment: Running unopposed for the GOP nomination. Posted Neil Steinberg's controversial Stroger column front and center on his Website even as he issued a statement about how Stroger was in his prayers.
Posted by Lou at 01:59 AM | Permalink
Milosevic Was Poisoned: I Learned It At The Movies
Slobodan Milosevic was poisoned. I firmly believe this to be true. There is simply no way for me, as a film geek, to think otherwise. Every film that I have seen from the Balkans has insidious and ludicrous murder as the final end to its insidious and ludicrous characters.
Hukkle (Hiccough, 2002), the delightful women's revenge film from Hungary, depicts almost wordlessly the true story of the poisoning of an entire village of men by their women, who were tired of their lazy, drunken ways. The middle-aged female director of the Bulgarian documentary Chia e tazi pesen? (Whose Song Is This?, 2003) is threatened with lynching for suggesting a common love song was written by a Turk, not a Bulgarian. The 2002 Academy Award Winner for Best Foreign-Language Film, No Man's Land, is a first-rate satire that throws a Serbian and a Bosnian soldier together, arguing and working to keep the Bosnian's injured comrade from exploding a land mine he is laying against. I won't tell you how it ends, but rest assured, it's a Balkan end.
My latest Balkan fixation is Slovenian cinema. I admit that I have seen only one Slovenian film--well, actually, two since I found out that No Man's Land is a Slovenian co-production whose Slovenian title, Nikogarsnja zemlja, was dumped by Bosnia and Herzegovina before it was submitted to the Academy (how Balkan of them). Nonetheless, when a film geek finds a director like Slovenian Damjan Kozole, it sets off a specific and complex reaction that a chemistry-minded friend of mine said is "kinda like eating a box of Frango mints."
Last summer, at a Facets retrospective of Kozole's films, I fell head over heels for his 1997 Stereotip (Stereotype). In it, Slovenian pop star Roberto Magnifico plays a greasy, lazy artist-poseur who meets a typical Balkan end and sings a love song in a Monkees version of Heaven in the most winning performance by a pop singer since Iggy Pop tippled with Tom Waits in Coffee and Cigarettes ("Call me Jim. Call me Iggy. Well, my friends call me Jim. Or Iggy."). Incidentally, Magnifico won a Best Actor award in Slovenia, and the rumor mill has it that Madonna may come out of acting retirement when she was said to have been spotted taking a meeting in Ljubljana. I am now in search of a DVD distributor of Slovenian films.
In the meantime, I'll be parked in the dark for two Slovenian films showing this coming week at the annual European Union Film Festival, currently underway at the Gene Siskel Film Center. I absolutely love the idea of Rusevine (Ruins, 2004). At a time when big-time Hollywood directors like Joel Schumacher are grabbing their digital video cameras and pretending they're in film school, Janez Burger decided to shoot this backstage drama in Cinemascope! You're not likely to see another new Cinemascope film in this decade--or ever--and the Siskel Center is uniquely equipped to show it to best advantage on its Theatre 1 widescreen. For me, that makes Rusevine a must see.
Pod Njenim Okhom (Beneath Her Window, 2004) is described as follows: "The advent of her 30th birthday has dance instructor/club-hopper Dusha in a crisis that involves a King Cobra, a clogged sink, and a bun in the oven. Is she being stalked, or is it the Ecstasy?"
So what's not to like?
SHOWTIMES: Rusevine shows on March 17 (7:45 p.m.) and March 20 (6:15 p.m.). Pod Njenim Okhom will be screened on March 24 (6:15 p.m.) and March 25 (6:45 p.m.). At the Gene Siskel Film Center, 164 North State Street, Chicago. Tel: 312.846.2600
Marilyn Ferdinand joins The Beachwood Reporter with wit, verve, and style. So what's not to like? For more of her fine film writing, check out Ferdy on Films.
Posted by Lou at 01:18 AM | Permalink
The [Thursday] Papers
Did Chicago Sun-Times columnist Neil Steinberg seal a Democratic primary victory next week for Cook County President John Stroger by attacking him in print Tuesday even while Stroger lay in a hospital recovering from a stroke?
If the anger of callers to WVON-AM yesterday (and continuing this morning) is any indication, the answer is, Very Much So. From the sound of it, Steinberg's column and subsequent interview on the station, which has a largely African-American listenership, energized a number of voters who may feel more passionately about Steinberg's work than Stroger's.
In fact, several callers to The Roland Martin Show, hosted by Roland S. Martin, executive editor of the Chicago Defender, called for a boycott of the Sun-Times until Steinberg apologizes.
What was so offensive about what Steinberg wrote?
Well, just to take one example, Steinberg wondered why anyone should have any more compassion for the ill Stroger than he thinks Stroger has shown for picknickers who have to put up with garbage-strewn county parks.
Steinberg may as well have offered Stroger supporters a ride to the polls.

Steinberg then went on Martin's show and, in his inimitable style, made things worse. Here is a rough, edited transcript of Steinberg's exchange with Martin. I can't say it is accurate to the last "a," "an," and "the," as I was typing as fast as I could when the interview came on, but I'd say it is 99 percent accurate.
UPDATE: The Defender has posted a podcast of the show here.
Roland Martin: (Reading from Steinberg's column) "But surprise, surprise, the man seems to be actually sick." Why did you choose to make light of his illness?
Neil Steinberg: Well, initially he checked himself in and there was a question of was he ill. I mean, we always wish well for the man . . . "
RM: But that's not what you wrote. You made light of his illness.
NS: That's how you view it.
RM: You say, "But surprise, surprise, the man seems to be actually sick, though the results are the same: to take the air out of the surging Forrest Claypool campaign, as the media focuses, not on the dynamic reformer who has pulled within striking distance of the longtime pol, but on Stroger."
NS: Yeah, that's what I wrote.
RM: "Seems to be." But he's actually sick.
NS: I understand that he seems to be sick.
RM: No, he is sick.
NS: Okay, he is sick. I don't see the point . . .
RM: Did you write your column before the news conference [about Stroger's condition]?
NS: Yes, I wrote my column before the news conference.
RM: That seems like a ridiculous thing for a journalist to do. Why not go back and change it?
NS: John Stroger's a terrible politician who shouldn't win the election. That's the [most important thing]. Whether he's sick or not isn't important.
RM: It is important! You're saying [he's faking it for sympathy].
NS: No, he didn't do it for the purpose of the campaign, that's the surprising part.
RM: Why such a personal attack when a man is actually sick?
NS: Right, but he's 76 years old and he's overweight and he's diabetic. He's going to be sick. That's another reason not to re-elect him. Did you not read the column?
RM: I read the column!
NS: No, I mean in general. It's always like that . . . The election's on Tuesday. We don't have time for this. His sickness is beside the point.
RM: But you're making light of this man's sickness.
NS: Okay, good.
RM: That's like me making light of you slapping your wife around.
NS: Well, you just did.
[crosstalk]
NS: I think he's a lousy politician who should lose, that's why I'm making light of it. Why are you treating him respectfully?
RM: I'M TREATING HIM RESPECTFULLY BECAUSE THE MAN SUFFERED A DAMN STROKE!
NS: You throw your respect around based on how sick somebody is?
RM: I would not make light of you if you had a stroke.
NS: That's your choice, my friend.
RM: That is a ridiculous type of journalism. You owe your readers an apology and you owe everybody who bought your paper an apology.
NS: Well, the people who bought the paper already knew from the front page that he had a stroke . . . It's not my fault they waited 12 hours to tell us what happened.
RM: It's called taking tests.
NS: He didn't go to County [Hospital]. (Pause.) I'm trying to change the subject. Because it's getting dull for me. It must be getting dull for whatever listeners you have.
RM: When you slapped your wife around we did not make light of it because we understand the power of addiction.
NS: I don't think I made light of it. I made light of what a slimy pol Stroger is.
RM: Well, you're a slimy journalist.
NS: I'm not going to help you fill your show. If you're not going to be respectful . . .
END.
Steinberg's Smarts: Then again, Steinberg is smarter than one of the smartest people I've come across in 20 years as a reporter: U.S. Rep. Jesse Jackson Jr.
Other Ways to Execute a John Stroger Column
John Kass delivers the political insight.
John McCormick delivers the grace.
Payne Relief
Beachwood Special Correspondent Tim Willette tipped me a few days ago that WGN-TV reporter Allison Payne gave a real stemwinder at Rainbow/PUSH on Saturday about the media's disparate coverage of missing white women and missing women of color. (You can watch the PUSH's Saturday Forums live on CAN-TV's Channel 36 at 10 a.m., but attending is always a worthwhile experience.)
On Tuesday night WGN aired a segment by Payne called "Missing Women of Color."
Are her Tribune Company bosses watching and listening?
You can see the video for yourself on WGNTV.com. The video options are on the upper right rail. You will have to click on "more video," and then scroll halfway down the page to "WGN News at Nine Segment Information."
Kick That Block
The company the city finally chose to redevelop the seemingly-cursed Block 37 downtown is in a bit of trouble. The Chicago papers have reported on some of the travails of the Virginia-based Mills Corp., unavoidably including sunny reassurances from city officials that everything will be okay, though the company is now up for sale.
The Wall Street Journal reported further Wednesday on Mills's woes. The company, the Journal says, "has burned investors with a series of missteps in the past 13 months . . . restated its earnings twice, written off 10 projects and announced the layoffs of nearly 100 employees."
UPDATE: "Dispute Halts Construction at Block 37"
Explaining Englewood
The Tribune followed up on its story about CeaseFire funding in Englewood, but again failed to answer the key question: Who is responsible?
"In last year's final budget negotiations, the Blagojevich administration agreed in writing with several legislators to target specific amounts of CeaseFire funding for their districts," the paper said. "The result: Districts with the strongest political advocates got the most money."
Nicely put. But the obvious question begged here isn't answered: Who in the Blagojevich administration agreed? Which legislators? What happened, exactly?
The paper then goes on to quote Blagojevich spokeswoman Abby Ottenhoff saying, "We just want to make sure the communities that have the greatest need are getting resources."
But clearly the paper has just shown that that is exactly what the Blagojevich administration didn't do.
The interests of fair reporting don't include an obligation to print whatever an official spokesperson says just because they say it. In fact, I'd say the interests of fair reporting demand just the opposite.
Not Explaining Englewood
Among the locations where the Tribune has bureaus:
Buenos Aires
Vernon Hills
Schaumburg
London
Oakbrook
Englewood
Tinley Park
Moscow
Correction
The Tribune doesn't staff Englewood.
But yeah, the community really ought to do something about the violence.
Piercing Insight
If I had seen it earlier yesterday, I would have skewered Jennifer Hunter's latest "Scribble" column, in which she discovers that even "valedictorian types, kids who would never dye their hair blue" are getting tattoos and piercings. I might have wrtiten something like this: "Welcome back to consciousness, Mrs. Hunter! And how long have you been frozen, 20 years now?"
But I didn't see it in time for yesterday's column. So I guess I missed a good opportunity, but I'm sure I'll get another one.
Hunter, by the way, is married to Sun-Times publisher John Cruickshank, who once said upon her hiring that her new Sun-Times column and position on the editorial board were a "step down" from her previous job editing North Shore magazine.
Which seems to say a lot about the regard in which he holds Sun-Times columns and editorials.
Decoding Dennis
The first installment is here. The second installment is below. Once again, "Said" is FitzSimons, "Unsaid" is Columbia Journalism Review's comment. "BR" is The Beachwood Reporter adding value.
Said: "We are local media."
Unsaid: So of course they killed Chicago's 115-year-old City News Service, shuttered eleven community papers owned by The Morning Call in Allentown, Pennsylvania, and decimated Newsday's New York City desk--all part of a companywide drive-by that netted 900 jobs and counting (800 from the publishing side, while the ad sales force grew). It's hard to see how this will sharpen "Tribune's edge," which FitzSimons told The New York Times recently is "is unique ability to cover its local communities like no one else can."
BR: FitzSimons is right; the Tribune Company just may be better than anyone else in its unique ability to cover local communities by reducing its presence in local communities. Like Englewood.
Said: "Our [TV] stations in Philadelphia and San Diego have moved to the news outsourcing model we've used successfully in Miami."
Unsaid: Outsourcing meant laying off the entire news staff in Philly and San Diego and airing a product produced by local NBC affiliates--not exactly a commitment to that "important journalistic mission."
BR: C'mon, CJR, that's just the "unique ability" FitzSimons was talking about in your previous item. Plus, FitzSimons never said which local media Tribune is. In Philly and San Diego, apparently, he meant that Tribune is NBC local media.

The Tip Line: A line for tips.
Posted by Lou at 12:37 AM | Permalink
March 15, 2006
The [Wednesday] Papers
Now that the hapless Tony Ridder stopped taking half-measures and finally just sold-out entirely, the Tribune Company's head honcho Dennis FitzSimons moves into the top slot as "the media world's most embattled CEO."
So says the Columbia Journalism Review in its new issue.
"Wall Street is grumbling about Tribune's sorry showing in '05 (anemic stock price, embarrassing circulation scandal, a belated $1 billion IRS bill, etc.), and FitzSimons is scrambling to convince investors that he can wring more money out of Tribune's properties," CJR says.
Apparently wringing better journalism out of the Tribune's properties isn't an option.

CJR goes on to annotate "as a public service" a presentation FitzSimons gave to Wall Street analysts in December.
That is, as a public service to print subscribers only. So I can't provide a link. But I can provide the highlights this week. I'll start with this one. "Said" is FitzSimons, "Unsaid" is CJR's comment. "BR" is The Beachwood Reporter adding value.
Said: "Our focus on cost reduction, given our current revenue environment, has been intense."
Unsaid: Despite the sky-is-falling rhetoric, Tribune remains enormously profitable. Yes, newspapers are suffering through a difficult transition, but Tribune's operating profit margin for 2005 is over 20 percent. Exxon Mobil, on the other hand, which just reported the highest profit in U.S. history, has an operating margin of 17 percent.
BR: "Focus" means obsession, "cost reduction" means costing people their jobs, "current revenue environment" means no matter how much money we make it will never be enough, and "intense" means I just got a 3.1 percent raise to a base salary of $985,000, plus a $250,000 bonus for my crappy performance in 2005, and don't even start in on my stock options.
Best. Tribune. Headline. Ever. Now. Even. Better.
"Largest. Profit. Ever."
- Splayed across the Chicago Tribune's front page on Jan. 31, 2006, on top of a story about Exxon Mobil's record profits. See Unsaid.

Professional Assocation: Mary Wisniewski is on the Chicago Headline Club's Board of Directors.
So I guess they let PR people hold those positions, too.
Picketting
I tuned into Chicago Tonight last night only to find out in the introduction that Chicago Sun-Times columnist Debra Pickett would read an essay later in the show about scandals in the Illinois governor's office through history. That's how I ended up watching American Idol.
I'm not sure, but I think I heard Pickett on Chicago public radio the other day, too. And she's started a blog.
So now she's annoying me across multiple platforms.
The sadly prolific Pickett appears to be keeping her various Sun-Times columns, including The Smart Girls Book Club, which offends on so many levels.
First, just because The Husband thinks she's smart doesn't make it true. And second, is she saying everyone else's book clubs are for Dumb Girls? Because that's what I think she's saying. And the whole girly gender thing, well, wake me when the 1950s are over.
Better yet, now introducing The Dumber Than Debra Pickett Girls Book Club. In our Beachwood Books forum. Get to it.
From Where You Stand
"Anti-Gay Sen. Meeks Says He'll Likely Run For Governor"
- Chicago Free Press last week
Explaining Englewood
Did you know that the Daily Southtown began publishing in 1906 as the Englewood Economist?
The paper, owned by Hollinger Inc., which also owns the Sun-Times, morphed into the twice-weekly Southtown Economist, and then the Daily Southtown. The paper also moved out of Englewood and is now based in the southwest suburb of Tinley Park.
But somebody really ought to do something about Englewood.
Political Profiling
"Selective Service had a different description years ago when it found him unfit for the military because of a 'moderately-severe character defect manifested by well-documented ideation with a paranoid flavor and a grandiose character.'"
There's no way anyone like that could ever get elected.
- Tim Willette
"Cheney Plugs Roskam, Defends Bush"
Vice President Dick Cheney stirred up a Republican crowd Monday when he used a stump speech for congressional candidate Peter Roskam to offer a vigorous defense of Bush administration policies on Iraq, homeland security and the U.S. economy.
Cheney's 20-minute speech to a crowd of more than 400 GOP heavyweights in Addison also pumped about $200,000 into Roskam's campaign fund as the state senator readies for his run at a crucial congressional seat.
The per capita income for the village is $21,201, and 9.6 percent of the population and 7.2 percent of families are below the poverty line, the highest figures of any municipality in DuPage County. Out of the total population, 13.2 percent of those under the age of 18 and 7.3 percent of those 65 and older are living below the poverty line.
The U.S. economy is strong, Cheney said, but he pushed for Congress to "make the Bush tax cuts permanent."
President Bush's fiscal year 2007 budget would eliminate funding for the Commodity Supplemental Food Program (CSFP), terminating food assistance to 420,000 low-income seniors in an average month.
CSFP provides monthly nutritious food packages primarily to low-income seniors aged 60 and older in parts of 32 states, the District of Columbia, and two Indian reservations. The typical food package, whichi s designed to supplement low-income seniors' diets with nutrient-rich foods, costs the government less than $20 per participant a month and includes items such as canned tuna fish, peanut butter, cheese, cereal, and canned fruits and vegetables.
Before his public remarks, Cheney mingled at a private reception with some of the donors. Supporters entering the room were greeted by a 2-1/2-foot-tall ice sculpture spelling out "ROSKAM." Inside, they dined on a mix of hors d'oeuvres, with a chocolate fountain available for desserts.
About 9 percent of Illinoisans are food insecure and do not always have money to buy food. Another 3 percent of Illinoisans are food insecure with hunger. And 11.8 percent of Illinoisans live in poverty--more than in any other Midwest state.
Sources:
Chicago Sun-Times, 3/14/06
Illinois Interagency Nutrition Council data sheet, 11/05
Center for Budget and Policy Priorities, 2/14/06
Wikipedia.org
- Tim Willette
In Today's Reporter
If you read one more thing in today's Reporter, make it our Beachwood Brackets, The World's Greatest NCAA Basketball Tournament Brackets Anywhere. You don't even have to like basketball to enjoy it. Or college. Just remember to kick back a little when it's time for the Beachwood Reporter Pledge Drive.
Use the Tip Line: Because Dennis FitzSimons doesn't want you to.
Posted by Lou at 12:36 AM | Permalink
March 14, 2006
The [Tuesday] Papers
Let's take Chicago Sun-Times Publisher John Cruickshank's word for it, at least for now. Cruickshank told Crain's Chicago Business on Monday that the business section of his paper had no idea that Washington Mutual bank was sponsoring a free giveaway of the paper downtown with a parodic advertising wraparound with fake front page produced by the bank.
Cruickshank was answering the question because the business section's top real news story inside the paper was: "Wa-Mu Kicks Off a Free-For-All."
The story, written by Mary Wisniewski, started this way:
"Washington Mutual, a Seattle bank trying to win customers in the tough Chicago market, launches a powerful new weapon today in the free checking wars."
"The new 'Wa-Mu Free-Checking' account offers free withdrawals at non-Washington Mutual ATMs, a yearly overdraft fee waiver, free checks for life, free outbound wire transfers and 3 cents back for each debit-card purchase, up to a maximum of a $250 rebate a year.
"'We've added features we think creates a package that's unmatched in the industry,' said Steve Rotella, chief operating officer and president of the Seattle-based bank. 'We feel confident it's a huge win for consumers.'"
And on it went, accompanied by a sizable photo of a smiling "personal financial representative" (quite possibly known in other times and places as a "teller") helping a customer, a head shot of president Rotella, and a chart comparing the bank's Chicago area deposit market share with its top competitors.
The article ended this way, without mentioning the Sun-Times tie-in, which was either on purpose or the result of Wisniewski and her editors missing a big part of the story:
"Washington Mutual is launching a national advertising campaign Monday, created by Leo Burnett in Chicago, that according to a WaMu statement 'pokes fun at old-fashioned bankers enraged with WaMu's new product.'"
Question of the Day: So would it be worse if the Sun-Times made a deal with the advertising devil and published this story as a sop to the bank for buying the wraparound/giveaway, or if Wisniewski and her editors published this story on their own accord because they judged it journalistically viable and deserving of its prime play?
Chasing Bankers: Page 3 of the Sun-Times's Monday business section may clear things up. That's where Wisniewski reports that "JP Morgan Chase is offering low-income tax filers a way to get their refunds safely without having a bank account or going to a currency exchange . . . "
So yeah, Cruickshank's denial is totally believable.
Standing Ovation
Meanwhile, The New York Times published a story on its front page Sunday about a Deerfield pharmaceutical company whose practices the paper said illustrate "the soaring price of cancer medicines and the tendency for those prices to have little relation to the cost of developing or making the drugs."
The story started out this way:
"On Feb. 3, Joyce Elkins filled a prescription for a two-week supply of nitrogen mustard, a decades-old cancer drug used to treat a rare form of lymphoma. The cost was $77.50.
"On Feb. 17, Ms. Elkins, a 64-year-old retiree who lives in Georgetown, Tex., returned to her pharmacy for a refill. This time, following a huge increase in the wholesale price of the drug, the cost was $548.01.
"Ms. Elkins's insurance does not cover nitrogen mustard, which she must take for at least the next six months at a cost that will now total nearly $7,000. She and her husband, who works for the Texas Department of Transportation, are paying for the medicine by spending less on utilities and food, she said.
"The medicine, also known as Mustargen, was developed more than 60 years ago and is among the oldest chemotherapy drugs. For decades, it has been blended into an ointment by pharmacists and used as a topical treatment for a cancer called cutaneous T-cell lymphoma, a form of cancer that mainly affects the skin.
"Last August, Merck, which makes Mustargen, sold the rights to manufacture and market it and Cosmegen, another cancer drug, to Ovation Pharmaceuticals, a six-year-old company in Deerfield, Ill., that buys slow-selling medicines from big pharmaceutical companies.
"The two drugs are used by fewer than 5,000 patients a year and had combined sales of about $1 million in 2004.
"Now Ovation has raised the wholesale price of Mustargen roughly tenfold and that of Cosmegen even more, according to several pharmacists and patients."
Ovation doesn't seem to have gotten any critical scrutiny thus far in the Chicago press, though I did find a couple previous Sun-Times articles fawning over the company.
In April 2005, Ted Pincus wrote: "A pharmaceutical company that doesn't invent pharmaceuticals, and that pursues health care markets nobody wants? That's the niche of Ovation Pharmaceuticals, a young Deerfield company whose non-scientific entrepreneur-founder has broken all the rules--with remarkable success."
In July 2003, Francine Knowles wrote: "Fifteen months after landing $150 million in equity financing, Deerfield-based Ovation Pharmaceuticals Founder and President Jeffrey S. Aronin says the upstart company's prescription for growth is producing good results."
For the company, that is. Consumers aren't mentioned.
Back on the Webb
Eric Zorn offers in his Tribune column today his top three reasons "why former Gov. George Ryan will be found guilty on at least some of the 18 counts against him now being considered by a federal jury."
I've been sparring with Zorn about the media's coverage of the Ryan trial and my view that Ryan defense lawyer Dan Webb spun reporters mercilessly. Daily Herald reporter Rob Olmstead joined the debate yesterday both on this site and on Zorn's blog with a vigorous--though in my opinion completely wrong--defense of his work and the work of his peers.
My question to Zorn today is: If Webb gave such a glowing performance, what in the evidence has changed in the last few days that you can now write persuasively about why Ryan will be convicted? Or is it the case that Webb's rhetoric was persuasive for all of a day and then vanished in the mist?
Explaining Englewood
In the wake of two shooting deaths of young girls in Englewood--one of whom was attending her birthday party--the Chicago Tribune reported today that the poverty-stricken neighborhood has been shortchanged in its share of state funds for the violence prevention program known as CeaseFire.
The Tribune found that Englewood gets the least amount of state funding among 15 Chicago neighborhoods served by the program.
"[T]he politics that inevitably decide where state money lands have prevented the program from growing in some of the areas of greatest need," the paper says.
But while the Tribune says that money tends to go to the communities whose political advocates are most deft, the paper is passive on just who dropped the ball, and who actually makes the funding decisions.
Former Englewood state Rep. Patricia Bailey, recently convicted on multiple counts of perjury and election fraud, is reported to have been a strong voice for CeaseFire funding during the last budget round.
So who screwed up? And who exactly makes the funding decisions?
Panther Prints
Just in time for the Fred Hampton Way controversy, the new issue of Print magazine carries an article about the Black Panther Party's resident graphic designer, called "The Art of Self-Defense."
"In 1967, the most radical graphic expression in San Francisco appeared not in pacifist psychedelia but in the revolutionary design of Emory Douglas and the Black Panther Party," the magazine says.
Douglas, who still lives in San Francisco, was the Black Panther Party's Minister of Culture, and is described by Print as "one of the era's most influential and controversial radical artists."
Douglas designed posters, flyers, and the weekly Black Panther newspaper (in 1969, circulation peaked at 400,000--more than the Sun-Times's circulation today and two-thirds of today's Tribune.)
In Today's Reporter
We kick off our NCAA picks Beachwood-style.
Meet the Van Impes, in our latest TV Preacher Review.
Find out why there are no Asian-American aldermen here.
Tell me if I'm wrong about the media's coverage of Dan Webb and the Ryan trial in our Beachwood forums.
And catch up on previous editions of The Papers, including Saturday, Sunday, and Monday's edition, which was mistakenly replaced by our Marfa Playlist for much of the morning yesterday.
Activate the Tip Line: Used by fine readers like you.
Posted by Lou at 06:45 AM | Permalink
The Van Impes
Who: Jack and Rexella Van Impe (pronounced Van Imp-ee)
Alias: The Walking Bible
Where: Troy, MI
Organization: Jack Van Impe Ministries
Founded: 1948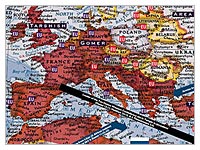 Schtick: Commentary and analysis of news items that signal the coming Tribulation. Jack's wife, Rexella, reads world news headlines while Jack uses his God-like powers of recall to recite Bible verses prophesizing the end of days. According to the Van Impes, the EU will elect the Antichrist and Russia will fight Israel in the Battle of Armageddon, possibly sometime in 2012.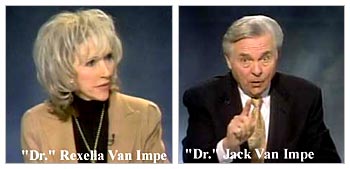 Newsletter: Van Impe Intelligence Briefing
Magazine: Perhaps Today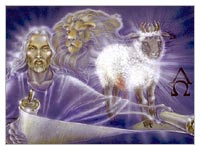 Revelation Illustrated: Plenty of Dungeons & Dragons-influenced graphics on the Bible Prophecy Portal of the Internet. This piece is titled The Opening of the Sealed Scroll (REV. 5:5-14). What's up with the seven-eyed sheep?
DVD: "Left Behind? What's Next" goes for $24.95 ($29.95 Canadian).
Super Powers: On his Website, Van Impe claims the ability to quote 14,000 Bible verses. But, like with any great prophet, there are skeptics. "One Ohio minister once told Jack that his Scripture-quoting was leading him into a stilted form of preaching and would hurt his ministry. Today, that homiletical expert is out of the ministry after the church died under his polished preaching, while Dr. Van Impe is still quoting Scripture and reaping the benefits of its power."
Lesson: God is on Jack Van Impe's side.
TV Quote: "International news and in-depth analysis from the award-winning team."
Politics: Of a dark kind.
Prayer Requests: Of course.
Money: Ministry Watch reports that in 2002 Jack Van Impe Ministries claimed $2.9 million in net assets. "JVIM has demonstrated superior openness and transparency through the degree of its responsiveness and the quality and quantity of information provided." The financial quick take shows that JVIM experienced a 24 percent decrease in net assets between 2000 and 2001. The report states: "This decreasing revenue trend may be an indication of the age of JVIM's audience members and its lack of garnering additional support from a younger audience."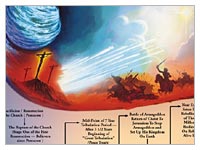 More Predictions: Who can resist with a title like Overview of Major Future Events
Evaluation: They aren't boring.
Hallelujahs: 7.5
- Timothy Inklebarger
Posted by Lou at 12:02 AM | Permalink
March 13, 2006
The [Monday] Papers
Find out why yuppies are to blame for rising crime and read the latest installment of Answering Amy, in which we take one question posed each week to the Chicago Tribune's highly-paid, highly-marketed, highly-mediocre advice columnist and contrast her answer with ours. In The [Saturday] Papers.
Then get the latest on the Dan Webb debate as well as the latest "Q is for Quagmire" entry, in which we tell you what the Tribune's Q section has on its front page so you don't have to face the horror yourself. In The [Sunday] Papers.
And now . . . The Headlines . . . brought to you by Tim Willette.
1.
Uncle Sam helps ease the pain of investment losses
Uncle Sam helps cause the pain of job losses
2.
Dead man spends days unnoticed on highway
Dead man spends years unnoticed in cemetery
3.
Water signs on Saturn moon raise possibility of
extra-terrestrial life
Air sign at suburban party raises possibility of
extra-marital affair
4.
Army builds miniature New Orleans to study levee
failure
Army builds miniature army to study army failure
5.
GM to recall 900,000 pickups: report
Gene Simmons recalls 900,000 pickups: song
6.
Lawmakers: Wal-Mart threatens US payment system
Lawmakers, Wal-Mart, system threaten humanity, others
7.
Comeback candidates hear Capitol calling
Hypercaffeinated headline huckster hears affected
alliteration
8.
Bush says his beliefs unshaken by poor poll numbers
Bush worried about Arab reaction on port deal
Bush announces bid for United Arab Emirates presidency
9.
Clinton takes quiet approach on Wal-Mart
Shopper takes loud approach in Wal-Mart
10.
Cingular, T-Mobile halt Razr sales due to glitch
NEW YORK (Reuters) - Cingular Wireless and T-Mobile
USA have temporarily stopped selling the Razr,
Motorola Inc.'s flagship cell phone, due to a
technical glitch that causes the phone to drop the
letter "o" from its name, the companies said on
Friday.
11.
Panel's report assigns no blame in levee failures
Government's report assigns no blame in government's
failures
12.
Forbes Billionaires, in Alphabetical Order
Forbes Billionaires, in Order of Ruthlessness
13.
Eliasson wants accord on rights council
"Kyrie Eleison" on jukebox sows bar discord
14.
Abbas says Hamas "too vague" on peace agenda
Hamas clarifies peace agenda by declaring war again

*
1.
USA Today 3/10
2.
Reuters 3/9
3.
AFP 3/10
4.
NPR 3/9
5.
Reuters 3/10
6.
Reuters 3/10
7.
USA Today 3/10
9.
USA Today 3/10
10.
Reuters 3/10
11.
NPR 3/10
12.
AP 3/9
13.
AP 3/11
14.
Reuters 3/11
Posted by Lou at 05:37 AM | Permalink
Marfa Public Radio
Former Chicagoan Tom Michael is the general manager of the new public radio station in Marfa, Texas. He submitted this for our inaugural installment of Playlist. Feel free to send yours.
It was nice to have programmed an afternoon and evening of music on the radio via iTunes streaming from my laptop today. Then I realized it was Sunday night and the Academy Awards, so probably no one was listening.
Funniest was the "whooshing" sound people heard on the radio--the sound of me sending e-mail. Whoosh!
My set list follows. It recycled once for eight hours of music.

Cold Blooded Old Times/Smog
Way Out West/Andrew Bird's Bowl of Fire
Blame Me/Anna Fermin's Trigger Gospel
I'll Fly Away/Alilson Krauss & Gillian Welch
Mississippi Mud/Hank Williams III
We Must Have Been Out Of Our Minds/George Jones
Way Over Yonder In The Minor Key/Billy Bragg & Wilco
Hummingbird/Wilco
Honey Pie/The Beatles
A Summer Song/Chad & Jeremy
Sweet Adeline/Elliot Smith
This Charming Man/The La's
Cash On The Barrelhead/The Louvin Brothers
Cash On The Barrelhead/Dolly Parton
High On A Mountain Top/Loretta Lynn
Last Month Of The Year/The Blind Boys of Alabama
Blue Canoe/Blue Mountain
Evelyn Is Not Real/My Morning Jacket
Quinn the Eskimo/Bob Dylan
Take Me Home/Ramblin Jack Elliot & Johnny Cash
The Mess Inside/The Mountain Goats
Mystery Dance (Alternate)/Elvis Costello
Radio Spot #2/The Beach Boys
In My Room (demo)/The Beach Boys
Radio Spot #3/The Beach Boys
Beach Party Tonight/Yo La Tengo
Juxtapozed With U/Super Furry Animals
Let's Do It Again/The Staple Singers
A Natural Woman/Aretha Franklin
Hey Ladies/The Beastie Boys
Tell Me Something Good/Rufus
Stoned Out Of My Mind/The Chi-Lites
Little L/Jamiroquai
Corcovado/Astrud Gilberto
Samba de Bencao/Bebel Gilberto
Ponta De Lanca Africano/Jorge Ben
Sweet Soul Revue/Pizzicato Five
WILD GIRLS ON CIRCUIT/Circuit No Mosume/Puffy AmiYumi
Animal Farm/The Kinks
Hound Dog/Elvis Presley
Bear Cat/Rufus Thomas
Mean-Eyed Cat/Johnny Cash
When You Were Mine/Prince
Mr. Mudd And Mr. Gold/Townes Van Zandt
You're Gonna Make Me Lonesome/Bob Dylan
Hard Road To Travel/Jimmy Cliff
Marie Provost/Nick Lowe
Someday/The Strokes
The Boys Are Back In Town/Thin Lizzy
Raging Eyes/Nick Lowe
I'll Take You There/The Staple Singers
Then Came You/The Spinners
Messin' Around/Jimmy Smith
Let 'Em Roll/John Patton
Cornbread/Lee Morgan
Watermelon Man/Herbie Hancock
Silver Treads Among My Soul/Horace Silver
Love For Sale/Dexter Gordon
Loie/Ike Quebec
Afro Blue/Cal Tjader
Cumbia En Do Amor/Lito Barrientos
Dues E O Amor/Gal Costa
Jackie/Bossa Nostra with Bruna Lopez
Caramba/Jorge Ben
Ponta de Lanca Africano/Jorge Ben
Toro Mata/Lucila Campos
Yayabo/Orquests Riverside
Fifi, Tete y Popo/Orquesta Reve Changui
Joshua/Dolly Parton
Looking Forward To Seeing You/Golden Smog
Posted by Lou at 12:59 AM | Permalink
There Are No Asian-American Aldermen Here
With Jesse Jackson Jr. and Luis Gutierrez rattling around the outskirts of the next mayoral race, and a city council packed with women, African Americans, and at least one openly gay man, you might think that diversity has found its place in Chicago's political arena. Indeed, African Americans and Hispanics in particular have joined the great parade of minority groups before them who have worked their way up, at least to some degree, from outsider status into the halls of power.

But there is a glaring absence from this picture of diverse representation, a missing piece of the puzzle rarely if ever considered among the political practitioners, the political pundits, and the political press. It is this simple fact: There are no Asian-American aldermen here.

Curious, isn't it? Especially for a growing part of the population which, as a group, is in seemingly good economic shape. Yet, in the case of Chicago's Asian Americans, money doesn't equal power.

Why not?

Let's take a look at the numbers.


In 1990, Asian Americans in Chicago numbered 103,095--3.7 percent of the city's population. In 2000, the number of Asians Americans in the city jumped to 127,052--or 4.4 percent of the city's population, This 23.2 percent increase in the Asian-American population came in a decade when both whites and African Americans experienced population losses (3.8 percent and 2.5 percent, respectively).

While the growth of the Asian-American population pales in comparison to that of the Latino population's 40.8 percent gain (from 535,315 to 753,835), it still represents an increase that should bring with it additional political power.

And yet, Asian Americans have little political leverage in Chicago.

Why not?

The answer may lie in the lack of geographic density. The highest concentration of Asian Americans in the city is around Chinatown. And indeed, the number of Asian Americans in this area has grown in the last decade. Unfortunately for Asian Americans, this expansion has been a westward one, into the 11th Ward, while the pre-existing concentration of the Asian-American population is in the 25th Ward.

Both of these wards present problems for potential Asian American political power.

The 11th ward, the white power base of the Daley family anchored by Bridgeport and represented by James Balcer, is a non-starter for Asian-American power. In the 25th Ward, Chinatown is but a small slice of a large ward that includes Pilsen, the Hispanic neighborhood that helped elect Danny Solis alderman.

Similar geographic lines cleave the Asian-American population on the North Side, particularly between the 46th and 48th Wards of Uptown and Edgewater, and 39th, 40th, and 50th Wards of West Ridge, Lincoln Square, and North Park. (No ward with a boundary starting north of Belmont Avenue is represented by a minority alderman.)

Do Asian Americans in Chicago really need political representation? Aren't Asian Americans as a group doing quite well?

You might think. According to the 2000 Census, median household income for Asian Americans in the United States ($51,967) was higher than that of non-Hispanic whites ($45,367).

But in Chicago, the story is quite different. Asian Americans in the city actually make less ($40,519 median income) than non-Hispanic whites ($49,222). In fact, Koreans in the city have a median income slightly more than a half ($20,401) of that of Asian Americans as a whole.

This combination of geographic dispersion and surprising economic insecurity has serious consequences when mixed in with a serious lack of political representation.

In 2004, the City of Chicago decided to exclude Asian Americans from its minority set-aside program for building contracts, in response to a reverse-discrimination lawsuit brought by the Builders Association of Greater Chicago.

The builders association argued that minority groups and women no longer needed to be protected from discrimination. The city forged a compromise that dropped Asian Americans from its set-aside program while retaining contracting opportunities for African Americans, Hispanics, and women.

Few political figures stood next to Asian American community leaders as they pled Mayor Richard M. Daley and a task force that had studied the matter to reconsider.

Politicians, and voters to an extent, tend to approach and prioritize social issues by race or ethnicity. This approach can work well in Chicago because the city is severely segregated by race and ethnicity. Local politicians easily win their elections with a support of one group.

Yet, they continually make decisions that impact those that are beyond their respective wards. As society becomes more diverse, voters ought to demand more than racial or ethnic credentials from their local representatives. And politicians ought to consider beyond their own racial/ethnic backgrounds.

But as long as the old ways hold sway in Chicago, the future of Asian-American power here appears grim.

Kiljoong Kim is Research Director with the Egan Urban Center and a lecturer of sociology at DePaul University.


Posted by Lou at 12:44 AM | Permalink
March 12, 2006
The [Sunday] Papers
The Dan Webb Kool-Aid appears to be wearing off. Chicago Sun-Times columnist Mark Brown backtracked on Sunday from his awe at Webb's closing arguments and is now saying he thinks George Ryan will be convicted.
"It took the final round of arguments from Assistant U.S. Attorney Patrick Collins to clear the fog that had descended over my brain during Dan Webb's summation of the Ryan defense," Brown wrote.
In one of the most significant trials in state history our press corps let a slick white-collar defense lawyer fog their brains? Because it wasn't just Brown.
"[C]ollins stepped up and reminded me why I got so worked up about Ryan in the first place, how he subverted our state government for the sake of his buddies while playing the rest of us for suckers. I don't think a jury is going to let him get away with it," Brown continued.
"If that makes it sound like I'm a weather vane blowing in the [wind], well, that's a little how it felt in U.S. Judge Rebecca Pallmeyer's courtroom last week."
After a seven-year investigation and a six-month trial, Brown & Co. needed to be reminded about the evidence lest they sway in the wind of Dan Webb's hot air?
"As I watched Collins' closing argument, I considered using a metaphor of the former high school basketball guard rallying his team in the fourth quarter. Then I decided it wasn't a rally at all because the prosecution team was never really behind," Brown continued.
"I'd just been sitting in a seat where I couldn't see the scoreboard and got swept up in the oohing and aahing as Webb's team was making three-pointers and slam dunks while Collins et al were methodically grinding it out in the style of his old coach Bill Geist's Benet Academy teams."
The Chicago Tribune's John Kass has similarly shifted, as did the tone of the coverage in general between Webb's closing and Collins's closing.
But unlike the "performance review" theater critic Chris Jones wrote for Page 1 of the Tribune after Webb's closing, Collins' performance the following day wasn't "reviewed" and the news story about it fell to the Metro section.
Tribune blogger/columnist Eric Zorn disagrees with me, but I think the media's performance was shoddy, and that Webb's performance as a lawyer could stand for more scrutiny from reporters not swayed by his showmanship but interested in the substance of his show.
Says Zorn: "I was reminded again of how hard it is for reporters to be thorough and fair as they attempt to distill five or six hours of testimony or rhetoric into something that the reader can finish in three minutes."
Somehow I don't feel sorry for how tough reporters have it. Certainly their job isn't as difficult as the job jurors do. A reporter is supposed to be trained and experienced in just such a distillation; an editor is supposed to help. A newspaper's infrastructure is supposed to create enough room to make it happen. With some imagination, readers could really be served.
Instead, I'm not sure readers have been presented with a clear picture at this point of the charges against Ryan (and nearly forgotten co-defendant Larry Warner) and the main prosecution and defense arguments. A chart showing just that, for example, would have been nice.
The Tribune, for example, devoted at least a page, if I remember correctly, to a chart of its movie critics' Oscar picks. Doesn't our most recent sitting governor standing trial for practicing what both sides can fairly call politics-as-usual in this state deserve at least as much?
Zorn also says in rebuttal to my argument that the press didn't fact-check Webb's closing that it is impossible for reporters to offer "a comprehensive 'truth-squad' sort of analysis on all the key evidence in a trial of this length."
I don't think it's impossible at all. No one is asking for "comprehensive" analysis of "all" the evidence, just the key points. Give me the top five, or even the top three. Reporters do it all the time. If a newspaper can't handle this sort of task, what is the point of the newspaper's existence? This is its duty to readers/citizens.
But in the coverage of the Ryan trial, Chicago's newspapers have failed.
Webb Poll
Still wondering, Mr. Webb: If you were still the U.S. Attorney, would you have pursued the investigation of George Ryan, and would you have filed charges?

Earnings Report
Parade magazine's annual "What People Earn" survey appeared among the Tribune's inserts on Sunday. Perhaps the Tribune should follow suit and publish the salaries of all its employees.
Think there'd be much reader interest in that?
Q is for Quagmire
"Quadraboobs? Coconut Shells? Banish Them All!"
Ruminating Roundup
Carol Marin pleads: "Still Time To Stop One Unqualified Judge"
Carol Slezak thinks: "Baker Badgering Just 'Roid-iculous'"
But Rick Morrissey says: "Straight Talk From Baker Sorely Missed"
Zay Smith passes along Jerry Falwell's good news: "A GRACIOUS CORRECTION OF THE JERUSALEM POST: Earlier today, reports began circulating across the globe that I recently stated that Jews can go to heaven without being converted to Jesus Christ. This is categorically untrue."
And Paige Wiser wonders: "Why all the hate for smoking? There are so many ways to die that it seems random to just focus on nicotine."
Your Views: Ryan, Webb & the Media
Weigh in with your views in our Beachwood forums.
Don't forget our Tip Line: Kool-Aid to best of the day.
Posted by Lou at 05:53 PM | Permalink
March 11, 2006
The [Saturday] Papers
The next time you see a story in the Chicago media about the drop in the murder rate, or the crime rate in general, keep in mind that such drops are occurring nationwide.
So whatever Strategy-of-the-Month Mayor Richard M. Daley and police chief Phil Cline are trying to sell you--and the media is buying without skepticism or its own reporting-- is either so successful that Chicago's Finest have the unique ability to slow crime in other cities as well as their own, or something else is at work.
The truth is that the experts aren't sure what to make of the nation's crime rate. As Harvard sociologist Robert Sampson writes on today's New York Times Op-Ed page, "Law enforcement officials, politicians, and social scientists have put forward many explanations for the astonishing drop in crime rates in America over the last decade or so, and yet we remain mystified."
A number of factors probably play a role--a decline in the crack trade, more aggressive policing strategies, more people in prison and fewer on the streets--but Sampson posits a new one: Immigration.
Sampson and his colleagues just completed a study of 180 Chicago neighborhoods and found that Mexican-Americans (and immigrants in general) are significantly less violent than blacks and whites. So there may be a connection, the theory goes, between the vibrant growth of the Hispanic population in the city (and in other urban areas nationwide) and a decrease in violent crime.
Except for the CDs
And who is to blame for neighborhoods experiencing rising crime? Yuppies. The Chicago Journal reported this week that a community policing liaison attending a public meeting in East Ukranian Village explained that property crimes were going up in the area because of gentrification. As the Journal's headline explained: "In East Village, The Stuff To Steal Is Just Getting Better."
Port sport
"The good news is the Arabs aren't going to run our ports.
"The bad news is the Americans are going to run our ports."

- Maureen Dowd, in today's New York Times
Opposite of Editorial
The Op-Ed piece in today's Chicago Sun-Times headlined "Health Reimbursement Accounts Offer Much-Needed Benefits" was written by the CEO of UnitedHealthcare.
So he has no financial motive to expound on the topic of your health care and, besides, we don't get to hear the corporate view very often.
And that Sun-Times Op-Ed today headlined "BlackBerry Case Shows What's Wrong With U.S. Patent Law" was written by a senior fellow at the Future of Freedom Foundation, a libertarian organization whose mission includes taking America back to the the 19th century, according to its website:
"[F]or well over a century, the American people said 'No' to such anti-free-market government policies as income taxation, Social Security, Medicare, Medicaid, welfare, immigration controls, economic regulations, drug laws, gun control, public schooling, and foreign wars. Despite the tragic exception of slavery, the result was the most prosperous, healthy, literate, and compassionate society in history. Unfortunately, in the 20th century, our country has moved in an opposite direction."
So yeah, they're a good source to go to for a cogent analysis of patent law, the BlackBerry, and life in the 21st century.
Answering Amy
In which we take one question posed each week to the Tribune's highly-paid, highly-marketed, highly-mediocre advice columnist and contrast her answer with ours. Edited for length and sanity.
Dear Amy: If I go out with a woman two or three times and have a good time but don't want to go out with her again, do I have to call the woman to tell her that I won't be seeing her again, or can I simply not call?
- Clueless in Cleveland
Dear Clueless: I put this question to an informal gathering of women in your demographic. The opinions were disparate. Some felt that after two dates, you should call to say that you won't be calling. I disagree. I think that after two or three dates, if the woman hasn't heard from you and wants to get in touch, she can call you; you can then choose to tell her that you've enjoyed her company but that you're not interested in pursuing a relationship.
My informal covey of advisors and I were in agreement on this, however: If there was any sexual activity--even "making out"--then you do have to call. Tell the woman that you are happy that you had an opportunity to get to know each other, but that you aren't interested in pursuing a relationship.
- Amy
Dear Clueless (cc: Amy): No.
- The Beachwood Advice Affairs Desk
Patent of the Week
Safety Flashlight for Dogs
"A dog flashlight illuminates the area in front of a dog in dark conditions, thereby eliminating the need for a dog owner to carry and direct a light source. The dog flashlight includes a housing containing at least one light source, a battery power supply for the light source, and a switch connected between the light source and the power supply for energizing and de-energizing the light source. When energized, the light source has sufficient brightness to illuminate the area in front of the dog so that the dog owner can observe the illuminated area for control purposes. One preferred embodiment includes an attachment device having a band carrying the housing and adapted to fit around the neck of the dog so that the housing is located in front of the chest of the dog."
Inventor: Jacquelyn R. Simoni (Glen Ellyn)
Filed: Dec. 31, 2003
Issued: March 7, 2006
Trademark of the Week
Come Potty With Us
"Educational and training services, namely, conducting seminars, workshops, and classes for parents and children in the field of toilet training."
Applicant: Booty Camp, LLC (West Chicago)
Filed: March 15, 2003
Registered: March 7, 2006
About our Tip Line: You can use us as much as you'd like and never call again.
Posted by Lou at 04:40 PM | Permalink
From The Weekend Desk
A look at the stories we're watching for you this weekend.
Precision Under Pressure
Now that Republican gubernatorial candidate Judy Baar Topinka has apologized for calling her opponents in this month's primary "morons," we will be listening closely to see that she chooses her words more carefully. Indeed, it is important that the future chief executive of the state be able to express him or herself clearly even in times of duress. We'll know Topinka is back on the right track when we hear her refer to the other candidates as "the millionaire dickweed, the fucked-up ice cream man, and two guys nobody cares about."
Partial Back-Door Assault
This week South Dakota launched, in the words of Governor Mike Rounds, a "direct frontal assault" on Roe vs. Wade by passing a law banning almost all abortions, including those requested by victims of rape or incest. Perhaps this weekend these same legislators will consider introducing a law that ends rape and incest.
World Tradeball Classic
To generate interest in the World Baseball Classic, the leaders of Canada, Mexico and the United States reportedly are considering booting whoever does not advance in the highly-competitive Pool B out of NAFTA. With the United States securing a second-round berth with a win over South Africa on Friday, we will be sending our foreign correspondent to cover the enormous celebration in Ottawa this weekend.
Failure to Watch
Finally, union regulations guarantee The Beachwood Reporter Weekend Desk staff five three-hour breaks to be used between Friday night and Sunday evening. Thus, we consider our entertainment choices very seriously. And much as we love the idea of a movie called Failure to Launch that stars the alleged Sexiest Man Alive, we hear there's some bitching pledge drive programming on PBS this weekend.

Posted by Lou at 01:49 AM | Permalink
March 10, 2006
The [Friday] Papers
"It took only about an hour for Assistant U.S. Atty. Patrick Collins to obliterate two days' worth of high-priced legal defense spinning in the federal case against former Gov. George Ryan," John Kass writes today, in his column about the prosecution's closing arguments.
Daley Watch
The Tribune reported today that the sons of two union officials hired as city building inspectors were rejected for their jobs at first but allowed to re-submit "revised and embellished applications [that] made the two men appear qualified for their $50,000-a-year jobs."
The case is part of an ongoing investigation of hiring practices at City Hall.
Michael Santo, the personnel department employee who initially rejected the applicants, told the Tribune that the mayor's office often directed his department to reclassify applicants as qualified.
"When stuff like this comes down, it happens because the fifth floor said so," Santo said.
"Santo's remarks echo statements by another former personnel employee, Reginald Mason, who told the Tribune last year that the mayor's office often dictated that favored applicants be deemed qualified," the paper noted.
No comment from the mayor. His chief spokesperson, former Tribune reporter Jacquelyn Heard, said she couldn't explain the paper's findings.
Sex In The City That Works
Daley did comment yesterday on allegations about sex in a Chicago firehouse, saying the latest charges were no reason to question the culture of the fire department.
"This is about sex," the mayor said, as reported by the Chicago Sun-Times. "It's not about culture. This is strictly pure sex. If it is. That's why you're investigating it--just like you would if someone had sex on your programs offstage or something."
Camille Paglia could not be reached for comment.
Alderman William Beavers, however, pinch-hit for her.
"There's a number of uniform freaks out there," Beavers said. "People--especially women--like to see men in uniform."
And out.
Beachwood Staff Memo
The new uniforms are in!
Uniform Consideration
You know that at least briefly the Sun-Times considered going with "Uniform Freaks!" as its big front-page story . . .
Rich Stuff
I recommend Rich Miller's column in today's Sun-Times, which opens this way:
"I ran into my buddy Korg last week. Korg is a lifelong Democrat but he told me he was switching to the Republicans.
"Why? I asked.
"Because if a Republican shoots somebody in the face, the other guy has to apologize."
Miller also observers that "The thing about Oberweis is that he can seem like a relatively normal human being for days, and then he just all of a sudden crashes into the abyss."
Finding Ebert
As I understand it, the Sun-Times sticks Roger Ebert way inside its Weekend section so it can increase readership of all the crap it sticks in its pages before you get to him.
But more often than not it just makes me throw the whole thing away.
Sun-Times or Onion?
"Young Family Picks Cary Site Near Park, Lake"
Pay to Play
According to a payola lawsuit filed by New York Atty. Gen. Eliot Spitzer, record labels paid $1,000 or more for airtime to get radio stations to play songs by Liz Phair, Jessica Simpson, and Avril Lavigne.
One Nashville radio station played the Lavigne song "Don't Tell Me" 109 times in one week.
It's at least comforting to know that greed--not bad taste--destroyed broadcast radio. Because greed can be overcome.
Important Beachwood Announcement
The Tribune reports, via the Associated Press, that Illinois added a new billionaire to its ranks of rich people last year. Welcome, hedge fund manager Kenneth Griffin! We now have 18 billionaires in Illinois.
Coincidentally, The Beachwood Reporter announces today the formation of the Beachwood Billionaires Club.
In honor of the hard work and inspiring examples set by the richest of our citizens, The Beachwood Reporter hereby offers the billionaires of Illinois exclusive membership into the Beachwood Billionaires Club.
Benefits of the club include access to the Reporter's financial management system, special audiences with the Reporter's publisher and editor, discounts on bulk advertising, and coupons from the Sunday papers re-packaged to suit your particular needs and lifestyle.
Last Self-Referential Item Today
Finally, today marks the end of Week 2 of The Beachwood Reporter's publishing history. Funny, it feels more like two years.
But the hard work is paying off, and we have a lot more on the way.
As always, fresh postings to come in all our sections next week as we try to develop our coverage and provide you with more ways to avoid attending to your job. Ad solicitation will begin soon, as will the Permanent Pledge Fund Drive Campaign, whereby you will be asked to donate to a good cause without being forced to watch a Peter, Paul and Mary concert.
If you'd like to join the festivities, send me a note. Particularly if you are one of Illinois's 18 billionaires. Or if you can sell ads or manage our ad software system.
Also remember, our ongoing features such as What I Watched Last Night, Taxicab Journal, and Infomercial Reviews are open for reader submissions. And our forums are a bit lonely right now, with the exception of the Chicago Tonight/Bob Sirott discussion.
So join in. We're not a cult yet, but we're getting there.
Don't forget our Tip Line: And by tips, we mean money, too.
Posted by Lou at 12:19 AM | Permalink
March 09, 2006
Beachwood Bridge Report #1
"A port in the hand is worth six in the bush."
People don't need to worry about security, unless of course they're holding the king of clubs. East opens with a bid of six ports. South passes. West is enthusiastic until North threatens a veto. East holds steady with the six while South tries to trump North by introducing a law to block the bid. West folds. No one remembers how to score, so this rubber is called a draw.
Discards
Seeing West vulnerable, East cooperates by showing approximately half its cards. South balks. North is sure East still holds the seven of clubs, but doesn't really know how to prove it other than accepting the original bid. West reassures South and North. Everyone thinks they've won. No one remembers who dealt last.
Unknown dealer
All sides vulnerable
EAST
S 9 8 3
???
WEST
S 2
H Q 4
D 8 7
C K
SOUTH
S J A
H 3
D 8 5 4
NORTH
S K 2
H 7 5
C Q 7

- Natasha Julius
Posted by Lou at 08:15 AM | Permalink
Cab #501
Date: March 9, 2006
From: Wicker Park
To: Humboldt Park
The Cab: Clean and roomy.
The Driver: "How to go? Is it back that way?" Um, no. It's in the completely opposite direction as you think. Plus, disappointingly turns down his blaring radio even while a scorching guitar solo is playing. He turns it back up when Annie Lennox comes on with "Who's That Girl?". That song sucks, and so then, does the driver.
The Driving: Poor. Bouncing all over the road. Almost misses the final turn to my destination. Not really engaged in his work.
Overall rating: Two extended arms
- Steve Rhodes
Posted by Lou at 06:05 AM | Permalink
Cab #3646
Date: March 8, 2006
From: Wicker Park
To: Humboldt Park
The Cab: The most neutral cab ever. No personal touches whatsoever--no beads, stickers, books . . . even no radio. Just a car and its driver. Back seat scrunched up too close to the front seat divider, however.
The Driver: Friendly and efficient. A quick "How are you, sir?" as he managed a quick turnaround into the right direction. His delivery was smooth and professional, just like his driving.
The Driving: He did slow down weirdly at times, as if he saw objects in the road that I didn't see. Or perhaps if we reached a certain speed the cab would blow up.
Overall rating: Three extended arms
- Steve Rhodes

Posted by Lou at 02:16 AM | Permalink
The Center of Our Attention: Goodbye, Kirby Puckett
As a Minnesotan, a lifelong Twins fan, and a former sportswriter who had the great privilege of covering the Twins in their 1991 World Championship season, I can tell you one thing: We may never see another Kirby Puckett in our lifetimes. Not in baseball or in any other sport.
He lived life hard--so hard it was like he was operating at a different level than anyone else. The energy just flew off him. Your eyes were drawn to him even in a crowded, noisy locker room. But it was a positive energy, unlike so many other intense pro athletes I have encountered. Kirby Puckett was an elite super-athlete who had a special something that enabled him to never succumb to the immense pressure of stardom and turn into an asshole. And I loved him for that.
And if reserved, cerebral Minnesotans have ever dared to give it up completely, get down on their knees and worship somebody, they did it for Kirby. It doesn't happen often here. We're just not the types to let ourselves go like that. Might look foolish. Garrison Keillor is more "Minnesota" than Kirby (who grew up in a Chicago housing project) ever was, with his prickly intellectual wit and his obvious passive-aggressive streak. But then Puckett came along and he had us from the start. He was the exact opposite of us--loud, confident, constantly chattering, constantly needling, poking fun, laughing hard, wearing his emotions on his sleeve. And we loved him for that.
Minnesota has never been a baseball hotbed, but Puckett, through the sheer force of his bat and his personality, almost singlehandedly revived the state's interest in a Twins franchise that in the 1980s was headed for the ash heap of baseball history. It was quite an accomplishment. Even though he led the Twins to two World Series wins, people here were always more interested in him as a person than in the game he played. This, I think, is demonstrated by the fact that the team has never been able to convince the community that it's worth building a new ballpark to keep them here. We are not a baseball-hungry people here. But we were Kirby-hungry. We couldn't get enough of him.
Kids loved him because he was like a big teddy bear. Parents loved him because he was respectful and stayed out of trouble. Baseball fans loved him because he played the game with total abandon--he changed from a singles hitter into the most clutch power hitter the Twins have ever seen, and played the outfield like a dream. He was a force in the clubhouse, a joker who provided much-needed relief from a sourpuss manager, Tom Kelly. Kirby was the guy who made sure the younger players were integrated into the team. He was everything to the Twins, and hence to Twins fans.
Much has been made of his bubbling personality, his mile-a-minute patter. But it's justified. Every time I knew I would have to get a quote from Kirby, I'd make sure to bring the tape recorder because there would be no way I could write fast enough to keep up with him. Or to keep from laughing and missing jotting down the key words. I can't tell you how rare it was for me to actually look forward to interviewing baseball stars, who are generally a mighty surly bunch, especially after a loss. But not Puck. Win or lose, he was up. He was Mr. Personality. He treated you like a person, even if you were a lowly media jackal.
When we later found out that he was indeed human, that he had emotional and sexual problems, it was a profound shock, even though there had been warning signs along the way. It was confirmed that Kirby had his victims and we recoiled. Our feelings became more complicated. But still, we couldn't write him off because he was also a victim himself--of poor health, and, ultimately, of fate. He was also a victim of our worship; his decision to stay away from the team in his final years was a tragedy which I think was based on his disappointment in himself for not living up to his impossible legend.
What I don't think he understood was that even though his transgressions were serious, they weren't enough to erase all the love we had built up for him. We were ready to forgive. I get the feeling he couldn't forgive himself.

- Originally posted March 6, 2006

Posted by Lou at 01:05 AM | Permalink
The [Thursday] Papers
I'm glad the tough Chicago press is so mesmerized by Dan Webb, the "star" defense lawyer representing former Gov. George Ryan, because it exposes just how easy it is to buffalo reporters and their editors.
We'll see if the Ryan jurors are equally as susceptible to rhetorical skills perhaps only matched in America by Kevin Trudeau, or whether they will prefer to analyze the evidence.
The media raves for Webb's "performance" had been building all week. Now I'm eagerly awaiting the DVD with commentary from the jury consultants.
The Chicago Tribune, thinking it was clever and imaginative, even assigned theater critic Chris Jones to write a review for today's front page.
Not that that would trivialize one of the most important cases in Illinois history when it comes to striking at the heart of the state's political culture of sleaze. Not to mention those six kids who died in that van crash. What were their names again?

But why send a legal analyst to do a theater critic's job? It's not as if a skeptical parsing of Webb's closing arguments would be helpful to readers.
No, let's talk a little bit more instead about how impressed we are by Webb's fake aw-shucks demeanor.
Because it is fake. We all know that, right?
I'm no legal analyst, but I do have a few questions.
For example, I'm confused about Webb's central argument from even before the trial started that no witness would testify that Ryan personally benefitted from any of the actions described by the prosecution.
But didn't the prosecution's case describe one big politically-beneficient machine designed to propel Ryan through a series of elected offices, culminating with the governorship?
I can't figure out why Ryan's bulging campaign fund, of which our fair ex-governor hoped to slice a mil or so out of to retire on, doesn't qualify.
Or, just to pick one of the more venal examples from the endless ones available, how the money allegedly swindled from Phil Gramm's presidential campaign that found its way into the pockets of Ryan's daughters wasn't somehow beneficial to him.
I thought the entire trial was about the benefits Ryan accrued, even if he did favors for his friends to get them.
See what I mean?
Who Ryan Is: Does anyone really believe that Ryan didn't understand that the circumstances surrounding the dismissal of a juror were under seal? Or do we believe that this former governor, two-term lieutenant governor, two-term secretary of state, two-term state House Minority Leader, one-term state Speaker of the House, and former member of the rough-and-tumble Kankakee County Board known as a master of back-room politics really didn't understand what "sealed" meant?
Or am I forgetting that Ryan is just a pharmacist, and pharmacists couldn't be expected to know what "sealed" means?
Who Lura Lynn Is: And does anyone really believe that Lura Lynn believes her husband is being prosecuted because he emptied out Death Row?
Funny how Ryan's Death Row commutations are both the reason for his prosecution and a reason why he should be acquitted. I'd say both sides are using the Death Row thing for political gain in this trial, but it's just one side tying to have it both ways.
Covering Their First Trial: I'm glad we have experienced reporters who wouldn't fall for Webb's PR campaign about how his client was raring to take the stand.
Unasked Question: From the second he took Ryan on as his client, Webb has argued that the government's case was flimsy at best. Does that mean, Mr. Webb, that if you were still the U.S. Attorney you would not have brought this case?
Class 101
Under a different mindset, the Tribune's story today on the front of its business page about the dwindling number of apartments available in Cook County combined with the rising rents of those that remain would have been worthy of the front page.
Like if the editors of the Tribune rented--or even knew anyone who did.
Class 202
Which is all the more reason to praise the fine work of Mick Dumke,* whose cover story about fast-food workers appeared in the Chicago Tribune Magazine last Sunday.
Dumke followed the workdays (and lives) of a handful of fast-food workers and managers with disparate backgrounds who have found a home, at least for now, in what appear to be solid, secure positions.
I was particularly struck by the life of Ed Mosley.
On Mondays through Fridays, Mosley works from 9 a.m. to 1 p.m. as a food service worker at an elementary school. On Tuesdays through Fridays, Mosley then takes a bus and a train downtown to pull a three-hour, late-afternoon shift at McDonald's. Just after 7 p.m. each weeknight, he heads off to a FedEx sorting center in the southwest suburbs, where he often works until 3 a.m. And then he catches a bus back home to the Auburn-Gresham neighborhood on the South Side. He makes about $2,200 a month.
Class 303
Tribune Company CEO Dennis FitzSimons just had his 2006 base salary set at $985,000--a 3.1 percent raise from 2005, not to mention stock options. FitzSimons also received a $250,000 bonus.
And yet, it seems to me Mosley had a better, more productive year.
Disclosure
*Dumke is a friend of The Beachwood Reporter and served as an invaluable sounding-board for me in the early-going. Due to his teaching and freelance commitments, he is currently listed on our masthead as Editor-on-Leave.
Class 404
Also in the Tribune's unusually interesting Sunday magazine this week, a letter from Richard Wheelock, supervising attorney with the Legal Assistance Foundation of Metropolitan Chicago, which says in part:
"Your articles on North Kenwood/Oakland ('The Unmaking of a Ghetto"Jan. 29, Feb. 5) provide an inspiring account of how an area can come back from decades of poverty and neglect to become a thriving neighborhood. For those who benefit, this is cause for celebration. . . . [But] while one measure of a community may be its rising housing prices and new retail shops, another must also be how a community cares for those most in need. For displaced CHA families, the community seems content to leave them behind."
Daley Watch
"Mayor Richard Daley on Wednesday downplayed the importance of a weekend security breach at Midway Airport saying it was 'only one incident,' and he scoffed at the media play it generated," the Tribune reported today.
"'Slow news day,' Daley declared."
Daley then railed against the failure of the feds to grant him his cherished no-fly zone over the city.
Because easy access to our city's runways is obviously far less a concern than a no-fly zone that any terrorist pilot would be sure to respect.
"It's one incident. You want to make it everybody is running on the field," Daley also said. "There could be another incident next month, I guess. But it is one, not 50, 100, 200."
Incidents of drunken louts showing us all how easy it is to walk onto Midway's runways: 1
Incidents of terrorist flights over the city showing us how we need a no-fly zone: 0
GOP Follies
Special correspondent Tim Willette filed these real-time observations last night while geekily watching the Republican gubernatorial debate.
- Gidwitz: He stops speaking whenever the "Time's Up"
light comes on. If he's in mid-sentence, so be it.
- Brady: "All of you in the audience with the exception of Gov.
Blagojevich would make a better governor than Rod
Blagojevich."
Including George Ryan?
- Topinka: "I really admire Senator Brady and myself . . . "
- Oberweis I: "I'm not a politician, but I am a milkman, and I've
sired many fine Illinoisans along my route . . . "
- Oberweis II: "I object to the term 'assault weapons,' because
that term is very prejudicial, especially when it's
employed by dirty illegals."
- Martin: "[Topinka] says she's not one of the boys, but she's the bad girl that hangs around the bad boys."
Two of these are not real. But I'm not telling you which two.
Beachwood/New Yorker Caption Contest!
My entry for this week's New Yorker caption contest is: "This must be the Beachwood!"
Now you should try your hand. If you submit the winning entry and manage to include the word Beachwood in it, you will win a print of the cartoon signed by the artist.
Submit to our Tip Line, too: We'll award signed copies of any indictments--or just embarrassments--your tip leads to.

Posted by Lou at 12:57 AM | Permalink
March 08, 2006
The [Wednesday] Papers
"I do not believe they are in a civil war today," said Secretary of Defense and former Tribune Company director Donald Rumsfeld on Tuesday.
You do not believe, or you do not know?
Because that's not really something the secretary of defense could be expected to know. Or believe.
But then, the real problem in Iraq is the failure of the media to report the good stories.
We don't make that mistake here at The Beachwood Reporter.
For example, we think all of the items that follow in today's column are quite good.
Was He Shirtless?
"A neighborhood man who later told police he had been drinking breached security at Midway Airport, apparently walking off the street, through a checkpoint and onto the airfield, officials acknowledged Tuesday."
Is it too obvious to ask if he was a White Sox fan?
Today's Assignment
This being Wednesday, we are forced to confront another installment of "English 439" , in which the Chicago Tribune's Julia Keller attends a DePaul University class on Jonathan Swift this winter and then forces us to live through it too.
The Tribune is a paper that utterly fails to understand the art of assigning stories. You send Steve Rosenbloom to a class on Jonathan Swift. You send Julia Keller to cover Rummy.
Now that would make for an interesting newspaper.
Mistakes Happen
Chicago Sun-Times columnist Jennifer Hunter writes today about sending her husband away to vacation on his own.
The part where she disclosed that her husband is the publisher of the Sun-Times must have been accidentally edited out.
Scribble Spin
Reported by Michael Miner of the Chicago Reader in April 2004: "Jennifer Hunter, the former editor of North Shore magazine, has just been named to the Sun-Times editorial board. 'It's a step down for her, having run the magazine successfully for almost three years,' says her husband, John Cruickshank, publisher of the Sun-Times.
Yeah, you wouldn't want to leave North Shore magazine for the editorial board of one of the nation's largest newspapers--and get your own doodly column there too.
Line of the Day
"Marty Kovarik creeps me out."
- Carol Marin
Bell Curve
Does anyone really believe consumers win when big telephone companies merge?
Yes. The business editor of the Chicago Sun-Times.
Does anyone really believe that AT&T has a warm and fuzzy image?
Yes. Same answer.
Calling Agnew
Zay Smith points out in QT that Dick Cheney's approval rating has fallen to 18 percent, while Paris Hilton's approval rating has fallen to 15 percent.
Which puts the pair's free-fall into a dead-heat, because the margin of error with these two has to be way beyond 3 percent.
Grape Nuts
For more information on the weird wine thing going on in Illinois, check out Free the Grapes!
Because the story in today's Sun-Times only confused the matter.
Daley Watch
"And he played down the security debate now playing out at the nation's ports if, as at the Skyway, a foreign-owned consortium wants to take over Midway Airport.
"'We had security [issues] at the Skyway. . . . It's a big bridge. If it blows up, you can't get to Indiana."
- Sun-Times
Half-Court Press
Mayor Richard M. Daley spoke out about his endorsement of Cook County Board President John Stroger, but did the press bother to ask the mayor about Stroger's shaky performance? And if so, did the mayor bother to answer them?
We'll never know. It's not that kind of press.
Clown Town
A new book scheduled for release later this month promises yet another take on the murders of the Spilotro brothers.
KLAS-TV investigative reporter George Knapp reports that "a lot of new information is about to be made public," based on author Denny Griffin's interviews with "a small army of former police detectives and FBI agents."
And that means more news about the Chicago Outfit, which ran Las Vegas in the mob's golden age. We'll be looking for details on the role of Joey "the Clown" Lombardo, awaiting trial here in Chicago along with a 11 other defendants grabbed up in the FBI's Operation Family Secrets investigation.
Says Knapp in his report: "[Lombardo] probably knows plenty about some of the most famous murders in modern history, including those of mobster Sam Giancana, Teamsters official Allen Dorfman, and quite possibly the disappearance of Jimmy Hoffa."
Griffin is the author of such fiction works as Killer In Pair-A-Dice, Blood Money, One-Armed Bandit, and Pension.
He also authored the non-fiction work Policing Las Vegas.
In today's Reporter
Learn how (not) to leave a message for Neko Case in our new installment of Alt-Country Corner.
Wanna read hiply? A guide.
Decide if you're already tired of Dusty Baker again in after reading the latest additions to The Dusty & Ozzie Show.
Take one more look at an inspired elegy of irrepressible Kirby Puckett.
And the Bob Sirott thread is heating up in our Beachwood TV forum!
Don't forget our Tip Line: Drunken interlopers welcome.

Posted by Lou at 12:47 AM | Permalink
March 07, 2006
The [Tuesday] Papers
Chicago Sun-Times columnist Mary Mitchell took her journalistic brethren to school today, teaching two remedial lessons, if they were paying attention: Reporting 101, and a freshman survey course of recent race relations in Chicago.
Her contribution to the Fred Hampton Way controversy is vital. And by doing something very basic, Mitchell illustrates just how journalistically lazy and soft much of the Chicago media can be.
You see, Mitchell did what any reporter is supposed to do from the beginning when working on a story but which no one else seems to have done: She checked the clips.

In so doing, Mitchell found that the 1969 "ambush" in which Chicago police officers John Gilhooly Jr. and Frank Rappaport were shot to death wasn't really an ambush. "Not an ambush in the sense that it was premeditated," a Chicago police commander said at the time.
In fact, I found Mitchell being a bit charitable toward the anti-Hampton forces in writing that the incident "had little to do with the Black Panther Party."
The evidence presented so far suggests the incident had nothing to do with the Black Panther Party.
Instead, according to the contemporaneous accounts that Mitchell reviewed, the Gilhooly and Rappaport deaths stemmed from an incident involving a Cook County Jail guard who had stolen a gun from the purse of another man's girlfriend. A chain of events ensued in which the two police officers were shot.
Two weeks after police killed Fred Hampton and Mark Clark, the Chicago Police Sergeants Association passed a resolution protesting the "cold-blooded murders" of Gilhooly and Rappaport, while defending the raid that in which police killed Hampton and Clark.
Isn't it interesting how history repeats itself?
Back then, a police association tried to deflect attention from their own deadly misdeeds by playing with the facts and exploiting racial fear. In so doing, the police attempted to make the story not what they had unjustly done, but what the Black Panthers had done (or didn't do, as the case may be) to deserve it.
Isn't that what's happening today, too?
Isn't it interesting that the story is now about the Black Panthers supposedly killing two (white) Chicago police officers and no longer about the police assassinating two (black) Black Panthers?
Is the picture becoming clearer?
Higgins Hacks It Out: Sun-Times editorial cartoonist Jack Higgins contributes today with a drawing of the imagined intersection of Fred Hampton Drive-By and Honorary Kill The Pigs Way. A smoking gun and the outlines of two police officers lay under the streetlight.
Perhaps Mr. Higgins could enlighten us all with the facts of the case involving Rappaport and Gilhooly that he came across in his research.
Chicago Tribune editorial cartoonist also weighs in: Oh wait, they don't have one.
Daley Shows Leadership: At least the mayor, known for bringing racial reconciliation to the city, is out front on this one. Probably in spite of what his internal polling shows, too.
Bizzaro Chicago: In which the editors of the major papers here are African-American. One of the papers then produces an editorial like this.
Obama MIA: Last I saw, he was giving a speech to Democrats in Topeka, Kansas, and they don't have a Fred Hampton Way, so it's really none of his business.
In my cursory bit of research this morning, by the way, I didn't find any evidence of Obama speaking out about Hampton, but I did find this self-described revolutionary who would like to meet them both.
Post Office Namings Also Controversial: Sen. Dick Durbin and Rep. John Shimkus have moved a bill through Congress that would name the post office at 332 South Main Street in downstate Flora "The Robert T. Ferguson Post Office Building."
The measure awaits the president's signature.
"Mr. Ferguson was a distinguished public servant who worked tirelessly on behalf of postal workers in Southern Illinois," said Durbin, in a press release. "There is no more fitting way to permanently and publicly recognize Robert Ferguson's work than to name the Flora, Illinois post office in his honor. With the passage of this bill, we commemorate Mr. Ferguson's exemplary service to the Flora community and to postal workers and patrons throughout Southern Illinois.
"In addition," the press release notes, "Durbin supported two other bills . . . naming Illinois post offices, including 'The John F. Whiteside Joliet Post Office Building' at 2000 McDonough Street in Joliet, Illinois, and 'The J.M. Dietrich Northeast Annex' at 1927 Sangamon Avenue in Springfield, Illinois."
Oppo research starts now.
Best Endorsement Ever
"On the 3rd District Republican side, GOP voters should prefer perennial candidate and clown Raymond Wardingley only because he's not a neo-Nazi like Arthur Jones."
- today's Sun-Times
Kid Kerry
"You can classify Kerry Wood as one of the [Steve] Stone enemies to whom Prior was alluding. Wood has bristled in the past at Stone's analysis. Told Sunday that Stone had turned his focus to Prior and raised questions about his status, Wood shot back: 'Who's that?'
"Told again that it was Stone, he said derisively: 'Oh, is he still around?'"
- Sun-Times
"Told of the Wood quote, The Beachwood Reporter's Sports Affairs Desk said derisively: 'Oh, is he still around?'"
'Cause we were kinda hoping he wasn't.
From the Capitol
Chicago's papers don't care, but we do.
The (Springfield) State Journal-Register reports that legislation "to prohibit smoking in the dormitories of both private and public Illinois colleges" passed the state senate last week with bipartisan support.
The paper also reports that "Illinois legislative leaders are planning up to $14 million worth of remodeling in the House and Senate chambers, including new desks and chairs, carpeting, and possibly a faux skylight in the House ceiling that is projected to cost $1 million." Also with bipartisan support.
The Associated Press reports that "Although an Illinois law has allowed the use of marijuana as medicine since 1978, the statute has sat on the books unused. Now a Chicago lawmaker has won the chance to take a practical medical marijuana bill to the Senate for a floor vote for the first time in three decades."
Fishy Correction
"In professing her love of loach fishes last month ('Let Us Now Praise the Loach,' Feb. 16), staff writer Katharine Grayson noted that her experience with the truly underappreciated fish began in her youth, when her family owned six fish tanks. Last Saturday, she was promptly corrected: There were five tanks, at most, reports her dad, Alan Grayson, who cared for all the household fish--including the ones in Katharine's tank, which she was probably supposed to be responsible for."
- Chicago Journal (March 2)
Don't forget to use our Tip Line: Naming rights available.
Posted by Lou at 12:50 AM | Permalink
March 06, 2006
Neko Case's Answering Machine
- Wanna know what's on Neko Case's answering machine? Steve Forstgener has the scoop in his Illinois Entertainer cover story this month. It doesn't look like much in print, but imagine it in Neko's voice:
"Hey, this is Neko. I am not around. I'm not answering the phone, and I'm not calling anybody back because I can't. Because I'm working. So if you leave a message, I probably won't call you back for a month. It doesn't mean I don't like you, I'm just not picking up the phone. Thank you for understanding."
Case appears at the Vic on March 31st.
- Jon Langford appears at the Metro on March 16th, and rumor has it will play in three bands on the bill while painting and writing a play at the same time.
- Split Lip Rayfield cancelled its tour dates last month upon learning that guitarist Kirk Rundstrom was diagnosed with esophageal cancer. Donations or other gestures of support can be sent to:
Kirk Rundstrom
314 N. Volutsia Ave.
Wichita, KS. 67214
or
kirkrundstrom@yahoo.com
- Calexico is band from Tucson, but Calexico is also a city whose motto is "Where California and Mexico Meet."
- The Handsome Family likes their crappy Website, so don't e-mail them with your plans to fix it up.
- On a lonely January night in 2000, the Bloodshot Records staff chose their favorite "super-charged power ballads" and posted them to their Website. They haven't changed since:
Rob: Love Hurts/Nazareth
Nan: Someone Save My Life Tonight/Elton John
Scott: Sister Christian/Night Ranger
Angie: Ready for Love/Bad Company
Stolie: Can't Fight This Feeling/REO Speedwagon
Thais: Beth/KISS
Kegan: Don't Go Away/Oasis
JP: We Belong/Pat Benatar
Posted by Lou at 11:26 AM | Permalink
The [Monday] Papers
Do those creepy police cameras in the city's blue light districts actually prevent crime?
The Chicago Sun-Times asked this long overdue question in a front page story on Sunday. Unfortunately, the paper failed to answer it.
Learn more in The [Sunday] Papers, already archived for your pleasure.
Crashing the Oscars
Chicago Sun-Times TV critic Doug Elfman called Ben Stiller's special effects green screen bit at the Oscars "the smartest satire of the night."
The Beachwood Reporter's TV/Movie Affairs Desk called it "about as close to being funny as George Bush came to seeing Brokeback Mountain," and something that should merit a ban on Stiller appearing on future shows.
The Chicago Tribune's Maureen Ryan thought Will Ferrell and Steve Carell in bad makeup "were really funny," suggesting that "maybe they should have hosted the show, fake eyelashes and all."
The Beachwood Reporter's TV/Movie Affairs Desk thought the Ferrell/Carell bit was so lame it wasn't even worth mentioning, not reaching the absolute awfulness of Stiller's performance but instead just being a throwaway waste of time.
So for your Oscar reviews this morning, check out our Black Carpet Report. It has the special effect of being better.
Daily Show Disconnect
The Guv blames his deputy for his own cluelessness (found via The Capitol Fax Blog). Or is his deputy just the fall guy? Because that means the governor of the great state of Illinois (and he of presidential ambitions) would not have recognized last night's host of the Oscars if he hadn't previously appeared on his show.
Greatest Simpsons Opening Ever
Watch the opening sequence as filmed using live actors (found via Change of Subject). Plus, there's a story there about Kate Moss snorting up in Nelson Mandela's house.
Hampton Harping
The Sun-Times's Tom McNamee today writes some of the better lines offered in this whole sorry Chairman Fred Hampton Way spectacle. But in the end he goes astray.
"Police brutality against African Americans was an everyday fact of life in the 1960s--and, to a lesser extent continues to this day--and I believe Fred Hampton was murdered," McNamee writes. "So if anybody should ever propose a street sign honoring the moron who led that police raid, I'd say let's pass.
"I'd also pass on the street signs honoring the police goons who famously tortured suspects with cattle prods, the thugs in uniform who shot first and asked questions later, and the overexcited guardians of law and order at the 1968 Democratic Convention.
"But that said, what kind of town honors a man who led an organization that killed cops? Because the Panthers weren't just talk."
McNamee, of course, is referring to the shooting deaths of officers Frank Rappaport and John Gilhooly.
And again, as in other reports that have brought up Rappaport and Gilhooly in recent days, this one is curiously missing the details surrounding the incident in which the pair were killed.
But for a couple of paragraphs there, McNamee was on a roll.
Conflict of Interest Alert
McNamee picked up our Killer Streets item, written by Tim Willette, for the Controversy section he edits for the Sunday Sun-Times.
There was no quid pro quo. Or I wasn't aware of it. Whatever Daley says. Except I'm telling the truth.
Face Dances
The Sun-Times wants a face "like the map of Ireland."
Yeah, I was baffled too. But, much like Ben Stiller's routine, so baffled as to find it weirdly compelling just to see how bad it could get. Here's how bad:
"St. Patrick's Day is coming soon. To mark the day, the Sun-Times is looking for people who look Irish. Really Irish. With a face, as they say, like the map of Ireland.
"E-mail us your photo to stphoto@suntimes.com. Please include your name, address and a daytime phone number. We'll publish the best."
At least they're not asking for the face of Africa.
But then, maybe they're on to something. After all, these are professionals with a deep understanding of how to grow readership. Perhaps I could learn from them.
So let's see. What else is coming up on the calendar . . . Aha! Daylight Savings Time! Send us faces like the map of Daylight Savings Time and we'll publish the best.
I guess running a newspaper isn't so hard after all.
In The Reporter
The political odds have changed for Gov. Rod Blagojevich and GOP front-runner Judy Baar Topinka.
In the wake of the Muhammad cartoon controversy (a reported 50,000 people demonstrated Sunday in Pakistan, and another 20,000 in Turkey), Ethan Michaeli offers a provocative, thoughtful view of religious fundamentalists.
Disagree? Say so in our forums. Make them sparkle with wit and clarity of thinking. Or the secret, almost unintelligible but sure-fire wisdom of the hangover. Whichever you prefer.
And keep your eye out for fresh postings throughout the week, including new material on our Books, Sports, and Politics pages.
Don't forget to use our Tip Line: Unless it's about Ben Stiller because then we don't care.
Posted by Lou at 04:07 AM | Permalink
(Un)Holy Trinity
When Iranian President Mahmoud Ahmadinejad wanted to strike back at the Western European nations where offensive cartoons about Muhammad were published, he said newspapers in Muslim countries should publish offensive cartoons about the Holocaust.
Ahmadinejad's proposal was baffling.
What's the connection? How does insulting Jews equate with the publication of the anti-Muhammad cartoons?
Irrational, messianic elements
A quick review of the relationship between the three main Abrahamic faiths shows the historic currents from which Ahmadinejad's comment flows.
All three Bible-based faiths have irrational, messianic elements that are affecting the situation on the ground in the Middle East. Jewish fundamentalists are occupying the settlements in Israeli-occupied Palestinian territories. Christian fundamentalists in the U.S. are supporting--and perhaps driving--the Bush administration's war in Iraq. The suicide bombers mandated by Muslim fundamentalists are inflaming public opinion around the globe.
It is generally assumed that the individuals who make up these extremist movements have little in common. But all three types of fundamentalists are fixated on what they see as their lineage as God's select, the sacred veracity of the Bible, and the impending Day of Judgment. All three are following the same basic script. Extremist Jews believe they are God's chosen and will win the Final Battle. Extremist Christians and Muslims each believe they in their own the birthright and are sure they will prevail.
They can't all be right, of course. And the continued presence of each faith is a living contradiction to the others. If the Jews are right, then why doesn't God annihilate the Christians and Muslims? Or, if the Christians are right, why doesn't God eliminate the Jews and Muslims? To try and reify the Bible and their interpretation thereof, each extremist tries to eliminate the others, making temporary alliances to vindicate their position.
Taking turns
This is an historic pattern, perhaps because the borders have always been porous among these groups. The earliest Christians were Jews. It took hundreds of years before the Christians were distinct from their erstwhile brethren--and hundreds more before the Christians were the majority in the Roman Empire and the Jews a minority. Both faiths underwent great self-definition in the process.
The Jews emerged as an elite, legalistic minority within the Biblical world. Christians self-defined as a catholic, mystical faith based on individual conscience. Islam came along in the seventh century, only after Christianity became the official state religion of the Roman Empire.
Islam roared out of the desert and quickly took root among some of the wealthiest, most cultured Christian peoples who lived under the Roman/Byzantine yoke--the Egyptians, Syrians and North Africans.Islam was born to challenge the hypocrisy of Imperial Christianity as a political and societal order, amplifying and correcting the basic truth that God is one, the divine is unitary and infinite. Islam perceives itself as the new, improved version of the Abrahamic faith. That identity made sense as long as the rim of the Mediterranean was the wealthiest and most powerful region in the world. Muslims could be magnanimous as long as global politics and economics supported their expansive, triumphant self-concept.
Keeping it kosher
Examples of the intimate dynamic between Judaism, Islam and Christianity can be seen in the approaches each faith takes towards issues of bloodline, dietary restrictions and ritual. These differences apply to conceptual barriers between the three faiths, as in lineage and conversion rules, and the decision to circumcise males or not (Jews at birth, Christians not at all, Muslims at adolescence).
Islam saw itself as promulgating a practical set of rules that avoided the endless disputations of Talmudic rabbis or the anything-goes anarchy of Christianity. In those days, the Muslim point of view was validated by the prosperity of their reign. Their courts featured the brightest Christian, Jewish and Muslim intellects, debating philosophical points and expanding scientific knowledge on their ancient Greek and Roman base.
Christians at that time vaingloriously labeled their putative efforts to liberate the Holy Land from the infidel as 'crusades.' Along the way, the so-called crusaders massacred Jews who lived in European towns and villages. At the time, Muslims considered these crusades to be pirate raids carried out by insane barbarians.
That power dynamic was turned on its head, however, as Europeans accumulated power over the rest of the globe and disseminated Christianity to the Americas, Australia, Africa and other points through the 17th, 18th and 19th centuries.
Now it is Christian Europeans who are magnanimous to Jews and Muslims, and can indulge tolerance and promote science just as the caliphs and the Ottomans did in their day.
Now it is Muslims who strike at soft spots in the 'civilized world.' And they are now the ones targeting Jews for their alleged allegiance with the enemy occupier of the Holy Land. Now they are the ones who rage against a usurpation of what they see as the divine order of things.
A single faith?
Current conditions challenge the moderate, modern adherents to the three faiths to collect the positive aspects common to their beliefs. Jews continue to meditate on the singularity of the divine (God is one). Christians continue to find inspiration in the anti-authoritarianism of the Jesus story. Muslims continue to demand morality in government. The radicals of all three faiths may well blast each other to bits, taking as many of us along as they can. If anyone survives this confrontation, what will be left behind could be a single, syncretic faith.
Let's face it, the Bible was written by men, not God. Jesus wasn't the messiah and there won't be a messiah. Trying to force people to live according to a set of cultural practices that were popular in the desert thousands of years ago just doesn't work. Whether the radicals terminate the dialectic process or not, the historians of the future may have trouble determining the difference between what remains from the wreckage of three takes on Biblical truth.
Posted by Lou at 02:57 AM | Permalink
The [Sunday] Papers
Do those creepy police cameras in the city's blue light districts actually prevent crime?
The Chicago Sun-Times asked this long overdue question in a front page story on Sunday. Unfortunately, the paper failed to answer it.
"[The] jury is still out," the paper announced.
But it would have been more accurate to say, "The reporting is not finished but we're publishing this anyway."
The story was as confusing as any I've read in a long time.
The main problem: Attempting to evaluate a controversial public policy before figuring out the most meaningful way to to do so.
I'm still not sure what this story is trying to say, but the paper seems to hang the effectiveness of 100 surveillance cameras around the city on just a few on one particular block.
"A look at crime before and after four cameras were installed on the stretch of Chicago from Harding to Homan shows the surveillance cameras can be effective, police say," writes reporter Mark Konkol. "The number of reported crimes there jumped, along with a spike in drug dealing arrests."
This explanation raises far more questions than it answers. Just for starters: If the cameras are supposed to deter crime, shouldn't the number of reported crimes fall instead of jump?
You would think so from what the head of the surveillance camera detail, Lt. Dave Blanco, is quoted saying next: "'As soon as cameras go in, crime is disrupted, especially narcotics sales. Put cameras where people are selling drugs, and narcotics selling goes away. Open-air drug sales markets are immediately affected."
(Which in itself raises a question: Do drug sales really go away, or do they just go elsewhere? Dealers aren't giving up, are they?)
Konkol tries not to buy the police line, but he doesn't take the reporting far enough to get away from the spin. "A closer look at the crime statistics, though, shows it's rather hard to tell--from corner to corner--if the cameras actually reduce crime," Konkol writes. "For instance, at Chicago and Harding, the number of calls to police reporting drug dealing and battery increased 31 percent during the six-month period after the cameras were installed."
Three blocks away, he reports, calls dropped dramatically.
So what does this mean? It sounds like crime increased in the areas with cameras and decreased elsewhere. Or is there now more reported crime where the cameras are? And reported by who? Why would cameras cause citizens to report more crime? Or does reported crime include police officers monitoring the camera feeds and swooping in to make more arrests?
If so, why is the opposite case being made in this later passage also meant to show supporting evidence for the cameras: "At 71st and Paxton, police made 27 drug arrests in the six months before a camera was installed in August. During the following six months, the number of arrests dropped to just nine."
What's missing from this story is clear: A definition of what qualifies as success. If the Sun-Times is uncomfortable coming up with its own benchmark, as newspapers often are, the least it could do is find out what measure the police department itself uses. Are the police meeting their own goals? (If they don't have any, that's a story in itself.)
Surely the police department has policy papers and research that led it to conclude that these cameras were a good strategy to use, and certainly the department has its own way of tracking effectiveness. (Again, if it doesn't, that's a story.) And finally, what about the experiences of other cities? Or does Chicago exist in a vacuum?
The Sun-Times is asking the right question. It's too bad it looks like the paper has to go back to journalism school to figure out how to answer it.
For example: The Associated Press reported a more sophisticated and understandable story almost two years ago, though it still wouldn't pass muster if it were produced by a local paper. Among the AP's findings:
"Chicago . . . is far more aggressive in using police cameras than many other major cities.
"The New York Police Department for years has used cameras in housing projects but has not used any to target street crime. Detroit, Houston and Washington, D.C., have placed cameras during big downtown events but not in high-crime neighborhoods.
"Los Angeles has been limited to a closed-circuit TV system installed last year in a large, gang-ridden park, which police said helped reduce shootings by 50 percent.
"Chicago officials say crime has plummeted within a block of each camera. Narcotics calls dropped 76 percent over the first seven months, police said. Minor crimes such as property damage were down 46 percent.
"Some residents said gang members simply moved their business to the side streets--a phenomenon experts call displacement.
"Chicago Police Assistant Deputy Superintendent Ron Huberman, who ran Operation Disruption until a recent promotion, acknowledged the effect but said police have beefed up their presence in outlying areas."
Primary Colors
The Tribune endorsed Rod Gidwitz on Sunday to be the Republican nominee for governor. The Tribune will endorse Gidwitz or whichever Republican wins the primary in the general election in fall as well, as a matter of course. So there's really no reason for the editorial board to pretend it is closely studying the issues and the candidates from here on out.
The Sun-Times endorsed Judy Baar Topinka on Sunday to be the Republican nominee for governor. What the paper will do in the fall is less predictable, especially with alleged swindler David Radler out of the fold.
Then again, much of the editorial board that didn't own up to Radler's shenanigans last time around is still there, so far as I know, including Editorial Page Editor Steve Huntley. Former Editor in Chief Michael Cooke, who spun madly (to put it kindly) when questioned about the Radler farce is back from a short stint as editor of the New York Daily News, but he's been shunted off to work on synergizing the company's suburban titles.
Q is for Quagmire
The big headline on the front page of the Tribune's Q section on Sunday: "Boy Oh Boy, Is That Hot! Brokeback Mountain's Scenes Spur Women With a Sexual Giddyup."
Recommended Reading
Carol Marin on a ghost reformed.
Blowpops and Popguns
Aren't ice cream trucks and BB-guns a regular part of the lives of children--and therefore parents? And yet, Chicago's newspaper editors think you aren't interested in the laws being passed in Springfield regulating the Good Humor Man and our little BB-gun warriors. Is it them, or is it me?
The Sun-Times buried this on Saturday, but at least they covered it. Tracy Swartz reports that a "dessert bill" that would require background checks for ice cream truck drivers passed the House and moves to the Senate. On the one hand, yes, it sounds like a good idea in terms of safety for your child. On the other hand, is the surveillance society going too far? How much of a problem is this really?
Swartz also reports that the House passed a bill outlawing BB-guns in schools. The bill was introduced by Grayslake Republican Robert Churchill in the wake of a 13-year-old being caught with a BB-gun in a Lake County school. The kid apparently brought the gun to school to defend himself against gang members.
So an easy political score for Churchill.
Certainly kids bringing BB-guns to school isn't a good idea. But should this be a state law, or merely school policy?
Meanwhile, Swartz reports that Ron Stephens, a Republican from Highland Park, opposed the measure, saying "I come from a generation where BB-guns was a part of Americana."
Character Assassination
The Tribune editorial page weighed in Sunday on the Chairman Fred Hampton Way controversy and came down squarely with a very Tribune-like perspective of a crochety old white man.
Of the hail of gunfire in which Hampton was killed, the editorial allows only that "Many called it murder." Do you, Tribune, call it murder? Or are you sticking with "police raid?"
Then the Tribune slips in a mention of an incident that occurred a few weeks prior to Hampton's killing in which two Chicago police officers were shot to death "during a gun battle with several men--at least two of them Panthers." The paper, however, not only fails to show that the Black Panthers as an organization had anything to do with the deaths of those police officers, but doesn't even try to link Hampton to the killings. Instead, it just lets the implication linger. And even if the Panthers and/or Hampton were responsible for the killings of those police officers, would that justify the police's assassination of Hampton? Wouldn't that be just the kind of vigilante justice the Panthers were espousing but the paper finds so gruesome?
Finally, is it worse to advocate violence against the police, as the Tribune says Hampton did, or for the police to commit violence that doesn't fall in the line of duty and then try to cover it up?
Black and White
On WTTW's Week in Review on Friday, Tribune sports editor Dan McGrath and Tribune political writer Rick Pearson, both white guys, said they were against the proposed Fred Hampton Way. Sun-Times columnist Mary Mitchell, who is African-American, said she was in favor of it.
"The 21-year-old cop murdered two weeks before went to my high school," McGrath explained.
"Hampton had nothing to do with them," Mitchell shot back.
McGrath is not on the Tribune's editorial board. But he may as well be.
Memo to Comcast
Your advertisement in the Tribune on Sunday that paired the headline "Time For a Sit Down" with a photo of a couple guys from The Sopranos made me think you were going to shake me down with another price increase rather than seduce me into upgrading to digital cable.
Don't forget our Tip Line: Our version of a blue-light district.
Posted by Lou at 12:58 AM | Permalink
March 05, 2006
Up the Academy: An Oscar Report From the Black Carpet
The real intrigue of this year's Oscar awards was never about which film would win Best Picture or who would wear something embarrassing or just how crappy the stage patter would be. No, the real intrigue this year, quite simply, was: "How will Jon Stewart do?"
My answer: Better as the show went on, but generally lousy. (Beachwood TV/Movie Editor Don Jacobson disagrees, as you can read below.) I suspect Stewart was saddled with Oscar show hacks, not his Daily Show writers, because his jokes fell flat--and deserved to. (Exception: When Stewart wondered if pulling down the giant Oscar statue would liberate Hollywood.)
My suggestion for next year: Let Lily Tomlin and Meryl Streep co-host. They gave the evening's best performance--and with a comic device that could have simply been tiring.
(And don't invite Ben Stiller back; his green screen joke came about as close to being funny as George Bush came to seeing Brokeback Mountain.)
In fact, the best parts of the show didn't occur on the stage (and I'm not talking about the film clips either). The filmed opening mocking the Academy's inability to find a host for the show, including appearances the gaggle of stars who apparently turned the job down (including Billy Crystal, Chris Rock, Steve Martin, David Letterman, Whoopi Goldberg) was dead-on, and perfectly self-aware.

Anyway, Beachwood Reporter TV/Movie Editor Don Jacobson filed this report from his black carpet at home:
Dumb and Dumber
ABC was promoting the fact that their pre-Oscar show was expanded to "a full hour!" this year, as if this was a good thing. While the actual telecast is trying to hip itself up with a guy like Jon Stewart, the pre-show has retained all of the desperate, soul-destroying hero worshipping that has typified the Oscars since about 1953. It's Access Hollywood on steroids, and we all know nothing good can come of that.
Chris Connelly, who apparently used to be the editorial director of MTV News, hosted the pre-show. So he has the credentials. In fact, this was Connelly's seventh year doing the Oscar pre-casts, and you could tell he's learned how to ask interesting questions of our most beloved celebs. For example, he asked the pregnant Rachel Weisz, "So, what advice did your obstetrician give you for tonight?"
(How about: "Avoid dumb questions on your way in to see the show.")
About the only kind of pity I can muster for movie stars is that they have to put with endless dumb questions like this from the movie "press." For Weisz's part, she just kind of looked around, speechless, and then said, "I don't know . . . I was going to make something up."
In other words, the question was so dumb even a phony answer wouldn't do.
Low Expectations
Another beautiful moment came when Connelly threw it over to correspondent Billy Bush, who actually is on Access Hollywood. Bush was standing in the pavilion hall with Academy President Sid Ganis. Billy asked him what kind of show we could expect, and Ganis responded with great gravity, "It's going to be a great show, Billy. A great show."
"Thanks Sid! Back to you, Chris!"
Politics Lite
The night's biggest villain: the ol' tail-gunner, Joe McCarthy. It just goes to show you how Hollywood liberalism works. You can't come right out and bash the current president at the Academy Awards--when it would mean the most--even though that's what everyone wants to do. Instead, you find a straw man and knock him down like no one's business.
McCarthy, safely dead but also still viscerally hated for his Hollywood blacklisting, is a perfect foil first and foremost because he can't fight back.
True, he's also an uncanny stand-in for Bush and Cheney, and viewers know exactly who is really being talked about. But you can't just come out and say it.
Fearless Lite
And then you get Samuel L. Jackson saying "Hollywood has never been afraid to challenge beliefs," to which the Academy shows a bunch of clips from movies mostly from the late 1960s and 1970s, in which real social issues were discussed in brilliant ways, like in Easy Rider and Five Easy Pieces. The only problem is that the Academy ignored those films at the time, which is exactly what cemented its reputation as an out-of-touch institution.
George Clooney, in his acceptance speech for Best Supporting Actor, had to reach all the way back to Mammy herself--Hattie McDaniel's 1939 win for Gone With the Wind--to find an example of Hollywood's fearlessness. Right. Mammy was a subversive.
Because They Are Dweebs
Why is it the longest acceptance speeches are still being made by the winners of the categories no one but the industry types care about--costume designers, short film makers, make-up artists, etc.? One way to get them to shut up is turn off the mic, as the producers did after a rambling thank-you epic from the make-up guy from The Chronicles of Narnia. But I felt sorry for his partner, who tried to get two words in edgewise but ended up silently mouthing the words as they were hustled off stage.
Oscar Manilli
One thing I noticed is that when many of the presenters named the names of the nominees, it went to a pre-recorded voice mode. I don't know if this is a new thing or not, but for some reason it kind of upset me. It's not that I really liked hearing movie stars mangle the names of sound recording engineers or the producers of the best foreign language film. But at least that mangling was human and unscripted. Moments like that are getting rare on (non-reality show) network TV programs. If the Academy Awards can possibly get any more overproduced, I think it just happened.
Hope Lite
But for the first time since the 70s, I feel better about the Oscars. God, I didn't want to admit that, but I can't help it. Between Jon Stewart's deadly mockery--which he managed to make seem unforced--and the ascendancy of films that are actually good, I'm warming up to the Academy Awards. It's harder to ignore and dismiss them when there's hardly a clunker on the best movie list. Maybe this means the corporate studios will rethink their blockbuster predilections (especially with two high-profile blockbuster tanks in King Kong and War of the Worlds) and actually fund new, interesting filmmakers. Maybe this means there's a golden age of indie movies coming up. Maybe this means I'll be spending more time in the megaplex than in front of the DVD player.
Nah, probably not. But it's still nice to see "official" Hollywood reward movies that actually say something for a change.
Posted by Lou at 02:36 AM | Permalink
Ways & Means
Cook County Board Commissioner Forrest Claypool, running against incumbent John Stroger in the Democratic primary for Cook County Board president, made news last week when he endorsed U.S. Rep. Jesse Jackson Jr.'s proposed Peotone airport.
Simple enough, you might think. But the weird dynamics of this campaign left all three in a bit of a tangle.
For Claypool, the move looked like a transparent attempt to cut into Stroger's black voting base by wooing Jackson--particularly since the position of Cook County Board president doesn't seem to have much to do with Peotone.
Beyond that, consider: Claypool has never weighed in on the long third airport debate, according to a Lexis/Nexis review. But in 1996, while he was the superintendent of the Chicago Park District, Claypool wrote a letter to the Chicago Sun-Times that seemed to dismiss Jackson's idea of an airport in the south suburbs, noting its distance from downtown.
"The irony is that while Springfield legislators push to keep Meigs Field open, allegedly for the sake of convenience, they are also moving forward with plans for a third airport more than an hour south of the city," Claypool wrote.
At his press conference last week, Claypool sang a different tune. "The South Side and the southern suburbs need similar engines of growth [to those of O'Hare]," he said.
So Claypool has finally seen the light.
Meanwhile, Jackson accepted Claypool's support but withheld (at least publicly) an endorsement of his new friend. Perhaps he was just being scrupulously diplomatic, but Jackson's straddling on Stroger sounded excruciatingly painful.
"I have not made a judgment as to whether or not I will endorse a candidate in the race for County Board president, "Jackson said, as reported in the Chicago Tribune. "Suffice it to say I am concerned about waste in county government. I am concerned about inefficiencies in county government."
The Tribune pointed out that Jackson "has endorsed two County Board candidates challenging John Stroger loyalists."
Stroger, however, hardly came out the better man.
"I'm not anti-anything about the airport," he said. "I'm not pro [either]."
Apparently, Stroger just "is."
And so it goes.
Contemptuous of the public, or just unaware of their existence?
In its story about Claypool's Peotone endorsement, the Tribune also reported that Stroger was refusing to debate his challenger.
"I've been in more discussions with Claypool than I need to,' Stroger said.
Discussions which we apparently lost our invitations to.
John O'Stroger
Earlier this month Stroger appeared in a full-page Sun-Times ad for the clouty O'Briens Restaurant.
"'Service & Leadership With Proven Results!' the ad said.
Aside from the impropriety of an elected officeholder endorsing a business, does the restaurant's endorsement of Stroger qualify as a campaign contribution?
Check, Please!
Judicial candidate Margaret Ann Carey--if that's her real name--appeared in an O'Brien's ad last Wednesday. So, yeah, she's qualified.
M*A*S*Hed
From the February 17th edition of the Sun-Times: "In other testimony Thursday, "M*A*S*H" star Mike Farrell, who played B.J. Hunnicutt on the TV series, took the stand as a character witness. Farrell is a human rights advocate who came to know Ryan during his death penalty work. Ryan cleared Illinois' Death Row in 2003. Farrell wasn't allowed to bring up the death penalty before jurors but said he thought Ryan was a man of integrity.
"Outside of court, Farrell said he knew Ryan to be frank, open and compassionate. 'I always thought of him as a good old-fashioned meat-and-potatoes Midwestern Republican gentleman,' Farrell said. "I have never seen anything that he has done or said that would contradict that."

From the Mike Farrell Guestbook at mikefarrell.org:
February 17 2006 at 00:23:15
Name: Jim
Where are you from?: Chicago
Comments: Mike, Mike, Mike. I just saw you on the local Chicago news supporting former Governor Ryan. George Ryan (Republican) was the biggest crook EVER in Chicago/Illinois politics . . . and I say this being a REPUBLICAN!!! Former Governor Ryan is on trial for license for cash scandal where he was directly responsible for 11 highway deaths. Ryan took money from truck drivers that could not pass or would not take their driving tests. I can't believe that you are supporting a guy that was responsible for innocent deaths when you fight for criminals that should have been executed long ago.
February 17 2006 at 00:17:06
Name: Dave
Where are you from?: Illinois
Comments: Mike Farrell was in Chicago today to serve as a character witness in the corruption trial of George Ryan, who is a former Illinois governor. As one of his last official acts, Ryan commuted all the death sentences in Illinois, hence the tie to Farrell. I find it unfortunate that Mr. Farrell travels all the way to Illinois in an attempt to get Mr. Ryan cleared of charges when Mr. Farrell has no personal knowledge of the facts of those charges. He simply wants Mr. Ryan exonerated because he cleared Death Row. Mr. Farrell has no cares as to whether Ryan is actually guilty of being one of the most corrupt politicians in Illinois history and should therefore be punished.

Posted by Lou at 02:04 AM | Permalink
March 04, 2006
The [Saturday] Papers
A NOTE TO READERS ABOUT THE BEACHWOOD'S WEEKEND EDITIONS: We're gonna kind of fake it around here on Saturdays, just like the daily papers do. And look for The [Sunday] Papers on Mondays, when we've had time to digest the folly and get some sleep. We'll deal with the Monday papers then, too. You can also look forward to new postings throughout the site next week. In the meantime, remember one of our many mottos: Admit nothing, blame everyone, be bitter. Cheers!
Voice of the People: The best part of the Chicago Tribune today is its letters page. An index.
Letters from Don Knotts fans: 2
Letters from Chicago aldermen: 1
Letters from gubernatorial campaign managers: 1
Most persuasive letters: The ones from the Knotts fans.
Thank you, Chip Marshall, of Glenview: Who wrote to the Tribune, in part . . .
"As word spread of Knotts' passing, I laughed aloud replaying in my head just one of the highly successful show's most hilarious episodes--'Convicts At-Large'--in which Barney and Floyd the Barber (Howard McNear) are held hostage by a gang of women prison escapees who have been hiding in O'Malley's cabin on the outskirts of Mayberry.
"Sheriff Andy spots Floyd, accompanied by one of the female convicts, in town buying groceries and becomes suspicious. Andy and O'Malley, who had just returned from an out-of-town trip, then engineer a scheme to capture all but the group's ringleader, 'Big Maude,' whom Barney manages to tango out the door and into awaiting handcuffs."
Recommended Reading: "Noodle Prices Rise, Along With Chinese Tempers," from the front page of today's New York Times.
To whet your appetite, here's the lead:
LANZHOU, China -- One difference between China's remote west and the rest of the country is what people choose to put in their stomachs. Noodles, not rice, are the favorite dish, none more so than the steaming bowl of beef noodles named after this decaying provincial capital on the Yellow River.
So in February, as noodle patrons across the city arrived for their morning fix, an unexpected notice awaited them: The price of a bowl of Lanzhou pulled beef noodles was going up. A large bowl, once only 27 cents, would now cost almost 31 cents.
Dusty Devils: The Times also reports that Bruce Springsteen will release "We Shall Overcome: The Seeger Sessions" in April, on which The Boss covers 13 songs associated with Pete Seeger.
Unfortunately, Springsteen's other big project, "We Shall Go To Katmandu: The Bob Seger Sessions," has apparently been shelved.
Answering Amy: In which we take one question posed each week to the Tribune's highly-paid, highly-marketed, highly-mediocre advice columnist and contrast her answer with ours.
Dear Amy: Recently you stated in your column that most people could not imagine sleeping with the same person for the rest of their lives.
If this is truly the case, then why marry?
I've been married for 43 years and have never felt any need to sleep with anyone other than my husband. Our physical relationship has only improved over the years.
- Barbara
Dear Barbara: I do think it's a common premarriage anxiety to worry about being with one person for the rest of your life. It's great to learn that your relationship has grown and improved with time.
- Amy
Dear Barbara (cc: Amy): You could do Amy's job twice as well at half the pay. Please contact the Tribune Co.'s Cost-Cutting Division.
- Beachwood Advice Affairs Desk
Chicago Patent of the Week
"A theft deterrent wheel fastener cap assembly."
Inventor/Assignee: Larry J. Wilson (Commerce Township, MI)/MacLean-Fogg Company (Mundelein, IL).
Description: "The present invention relates to a decorative cap for enclosing the head of a wheel bolt or wheel nut or the like which fastens a wheel to the hub of a vehicle, comprising an end closure wall, an endless side wall extending from an outer periphery of said end closure wall, a skid extending radially outwardly from a periphery of said side wall, and said skirt having a plurality of locking lips depending therefrom for releasably gripping the head."
Trademark of the Week
"Put It In The Cup!"
Who: Napco, Inc. (Batavia, IL)
Description: "Promoting the sale of coffee through the administration of incentive awards programs."

Posted by Lou at 02:42 AM | Permalink
March 03, 2006
The [Friday] Papers
It was perhaps the busiest day of the legislative session in Springfield yesterday, with lawmakers taking up issues ranging from the amount of out-of-state wine available to Illinoisans to legislation requiring cigarette companies to sell only self-extinguishing cigarettes, in the interest of reducing the number of homes burned down by smokers who fall asleep with their squares in their hands.
Everyday issues that connect with readers--I mean, we're talking wine and cigarettes. You don't need market research to tell you that folks might be interested. (You mean current law allows out-of-state wineries to ship only two cases to Illinois stores a year? And this isn't on the front page?)
You'd think the newspapers would be all over the goings-ons at the capitol. You'd think wrong.

True, the Chicago Tribune put a legislative story on its front page. It's just that it was the wrong one.
The Tribune chose to highlight the easy state senate approval of a bill that would limit the power of local governments to use eminent domain to grab private land. This action is similar to moves in state legislatures nationwide in the wake of a U.S. Supreme Court decision last year that endorsed the eminent domain powers of local governments.
The real story coming out of Springfield, though, was the defeat of a proposal to make accident records for used cars available to consumers. The used car dealer lobby does not want us to see those records.
Why is that a more important story than the eminent domain proposal? It might not be in the big picture, but it certainly is today. The eminent domain bill now moves to the House, and if passed there would go to the governor. There will be plenty of other days to report on its prospects and its potential impact. It also appears to face very little opposition.
The accident record bill, however, is dead. Now the story vanishes.
This was also a story of high political drama. According to the reporting, the bill was killed by the used car lobby, including the Illinois Automobile Dealers Association and the Chicago Automobile Trade Association. (Why not put photos of the executives of these fine organizations in the newspaper and submit them to questioning?)
But it did not go down without a helluva fight. The bill failed on a 28-26 roll call vote. The bill needed 30 votes for passage. (The eminent domain bill passed 44-2, with 10 senators voting present for unexplained reasons).
Chicago Sen. James Meeks, who sponsored the bill, said senators voting against it were intimidated by the auto dealers, who apparently are generous campaign contributors.
Republican Sen. Chris Lauzen, of Aurora, said the problem was about mistakes in the accident records that might mislead unwitting citizens, who apparently aren't smart enough to figure out for themselves what to believe. Perhaps Lauzen is projecting there.
"The problem with this bill is it creates a false sense of security when people rely on information that is late and inaccurate," Lauzen was quoted as saying by the Tribune.
Better to have the truer sense of security you get just by taking a used car dealer's word for it.
Over at the Bright One, they did better. But not better enough. The Chicago Sun-Times led its legislative roundup with the accident report proposal and went a little bit further than the Tribune in fleshing it out.
Reporter Tracy Swartz writes that opponents to the plan had concerns that inaccurate information might hurt vehicle sales. Accurate information, too.
Here's Fearless Frank Watson, the Republican from Greenville who is the Senate Minority Leader: "We can't talk about this being pro-consumer when actually the consumer is going to get wrong information potentially."
I'd like to propose a bill limiting citizens to access to information about candidates for public office because, you know, they might get the "wrong information." Potentially.
Of course, the Illinois Automobile Dealers Association and the Chicago Automobile Trade Association have contributed campaign cash to Watson, so he's not exactly an objective observer. I'm not saying he was bribed, just that the system works.
The only problem with the Sun-Times story is that it's too short, and it looks like its only purpose was to wedge something in back on Page 9 around a Nextel ad so there wasn't a thin blank strip across the top of the page.
All in all, our fair reporters and their editors just seem bored with the news. Perhaps wine, cigarettes, and used cars are just too declasse for them. Add that to the myriad reasons why newspapers are losing readers.
Hampton Hooey
The Sun-Times discovers at this late date that the Black Panthers actually did more than merely talk about killing police officers. The paper says the Panthers killed two Chicago cops in 1969.
Did the paper discover this digging through their archives, or researching police reports or court records?
No. Because the real axiom in Chicago journalism has been misquoted all these years. It isn't "If your mother says she loves you, check it out." It's "If your mother says she loves you, hack it out."
Hence, a story in which the paper merely reports on a thin summary posted on a Website dedicated to slain Chicago cops. The slain officers Website is severely short on facts about its cases, leaving all sorts of unanswered questions.
I'm not saying the incident didn't happen. But shouldn't the paper check it out? (And shouldn't the papers have been including this in their first-day stories, just by doing a simple clip search, aided by institutional memory?)
There are other problems with the site, insofar as using it as a news resource. For example, that Oakland police officer killed by a Black Panther during a traffic stop? I don't doubt that may have happened. But where are the all-important facts? Did the alleged killer's membership in the Black Panthers have anything to do with the killing? Did he claim self-defense? Was anyone arrested, much less convicted?
The site doesn't tell us.
One thing we do know, though, is which side of Fred Hampton Way Sun-Times reporters and editors are standing.
I Am Not Anti-Cop
In fact, I happen to think the Chicago police force is too small, and the mayor is too stubborn about his budget priorities to do anything about it. But if we're going to go in this direction . . . what about a Website dedicated to fallen blacks and minorities slain by cops?
This is not the path to understanding, and the press isn't helping.
Joke of a Venue
Jim DeRogatis reports that the Tweeter Center is changing its name again, this time to First Midwest Bank Amphitheatre. The jokes should write themselves. Submit yours to the general topics category in the Beachwood Forums. The best one wins a modest prize.
Welcome to The Beachwood Reporter
Here is our first classified ad:
Help Wanted
Irreverent Chicago-centric Website seeks passionate reporters and offbeat business-types to help sustain a venture dedicated to serious journalism and relevant wit. The quicker we all pull together, the quicker we all get paid.
Stop talking about it and live the dream. Contact Steve Rhodes to see how. Business, editorial, tech . . . we have positions for you.
The Reporter in the News
While we didn't make his list of 50 best Websites, the Tribune's Steve Johnson gave us a nice write-up on his blog, Hypertext.
There is plenty more to come from The Beachwood Reporter, as we fill out the site and expand our offerings. So come back often and help us sustain this effort.
And thanks to everyone who has been reading and everyone who has sent us a kind note.
Don't forget our Tip Line: Do the right thing.
Posted by Lou at 04:35 AM | Permalink
March 02, 2006
A Bucky Bloodshot Bloodbath
- Some dude named Bucky Covington covered Garth Brooks's Thunder Rolls on American Idol last night, proving that songs by professional hacks that don't seem like they can be any worse actually can be in the hands of amateur hacks. (Saving grace: "I don't see Bucky as the star attraction," said Simon Cowell, "I see him as the supporting act.") . . .
- The new issue of No Depression reports on the return of Golden Smog. The alt-country supergroup, which includes Jeff Tweedy among other luminaries, is scheduled to release Another Fine Day in early summer, on Lost Highway. This will be the first Golden Smog record since 1998 . . .
- It would be well worth your effort to get your hands on a WXRT recording of a Golden Smog show at Lounge Ax in 1996. Includes a cover of Rosanne Cash's "Seven Year Ache" . . .
- The Hideout reports more news on the Gary Schepers front: "Early-90's indie-rock phenoms Phantom Helmsmen, who broke up in 1993, and haven't played a reunion show since 2000, will play a long goddamn set of rock music for our friend Gary Schepers on Thur. Mar. 9th at Empty Bottle along with another early-90's sensation, Falstaff, and tentatively, Boom Hank" . . .
For more information including how to donate to the Gary Schepers Trust, go here.
- Check out Robbie Fulks's monthly XM radio show, "Robbie's Secret Country," on "X Country" (XM12). Next broadcast is on Monday, March 27 . . .
- Bloodshot Records artist Kelly Hogan has joined The Eclectic Company, the WXRT radio show hosted by Jon Langford and Nic Tremulis. The show airs on Tuesday nights from 10 p.m. to midnight. Hogan will debut a newly recorded cover song each week toward the end of the show . . .
Bloodshot has posted the schedule for its South-by-Southwest Showcase. You can check for updates here, but here's the lineup for now.
Thursday, March 16 :
Bloodshot Records Label Showcase at Bourbon Rocks, 508 E. 6th St
Sponsored by the Onion and KDHX 88.1, St. Louis
8:00pm: Mark Pickerel
9:00pm: Cordero
10:00pm: Deadstring Brothers
11:00pm: Scott H. Biram
12:00pm: Bobby Bare Jr.
1:00pm: Bottle Rockets
Friday, March 17:
Devil in a Woodpile @ Habana Calle 6 Patio, 709 E. 6th: 9:00pm
Saturday, March 18:
The Meat Purveyors @ Copa, 217 S. Congress: 12:00am (midnight)
Waco Brothers @ Bourbon Rocks, 508 E. 6th St: 1:00am
Jon Langford @ Opal Divine's, 700 W. 6th St: 10:00pm
Parties and Unofficial Events:
Wednesday, March 13:
Industry of Music party at The Tap Room, 311 Colorado
Cordero: 4pm
Scott H. Biram: 6pm
Friday, March 17:
Bloodshot 12th Annual SXSW Party @ Yard Dog Gallery, 1510 S Congress Ave
Festivities begin at 12 NOON. 10+ Bands! Free beer, sponsored by PBR.
Saturday, March 18:
Industry of Music party at The Tap Room, 311 Colorado
Deadstring Brothers: 4pm
Sunday, March 19:
Alejandro Escovedo hosts the annual SIMS benefit at Continental Club, 1315 South Congress Ave.
with Sally Timms, Jon Langford and more, time tba.
Posted by Lou at 08:25 AM | Permalink
Dirty Coppers
Will the TV- and movie-viewing public ever tire of police dramas? Or are cops and robbers the gift that keeps on giving to the entertainment industry?
Sid Smith of the Tribune took up the case recently in "Murder, They Wrote: Police TV Shows Are All The Rage, And Here's Why," noting that during a week of watching crime dramas he tallied "four murders, three abductions, one serial hate-crime streak and a poisoning by LSD," noting as well that, "Thanks to a 'Cold Case,' a 1994 suicide got reclassified as a homicide."
Smith seems disturbed by this--and perhaps he should be--but he is unconvincing in seeing change in the air. "Despite . . . this season's ratings bonanza for crime shows, there are signs the inevitable shift in the wind is stirring," Smith writes. "After resting at the top of the heap all fall, CSI actually lost the No. 1 ratings spot in recent weeks to the return of American Idol."
The ascension of the runaway train that is American Idol to the top of the ratings is hardly a cultural signpost that the police show is falling out of favor, though.

Smith's piece recalls an argument put forth by the Tribune's Julia Keller in the wake of 9/11. Keller, like so many other commentators suddenly developing insight into how our world would change forever, foresaw a dramatic shift in the very nature of police shows that simply hasn't come to be.
"As we continue to contemplate how culture may change in the wake of Sept. 11, I'd like to offer this prediction: Cop dramas will never be the same. It won't happen overnight--cultural products take a good long time to make their way through the various pipelines that empty out on TV and movie screens, in bookstores and on stages--but it's on its way," Keller wrote in October 2001.
"For roughly the past two decades, cop dramas have been dominated by a single idea: moral ambiguity. Cops do a dirty job, see, and the only way to do a dirty job--or so this theory goes--is to get a little dirty yourself."
That dominant storyline (a change in itself from the Dragnet days of righteous policing, I might add) would come to an end, Keller wrote.
But even as she was typing, the Denzel Washington vehicle, Training Day, had just been released, delayed only slightly due to the studio's sensitivity to 9/11. The movie's plot, as described by IMDB.com, revolves around Washington's character, L.A.P.D. detective Alonzo Harris, "a veteran narcotics officer whose methods of enforcing the law are questionable, if not corrupt."
In fact, Training Day was the No. 1 movie in America at the time Keller wrote, something she found easy to brush off.
"A new police paradigm doesn't mean that all cops have to be shown as choir boys," she wrote. "But it does mean that the opposite impulse--portraying most as soulless dealmakers--won't wash. Despite the success of Training Day, it may be a long time before audiences are clamoring to see dirty cops as de facto heroes."
Keller declared the movie "an instant anachronism."
But Training Day went on to gross more than $76 million in U.S. box office sales (the movie's budget was an estimated $45 million), and was released in 39 other countries, including Egypt, Israel, and Kuwait.
In March 2002--six months after 9/11, a good testing period for shifting cultural tastes--Training Day shot to the top of Amazon.com's DVD best-seller list.
The movie won a slew of awards, including a Best Actor Oscar for Washington.
Roger Ebert was a bit more prescient in his 2001 review of the film. "Will audiences accept this movie in the current climate, when cops and firemen are hailed as heroes? I think maybe so; I think by delaying the movie's opening two weeks, Warner Bros. sidestepped a potential backlash. And Denzel's performance is sure to generate strong word-of-mouth. Second question: It's been asked if violent movies will become rare in these sad days after the terrorism. The box-office performance of Training Day may provide the answer."
But that's the movies. What about TV?
Well, The Shield debuted on March 12, 2002. Again, just six months after 9/11. And isn't The Shield, now in its fifth season, the epitome of a show at the cross section of moral ambiguity and dirty cops?
And what of 24?
I confess, I've never seen it. But isn't it an integral part of the premise that Jack Bauer must cut whatever corners he can in a post-9/11 world in order to do his job? In fact, doesn't "24" argue the opposite of Keller--that moral ambiguity (and that inherently means dirty cops) is exactly what the public (and not uninterestingly, the Administration) is interested in right now?
[Editor's Note: I've seen 24. Jack Bauer tortures terrorism suspects on 24, which has aroused the ire of liberal bloggers & lefties. So in that respect, the show is mirroring pro-Administration sentiment nowadays.]
The form of the police show has changed over the years--from Hill Street Blues to NYPD Blue to The Shield--but in a way that only serves to probe the humanity of its characters more and more deeply. That is the good news. And quite possibly, why we like to watch shows with so much bad news.
Posted by Lou at 07:52 AM | Permalink
What I Watched Last Night
1. In the Heat of the Night: In bits and pieces, as I've seen it a million times but remains an all-time favorite. In this Southern race drama revolving around a mysterious murder, Rod Steiger and Sidney Poitier give perfect performances of complex characters who don't seem as if they could be more different yet function as mirrors to each other as they are forced to face up to and question their deepest beliefs and attitudes.
2. American Idol: Look, I was working while it was on. This is the first season I've really watched the show, although last season I watched the opener, and we all know the show is at its best when the contestants are the worst. Now the contestants are maddening because they actually take themselves seriously--and America seems to as well.
3. Don Knotts Remembered/Larry King Live: Andy Griffith explained why Knotts left The Andy Griffith Show show after its fifth season. Griffith had previously told Knotts he would only do the show for five years. So when the fifth season rolled around, Knotts started looking for work and ended up signing a movie deal with Universal. Then Griffith decided to stay on. Knotts was screwed. And so was the The Andy Griffith Show. While the program continued for three more years, and finished number one in its last season, the loss of Knotts broke Griffith's heart. "When Don left, the show lost its heart," Griffith said.
Fun facts:
- Don Knotts's daughter, Karen, doesn't look a thing like him.
- Jim Nabors lives in Hawaii, largely retired except for a couple singing gigs a year.
- Steve Rhodes
Posted by Lou at 05:40 AM | Permalink
Chicago in Song: 20 Flight Rock
Obscure as I thought the Eddie Cochran rockabilly epic "20 Flight Rock" was these days, there must be some kind of weird karma in the air because I just saw Paul McCartney perform it on PBS's Great Performances.
And guess what? McCartney said it was the song that got him into the Beatles.
The McCartney episode, called "Chaos and Creation at Abbey Road," was indeed a "great performance." Macca was at his affable, cute-Beatle best--all laid back and hipster-y, just the way I like him. Macca performed in front of a tiny audience in the very studio that all the classic Beatles tracks were laid down. I could just picture George Martin in a cardigan sweater peering down from booth, trying to get Ringo to behave.

Macca played about 10 songs, including some from his latest album, Chaos and Creation in the Back Yard (hence the synergistic program title), and none of them were particlarly remarkable--until he pulled out an acoustic guitar and produced a heartbreaking version of "Blackbird." Next he moved behind the piano and plunked out "Lady Madonna" in an time signature that differed from the original. McCartney likened this version to an old lady in new clothes.

For the rockabilly fans, McCartney trotted out a stand-up bass once used by Elvis's bassist, Bill Black, for all those classic Sun Records songs, including "Heartbreak Hotel," which Macca then performed.

But the highlight was McCartney's acoustic rendition of "20 Flight Rock." Now, I had known that McCartney had an affinity for the song, and that he generally worshipped Eddie Cochran, who died in 1960. But what I didn't know was that the first thing he and John Lennon did together on the day they met at a music fair was to work on a version of this song. McCartney said the fact that he knew all the words to it so impressed Lennon that he got a place in John's band, The Quarrymen.

And the rest was history.

Posted by Lou at 04:26 AM | Permalink
The [Thursday] Papers
Another day, another story about Fred Hampton Way.
Now comes Ald. Tom Allen, of the Fighting 38th, proposing to do away with or severely limit the practice of designating honorary street names.
And the mayor is apparently onboard: "Everybody will want a street sign--every citizen. Some corners will get three or four signs. If anybody reports that I was on such-and-such street and we don't . . . send an ambulance, we're liable," Daley was quoted as saying in the Chicago Sun-Times. "The aldermen have to look at it. I think they should do something differently."
So at least some good comes out of this: The mayor, who has lived here all his life and has been in office for 17 years, has discovered that many streets in Chicago have more than one name. Maybe for that contribution, we oughta name a street after Fred Hampton.

You have to hand it to the mayor. Sometimes Richard M. Daley is passive, sometimes he is aggressive, and sometimes he is passive-aggressive. But he is always inarticulate and wily.
The whole sorry spectacle does remind us--as if we need reminding--of the way Chicago's politics continue to be organized by that special combination of intellectual laxity and brute power.
The Chicago Rules I: Members of the city council in this town are so petty they'll even hand out dumb green* street signs as favors for political gain. Why not alleys, too? Because in Chicago, everything is an opportunity. (Look for the Illinois political delegation to finally pick up on this and convince their colleagues to start handing out honorary state names.)

*Update 2:44 p.m.: From today's Sun-Times: "Haithcock said she's not about to 're-refer' the matter to committee for a full-blown hearing. 'We've never had a hearing on an honorary green sign,' Haithcock said."
An astute reader points out that the signs are brown, not green. It appears from a cursory bit of research that honorary signs were originally green, but they were too easily mistaken for the real signs, so they were changed to brown.
The Chicago Rules II: It's okay to do the wrong thing until controversial black people are involved. Then we must immediately start doing the right thing--except for all the other wrong things people aren't mad about yet.
Granted, blacks and other minorities have been let into the Clout Club. But they are still seen as much as political tools as equals. And never forget that in Chicago race can still be used as a cudgel when it comes to exploiting the passions of potential voters.
By the numbers: The Sun-Times reports that the families of police officers killed in the line of duty have mobilized against the Hampton naming. "This man advocated violence toward police officers in the 1960s--especially with his phrase 'Kill the pigs,'" said the father of an officer killed on-duty by a drunk driver.
Number of pigs Fred Hampton killed: 0
Number of Fred Hamptons the pigs killed: 1
So yeah, you can see why they've mobilized.
But seriously: These families and others are upset because of Hampton's rhetorical flourishes about violence against cops. Here's a reconciliation plan: The families study up on the Black Panthers and the context of the times and meet with Bobby Rush to hash it out. They don't have to agree with each other, but each side might want to admit that the other side has a point.
Meanwhile, Hampton's family should clearly renounce violence against cops and volunteer to work with the upset families of killed cops to, I don't know, raise money for an urban anti-violence program or something. Because this spectacle is just that--a spectacle that doesn't seem to be enlightening anyone about why each side feels as passionately as they do.
And the police union (where is the police chief in all this by the way?) could acknowledge that their brethren assassinated Hampton. And then we could move on, everyone the better for it.
Aldermen need lessons too: Thomas formally introduced a proposal on Wednesday that would freeze the city's honorary street-naming program, the Chicago Tribune reported. As a backup, the paper said, Thomas proposed requiring that aldermen submit a biography to committee members of anyone they are proposing for an honorary street sign. Aldermen, Thomas said, are put in an "awkward situation" when asked by political supporters to name a street after someone who may or may not be worthy.
An awkward situation, yes, because you'd never want an alderman to say no to a political supporter asking for a favor. Because "political supporters" own "political checkbooks" that find their way into the "political bank accounts" of "politicians."
But submitting a biography is a good idea because, for example, members of the Transportation Committee couldn't have been expected to know who Fred Hampton was.
How about this? If your candidate needs a biography attached, he or she isn't worthy.
How they voted: The Fred Hampton Way proposal initially passed the city council's Transportation Committee without debate. Here are the committee members, according to the Website of the city clerk.
Chairman: Thomas R. Allen
Vice-Chairman: Carrie M. Austin
Members: Tillman, Beavers, Beale, Balcer, Rugai, Burnett, Carothers, Reboyras, Suarez, Doherty, Levar, Schulter
Caution is ever the byword of the Tribune: It's a small but illustrative example--the caption to a photo of a street with three different names on it says, "With so many signs, one could argue that it's hard to find the real name."
Yes, one could argue that. But the Tribune certainly isn't about to. Proposed caption: "What street is this?"
Killer Streets
Perhaps Alderman Allen isn't going far enough in ending the practice of honorary street names. Perhaps he should move next to repeal the honorary street names named after unsavory characters already littering our city. Submitted by Tim Willette.
8th: Henry the VIII killed more wives than Fred
Hampton killed anyone (divorced, beheaded, died,
divorced, beheaded . . . ). Also, offensive to Catholics
(esp. Irish).
Wells: How many people have died falling into wells?
Lots. And what about poisoned wells?
Canal: Same as Wells.
Cortez: After all . . .
Columbus: Acapella version of Cortez.
Superior: They say she never gives up her dead.
State: Killed even more than Church.
Ohio: Four dead.
Addison: The disease that nearly killed Kennedy.
Quincy: That medical examiner dude--at least one
murder/episode.
Alternate solution: I propose we call it just "Hampton Way." Then each of us can imagine it's named for our favorite Chicago Hampton. Here's mine.
Welcome to The Beachwood Reporter
Here is our first classified ad:
Help Wanted
Irreverent Chicago-centric Website seeks passionate reporters and offbeat business-types to help sustain a venture dedicated to serious journalism and relevant wit. The quicker we all pull together, the quicker we all get paid.
Stop talking about it and live the dream. Contact Steve Rhodes to see how. Business, editorial, tech . . . we have positions for you.
In the Reporter today:
Our Country Punk Affairs Desk gets rolling with our first installment of "Alt-Country Corner": Golden Smog is back and, yes, we admit we saw that lame-ass Bucky Covington on American Idol last night.
Speaking of American Idol--and how can we not--today we have another installment of "What I Watched Last Night" including a Don Knotts tribute. If you want to help us make this a daily feature, join our TV team.
Check out our look at what would happen if, say, the Tribune (and others) ran an airline (red-eye flights would be short and dumb).
And discussions, debates and witticisms underway now in our Beachwood Forums.
Don't forget our Tip Line: Get your boss fired.

Posted by Lou at 01:25 AM | Permalink
March 01, 2006
The [Wednesday] Papers
Don't be fooled: The Sun-Times's war-is-declared size headline "'Embarrassment' Or Fair Tribute?" is not in reference to the photo of the naked male torso above it (with obligatory leaf covering the goods).
The torso belongs to the headline to the left, "Where Are All The Naked Men?"
(Not in the Sun-Times, it turns out. But I digress.)
No, the Embarrassment or Fair Tribute debate belongs to Day Two of Monroe Street Held Hostage: The Chairman Fred Hampton Way Story.

Former Black Panther Bobby Rush, now a U.S. congressman representing Illinois's first district, which spans a chunk of the South Side and south suburbs, says he is "engaged in battle now" over whether a block of Monroe Street between South Western Avenue and Oakley Boulevard should be renamed "Chairman Fred Hampton Way," as proposed by South Side Ald. Madeline Haithcock.
The police union is furious, Haithcock is back-peddling, and the rest of the city council is cowering.
In their own words: Here, for example, is West Side Ald. Walter Burnett: "It's a no-winner. You end up getting somebody upset."
And here is South Side Ald. Freddrenna Lyle: "[I have] nothing to say. A lot of people feel very strongly about it. Why would you want to say something that gets the police people mad at you? And I don't want to do anything to get people who supported the Black Panthers mad at me."
North Side Ald. Richard Mell "likened [the proposal] to naming a Chicago street "David Duke Way."
Yes, let's not forget race: What the Sun-Times has failed to do so far is to present a list of all the white people with dubious pasts who have streets named after them in Chicago, some of whom may have even killed more people than Fred Hampton, who, as far as I know, never killed anyone, though indeed he may have incited violence.
(On his blog, the Tribune's Eric Zorn gets the ball rolling: "It's not like you have to have led a saintly life to get a street named after you. Good lord, Italo Balbo was a fascist henchman for the murderous Mussolini and was charged himself with the murder of a priest.")
Ironically, we wouldn't be having this debate at all if the police hadn't martryed Hampton by pumping him (and Mark Clark) full of lead in that infamous 1969 police raid.
And don't forget the mayor: Richard M. Daley, of course, has an opinion about this. But chances are you'll never hear it. "Everybody has a right to name things . . . I don't go down the list . . . You see those honorariums going in every day now, " Daley said. Then the mayor called the street naming "a local matter."
So something outside of his jurisdiction.
Meanwhile, the real news in the Sun-Times is on Page 10: "Daley Backing Stroger, But Praises Claypool." It may not be a surprise that Daley is supporting the re-election effort of Cook County Board President John Stroger, but it is a surprise that Daley is saying so publicly. (A sign of weakness in the Stroger campaign? Daley rarely issues public endorsements.)
Daley, of course, refuses to explain why he is standing by a man who is demonstrably presiding over a mess. And the press, predictably, is letting Daley get away with it.
Over at The Blue One: The Chicago Tribune remained generally uninterested in the Hampton saga, jumping in today out of obligation with a Page 3 story in Metro, "Mayor Mum On Naming Of Street."
The Tribune's top story on its front page is "Hawaii On Front Lines For Bird Flu." I'm glad they're on the case--both Hawaii and the Tribune--but the paper didn't carry Daley's Stroger endorsement at all.
The Tribune did recognize, however, the importance of Tuesday's decision by the U.S Supreme Court that protests outside abortion clinics did not constitute extortion or racketeering. The paper put that story on its front page just below Hawaii's front-line bird flu defense. The Sun-Times buried the story on Page 26, because who really cares about Supreme Court rulings when it comes to abortion? Apparently not the Sun-Times, which couldn't even be persuaded by the fact that one of the parties was Chicago anti-abortion activist Joseph Scheidler.
Maybe They're Still Confused
At first I thought it was a joke when Beachwood correspondent Tim Willette sent me this note:
"Remember when the council approved an official Fred
Hampton Day & later recanted because most of the
aldermen thought they were honoring Dan (#99) Hampton?"
Then Tim sent a follow-up:
"In 1990 the Chicago City Council voted to have a
Fred Hampton Day but after that sixteen white aldermen
objected on the grounds that they thought they had
voted to honor Dan Hampton the Chicago Bears football
player." (Amazon review of Studs Terkel's Race)
The Right to Homer
Meanwhile, the Sun-Times finds another excuse to put a picture of Homer Simpson in the paper, and who can blame them? The paper carries an Associated Press story today citing a study that found that more Americans know more about The Simpsons than the First Amendment.
More than half of those surveyed, the report says, can name at least two members of the Simpsons family, but only one in four can name one of the five freedoms named in the First Amendment.
The study was conducted by the McCormick Tribune Freedom Museum, which no Americans could name.
D'oh:
The Tribune ran its own version of the Simpsons/First Amendment story with no graphics whatsoever.
Welcome to The Beachwood Reporter
Here is our first classified ad:
Help Wanted
Irreverent Chicago-centric Website seeks passionate reporters and offbeat business-types to help sustain a venture dedicated to serious journalism and relevant wit. The quicker we all pull together, the quicker we all get paid.
Stop talking about it and live the dream. Contact Steve Rhodes to see how. Business, editorial, tech . . . we have positions for you.
In the Reporter today:
In Dirty Coppers we look at the post-9/11 shift in police dramas that never came to be.
In "Ways & Means" we look at how Peotone fogged in Stroger, Claypool, and U.S. Rep. Jesse Jackson Jr. last week.
Was Milo right? Did Steve Stone unwittingly describe Harry Caray as a miserable phony? Check out Cubs Fan, Bad Man?.
If you missed Skeleton in the Olympics, take a look back with this report from our Turin bureau.
And discuss and debate it all in our Beachwood Forums.
Don't forget our Tip Line: You send it, we decide.


Posted by Lou at 07:09 AM | Permalink