February 28, 2006
The [Tuesday] Papers
The big story on the front page of the Chicago Sun-Times today: "Black Panther Street Name Outrages Cops." The paper reports that a city council committee passed an ordinance Monday that would rename Monroe Street from Western to Oakley Avenues "Chairman Fred Hampton Way," after slain Black Panthers leader Fred Hampton. The police union is furious and Ald. Madeline Haithcock, who sponsored the measure, is already backing down.
Priceless Haithcock quote: "It's only one block--and it's not even a long block."

Addendum: Chairman Fred Hampton Way?
Maddening: In a sidebar to the Chairman Fred Hampton Way story, Sun-Times reporter Andrew Herrmann writes a painfully "objective" summary of the Hampton shooting, asking "Was it murder?" Is there really any doubt? Herrmann gives equal weight to the notion that Hampton died in a "gun battle" with the well-documented position of "Hampton's supporters" who say the police executed him. Herrmann himself notes the finding by a federal grand jury that the police fired between 83 and 99 shots while the occupants of Hampton's apartment fired one, but can't quite bring himself to write that the man--good or bad--was assassinated.
Meanwhile: As the Sun-Times overplays the Hampton story for shock value on its front page, it buries the real news on page 24: "City Social Service Agencies Facing 10% Cut April 1."
Fran Spielman reports that "Seven hundred agencies that provide human services to 370,000 Chicagoans are bracing for a 10 percent cut, beginning April 1, now that Congress has slashed funding for community development block grants."
Apparently the name of a street sign covering all of one block is more important than the lives of 370,000 Chicagoans.
Over at The Blue One: The Tribune's lead story is about the "frosty" downturn in new-home sales, perfectly reflecting the Tribune's own marketing strategy as much as the Hampton story reflects the marketing strategy of the Sun-Times.
Meanwhile: As the Tribune worries about new-home sales on its front page, the real news can be found on Page 7, where we learn that more than 1,300 Iraqis have died since the surge in sectarian violence last week, "making the past few days the deadliest of the war outside of major U.S. offensives."
But that story is reprinted from The Washington Post.
(Though, curiously, the home sales story is buried on the Tribune's Website as of this posting at 7: 30 a.m., while the Iraqi story is getting moderately good play. Different editors making different choices, or does the Tribune judge the interests of Web readers differently than the interets of home subscribers?)
By the Way: The Tribune didn't carry the story of Chairman Fred Hampton Way.
Recommended
Local writer Alexander Russo's blog--District 299--covers the Chicago Public Schools--and looks good doing it.
Vaunted magazine writer Charles Pierce thinks Time magazine's Joe Klein has jumped the shark.
The Friedman Follies
By THOMAS L. FRIEDMAN
February 22, 2006
MUMBAI, India

"The [U.N.'s International Labor Office] study, [The Middle East Media Research Institute] reported, found that 'the Middle East and North Africa stand out as the region with the
highest rate of unemployment in the world': 13.2 percent. That is worse than in sub-Saharan Africa."

13.2 percent? That's all?? Hell, better than being Black in Cleveland . . .

Unemployment rate for Black males: 18.1%
Unemployment rate for Black females: 13.6%
source: http://www.city-data.com/housing/houses-Cleveland-Ohio.html

- submitted by Curtis Myers
Welcome to The Beachwood Reporter
Here is our first classified ad:
Help Wanted
Irreverent Chicago-centric Website seeks passionate reporters and offbeat business-types to help sustain a venture dedicated to serious journalism and relevant wit. The quicker we all pull together, the quicker we all get paid.
Stop talking about it and live the dream. Contact Steve Rhodes to see how. Business, editorial, tech . . . we have positions for you.
In the Reporter today:
The first installment of our Bridge Report, which is just a little bit sharper than most bridge reports you've seen.
The first installment of our political column, Ways & Means.
The first installment of our already popular feature, I Lived in Alaska.
Steve Stone on Harry Caray.
Read our analysis of recent Tribune polls about the mayor.
And discuss and debate it all in our Beachwood Forums.
The Truth Hurts
The Tribune's Sunday magazine published a letter to the editor this week from S. L. Wisenberg, of Chicago, that read in part:
"I was disturbed by the first sentence of your interesting cover story about North Kenwood/Oakland. It began: 'In a part of Chicago you may never have heard of . . . '
"The assumption is that the reader is a white North Sider or suburbanite who does not venture south of Roosevelt Road."
The author of the article in question, Charles Leroux, responded in part:
"The assumption that the bulk of Tribune readership is white, suburban and does not venture south of Roosevelt Road is based in statistical fact."
Don't forget our Tip Line: Your contribution may qualify you for a fabulous door prize.


Posted by Lou at 02:43 AM | Permalink
Cub Fan, Bad Man?
Was the seemingly fun-loving Harry Caray actually a miserable human being?
Former Cubs broadcaster Milo Hamilton is taking some shots for saying just that in his new book, Making Airwaves.
"Being around Caray, day after day, was a real challenge," Hamilton writes. "Harry's handling of people was poor to say the least."
Caray's supporters have fired back, suggesting a bitter Hamilton simply can't get over Caray being named the successor to Jack Brickhouse as the lead Cubs announcer for WGN, a job Hamilton thought was rightly his.
Hamilton doesn't do himself any favors when he describes telling Caray that no one comes to the ballpark to hear him sing "Take Me Out to the Ballgame" during the 7th-inning stretch, and that during that time he would leave the broadcast booth and stand in the catwalk in silent protest.
"Suppose next Thursday is an open date and there's no game here at Wrigley Field," Hamilton recalls telling Caray. "Let's announce in the papers that you are going to be here that day, at three o'clock, and see how many of those fans come over to the park to hear you sing."

Actually, I think the Cubs could have made out quite well scheduling Harry Caray sing-alongs on open dates.
For a more objective view, I consulted Steve Stone's 1999 book, Where's Harry?
Stone, of course, was a close friend and grateful colleague of Caray's.
And yet, his often-hilarious and heart-warming portrait of his former partner unwittingly sketches a picture of Caray as an oblivious, insensitive, phony alcoholic.
Consider these excerpts:
* "[M]any things you thought were mistakes were no accident at all. Harry had a great sense of what it took to sell the game to the fans. One of his favorite things to do was [to hold] up a glass of beer, though you might find it interesting to discover that it was really only a glass of water.
"He wanted people to believe he was drinking during the game, just like they were at home, and a great fallacy is that he was drunk during so many of those broadcasts. That was just Harry's way of making the fan feel comfortable. He gave them the impression that he was sitting in the bar with them having a drink and discussing the game.
"But in my 15 years with him, Harry might've had a grand total of 20 beers during games. . . 'Harry the Bud Man'was just an image he wanted to promote because he felt his blue-collar following could relate to that Harry."
Stone goes on to describe how Harry came up with the idea of Stone to smoke cigars, and for Harry to complain about the smell during games. "It doesn't bother me," Caray told Stone. "I came up with the idea to humanize you more."
* "People think he promoted Bud all the time because they paid him to be a spokesman, which was only partially true. Sure, he did pretty well with that 'Cub fan, Bud man' routine that lasted a few years. Really, he was pumping it up because he probably owned more stock in the company than anyone but the Busch family. As a young man, Harry bought a lot of the stock on his own, and it made him a very rich man."
* "He would portray me as the educated businessman, intimating that I came from a privileged background, when essentially we came from very similar backgrounds financially . . ."
"[H]arry liked to play up that imaginary difference in our childhoods and in our education and in our business interests. He always played up the fact that he was a man of the people and a guy who could relate to the common baseball fan.
"That was never better illustrated than on the night of Aug. 8, 1988, when Wrigley Field turned on the lights and played a night game for the first time in its history. It's my contention to this day that it was Harry's idea that each broadcaster wear a tuxedo that night, since it was such an important occasion.
"So as we all got up to our booths before the game, all decked out in fine formal wear, in walked Harry wearing a pair of slacks and a flannel shirt that made him look like Paul Bunyan.
"Harry planned it all that way just to remind everyone that he was just a regular guy and the rest of us were something else entirely.
"That was pure Harry."
* "Harry was constantly searching for new ways to widen this imaginary educational gap between us, so one day he chose an Arne Harris hat shot to make his point. Arne, the legendary WGN-TV producer/director, was famous for his hat shots that he encouraged his cameramen to find, and on this particular day in 1986, Arne's Army found a guy with a unicorn hat. Why, I don't know, but the fact is the guy had a horn sticking out of his forehead.
"'There's another Arne Harris hat shot and this guy's wearing a unicorn hat on his head,' I said with great insight.
"'What in the world is that?' Harry said. 'What's a umicorm?'
"It's not a "umicorm." It's a unicorn, Harry, and it's a mythical horse with a horn coming out of its forehead. And that guy has one on his hat.'
'Well, c'mon Steve,' Harry whined, pretending to be irritated. 'Why don't you just say it's a mythical horse with a horn coming out of its forehead?'
'But I said it was a unicorn, Harry.'
'Well,' Harry replied, 'I don't know why you have to use those big Harvard words all the time.'"
* "Harry also told me to expect an argument even when there wasn't any reason for one.
"'It's OK for us to argue,' Harry said. 'Even when I agree with you I might disagree just to keep it interesting. In fact, if we can argue a lot it'll be even better."
* "During the 1997 season, Josh Lewin called our games on the road and handled the pregame and postgame duties at home. Josh did everything he could to ingratiate himself to Harry, but Harry really wasn't interested in pursuing that relationship. At that point in his life, I have to believe that Harry felt like Josh was sitting in Chip Caray's chair, even though Chip was not yet interested in taking the job.
"So Josh didn't get to call home games, but he did show up every day at Wrigley Field and often tried to make small talk with Harry, hoping he might throw a bone of interest back at him. That rarely happened.
"One morning Josh stopped in just after returning from the funeral of his grandmother and decided this might be a good time to spend a moment with Harry. Josh mentioned his grandmother's passing and said, 'Harry, I just want to thank you for making my grandmother's life enjoyable for the last year or two. She started watching the Cubs and got hooked on the team because of you. She watched all the games and she loved Harry Caray. She thought you were just great. So I just wanted to thank you for making her life a little more enjoyable.' With that, Lewin stopped, took a breath and waited for some sort of condolence or acknowledgement. Harry, who to this point hadn't even looked up from his scorebook, stopped writing, threw down his pen, leaned back in his chair and looked out onto the field--without so much as a gaze in Lewin's direction.
"'Yeah, Levine,' Harry said to Lewin, 'all my fans are dying.' Harry went back to filling out his scorebook, and Josh turned around and left the booth."
* "Harry once admitted that he sometimes mispronounced words on purpose, especially when there was nothing happening in the game."
* "Harry told me many times that he knew Tony 'the Big Tuna' Accardo for years and thought he was a terrific fellow, too.
"'He's not a bad guy at all,' Harry said. 'I ran into him in Palm Springs a few times and he was very nice to me. I never asked him about his business and he never asked me about mine. We got along fine.'"
* "'I never really knew my kids,' [Harry said.] 'I didn't know how to know them and I didn't know how to be a dad.'"
Posted by Lou at 12:00 AM | Permalink
February 27, 2006
Beachwood Air: We Fly Fast
I'm thinking about buying an airline.

I mean, I don't have any debt, so apparently I am in a better financial position than most of our flying companies.

Northwest and Delta are in bankruptcy, for example, and United is just getting out of bankruptcy.

I don't have a lot of money, but I'm not bankrupt.

So I guess I'm in a position to make an investment.

I'm not sure which of those three I would buy, but I know the first thing I would do would be to change the airline's name.

United, for example, is no good because it has the same name as the arena used by Chicago's hapless Bulls and Blackhawks. That doesn't inspire confidence. And it's just tacky.

I've never liked geographic airline names like Northwest because they send the wrong message to customers—that they are regional fliers serving limited territories. You mean I can fly Northwest to Florida? See, that's confusing.

I would choose a name like On-Time Air. Or Fast Flights Inc. Or Pleasure Rides.

The marketing campaigns write themselves. ("We're On-Time;" "We Fly Fast;" "Join Our Easy Connections Club . . . ")

My pricing system would be the reverse of how airlines currently operate. The longest flights would be the most expensive, not only to pay for the gas, but to pay for the meals and entertainment my customers deserve on such hauls. I would like to charge the same price for each seat, but I think as the departure date gets near I would make seats less expensive, not more. If I have an empty seat and you decide to fly on a whim some particular day, well, sure, you can have that seat—real cheap! Otherwise it's just going to go empty.

Some folks might try to game the system and wait until the last minute to buy a seat. A lot of folks, I'm guessing. So many, in fact, that almost all of them will get burned. And that will solve that problem.

After I buy my airlines, I will widen the seats. If I have to charge more for them, my customers will understand. They want wider seats.

And on longer flights, I will position some of the seats to face each other, so you can share a drink and conversation—maybe even a card game—with your friends. Flying shouldn't be boring and solitary.

I will return to the days when airlines provided magazines to its fliers. They will be my favorite magazines, mostly. Hey, it's my airlines.

Or maybe I'll provide laptops, iPods, DVDs . . .

There will be meals on some flights, but you will have to pay for them. On flights over traditional breakfast, lunch, and dinner hours, you will be provided with a menu to order from. And then you will be served. I will instruct my flight attendants to reward particularly courteous fliers with free dessert.

Not that I plan to treat my customers like children, but everyone likes free dessert.

I will serve alcohol on my flights, but it will be expensive. Call it the drunken lout tax.

I won't exactly ban children on my airlines, but I will encourage parents traveling with kids to book their trips on my children's discount brand. This will be my version of Ted. I will call it Teddy. All-children or all-families planes will spare the rest of us. For a fee, parents will be allowed to abandon their children to the care of Teddy's professionally-trained staff and fly separately on the adult airlines.

My frequent flyer program will work a little differently than other programs. Frequent flyers on my airlines will earn perks such as a ride to the airport or a prime parking spot that doesn't require a shuttle ride.

Cell phones will be banned on my airplanes not out of safety concerns, but because annoying other passengers is just plain rude.

Inconsiderate passengers will be asked to fly on my competitors' airplanes in the future. I may even pay them to do so. I think that makes good business sense.

And after I buy my own airlines, I think I'll buy an airport and call it Undercrowded International. Or Mostly Clear and Empty Skies Field. And a hotel chain that I will name Convenient Days, Quiet Nights, and Sheets That Aren't Tucked In Inn. And a rental car company whose slogan will be We Don't Gouge For Gas—Or Insurance.

So who do I make the check out to?


Posted by Lou at 04:36 PM | Permalink
This Day In Beachwood History
Posted by Lou at 07:54 AM | Permalink
Tribune Air: Not So Much
Everybody seems to want to get into the airlines business these days--because it's so obviously profitable. There's Hooter's Air from the obnoxious restaurant people, Virgin Air from that doofus record store guy . . . I'm sure Starbucks Air is just around the corner, now that they've run out of corners. Here are some other airlines we can imagine filling up the skies.

Daley Air: Pals from Bridgeport can get clouted into first class. The mayor, however, is unaware of the passenger list--and has no idea how Angelo Torres became a captain or how the Duff family landed the airplane cleaning contract. Daley Air only flies in and out of O'Hare. So you can't really go anywhere, but the PR operation is so good you think you have. Smoking allowed.


Blago Air: Only those in the exclusive Frequent Donors program get into first class. Fares are cheap, financed by massive borrowing. All kids fly free. Generous employee pension program. Rarely flies Downstate. Doesn't know how Tony Rezko got the food contract.

Cubs Air: Not so hot on fundamental maintenance, nor employee development. Planes covered in ivy. Advertising on all seat backs, and screens on the windows so no one can look in. The beer is overpriced but overflowing. Flies O'Hare to Midway once a summer. Doesn't fly past September.

Tribune Air: Seats remain in an uptight position. Red-eye flights are short and stupid. Fewer national and international routes as the company moves to control costs. Lousy reading material.

Beachwood Air: Killer jukebox. Lousy snack food. Seats in shape of barber chairs. On-time rate not great--remember, it's bar time. IDs checked closely at the gate. Regulars Class and Outsiders Class.


Posted by Lou at 05:43 AM | Permalink
Poll Positions: The Daley Skew

A recent Chicago Tribune/WGN-TV poll showed that 70 percent of Chicago voters don't believe Mayor Richard M. Daley when he says he didn't know about "wrongdoing in city contracting and hiring," to use the Tribune's words. But in coverage of the poll, the mayor actually got off easy.
And coupled with another recent Tribune poll--this one about the mayor's plan to expand the number of surveillance cameras in the city--the seemingly eternal problems with conducting and interpreting polls were once again revealed.

How so?
The central narrative of the Tribune's poll coverage described a citizenry who overwhelmingly did not believe Daley's assertions of ignorance regarding widespread City Hall corruption, but nonetheless approved of the mayor's job performance.
With a 56 percent approval rate, the belief that Daley hasn't told the truth about City Hall corruption would seem to matter to only 14 percent of those polled.
And given that this is Chicago, that might not be so remarkable.
But let's take a closer look.
Daley may have an approval rating of 56 percent, but a Daley matchup with U.S. Rep. Jesse Jackson Jr. produced a dead heat--Daley was favored 41 percent to Jackson's 38 percent, falling within the poll's 4 percent margin of error.
In other words, a sizable portion of those who said they approved of Daley's job performance don't seem willing to vote for him again if given the option of voting for Jackson.
And the poll only surveyed (700) registered voters. It's quite possible that including the entire citizenry in the poll would produce even worse results for the mayor. This is relevant because it's also likely that a campaign by Jackson--or by a candidate he endorses--will register more new voters than Daley's operation.
And what of the finding that 70 percent of those asked did not believe Daley's assertions that he had no knowledge about favoritism in awarding jobs and contracts? Doesn't that mean that 70 percent of those surveyed think the mayor is a liar?
That would have been a nice word to use in the write-up, but it's a word journalists are incredibly fearful of. There doesn't seem to be any other way around it in this case, though. And if Daley had knowledge of corruption in City Hall, doesn't that make him at the very least a criminal accomplice? So do 70 percent of those surveyed think Daley is a criminal? The Tribune doesn't dare wade into this territory.
The Chicago Sun-Times had its own problems reporting on the Tribune poll.
Fran Spielman spun the poll in favor of Daley, opening her story this way: "It's not every day that a 17-year incumbent battered by corruption scandals maintains an approval rating above the pivotal 50 percent benchmark."
It certainly isn't every day, because how often is there a 17-year incumbent? So we don't really know what the "norm" for 17-year incumbents is.
Alternate lead: "It's not every day that 70 percent of the electorate think the mayor is lying about his knowledge of scandals engulfing his administration."
Is that any less valid?
Or, perhaps, more so?
Or: "A new poll shows Mayor Richard M. Daley is in a statistical dead heat with U.S. congressman Jesse Jackson Jr."
Isn't that the more salient number than the mayor's approval rating--his re-election prospects?
Put Jackson's 38 percent with the 21 undecided, and you have Daley's support at 41 percent and his non-support at 59 percent. In other words, with Jackson in the race, more people polled didn't support Daley's re-election than did.
And that "pivotal 50 percent benchmark?" I suppose it's pivotal because theoretically a 50 percent approval rating indicates re-election--though that's certainly not a given. But a benchmark? A benchmark might be his average rating, or highest rating, but it isn't necessarily a 50 percent approval rating.
Beyond that, when Daley was put in a race against either Jackson or U.S. Rep. Luis Gutierrez, he barely reached the 50 percent "benchmark." Against Gutierrez, Daley held a 49 percent to 23 percent margin, with 28 percent undecided. Isn't it remarkable that 51 percent of those polled favored Gutierrez--who has yet to show he could be a strong candidate--or were undecided?
Finally, a poll the Tribune conducted earlier in the month found that seven of 10 Democrats "thought ending public corruption was a very important issue in deciding whom they will back for governor."
Yes, that poll was of Democrats not general voters, and it was about the governor's race not the mayor. Still, it suggests that the public's view of corruption and public officials is more complex--or more simple--than portrayed in interpreting the Daley poll.
I tend to think it shows that most polls ultimately tell us very little.
And About Those Cameras
The other troubling poll conducted by the Tribune recently was reported this way: "As Mayor Richard Daley pushes to increase video surveillance in public places across the city, a Tribune/WGN-TV poll has found that the city's security cameras have overwhelming support among Chicago residents."
Really?
This was the question: "As a means of reducing crime, the city has installed security cameras at hundreds of sites such as CTA stations, schools and city neighborhoods. Do you favor or oppose this program?"
The response: 80 percent in favor, 13 percent opposed, 7 percent no opinion.
Two problems: The question, and the respondents.
The question opens with a premise weighted in favor of security cameras. "As a means of reducing crime . . . " conveys the notion that the strategy is successful at crime-fighting. This is less than clear. Right or wrong, critics of the cameras say crime is merely displaced to less public places. (Civil libertarians also aren't thrilled with what they see as a burgeoning surveillance state.)
How different would the poll's results have been if the question question began, "As an untested attempt to fight crime . . . " or "As an experimental way to fight crime . . . " ?
In addition, the examples of placing cameras at CTA stations, schools and city neighborhoods is likely non-threatening to most respondents. What if the question spoke of placing cameras at sites in your neighborhood? On your street corner?
How many respondents favor this program because they think it is something happening somewhere else in the city?
One clue may be that those polled were 700 voters. Not residents, despite the Tribune's lead. Does that skew the poll away from respondents in the very neighborhoods likely to have the cameras?
To the Tribune's credit, the paper addressed these issues in at least a glancing way with its additonal reporting. The paper, for example, quoted a South Side resident saying, "I feel like it takes a lot of our freedom away. Then again, I feel we need some protection." (This resident was part of the poll and said she supported the cameras, but her comments indicate a more nuanced view.) And a spokesman for the ACLU of Illinois was reporting to believe "the city's surveillance network has received a positive response so far because cameras are being touted as crime-fighting tools. [He] said he believes there will be a 'wait a second' reaction in the future as the video grid is expanded."
Perhaps. But even then a poll won't tell us much. What's important is whether the cameras fight crime and whether they infringe on people's privacy. What's far less important is whether people think the cameras fight crime or infringe upon their privacy. Chances are, folks will have a nuanced view that can't be captured in a poll in any case.
We Might Want You
Welcome to The Beachwood Reporter. Here is our first classified ad:
Help Wanted
Irreverent Chicago-centric Website seeks passionate reporters and offbeat business-types to help sustain a venture dedicated to serious journalism and relevant wit. The quicker we all pull together, the quicker we all get paid.
Stop talking about it and live the dream. Contact Steve Rhodes at srhodes@beachwoodreporter.com. Top needs: a Movable Type tech guru; ad sales and business manager; music editor/music writer; news reporters. And so on.
And here is our first shameless in-column promotion:
Get the lowdown on the weird world of Skeleton.
Check out our Infomercial Reviews and submit your own.
Learn something about Kmart in the first installment of I Lived in Alaska.
Keep your eyes on our Politics page as we turn up the heat.
And discuss it all in our Beachwood Forums.
Posted by Lou at 12:27 AM | Permalink
February 26, 2006
Algren and Us
"What is literature?" Jean-Paul Sartre once asked in a small volume bearing that title.
I submit that literature is made upon any occasion that a challenge is put to the legal apparatus by conscience in touch with humanity.

Now we all know.
When the city clerk of Terre Haute refused to issue warrants for arrest of streetwalkers in spite of his sworn duty to issue warrants for arrest of streetwalkers, and instead demanded of the Terre Haute police, "Why don't you make war on people in high life instead of upon these penniless girls?" the little sport performed an act of literature.
"These men were put to death because they made you nervous," an American poet summed up the case of Massachusetts vs. Sacco and Vanzetti better than the judge.
We are a people with too many nervous judges.
"Had I so interfered on behalf of any of that class, every man in the court would have deemed it an act worthy of reward rather than punishment," John Brown explained his own assault upon a legal apparatus gone out of touch with humanity.
Old Brown of Osawatomie didn't know that nobody was going to give him a banquet for pulling the judge off the bench down into the dock.
"I repeat that I am the enemy of the 'order' of today and I repeat that I shall combat it. I despise your order, your laws, your force-propped authority. Hang me for it!" was how a twenty-year-old once went to his death for practicing reckless politics in Chicago.
The history of American letters, in this strict view, is a record for apparently senseless assaults upon standard operating procedure, commonly by a single driven man. Followed, after the first shock of surprise, (conscience in any courtroom always coming as a surprise) by a counter-assault mounted by a judge using a gavel as a blackjack, a court-stenographer armed with a fingernail file and an editorialist equally intent on getting in a bit of gouging before cocktail time: each enthusiastically assisted by cops wielding pistol-butts and clergymen swinging two-by-fours nailed in the shape of crosses.
In less time than it takes to say "Emile Zola" everyone is standing around congratulating one another for having protected society, because if the stiff wasn't guilty of something why was the stiff bleeding so hard? He must have been some kind of nut.
And the old earth sighs heigh-o, the wind and the rain, having made this scene before.
Ultimately it develops that Some-Kind-of-Nut was the only party in court in his rightmind. Whereupon everyone reveals thathe was secretly on Some-Kind-of-Nut's side all along, especially the editorialist.
And the earth takes a few more heigh-ho spins.
Having made this scene before.
The hard necessity of bringing the judge on the bench down into the dock has been the peculiar responsibility of the writer in all ages of man. In Chicago, in our own curious span, we have seesawed between blind assault and blind counter-assault, hanging men in one decade for beliefs which, in another, we honor others.
And that there has hardly been an American writer of stature who has not come up through The Chicago Palatinate, was an observation which, when somebody first made it, was still true. God help the poor joker who comes up through Old Seesaw Chicago today.
For we are now in a gavel-and-fingernail era. Punitive cats have the upper hand. The struggle is not to bring the judge into the dock, but to see who can get closest to him on the bench. For upon the bench is where the power is, and elbows are flying. Between TV poseurs, key-club operators and retarded Kilgallens in charge of columns, any writer whose thought is simply to report the sights and sounds of the city must be some kind of nut.
- Excerpted from Algren's 1961 Afterword to Chicago: City on the Make
Posted by Lou at 09:26 PM | Permalink
Build That Screw
The 115-story curling spire proposed for the Chicago lakefront could hardly be more befitting of the city. After all, what could be a better symbol of the Daley Administration than a giant screw?
The only element missing from the sublime design is an impaled taxpayer on top.
Let New Yorkers have their Freedom Tower. We'll take the Screw, a monument to the Chicago Way.
Just as the Daley Center perfectly reflects the old man's administration--a hulking, ugly, but functional building housing his beloved city workers--the Screw perfectly reflects the current Daley administration: a developer's hotel-condo complex with no regard for its neighbors, shrouded in public hype and potential private gain for the pinstripe patronage posse. It will take clout to get the project built, but hire the right lawyers and consultants, change the building materials to wrought-iron and asphalt, promise free blue bags to tenants, and hire the right lawyers and consultants, and we're sitting on a winner.
Even better, make the Screw a tourist attraction featuring a Chicago Way Museum. Let your imagination run free: framed favors lists on the walls, animatrons making deals, and an interactive hall where visitors could pretend they are dead people interviewing for city jobs. Better yet, collect the mayor's string of half-hearted ethics reforms for an exhibition to be titled The Appearance of Reform. Federal grand juries could meet there too. A re-creation of an Oxford, Wisconsin cell block could house the convicted.
The Screw's lobby should feature a plaque from Time magazine for its recent naming of Daley as the nation's best mayor. Daley, the magazine said, "has presided over the city's transition from graying hub to vibrant boomtown, with a newly renovated football stadium, an ebbing murder rate, a new downtown park, a noticeable expansion of green space and a skyline thick with construction cranes."
Much like the plaque in baseball's Hall of Fame that Pete Rose deserves, though, Daley's plaque should include the truth.
That renovated football stadium: an example of how to by-pass public debate, like a dry run for The Midnight Raid on Meigs Field (if only Lee Marvin had lived long enough to star in the epic Hollywood version, in which our hero exploits 9/11 to execute his personal whim), and an ugly but apt symbol of the mayor's stubbornness in the face of impassioned but wholly reasonable arguments to stop the madness once the design was circulated.
That ebbing murder rate: don't forget to mention that the murder rate had to rise to the nation's highest on his watch until he could make it ebb.
That new downtown park: you spent $475 million and all you got was this? Those millions of visitors though stand as a tribute to the Daley propaganda machine. Because, when you stop to think about it, how do they know how many folks visit the park? I don't see any turnstiles. And just how many tourists wouldn't have come to Chicago if the park wasn't there? Is it really that much of a difference-maker? (Not to mention that, contrary to Time's assertion, Daley didn't simply "persuade" the private sector to help fund the park out of the goodness of their corporate hearts. When things went sour, they had to bail him out! It was a Don't Embarrass the Mayor Fund Drive. And it was hardly civic virtue that motivated the private sector. It was a naming rights program. The sponsors got their names plastered on nearly every blade of grass there.
That whole beautification thing: when people say the city looks great, we know what they really mean. Downtown, and specifically North Michigan Avenue, looks great. And so do the neighborhoods that are demographically correct. Those that aren't will be soon. It's not that the city as a whole has been transformed, except insofar as the forces of gentrification have been unleashed by this administration to run amuck and strip Chicago of its history, character, and identity. Besides that, if we wanted a beautification mayor, we'd hire Martha Stewart. (Now that she's an ex-con, she'd actually be a viable candidate here.) Beautification is nearly always cited as the mayor's top achievement, but has this really been the city's most burning issue? That the city was ugly, and voters have kept sweeping Richard Daley into office in order to make things pretty?
Besides, big cities across America "came back" in the 1990s. They've all been beautified--Denver, Baltimore, Cleveland, Pittsburgh, Minneapolis, Kansas City--hell, there are even lofts in downtown Houston. Houston!
So let's not be so parochial as to think flowers only grow on Chicago streets.
The Screw and its Chicago Way Museum should also have a media wing. After all, this mayor brags that he's the most accessible mayor in America. And he's right. No mayor makes himself available to the media so often in order to evade their questions. Everybody knows that.
The Hired Truck wing could be named after Angelo Torres. Visitors could enter a booth, put on headphones, and finally learn who hired the former gang member to run the Hired Truck program. Once they leave the booth, though, they will forget they were ever there.
And in videotaped interviews, the mayor's "message team" could reminisce about how easy it was to buffalo Chicago's oh-so-tough press corps, simply by using low-grade leaks, planted anonymous quotes from people close to the mayor, and all-around stonewalling. Hell, it's so easy David Axelrod has plenty of time to devote to the rest of his client roster.
Finally, let's include an exhibit of the 2007 mayoral race, which could turn out to be the most telling commentary on this administration, given that, regardless of who runs, the top issue is likely to be cleaning up the corrupt mess in City Hall. A good government mayoral campaign in Chicago! And if the next campaign is about good government, that sort of indicates that the last administration has been about bad government.
Build that Screw.
Originally published in limited editions of Rich Miller's Capitol Fax.
Posted by Lou at 06:17 PM | Permalink
Skeleton Key
An Olympic review, from The Beachwood Reporter's Turin bureau
Skele-what?
At The Beachwood Reporter, our mission is not to debate the nature of what constitutes a sport. If someone invests time, money, and physical effort into something they can credibly claim to be athletic in nature, we'll gladly take their word for it. We do, however, reserve the right to question why the hell anyone would waste their time in certain pursuits. Hence, "skeleton," a certified medal-bearing Olympic event involving athletes flinging themselves down the side of a hill.
Most of us are familiar with skeleton and its sister sport, luge, from our many years in the amateur ranks--when we called it "sledding." The key difference between the two events is that while lugers ride sunny side up with feet forward, skeletationists propel themselves face-first lying on their stomachs. So to review: Skeletists sled, down a hill covered in ice. They run a bit, they lie down, and the angle of incline combined with the Earth's rotation on its axis carries them along. They go sledding.
You'd think the prone forms of highly-trained athletes would provide some compelling viewing, and if you can keep yourself from blinking for 58 seconds you might be right. The Olympic skeleton event comprises two runs down the same track used for luge and bobsled. The combined time of both runs determines the final standings. At the Torino games all six medal-winning performances took just over 12 minutes in total. This gave the three frantic television commentators assigned to cover the event barely enough time to introduce themselves, the venue, and each skeletater. Amidst the break-neck identifying, I did manage to learn a few points on proper skeletuvian form. Apparently, much like prom night, the ideal run requires you to keep your legs together against irresistibly strong forces. As soon as the skeletalist's feet drift apart, they become a drag and the track stops returning their phone calls.
Skele-why?
I understand the draw of the skeleton. I really do. I remember the thrill of standing at the top of an icy hill, my body alive with anticipation, taking in one last breath of cold, clean air and picturing that perfect run in my mind. Knowing instinctively which way to lean, how much force to take into the curves, when to go flat-out on the steeper sections. And I remember the rush of winning, of knowing I not only beat my competitors but that I beat that mountain, I beat myself, I beat time and gravity and Mother Frickin' Nature. And then I turned nine. And frankly, I had better things to do.
Just when it seemed the skeletonian community was composed entirely of those creepy teenagers who were a little long in the tooth for the sled hill, the U.S. skeletonking delegation was embroiled in a double-barreled scandal. First, coach Tim Nardiello was suspended by the U.S. Bobsled and Skeleton Federation for not sexually harassing anyone, or not harassing them credibly enough, or maybe because he was dating a foreign skeletor, or maybe just because they felt like it. Then, America's best hope for skeletal glory, Utah's Zach Lund, was banned from the Games after testing positive for a masking agent contained in a hair-loss remedy. It appears that the icy hand of male pattern balding can douse the Olympic flame burning within even the greatest skeletonian. I submit that if the sexiness of your gold medal can be trumped by a chrome dome, your hair loss is the least of your worries.
Skele-who?
With the top American contender focused on achieving 85% retention and moderate regrowth, it was left to 700-year-old Canadian fireman Duff Gibson to claim the gold. And to him I say: Duff, you're breaking my heart. A name like yours deserves so much more than a hill, a helmet and some gravity. Duff Gibson doesn't go sledding. Duff Gibson is the dark, edgy high school anti-hero who catches the winning touchdown pass with a half-smoked cigarette tucked defiantly behind his ear. Duff Gibson was a gunner with the 104th Airborne and later rushed the beach at Iwo Jima. Duff Gibson never buys a drink in Fort Wayne, Indiana, because everyone remembers the time Duff Gibson saved a little girl from drowning by diving shoes-'n-all into the icy Maumee River and dragging her to shore on his broad shoulders. Duff Gibson was Humphrey Bogart's body double for The African Queen. He rendered the glue for the first Kon Tiki expedition, changed the left rear tire for Earnhardt's winning run at Daytona, and left a jilted Greta Garbo standing at the altar. He's tough man to live with, but a tougher man to live without. He's many things to many people, but none of those things involves sledding. So, Duff, if you must fling yourself face-first down a mountain you'd better damn well win. Otherwise, the real Duff Gibson will hunt you down and kill you with his bare hands.
Upon receiving the highest honor in his sport, Gibson promptly retired.
Skele-how?
In the women's event, Swiss mother Maya Pedersen won gold, followed closely by Britain's Shelley Rudman, a woman who received no funding from her national federation and had to take up a collection down the local pub to get to Torino. Her preparations were further hampered by the lack of a skeleton track anywhere in the rocky island nation she calls home. In fact, she only took an interest in the sport after watching it on TV during the Salt Lake City Olympics. Maybe that's the appeal of the little sledding event that could. It's all about optimism. Hell, maybe the blistering form I showed back in my Flexible Flyer days could yet carry me to glory. I'm pretty sure I could out-maneuver the pregnant German lady who placed fourth.

Posted by Lou at 04:45 PM | Permalink
Chicago in Song: (Mostly) A Wretched Place
How is Chicago portrayed in rock and popular music lyrics?
From the looks of things, songwriters have pigeonholed Chicago basically as the home of the blues--not too surprising, since this is what most of the country does, too. But is that all that is in the minds of songwriters? Are there any other aspects of the city that have inspired songcraft over the years?
Yep. Songwriters have identified the city with elevators, poverty, transportation, political protest, and drugs. Which, I think, is also pretty accurate. This is just a brief sample of what a search of lyrical mentions of Chicago has yielded--minus, of course, the obvious ones like "Sweet Home Chicago," "Jesus Just Left Chicago," or any song by the band Chicago, Jim Croce, Liz Phair or Frank Sinatra.

Song: "20 Flight Rock"
Artist: Eddie Cochran
Comment: One of the greatest rockabilly songs ever, covered by the likes of Paul McCartney, the Stray Cats, Commander Cody . . . the list goes on. The Chicago reference, however, is somewhat puzzling.
The song tells the story of a guy whose baby "lives on the 20th floor uptown." This, apparently, is a problem because "the elevator's broken down." As a result, the poor guy has to walk up all those stairs (20 flights) and by the time he gets to his baby's door, he's "too tired to rock."
The memorable chorus of this wonderful tale:
"So I walk one flight, two flight, three flight, four
Five-six-seven flight, eight flight more
By the 12th I'm startin' to drag
Fifteenth floor I'm ready to sag
Get to the top, I'm too tired to rock."
The Chicago reference comes in the next verse when, referring to the broken elevator, he sings:
"Well, they sent it to Chicago for repairs
'Til it's fixed I'm using the stairs."
This got me to thinking: Is Chicago well known for elevator repairs? Is Otis Elevator Co. from Chicago, for instance?
The answer is No. Otis was founded in Yonkers, N.Y. But Chicago is well known for buildings with elevators--beginning with grain elevators in the 1840s, for which new and innovative "lift" techniques were designed shortly after Elisha Otis first applied steam to a movable platform. Then there were all of those skyscrapers which began popping up in the 1880s and continue to this day. I guess real estate developers never change. Thus the "Second City" syndrome of wanting to outdo New York in everything (especially buildings) led to the city's expertise in elevator development and repair.
And it ended up in a classic rockabilly song. Imagine that.
Song: "In the Ghetto"
Artist: Mac Davis
Comment: I guess everybody knows the Chicago line in this one:

"On a cold and grey Chicago morn,
Another little baby child is born
In the ghetto
And his mother cries . . . "
The most interesting thing about this song to me is that Mac Davis wrote it. Of the thousands of songs that Elvis made in his post-Sun Records career, this was about the only one I ever even remotely liked. Of course, it was 1970 so I was pretty young and impressionable. But I was really touched by how Elvis, who to me was all about being a redneck, could make me cry over racial injustice.
It also reinforced all of the musical stereotypes about Chicago: a place where poverty-stricken black folks shivered in the cold, wind whipping through the broken windows of their tenements, where crime is the only way out. If only we well-off music-listeners could offer them "a helping hand." That was pretty cool for Elvis, I thought.

Years later I found out that Mac friggin' Davis wrote it. The same guy who had that awful 1970s TV variety show, and who wrote "Watching Scotty Grow" for Bobby Goldsboro. The same guy who ended up representing everything infuriating about cross-over country culture.
So I crossed "In the Ghetto" off my list--even my ironic list.
Song: "Peace Frog"
Artist: The Doors
Comment: A classic Morrison Hotel track that represents another strong Chicago lyrical thread: the 1968 Democratic Convention (see also: "Chicago" by Crosby Stills & Nash).
Like many a good song about Chicago, it's about violence and fighting The Man:
"Blood in the streets, it's up to my ankles
Blood in the streets, it's up to my knee.
Blood on the streets, the town of Chicago.
Blood on the rise, it's following me.
Just about the break of day"
Of course, with Jim Morrison you never quite know if the blood he's singing about belongs to the protesting hippies or is his own, which he might have spilled during some kind of unspeakable pre-concert ritual.
It occurs to me that most songs that mention Chicago can be roughly put into two categories: pre-convention and post-convention. The pre-convention songs seem mostly to be about the city's blues music heritage; post-convention songs are about political disillusionment and protest against suburban values.
Song: "Route 66"
Artist: Bobby Troup
Comment: Immortalized by Nat King Cole, covered by Bing Crosby, Chuck Berry, and everybody from Depeche Mode to the Replacements to Wayne Hancock.
Thanks to this song, I learned that Chicago was a transportation hub. It's where great roads start.
"Well if you plan to motor West
Travel my way, take the highway that's the best
Get your kicks on Route 66
Well it winds from Chicago to L.A.
More than two thousand miles all the way
Get your kicks on Route 66"
Of course I know that Route 66 is officially gone. But one of the first things I did when I hit the city was to see where it started. I found it--it started at the Art Institute of Chicago, Michigan Avenue and Adams. Adams was U.S. Highway 66. Doesn't everyone who realizes this want to get in their car and drive straight from the lions to California?
From this knowledge came the further knowledge that Route 66 went from the Art Institute to Cicero and Joliet, and for some reason this brought me back down to earth. I just couldn't picture Nat Cole stopping off for a frozen custard in Cicero.

Song: "30 Days In the Hole"
Artist: Humble Pie
Comment: The Chicago reference in this song is a very cool one. Here are the first lines of this chronicle of addictive behavior that lands the singer in jail:
"Chicago green, talkin' 'bout Black Lebanese,
A dirty room and a silver coke spoon
Give me my release, come on . . . "
To be honest, even though I don't consider myself an expert on drugs, I thought I had heard most of the slang. But "Chicago green?" I had to search extensively before I found out that this was 70's code for pot.
Consider me even more impressed by Chicago's long association with illicit substances of all kinds. To have a kind of pot named for your city is another sign of big-league status. And to have it show up in a song is even cooler.
Posted by Lou at 02:40 PM | Permalink
What I Watched Last Night
I watched Inside Polygamy--per The Beachwood Reporter's recommendation. I was mostly rewarded.
In many ways, Inside Polygamy was standard fare. Bill Kurtis--can someone explain to me why he is a Chicago legend? Or at this point is he only ironically legendary?--narrates in his trademark stilted style of a newcomer to the planet mimicking the stiffest news anchors of yore.
On its Website, A&E calls this "a story crying out to be told." Sorry, I think it's been told over and over. Still, it's almost always compelling. Watch how the "plural wives" struggle with jealousy and yet endorse polygamy as a righteous religious order. Cringe as the master husband describes going "room to room" during any given week to spend "nurturing" time with his honeys. Contemplate the way these arrangements deliver a sense of family to women who so desperately seem to need one. And wonder why no polygamist family yet features one wife with plural husbands.
Also on my cable crawl:
- Don Knotts is dead, various channels. Apparently his favorite Andy Griffith episode was "Aunt Bee's Pickles." Rest in peace, good man. You were the best small-town deputy sheriff I knew.
-True Life: I'm a Competitive Eater. The True Life series is one of the few MTV shows of value these days. I'm a Competitive Eater follows three guys "in training" for competitive eating contests such as Nathan's Famous hot dog melee. It's disgusting--and that's what made watching it so compelling. But I almost gagged several times.
- Pundits on ports, all stations all the time.
- Cheers rerun, forgotten station: Cliff's mother comes to town. This show mostly still holds up, though the character of Rebecca Howe was always the weak link.
- M*A*S*H rerun, forgotten station: An old friend of B.J.'s gets him in trouble by using his name when he gets into trouble in Tokyo, or something. Practical jokes ensue. M*A*S*H was never the same after the original cast frittered away, and episodes based on a chain of practical jokes were weak attempts to capture the original magic.
- Steve Rhodes (Feb. 26, 2006)
Would you like to join the Beachwood TV Viewing Nation? Send us a note.
Posted by Lou at 09:10 AM | Permalink
February 25, 2006
Local Label Notes
A running list of local music labels. We're looking for a music lover to dip into them regularly and produce a simple notes column culled from Websites, press releases, and eventually actual reporting. Put your own twist on who is in the studio, upcoming releases, tour dates, and clearance sales. Interested?
Acme Entertainment, Inc.:
Anticon:
Atavastic:
Aware:
Bloodshot:
Bombardier Recording Co.:
Brevity Records:
Brilliante Records:
Bughouse Records:
Cajual Records:
Carrot Top Records:
Cedille Records:
Chocolate Industries:
Criminal IQ Records
Delmark:
Drag City:
Dust Traxx:
Failed Experiment Records:
File-13:
Galapagos4:
Gravel Records:
Grrr Records:
Guidance Recording:
Hallway Records:
Harmless Records:
Haunted Town Records:
Hefty Records:
Invisible Records:
Johann's Face Records:
Kranky:
MedioCore Records:
Minty Fresh:
Mix Connection.com:
My Pal God Records:
Next To X Records:
Night Flight Records:
NoVo Records:
Numero:
Panic Button:
PDA Music:
Perishable Records:
Positron! Records:
Pravda Records:
Projekt:
Replikon Music:
Scratchie Records:
Some Odd Pilot:
Southern Records:
Stone Mountain Entertainment:
Strike Out Reckhords:
The Consumers Research & Development Label:
Thick Records:
Thrill Jockey:
Touch and Go:
Underdog Records:
UnderEstimated Records:
Veronica Records:
Victory Records:
Waterdog Records:
Whitehouse Records:
Posted by Lou at 06:48 PM | Permalink
About
The Beachwood Reporter is an international news-gathering operation dedicated to the proposition that journalism and rock and roll done right are inextricably linked; that truth and comedy are two sides of different coins that, when rubbed together properly, can mutate into a slug that will efficiently disable a parking meter; and that while bad news travels fast, our news travels even faster.
Employment at The Beachwood Reporter is encouraged. Our salaries are non-competitive and benefits non-existent, but you will always get the day after Thanksgiving off. Plus, we have a great soundtrack.
Advertising is highly encouraged. Please contact Steve Rhodes for information about our imaginative sponsorship packages and good old-fashioned ad rates.
Media Kit/Advertising (292 K)
Rights & permissions & copyrights & trademarks and all that good stuff are things we can talk about if you really think it's necessary.
Who is The Beachwood Reporter?
Art Director: Cate Nolan
Features Editor: Natasha Julius
Minneapolis Bureau Chief: Don Jacobson
A/V Editor: Timothy Inklebarger
Special Correspondent: Tim Willette
Editor-on-Leave: Mick Dumke
Commissioner: Scott Gordon.
Legal: Evan Brown; Marci Rolnick and Amy Cook
Cute Little Australian Man: Andrew Kingsford
Innkeepers: Bob and Jim
Publisher & Editor: Steve Rhodes
The Beachwood News Service
The source of our power will soon be revealed.
The Beachwood Media Company
Is the proud parent of The Beachwood Reporter.
Posted by Lou at 04:29 PM | Permalink
Letters to the Editor
Letters to the Editor of The Beachwood Reporter should be sent to Steve Rhodes. Letters must include a name and contact information if they are meant for publication. Exceptions will be made to protect those who might otherwise be crushed by The Man.
Submissions are welcome, but we can't guarantee return of your materials. In fact, I doubt we'll try.
Press releases and phone calls from public relations professionals are generally discouraged, unless you're blowing the whistle on your boss.
Posted by Lou at 04:28 PM | Permalink
Cab #346
Date: Feb. 14, 2006
From: Logan Square
To: Roscoe Village
The Cab: Maybe it was a previous fare or maybe it was the driver, but whatever it was, it reeked of patchouli. Seatbelts were tucked into seatfolds and difficult to access.
The Driver: Aside perhaps from the heavy dose of scented oil, pleasant and cordial.
The Driving: The driver took the time to ask our preferred route and followed it without incident.
Overall rating: Three extended arms
- Natasha Julius

Posted by Lou at 04:26 PM | Permalink
Cab #233
Date: Feb. 14, 2006
From: Roscoe Village
To: Logan Square
The Cab: Acceptably clean, although the seatbelts were tucked into the seatfolds and difficult to access.
The Driver: Largely encased in bulletproof glass and listening to rather loud music on the radio.
The Driving: A fairly direct route provided few opportunities for confusion, although the driver failed to hear our request to pull over and wound up executing a risky lane-change from far left to the curb. This apparently flustered him, as he drove off just as another fare arrived on the scene.
Overall rating: Three extended arms
- Natasha Julius

Posted by Lou at 04:16 PM | Permalink
I, Store Detective
A possibly true story that will be told in many parts. Debuts soon.
Posted by Lou at 03:57 PM | Permalink
FAQs
1. Why is the sky blue? Sunlight collides with air, scatters blue wavelengths1. At sunset, we see red and orange colours because the blue light has been scattered out and away from the line of sight2.
2. What happens when we die? Opinions vary. "God is going to give us new bodies, better than the ones we have now," Pat Robertson says. "We are not going to be disembodied spirits. Those who believe in Jesus are going to have bodies just like the resurrection body of Jesus . . . a glorious, wonderful body - and they will be with Him forever in glory. Those who have not lived for Him will be in a place of torment and punishment3.. On the other hand, Frykitty says "Most of me suspects we are just done4." Brendan Genius begs to differ. "That answer annoys me all the time," says Genius. "You cannot be nothing. People find this concept very hard to grasp and about 90% of people i talk to about this doesnt understand me5." Frank Zappa says, "Dust6." That answer annoys Barney Gumble all the time. "When we die there's going to be a planet for the French, a planet for the Chinese, and we'll all be a lot happier," Gumble says7. Gumble is a drunk.

3. Is the home office deduction really a red flag that increases your chances of being audited? As a general rule, you should never shy away from taking a deduction you are legally entitled to8. But even though the rules have been loosened a bit, taking this deduction is still a red flag for an Internal Revenue Service audit9. But the truth is, owning your own business is the RED FLAG10.
4. What's wrong with me? It could be a lot of things. Yur butt11. Possible multiple sclerosis12. You're not beautiful13.
5. What is the Beachwood Reporter? It's all that - and more14.
---
---
Posted by Lou at 03:25 PM | Permalink
Joyce Meyer
Who: Joyce Meyer
Organization: Joyce Meyer Ministries
Financial statement: "Joyce Meyer Ministries, Inc. is governed by an independent Board of Directors, the majority of whom are not staff members or relatives of the Meyer family." Italics mine.
Book: Look Great, Feel Great, out March 1, 2006.
Website quote: "There is no place in your future for your past. Find out how to escape from the memory of life's disappointments and let the Lord raise the roof on your dreams."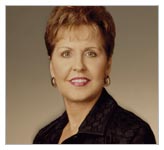 Fire and Brimstone: Not too much, but she does speak of casting out evil.
Style: Tries to take an aw-shucks approach, but prowls the stage with self-assurance and superiority.
TV Quote: "God already knows everything you're gonna say, everything you're gonna do." So God is familiar with Meyer's sermons ahead of time.

Politics: Website includes "Legislative Alerts and Updates," including "Update: Congress Looks to Deceive American People" and "Give Free Speech Back To Your Pastor." But doesn't God already know what Congress will say and do?
Prayer Requests?: Yes.
Merchandise: Includes a "Relax - Let God Be God" coffee mug ($10) and a Joyce Meyer Ministries pen ($5).
Auditors Report: "We have examined the assertion of management of Joyce Meyer Ministries, Inc., that during the year 2004, compensation approved by the Board of Directors and paid to Joyce Meyer consisted of salaries, including fringe benefits, of $250,000; the benefit of living in a ministry-provided parsonage and contributions to retirement plans. We also examined the assertion that during 2004, gross profits received by the Ministry from the sale of Joyce Meyer's books and honorariums received by the Ministry for Joyce Meyer's speaking engagements exceeded her total compensation stated above." Not to mention compensation for Joyce's husband, Dave, who is CEO of the World Outreach Division, among other duties.
Evaluation: Worth watching in small chunks if only to wonder about Meyer's inner life.
Rating: 6
- Steve Rhodes

Posted by Lou at 01:51 PM | Permalink
DC Delegation
You wouldn't know it by reading the papers, but the Speaker of the House is from Illinois!
We'll chart our ascendant congressional delegation's influence on national politics--and their performance back home.
Coming as soon as our D.C. bureau gets out of detox.
Posted by Lou at 12:06 PM | Permalink
The Little Giant Ladder
What It Is: A ladder system.
Best Description: It's really 24 ladders in one - it's like having an entire garage of ladders.
Shills: Richard Karn, Tim Allen's co-host on Home Improvement's "Tool Time." A woman named Robin Hartl.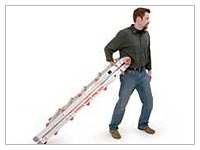 Tan pants? Yes. Hartl has the blue shirt, too.
Quote: "One ladder does it all!"
Gimmick: Putting 10 people on the ladder, including the infomercial's producer and director--apparently the entire studio staff except the camera operator.
Trivia: The first Little Giant Ladder was sold more than 30 years ago.
Patriot act: Noted several times that the ladder is American-made. All branches of the U.S. military have purchased and are using Little Giant ladders.
Quote: "You can make it tall, short, go upstairs, go downstairs."
Bonus demonstration: Fat guy on a Little Giant Ladder.
Cost: $359.80
Easy Payments? No.
Comment: From the sound of it, this ladder can send spaceships to the moon and cure cancer. Little Giant Ladder for President!
Evaluation: It looks like a helluva ladder. It really does.
Rating: 7
- Steve Rhodes

Posted by Lou at 11:51 AM | Permalink
February 24, 2006
Kmart & Me
In Alaska, you have to survive a couple of winters before you're considered more than just a tourist. I had been living in Juneau a little under a year when I had crossed that threshold.
As a transplant from Austin, Texas, I realized something had changed in me when I got the news that the Juneau Kmart, along with more than 300 others across the nation, was going out of business. "Damn! They have the best produce in town," I thought. I was told the freshness was due to Kmart flying in their fruits and veggies rather than shipping them up on barges. I experienced genuine anxiety over the closing of a store I wouldn't have been caught dead shopping at when I was a teenager. What was happening to me? Was I a real Alaskan now?

Located in the state's southeast panhandle, Juneau sits in an archipelago where mountains shoot straight up from the sea. A 1,500-square-mile icefield feeds 38 glaciers smack dab in the city's backyard. Despite its distinguished position as the state capital, Juneau claims only about 31,000 residents, roughly 5 percent of Alaska's population. Did I mention there is no road out? You can only get there by boat or plane and both are expensive propositions. For someone like me living on a journalist's pay, weekend shopping trips and quick visits to Anchorage are out of the question. What happens in Juneau literally stays in Juneau.
I was warned as I was leaving Austin for the so-called Last Frontier that "You can't get avocados in Alaska" - along with a lot of other things. This was pretty important to a guy who had spent the last six years developing a serious addiction to Tex-Mex. But I was tough and I knew sacrifices would have to be made. The warning about avocados turned out to be wrong. Even without Kmart I could still get avocados at the A&P -- thought by locals to stand for Alaskan and Proud -- if they were in stock. But Kmart, mmmm, Kmart had the best avocados in town.
And this was no ordinary Kmart. It was likely the only big box store in Alaska or the Lower 48 (that's what Alaskans call the contiguous United States) that sits in view of a hanging glacier. Nestled between Cairn Peak and Observation Peak (both more than 4,000 feet high), the tip of Thomas Glacier just barely peeps over Blackerby Ridge for motorists and shoppers alike to catch a glimpse of its luminous blue face.
The 120,000-square-foot building remained empty three years later when I moved to Chicago, with retail giant Wal-Mart planning to open up shop. Was it instinct or convenience that made the Big K on Ashland one of my first stops when I got to the Windy City? I've been road-raged four or five times, eaten the obligatory hot dog stuffed with peppers and tomatoes, and snapped off some photos at the observation deck of the Sears Tower. But that moment defining me as a real Chicagoan still hasn't come.
Posted by Lou at 12:03 PM | Permalink
February 18, 2006
Beachwood Blogroll
Forty Reads That Inform Us
Life of Trillian
BuzzMachine
Illinois Police & Sheriff's News
Investigative Reporters & Editors
Nathan Bierma
Cubs Blog Army
Media Management
Residents' Journal
Wesley Willis Art
Chicago Blog Map
Outside the Loop Radio
Illinois Channel
Chicago Access Network
43 Things
SportsBlogs Nation
News Designer
Against Depression
Suicide Girls
Ausgang
Eric Zorn
Capitol Fax
Illinoize
Kausfiles
The Daily Howler
Arts & Letters Daily
ArtsJournal
What's News
Nerve
Planet Paige
Romenesko
The New York Observer
Eight Forty-Eight
QT
Catalyst
Anchower
CMW Newstips
Tribune projects
Quick Takes
Vince Michael
Rick Kaempfer
Posted by Lou at 10:31 PM | Permalink
February 05, 2006
Cab #1717
Date: Feb. 5, 2006
From: Wicker Park
To: Roscoe Village
The Cab: It is very easy in this day and age for a cab driver to fake cleanliness. The easiest way is to confuse the issue with scent. Some cabbies drown out any dirtiness with a forest of tiny tree air fresheners. Others allow a million little smells to build up. Is it bleachy or musty? Musty because it was cleaned too much or because it wasn't actually cleaned at all? There is so much nasal obfuscation that we forget what true cleanliness smells like. Readers, I invite you to step into Cab #1717 and remember. An honest-to-goodness clean vehicle smells natural and calm; it's like a warm hug from your grandma. And that is how clean Cab #1717 is.
The Driver: I don't like to waste time, so when I saw that cab #1717 had its Not For Hire lights on I didn't bother waving at it. I just stood and braced myself for an indeterminate spell of waiting on a chilly February night. Then, like a knight in shining armor, the Driver #1717 pulled over anyway. He was heading home, he said, but couldn't let my me and my companion wait out in the cold. No cell phone in sight, he regaled us with exciting, genuine, real conversation. And consider this: you've probably argued with cabbies over tips before, but how many times were they arguing that you gave them too much? Driver #1717 steadfastly refused to accept my generous tip, forcing money into my hand and insisting I use it for something more important.
The Driving: Safe, proficient, even moderately stylish. The driver of course knew our final address and the most efficient way to get there.
Overall rating: Five extended arms
- Natasha Julius
Posted by Lou at 12:04 PM | Permalink